Last weeks post on The Best Way to Wash Produce prompted some really good conversations on clean food with a few of my friends.   I realized that I had more good information on the topic of produce that other people may find helpful. So, guess what?  I'm sharing it for this weeks green living post.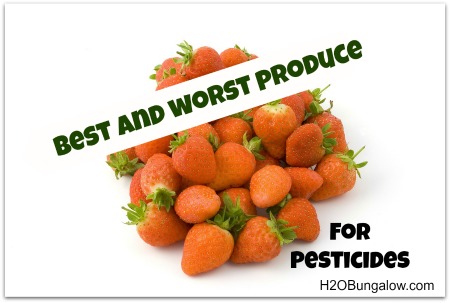 As a family we've been getting greener as we learn.  If you've followed me you probably already know this (and I thank you for reading!).  For the most part its been pretty easy, swapping out products and changing some habits.  I've noticed the term "green" is used in many contexts and means different things to different people. As I learn more about being green and clean living, I've noticed my personal definition of "green" keeps expanding. It now includes the food I'm purchasing for my family.  Lately I've been on a food kick and from my reading I've found a few good resources.
I Googled "the best and worst produce for pesticides" just to see what would come up.   The top several posts and articles I read referred back to the Environmental Working Group (EWG) and cited their research.  I'm already familiar with the EWG website and use it often.   I also saw that  The Daily Green had an article on the topic The New Dirty Dozen Foods with High Pesticide Residue- Best Organic Foods to Eat  They also referred back to EWG's research.  Okey dokey I thought, I'll just go straight to the source. 
I found a handy list of the best and worst produce for pesticides put together by the EWG in their  2013 Shoppers Guide to Pesticides in Produce. What makes their research so good? They use Department of Agriculture data on pesticide residue and rank foods based on the residue amounts found.  I believe they make determinations based on each type of individual chemical found.  They estimate that people can reduce their pesticide exposure by 80% if they switch to organic when purchasing produce from their Dirty Dozen List. That's a pretty significant percentage!  Without further rambling…here are the lists 🙂
EWG's Dirty Dozen for 2013 
Apples
Celery
Cherry Tomatoes
Cucumbers
Grapes
Hot Peppers
Nectarines – imported
Potatoes
Spinach
Strawberries
Sweet Bell Peppers
Kale, Collard Greens
Summer Squash
Here is a list of what the EWG listed as the safest and cleanest produce tested.
Asparagus
Avocado
Cabbage
Cantaloupe
Sweet Corn
Eggplant
Grapefruit
Kiwi
Mangoes
Mushrooms
Onions
papayas
Pineapples
Sweet Peas – frozen
Sweet Potatoes
Your take away from todays post?  If you have a choice,  spend the money on organic produce where it matters the most.  When these items are in season and plentiful try to buy extra and freeze some.  Purchase produce from the clean list in the regular section of your market and save money.  
I've been able to save money on purchasing organic by seeking out weekly local farmers markets where several organic farmers sell direct.  I've also noticed more food co-ops who specialize in organic produce some even have weekly delivery.  These last two also had a better variety than our local grocery store.  Lastly, do the math when you're purchasing produce.  I used to think buying organic was so much more expensive until I weighed what I was buying and compared it to the "regular produce".  In our local (Winn Dixie) market, three organic oranges for example, were only 30 cents more than the non-organic choice!  Wow, did I learn a lesson.  Do the math!
Did you learn something new today?  Do you already purchase organic?

I hope you've learned a little and found this information helpful.  Please sign up for my emails and you'll get each new post delivered right to your inbox!
  Another post you may enjoy