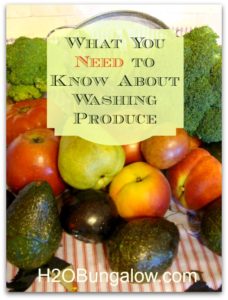 As I mentioned a week or so ago we are learning and committing to earth friendly actions.  I've notice that some of the simple changes I've made have already saved me time and money.  I'm cool with that.  Here's another neat way that I've been able to save time, go simple AND save some cash by going green.
Did you know that by the time produce reaches your home it's been touched by up to 20 people?  Did you know some produce is also coated with wax and some of them are petroleum-based? So, basically by the time you bring your fruits and veggies home, you have soil, microbes, pesticides, other people's fingers and potentially wax to remove from the food your family will eat.  EEwwwww!  Bottom line? You want to know you're using the most effective method for washing your produce.
Over the last several months I've learned a lot about organic produce , when it's best to buy organic and prep methods which include washing.  Today, I want to share what I've learned about cleaning fruits and vegetables.  I'm almost out of my Trader Joe's Fruit and Vegetable Wash.  It is natural and only has a few ingredients listed (I can pronounce them all!), but I'm on a quest for the best way to wash produce AND be simple and green.  Driving an hour and a half to get to the nearest Trader Joe's doesn't qualify.  So I set out to find the best washing method and what natural and inexpensive products I could effectively use.
Guess What I learned? produce washing products are not standardized and the FDA (Food and drug Administration) doesn't recommend using soap.  Okay, fine, so what can I use in its place? Pinterest and You Tube are chock full of recipes and advice for cleaning produce.  I even watched a YouTube video on a contraption that makes a chemical solution/compound to add to water that stated it was the best way to clean produce.  Uh, no thanks.  I wanted something verified data from a credible source telling me how and what to use.  Needless to say, I was pretty jazzed when I found this article by NPR (National Public Radio), which was right on topic, "Are the Expensive Washes Worth the Money?".  They interviewed Cooks Illustrated for the story.  Foodies already know that Cooks Illustrated addresses food from a scientific approach (often with laboratory tests), which the nerd in me appreciates 🙂
It seems Cooks Illustrated had already researched this.  They tested a variety of methods in their laboratory by cleaning apples and pears in 4 different ways.  Rinsing with water alone, using a 1:4 ratio of 1 part white vinegar to 4 parts water, using an antibacterial soap and water, and only a scrub brush with water.  Testing was done to see which method was most effective at ridding the fruit of the most bacteria.  They determined that the best cleaning method was the diluted vinegar rinse.  It removed 98 percent of the bacteria.  The scrub brush and water came in second.  Okey dokey…I'm satisfied with that!  It turns out that vinegar is a pretty effective bacterial agent.  I kind of knew this but needed some facts to back it up.  I've also read that the vinegar rinse helps to dissolve the waxes.  it feels like it does, but I haven't found any documentation to share with you on it (yet).  With all of this good reading and documented best practices under my belt, I feel confident that I'm taking the right steps for myself and my family.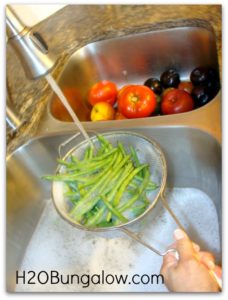 My Produce Washing Tips
I like to wash everything all at once when I bring it home from the market.  I'm using 1 part white vinegar to 4 parts water in a tub in the sink.  I also use a scrub brush for an extra measure.   Initially I just let the produce soak while I'm putting away groceries. I always wash the outside of melons, avocados, etc. because even if we don't eat the skin, we cut through it.  I'm gentle with the scrub brush and give everything a thorough rinse with water alone.  I take leafy greens like lettuce apart to get into the crevices.  I also keep a spray bottle of the vinegar cleaning mixture handy for when we grab limes off our trees outside.
I'm now confident I'm following the best practices to wash produce, keeping our foods healthier for my family, saving time, money and being green. What's not to love about that?
Here's another useful tidbit… If you're not buying organic, the highest concentration of pesticides are usually at the stem and end of your produce.  The article I read on NPR recommends cutting these off for an extra measure of protection.
What green tips or practices do you have for produce? Feel free to share below.  I LOVE comments and answer every single one!

You'll see me linked at these awesome link ups: