My collection of DIY furniture makeover projects is one of my favorite pages.  Who doesn't love a good upcycle where an old and ugly piece of furniture gets a fresh new look and a new purpose with a little creativity?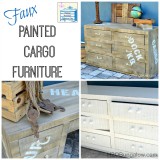 Faux Painted Cargo Furniture
Faux painted cargo furniture tutorial shows you how to make your furniture look like it's constructed from pallets and was shipped from an exotic location.