Save time and money by shopping smart.  Scouting for deals and the perfect piece you're sure will complete your look can be really time consuming. The thing about time is there never seems to be enough of it.  Finding the perfect item your heart desires is also not enough.  Nope, we expect savings as well, as in finding a really good deal.  Ladies, we know we are all about the deal.  
Ultimately finding what we are looking for at the price we want to pay is simply a matter of good timing…being in the right place at just the right time.  But scouting takes time, which for most of us is in short supply. What a conundrum!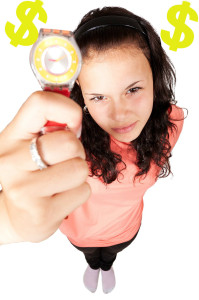 This past year I've had more ongoing home projects in different stages than I've ever had to juggle before. I've bought, returned, lost receipts and yup..wasted time and even (gasp) wasted money too. I loathe wasting money.  All I needed was a better approach at increasing my odds for finding crazy good deals on items I really want/needed on a large scale.  
Here's how I've been able to organize my needs & wants.
1.  Take it with you – Carry your lists with you.  On my iphone there is this handy little list app and best of all it updates on my ipad… automatically.    How easy is that?
2.  Make a measurements list – My list is categorized by rooms and I abbreviate like crazy…just be sure you can read what you meant!.  Example: Living area rug 5 x 8 / smallest, 6 x 9 / largest, basket for nightstand 6.5″ high x 12″ deep, 12″ wide.  Over time your list will grow, mine now includes window measurements, wall lengths and anything else that I might need to know to make a good buying decision.
3.  Keep a measuring tape handy –  I keep a metal roll up one in the glove box of my car and a folded paper one in my wallet.  Ikea and Home Goods have the paper ones and they fold up flat.  Why two?  I don't always need a big one and may not be convenient to go back out to the car.
4. Make a design project box – Keep it in your car.  Fill it with swatches, floor samples, paint chips or whatever else you might need. 
The bottom line – good deals don't last! You never know when or where the next good deal may show up.  If you are well prepared you can make a good decision on the spot.  You'll save time and money…and who doesn't want more of either?     
Thanks for carving out a slice in your day to read my tidbits.  Sign up for my email and get all my posts delivered right to your inbox!