I recently had an opportunity to join four super bloggers who'd committed to a very special community project. This talented group spent 2 full days completely transforming the offices of the Central Florida Childrens Home in Orlando.  This place is home to 15 children ranging from very young to teen.  The home is completely run on donations, volunteers and big hearts.  As you'd guess taking care of 15 kids doesn't leave much time or money for non-essential items like office decor. Wow and yikes!  Can you imagine having 15 kids??? I was tired raising only three!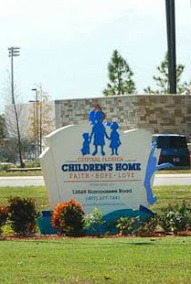 The project started when Sarah from While They Snooze was contacted by World Market for their Share the Joy campaign.  World Market wanted to sponsor a local community outreach event.
Sarah found the Central Florida Childrens Home and they were desperately in need of an office update.  The priority for funds received and energy spent are to the children and where the kids live.  The business office where the program director, Hirim and Natalie his wife take care of the administration were sorely neglected. The office is used a lot too.  It's where prospective parents and program donors are met, work for the program is done and it also serves as a quiet homework spot for the kids.
I think the project grew in Sarah's heart and head after meeting with Natlie and Hirim.  She rallied a few local blogging friends like Katie & Jon from Sew Woodsy, Christine from First Home Love and Lauren from The Thinking Closet. Together, they pooled resources, found additional sponsor funds for supplies, got the biggest sponsor to supersize the furniture budget, shopped, recruited extra help and spouses.  I jumped in to when Sarah sent out an all hands call to our local group looking for more people to paint.
So, what does it look like when a group of motivated bloggers are on a two-day massive makeover?  Let me give you an idea..
We arrive early Sunday morning with cars, trucks and SUVs loaded down with a weeks worth of shopping thanks to several generous sponsors like World Market, Ryobi, Home Depot, Homes.com, ForRent.com, Filtrete and 3M.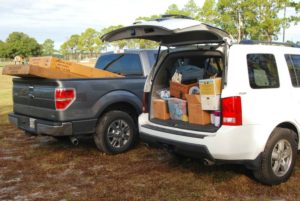 Everyone immediately got busy with a task.  There was a whole office to paint, lighting to replace, baseboards to install where they were missing, new air filters and vent covers to install, an amazing set of wall shelves to build from bare planks, furniture to assemble, curtains to hang and more.  
As if that wasn't already a lot to complete in two days, there were a few more things that really needed some attention, a second bathroom was repaired and put back into operation,  new glass for a broken window and baseboards were installed in a bathroom that didn't have any to begin with.  Whew! Are you tired yet?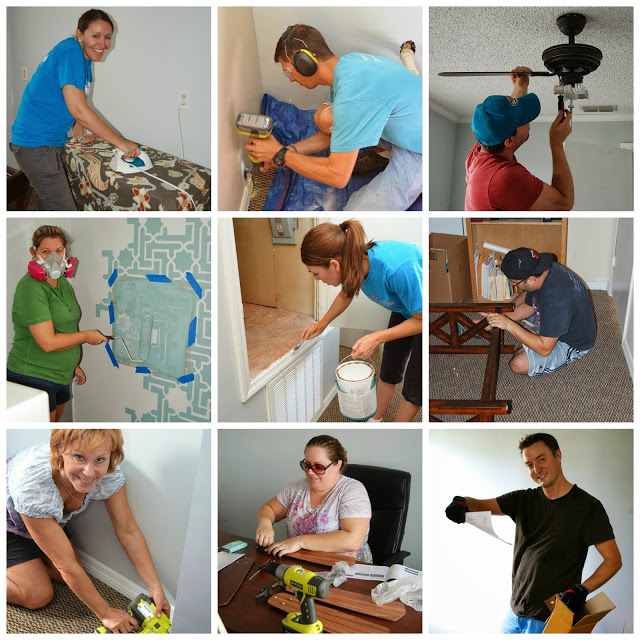 Two days flew quickly by.  There were achy bones, long hours and best of all, the satisfaction of a job well done.  On Monday the moment that everyone was anticipating finally arrived.  The big reveal!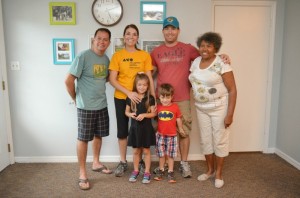 Hirim, the program director and Natalie his wife loved their new offices! Here are a few before and after pictures to give you an idea of how much energy, talent and labor went into this amazing project.
Natalie's new work space.
The new entry area.  Aren't those shelves great?
The conference room and main meeting area is now beautiful.  This is where potential new foster parents meet.  Can you believe this is the same room? I love the lampshade Sarah crafted from a thrift find.
The break area is more inviting.
Who doesn't love a big chalkboard area on a wall?
Lastly, here's Hirim's office.  It doesn't look like the same place.
Sometimes, people look at me funny or raise their eyebrows when I say I write a blog. I'm certain most people don't know what goes into maintaing and growing a blog. It is most definitely time-consuming and hard work. With that said, through my blogging activities I've met the most amazing people with the kindest hearts, I've made new friends and have opportunities to do projects like this that can make a difference in the lives of others.  When my blogging adventure began several months ago I had no idea a blog could be a vehicle and a terrific tool for sharing goodness.
It was an honor to be a part of this event. In spite of achy bones, paint in my hair and a two-hour drive each way it was one of the most rewarding experiences I've ever had.  I am so very thankful for the blessings in my life, a wonderful husband, healthy and loving children, family and good friends.  Being a small part of a blessing in someone elses life felt really good.  To me, this was the perfect way to begin our holiday season.  With a gift of giving. 
Do you have a special gift that you share with others during the holiday season?

Don't miss a single creative idea I share!  Click here to get my posts sent to your mailbox or follow here on Bloglovin.  Either way, keep in touch!