This Wednseday, November 11, is Veterans Day.  Like lots of towns across the US, we celebrate Veterans Day with a parade.  Since water is such a big part of our coastal culture, our parades are of course on the water.  It's loads of fun with people out on their docks, clapping and cheering as the boats go by.  It's one small way that we can honor our service men and woman, past and present.  The Comforts From Home Project is another wonderful way and I'll share more about that in a minute.
Our Veterans Day parade passes just a few feet off our dock in our back yard.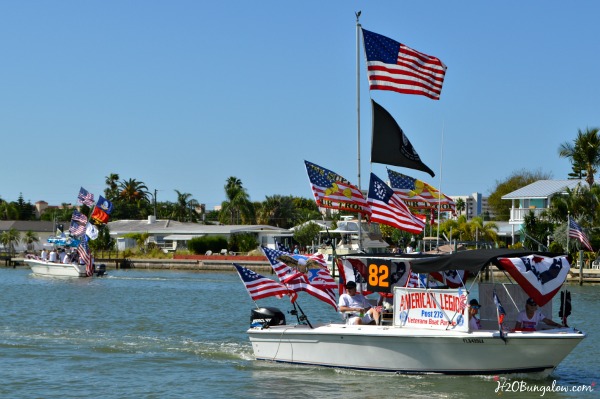 The route follows the Intracoastal Waterway and Canals that branch off it.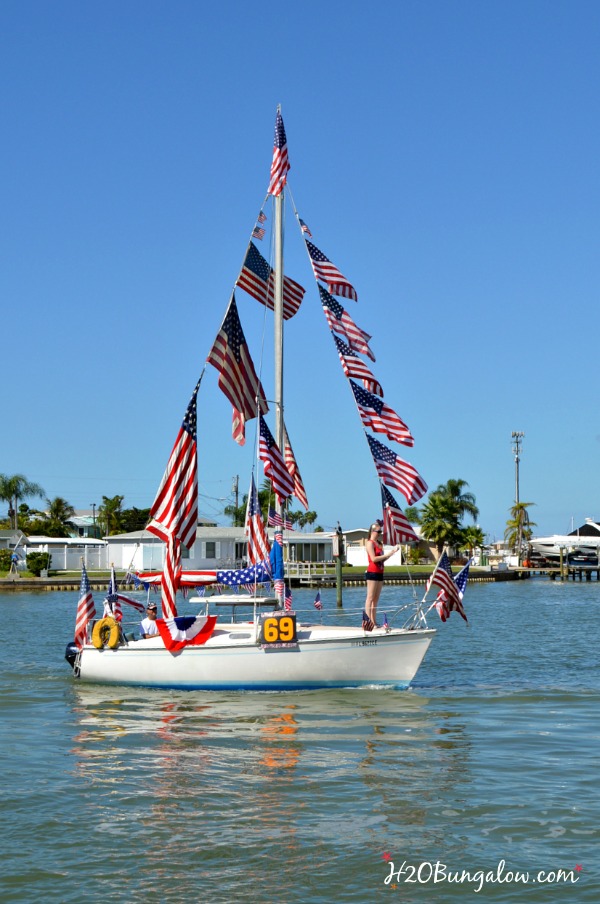 It's a big event and seems to get bigger each year.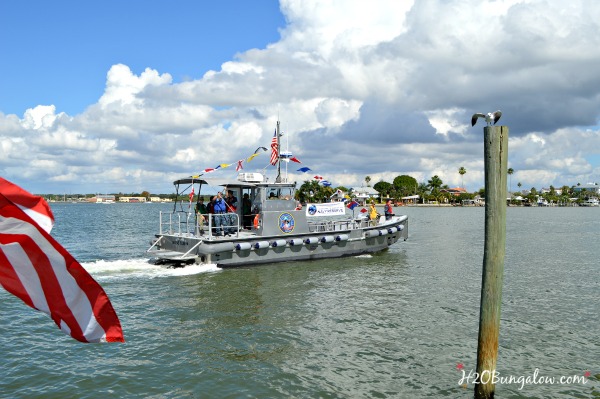 The Navy, Navy Reserve and Coast Guard all participate as well.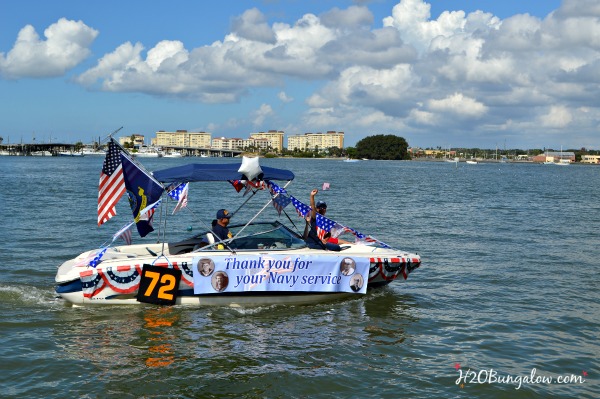 Boats join in to honor family members, or as a way to honor their own comrades and memories of time served in the military.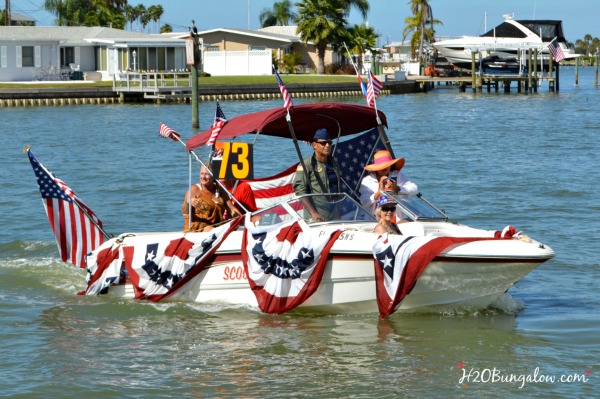 It's fun to see and experience.
But, it's also emotionally moving to watch.
Because serving in the military requires sacrifice, commitment and often lots of time spent away from family and friends.  I know first hand.   This past August, after 23 years of active duty, my husband retired from the Navy.  Affectionately known here on the blog as DH, which many of you probably didn't know stands for Dear Husband 😉  He retired as a Commander.  People depended on him and he worked hard to serve our country.  His years of service required a lot of personal sacrifice on his part and from our family.
We've  had holidays when he was far away in another country.  We'd video with my laptop on the kitchen counter as I prepared Thanksgiving dinner so he could feel he was part of our celebration, or I'd set up a chair in the family room with my laptop on it so he could watch us open presents on Christmas morning and we could watch him open the box we'd sent.
 We were lucky to have that.
Many serviceman and woman don't have the convenience of internet and video so easily.
Which is why I'm happy to share information about the Comforts of Home Project, a partnership with the United Service Organizations (USO) and Marie Callender.  The USO Operation Celebration program is dedicated to provide a "home away from home" for our deployed troops stationed around the world to make sure every holiday, small or large, is celebrated.  As you may have guessed, this post is near and dear to my heart.
What a great way to give back, say thanks and make someones day brighter this holiday season!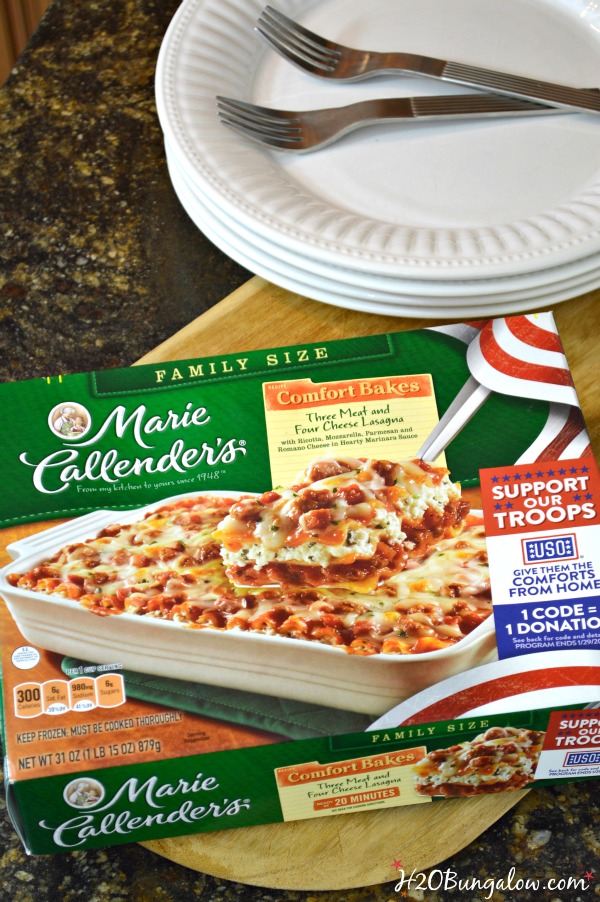 It's easy.
From September 1, 2015 through January 29, 2016, you can help give to the USO Operation Celebration program by entering the on-pack code from one of the more than 51 million specially marked Marie Callender's frozen meals or desserts at Marie Callender Meals .
 Each code entered online equals a $0.50 donation to the USO.
The Comforts From Home Project is an easy way to support the USO and our deployed troops this holiday season.  Be sure to look for the specially marked boxes in the frozen food section of your local market!
And one last word.
…to all our military members and their families
past and present,
We thank you for your service and are grateful for all you do, and have done for our country.
For every entry by 1/29/2016 of an 8-digit code found on participating products, Marie Callender's will donate $.50 to the USO Operation Celebration program. Guaranteed minimum donation: $100,000. Maximum donation: $300,000. Limit 5 code entries per person/computer each day. Valid in U.S. Only.
I was selected for this opportunity as a member of Clever Girls and the content and opinions expressed here are all my own.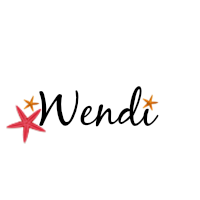 Love a good dose of DIY home decor, home improvement, the challenge of woodworking and creative ways to make your home look fabulous?
Me too!
I'd love to share mine with you.  Click here to sign up for my post emails  and I'll send a quick note when I have a new project to share.
Social media fan? Don't be shy say hello!  I love when you guys do that!  I'm interactive on Facebook and I share lots of other projects and, useful inspiration for the home and content I don't share anywhere else.  Follow H2OBungalow on Facebook here 
Oh heck, just follow me on all social medias.  We'll have some fun…promise:) Follow H2OBungalow on Instagram , Follow H2OBungalow on Twitter , Follow H2OBungalow on Pinterest, I'm on Periscope! @H2OBungalow
I use affiliate links in my posts.  If you should make a purchase I will receive an itty bitty commission at no cost to you.  Thank you in advance for supporting my blog…my two cats and our boxer dog