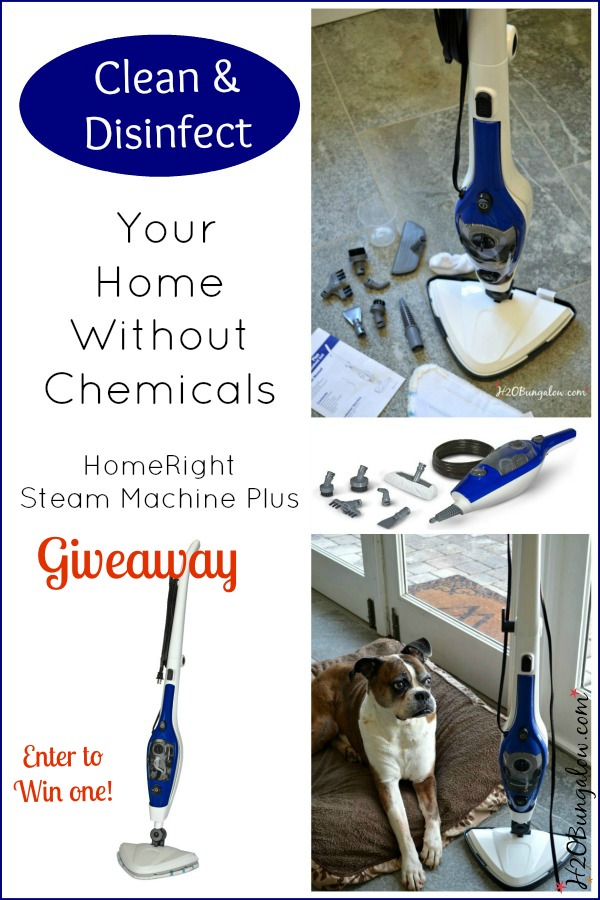 I try to stay away from harsh chemicals and be environmentally responsible when I can. We have aging sensitive pets and live on an open bay where dolphins swim just 30 feet from my backdoor almost every day.   I've been using green cleaning products or making my own for almost 3 years.  I don't have to tell you how pricey some green products can be.  That's why I was pretty excited about trying chemical free cleaning with a Steam Machine Plus.  The idea that I can clean and disinfect my home with tap water alone sounded pretty darn good.
I had to see it for myself and I made a video so you can see it as well and I've got a super giveaway!
The first thing I noticed is good engineering that went into the Steam Machine Plus.  Small space dwellers will love how compact it is and the handle folds down for easy storage. The next thing I noticed was the attachments, there are lots of them, which is great because they make it much easier to clean all kinds of things.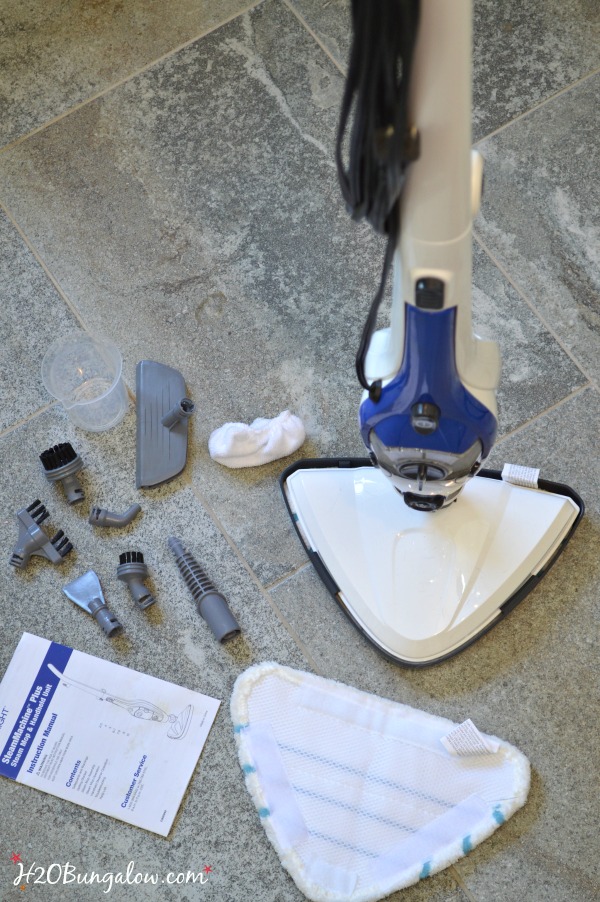 Theres a handheld steamer built in and it pops out for more cleaning versatility.  Most of the attachments fit onto this.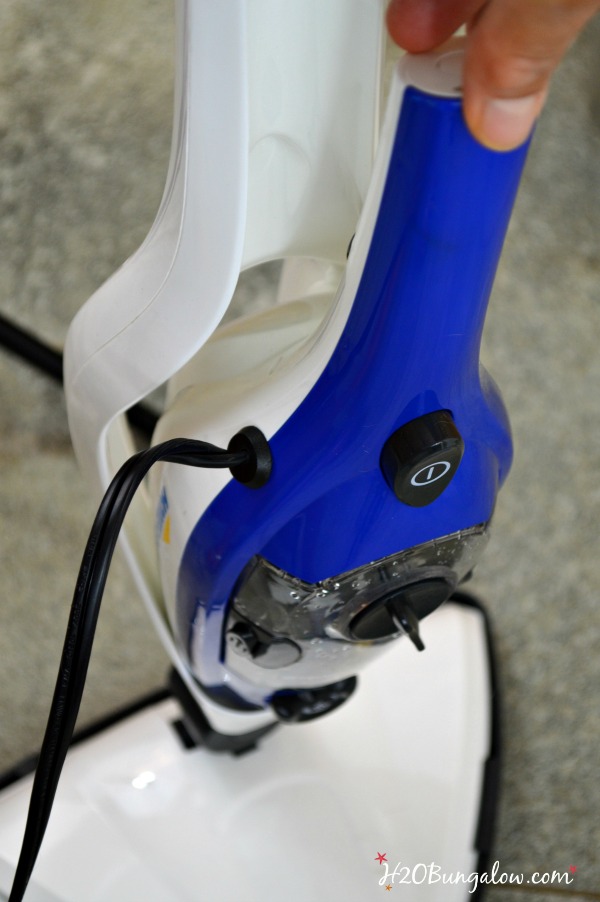 What can you clean with one of these babys?  Sheesh.. where to start?
I've spent the last 2 days tearing my house apart cleaning and making a video to show you a few of my favorite chemical free cleaning triumphs.
Can't watch the video now?  Here's a few highlights.
Cinnamon, our 12 year old boxer is, ahem, a delicate old gal who sometimes may piddle when she's excited.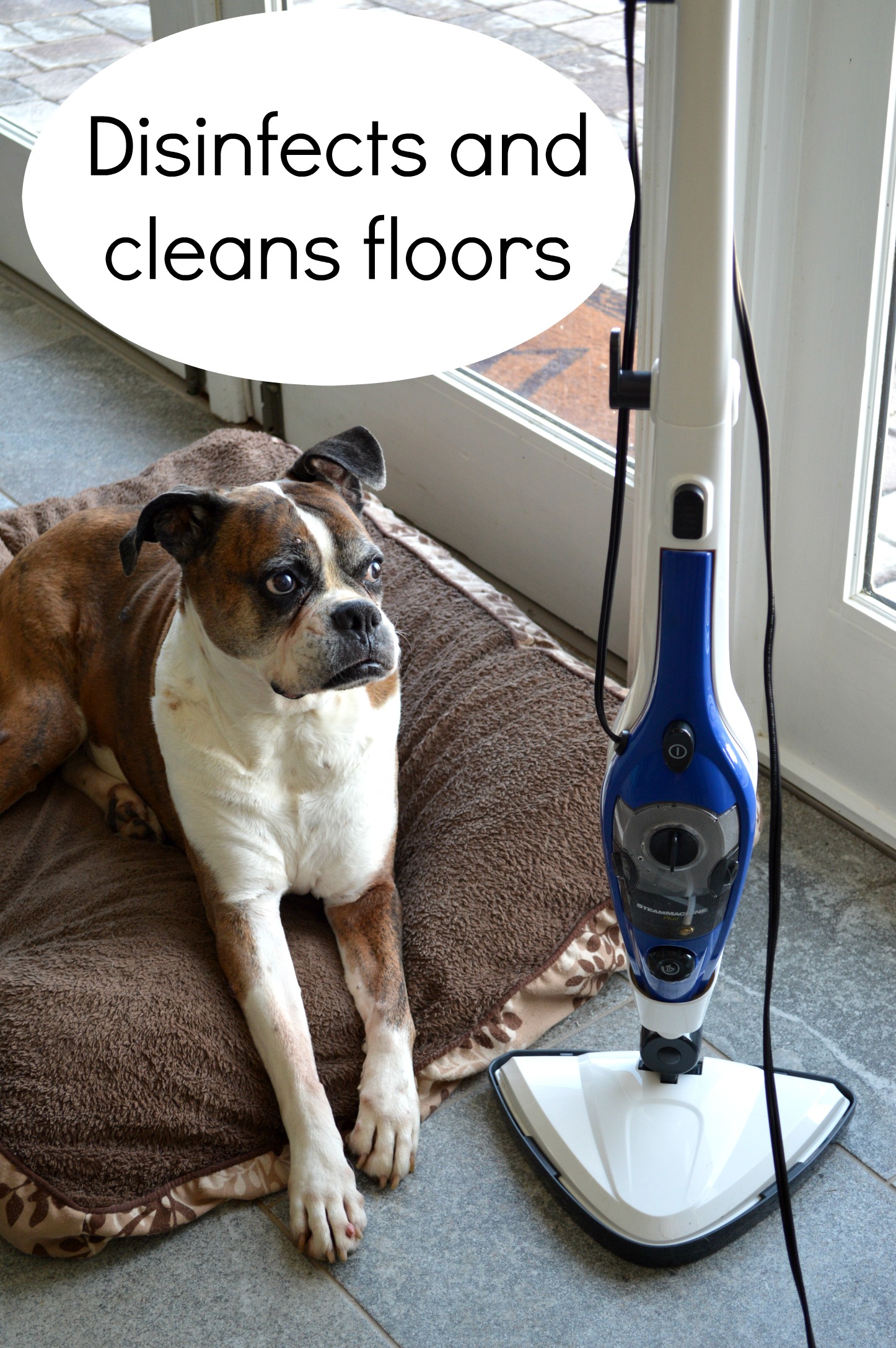 Let's talk dirty…. I mean grout, my dirty grout.  I mop regularly but over time our grout got gross.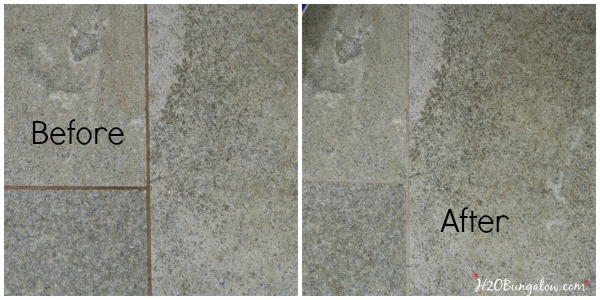 The windows in our home are old and older.  We're planning on (eventually) replacing the original 1950's windows. The rest of the windows were "updated" by the previous owner. I've tried cleaning the tracks before, but the crud was kind of baked on…
I know… I warned you I was going to talk dirty!
These window tracks were the ultimate cleaning test to try our chemical free cleaning with the Steam Machine Plus.
Success!  I wasn't 100% finished cleaning this window track in the picture below, but you get the idea.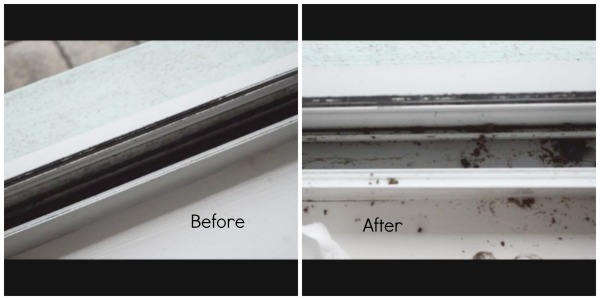 Let's get to the good part.  You want one of these too, right?
Well HomeRight is giving a Steam Machine Plus away to one lucky reader!
Enter below using the Rafflecopter widget.
*Must be 18 years or older and a resident of the USA at the time of the contest. Giveaway will be live until May 5th, 2015. The winner will be chosen via random.org and notified by email. The winner will have 48 hours to respond or a new winner will be chosen.  The prize will be shipped by HomeRight. 
As you might have guessed this is a sponsored post, I was provided product and or compensated for sharing this information.  All opinions, craftiness, and projects are 100% my own and never for sale.  I'll only share items I think have value for my readers!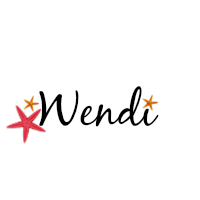 Don't miss a single creative idea I share!
Love my posts? Click here to get my posts sent to your mailbox or follow me here on Bloglovin.
Following H2OBungalow on Facebook? It's one of my favorite places and I share lots of extra projects, inspiration for the home and content I don't share anywhere else.
Love Instagram?  Me Too! Follow H2OBungalow on Instagram and see my projects in process and lots more.