We are finally about to begin construction on our master bath addition.  I've collected several coastal bathroom shower ideas and thought I'd share a few of my favorite.
If you haven't been following my blog I should back up and fill in a few details.  Our little home was built in the 1950s and one full bath was all you got in those days. Which was perfectly fine for the previous owner who was single and for 20+ years ran an air conditioning company out of our home.  
Gross is an understatement of what we moved in to the day we arrived a year and a half ago. 
So in addition to a complete remodel, adding a bathroom to the master bedroom has always been part of the plan.  We are finally ready to start and I have to make some choices.  I'm completely in love with the idea of using natural elements for our master bathroom especially in the shower.  These are a few
This was the tub I was planning on using.  But I had to choose between a tub and a closet. There wasn't room for both.  It's still a small house 🙂 I NEED a closet. So…for now this lovely soaking tub will have to be my dream tub.
I'm seriously thinking of using pebble tile for the shower floor and clear glass for the enclosure all the way to the floor.  I might even use seamless glass like in the picture below. I'd love to have no shower lip at the floor either, but I'm not sure if that will knock my budget into outerspace.  Because this bathroom will be small, It has to have glass.  Using lots of glass will help keep our little coastal bathroom appear more open and brighter.  
Small means some creative storage ideas too, but I'll share those another day!
We won't have room for a large dramatic window, probably just one small window.  To keep our coastal bath and shower area as bright as possible I'm thinking of using glass blocks at the ceiling line.  If I use them, I'd like to place them up high like transom windows on the two outside walls close to the ceiling. Kind of like the top rows in this picture below.
One more element I really want to use is wood.  This coastal bathroom is clean, simple and beautiful.  Don't you love this teak shower partition?
Another way I can get the look of wood is using wood look ceramic tiles.  They have improved the look and the cost of these tiles a lot in the last few years.  There's also lots of colors to choose from.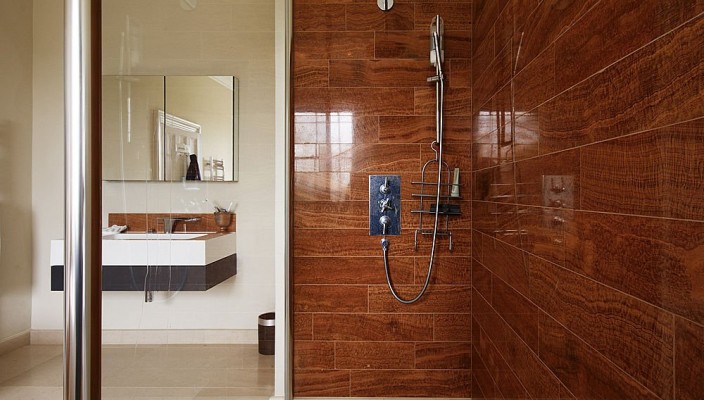 These are the favorites in my huge file of saved coastal bathroom shower ideas.  I'll have to make up my mind soon.  I want this shower and the master bath addition to be unique, clean and simple.  It's also going to be very budget friendly because I hate wasting money!
I'll share my finish out costs along with what I used and where I bought my supplies after we are finished with the project.  My goal is a room that looks like it cost a fortune…but didn't!
Which of my coastal bathroom shower ideas do you like the best? 

Don't miss a single creative idea I share!  Click here to get my posts sent to your mailbox or follow here on Bloglovin.  Either way, keep in touch!