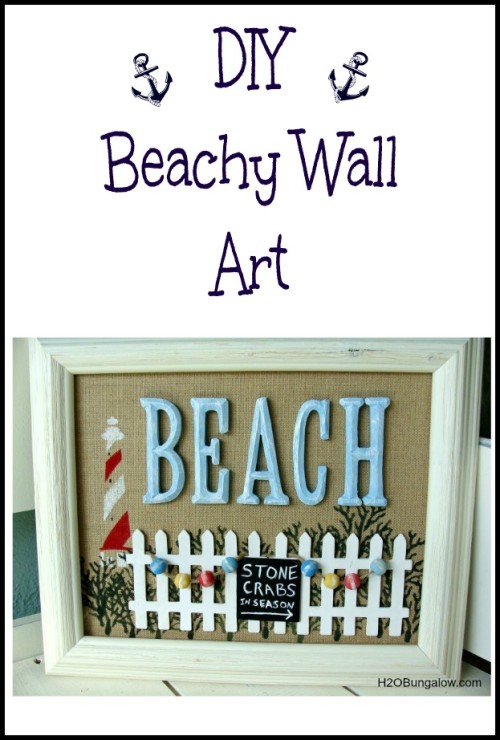 I got so excited last week, when I met the Customer Experience Manager at our local Michaels Store. She was such a fun bundle of energy and we immediately hit it off! We chatted about the Pinterest projects that would best suit her customer base and decided on two projects. The first was my DIY Burlap Monogram I shared earlier this week and today I'm revealing the second..fun one! We both felt that a local themed DIY Beach wall art project would be a hit. Where I live, fun, quirky, coastal and beachy decor is completely acceptable to all who call this area home.
This time of year our population swells by about three times our full-time resident population. Snowbirds from all over the US, Canada and Europe flock..and I mean flock into our area. They embrace the local culture where flip-flops and boat shoes are the daily norm and casual is a way of life.
Burlap wrapped canvas in hand I set out on a whirlwind tour through Michaels to find the perfect items to make my fun DIY beach wall art. One little detail I had to keep in mind was this project needed to be easy to make. Without further rambling, let's get started. Here's the supply list to make a DIY beach wall art for yourself. All of which can be purchased at your local Michaels Craft Store and completed in about an hour:)
 Supplies:
11 x 14 burlap wrapped canvas
Craft paint
Round wood beads, 5/8 inch with holes
Martha Stewart Nautical Stencils
4″ wooden letters
2 – wooden picket fence segments
Twine
Small wood sign for fence
Hot glue gun
Ruler
Scissors
Sand paper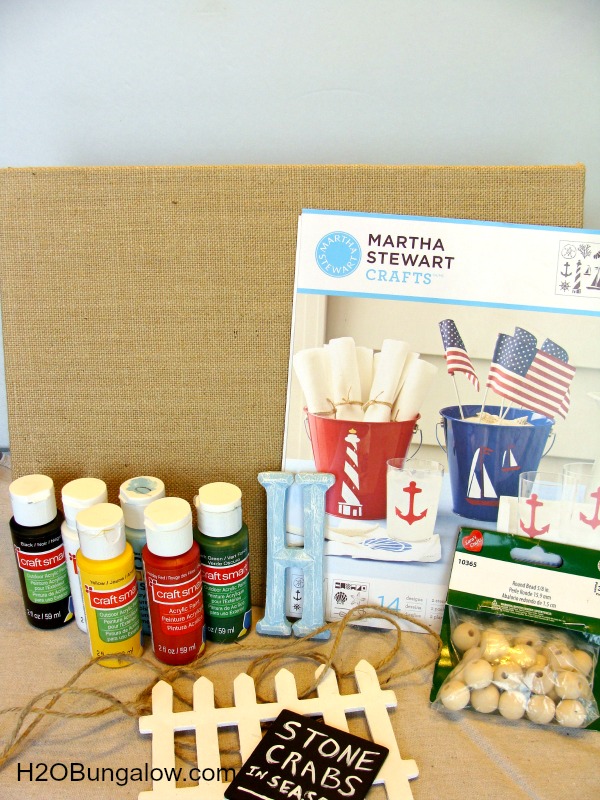 Start by stenciling the lighthouse onto the canvas first. Next, add bushes by overlapping the sea coral stencil in varying shades of green. Both of these stencils are in the Martha Stewart nautical stencil package pictured above.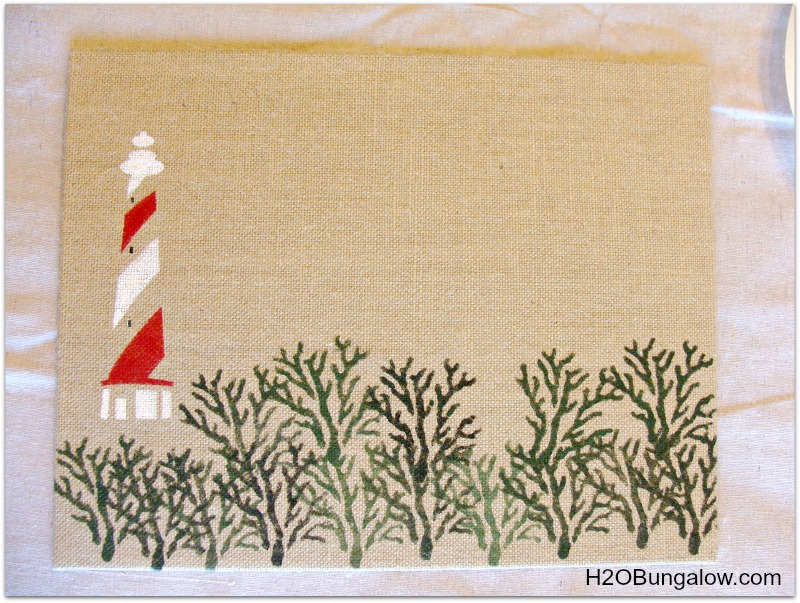 Paint your sign and the beads next. Around here, crab floats are used everywhere for decorating. You'll see them wrapped around mailboxes and hanging on fences. I wanted to recreate miniature worn crab fisherman floats. I painted the beads in different colors and added a white stripe and then took a little sandpaper to rough them up for an aged effect. I painted the letters a pale blue and dry brushed them with white paint for added detail.
The sign was another opportunity to add local flair. During the stone crab season here, you'll see plenty of stone crab signs on the roads. I couldn't resist adding the little stone crab sign to the fence 🙂  As you might have guessed by now, I had fun with this project!
Here's a few tips to make assembly easy. I found it easier to string the crab floats and hot glue them onto the fence before gluing the fence to the canvas. Lining up your letters evenly is easy if you have a ruler or a strip of paper to act as a guide.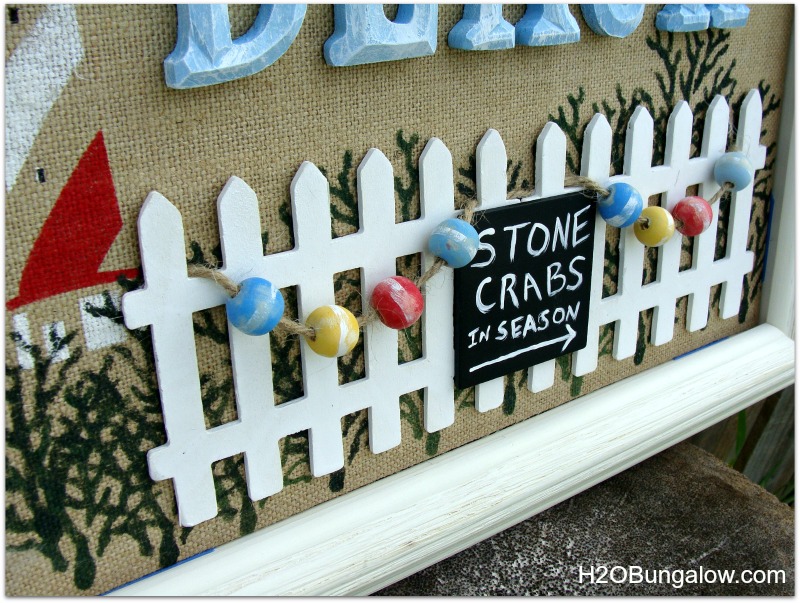 This project was so easy! You might choose to spell out your last name or the name of your favorite beach at the top. Everything is more relaxed at the beach… including your DIY beach wall art.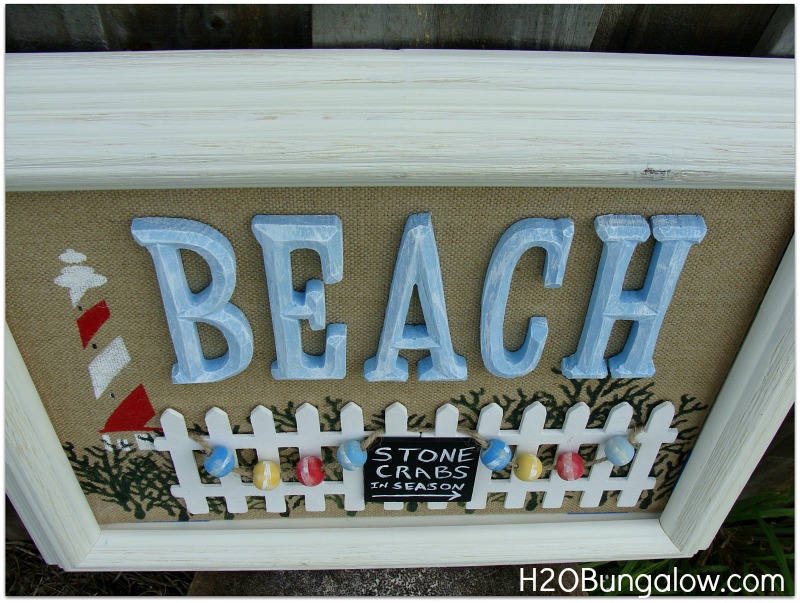 It's OK to be a little corny that's part of the fun.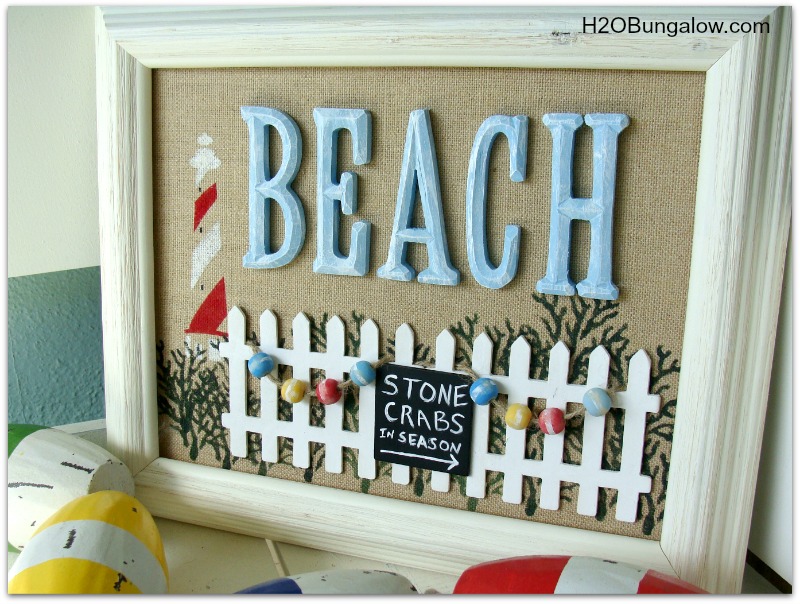 Do you know you can follow me on Hometalk? What's Hometalk? It's a fantastic network of homeowners, crafters, DIYers, and people just like you that upload and share their skills and knowledge. Here's a link to my profile on Hometalk.
Which burlap project is your favorite, my DIY Burlap Flower Monogram or this DIY beachy wall art?

Don't miss a single creative idea I share! Click here to get my posts sent to your mailbox or follow here on Bloglovin. Either way, keep in touch!
You may see me linked up to some fabulous link ups which you can see
 here.