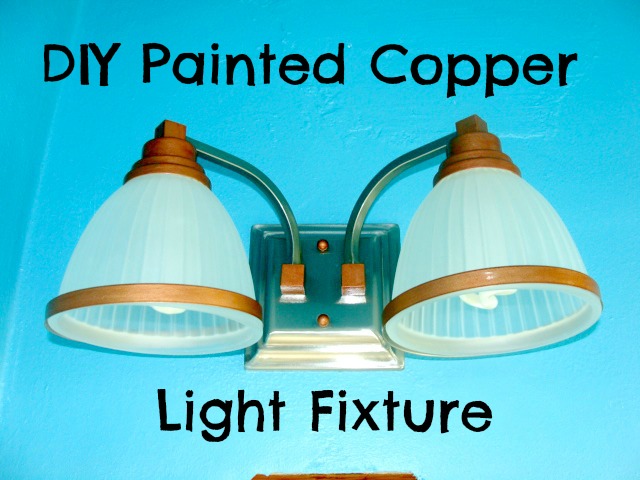 I'm focusing on finishing my guestroom / office and have a few little things to get done.  First on the list is my DIY painted copper light fixture.  Anyone can easily get the look of a pricey copper light fixture for a few dollars and a little time.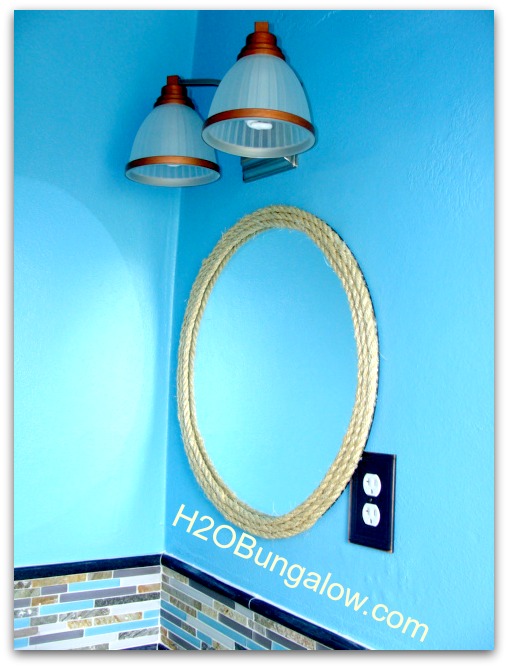 The light we installed was nothing fancy, just a plain 2 light brushed nickel vanity light. The light fixture that was there when we bought the house had rust on it, which I was assuming was from the high humidity and salt air we have from living at the beach.  I wanted to try an inexpensive light fixture with a clear sealer to see if I could prevent the rust.  Cheap or not, plain isn't good around here, It was boring.  
I've been playing with Rub-n-Buff and copper gilding for another project.  As I'm walking by the bath I noticed the light fixture. Ok, why not I thought.  So…gilding paintbrush in hand at the moment, I grabbed a step ladder and put a dab in an inconspicuous place.  It looked pretty good.   So I added some more.  A little here and a little there.
Next thing I know, I've tapped everything up and painted more areas.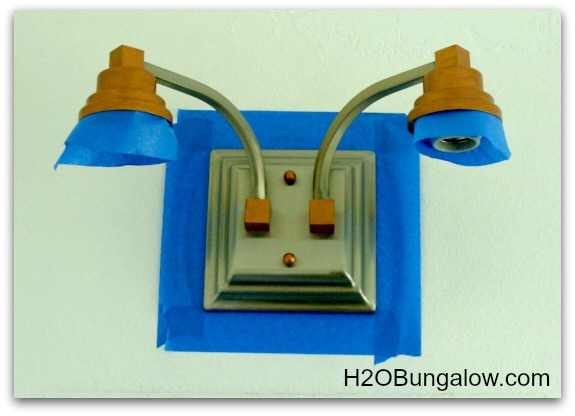 Ready to try your hand at your own painted copper light fixture?  This is what you'll need:
Supplies:
Copper gilding – I used Martha Stewart's Liquid Copper  since my initial project I've found a much better copper paint.  Modern Masters in copper.  It's Low VOC, water based and very durable.
Rust-oleum clear enamel spray
Light fixture
Paintbrush
1.  Turn off any electricity going to your light fixture.  I left my fixture on the wall and unscrewed the glass shades to get the metal decorative rings off which made them easier to paint.  
2. Clean all surfaces on the fixture to remove any dust or dirt.
3.  Apply paint with a soft paintbrush in as many coats as needed to get the desired coverage.  I added copper accents and wanted brushed nickel visible too. If your using Modern Masters copper paint two coats should do it.  Let fully dry between coats. 
4.  Apply sealer.  I sprayed two light coats, letting it dry thouroughly between coats.
That's all there is to it.  Making your own copper painted light fixture is a simple way to add some style to a plain light fixture.  I love the way it turned out,
Even better, it's been 7 months since I painted the vanity light and sealed it.  I haven't seen any sign of rust anywhere on the light.
Are you feeling creative now?  You can do this!
What light fixture in your house would you change if you could only change one?
8fff86ae93ed59ad8c760c953b95a946f3bbb862a8d8681e43