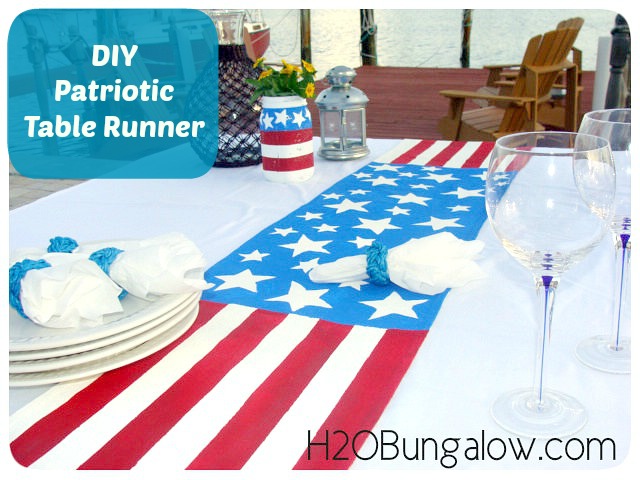 I love this DIY patriotic table runner I made.  This was such an easy project to do and I love that it's versatile and durable.  I can use it on the picnic table outside, on the family dining table or on the sofa table inside.  It stores well too.  When I'm done using it I'll roll it up and stash it in a drawer until the next red white and blue holiday.
You'll need a few items to make your own DIY Patriotic table runner.
Craft paint in red, white and blue
Cloth Dropcloth  to paint- I used the 10oz, 6×9 size
Painters tape
Scissors
Paintbrushes
Star shape cutout
Start by cutting a 12.5″ piece across the bottom of the short side of the canvas, 3 sides will already be hemmed. Trim the length if you want shorter than a 6 foot long runner.  I used a hemming tape that irons on to hem the cut side. I'm not much of a sewer (yet)  so I don't know the "official" name and I already had the "hemming tape stuff"
Paint the entire front side with white paint.  It used more paint than I anticipated so I'd either pick up an extra few smaller craft paints or get the pint size of the white craft paint. If you use a wider brush, this step will go much faster 🙂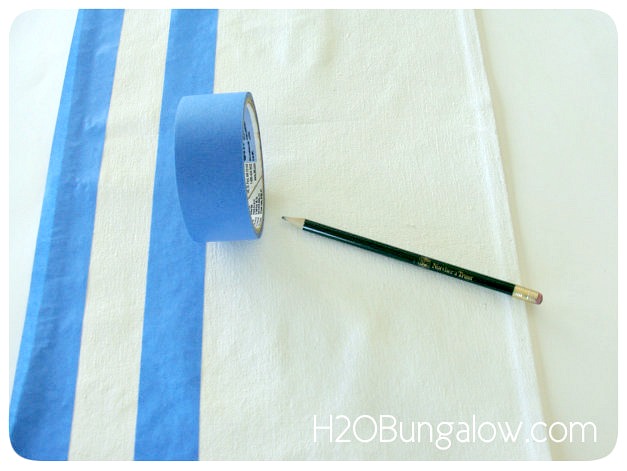 After the runner is dry divide it into 3 parts.  Use 1.5″ painters tape on the two ends.  This is where you'll paint red and white stripes. I used the width of the tape on the roll to measure and mark where the next tape line of tape would go. You'll end up with 8 sections, 4 each of white and red.
Next, you'll work on the center area where the blue background and white stars will go.  Using a pencil draw or trace stars onto this area.  I traced large and smaller stars randomly all over with foam stars.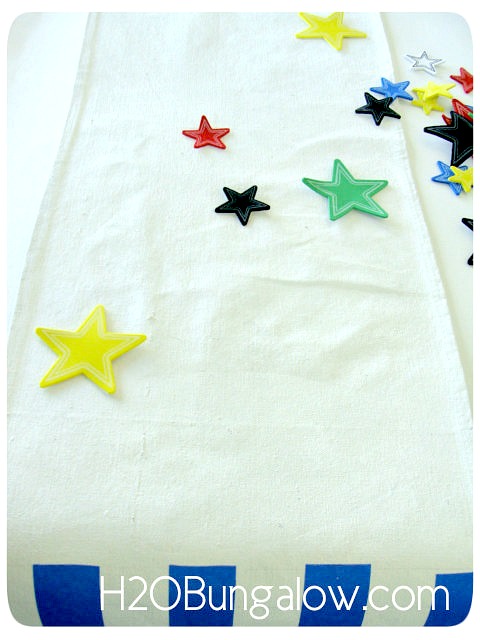 Next, paint your stripes red and fill in the area around your stars with the blue paint.  That's it. Easy.
Now…are you ready for the hard part?  Nope, not more painting…I mean figuring out where your going to use it!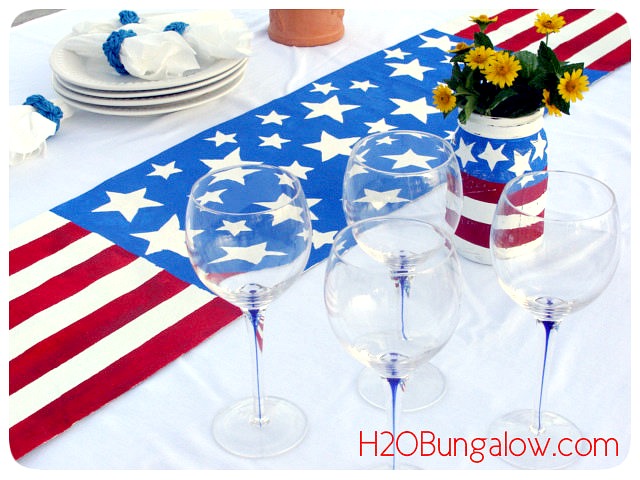 I've moved it around and tried it on our outdoor coffee table, on my dining table and even on my sofa table.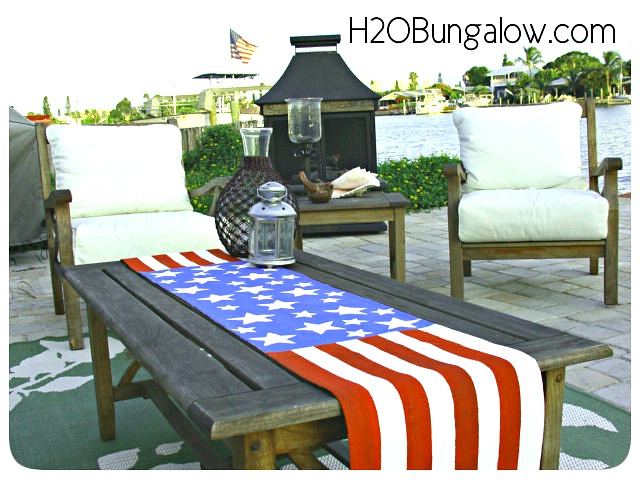 My favorite place for my new table runner is outside by the dock.  When we're outside, we enjoy long leisurely dinners and visiting with friends here.  The red, white and blue are beautiful in the setting sun against a white tablecloth and look pretty in the candlelight too.
When our little beach community sets off the fireworks we have front row seats right here.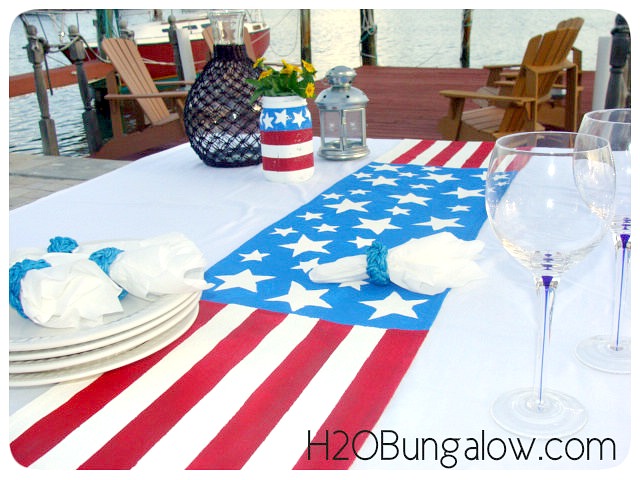 Now that I have my new decorations… my DIY patriotic table runner and a set of red white and blue mason jars I think I'm set for our red white and blue holidays.
How about you?  What's your favorite Patriotic decoration?

I know you don't want to miss a single creative idea I share! Sign up for my email here or follow me on Bloglovin here.