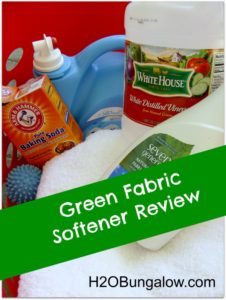 Today, I'm sharing my green fabric softener review.  As you probably know if you've read my Learning to Live Green post is that I've committed to living a greener lifestyle.  One of the things I've worked my way towards but have been dragging my feet on is being green in the laundry room.  Some of the things we've already done is buy a high efficiency washer and dryer which uses less water and electricity.  We also take care to only wash and dry full loads which is another easy green practice.  Now I'm starting to move forward and address the products we use.
Let me start by sharing that my family has been a bit shall we say…additcted to smelly laundry.  
You know, like ocean breeze or fresh meadow scent, basically what was on the shelf at the market. So much so, that I'd use Downey fabric softener in the washing machine, along with those little crystals that smell good AND use a fabric softener dryer sheet, sometimes two, in the dryer!  Sounds ridiculous doesn't it? I'm a bit embarrassed now that I've disclosed my laundry habits 🙂 But…I've been weaning Hubby & Son down to using Downey alone over the last few months. Preparing them for what's next you might say. Aside from cost, you might ask whats the big deal?
 According to environmental authorities the chemicals in fabric softeners are really bad for us, the environment and in some cases our washers and dryers.  Ask a dryer repairman about using dryer sheets, they will all tell you it's really bad for your machine.  I've found  Goodguide and EWG (Environmental Working Group) informative and a solid source of information for my quest to learn green practices.  I like to read what both have to say on a product before I make decisions.   Good Guide addresses products from health, environment and a society perspective, where EWG generally writes from only the scientific chemical perspective.  According to both of them there is plenty of bad news in fabric softeners.
I used to think "going green" was simply buying products that said "green" on the label or had official looking emblems on the packaging.  Unfortunately, that's not the case.  I've felt mislead on more than one occasion when I bought (not inexpensively either) something claiming to be green that really wasn't.  Like most people I don't want to pay for high-priced green products if there is another cheaper alternative.  Going without isn't a good option either since I like the idea of softer clothes and I don't like my hair standing at attention or flattened to my face with static cling!  Since this is a big change for us I wanted to see for myself which was the most cost effective and effective green option. I did some research, read green blogs, checked out Pinterest to see what others swore by and decided to try the most popular recommendations in a green fabric softener review of my own.  
I purchased Seventh Generation Liquid Fabric Softener and added some homemade choices for my green fabric softener review. I was a bit dismayed to see that the Seventh Generation product I bought did not rank as highly as I would have liked it to for being a green product. On the flip side, I was really surprised to see that vinegar was highly praised as a fabric softener and anti-cling agent!  Some of the other highly recommended options included mixed baking soda or hair conditioner with vinegar as well. They were listed so often I included them.  All of the trial solutions were added to the fabric softener reservoir in my HE washing machine.  If you don't have a place to put fabric softener I've read that fabric dispenser balls work well.    
These are the different combinations I used for my green fabric softener review.  I've listed them in order of the best performers and added a few notes.  
Vinegar and 1.5 TBS of hair conditioner

r – The conditioner was a hotel herbal conditioner.  This one ranked the highest for softness and a nice scent.  We didn't notice any static cling.

Seventh Generation Liquid Fabric Softener and dryer ball

s – The Dryer balls worked really well on heavy fabric.  We didn't notice any static cling.

Seventh Generation Liquid Fabric Softener

 – We didn't notice any extra qualities like softness.  We didn't notice any static cling.

Downey Liquid Fabric Softener

– I added this in to see if we noticed a big difference in softness or scent.  We didn't!

Vinegar

  – We didn't notice any extra qualities like softness.  We didn't notice any static cling.

Vinegar and baking soda mixed together

– (after the fizzing reaction) We didn't notice any extra qualities like softness.   We didn't notice any static cling.  
After everything was dry and folded, I did a blind test with my husband and son.  I asked them to pick the softest and best smelling pile. Each pile had a t-shirt, socks and a towel. They both selected the dryer balls version first and then the vinegar and hair conditioner second. They passed up the Downey and the Seventh Generation store bought products when they were used alone.  There was absolutely no vinegar odor at all in any of the laundry batches If you're wondering.
What I didn't include in the sample batches were my husbands Navy uniforms because I didn't have enough to put an item in each sample set  They are made out of very heavy stiff material and not soft at all.  unbelievable is a good description of how much softer they were from the dryer balls.  I am sold on using dryer balls to soften laundry!  
Based on the results of my green fabric softener review, I'm ready to commit to a new practice that I feel will work for my family, is enviornmentally friendly and helps keep the expenses low.  I'll be using white vinegar and a little hair conditioner instead of commercial fabric softener in all of our laundry since no one could tell the difference.  The dryer balls were a very effective softener and I will use them on towels and heavy fabrics.  I probably won't use them on delicate material because I think they beat up the fabric.
I'm a bit, no…a lot amused to think with all of our modern technology that the best methods are still what generations before us have probably been using for years. Inexpensive and effective.
Do you have any green laundry tips?  Please share them in the comment section 🙂

Linking up here to these Fabulous Linkys!
If you've enjoyed my post you may enjoy others I've written  I post on a green topic each week.  Follow along with Bloglovin or by signing up for my email.  It's free and delivered right to your inbox!
You may also enjoy these posts