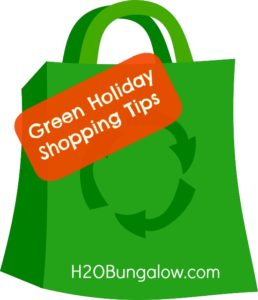 I'm feeling the pace of the holiday season picking up.  There's decorating to do, entertaining to plan, plenty of shopping to finish up and even blog posts to write.  Some days packing all of these extra demands into my daily routine is tough, at times stressful and definitely tiring.  During these times I find it a lot harder to follow some of my new green habits.  But,  I realize that with the increase in everything from shopping to driving, it is even more important to keep green actions in my daily routine.  Even if they are small ones. They add up and make a difference.  Consider how much more shopping we all do during the holiday season.  This means lots and lots of shopping bags being used.
Over the last several months I've collected several reuseable shopping bags.  I really like them too.  They carry a lot more in them which cuts down on the trips I have to make unloading the car.  The handles make it easier to carry several bags and they don't break like plastic ones do, which is nice because to me it always seems that it's a glass jar of something awful to clean up that breaks through the flimsy plastic. I also like the feeling of doing good.  I feel pretty proud of myself when I'm carrying my reusable bags into the grocery.  I love it.. look at me I'm so green, oh yeah!   Sometimes a small feeling of good can wipe out something annoying or negative that threatens to overshadow my day.  I'm good with that and will gladly take all the happy feelings I can get.
Today, I want to share a few green holiday shopping tips I've found useful. Nothing fancy. Just a few simple way's I've been able to keep green in my everyday during periods of chaos.  
Heres a few green holiday shopping tips for this holiday season:
Use Reusable Bags at the Grocery Store – We use both the large bags and net produce bags. Keep them in your car so they are handy.  I'll also place mine by the door with my grocery list attached to help me remember them.  
Pass On Extra Bags at the Market– When you're not using reusable bags or have run out of room, skip the extra bags to carry bigger items like milk or potatoes.  
Small Purchases Don't Need a Bag –  You only bought one item? Simply take your receipt and go.    
Always Ask for Paper Instead of Plastic – They are biodegradable and you can reuse them in many ways.
Pack More In your Bag – When shopping at the mall, put new purchases in a bag you're already carrying.  It cuts down on the number of bags your carrying too and makes it much easier to keep track of purchases.
Recycle – Return your plastic bags to the recycle bin at your grocery store.
I'm certain everyone knows these green holiday shopping tips.  They are so simple and yet can make such a difference.  How much you ask?  Here's a few tidbits of info.
Over 100,000 marine creatures die every year from plastic entanglement and these are the ones that are found.  Source:  Ocean Crusaders
It takes 1,000 years for a plastic bag to disintegrate.  Worldwide we use 1 million plastic bags per minute and 1 trillion annually. Source: Statistics Brain
Sometimes it's helpful to have a gentle reminder to be green in the holiday season.  Your actions count.  No matter how small the gesture, it counts. Why not make a green choice a day, you'll feel good and you're doing good, how cool is that? 

I generally post at least 1 green article a week.  If you liked what you've read here today please sign up for my email.  All of my posts will be conveniently delivered right to your email inbox.