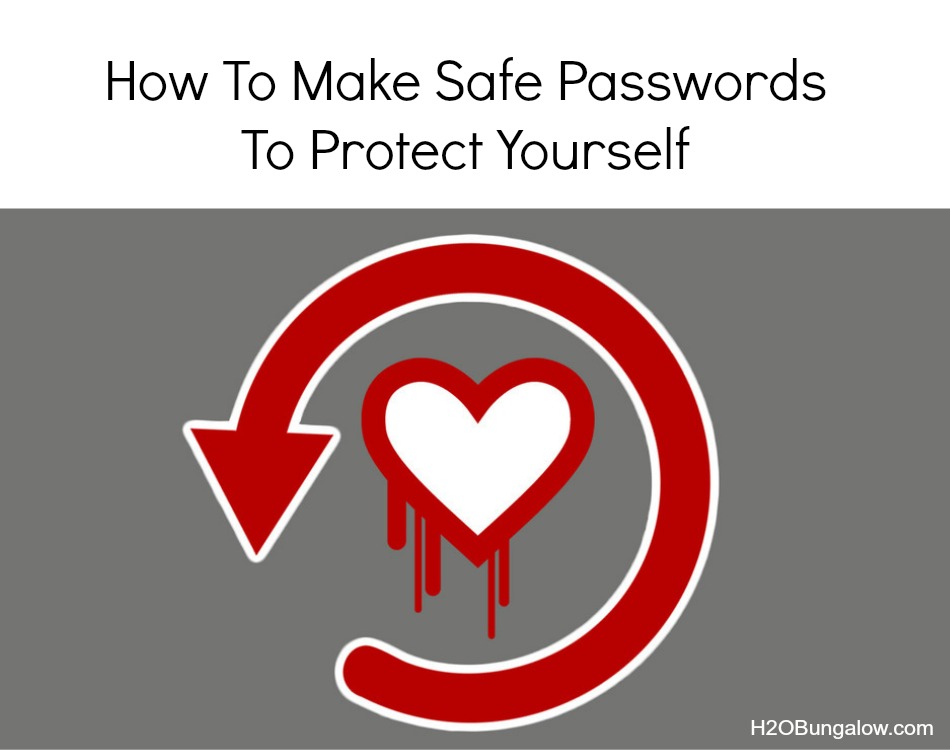 Do you know how to make safe passwords that can't be easily broken or guessed? When Heartbleed hit the news last week I added change passwords to my mental to do list. Add an ugh! for emphasis to that thought too.  Who has time for this?   Tackling this task correctly is just as important as doing it.  I'm sharing how to make safe passwords today because having a secure password is just as important as having a password.
The scary thing about cyber crimes is you really don't know if, when or to what extent you're personal data was compromised. Case in point…last Saturday we were in our comfy clothes mode, getting ready for family movie night with our 17 yr old son.  Yes, he still hangs out with us 🙂 I happened to check my email and saw a notice from Google Gmail that someone in Mexico had my password and attempted to log into my account… from Mexico.  Mexico?   Really?
Thanks Google!  They blocked the attempted login.  I hope because I acted quickly and changed my password I thwarted further attempts.  I will never know to what extent my information was compromised.  Were they just trying for the first time to get access to my information or worse, has someone had it for a while and has accessed my life over time? That's a scary thought.  I need to point out that my password was not your average password.  We follow secure password practices in our family. I was surprised this happened to me.
Are you familiar with how to make safe passwords and what that means?
I know it's crazy time consuming to change passwords.  I'm overwhelmed at the thought of where to start and which passwords are the most critical with the Heartbleed issue. Mashable has a terrific list of which companies were affected, have applied patches and more in this article The Heartbleed Hit List: The Passwords You Need To Change Right Now.   Thier list helped me organize a list of passwords I had to change and prioritize the most important ones.  I even found a few companies on this list that I wouldn't have thought about as I was changing passwords, like our Netflix account.  
How do you choose a good password?   United States Computer Readiness Team has excellent info on Choosing and Protecting Passwords.  Here are a few key points in choosing a secure and safe password.
Use both uppercase and lower case letters mixed with numbers and symbols
Use different passwords on different systems
Don't use personal information that can be accessed – like your children's birthdays, ect
Use phrases – they are easier to remember, purPleBiRDs#sAtinCoFFe@? = purple birds sat in coffee.  Yes, it's silly but I can remember that!
Passwords are stronger if they don't contain words.  I can remember the phrase Purple birds sat In coffee.  Only use the first (or any other) letter from each word.  Like this pB#siC@? – which used the words, letter case and symbols from the password above.
Check out the article above for more information, it's a quick read and informative.
If you haven't already tackled or finished tackling your list of passwords to change, I do hope that this list of how to make safe passwords will make the task easier. Maybe even motivate you to finish the chore if it's partly done.  
One last bit of information, do not ever click on an email to reset a password or access an account in any situation you think may be associated with fraud.  We believe the notice from Google Gmail was authentic, but this is also a common way for hackers to access your information.
Do I think my visitor from Mexico (or whatever country they were routed through) was a Heartbleed intruder or a coincidence?  I'll never know.  They had my password and that's a scary thought. 

Don't miss a single creative idea I share!  Click here to get my posts sent to your mailbox or follow here on Bloglovin.  Either way, keep in touch!