Today, I'm going to share how I made the faux wallpaper for the pantry makeover.  I fell in love with an organic loosey-goosey colorful off-beat shaped wallpaper I've seen in a few magazines.  It just said "hi I'm really fun and you know you want this" to me.  You know what I'm talking about, right?  When you just keep thinking about something till you figure out a way to make it work?  I knew I could make this.
 That's when it hit me.  All I needed was to make a stamp for the shapes.  I figured I could recreate the look for pennies.  That's basically what this cost too.  No kidding, a few teaspoons of paint and a couple of coozies.  Seriously, and yes I really did say coozies.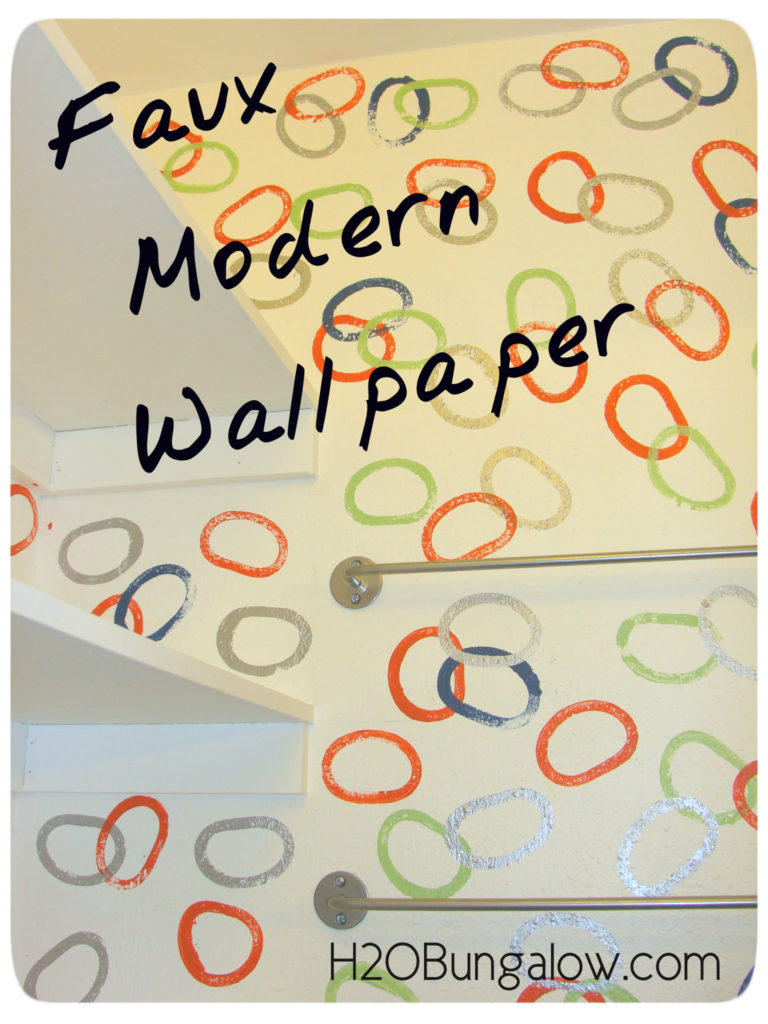 Below are the supplies I used.  Since I was also painting the storage crates I purchased 3 sample size paints from Lowes which was enough for all of the projects that went into the pantry makeover. I already had the silver paint and liked the little bit of oomph it added to the effect. The colors I used are Crocodile Smile, Hacienda Tile, Pantone Moroccan Blue and a Shimmer Silver from Benjamin Moore Paints.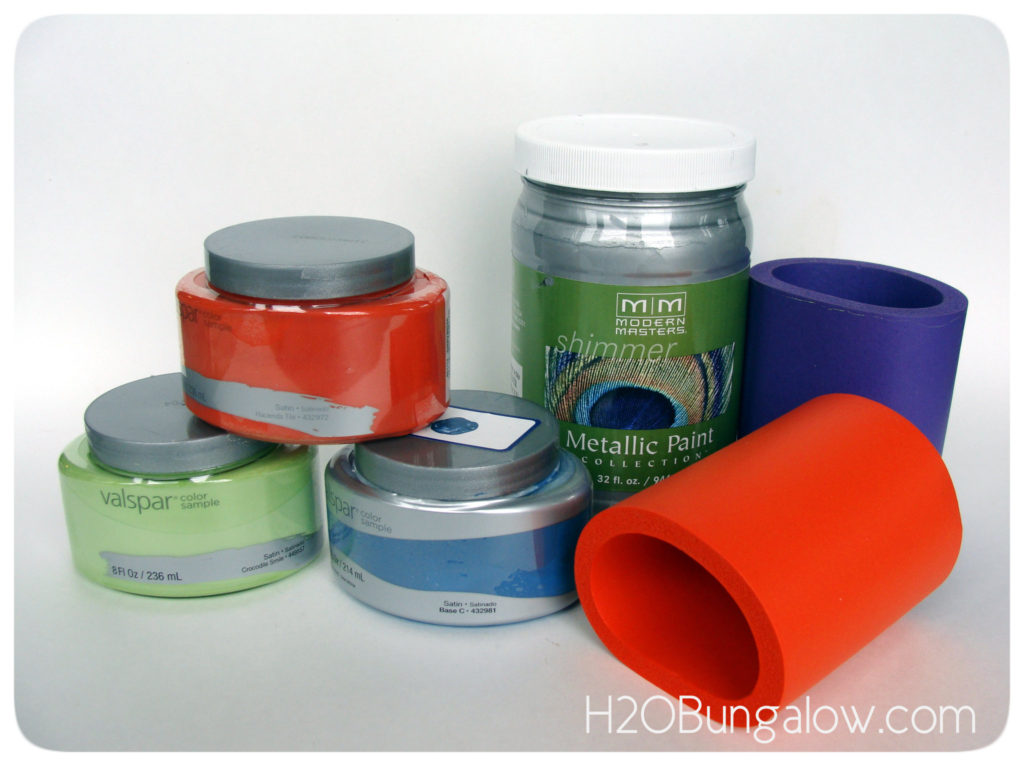 Start by putting a few teaspoons of 1 color in a paper plate.  Spread it around and plop your coozie into the paint.  Gently but firmly press the coozie in random places around your wall.    Also, have some fun and change the shape a bit.  When your stamping your circles squish some this way and squash some a different way to add variation.
Give it a few minutes to dry before layering the next color.   I used a tower fan set on low to speed the process.  And I really liked the fan… Florida is SO HUMID this time of year.  Ugh.. ok, back on track & sorry for the detour…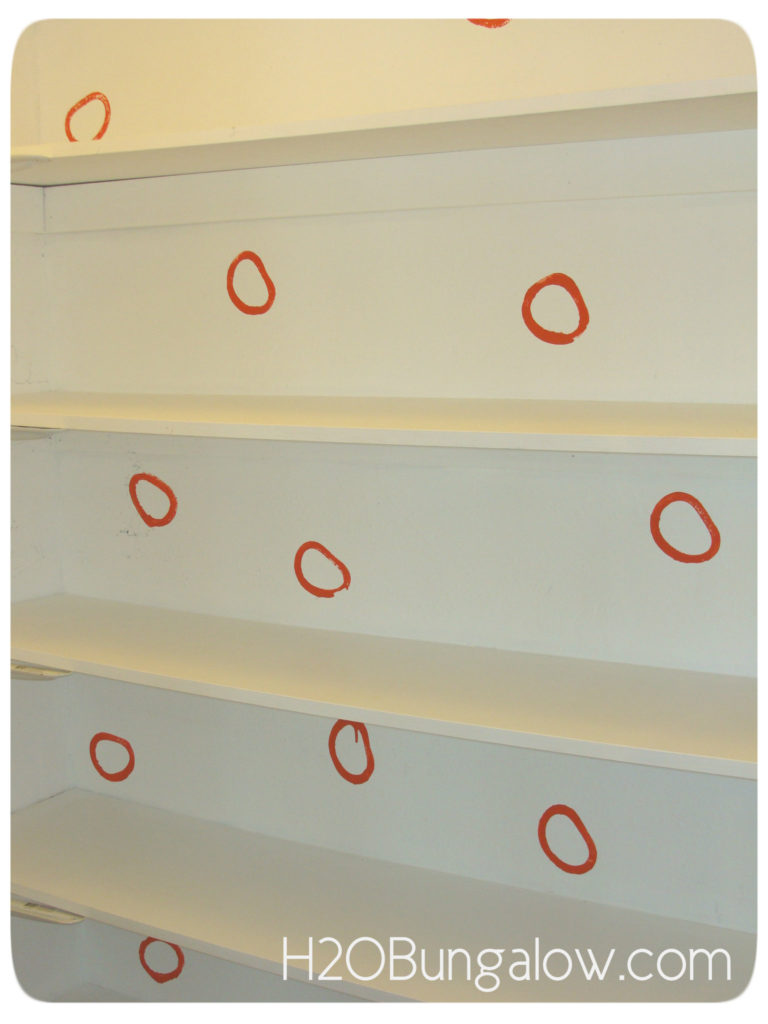 Next, you'll do the same with the second color.  Be sure to layer or link some of the circles together randomly.   Like this.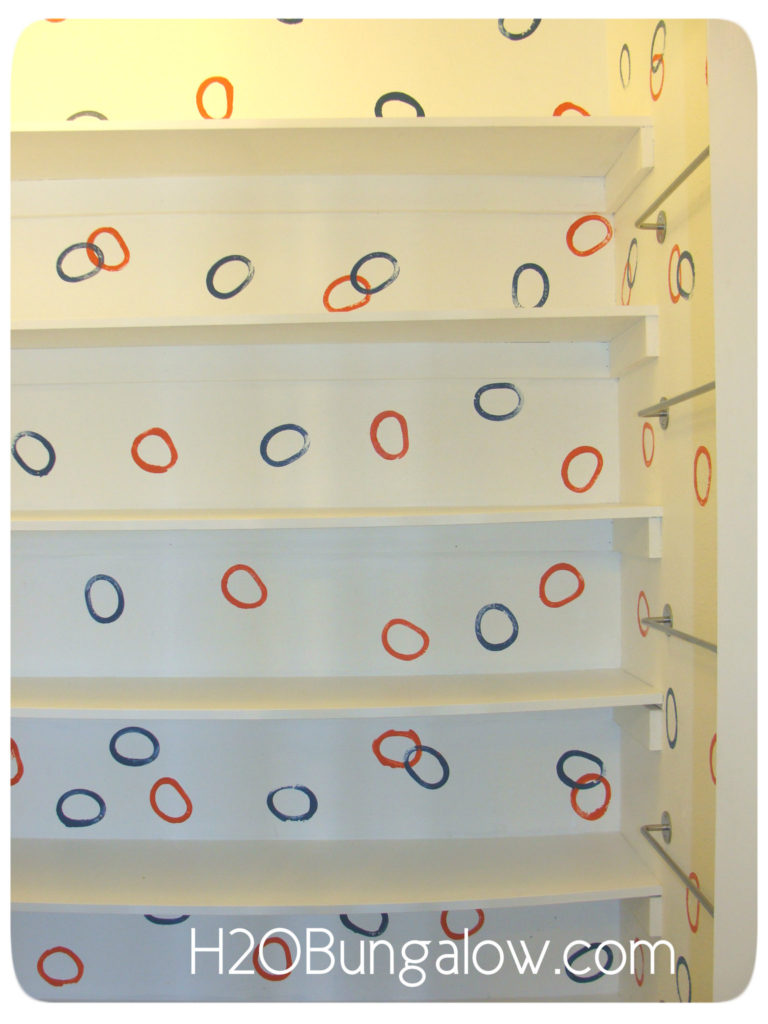 Now layer your third color on and then the fourth if you used four.  You'll notice that the different colors aren't used evenly.  I used blue the least, just here and there.  Silver a bit more.  Last I went back with the orange and gave it another layer to fill in empty spots and give it one more layer and link some cirlces on top.  As you finish each layer do a quick scan for drips.  If you have too much paint loaded on the coozie you'll get a drip.  If you have satin finish or eggshell paint on your wall it will wipe right off with a wet paper towel as long as you catch it quickly.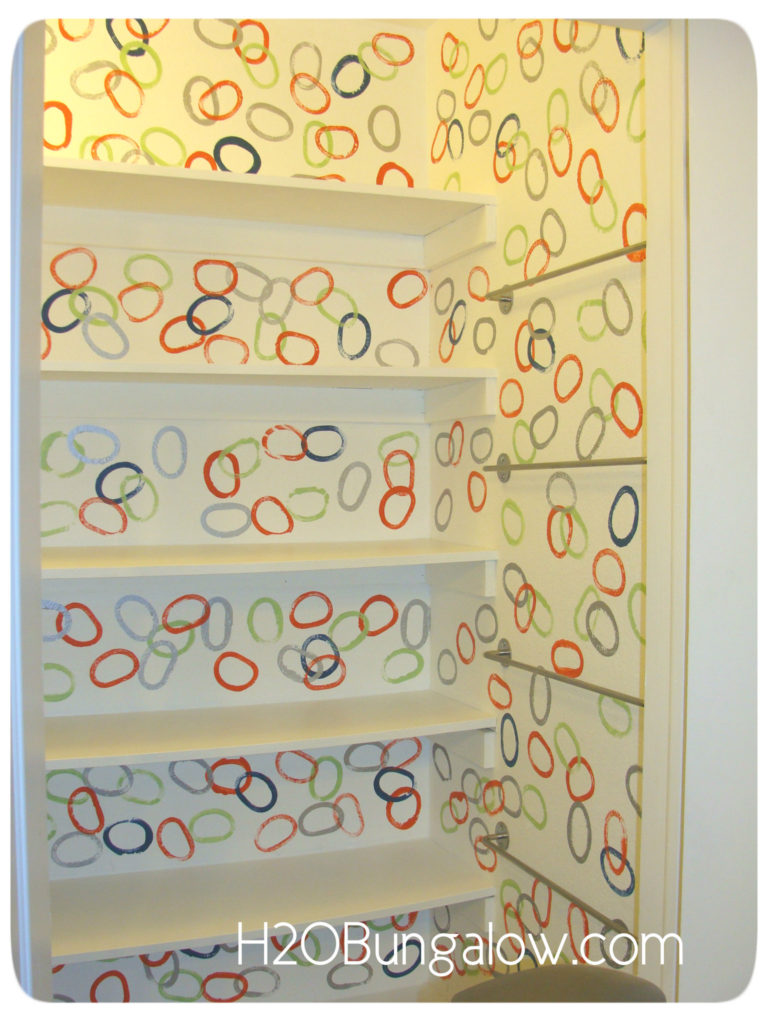 Here is a close up so you can see the circles layered.  Notice the orange is layered under some circles and over others.  This isn't rocket science and I think it would be hard to mess it up!  Here's a painting tip… the time goes by quickly with a glass of wine & some good music 🙂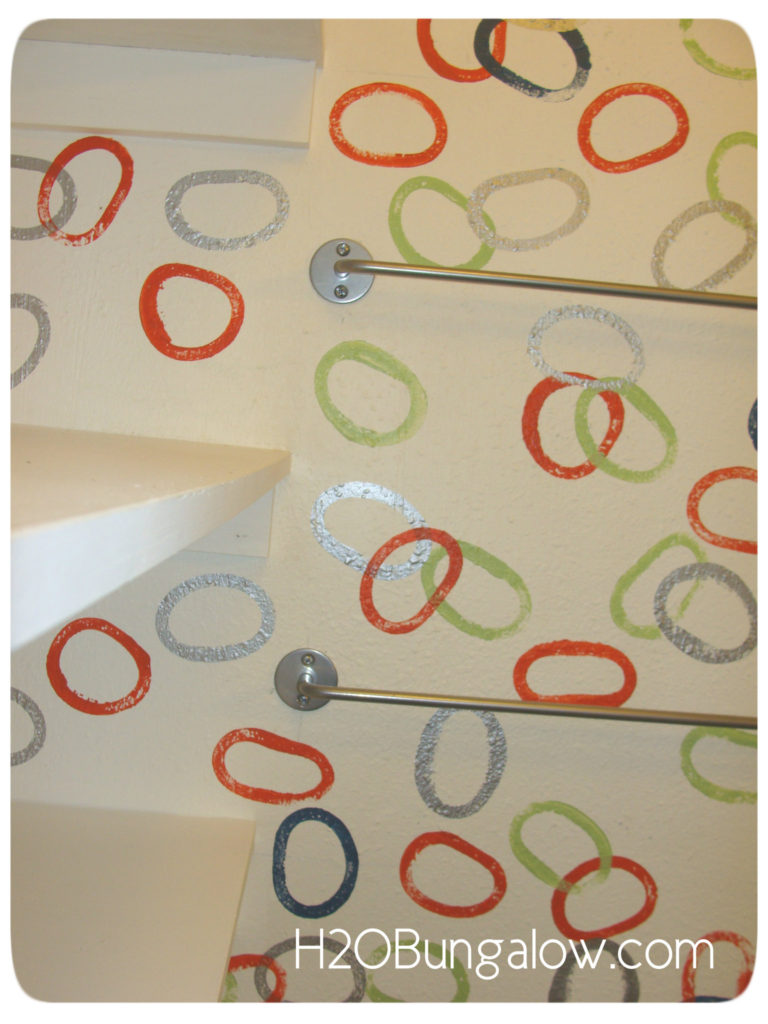 So there you have it.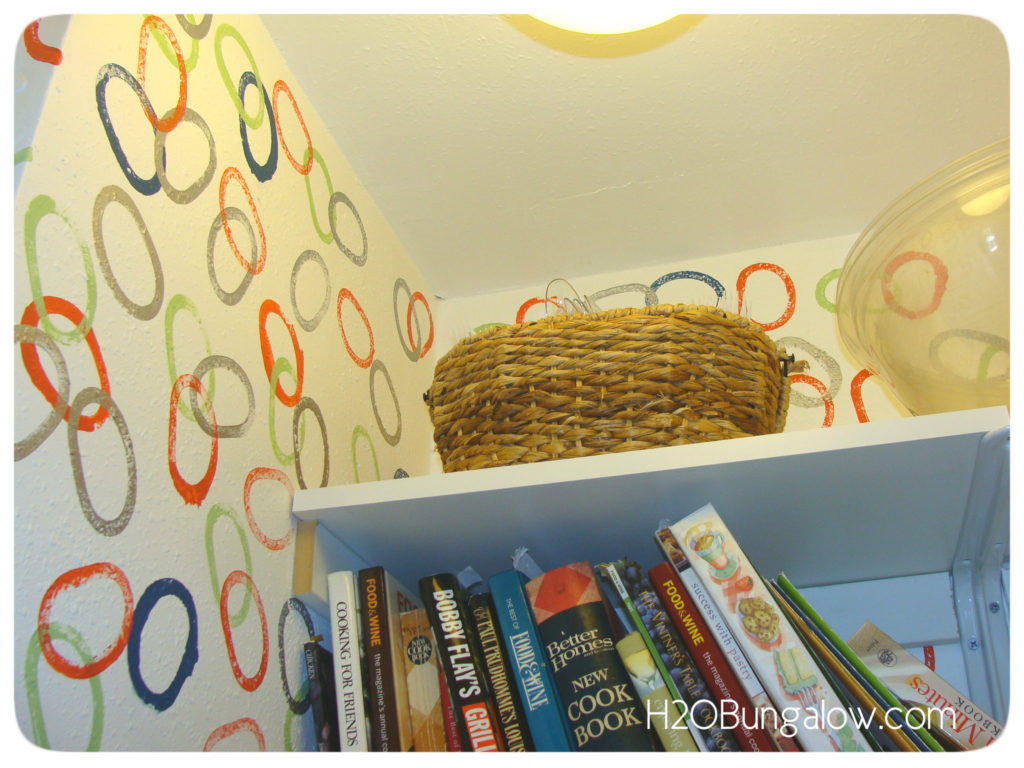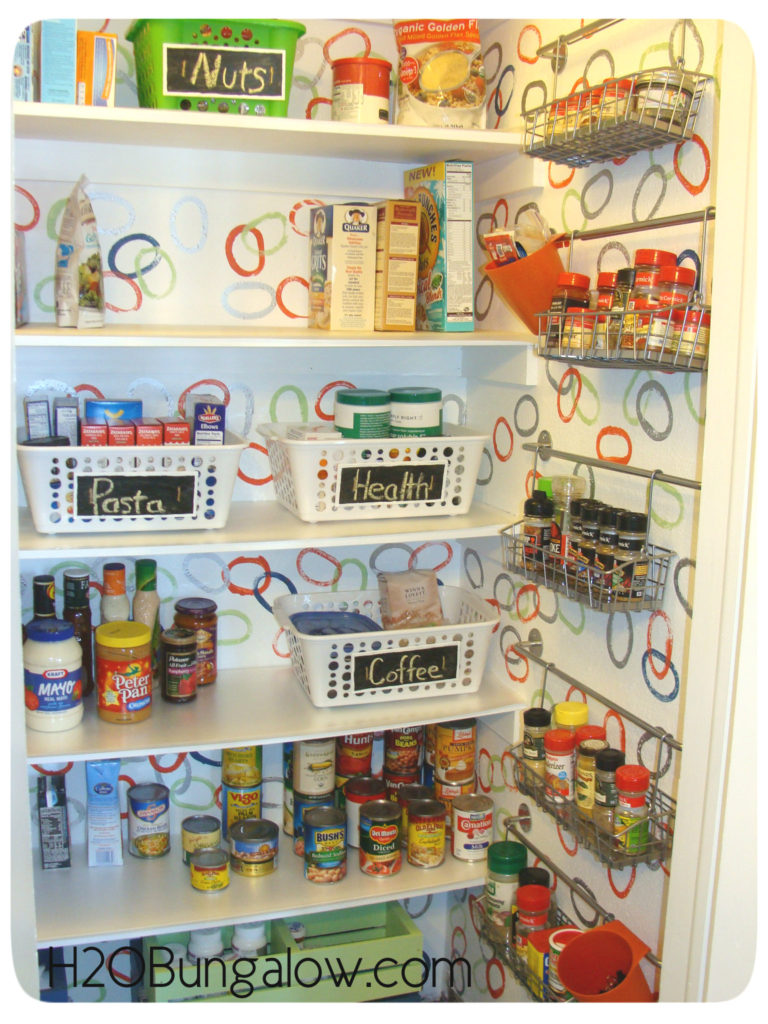 Next up I'll share the storage solutions I used.  How I made the sturdy two-tiered custom crates and what else I added to keep this fun lovin' colorful make you smile pantry organized and clutter free. Where could you use some containers for organizing?
Enjoying what your reading? Take a moment and sign up for my email or through Blog Lovin to follow my blog.  It's free and it's fun!
This weeks great places you may see my projects… be sure to stop by & give them some love!
My project was a favorite on Setting For Four! Yeah!!
You'll also see my post linked up at Restoration Redoux , House of Hepworths, Shabby Creek Cottage, Handyman Crafty Woman, Live Laugh Rowe, Daisy Cottage Designs,  ,Power of Paint Party at Domestically Speaking, Project Inspire, Simply Designing