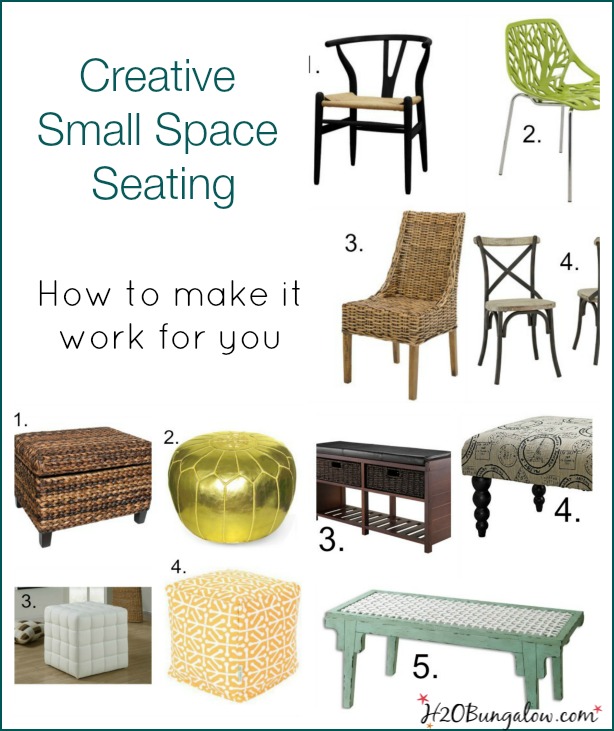 I love a good idea post.  It inspires me to stretch and think outside of the box, or in my case outside of the small home we live in… OK bad pun but,… I do have good info to share with you today.  I'm talking about ideas for small space seating.
I've had creative seating ideas on my mind lately.  Why? Because seating can be a challenge in a small place.  Easter is around the corner and spring as well.  That means we'll start having lots of company very soon!
It takes planing to fit extra seating into small spaces and still have room for it all when it's not being used to seat Auntie Gertrude at the family holiday:) Today I'm sharing some of the ideas for small space seating I use in my own house, plus few more good ideas that have been on my "radar screen" of a want list for future purchases.
To me, one of the biggest challenges in a small home is the balance between finding room for your stuff, making sure it's useful and oh yeah, the biggie…having it look fabulous too!
I love benches for small spaces.  The right bench can be used in many ways.  Keep one at the end of your bed and pull it into the living room for extra seating.  I love them for impromptu and seating at a dinner table. Put a tray on a flat bench and use one as a coffee table for a sophisticated look.  Benches with storage are also smart choices to catch entry way clutter and easily provide extra seating.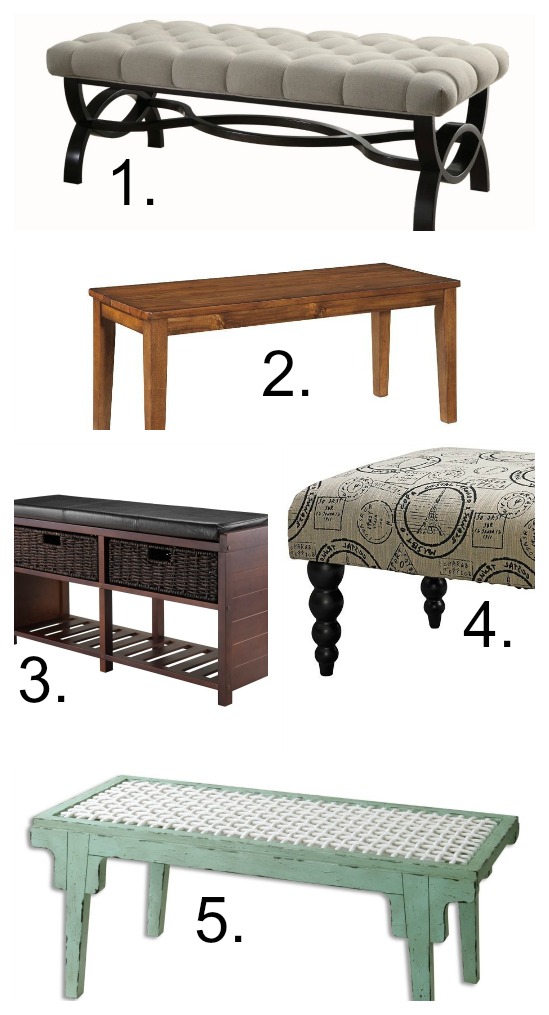 1. Homelegance 4768FA Marlena Bench, Tufted Tan/Neutral Linen
2. Ashley Furniture Signature Design Shallibay Large Dining Room Bench, Light Brown
3.Winsome Wood Colin Cushion Bench with Baskets
4. Linon Claire Bench, Paris
5. Turquoise Aqua Accent Bench Solid Wood | Asian Oriental
I'm on a hunt for the perfect pouf for my small space now.  I love them.  They don't take up much space and are awesome as casual last minute seating, indoors or out.  My pouf ideas? Tuck two poufs under a hall table as part of a vignette, use one beside an arm chair for a nice footrest or convenient place to hold a cup of tea or coffee. Place one beside a bookcase and stack magazines or favorite books on it when it's not in use.   Small ottomans, especially ones with storage are smart choices and work so well in any of the ideas for small space seating I've shared above.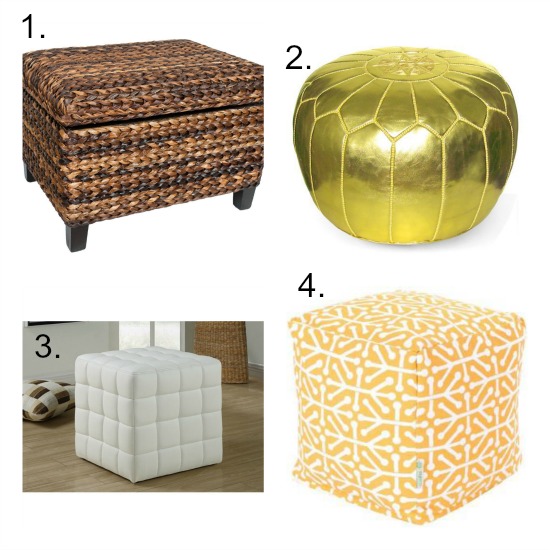 1
. BirdRock Home Seagrass Storage Ottoman – Features Safety Hinges, beautiful hand woven seagrass and a strong sturdy wooden frame
2. Ikram Design Moroccan Pouf, 20-Inch by 13-Inch, Gold
3. Monarch Specialties Leather-Look Ottoman, White
4.   Majestic Home Goods Aruba Cube, Small, Citrus
I have a thing for chairs, especially chairs with personality. I'll put a creative single chair just about anywhere it fits and looks good.  I've had a few favorite chairs in all my homes for as long as I can remember.  Single chairs can easily be tucked into a corner, placed beside an entry table,  hallway or beside a dresser in a bedroom, I've even had them in bathrooms.  The key is selecting chairs that work in the space you have available.  Choose wisely so they add character but, don't look out of place. Grab them and join the party when you need extra seating!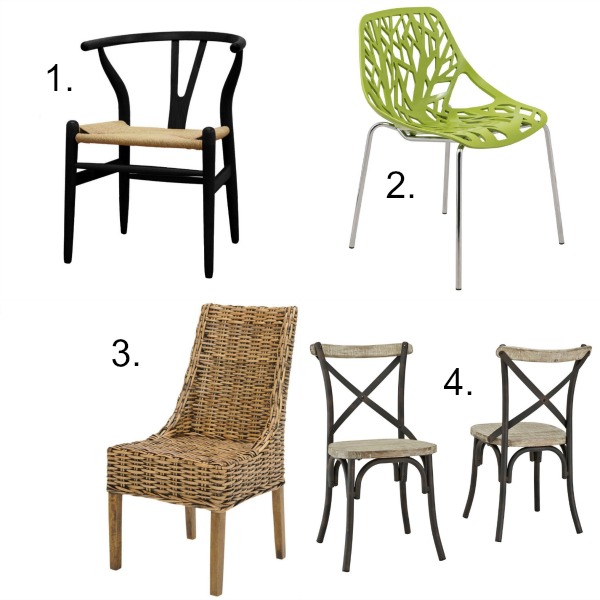 1.  Baxton Studio Wishbone Chair, Dark Brown Wood Y Chair
2.  LeisureMod Modern Asbury Dining Chair with Chromed Legs, Green
3. Safavieh Home Collection Oliver Walnut Wicker Arm Chair, Set of 2
4  Industrial Reclaimed Solid Wood Dining Chairs, Set of 2
Now that I've shared a few of my favorite go to ideas for small space seating you might have already thought of a few more creative ways to incorporate seating into your small home decor.  I use chairs, benches and pretty much anything that looks good as long as it double duties as extra seating for holidays and special occasions in our small home.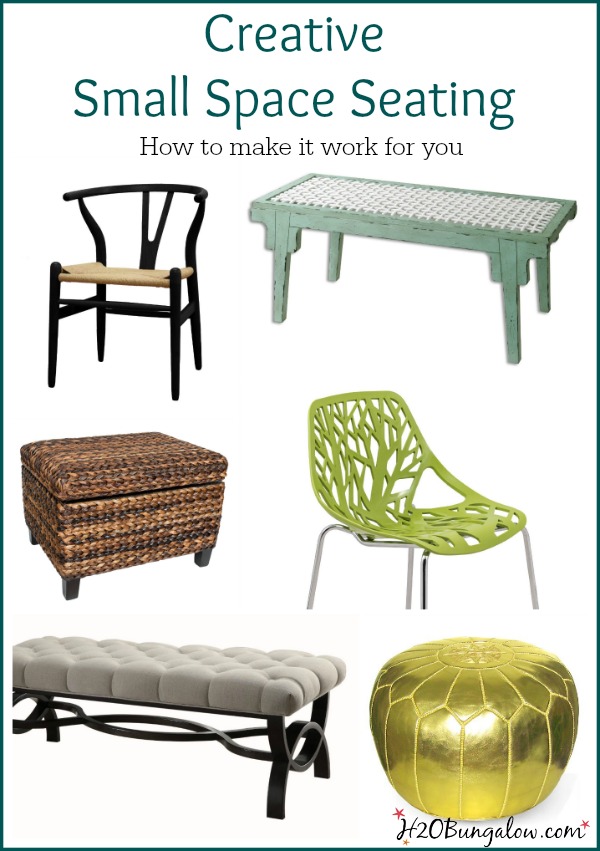 What do I think about before I make a purchase or bring home a new DIY project for my place?  Where will I put it? Will it fit into my space and complement my style, and how useable is this item to add seating to any room or outside?
 From my ideas for small space seating above, which chair, bench or pouf is your favorite?
You may also like my other small home living posts Organize A Kitchen And get More Space, Decoarating Tips For A Small Home, Creative Ways To Deal With Sentimental Clutter.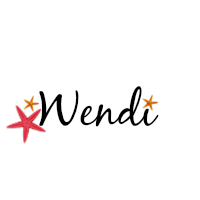 Love a good dose of DIY home decor, home improvement, the challenge of woodworking and creative ways to make your home look fabulous?
 Me too! I'll share mine with you!
Click here to have my posts sent to your mailbox fresh off the press.
Social media fan? Don't be shy say hello!  I love when you guys do that!
  I'm very interactive with my readers on Facebook and I share lots of extra projects and, useful inspiration for the home and content I don't share anywhere else.
Follow H2OBungalow on Facebook
Oh heck, just follow me on all social medias.  We'll have some fun…promise:)
 Follow H2OBungalow on Instagram
Follow H2OBungalow on Pinterest
I'm on Periscope! @H2OBungalow
I use affiliate links in my posts.  If you should make a purchase I will receive an itty bitty commission at no coast to you. Thank you in advance for supporting my blog…my two cats and our boxer dog 🙂