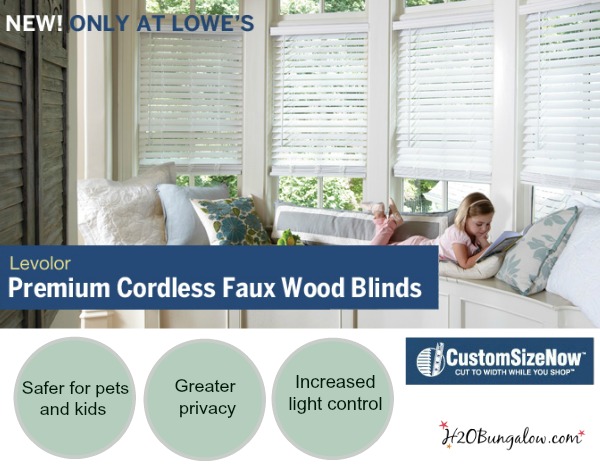 I still have a few finishing touches to add to our contemporary master bath that we completed last fall.  One item that has a big impact in our new master bath is a window treatment.  I put a lot of energy and hard work into making my new master bath awesome. I wanted a designer look without the designer price. Levolor faux wood cordless blinds are the perfect choice.
I'm so happy to have found the quality I want without the big price tag!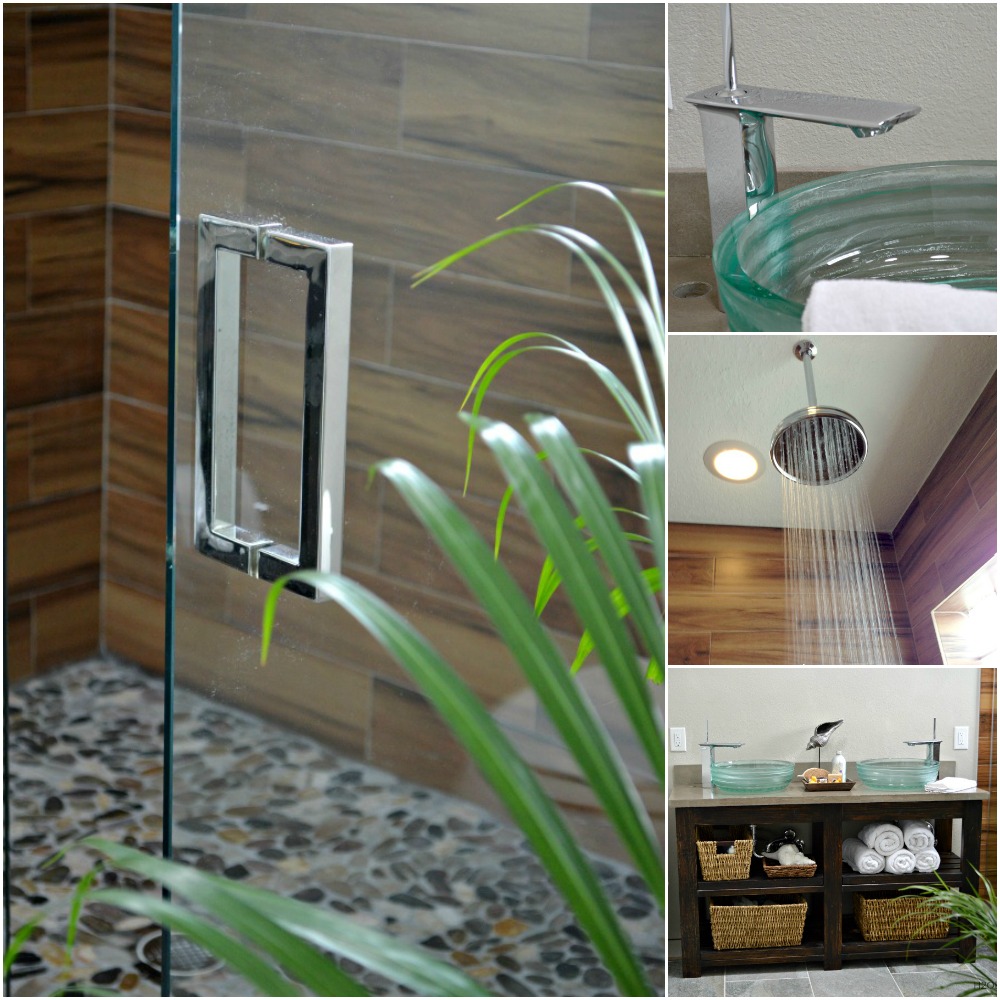 Levolor has premium faux wood cordless blinds.   Yes, friends, cordless.  Like the expensive custom blinds that take weeks to receive once they are ordered! Custom Size Now are Levolor® blinds & shades that can be cut to width for Free at Lowe's.
Best of all? I didn't have to wait weeks to get them.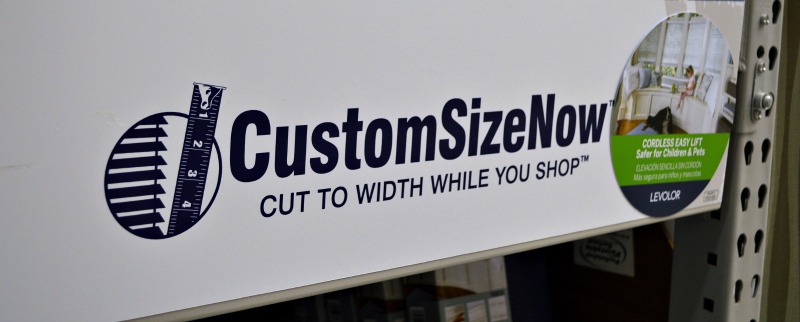 The only thing I needed was my window measurements.  All I had to do was hand them to my cheerful and knowledgeable Lowes Style Advisor.  He assisted me with my choices and helped me pick the correct sizes for my windows.
We  had them picked out and cut to size in less than 10 minutes, and I bought two blinds!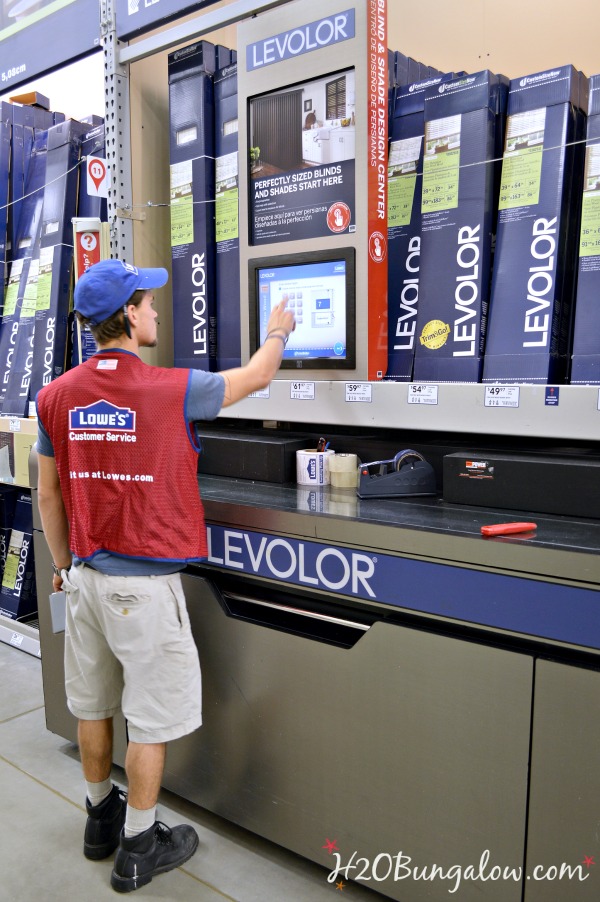 I thought my little odd-shaped bathroom window was going to be a challenge.  It wasn't, they have plenty of sizes to choose from.   Before I went, I looked online at the Lowes selection to see what style I liked best.  My choice was the premium faux wood cordless blinds because they are sleek and modern, block out more light and provide more privacy than corded blinds.
You'll find a Levolor Blind display in the home blind section at your local Lowes Store.  I tried the cordless feature out for myself at the display.  It was easy, raise and lower at the bottom by lifting or lightly pulling the blind down. Have I mentioned that I love the no cord feature? I was sold on the looks alone, but feel good about the safety of cordless blinds too.  Cordless blinds and shades are much safer for pets & children. We have playful cats and a 2 year old grandchild who is curious about everything and loves to tear through the house.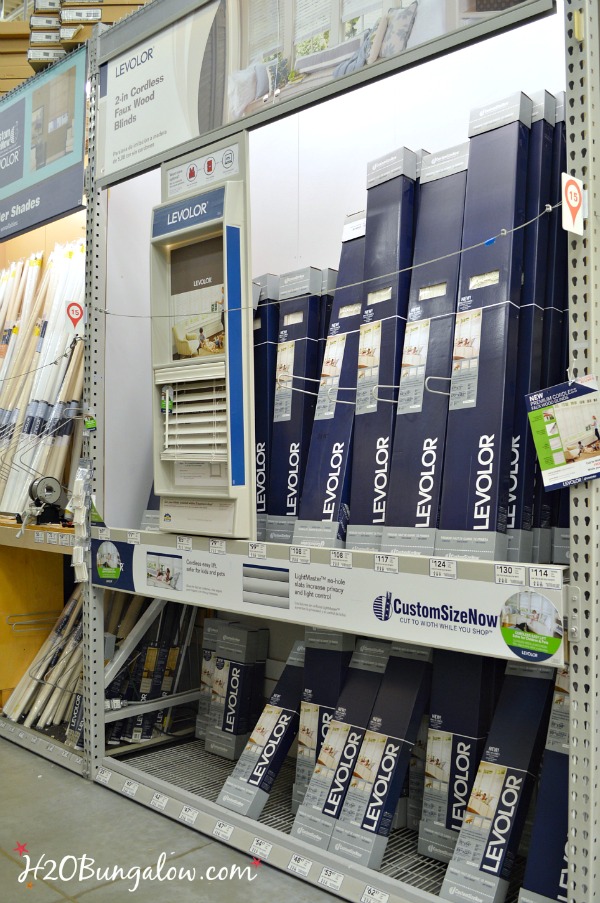 You can find even more information and a useful video at the Levolor end cap in your local Lowes Store.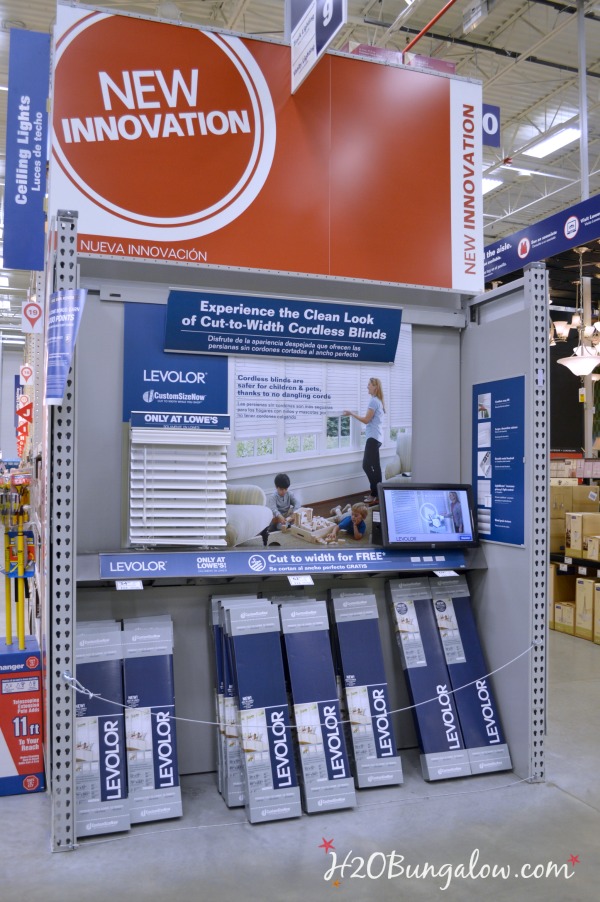 I love the quality of my new Levolor faux wood cordless blinds, they look just like real wood.  Real wood won't last in our humid environment.  My bath window is 25 feet from the bay, we live on open water which means a lot of humidity and that's before I take into account that my bath will be humid as well.
I don't have to worry about the quality of my new blinds.  I've been happy with other Levolor purchases we've made in the past.  Besides, Levolor offers a no-risk exchange, full ten year warranty.  What could be better than that?
Have I mentioned that Custom Size Now blinds and shades can only be found only at Lowe's and can be taken home today?
I'm going to install my new sleek cordless blinds this weekend.  I'll share my real-life user experience with both blinds in a few weeks:)
As you might have guessed this is a sponsored post, I was provided product and or compensated for sharing this information.  All opinions, craftiness, and projects are 100% my own and never for sale.  I'll only share items I think have value for my readers!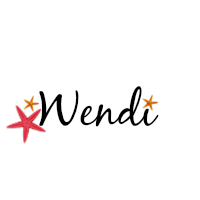 Don't miss a single creative idea I share!
Love my posts? Click here to get my posts sent to your mailbox or follow me here on Bloglovin.
Following H2OBungalow on Facebook? It's one of my favorite places and I share lots of extra projects, inspiration for the home and content I don't share anywhere else.
Love Instagram?  Me Too! Follow H2OBungalow on Instagram and see my projects in process and lots more.