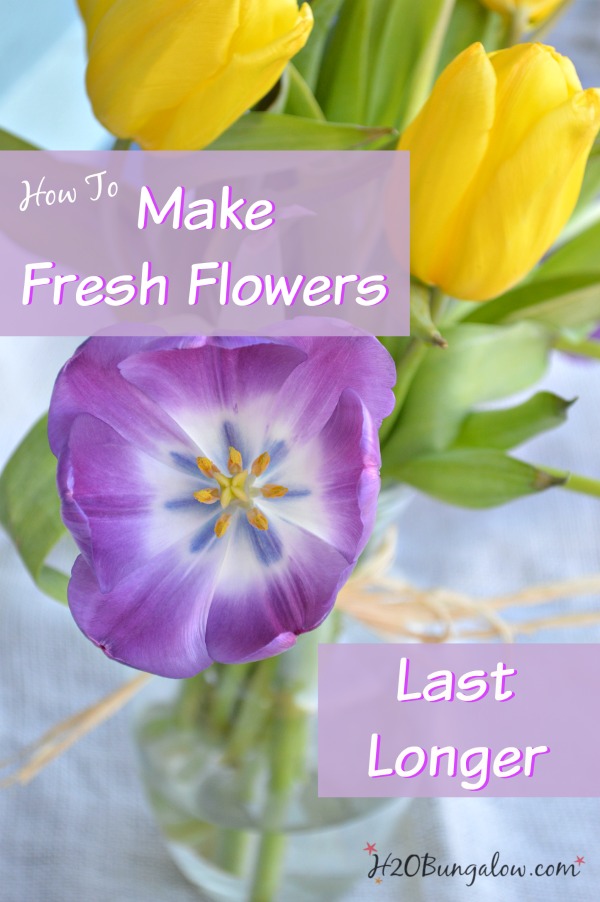 Valentines Day is just a few days away.  Spring and more flowery holidays, like Easter and Mothers Day are right around the corner. It's a good time for me to share a few tricks to make fresh cut flowers last longer.
I buy fresh flowers more in the winter and spring; I'm guessing it's because I'm willing winter to move on and the gentle temps and sunshine of spring to arrive.  The downside is that purchasing fresh flowers from a store can be expensive! Here's how I make fresh cut flowers last longer so I get more value for the money I've spent.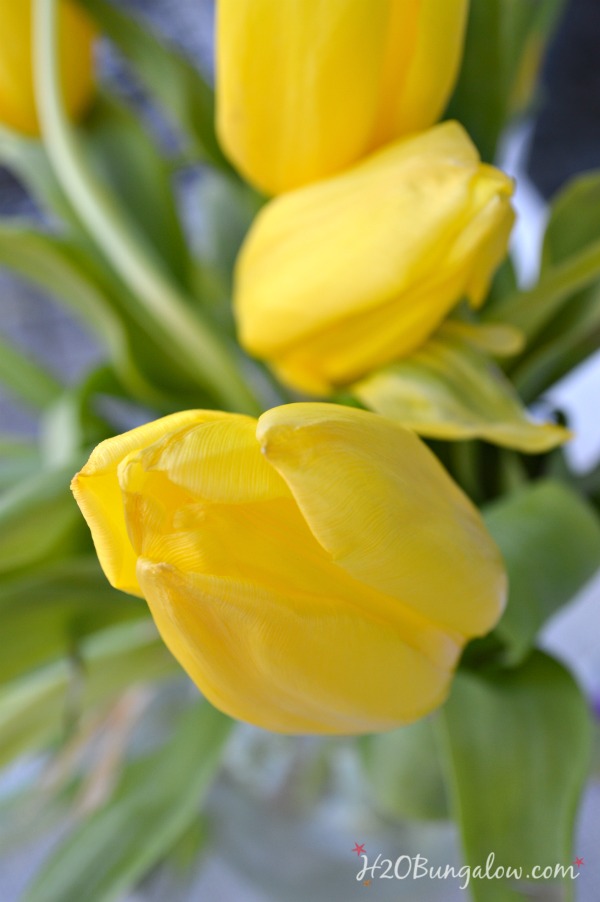 1.  Use a home made flower preservative with an acid and a sugar.  The acid inhibits bacteria growth and the sugar feeds the cut flowers. Here are 3 recipes for making your own fresh cut flower preservative.  Mix into the flower water 2 tablespoons apple cider vinegar with 2 tablespoons sugar.  Mix a capful of vodka and a teaspoon of sugar.  Mix 3 drops of bleach and a teaspoon of sugar.
2. Clean leaves from stems the below the water line.
3. Avoid heat and extreme temperature changes.
4. Pluck wilting stems and leaves from the bouquet and rearrange when changing water.  Clip a little off of the bottom of the stems at the same time.  Roses have guard petals on the outside.  Pull the outer petals off to reveal a fresh set of petals underneath.
5.  Lightly spray petals and underside of the leaves with hairspray.  I haven't tried this trick, but I've read that it helps keep flowers fresher longer as well.
6.  This last tip is from Chemistry Cachet and was so good I had to add it! Put your flowers in the refrigerator at night.  That's it.  So simple and it works!  You can read Chemistry Cachet's tip on how to keep fresh flowers longer here.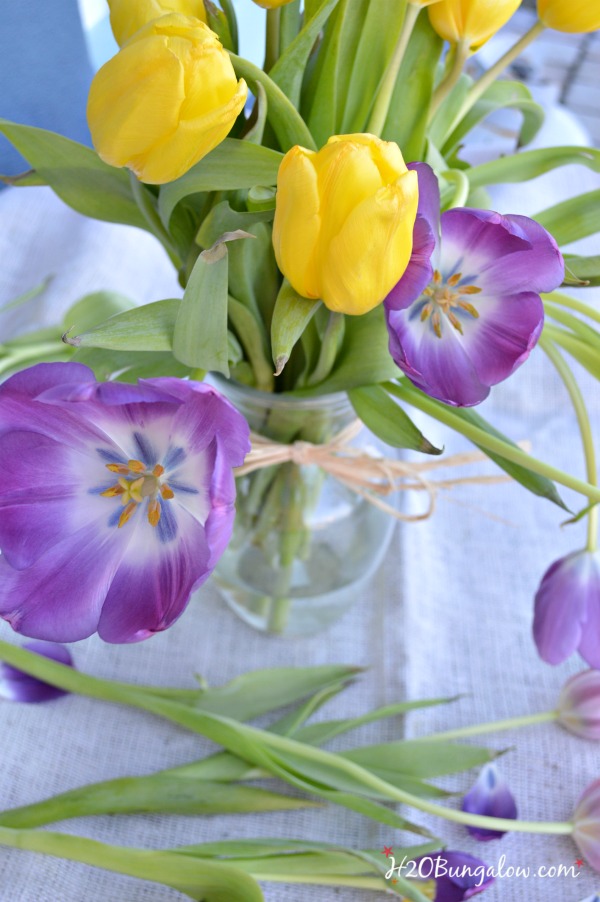 These tips will help make fresh cut flowers last much longer than plopping them in a vase and forgetting them.  I've done this before and felt really guilty when they didn't last.  Especilly when they were a thoughtful gift 🙁   Some varieties naturally last longer than others which is why my favorite fresh flowers are mixed bouquets.   When I've cared for them properly, I've had fresh cut flowers last as long as 3 weeks!
What are your favorite tips to make fresh cut flowers last longer?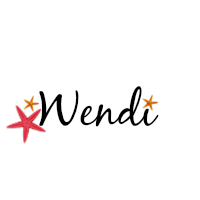 Don't miss a single creative idea I share!
Love my posts? Click here to get my posts sent to your mailbox or follow me here on Bloglovin.
Following H2OBungalow on Facebook? It's one of my favorite places and I share lots of extra projects, inspiration for the home and content I don't share anywhere else.
Love Instagram?  Me Too! Follow H2OBungalow on Instagram and see my projects in process and lots more.