I finally found some fall motivation and made some bronze metallic pumpkins for the living area. Fall is all over the internet, there are awesome fall mantles, inspiring front porch vignettes and pumpkin decorating galore everywhere.  It's been kind of tough getting into the fall spirit since it's still hot as can be here and we are still wearing bathing suits and flip flops!
Last week, we finally had a few signs that fall is here. The mornings were a bit cooler, we even dipped down to the low 70's one morning.  I know, it sounds crazy…but I'm just telling ya how it is here.  Fall also brings the snowbirds down.  Nope, I don't mean the Yankees or the Canadians ~ although they'll be here soon too.  I mean our friend the osprey (sea hawk) who has come back to hang out with us for the winter.  He/she will stay the winter and has made one of the sailboat masts his winter perch.
What did I do with my newfound motivation? I made these simple metallic pumpkins.  You can too, it's a breeze.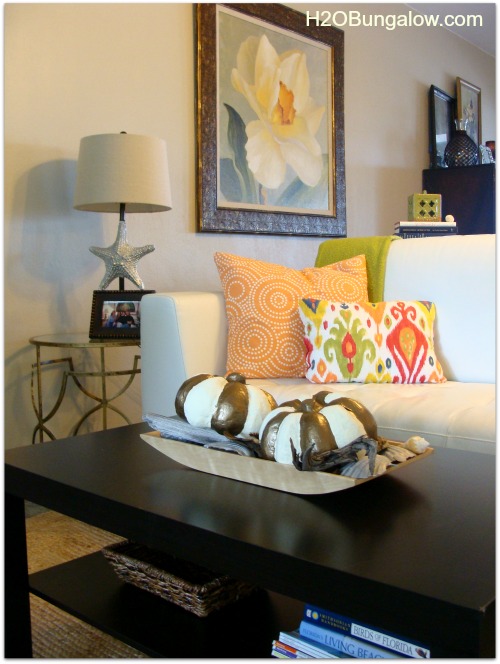 I gathered some supplies.  Yup, I forgot the before picture of the pumpkin, they were the small paper mache ones from Michaels.  I bought two on sale for $2.99 ea.  I wanted my pumpkins to be simple with neutral tones and I love the metallic finishes that are in style now so I went with easy bronze metallic pumpkins and added creamy white stripes for contrast.
I used Rustoleum Spray Primer on the paper mache pumpkin to seal it.  When it dried, I gave it a few thin coats of Rustoleum Metallic Bronze spray paint.  After the metallic paint was dry I mixed a little yellow craft paint with some white paint to get a creamy white and just free handed the stripes.  I painted every other pumpkin segment with my creamy white paint.
Super easy!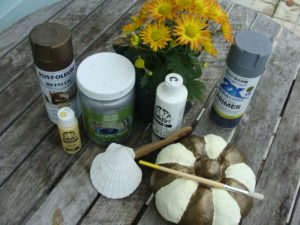 Of course I still wanted coastal element, so I painted a few shells with my favorite Modern Masters Silver Metallic Paint to add to my display.  I gathered up a few more shells, added some driftwood and a few white candle shells too.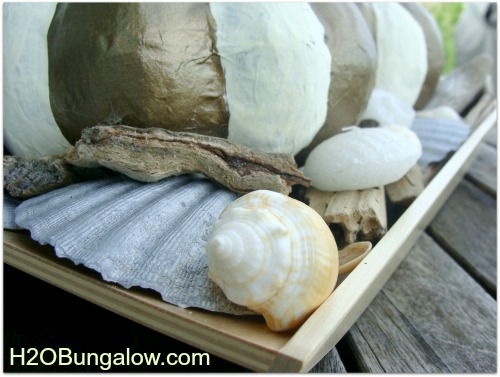 I shopped my house in a 5 minute round up and grabbed things as I walked around.  I tucked everything in this wood platter I had (I'm pretty sure it's Ikea).
Viola!  A DIY metallic pumpkins centerpiece.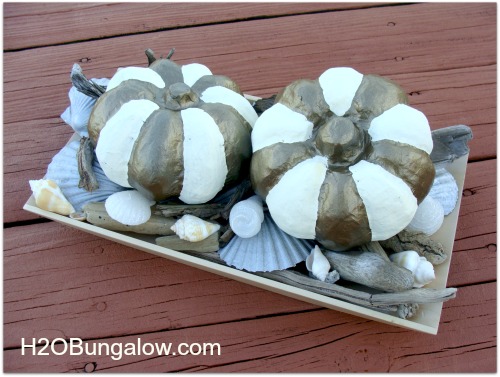 So…now I'm challenged.
I can't decide where I want to place it.  I like it on the coffee table.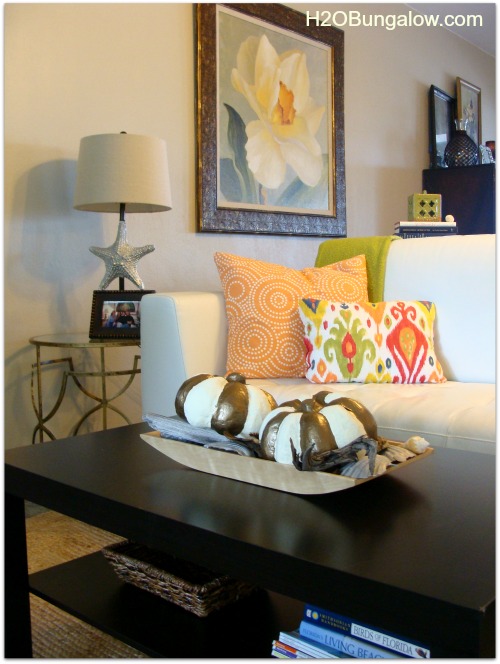 And I like it on the sofa table.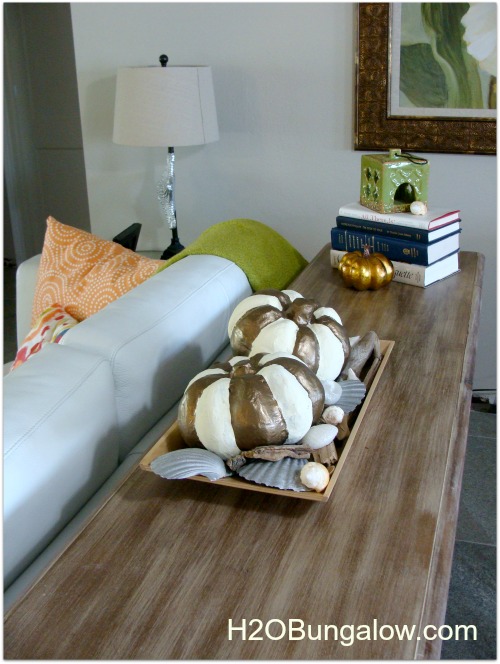 Where would you place it?  Coffee Table or sofa table?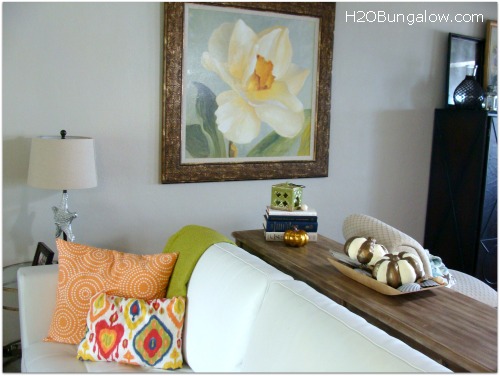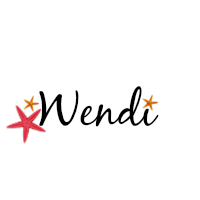 Love a good dose of DIY home decor, home improvement, the challenge of woodworking and creative ways to make your home look fabulous?
Me too!
I'd love to share mine with you.  Click here to sign up for my post emails  and I'll send a quick note when I have a new project to share.
Social media fan? Don't be shy say hello!  I love when you guys do that!  I'm interactive on Facebook and I share lots of other projects and, useful inspiration for the home and content I don't share anywhere else.  Follow H2OBungalow on Facebook here 
Oh heck, just follow me on all social medias.  We'll have some fun…promise:) Follow H2OBungalow on Instagram , Follow H2OBungalow on Twitter , Follow H2OBungalow on Pinterest, I'm on Periscope! @H2OBungalow
I use affiliate links in my posts.  If you should make a purchase I will receive an itty bitty commission at no cost to you.  Thank you in advance for supporting my blog…my two cats and our boxer dog