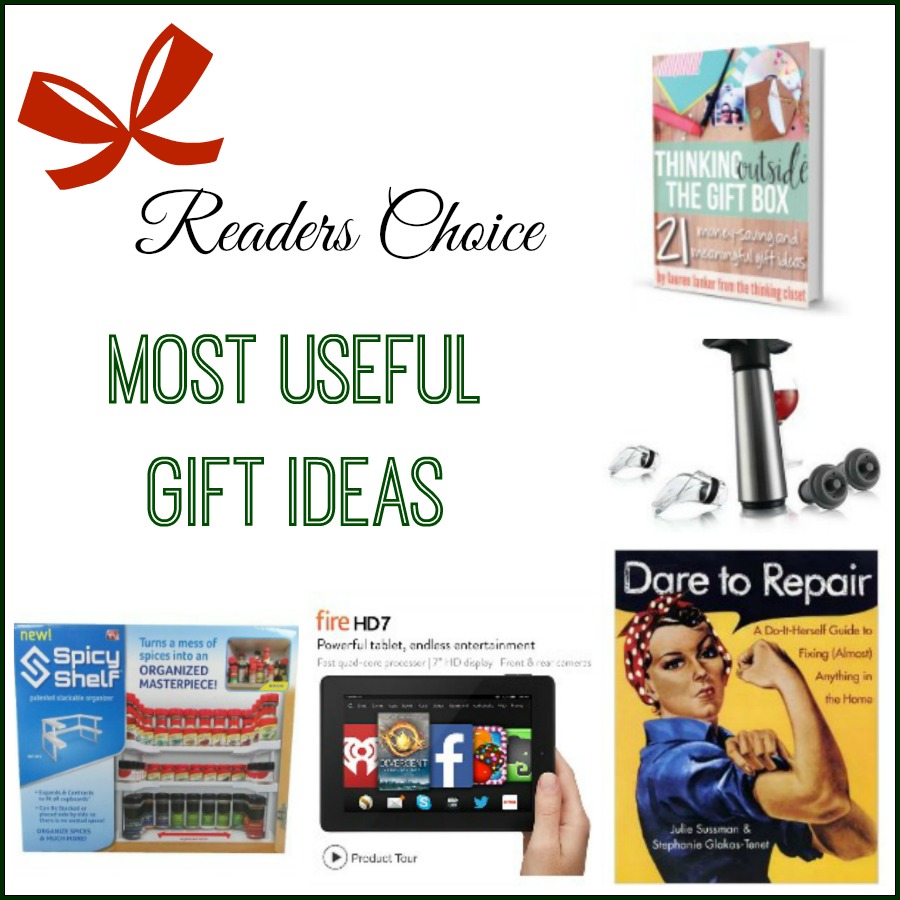 I used to take hours picking out the perfect Christmas gift for each person on my list.  That was before kids, career, extra commitments and everything else that comes with the growing up. Each year I have a name or two left on my gift list about this time in December.  For the life of me, I can't come up with any special ideas. Last week, I had some fun with my readers on Facebook.  I asked them to share with me the most useful Christmas gift ideas list.
They came up with some really good gift ideas!
Best small home living gifts.  Small home dwellers know how to make the best of every small space.
Best Small Home Dweller Gifts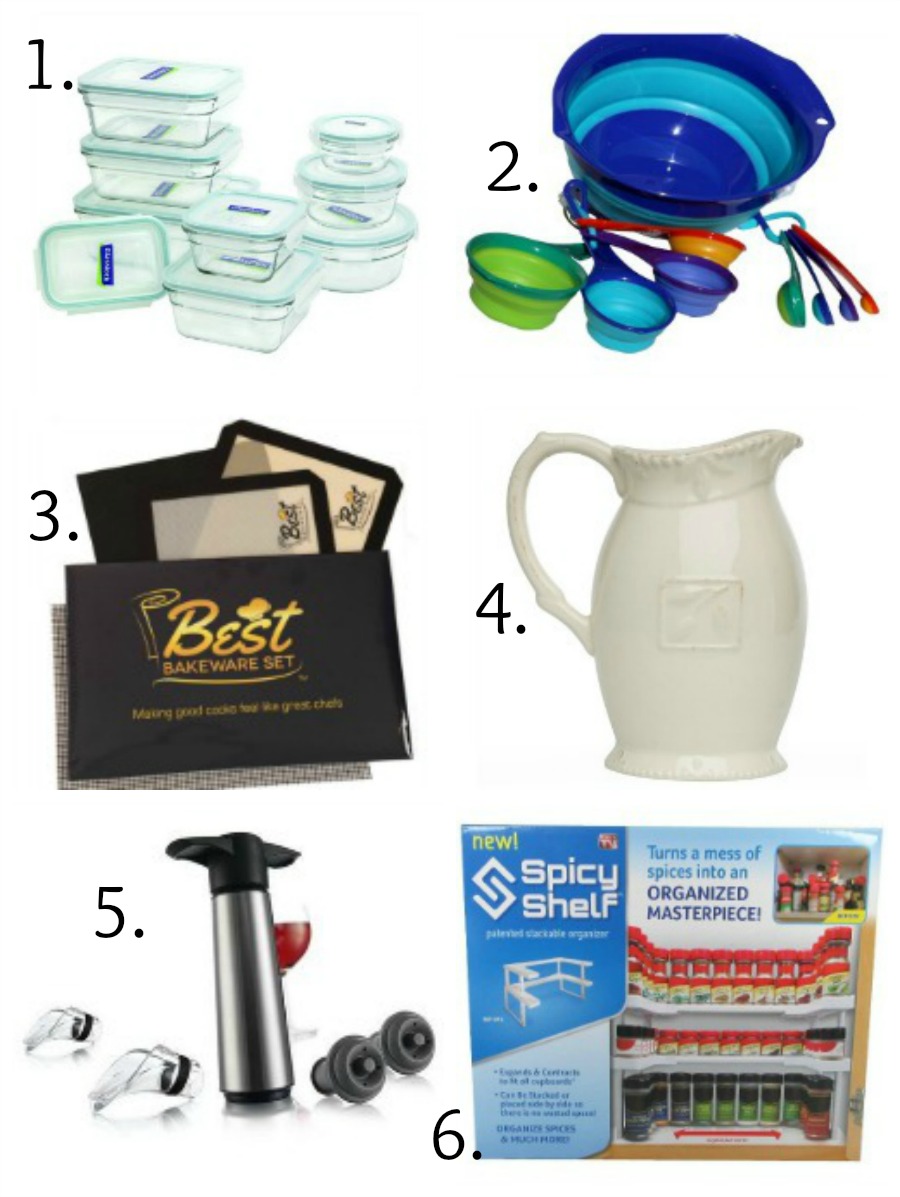 1. Glasslock 18-Piece Assorted Oven Safe Container Set
 – Save space, no need for plastic containers, store and serve in these handy glass containers
2.Squish Collapsible Silicone 3 Qt Mixing Bowl, Measuring Cups and Spoons Bundle – (9 Pieces)
 – They really do squish flat to fit in tight spaces.
3.Signature Housewares 2-Quart Stoneware Pitcher, Ivory
 – A good pitcher has many functions in a small kitchen, holds utensils, fresh flowers and serves a beverage.
4.Best Bakeware Set 4 Piece Non-stick Silicone Set of 2 Baking Mats, 1 Oven Liner and 1 Crisping Sheet
 – Multiple readers suggested these and they don't take up much space.
5 .Vacu Vin Stainless Steel Wine Saver Gift Set I swear by this product.  Keeps wine fresh for days!
6. 
Spicy Shelf Patented Spice Rack and Stackable Organizer
 Clear the clutter and find a spice quickly.
Readers Choice Most Popular of The Most Useful Christmas Gift Ideas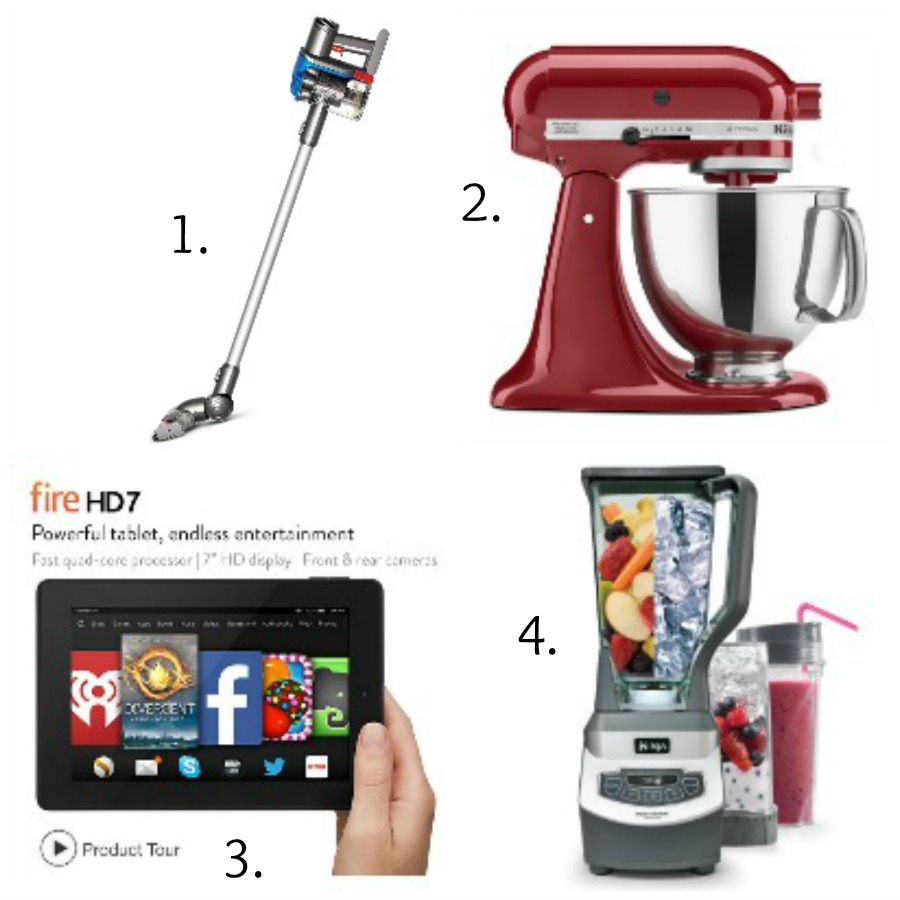 1. KitchenAid KSM150PSER 5-Qt. Artisan Series with Pouring Shield – Empire Red
2.Ninja Professional Blender (BL660)
3.Fire HD 7, 7″ HD Display, Wi-Fi, 8 GB – Includes Special Offers, Black
4.Dyson DC35 Digital Slim Multi floor cordless vacuum cleaner
Things every girl should have includes a few useful items that we wouldn't think of buying ourselves but should!  Great for college students, a first apartment and someone who drives a lot.  I still have the first tool kit I received as a gift!
Things Every Girl Should Have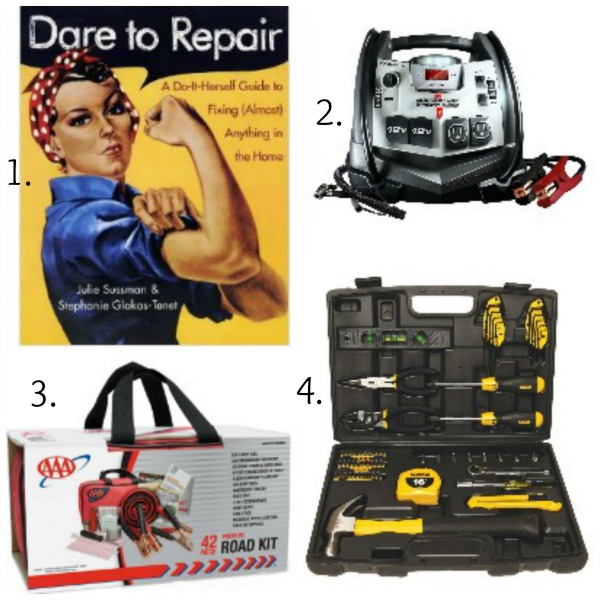 1.Dare to Repair: A Do-it-Herself Guide to Fixing (Almost) Anything in the Home
2.Schumacher XP2260 1200 Peak Amp Instant Portable Power Source
3. Stanley 94-248 65-Piece Homeowner's Tool Kit
4. AAA 42 Piece Emergency Road Assistance Kit
My readers shared several beautiful personal stories of touching and useful gifts they received.
Gifts From the Heart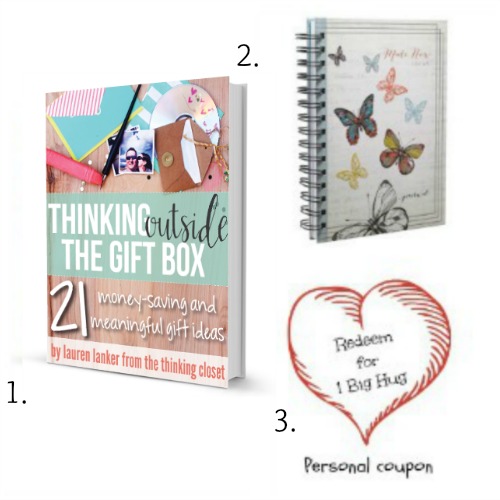 1. Thinking Outside The Gift Box  Highly recommended ebook filled with loads of great heartfelt gift ideas for year-long gift giving.
2. "Made New" Butterfly Hardcover Wirebound Journal
  A reader favorite
3. Handmade Coupons for hugs, chores and thoughtful actions are always appreciated.
I hope you've found some inspiration and in my most useful Christmas gift ideas my readers and I put together 🙂  My Facebook readers and I had a good time putting this together.
…And I crossed of those last few names on my gift list!
My readers choice of the most useful Christmas gift ideas has affiliate links.  If you make a purchase, I will receive a small commission at no additional cost to you.  Income from my blog pays for the blog overhead and a kid in college:)  Thank you for supporting H2OBungalow!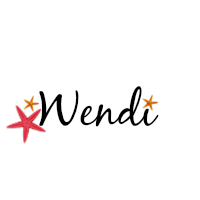 Don't miss a single creative idea I share!
Love my posts? Click here to get my posts sent to your mailbox or follow me here on Bloglovin.
Following H2OBungalow on Facebook? It's one of my favorite places and I share lots of extra projects, inspiration for the home and content I don't share anywhere else.
Love Instagram?  Me Too! Follow H2OBungalow on Instagram and see my projects in process and lots more.