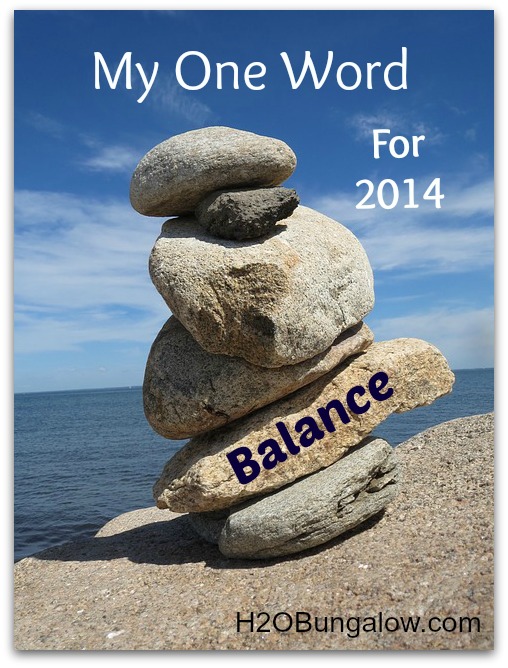 It took me about 10 nanoseconds to choose my one word for 2014.
If you're not familiar with this concept, it's pretty simple.  In a nutshell a person chooses one word for the entire year.  The word will be one that you can focus on everyday.  It should sum up who you want to be, where you want to be and how you want to live.  I love this!  My one word for the year is something I struggle with…a lot of the time.
What word did I choose?  My one word for 2014 is balance.
After reading a few bloggers posts on their own choice of one word for the year, I decided to research a little to see what this was all about.  I found an interesting website called One Word 365.  I don't know if they started the trend, or jumped on a moving train but I liked their site.  People choose one word for 2014 and share a small post or write-up about the word like why they choose it or what it meant to them.  You can also search for any word, like your own to see how many other people chose it.  They call your fellow word mates your tribe.  Of course I looked up my one word to see how many other people chose the same one. There were a Lot.  
Like many people I over commit, have way too many projects, tasks and to do items on my daily list. Many days I don't accomplish nearly as much as I need to. Lots of things get in the way of simple things like taking time out for me, I put off exercising and other practices that keep my mind and body in good shape.  There have been days when I'm plugging away on the computer and I look up to see it's dark and realize it's dinnertime.  Ooopps, I didn't make anything today family.  Sorry.  How about a grilled cheese sandwich and a can of soup? Sound familiar?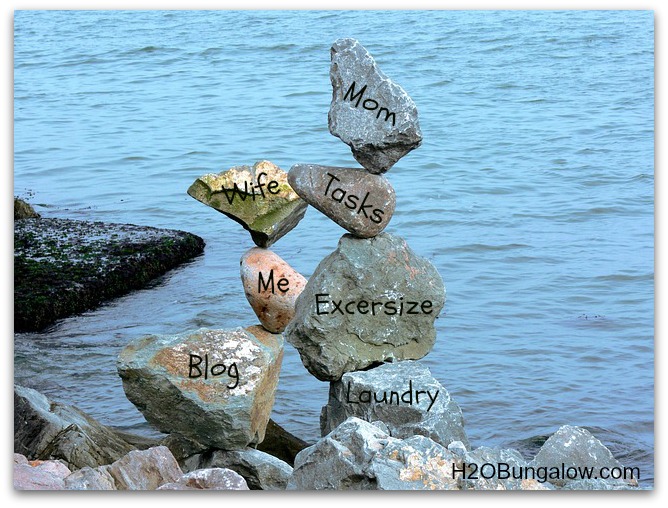 When I feel balanced I accomplish so much more.  I eat better, sleep so much better and feel more resilient to stress.  This year will be a full one. I plan on wrapping my arms around each and every special moment that I can.
I turn 52 next month.  I am committed to "blossoming" with grace.  My baby, the last one home leaves for college this summer.  As much as I'm very proud of him and he needs to grow and go.  It will break my heart to see that day come.  I know the bright side is that my hubby & I will have more quality time together.  I'm looking forward to that.  For me, when I have balance, it's easier to be present, in the moment and aware of the needs of others.  I can be the kind of friend I want to be to all of my friends, both new and those who've known me for years.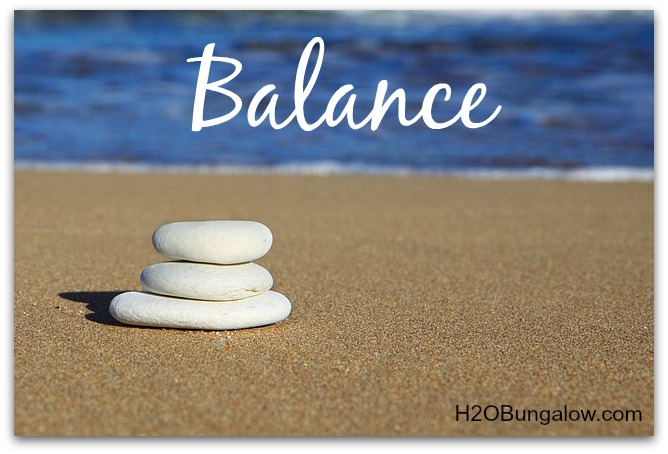 I started blogging this past year because it looked like fun.  I had no idea how much time or energy went into making a viable blog.  I had no idea that I would love it as much as I do. I've been blessed to meet many talented, kind and sharing other bloggers who I now call friends. I cherish this new piece of my life.  I'm excited about what the new year will bring as I make plans and begin to see the results of my hard work.
For all the above reasons, I believe that my one word choice, balance is where my focus needs to be in 2014.  I'm now committed to my one word for the next 359 days.  It may not change my life but I'm certain it will help me keep life in perspective.
What's your one word for 2014?  Please share with me in the comment section!


Don't miss a single creative idea I share!  Click here to get my posts sent to your mailbox or follow here on Bloglovin.  Either way, keep in touch!
You may see me linked up to some fabulous link ups which you can see here.