WELCOME!

It's the month long Networking Blog Hop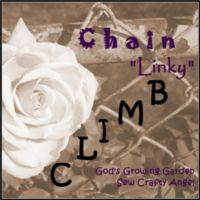 I'm happy to have been picked as a co-host for the Chain Linky Climb.  What is the Chain Linky Climb? It's a month long networking get together of blogs and bloggers.If you're not a blogger why would you read this?  It's like window shopping…knew I'd get you with that analogy!You never know when you'll run across a new blog that just resonates with you, has useful information on a topic that you enjoy reading about that you can relate to.A blogger? Well it goes without saying, networking is a key part of what we do!  Have a seat, get comfortable a nd enjoy perusing the eclectic mix of blogs who've linked up.  Come back later and check too, this is a month long gathering.  Don't forget to check out the giveaway below theres several great opportunities for blog advertising!So glad you're here today!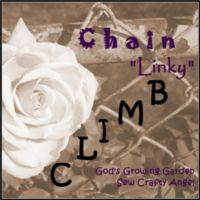 With our fourth CLIMB GIVEAWAY!

Here's how it works – the co-hosts from the previous month's CLIMB will have the opportunity to participate in a Giveaway during the next CLIMB – that gives co-hosts 2 months in a row of blog growing fun!! 
Please enter below
one person will win:
(you must have a PayPal account to enter & be 18 years or older)
(

this Giveaway is now worldwide – EXCEPT for the "Coffee Cozy" prize.  Due to postage prices – if the winner does not live in the lower 48 of the USA then the "Coffee Cozy" becomes a second place prize

)
– $25 PayPal Cash
– 1 Monthly Medium Ad Space on Cuddlebug Cuties
– 1 Ad Space on A Peek Into My Paradise for 60 days
– 1 Ad Space on Serenity You
– 1 Large Ad Space on Sew Crafty Angel
– 1 Month Ad Space on God's Growing Garden
– a beautiful handmade "Coffee Cozy" by Kaitlyn from Three Sisters & Us
THERE ARE MANY WAYS TO ENTER!
CLIMB Giveaway Rules & Conditions:
\  as mentioned above – this is open worldwide HOWEVER if you win and are not living in the USA, due to shipping costs the "Coffee Cozy" will become a second place prize & will be given to somebody living in the lower 48 of the USA
– You MUST have a PayPal account to enter
– This Giveaway is open from January 31st, 2014 until February 28th, 2014
– Winner must respond within 48 hours or a different winner will be chosen
– Giveaway Hosts & Co-hosts can NOT enter this Giveaway!, however – February CLIMB blog hop co-hosts MAY enter this Giveaway (provided they are not also part of the Giveaway)
– correspondence will be through email and the winner's email addresses will only be used to deliver or set-up e-prizes.  Email addresses will NEVER be sold or shared.
– if you have any questions or concerns about this Giveaway please email one of the hosts:
Now onto the CLIMB (blog hop):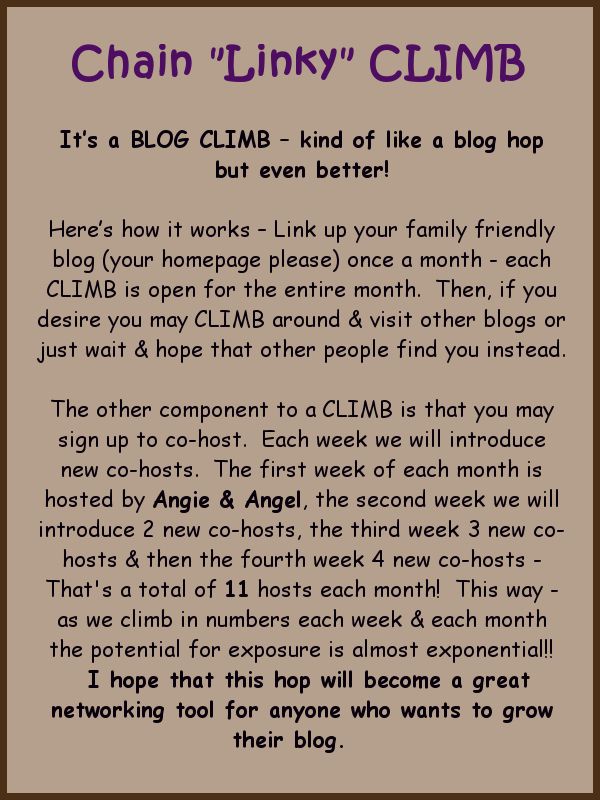 Powered by Linky Tools
Click here to enter your link and view this Linky Tools list…
By participating in this blog hop your email address will be added to our CLIMB list & you will be sent an email reminder next month. 

Remember – Now if you co-host you will receive a free Weekly Sidebar Ad and your blog button will appear on both Angie's blog & Angel's blog!!
(The Ad will run live a few weeks after you have co-hosted)