Labor Day is just around the corner.  With all the rushing to get resettled into the school year I haven't had much time to get ready.  Today, I whipped up a little patriotic outdoor solar light it was easy and took maybe 15 minutes.
Once charged up, the batteries seem to last a long time.  They also work really well in the house.  We've even used them as night lights, just remember to rotate them by the windows to recharge every few days.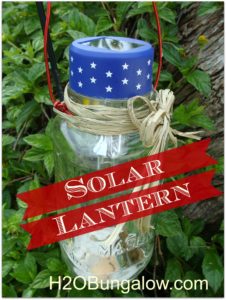 Here's what I used to make my patriotic outdoor solar light.  The jar is a recycle from a Classico Spaghetti sauce jar.  I love the shape of these jars.  I picked up a solar light, red wire and raffia at The Dollar Tree.  You'll also need your hot glue gun and a pair of needle nosed pliers.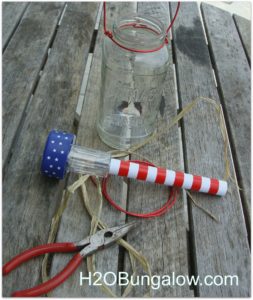 Take two pieces of wire.  Twist the first around the neck of the jar. Take the second wire and bend hooks at the end to attach to the jar neck.  See the pictures below.  I used the needle nosed pliers to twist the wire and to fold the cut end down.  This area will be covered with the raffia when your done so don't worry about how your twisted wires look.
Add a personal touch for giggles.  Since we live at the beach I thought it fitting to add a little beach.  A dropped in a bit of sand, a small piece of driftwood, coral and a few shells.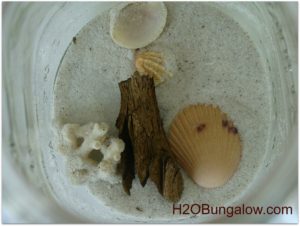 Pull the stick off of the solar light and be sure to pull the tab out at the battery cover so the solar light will begin working then simply hot glue the top onto the jar.
he Classico Spaghetti jar is a perfect fit for the solar lantern top.  It will rest on the top edge without hanging over. If you use a different jar just be sure the light fits onto the jar opening and there is an area that can be glued.
The last step is to wrap the raffia around the neck of your jar and tie a neat little bow.
Easy!
You now have a super easy patriotic outdoor solar light. These are so cute and make great hostess gifts.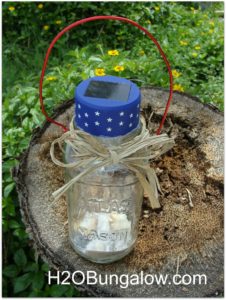 What's your favorite patriotic holiday?

Don't miss a single creative idea I share!  Click here to get my posts sent to your mailbox or follow here on Bloglovin.  Either way, keep in touch!
Looking for more patriotic decorating themes?  You may enjoy these other projects.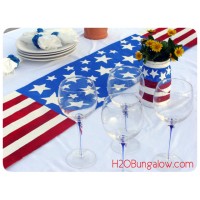 You'll see this project linked up at these terrific Blogs.  Stop by and give them some Bloggy Love!
Thrifty Thursday,Made in a Day, Handy Man Crafty Woman, Live Laugh Rowe, Transformation Thursday, Hooking up with the Hepworths, A Bowl Full Of Lemons ,Raising Imperfection at Sew Crafty Angel, Thursday Favorite Things at Katherines Corner, Fine Craft Guild , Project Inspire  , Creative Bloggers Party and Hop