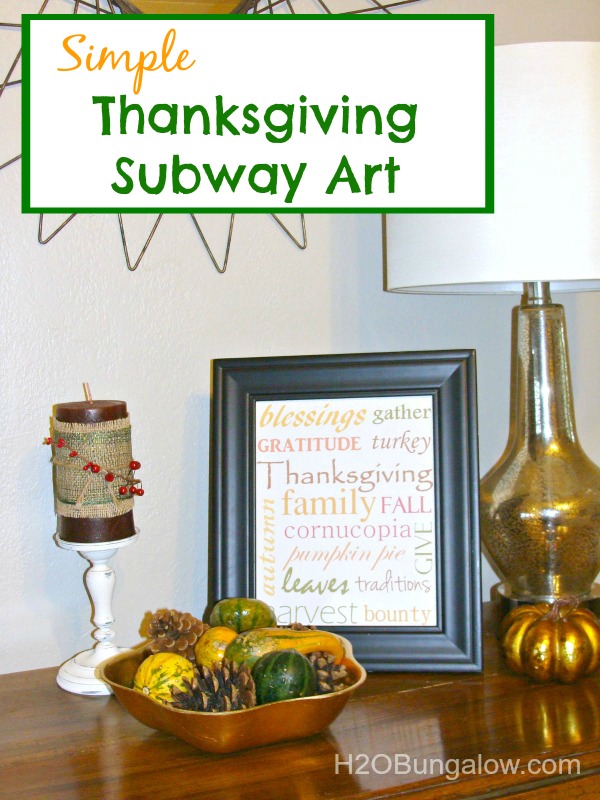 I'm in love with this Thanksgiving subway art I put together this weekend.  It was quick, inexpensive and looks fantastic.  I was in need of some simple holiday spirit and I found it with this nifty project.  
I've never been a big Thanksgiving decorator but this year I'm changing!  We have big plans this season with company and family visiting soon. I needed a swift kick to jumpstart my holiday spirit and this Thanksgiving subway art did the trick.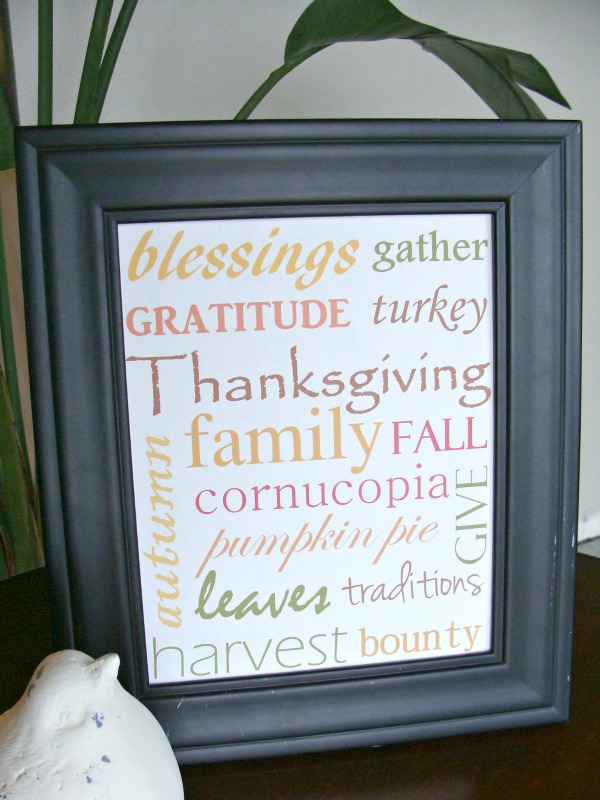 I added my Thanksgiving subway art to my front entry, it catches your eye as soon as you walk in the house.  I love it when I walk into the house and holiday cheer greets me.  Honestly, how can you not smile and think good thoughts when you read these words?
I can paint, build and decorate but I don't have the patience to make this on the computer.  I browsed My H2OBungalow Pinterest Boards for premade sunbway art.
I used a free printable that I downloaded onto my computer and printed on regular ol' copy paper.  I placed it in a $2 table frame that I picked up at Goodwill yesterday.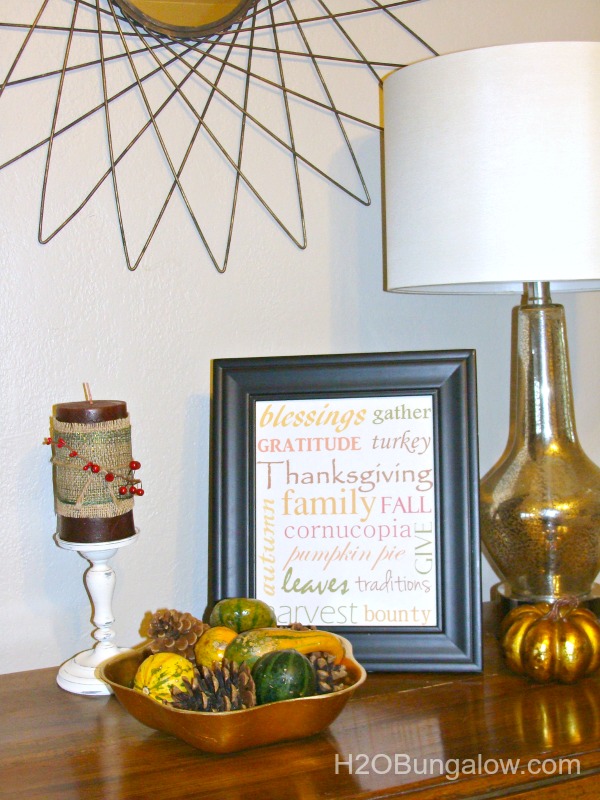 Want to get some of your own Thanksgiving subway art?  If you'd like one like mine you can hop on over to Overcoming Busy to get one like mine.  I've pinned a bunch more in my Thanksgiving folder on Pinterest that you can find  here.  There are so many talented and generous bloggers who share free printables like this one.  Be sure to check out some of their posts while your on their sites.  I took  me several hours just to make my mind up on which one fit my style.
 Now that I've officially kicking off the holiday season, I'm full of energy and ready to decorate! It doesn't take much to add some cheer and a few items can go a long way.  Especially when you live in a compact home 🙂    
Are you looking for some new ways to use your old holiday stuff?  This year our holiday decorations are all undergoing a major transformation.  We've downsized and changed our style so dramatically that our old stuff doesn't work anymore.   I'm up for the challenge and have some fun and easy ideas to share.  Come along and join me.  It's going to be fun!

 I know you don't want to miss a single creative idea I share! Sign up for my email here or follow me on Bloglovin here.
Click here to see where I link up to some fabulous parties.