This is a sponsored post written by me on behalf of Duck Brand. All opinions are 100% mine. Use peel and stick shelf liner to decorate shelf backs and give builtins and bookcases a new a look in no time at all.
Using peel and stick shelf liner instead of wallpaper to decorate bookcases is creative and budget friendly. I love the added bonus that it's easy to remove and won't damage surfaces when you're ready for a new look!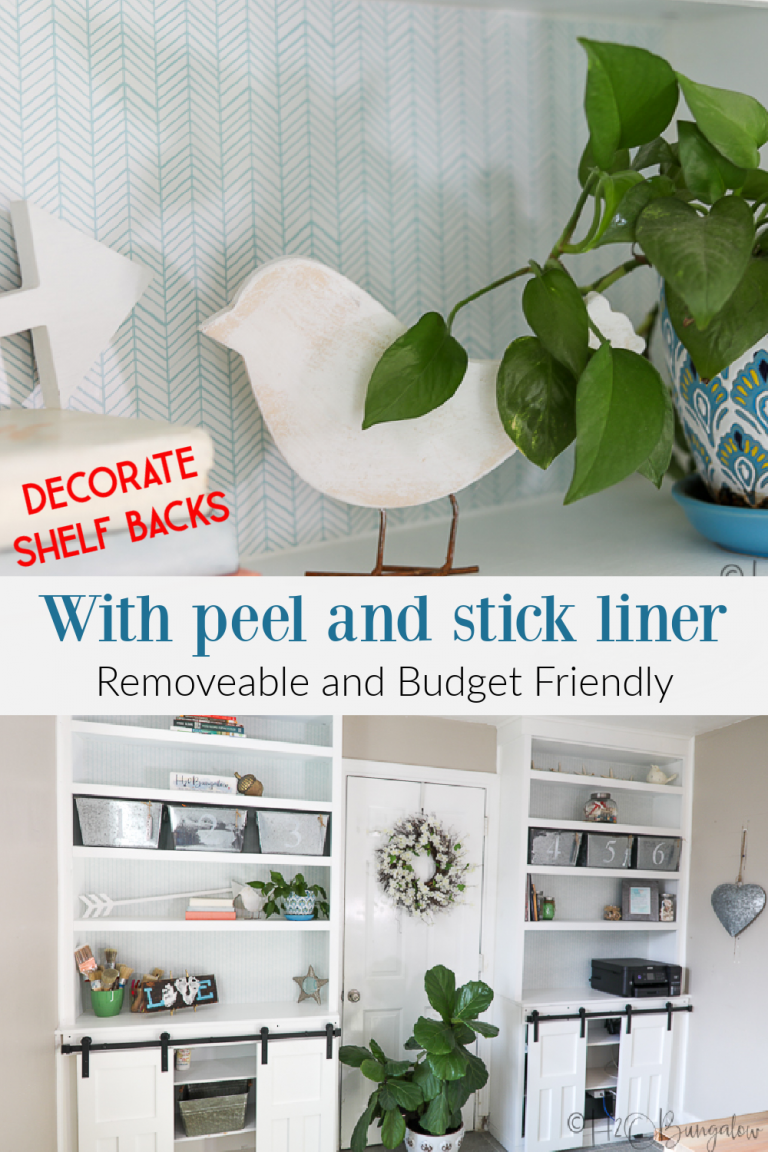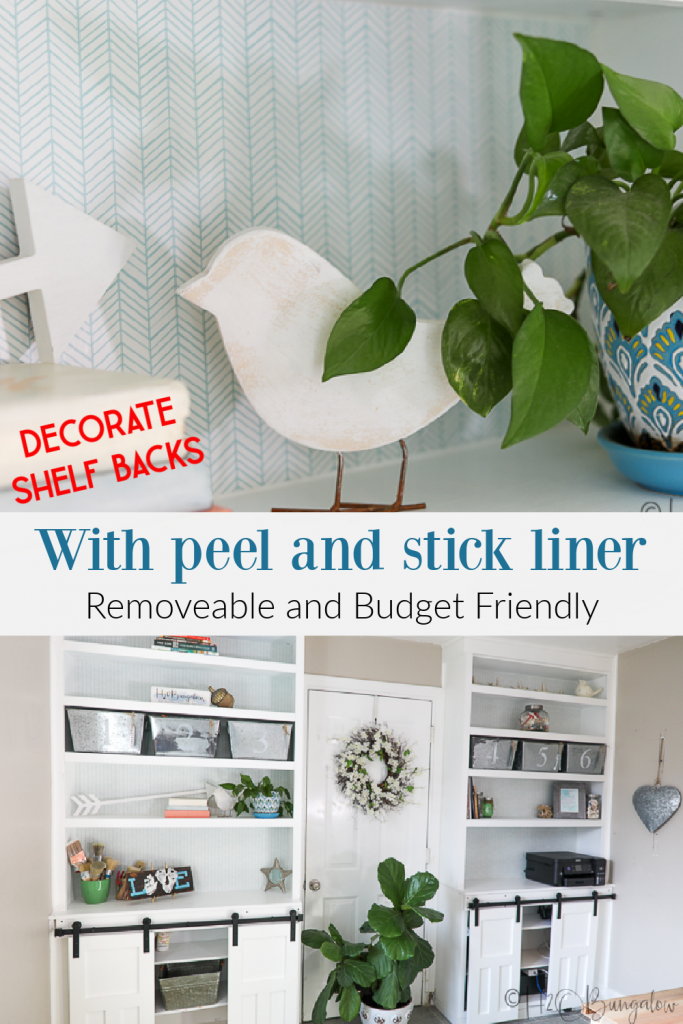 I've been chipping away at making my office a cozier and more inviting place to spend time in for the past few years. I built the bookcases with storage, recently painted them and added barn doors to the cabinet area.
Imagine my excitement when Duck Brand Easy Liner sent me a box of several different types of the Easy Liner products and said use your imagination and do something fun. There were three different patterns of Removable Adhesive EasyLiner® peel and stick removable liner and a few Duck Brand® Smooth Top® EasyLiner® patterns that have a non-adhesive grip bottom.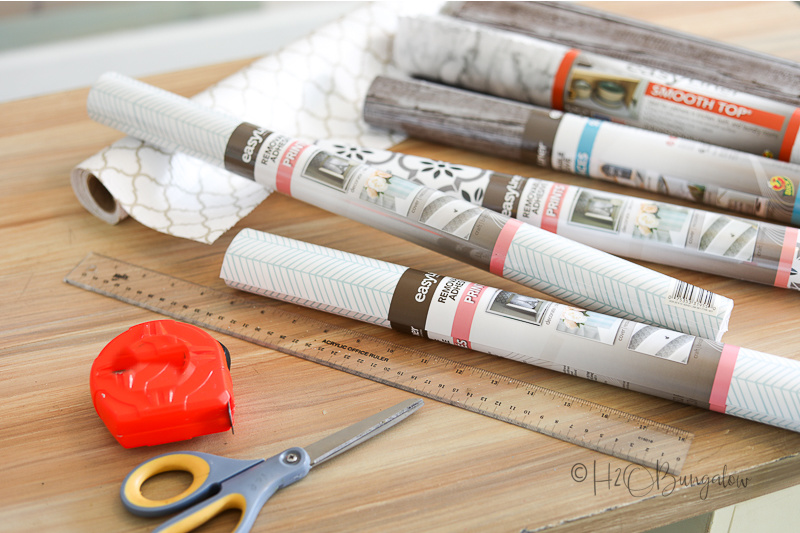 I came up with several cool ideas since I could cover just about any flat surface with the peel and stick liner. Narrowing it down to one project was not an easy decision!
Ultimately, I choose to decorate my shelf backs with the Sky Blue Feathers pattern. It was perfect to use on the back of my office shelves and compliments the multicolored wood plank wall that's on the opposite wall.
And I couldn't be happier with the choice! It's subtle but adds a nice dimension to the back of my builtin bookshelves. It's durable and wipes clean and is completely removable without marring the surface underneath. What a great product for renters!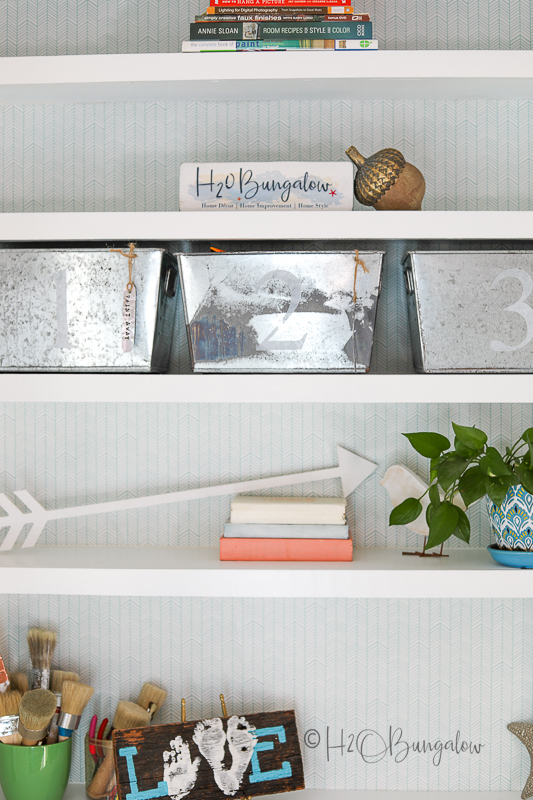 Lining the back of my bookcases with removable shelf liner only took about 30 minutes. Let me show you how to line shelf backs with Duck Brand peel and stick liner.
Decorate Shelf Backs With Peel and Stick Liner
Supplies needed for this project
Step one. Wipe shelf backs to remove dust or grime.
Use a mild household detergent and and clean rags to thoroughly clean and dry the shelf backs.
Step 2. Measure the shelf backs area width and height.
Measure the width and length of the back of the shelves. Write down all the measurements. Next, do some quick math to see how many rolls of liner you'll need. Each roll is 15 feet by 20 inches. I used two rolls for this project.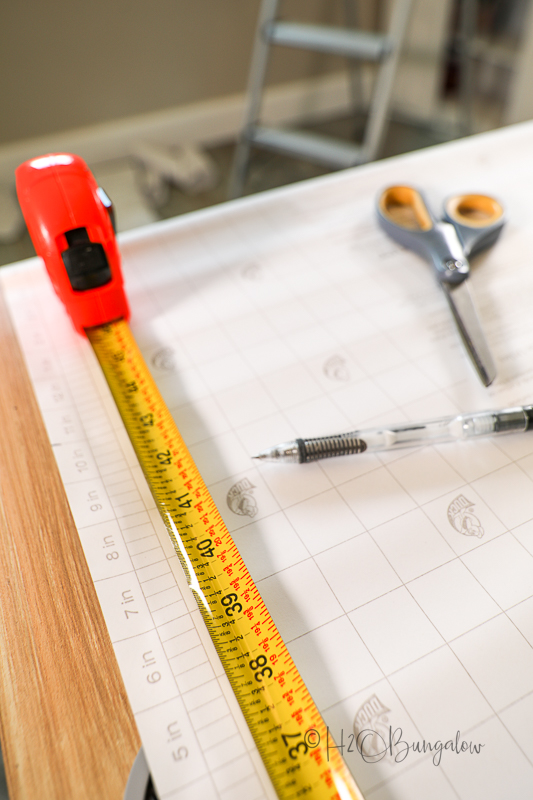 Step 3. Cut the shelf liner to size.
The back of my bookcase shelves are 45″ long and the heights vary from 18″ to 6″. I was able to cover more than one shelf back from most of the 45″ pieces I cut. Easy Liner has measure marks on the back side in 1″ and 1/4″ increments.
The guides made it easy to cut a straight line!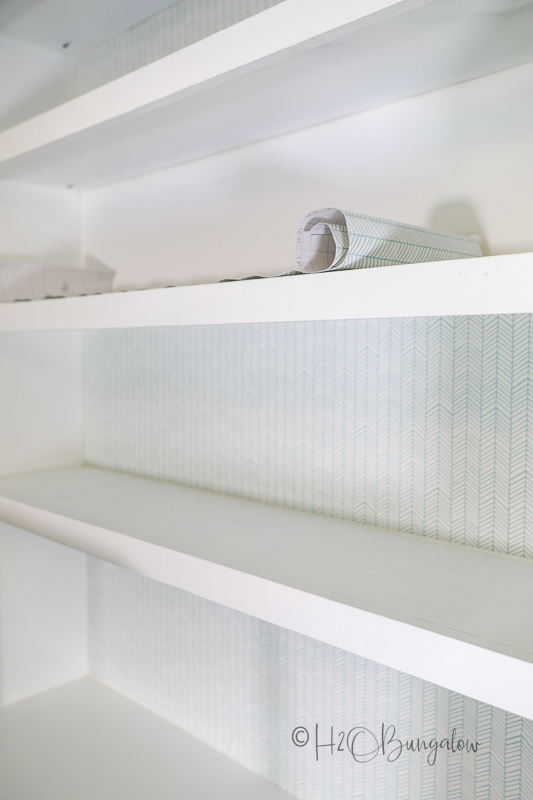 Step 4. How to apply peel and stick liner to shelf backs.
The easiest way to apply removable liner to a wall is by pulling the backing off an upper corner and a little off of one side.
Line the corner up with the shelf corner and press to adhere it. Pull more backing away down the side. Line up and press the side of the liner in place. Work your way across the shelf by pulling the backing off and pressing down so the liner adheres to the shelve back.
Tip: Be sure to attach the peel and stick liner with the same design facing up or down if there's a pattern to follow. I wasn't paying attention and had to flip of few of my panels after securing them to the shelf backs. Thanks goodness it was easy to remove and put back in place!
Work out air bubbles as you attach the liner to the shelf back.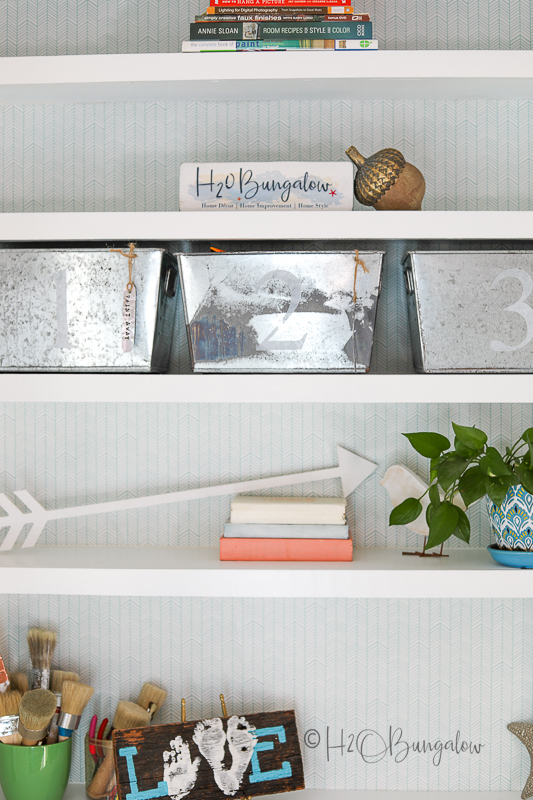 Thirty minutes later my plain bookcases were transformed.
It's a subtle change on camera.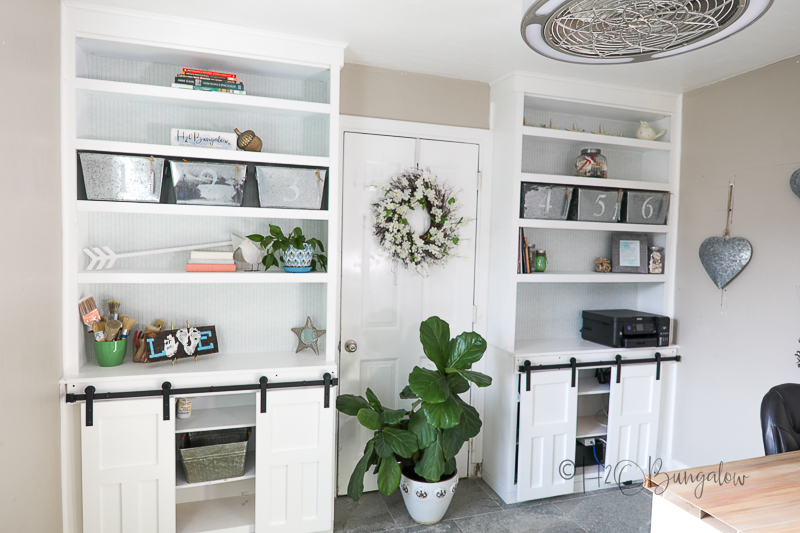 In person the color and pattern are perfect for our beach house!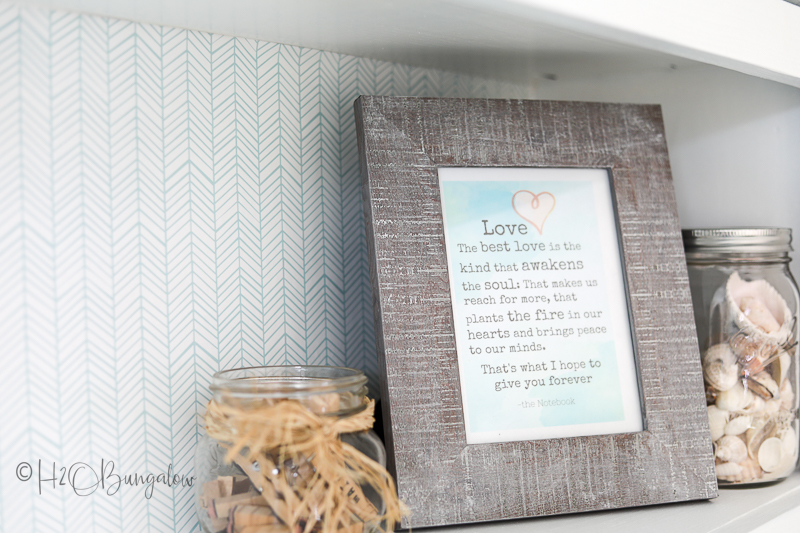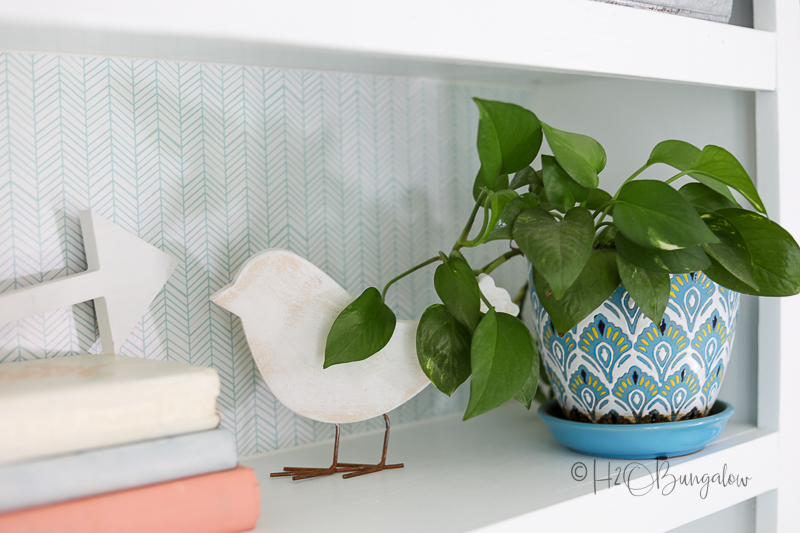 I'm thinking of decorating my shelf backs in my linen closet too. I found several other patterns and colors to choose from on the Removable Adhesive EasyLiner® web page that I think would look great.
Pin this now for later and share with your friends on Facebook!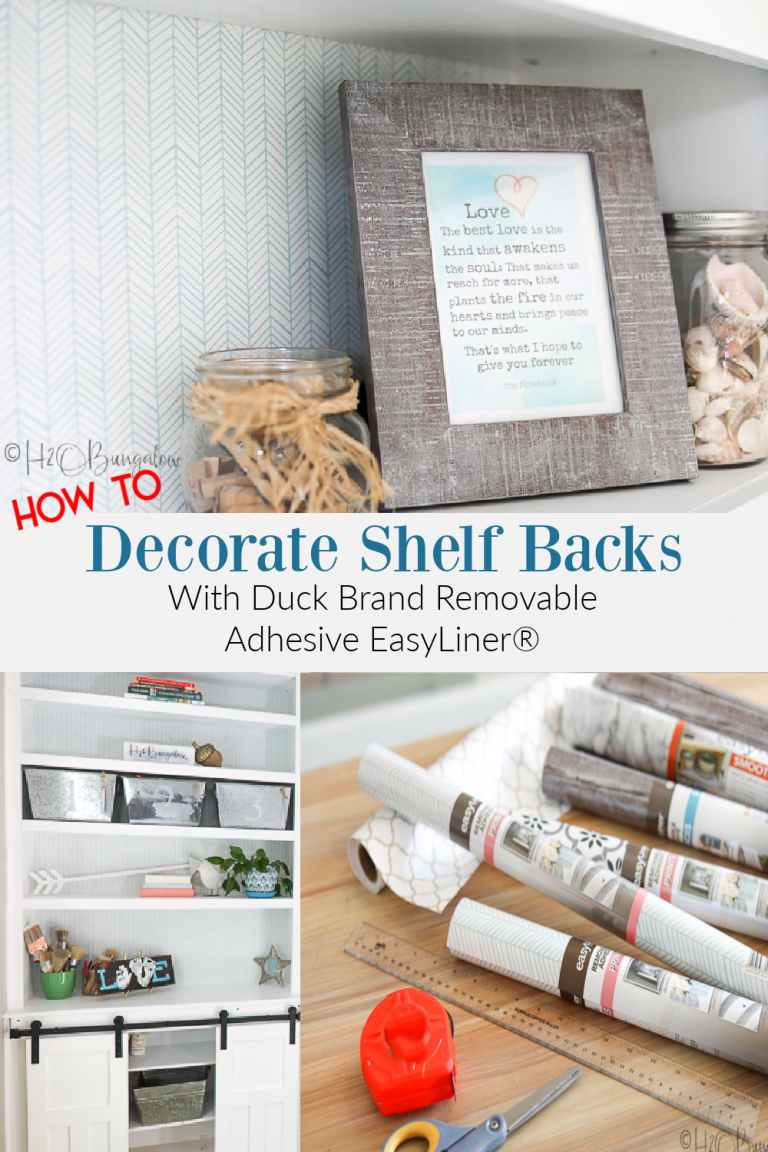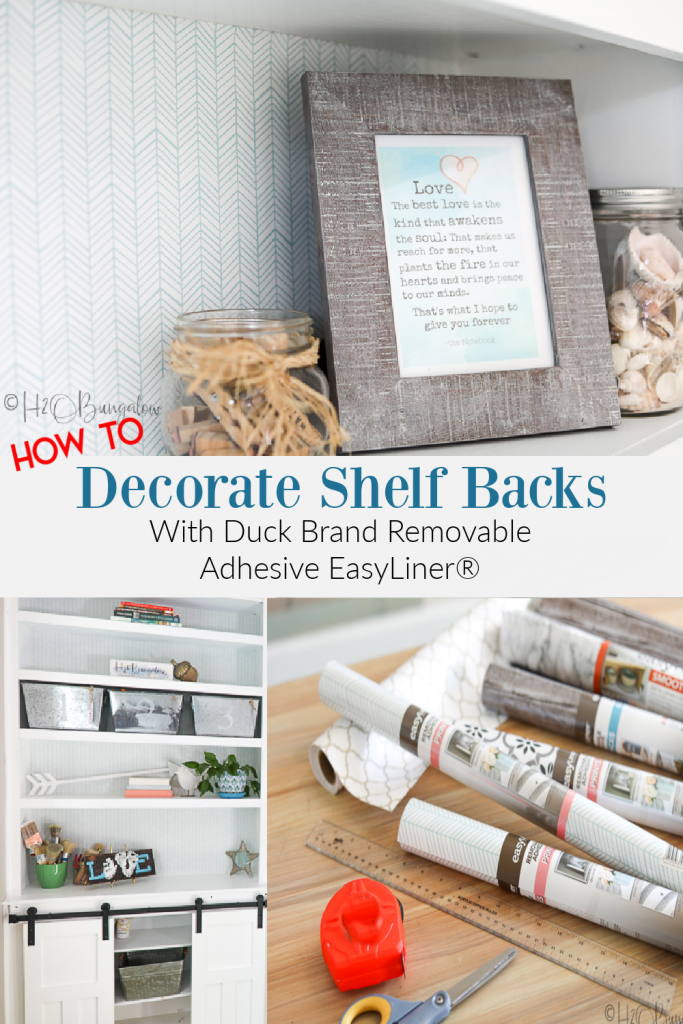 I couldn't resist doing one more quick project. Since I was prettying up my office I figured my desk drawers could use a little attention too. I used the Taupe Quatrefoil Smooth Top® EasyLiner® that came in the box they sent.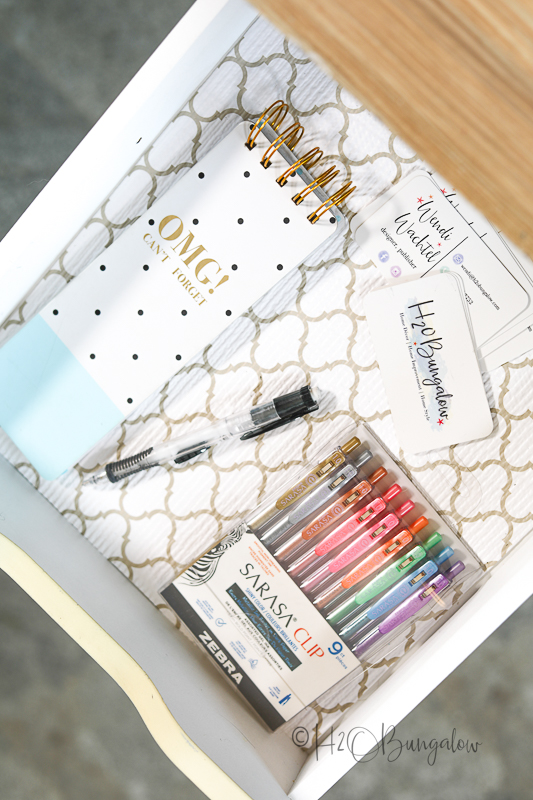 Now that I've shared how to decorate shelf backs with peel and stick liner are you ready to try it out yourself? seriously can't wait to do a few more projects with the rest of the liners I was sent.
What project would you tackle?