After two years of working on the North House Lodge in Vermont, and sharing bits and pieces of what it looks like, I figure it's high time I give you guys a real home tour! Truth be told, I wasn't feeling it was really ready to share before. Even though I have lot's more I'd like to do here, it's done enough to share with you all today.
I travel between our home in Florida and the North House several times a year to work and do various blog projects, and see to a big list of other maintenance items. When we bought this place, it was in bad shape. Not structurally, but cosmetically. There were several shades of burgundy carpet installed, the walls hadn't seen fresh paint in a long time, woodwork had been left primed and not painted. In short, it was a mess.
But, I knew it was the perfect mess for me the moment I saw it. We've also added a new Vermont rental, just down the street, The Mill Place is coming along beautifully.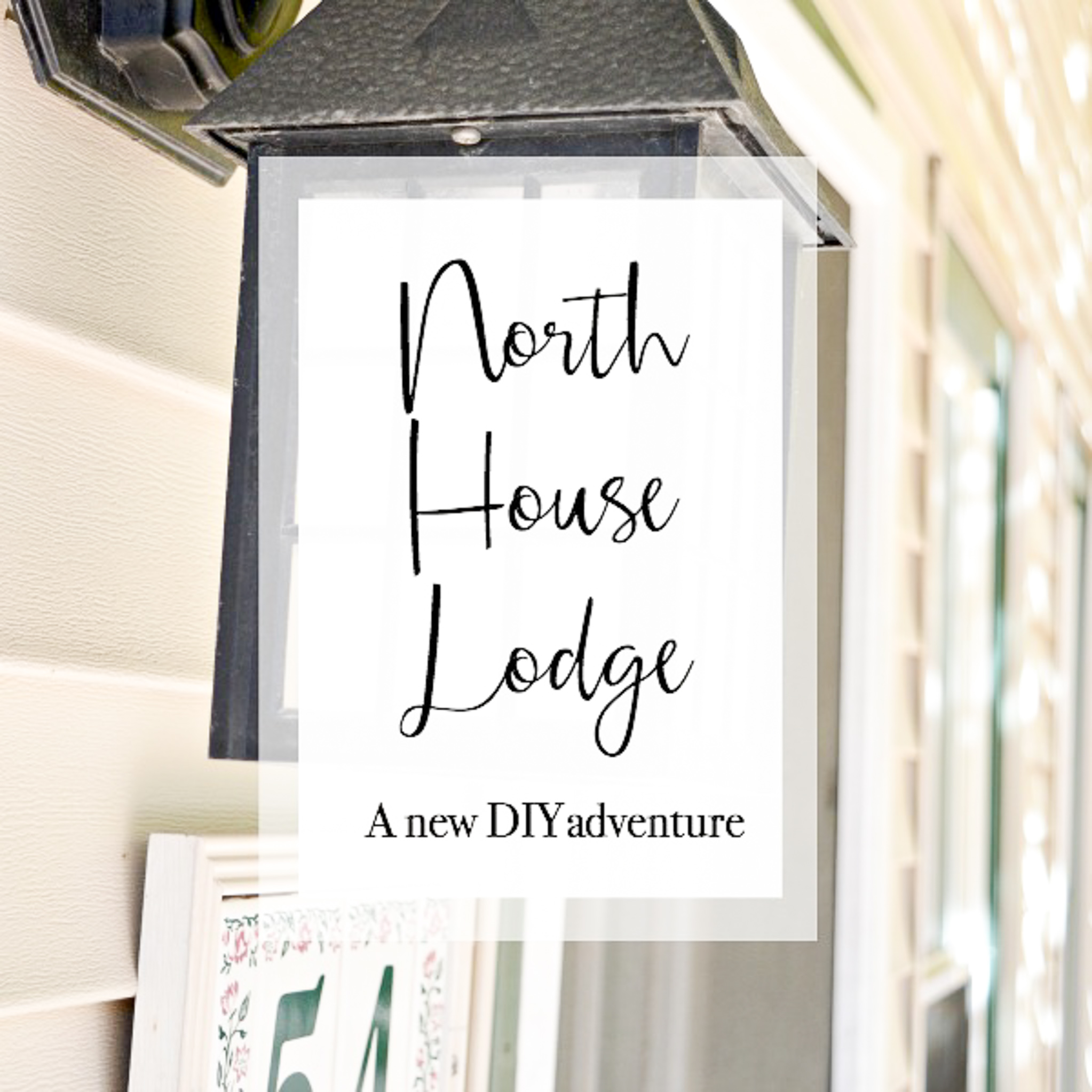 What is the North House Lodge?
The North House Lodge is a my blogger DIY project house that we rent out. Yes, it's a vacation rental place. It was built in 1835 as two shops and moved here in 1894. Each side is three stories with 3 bedrooms and two full baths. I think of it as a guest house because it's so much more than just a vacation rental.
Our home is located in Ludlow, VT in the Village of Ludlow. Basically, that means we are a short pleasant walk to hip restaurants, fun shops and the local grocery. It's a four season destination that offers downhill and cross county skiing about a mile away, breathtaking fall foliage, fabulous hiking and bicycling, golf and plenty of lakes for warm weather water sports. All within a few minutes of the house.
The best place to start with a tour is the living area. There are two doors for each home, a front and side door at the kitchen. Of course, everyone uses the kitchen entrance. You guys may recognize many of my blog project in these photos. I'll list and link them under each photo!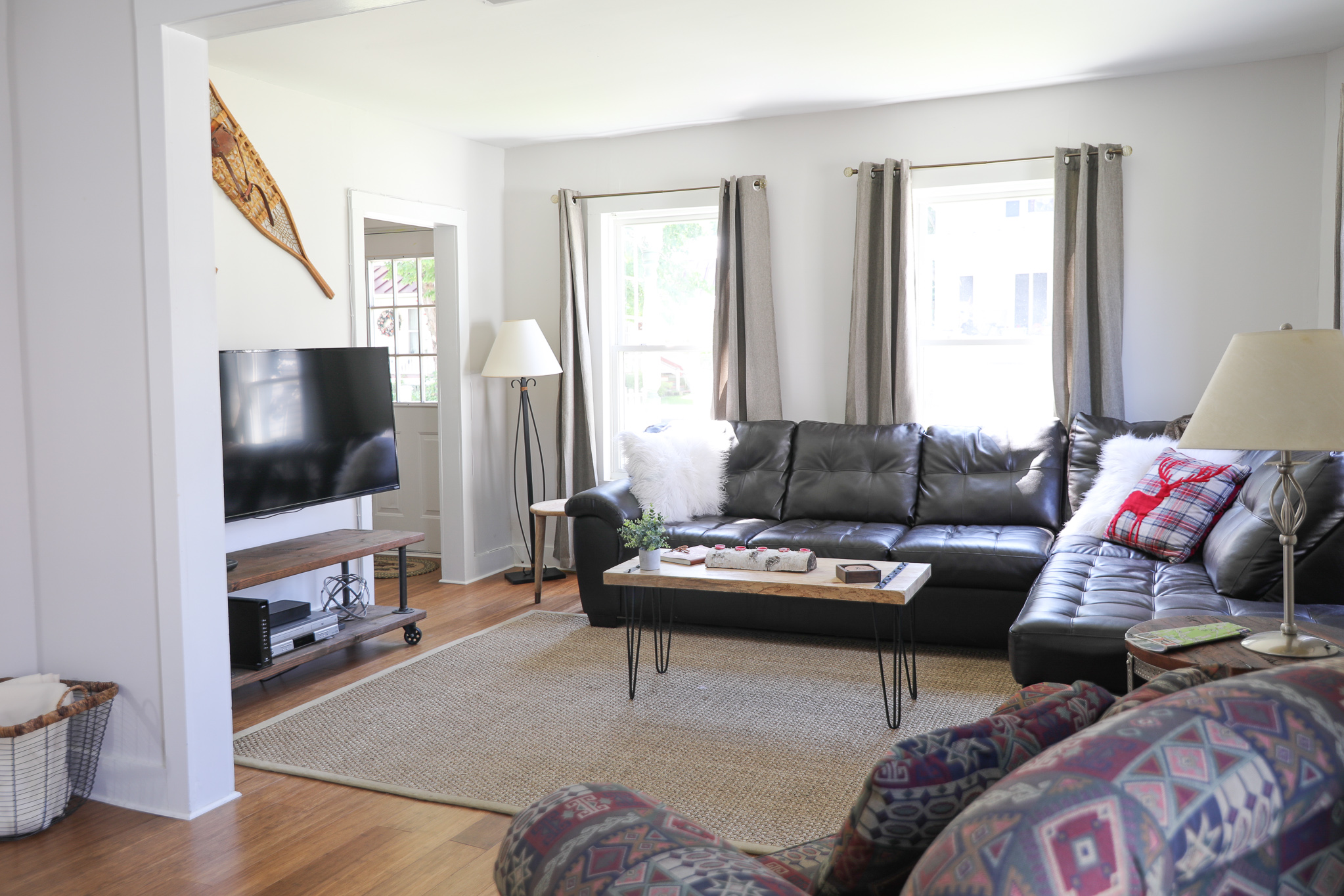 DIY Industrial Style Media Stand ~ DIY Rustic Coffee Table ~ Birch Log Candle Holder
The front rooms were originally two rooms that were opened up later. That brings some layout challenges.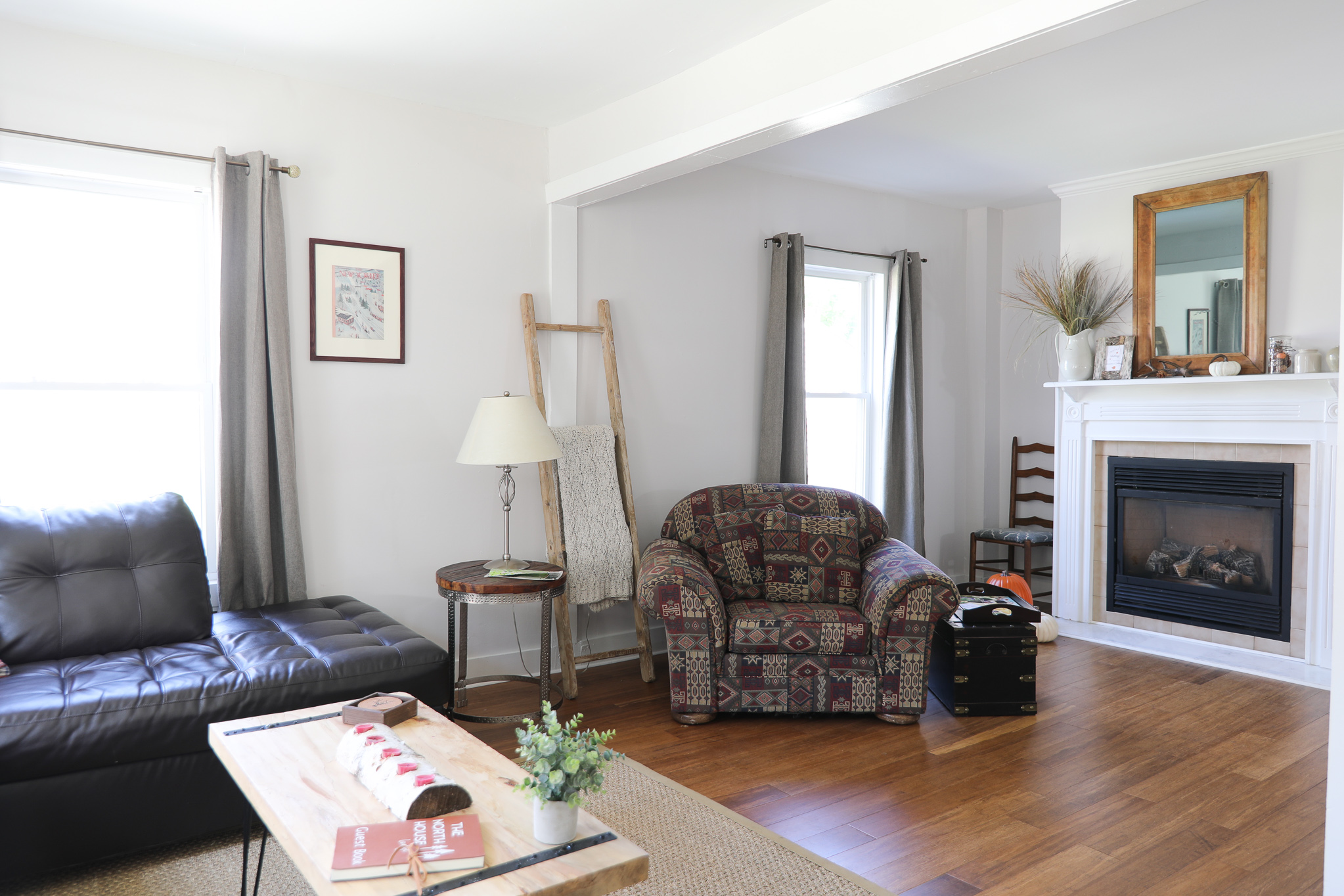 Vintage Blanket Ladder ~How to Remove Veneer from Wood mirror project ~ How to Recover Wood Chair Seats
The windows are wonderful and let lots of light in. The downstairs is open and airy, which I love.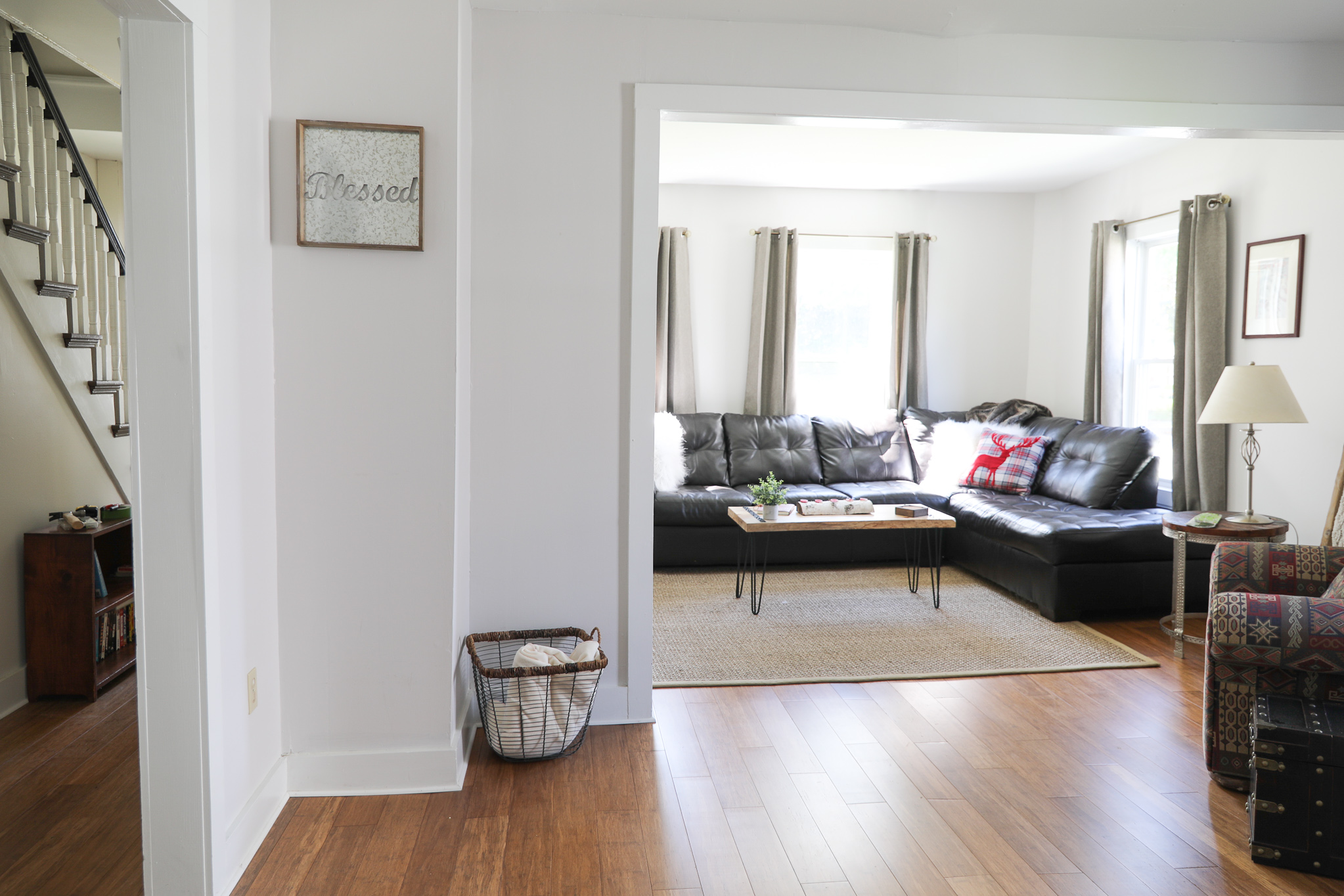 The kitchen sits just off the living area. The big coat rack and bench are the perfect place to peel off layers and welcome guests. In the winter we keep two boot trays out to hold snow covered boots and wet mittens.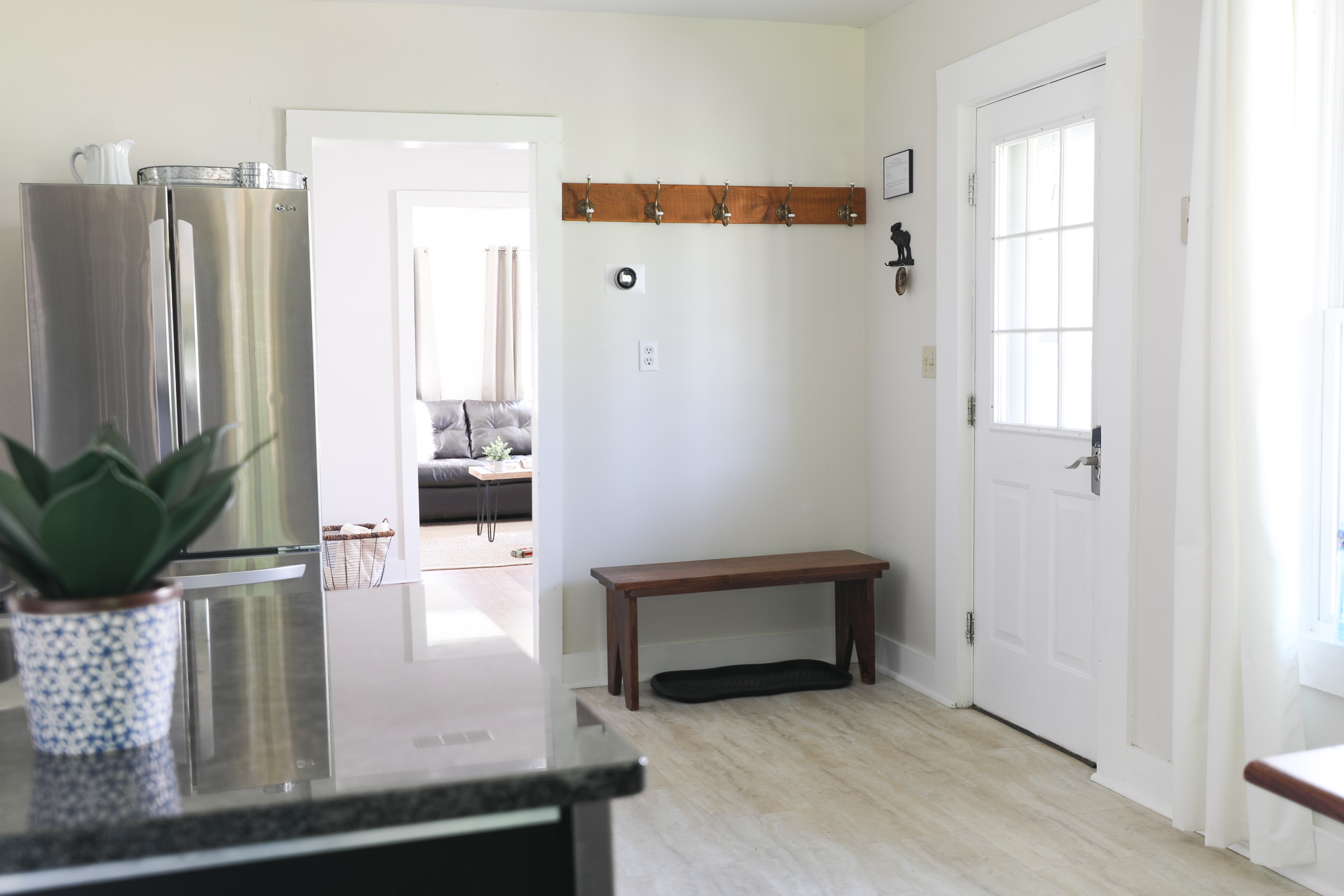 DIY Shiplap vs Planked Wood Walls
My Dad and I built that plank wall in the back. It was originally white, but when I added the backsplash, I needed something bold to balance the spaces. That gorgeous colonial blue did the trick. You can read more about it in my Accent Wall Tips to Fix Decorating Challenges post.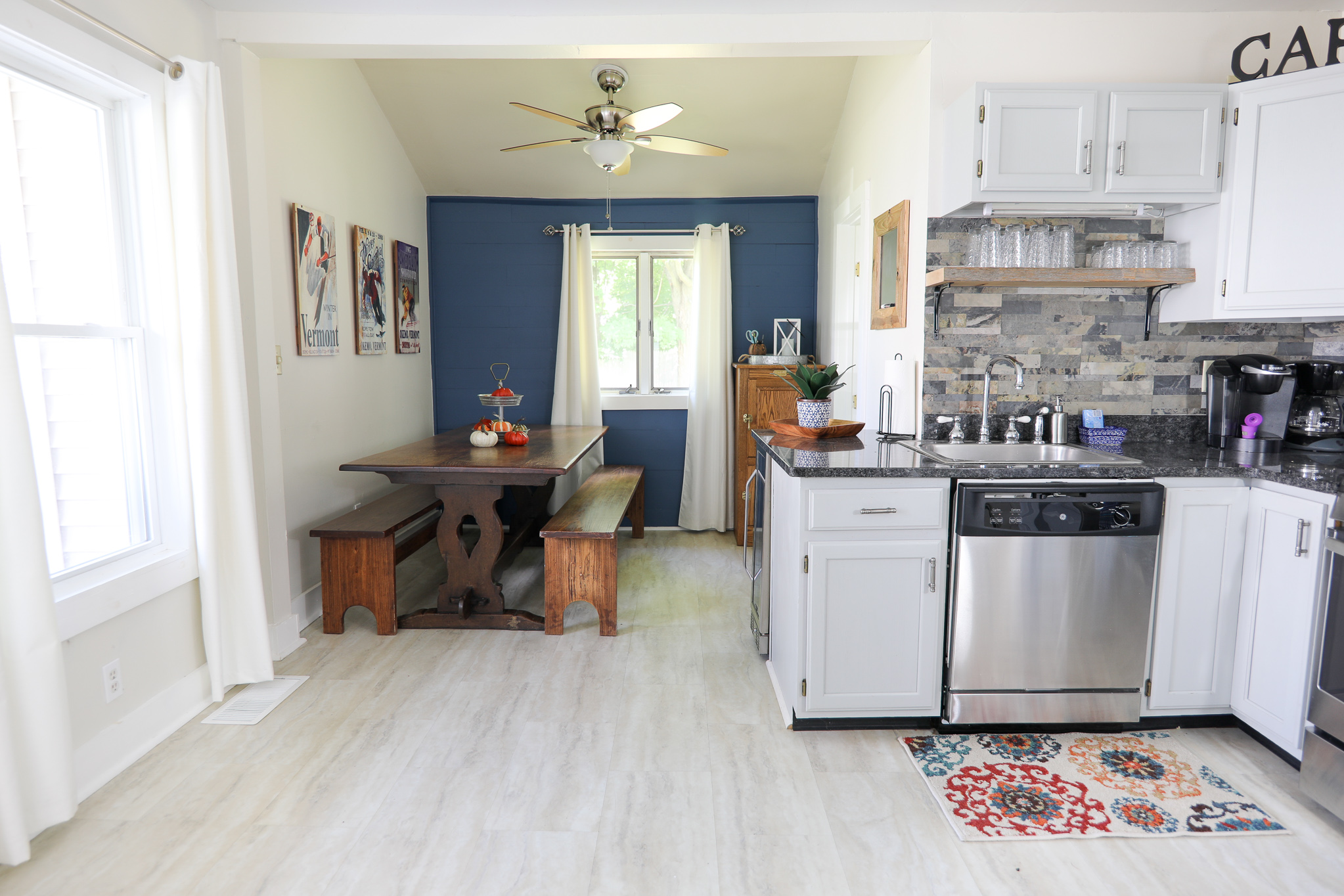 I gave this kitchen a complete face lift with new appliances, granite counters, painted kitchen cabinets and a few more projects that I haven't even written about yet like that gorgeous Peel and Stick Tile Backsplash.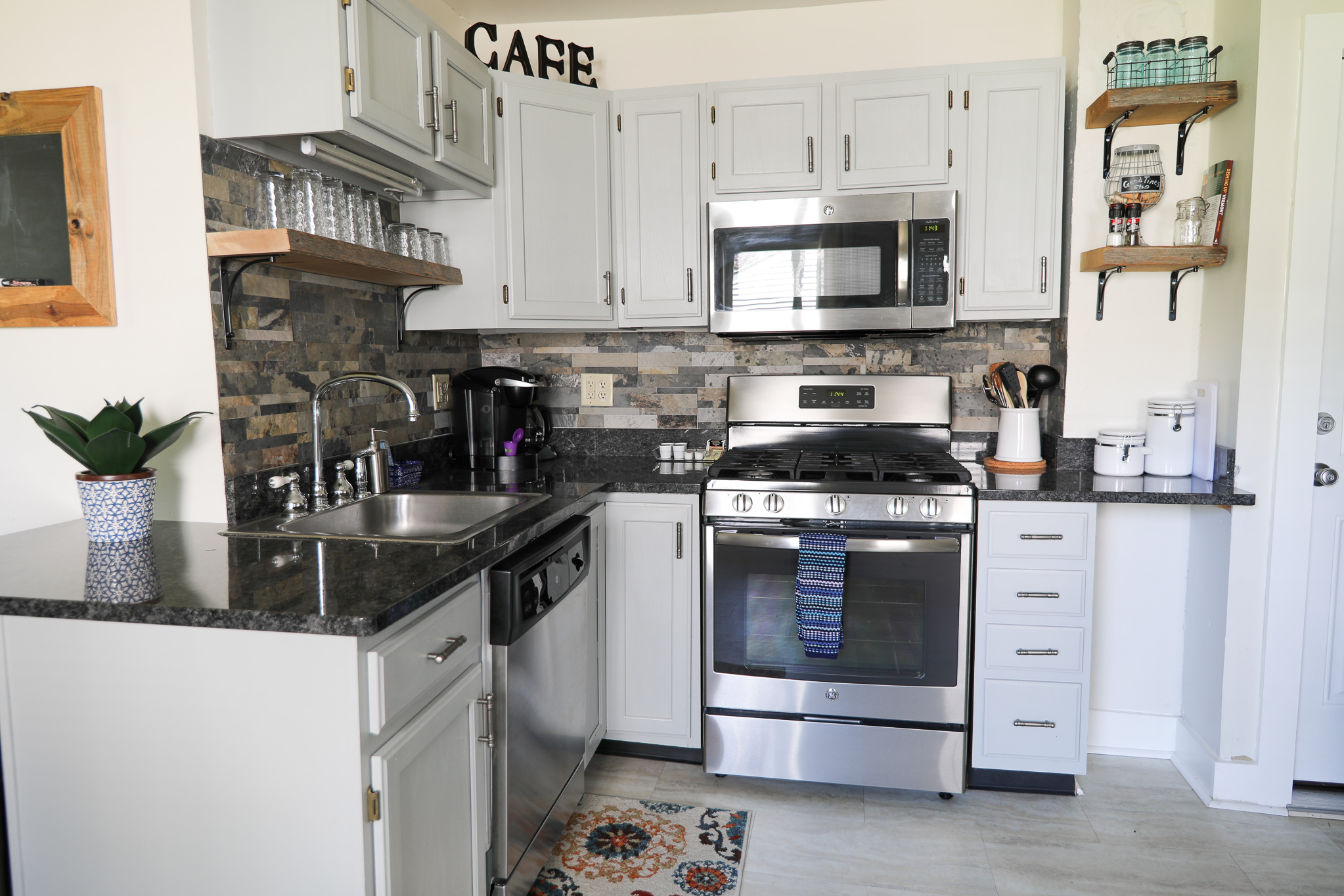 DIY Reclaimed Wood Kitchen Shelves
We had a family reunion here this summer. This was the perfect game table and comfortably holds about 10 people!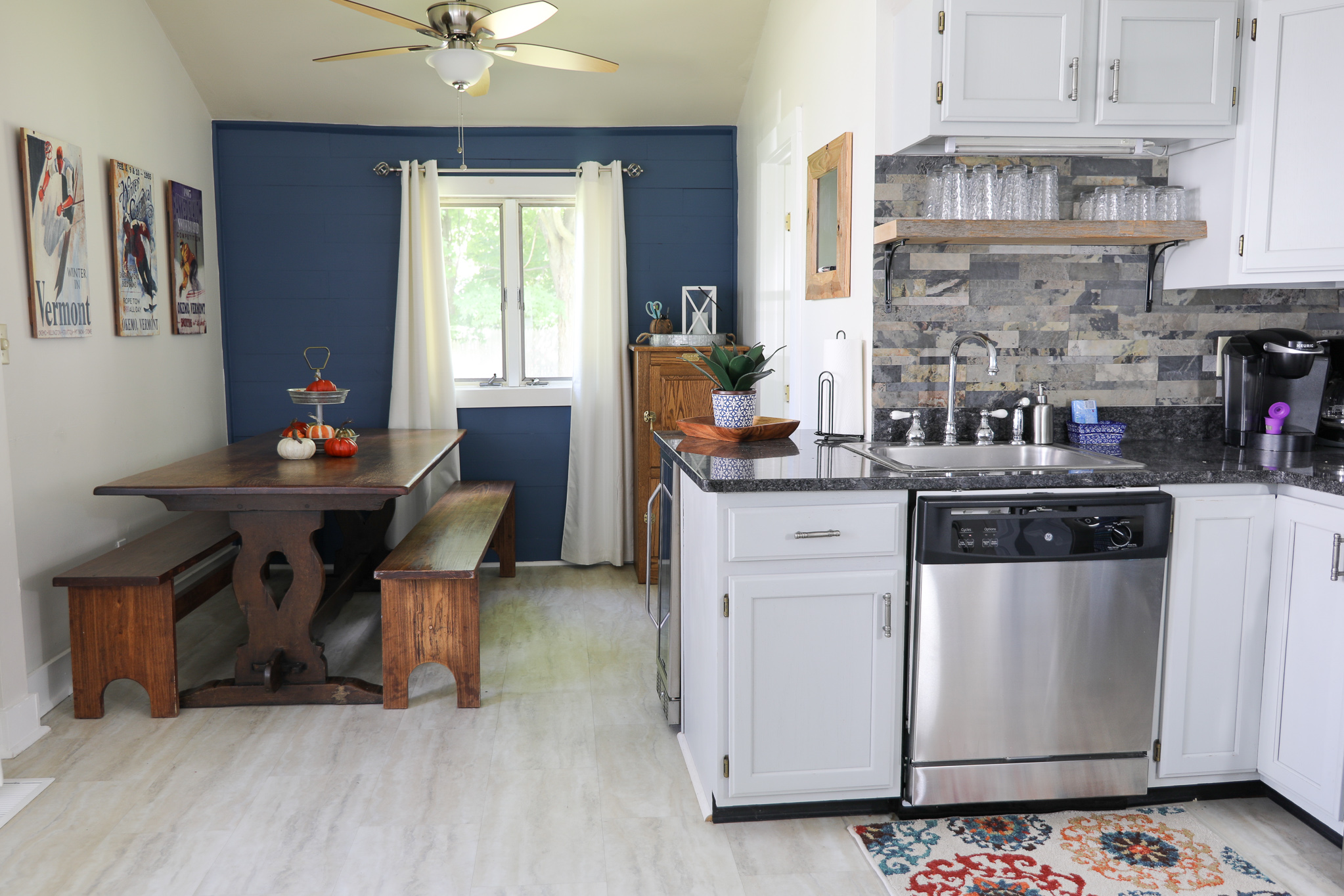 There's a full bath just off the kitchen. I added the plank wall a few years ago. Next summer I'm hoping to do a few more projects in here like upcycling the bath cabinet and faux vanity top.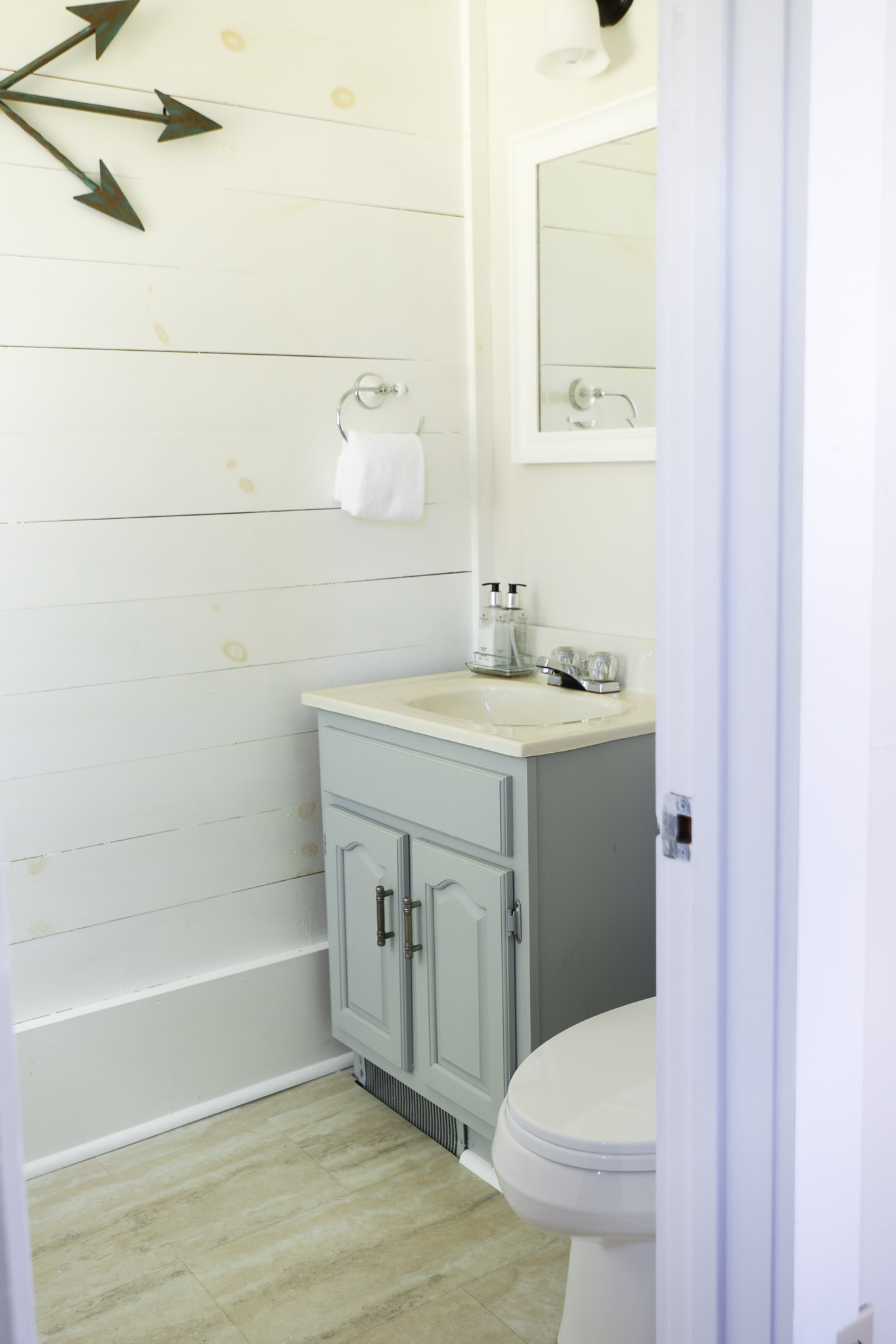 Com'on upstairs and check out the bedrooms!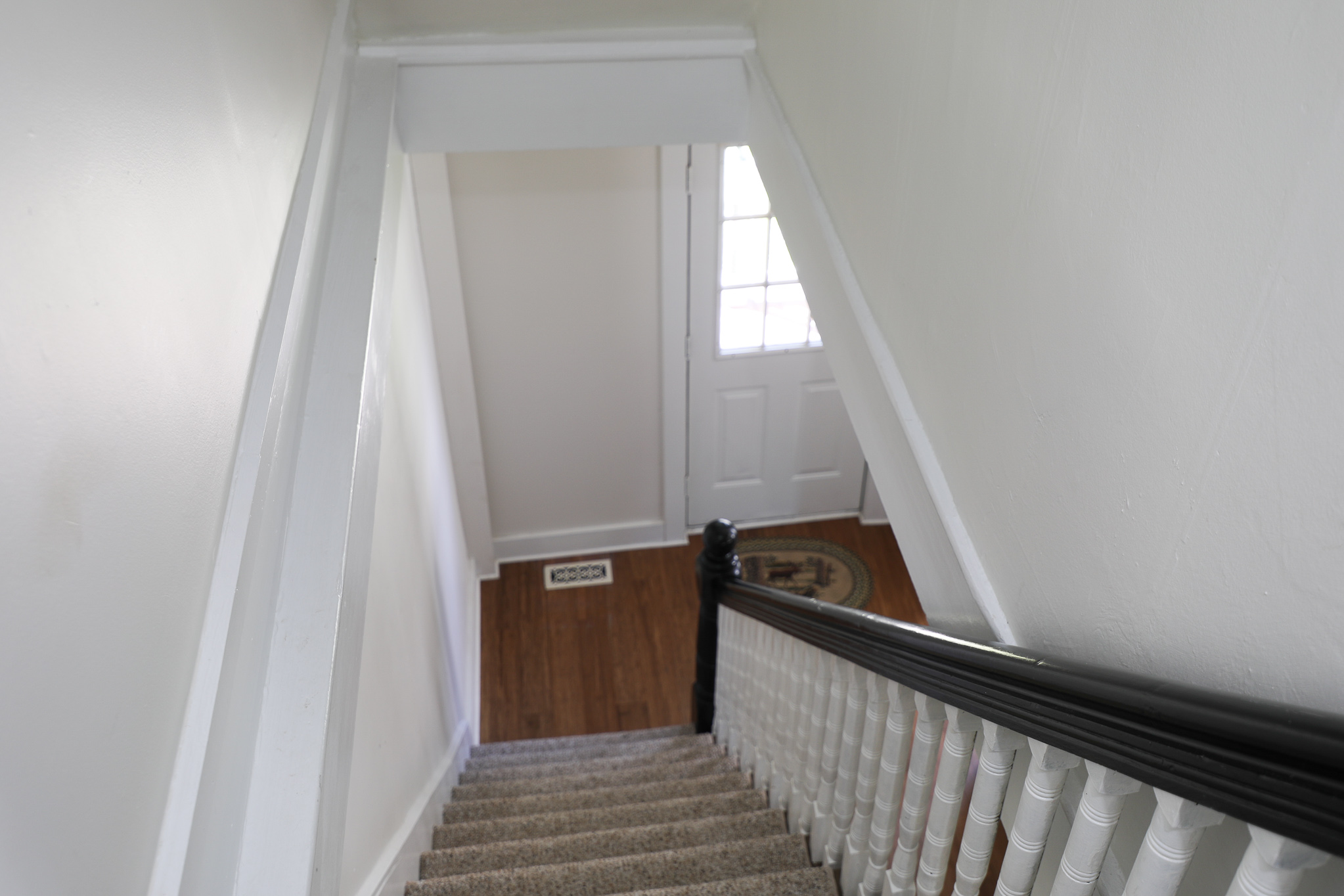 You'll pass the second bath in the hall just past the staircase.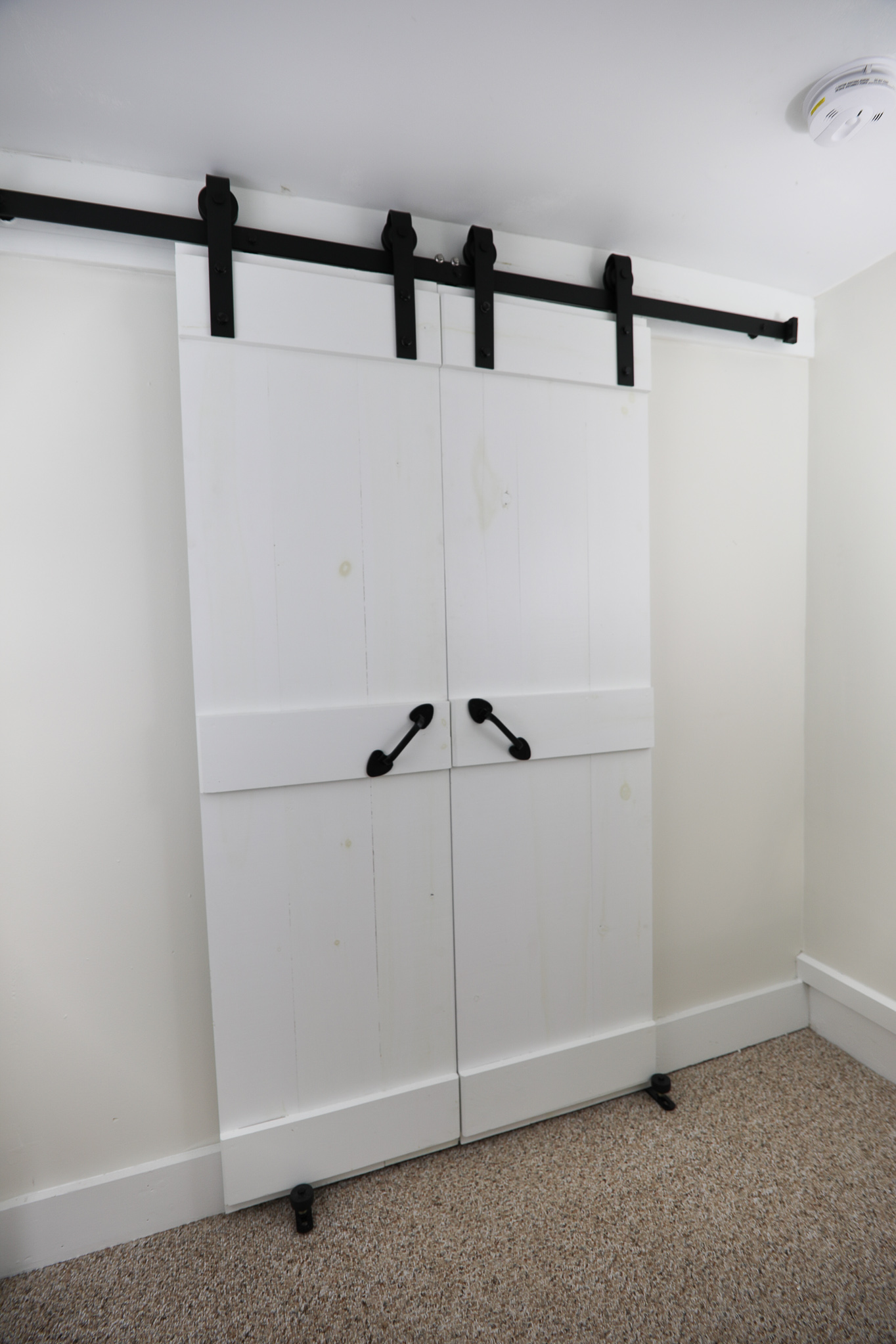 I still love my double barn sliding doors plus they are a huge space saver for the small bath!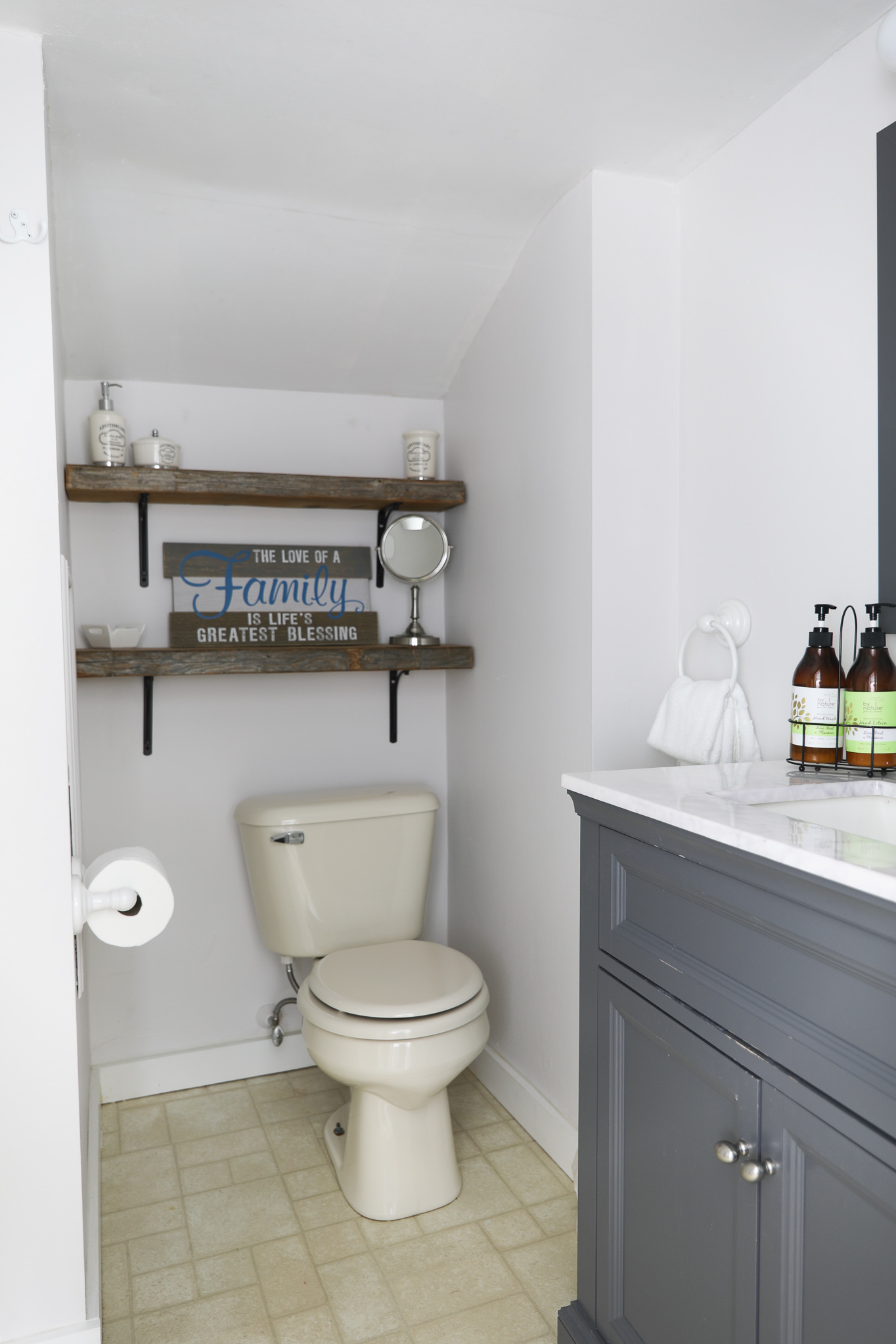 Tips for Hanging Thick Wood Shelves – Speed Painting the Fastest Easiest Way to Paint
We're going to start on the third floor loft. This was originally the attic and converted to a room at some point. All of the wood floors in this part of the house are original and date back to 1835. So is the chimney.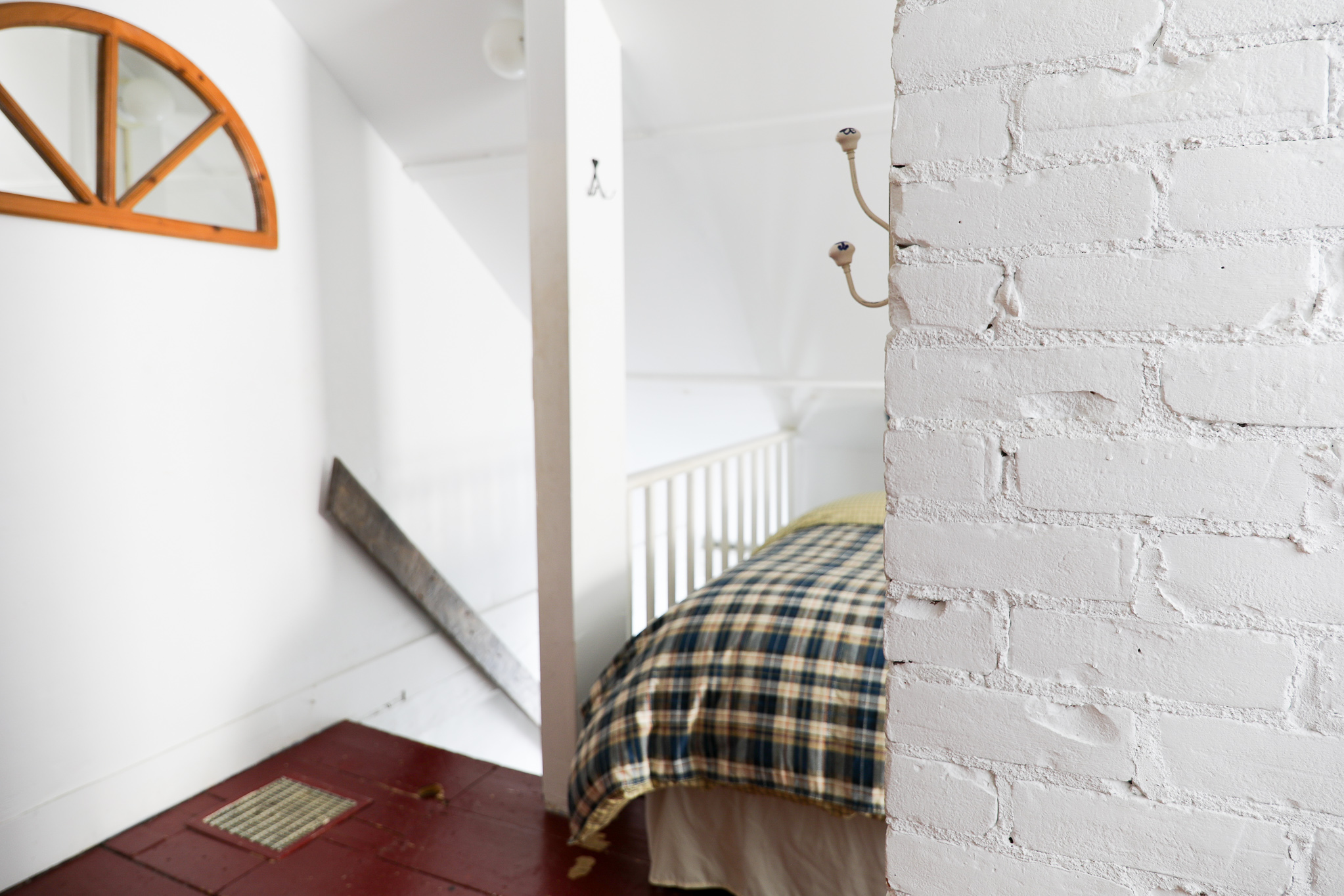 This room is called Quad Peak after one of the ski runs on Okemo Mountain. It has four twin beds and is a huge room. All the beds in both of our guest houses are plush, with quality down bedding and super comfy pillows.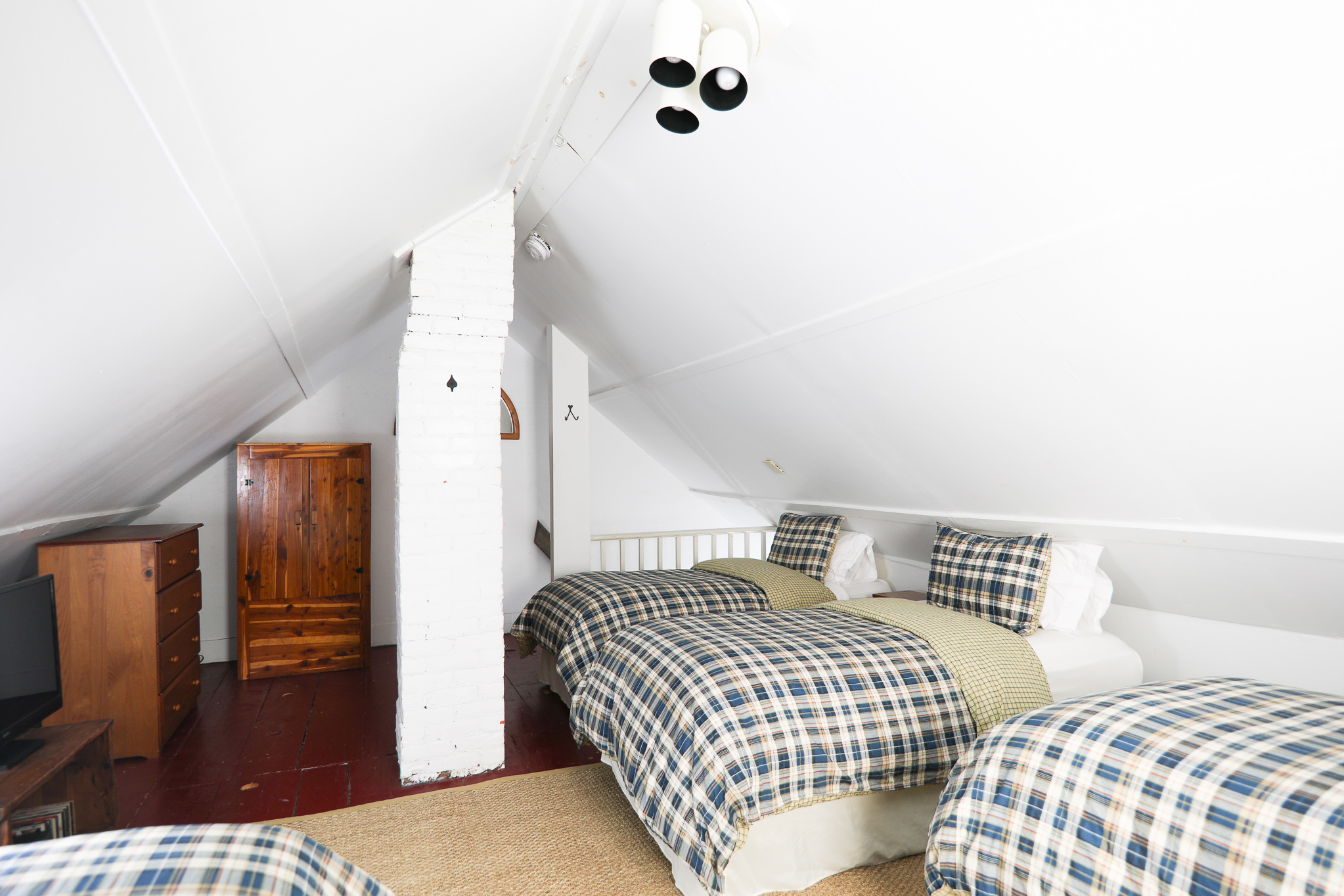 I've got big plans for this space. Hopefully it will be on the list for next summer. It has so much potential! It's been a lot to get to with six bedrooms, two kitchens and four baths that all needed an overhaul. I've had to pick and choose the projects that needed to be done the most. While plain, this room wasn't the worst by far.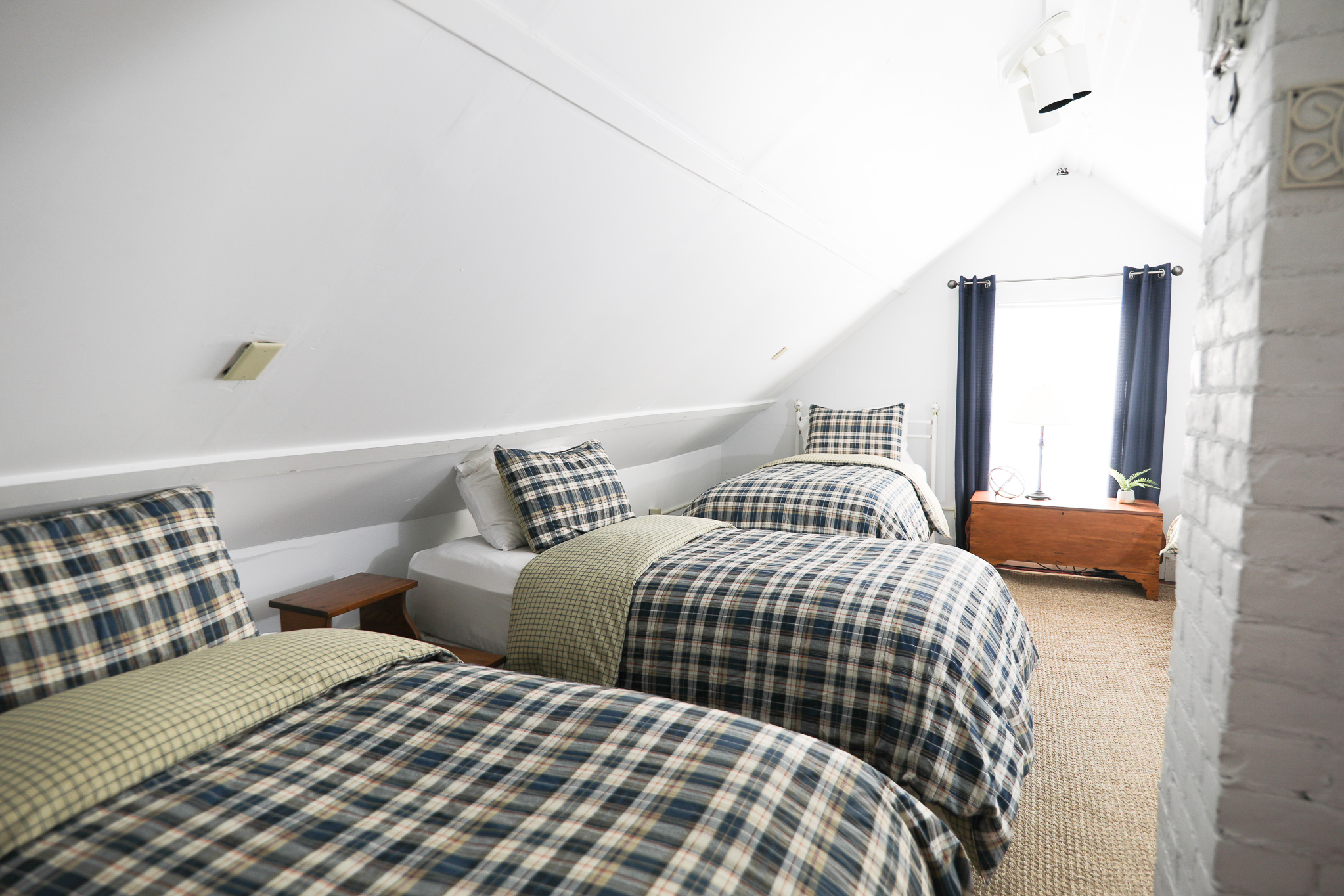 In the meantime, I'm picking and choosing a few special pieces for the room, like this vintage chest that serves as a nightstand between two of the twin beds.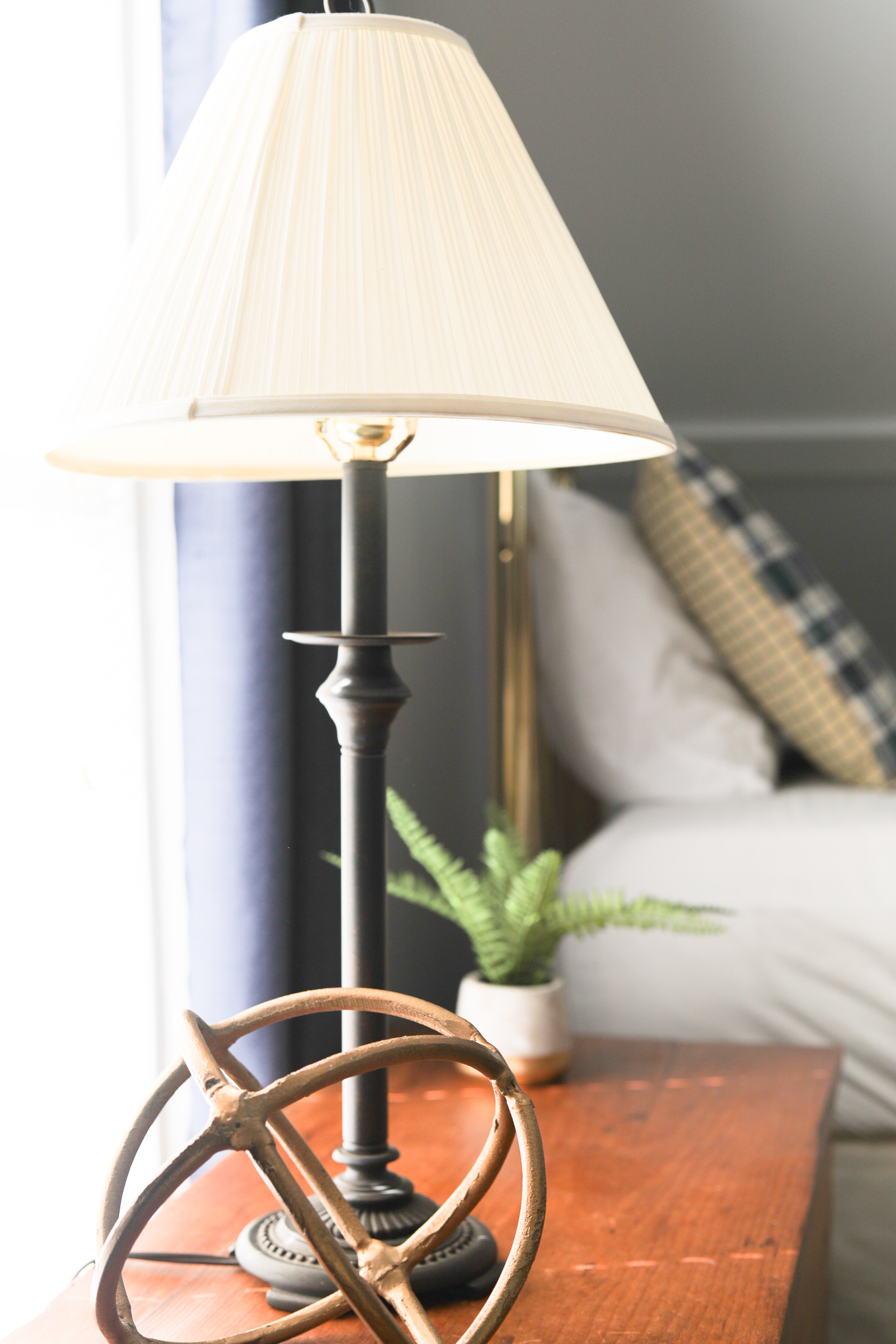 Let's go down to the second floor and the other two bedrooms.
This is the Americana Room. I just finished this headboard and a host of other projects that haven't been written about yet. Be sure to check out the Stained Top, Painted Bottom Dresser Makeover.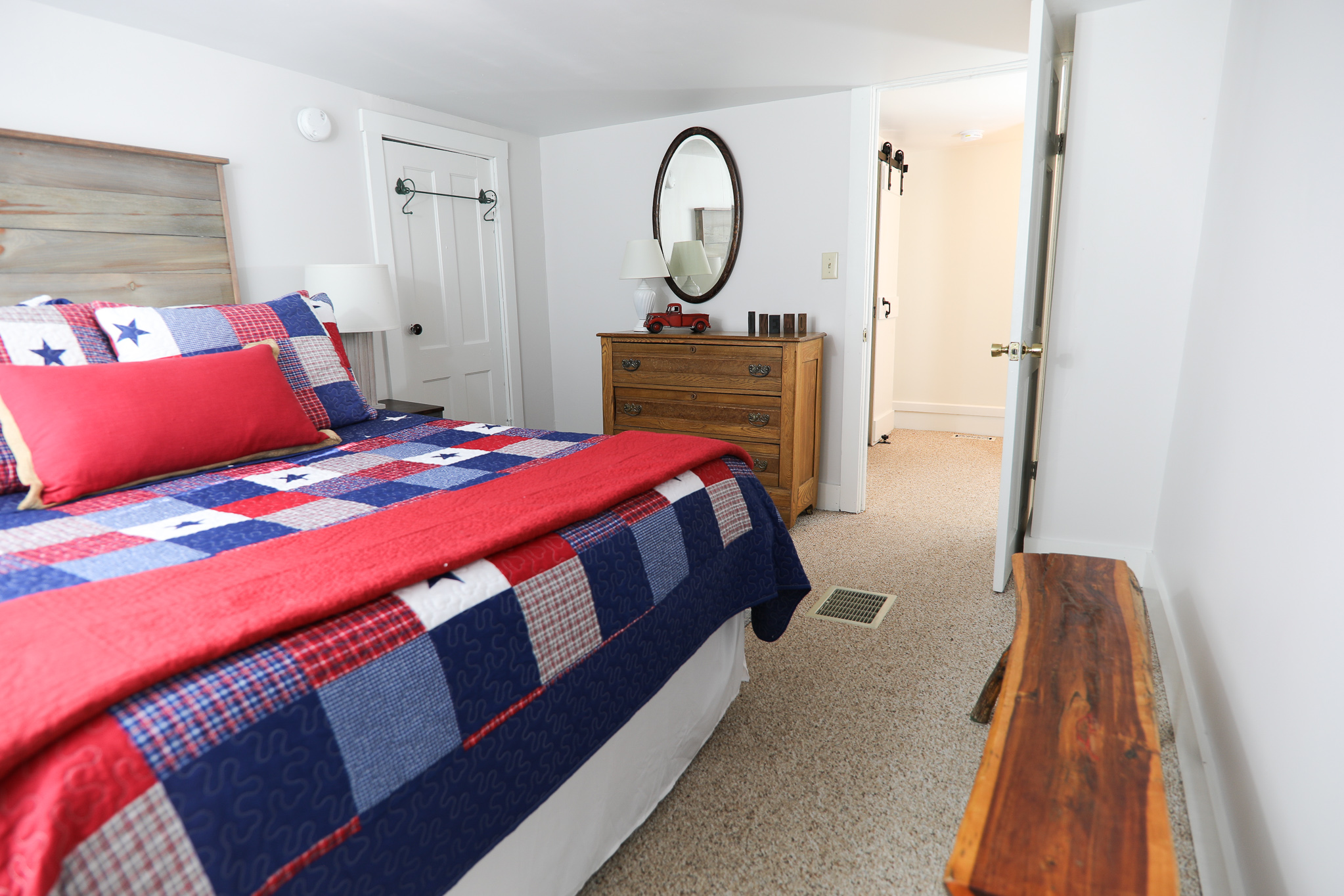 You can't see the details of the window in this room. I LOVE the combination of the weathered wood on the oar and the clean white seersucker fabric of the curtains!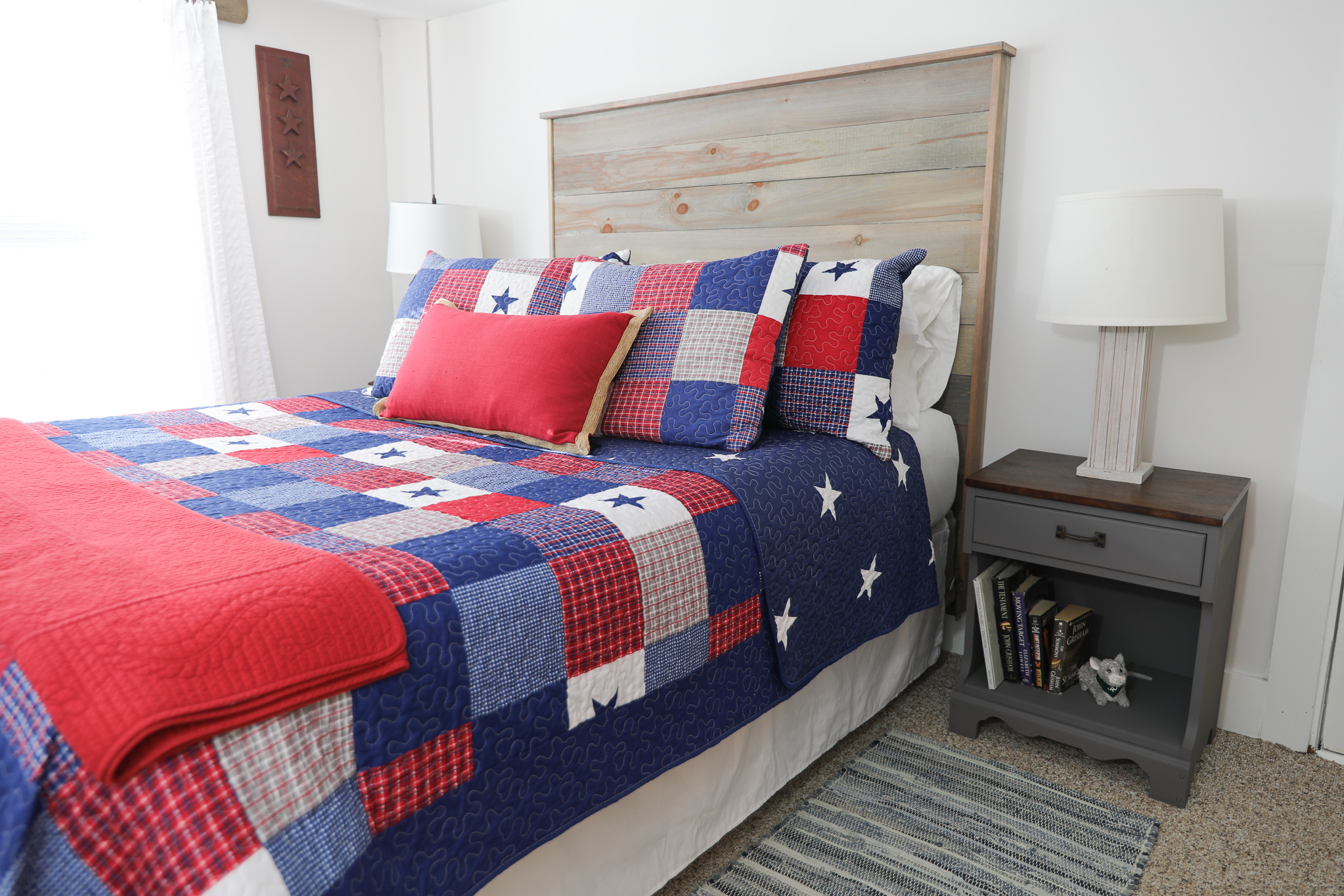 Vintage Oar Nautical Curtain Rod
I've tried to keep the original doors in the house where I could. This one opens to a generous closet.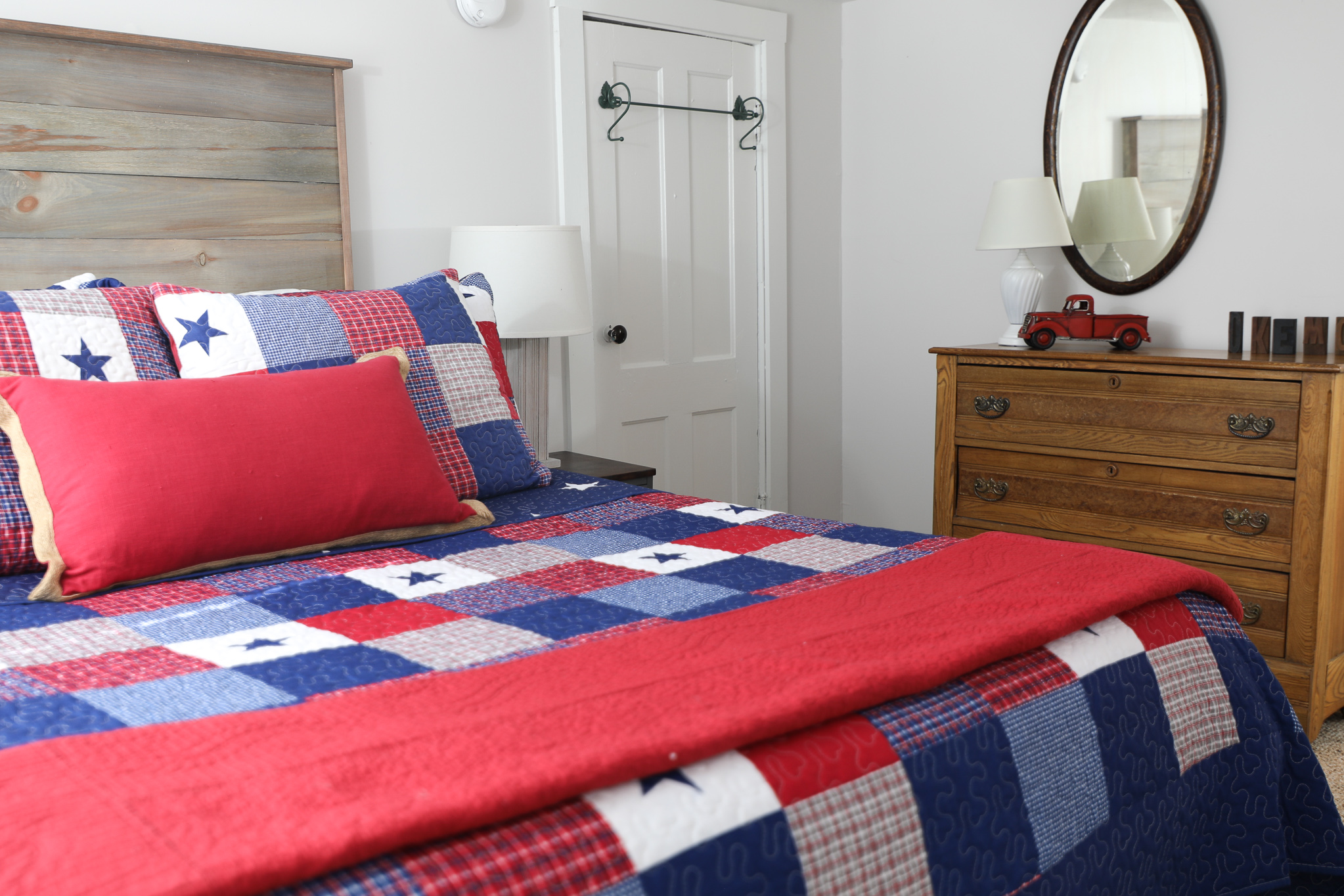 We just renovated it and painted the original floors in my colonial red this summer. This closet was almost room size, and a total mess. We built a vertical shiplap wall, a gorgeous Z door and I now have another storage room.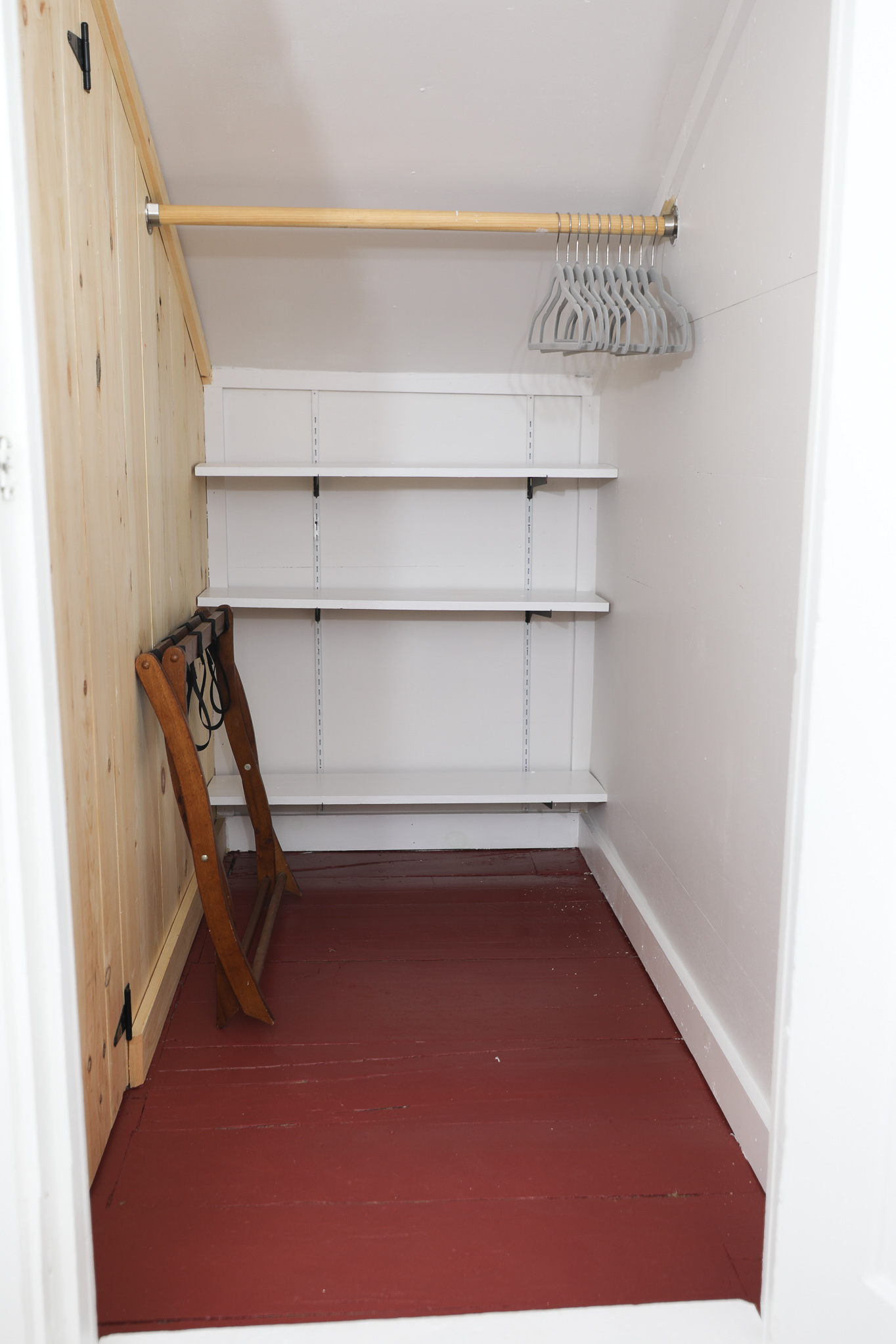 The other bedroom on the second floor is called the Lodge room.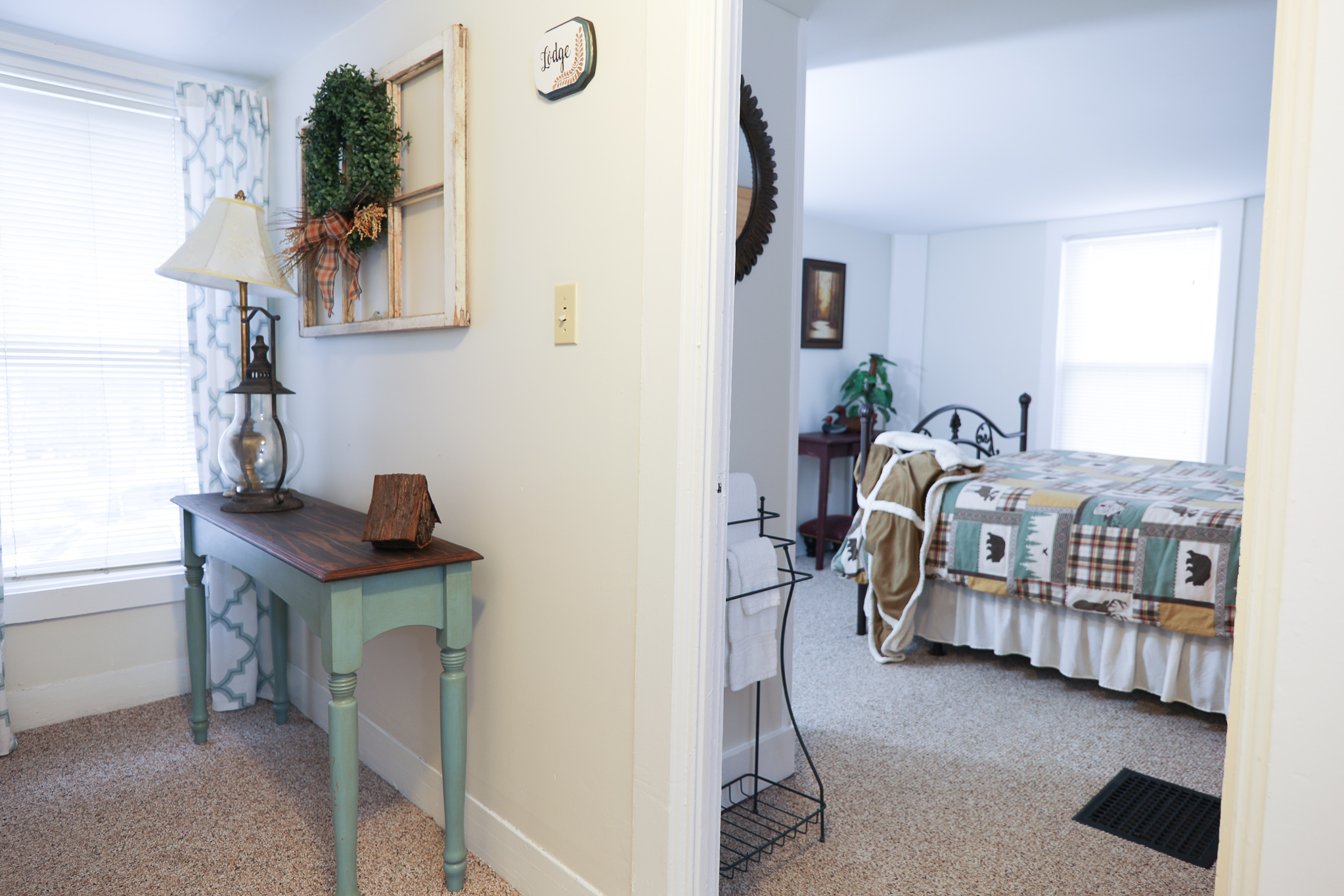 It's rustic, kind of manly and I love the feel of it.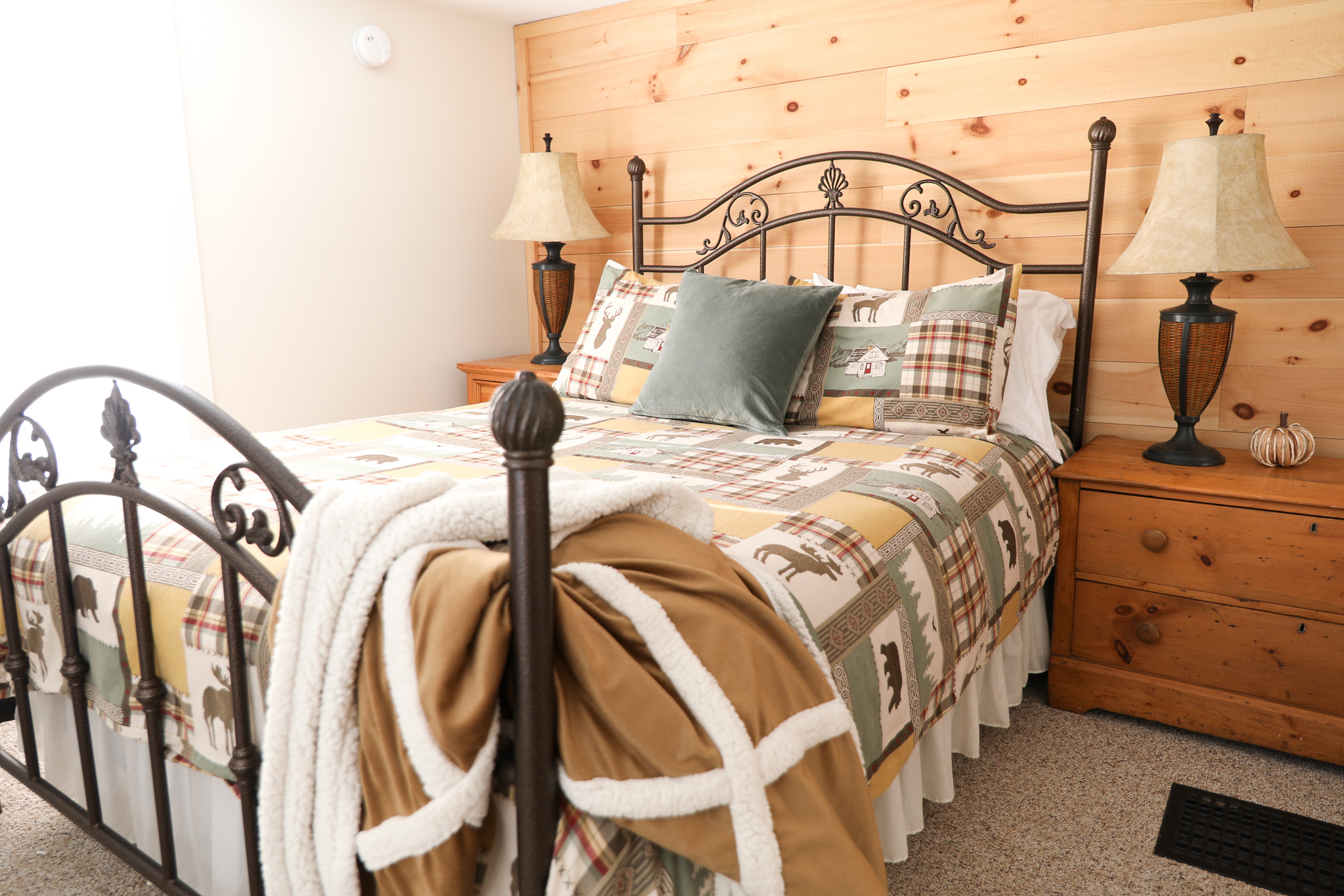 Yes, I added the shiplap plank wall and I used the rough side out so it's wonderfully textured and lodgy. I kept the wood natural. It will age over time. Have I mentioned how much I love the feel of this room? 🙂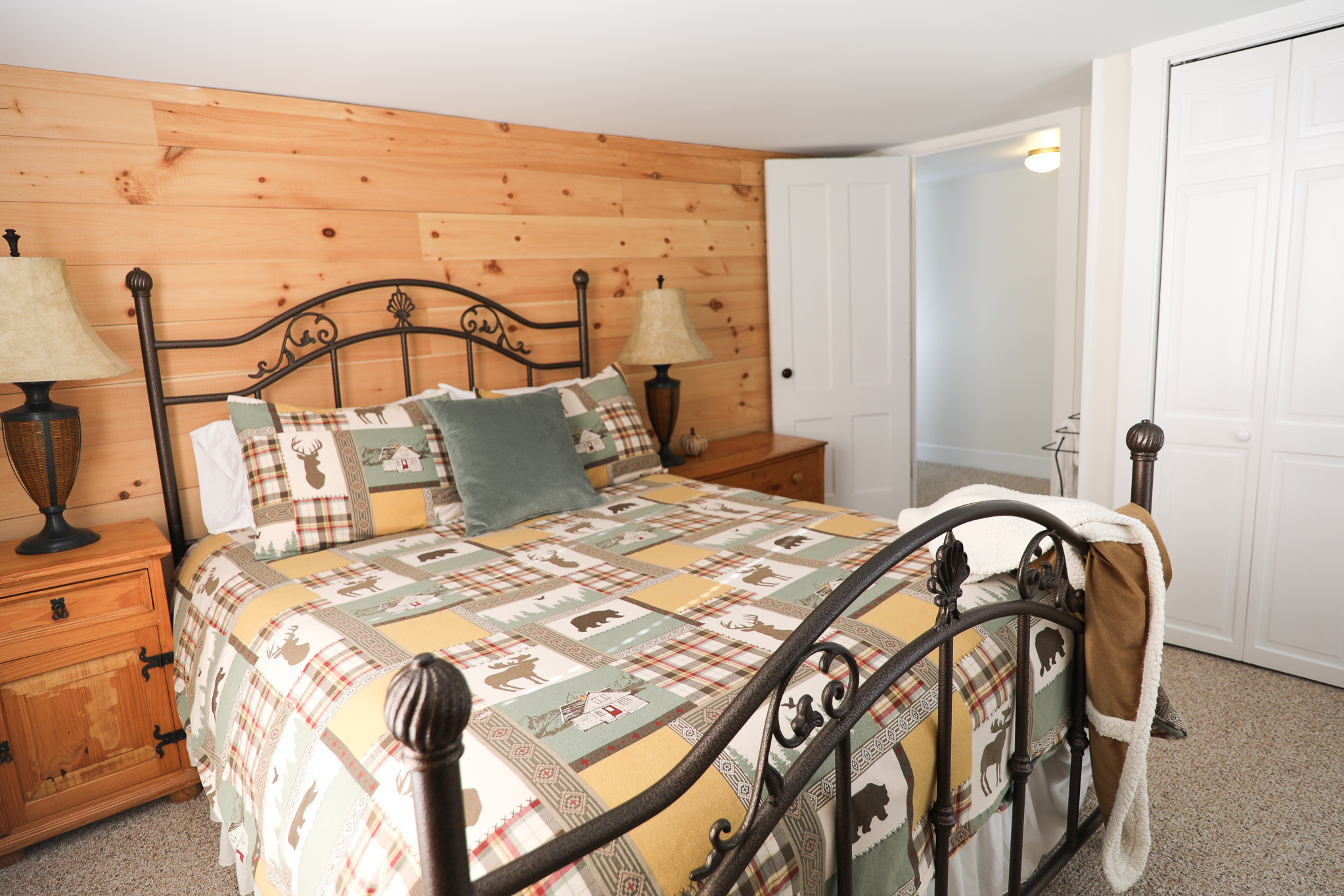 Even though I've worked hard to create a welcoming place to call home for guests while they're here, people don't travel to Ludlow to stay indoors.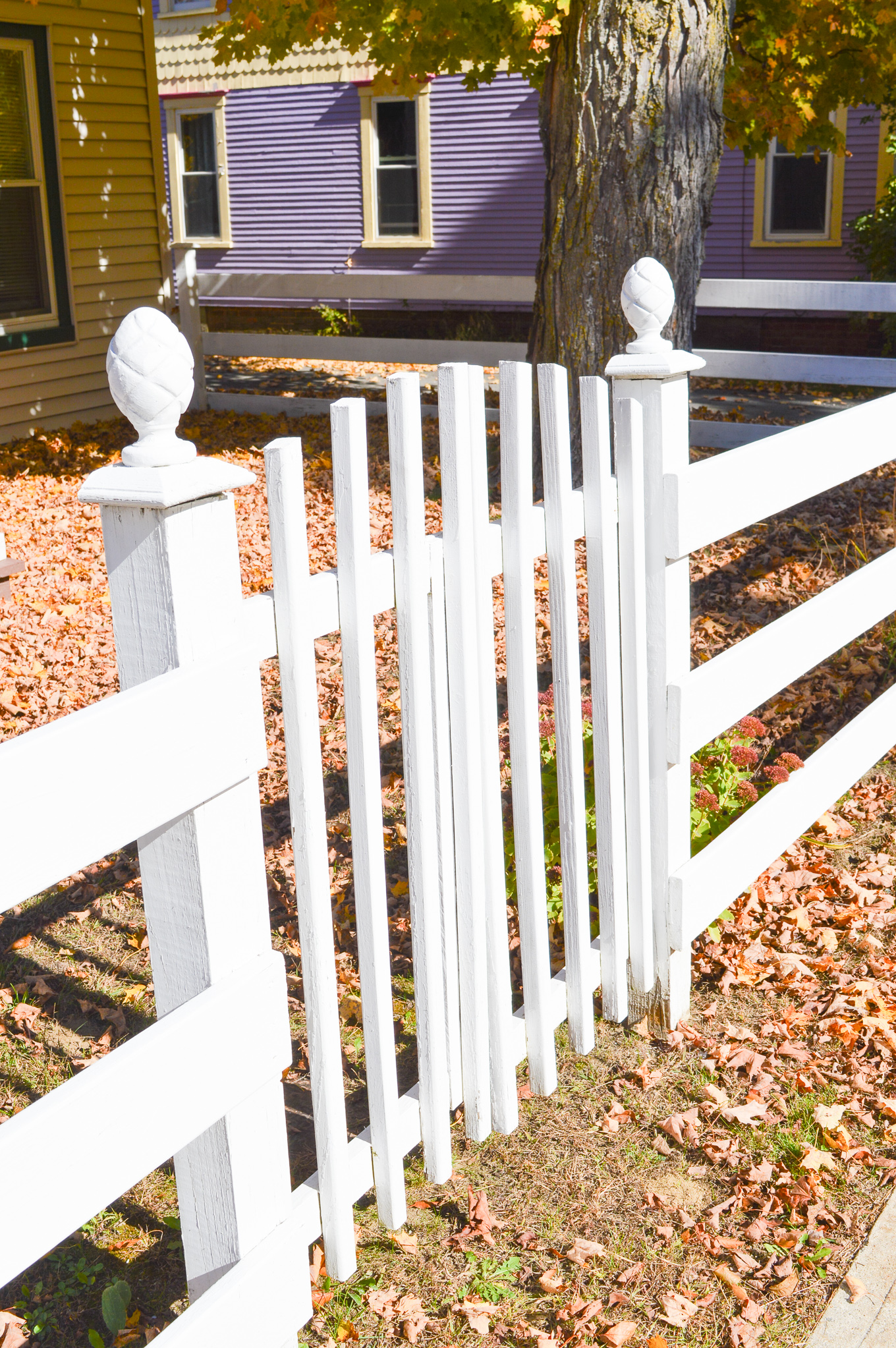 There's a captivatingly beautiful world outdoors, year round.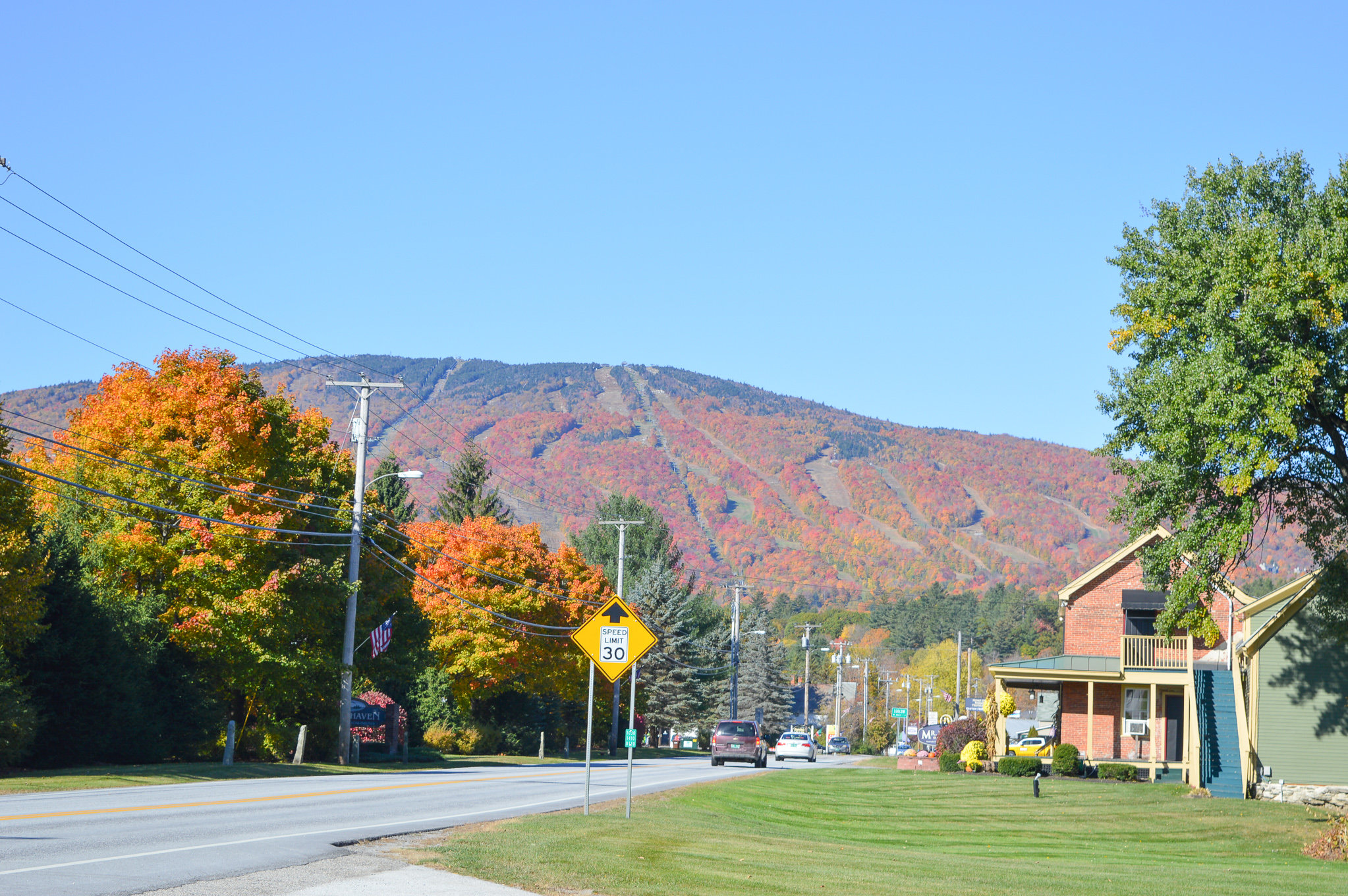 Our fall foliage is breathtaking. Every single road is lined with the most striking shades of golds and reds I have ever seen.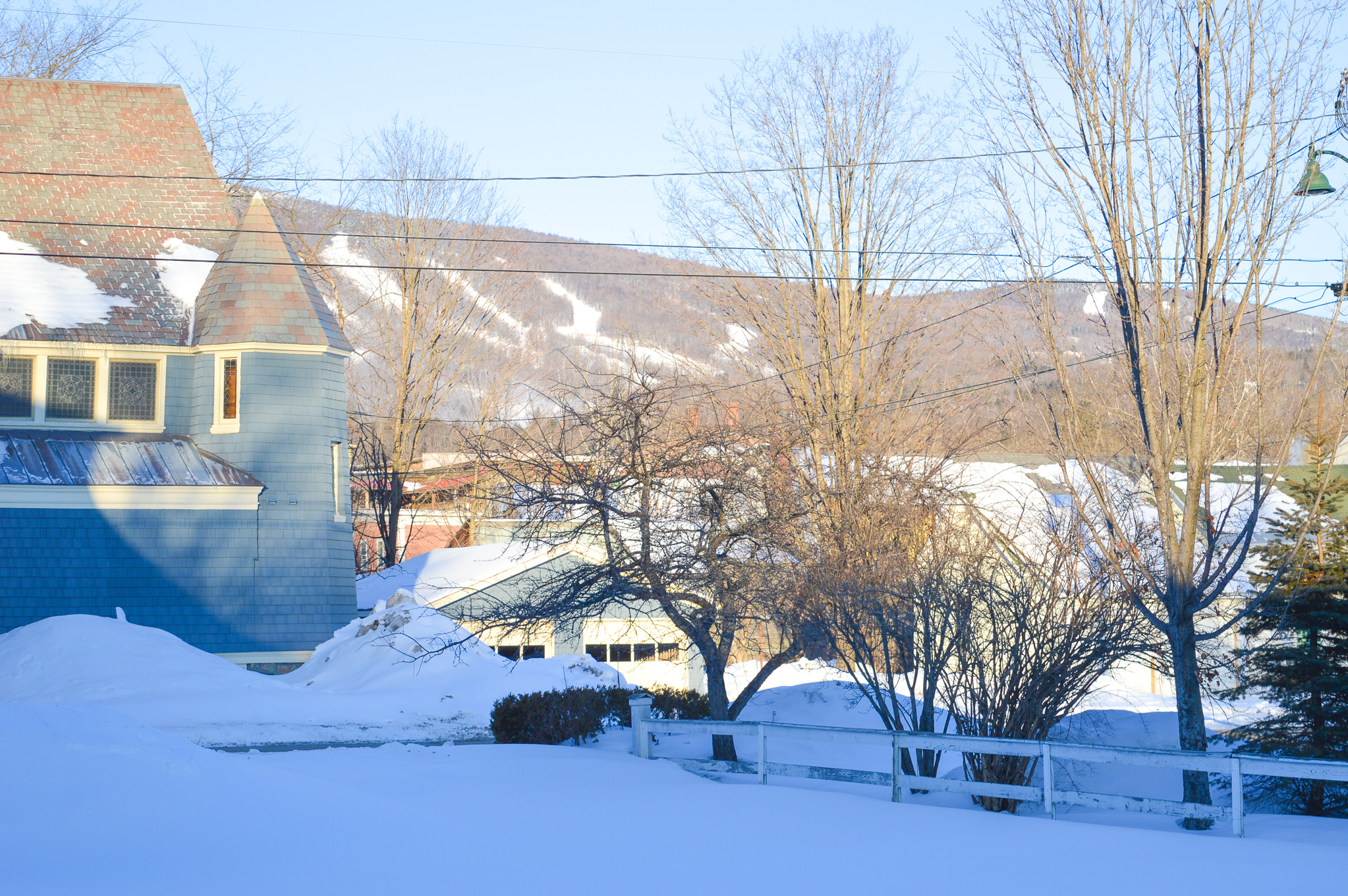 Our view of Okemo Mountain ski runs from the kitchen window is a huge motivator in winter to get up and out early!
I could go on and on with gorgeous photos I've taken in my two years of working in this town. I'll save some for the tour of the other side of our guest house. Click over to see the home tour for #54 Pleasant Street.
As I mentioned earlier, you can stay at the North House Lodge, this is a link to #52 and we list it with VRBO year round.
So….friends, what do you think? leave me a note in the comment section below, you know how much I LOVE hearing from you guys!