Today is the day I share the Mill Place Home Tour with you guys! It's been almost a year since I first announced that I was taking on a new project house. This was a full gut and remodel including a new kitchen, floors, all new doors, lots of electrical work, removing a few walls, building a vanity and putting in new lighting. After all that work was done it still needed to be furnished before we could start renting it out as our latest vacation rental in Ludlow, VT. This was definitely a tall order to get done over the course of several months and from across the country!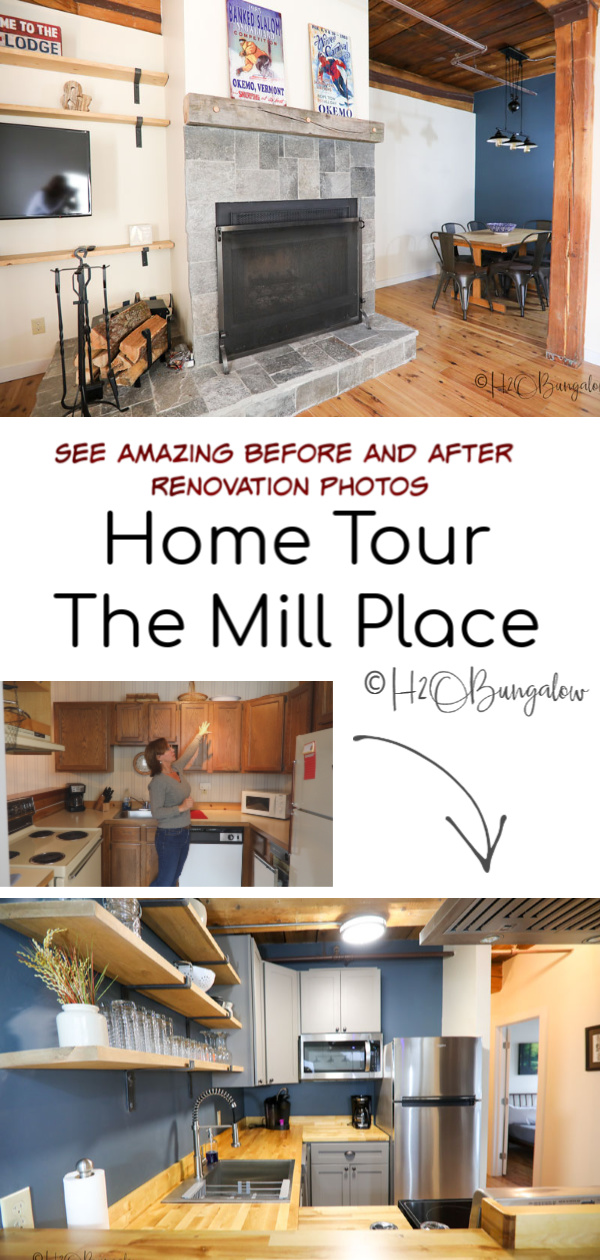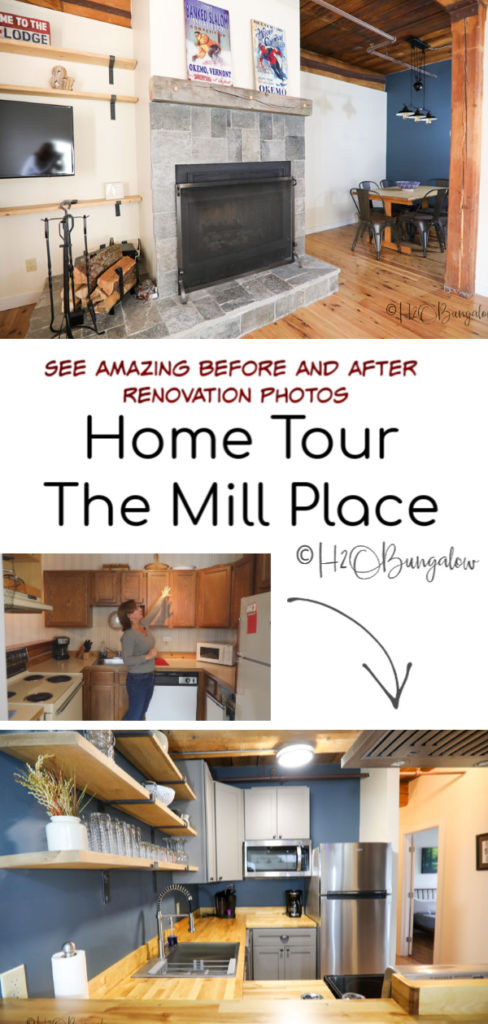 To appreciate just how dramatic of a change this place has seen take a peek at what it looked like before I started the renovations..
The Mill Place: a New DIY Adventure announcement – Before tour
Old House During Renovation Video Tour Update – During renovations
Mill Place Home Tour
I'm starting the Mill Place home tour in the living room with the fireplace. This is by far the biggest wow factor of this renovation.
Redoing the fireplace was not on the original remodeling list or budget. It's not even a DIY project I did. Although it is a DIY project and the masterwork of the fellow who does a lot of work with me in Vermont. It's a work of art, simply stunning in this space and worth every bit of the blown budget!
There's about 1,000 lbs of stone on that fireplace and we carried every single one of them in by hand. These stones were locally quarried and many of them were cut right here in the condo.
Oh, heck yes, it was messy! Don't get me started on the ground up stone dust that settled everywhere. We made the mantle out of an old beam we found.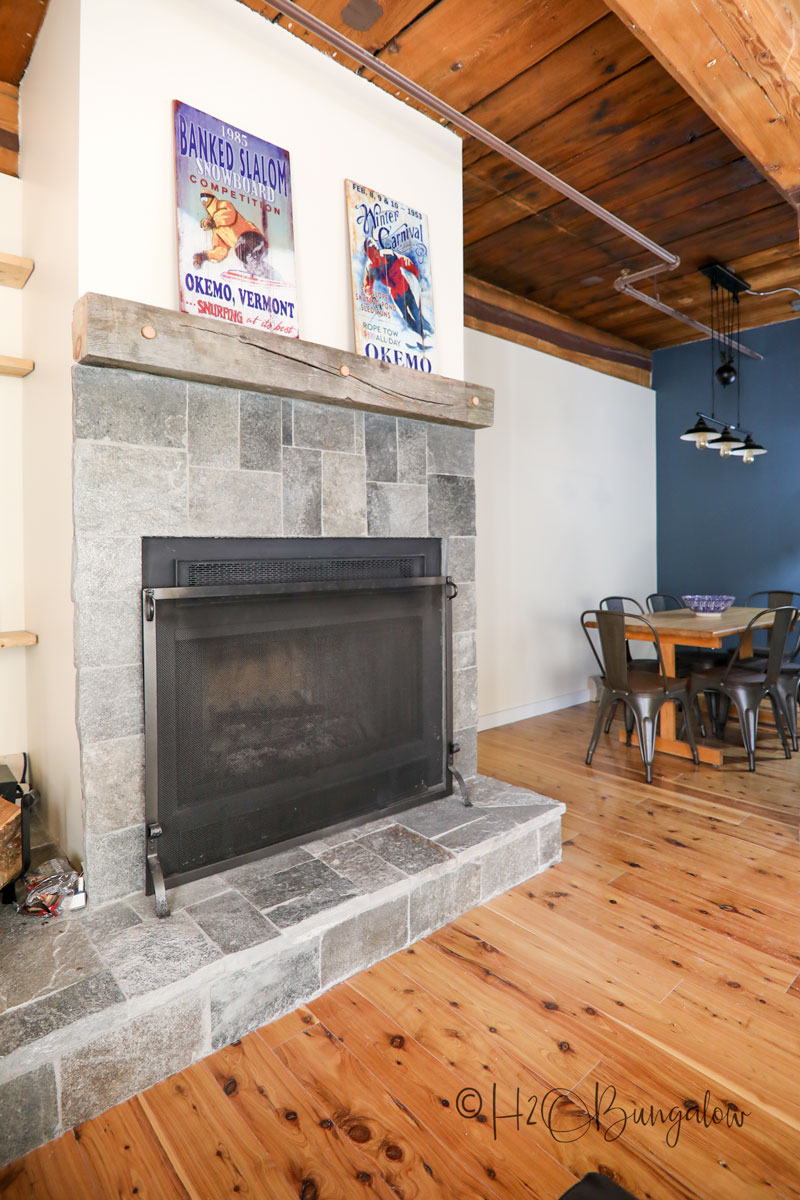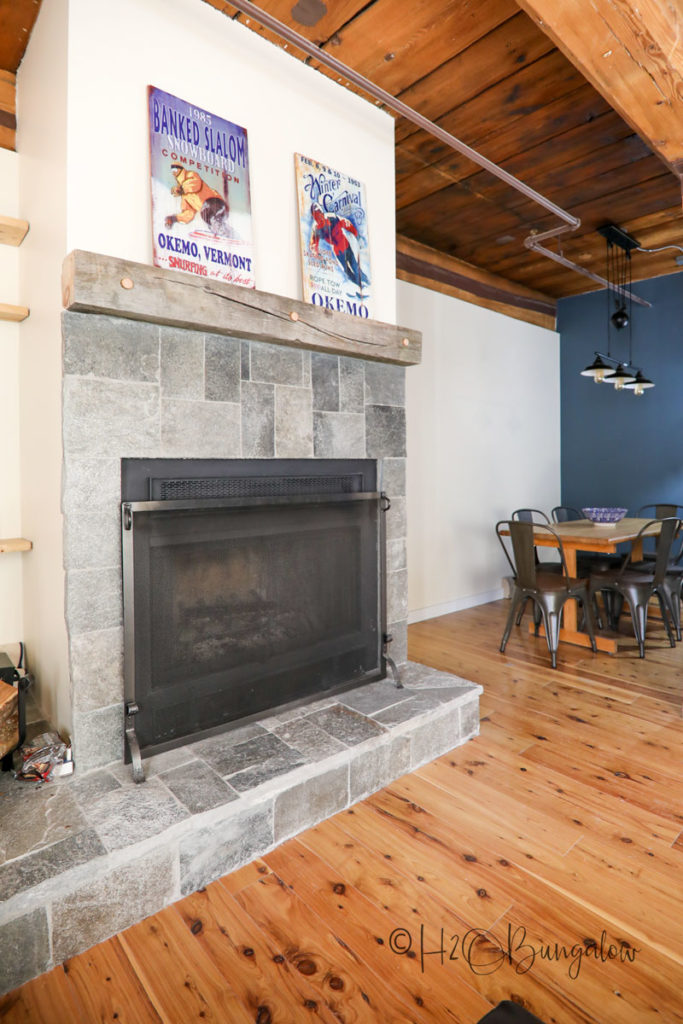 You've heard me talk about the ceilings in here before. The original exposed beam ceilings are from 1837 when the building was built as a woolen mill on the Black River which sits behind the building. The knotty cedar floors are new and run throughout the condo.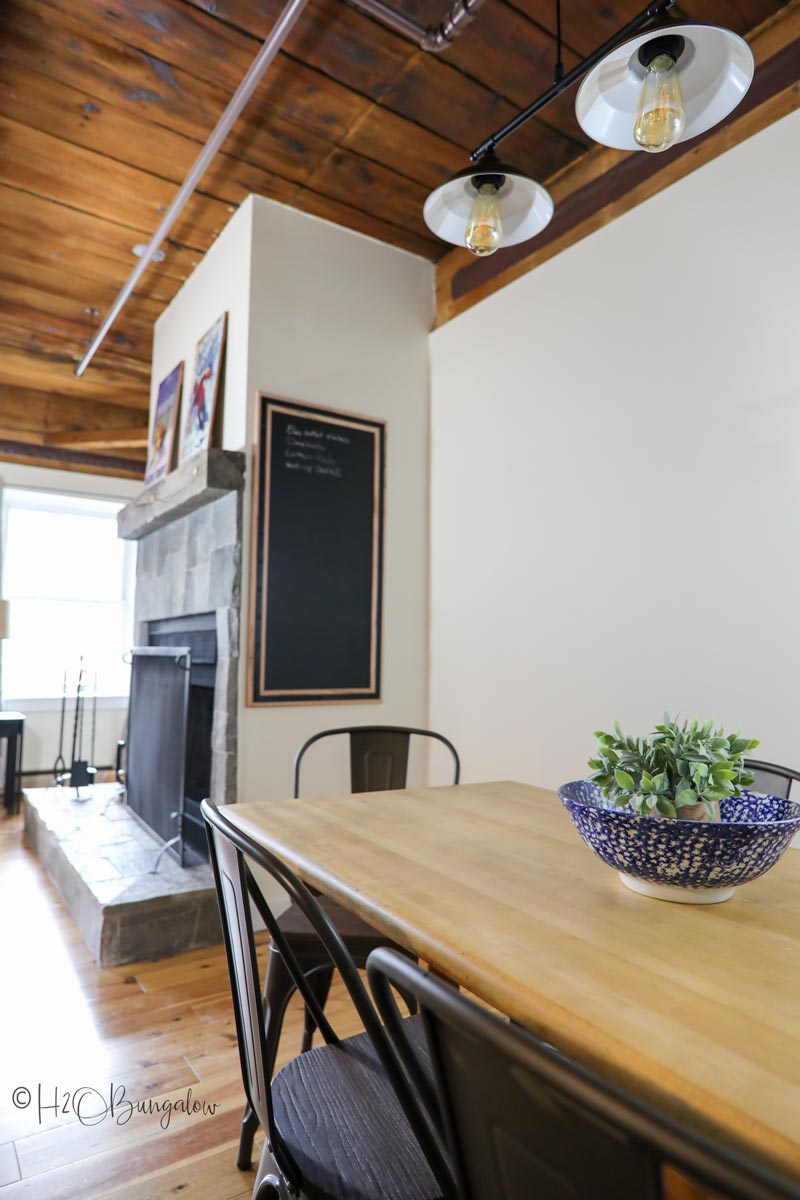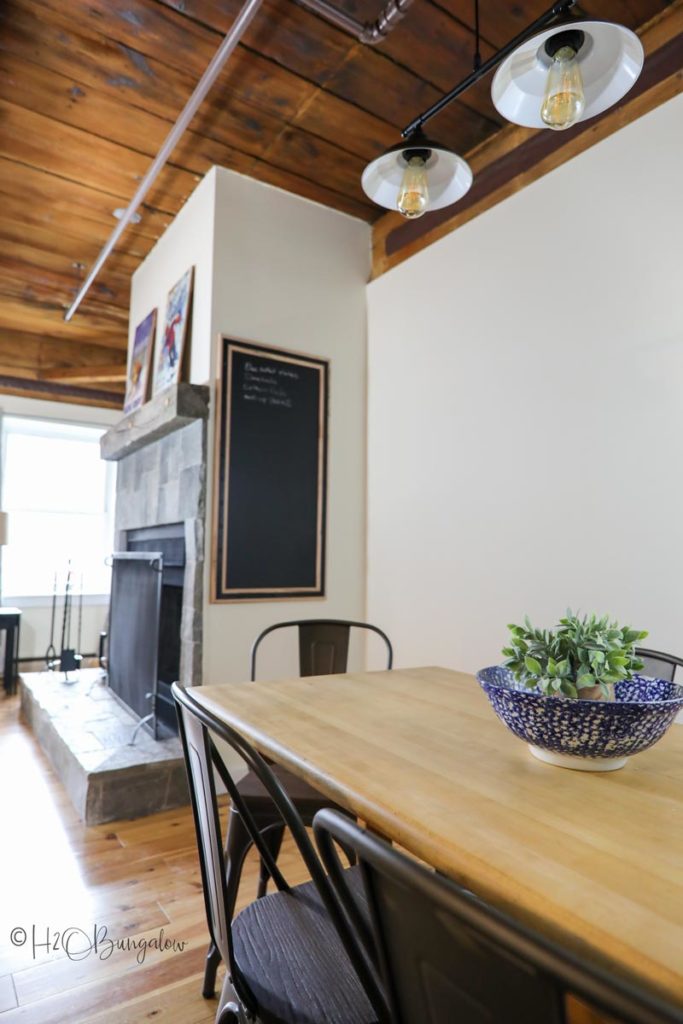 Source: Vintage Pulley Pendant Light * Wood and Metal Dining Chairs
The weighted industrial pendant light with LED Edison bulbs is perfect for the dining area.
Notice the oversized chalkboard on the side of the fireplace? This is a great place to sit with a group for a game and use the chalkboard for scoring. I made it with the leftover trim from the Modern Rustic Front Entry I did last fall.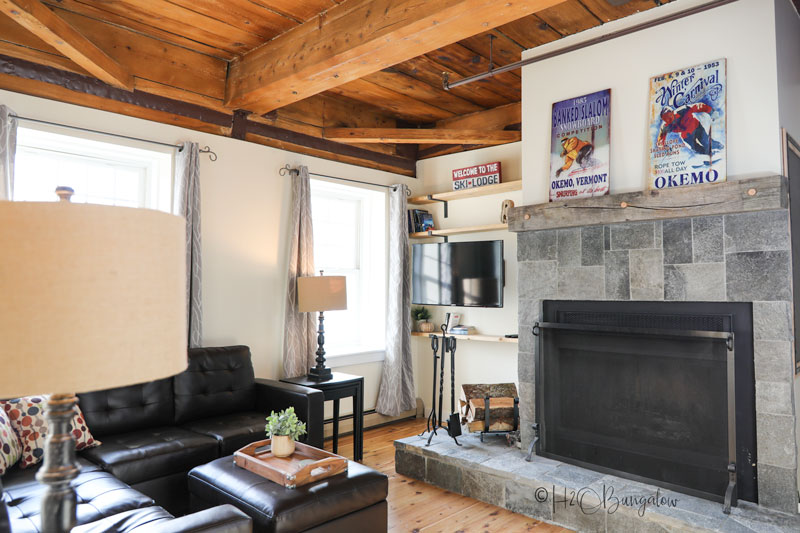 Source: Metal Firewood Holder * Twisted Iron Fireplace Tool Set * Okemo Mountain Ski Art
I removed the dated pressed wood cabinet that was on the left side of the fireplace. In its place we hung open shelving with more of my favorite custom metal shelf brackets.
The exposed pipes you see in the ceiling are working pipes. Most are the building's sprinkler system. They add to the charm of the place, don't you think?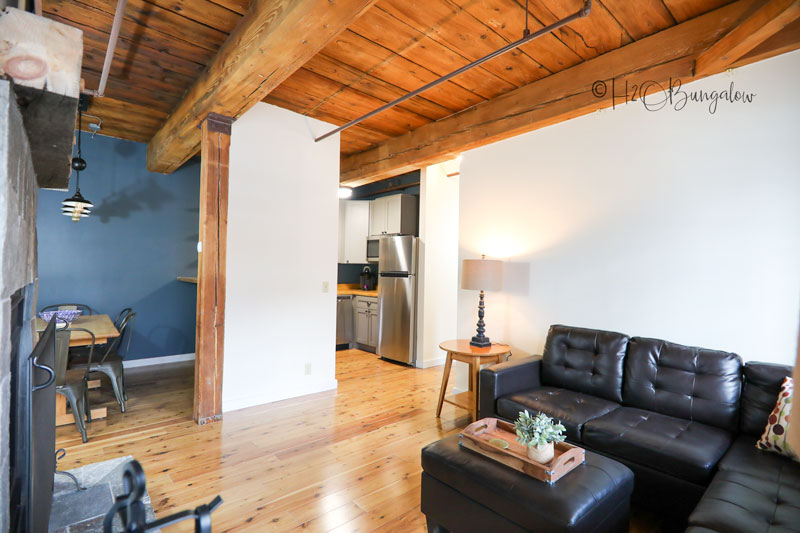 Source: Petite Sectional Sofa
The condo has a nice layout with the dining and kitchen area together, both are open to the living room. I still need to add more decor and wall art to make the space even cozier but I worked up until almost Christmas and ran out of time. It will have to do for now.
On to the kitchen. This area was a complete gut and everything is new.
Yes, that's a wood countertop! I've been sharing process pics of all my projects including this one on Instagram. Do you follow me, H2OBungalow on Instagram?
I added 40″ cabinets that reached almost to the ceiling to draw attention to the height of the room. Open shelving over the back wall above the sink helps the small space feel bigger.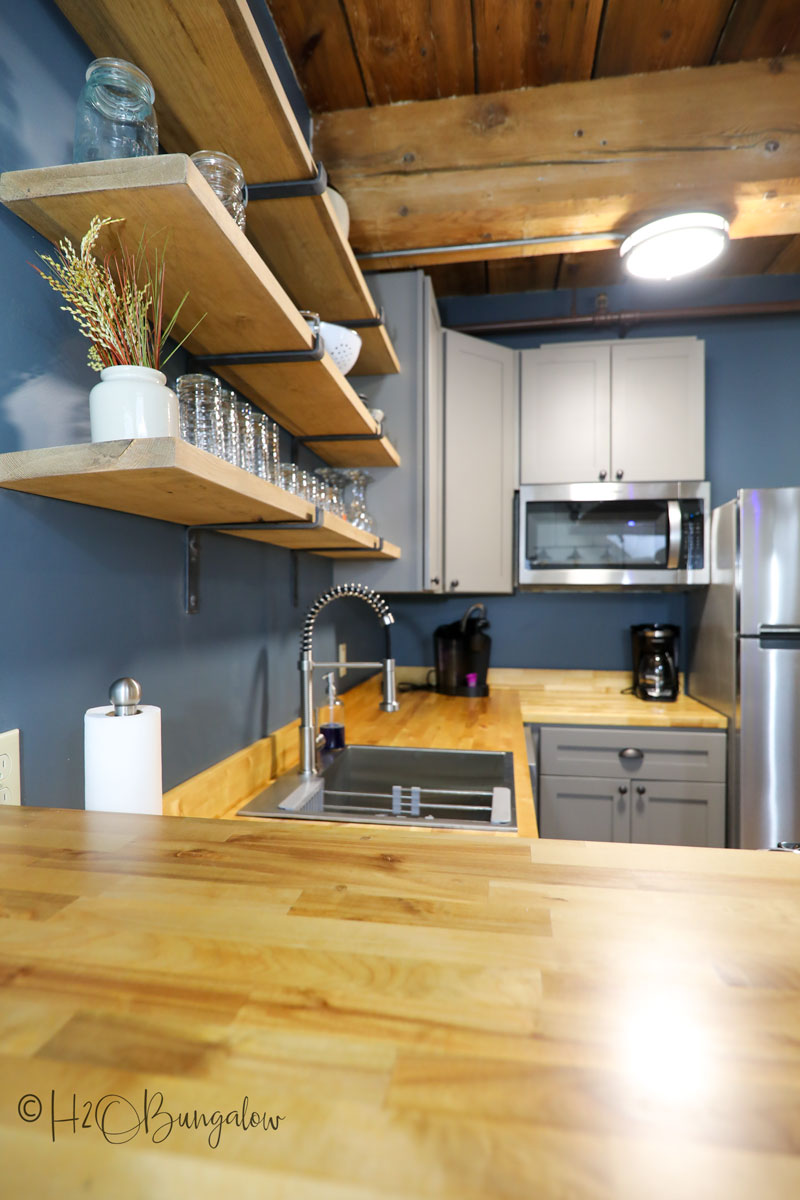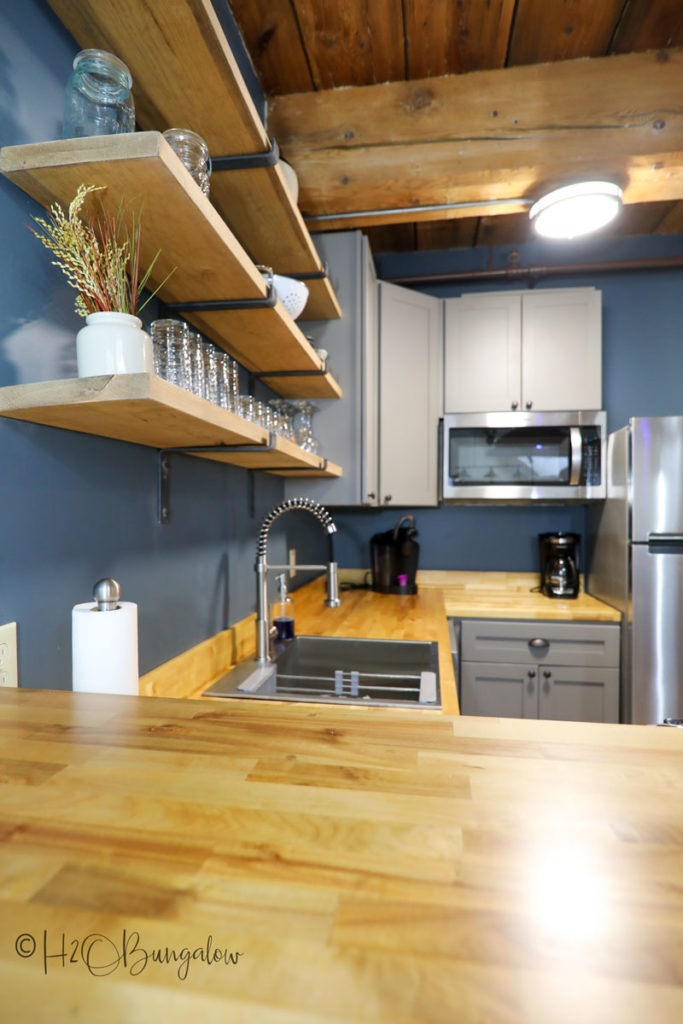 Sources: Custom Metal Industrial Shelf Brackets
The condo originally had a wood cabinet/shelf thing built in to hold a traditional vent hood and shelves. I replaced it with an island hood suspended from the ceiling to update the look and open the space. We had to build a custom box at the ceiling to hide the electrical work. Let me mention it was a bear to hang!
There's still dusty prints on it, I hadn't had the place cleaned yet when I took these photos.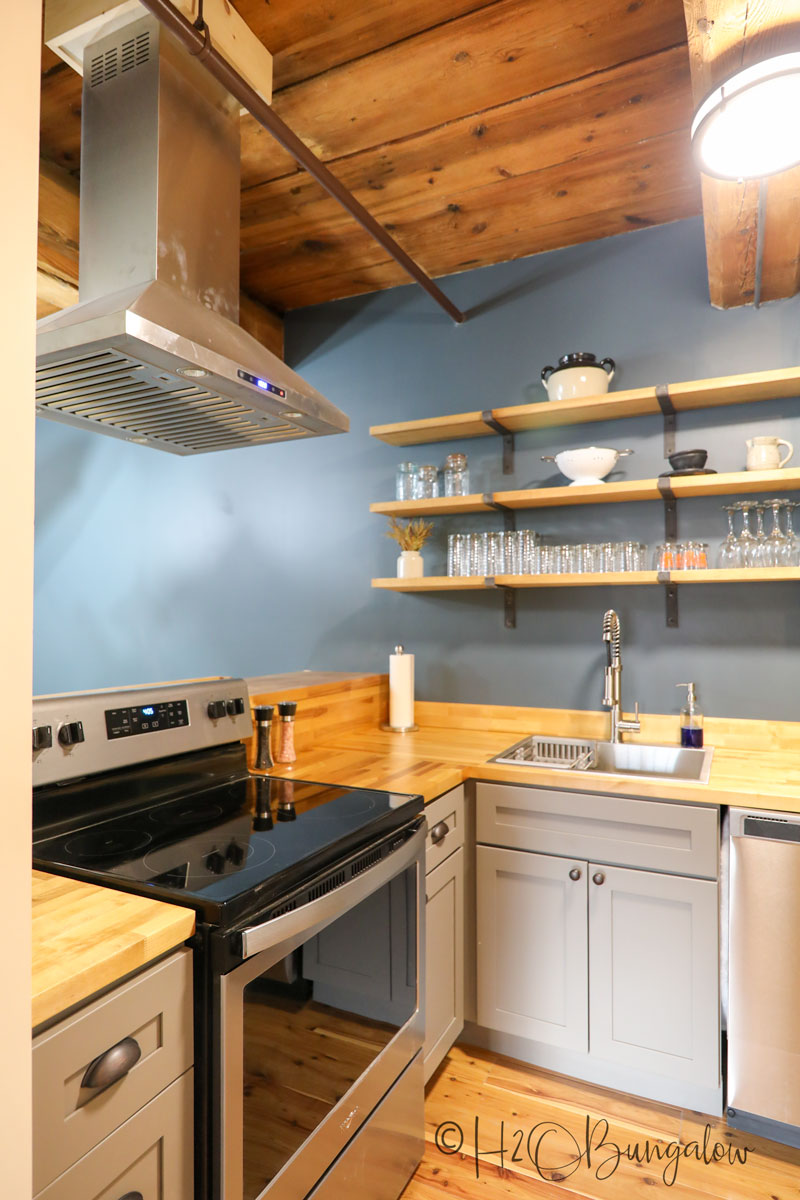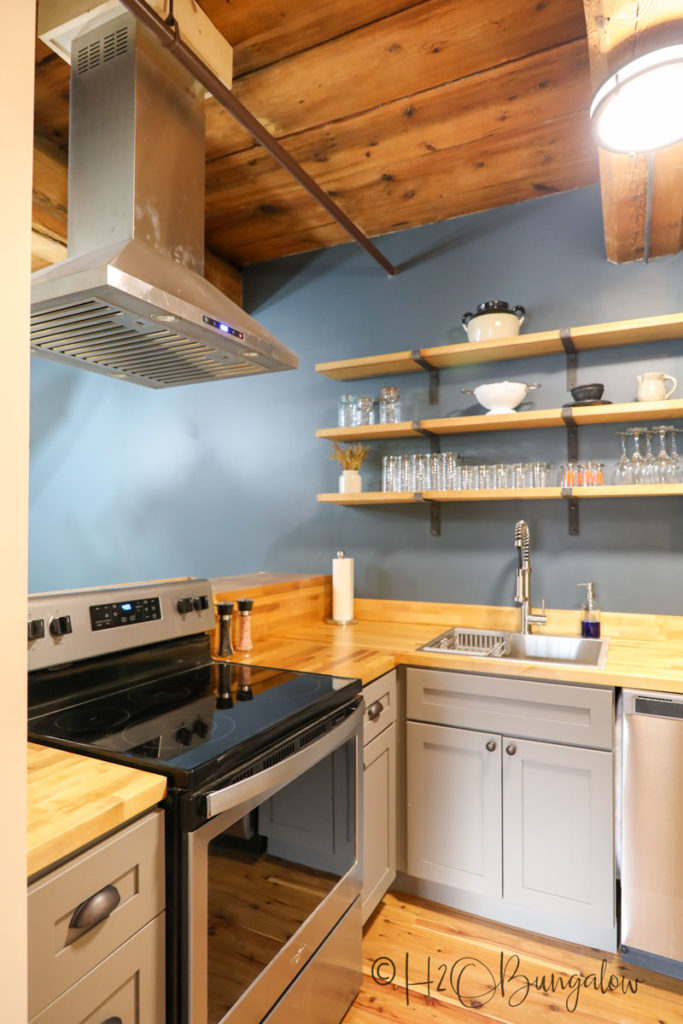 Source: Island Vent Hood, SelfVenting with LED Lighting * Oil Rubbed Bronze Cabinet Knobs * Oiled Bronze Drawer Pulls
I couldn't resist the oversized square sink and farmhouse pull down faucet for this space!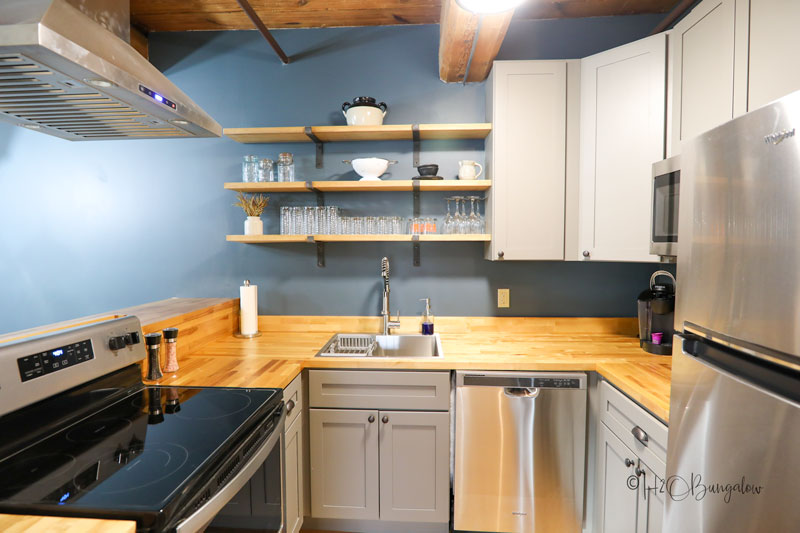 A deep sink is wonderful! We have shallow sinks in the Pleasant Street locations since the dishwashers are located under the sink.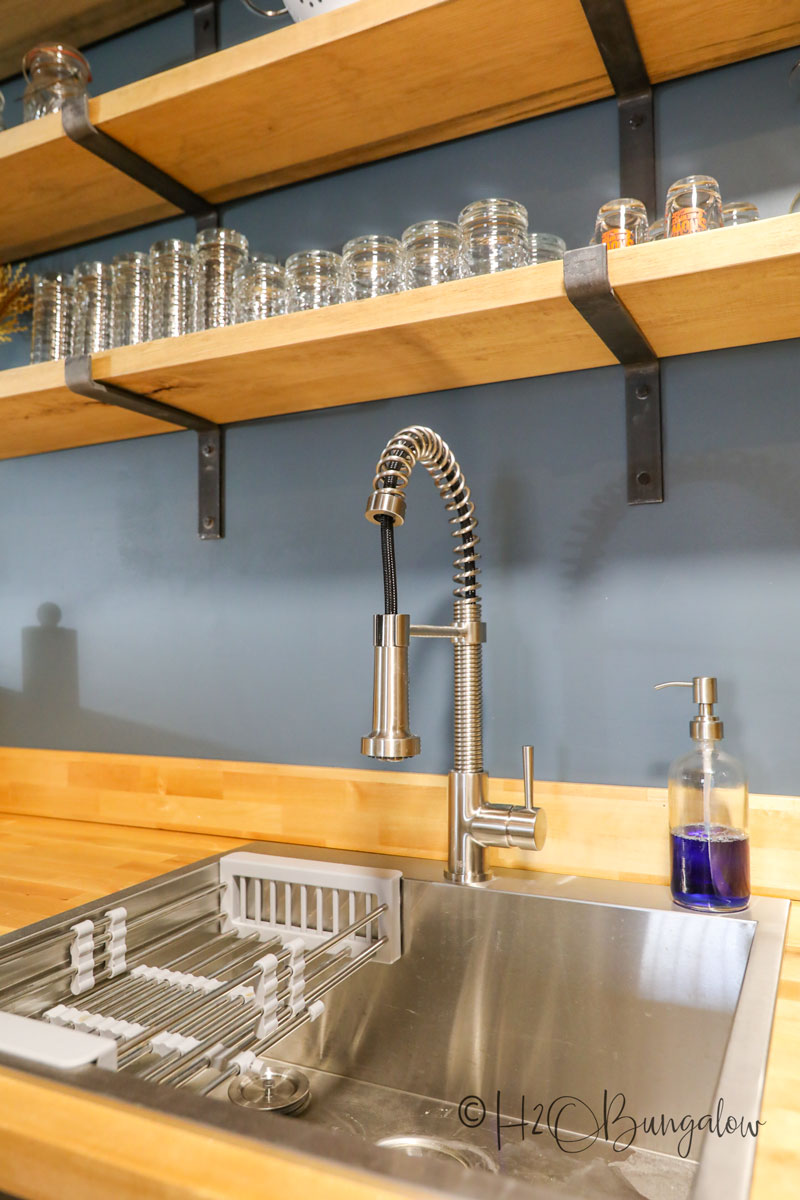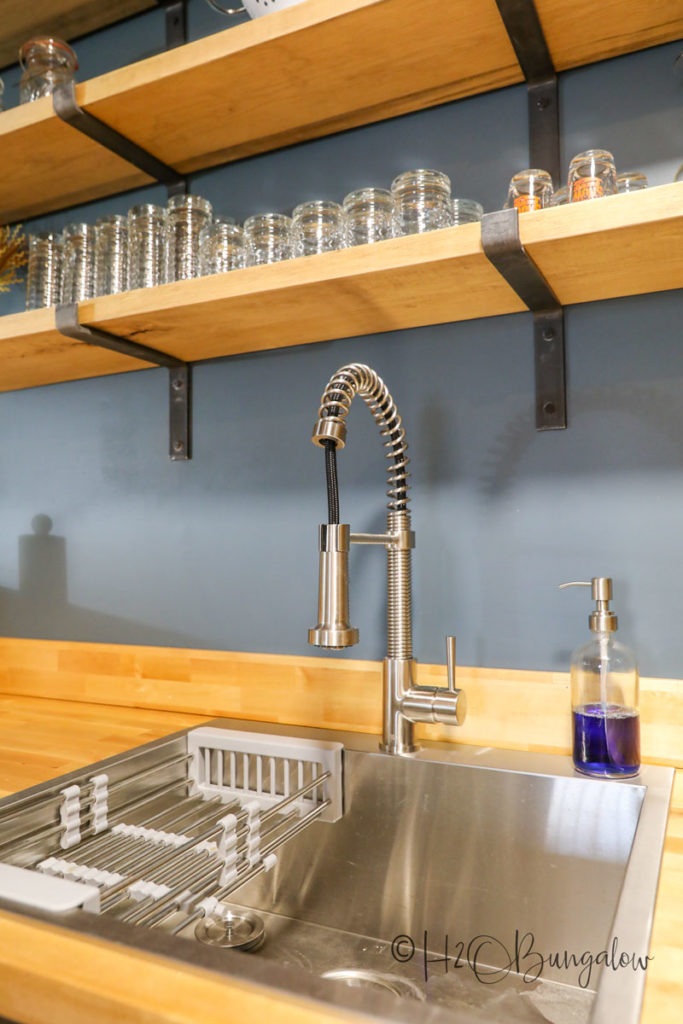 Sources: Oversized Stainless Square Sink * Pull Down Industrial Kitchen Sink Faucet
I shared how we converted the entry into a mudroom by taking out the built in closet. That gave me a lot more space to make a welcoming mudroom with a bench and an oversized coat rack to handle wet snow gear.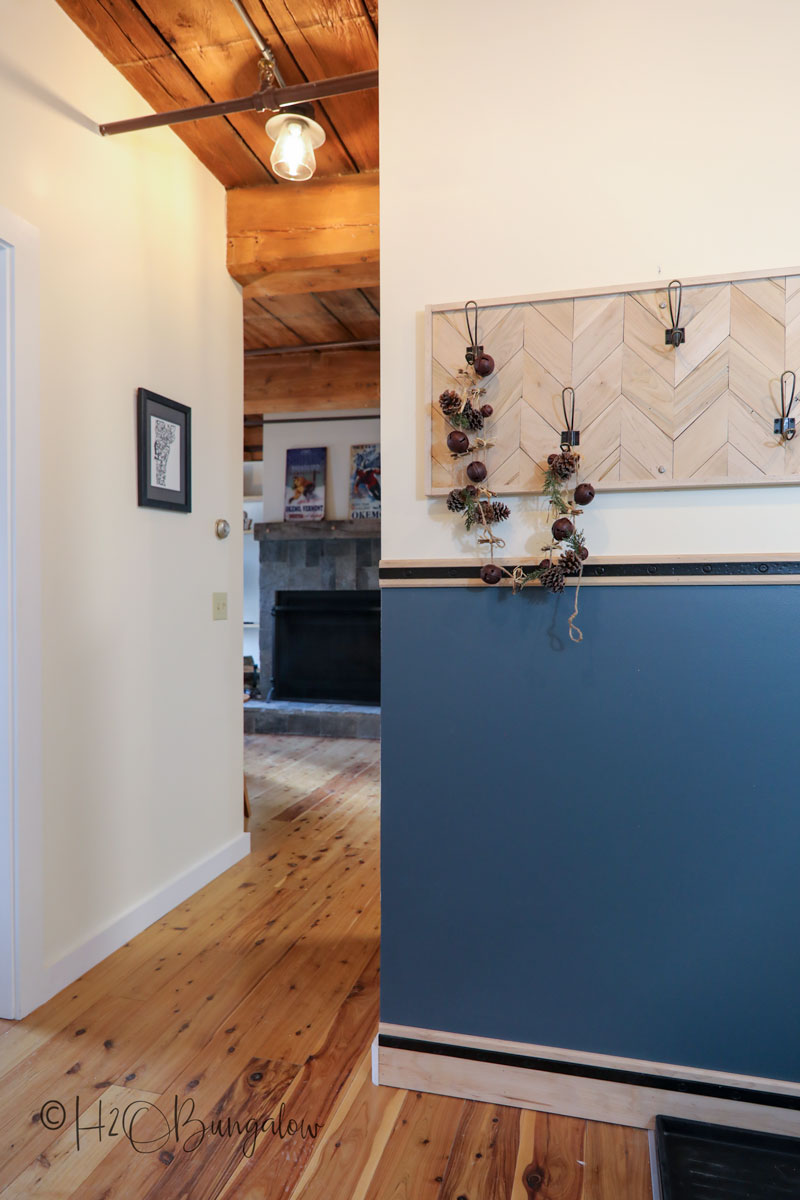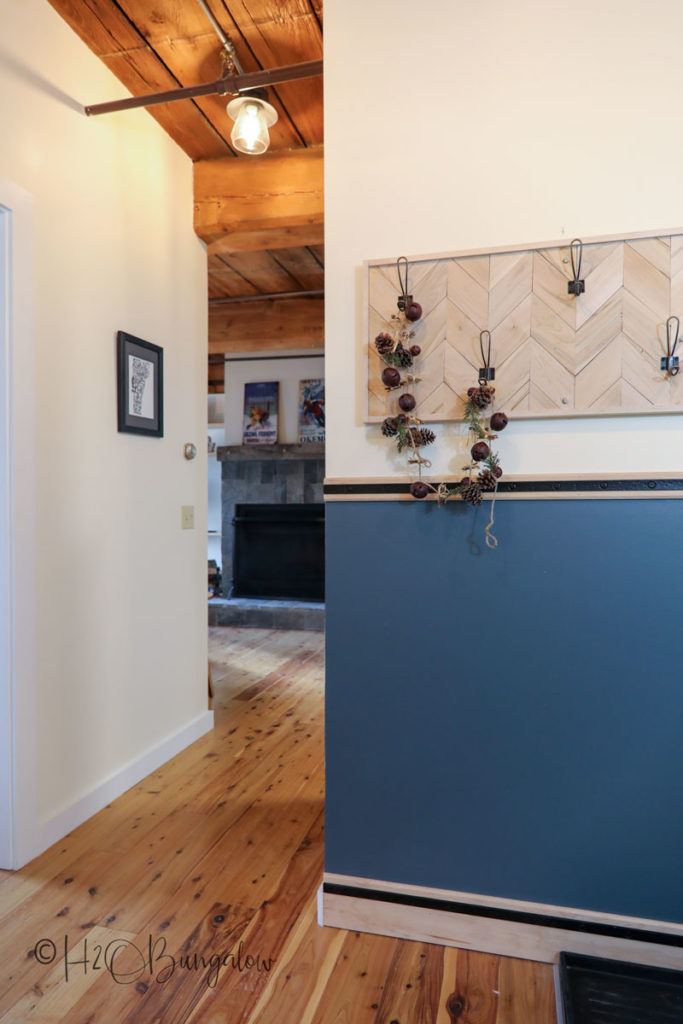 Sources: Industrial Flush Mount Ceiling Lights * LED Edison Bulbs
DIY Chevron Coat Rack Tutorial
The rustic maple wood trim really pops in this area. Creating the Rustic DIY Modern Mudroom was an easy weekend project and all it took was a little paint and molding.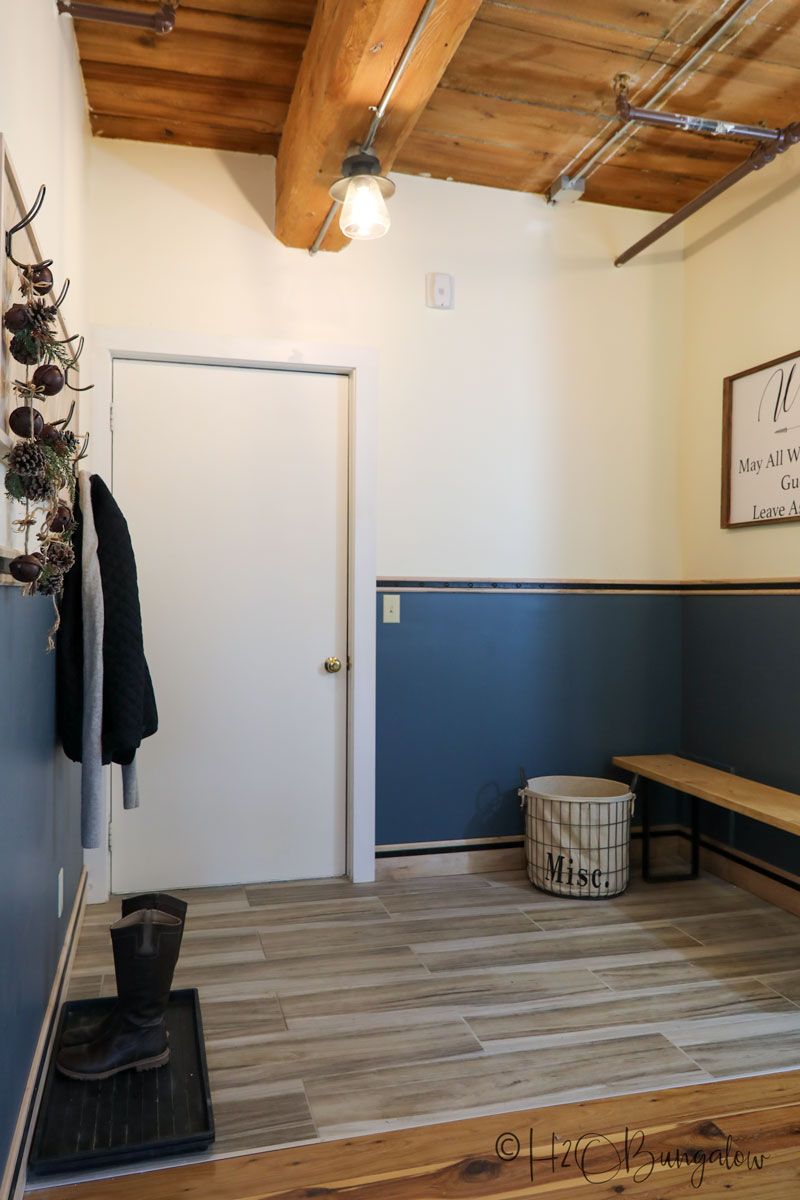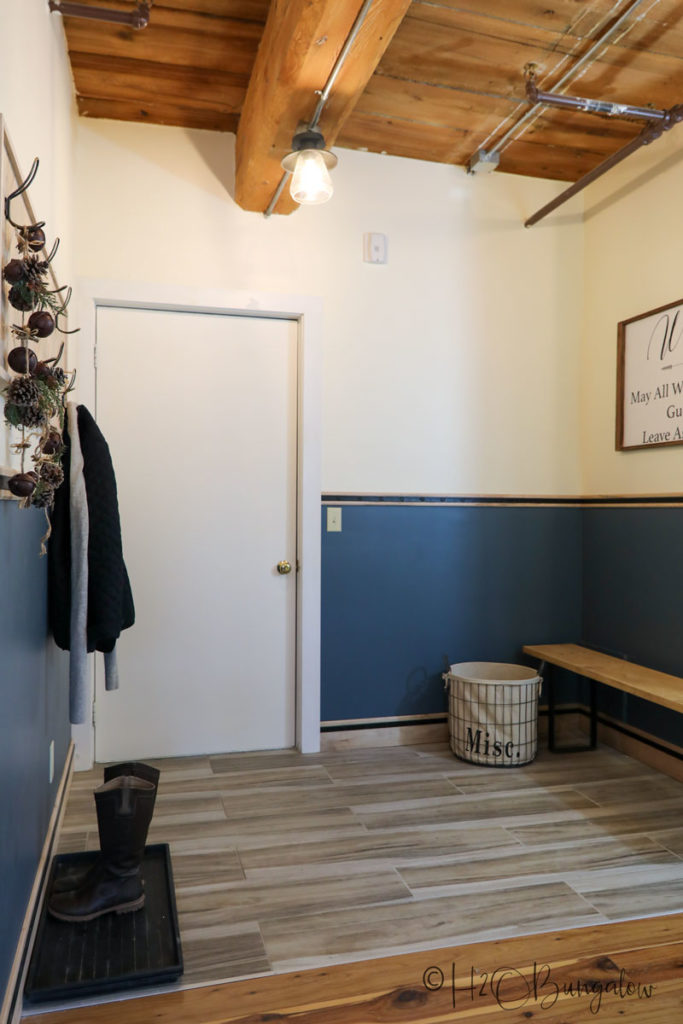 The main bedroom is just off the entry hall.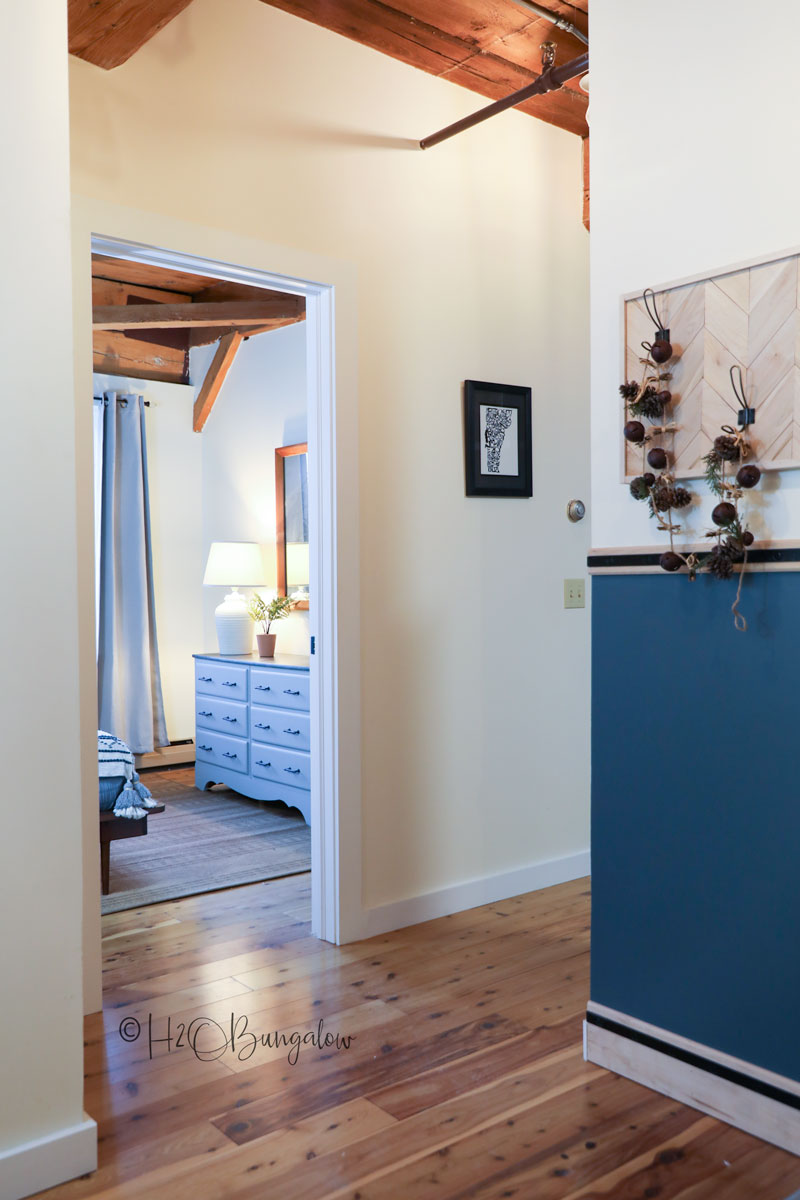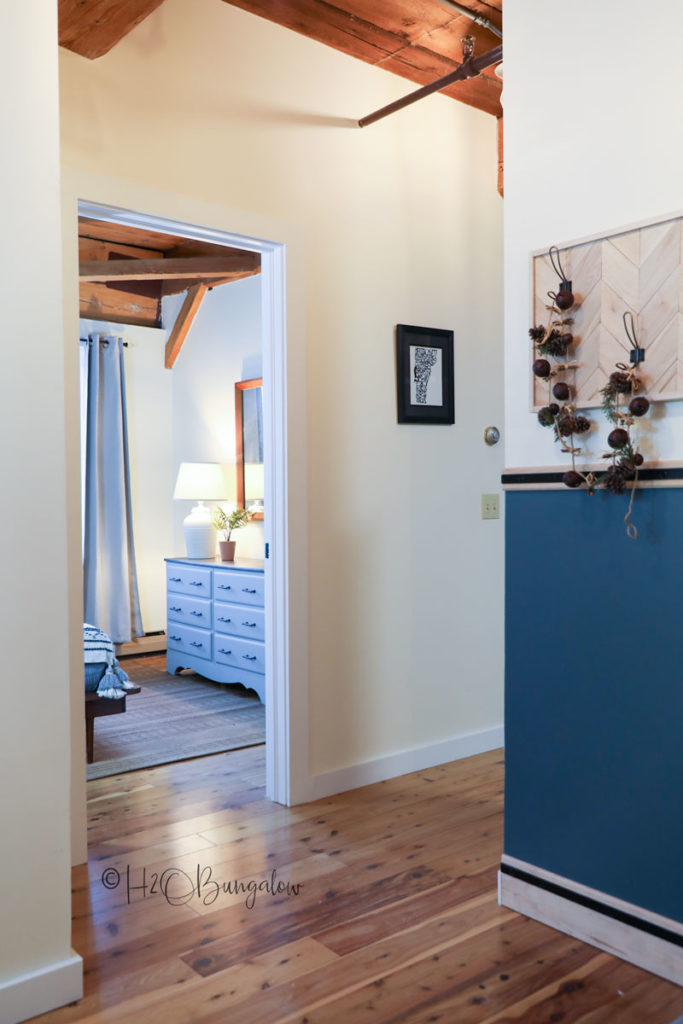 I shared Building a Barn Door Beginners Guide with plans last year when I built these sliding barn doors for the two bedroom closets. Funny, I initially liked them but wasn't sure I loved them until I put the room together.
Now, I think they fit perfectly.
I tried a new style with the beds here in the Mill Place. They are both platform beds. This one was a winner as soon as I saw it!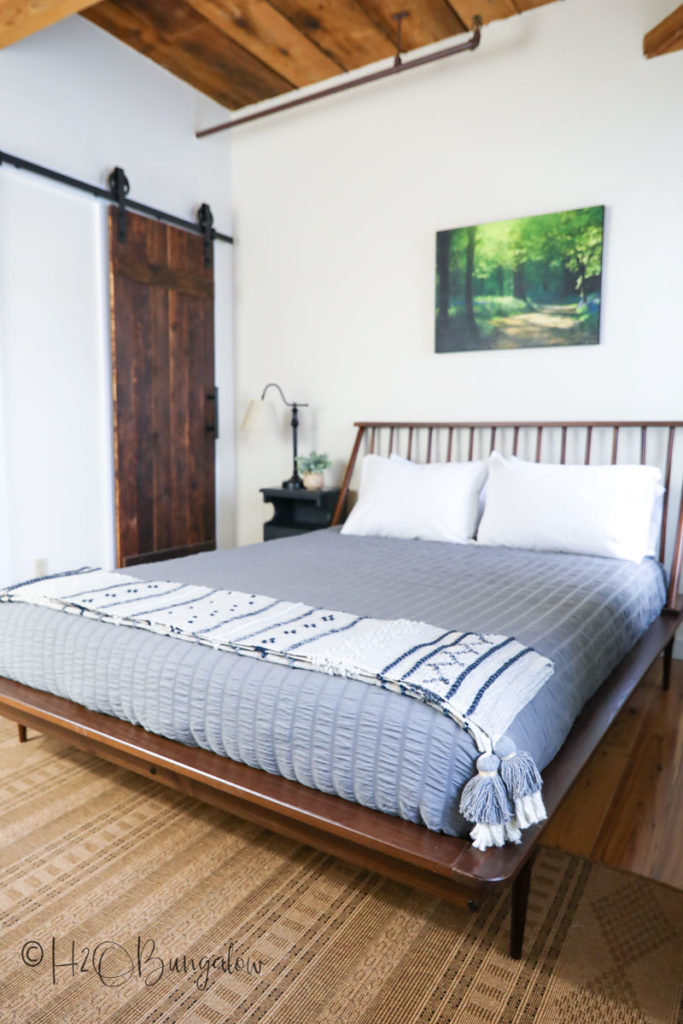 Sources: Windsor Style Bedframe * Vintage Style Barn Door Hardware * Rushed Duvet Cover * Queen Bed in a Box Mattress
This is one of the painted bottom, stained top dresser makeovers from last summer. Old yellowish-orange pine furniture is easy to find and inexpensive. A little imagination went a long way in giving it a new look with a budget price tag.
Eventually, I'll push the dresser over a bit and add a chair to this room. It will cover the light cord that's showing. Yes, I know I could have photoshopped it out, but I'm still catching up and the to do list is huge now that I'm home!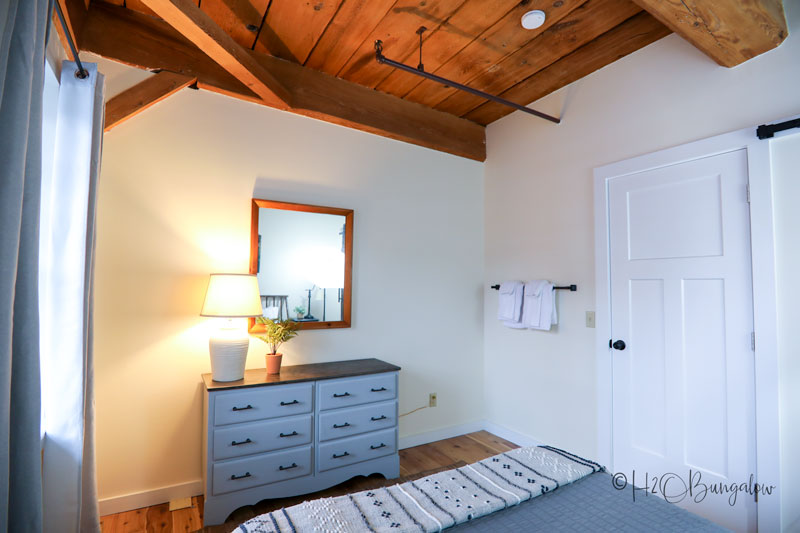 I'm a sucker for vintage raw wood mirrors and use them a lot. I'll strip this one later. See my How to Remove Veneer post to see what I mean about a gorgeous wood finish. This one doesn't have veneer but it will look as good as soon as the varnish is removed.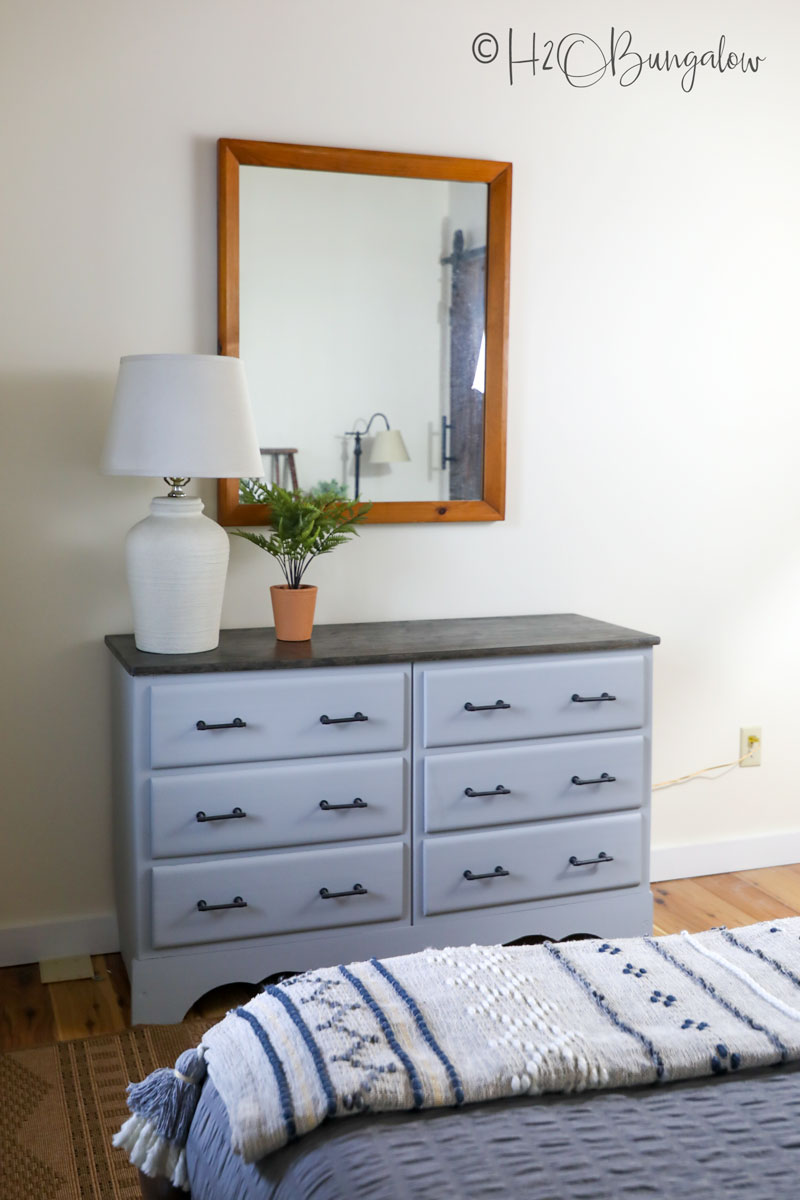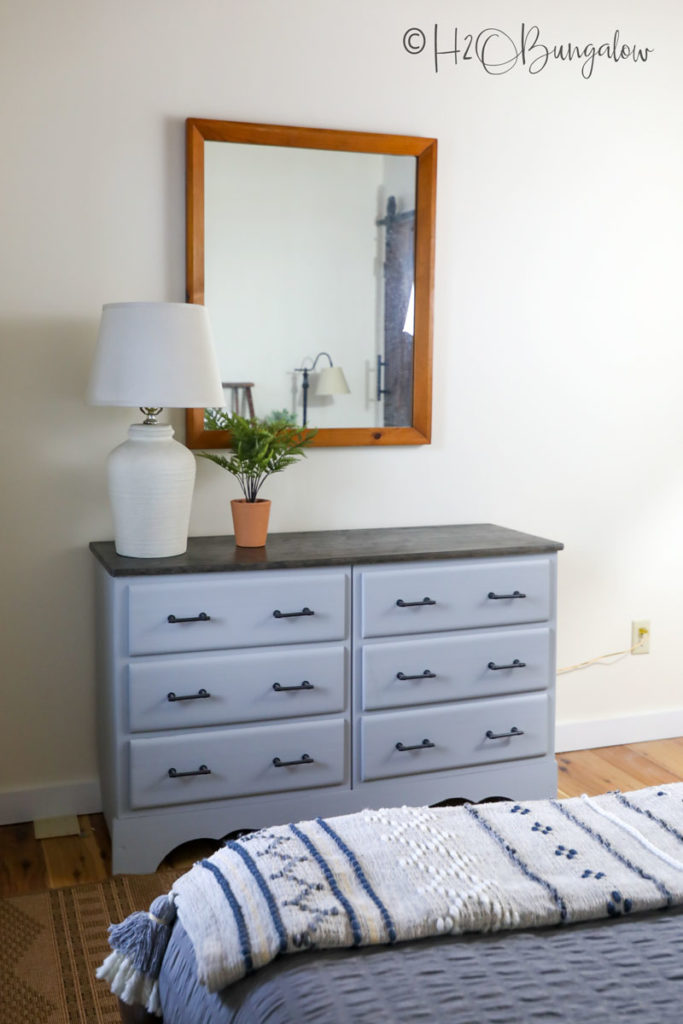 Just down the hall is the second bedroom and bath.
We opened up the wall at the end of the hallway to add a supply cabinet. Last summer I shared How to Make Shaker Cabinet Doors with a fellow blogger when we built them together.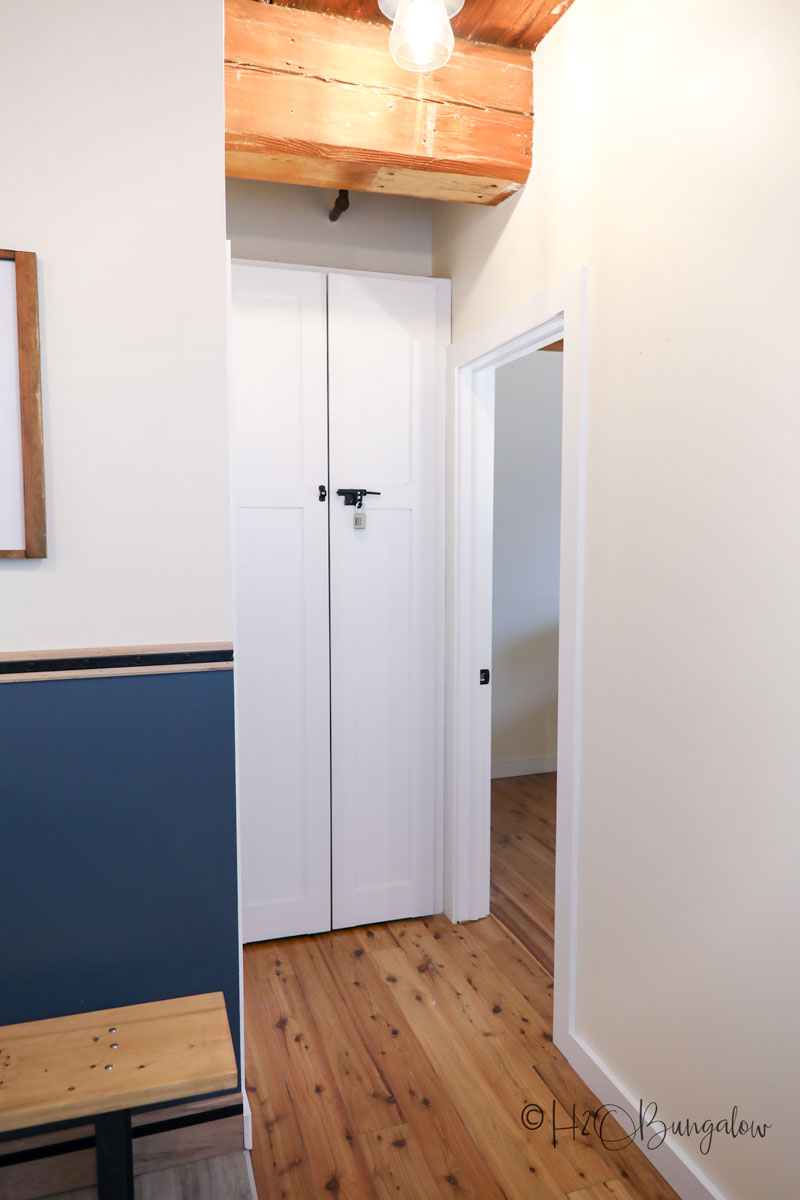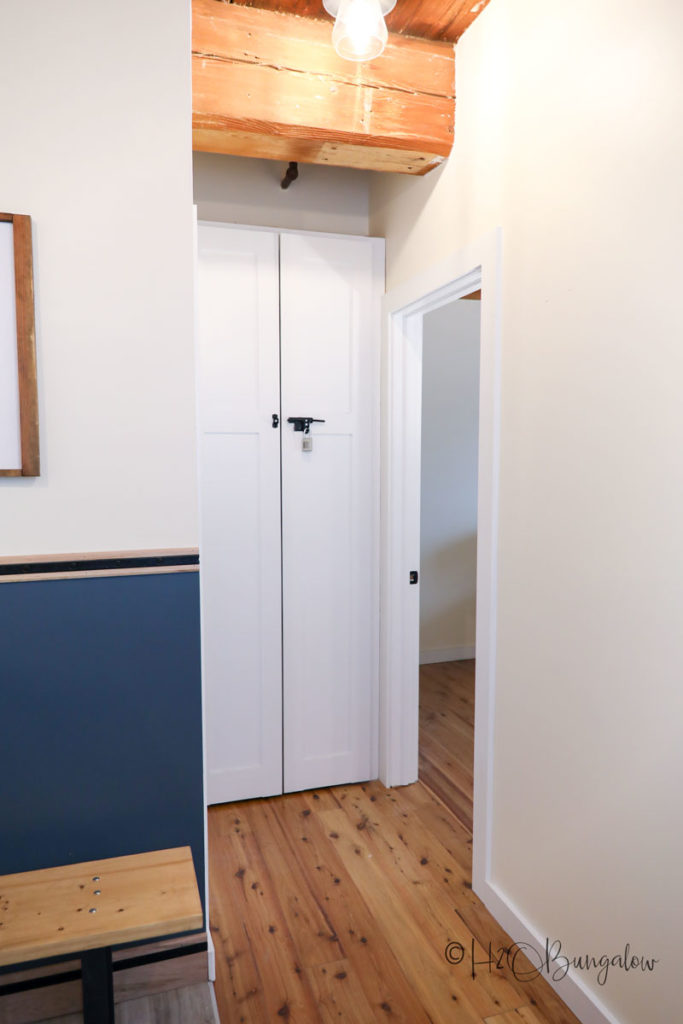 The size of the second bedroom is a challenge when it comes to decorating. It's long and narrow.
Sources: Wood Platform Bed * Plaid Cotton Duvet * Full Bed in a Box Mattress
Painted DIY Nightstands with Button Wood Knobs (How to Paint Wood Furniture Without Sanding Tutorial)
I added a second platform bed without a headboard in this room. I've got big plans to build something large on the wall in lieu of a headboard this summer.
This is the second barn door I built. It compliments the shaker style doors we put in. Don't you think so?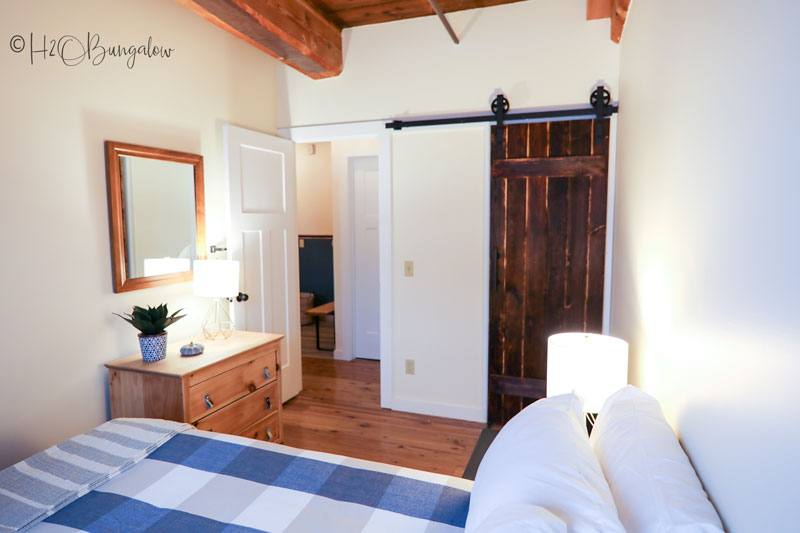 One of my favorite furniture makeovers in the Mill Place is this little pine dresser. It's got cowhide drawer pulls that I made. I'll share this tutorial next week!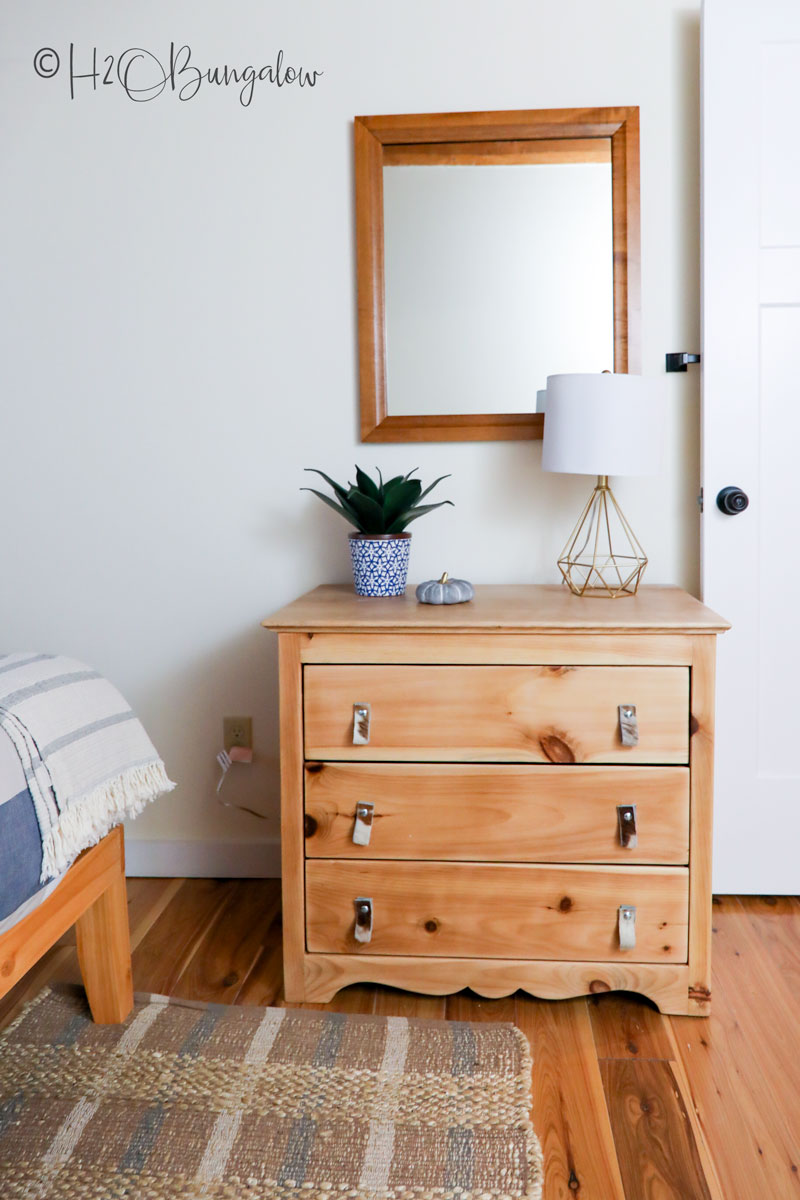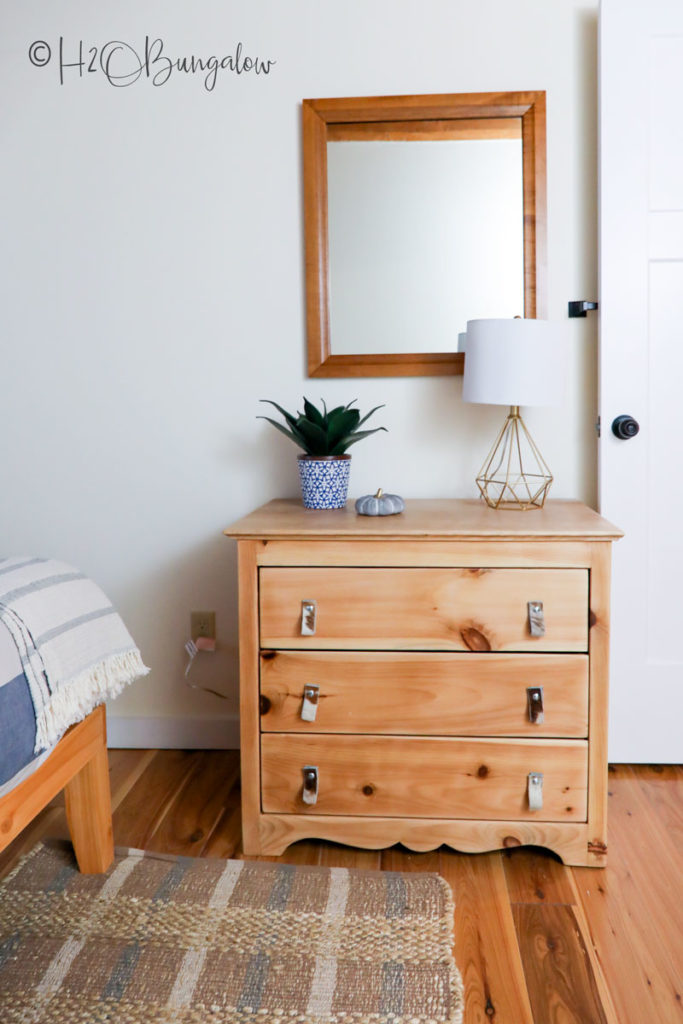 The last space I have to share with you today in my Mill Place home tour is the bath. The original vanity was an awkward shape and falling apart. I built this vanity this summer and poured the concrete counter top. This is the second DIY Concrete Counter I've poured and I can't wait to share the tutorial with you!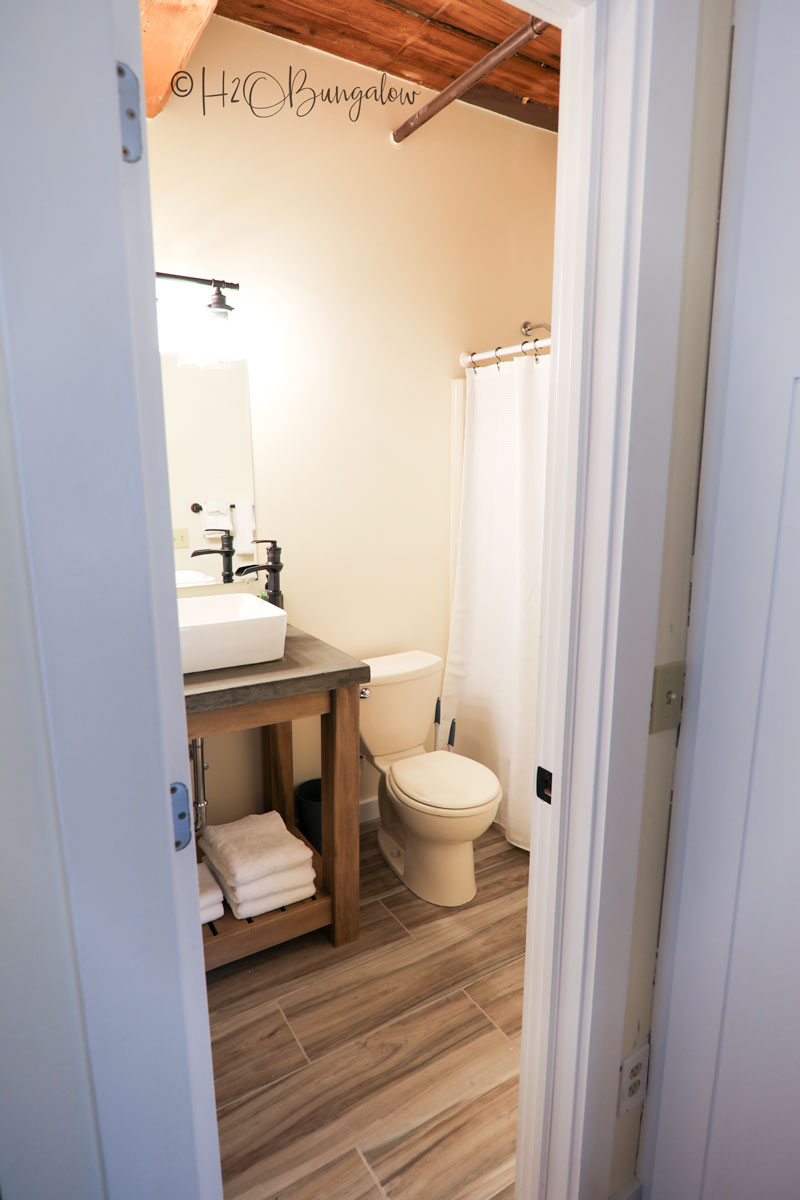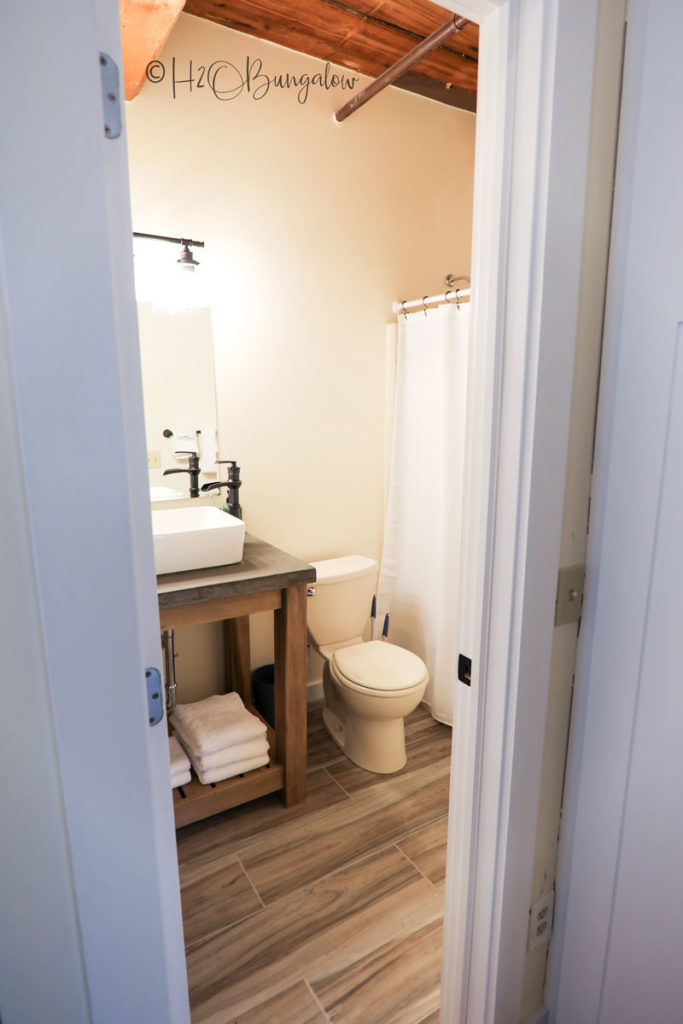 Sources: Rectangle Vessel Sink * Oiled Bronze Faucet * Oiled Bronze Vanity Lighting and Towel Bar Set
I absolutely love the vanity base, sink and lighting in here. The mirror, not so much. I was out of time and had to choose something. It will do until this summer when I can get a few more projects done in this space.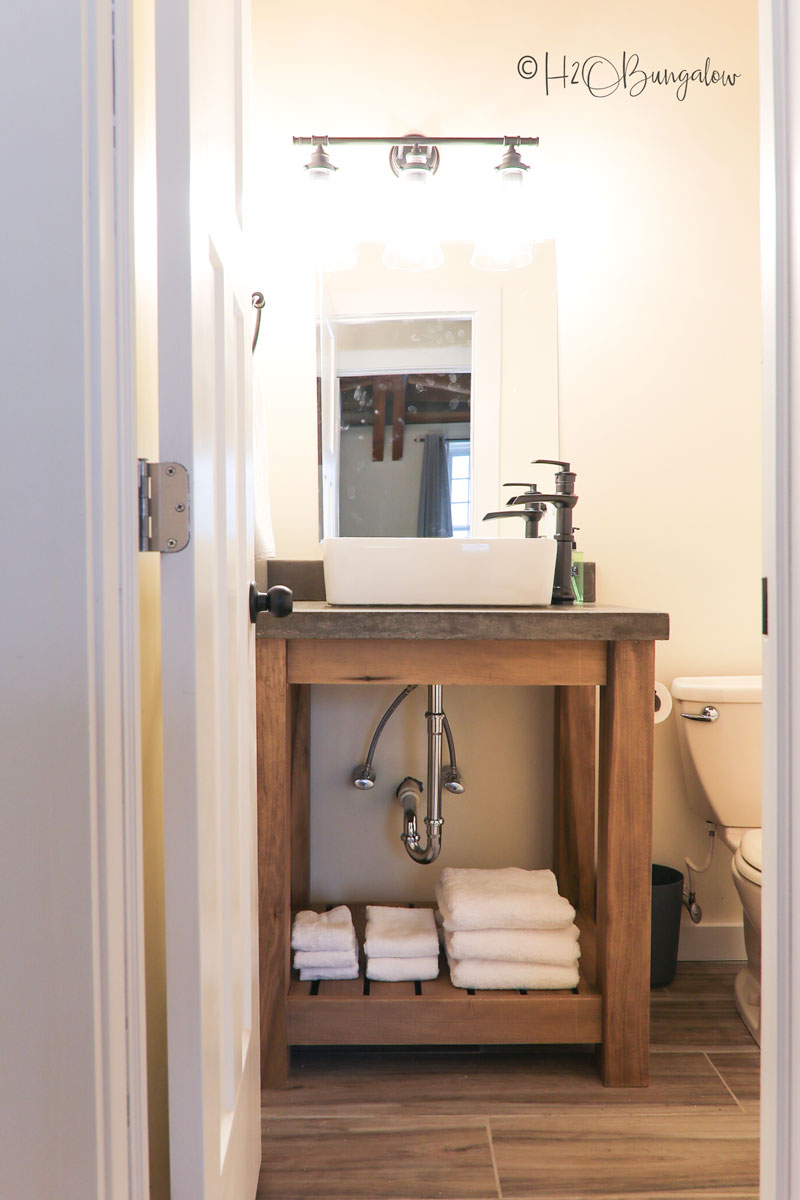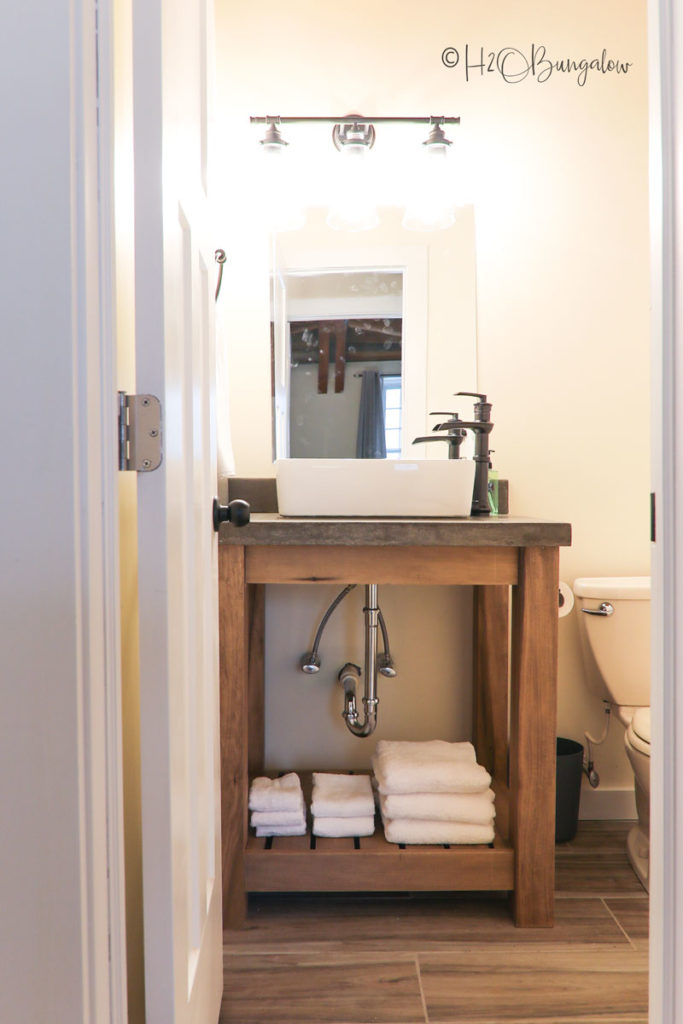 This condo has come a long- long way since the first time I walked in.
Pin the Mill Place Home Tour to save my ideas and links and share with your friends on Facebook!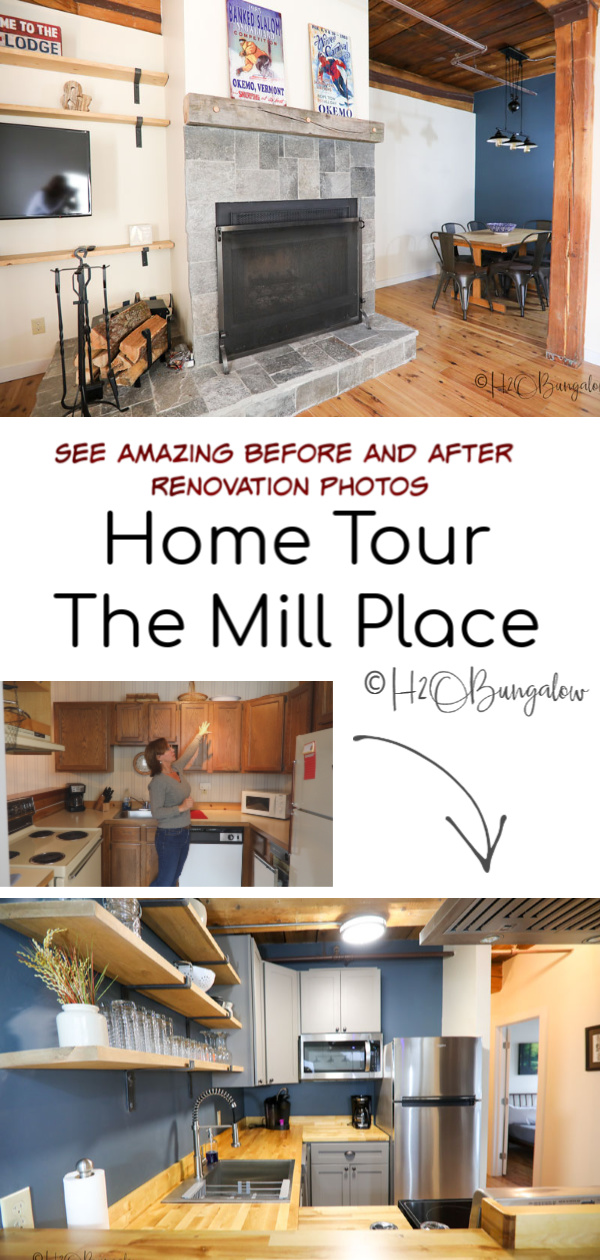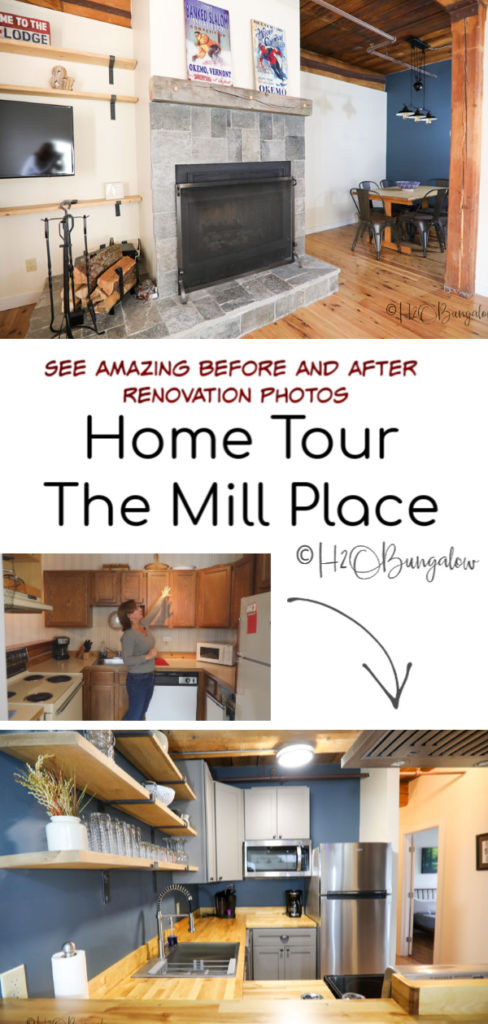 I home you've enjoyed the Mill Place home tour as much as I did pulling it together. Looking at all of the photos brings back a lot of memories. Yes, it was a lot of work. But it was fun too!
I have high hopes that it will do as well as the Pleasant Street locations do. I was pretty excited that we received 5 reservations on the first day it was listed with VRBO though!