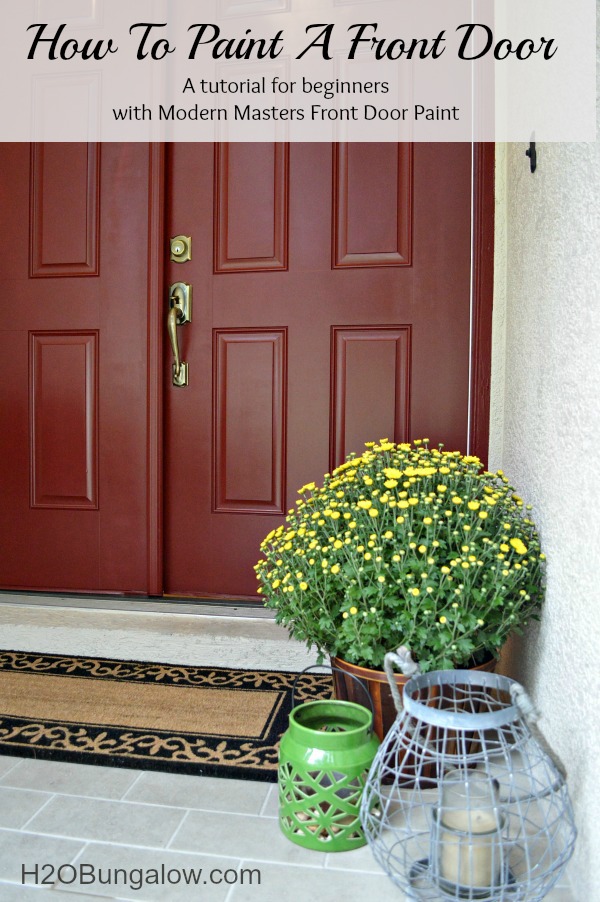 I fell in love with the color Passionate from Modern Masters new Front Door paint collection last spring at the Haven Conference.  The perfect opportunity to try this new paint line came up when a sweet friend and her husband purchased their first home.  I updated their entry for a housewarming gift.  Today, I'm sharing  how to paint a front door with a tutorial for beginners.
This is what their front door looked like before.  The walk up to the house,  front door and entry had so much potential to stand out.  The first big challenge? Everything was brown, brown, brown…
…and more
Brown.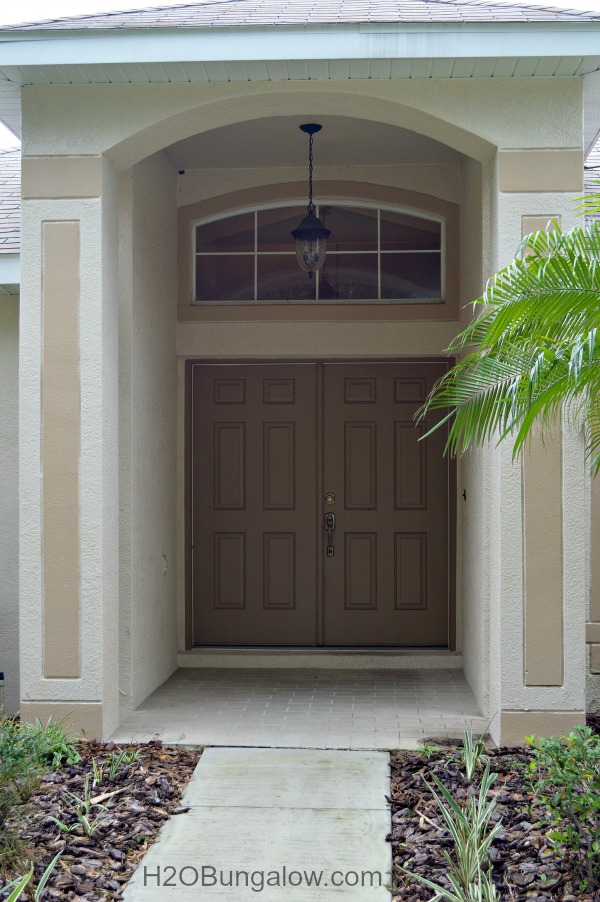 We dramatically updated their entry.  Out with the brown and in with the Passionate…literally!  We used the color Passionate from the Modern Masters Front Door Paint Collection.
Here's how to paint a front door in 3 simple steps.  First you'll need to gather a few supplies.
Paint
Dropcloth
Quality  2 – 21/2 inch paint brush
4″ velcro paint roller
Painters tape
TSP (trisodium phosphate can be found at any hardware store) or a Primer if painting over oil based paint .
Step 1 prepare your surface
Make sure you're painting over latex.  If you're not sure, test this by rubbing a rag dipped in rubbing alcohol on your door.  If some paint comes off, your paint is latex.  If not you'll need to prime your door first.  You can find a primer at your local Home Depot,  Lowes or a paint store.
If you are painting over latex, start with a good cleaning.  I use TSP (Trisodium Phosphate) to degloss and clean pretty much everything I paint.  We thoroughly wiped the doors and all the ledges and grooves with TSP.
Ideally we'd take off the doors and paint this on a level surface.  Hmph..who has time for being ideal?  Instead, I used a good quality tape to carefully tape off edges and hardware.  After laying the tape, run your fingers over the edges gently but firmly to make sure you have a good seal. This will help you get a crisp edge.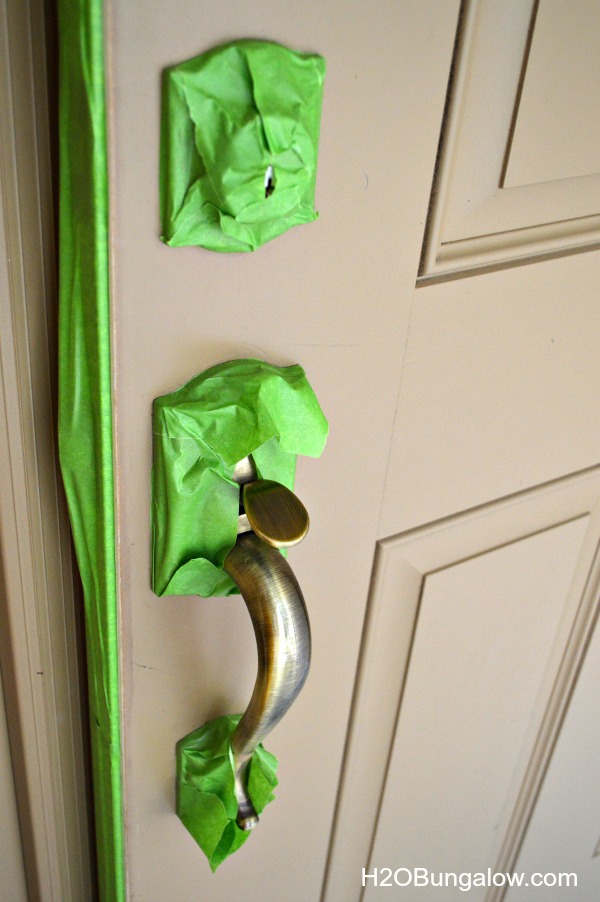 Step 2 Paint 
Start painting with your brush on the inner panels.  Only dip about 1/3 of your brush into the paint, wipe off the excess and paint a thin layer.  I paint in the same direction and watch the corners for drips.  I like to quickly paint this area and then go back over it to smooth it out and even out the coverage.
Here's one of my favorite painting tips!  Rub a generous amount of hand lotion on your hands before painting to make clean up a breeze. Paint washes right off and won't stick to your skin!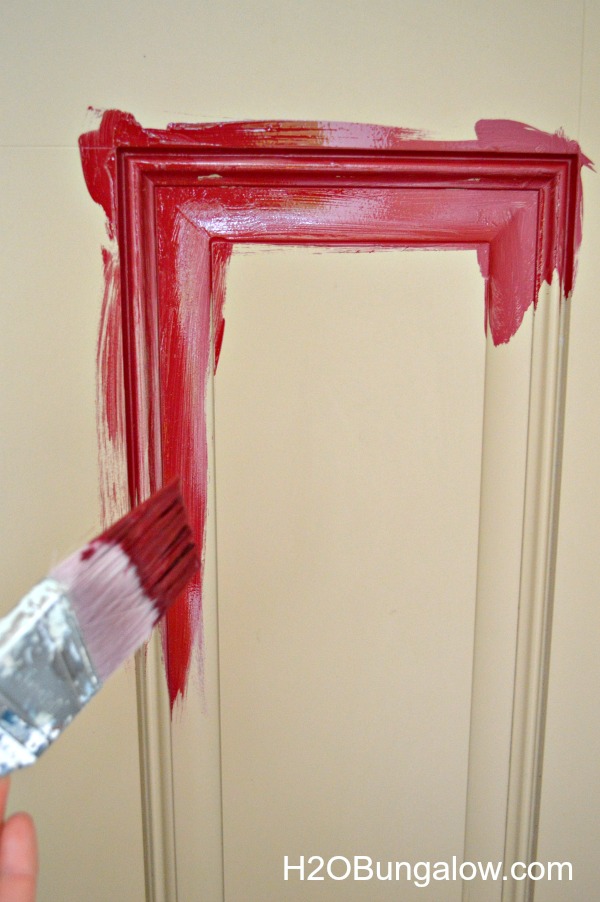 Next, you'll use the velcro roller to paint the center raised panel, again in a thin layer from top to bottom.  Follow this step for all the door panels and always paint in the same direction, top to bottom.  Next, paint the rest of the flat surface on the door with the roller and then trim the outer edges of the molding and door.  Take the roller and go back over any flat area where there are brush strokes.  The reason I like doing it in this order is I'm working with wet surfaces and they blend well.
This is  good time to mention to recheck your corners often and be sure you don't have drips or pooling of paint.  They are easy to wipe up with your brush as long as the paint is still wet. 🙂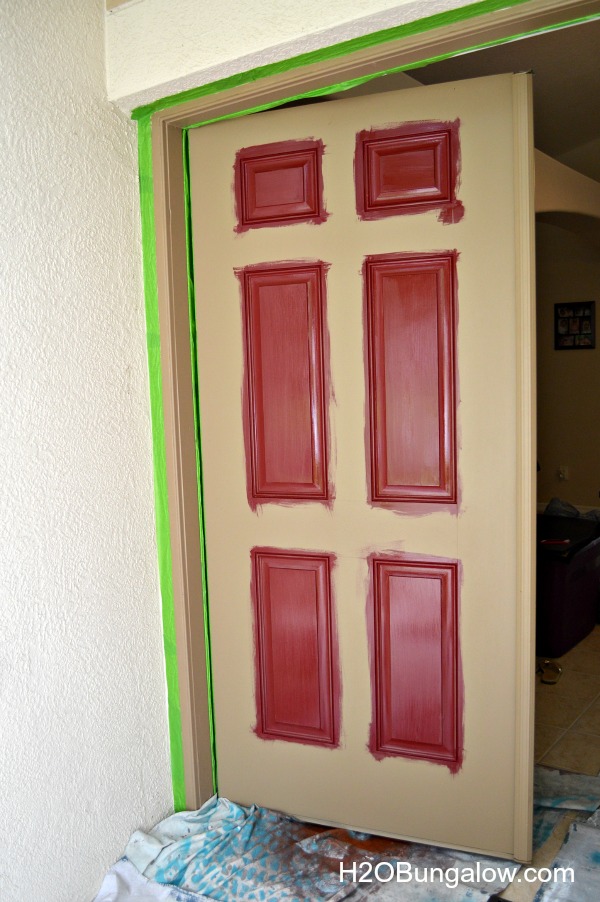 Using a good quality paint makes a huge difference.  I immediately noticed how the paint smoothed out and helped keep my brush strokes at a minimum and the coverage was incredible!  Two very thin coats was all it took to cover these two big doors.  I didn't come close to using all the paint either!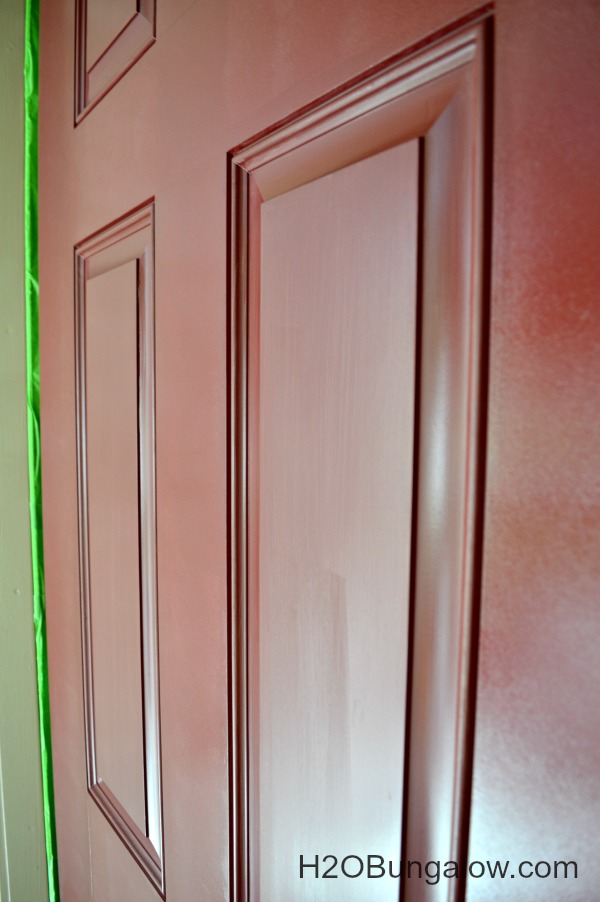 Step 3 let your paint dry
Start on your second coat as soon as your first coat is dry to the touch.  Next, while your paint is still wet, carefully take off the painters tape.  Give your paint several hours to finish drying.  It's best not to have any freshly painted surface come in contact with another surface.  We left the doors slight open.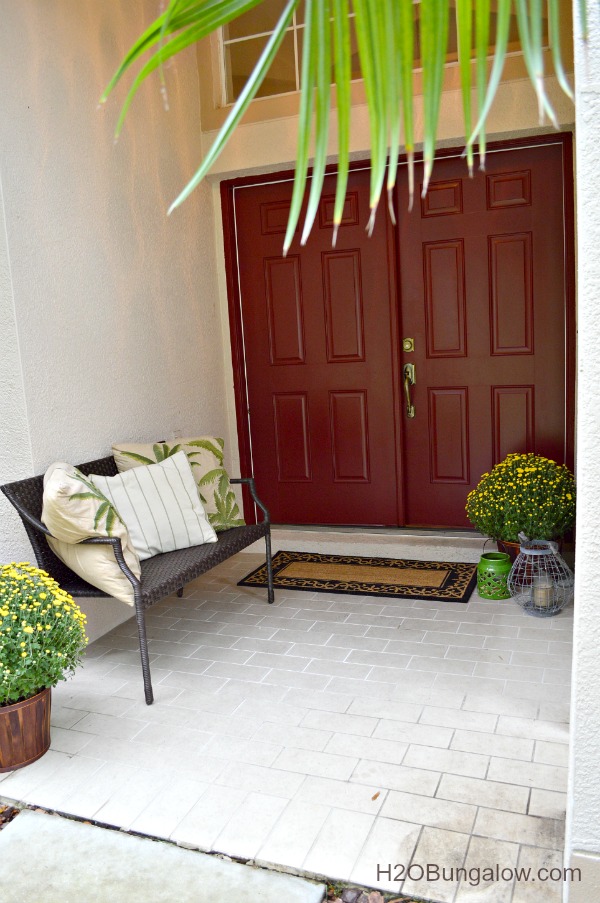 Next, we accessorized.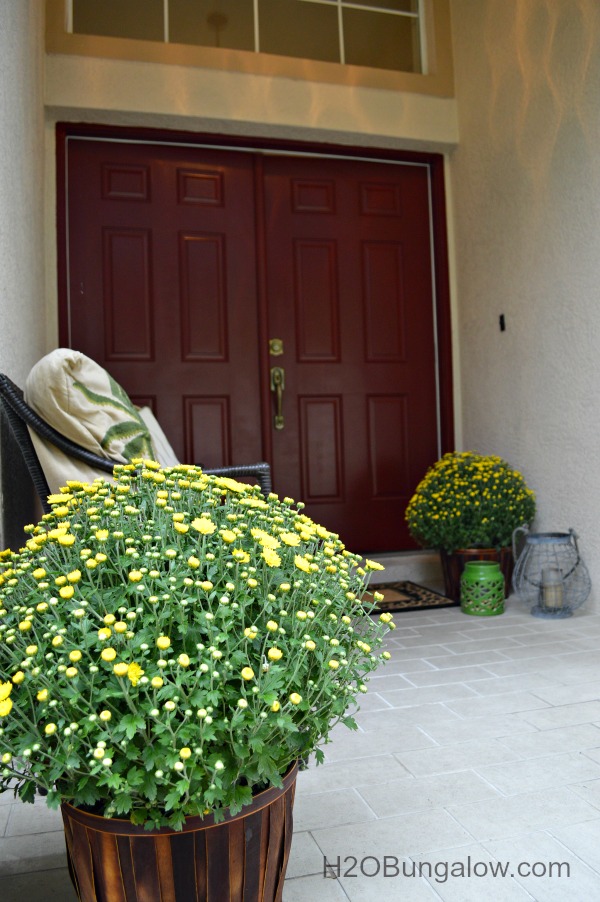 I shopped their house and found a few pillows and awesome decor items.  We also added a new doormat and a few colorful yellow mums which brightened up the entry.
Voila!
The entry is now welcoming with a lovely front door color that pops with personality!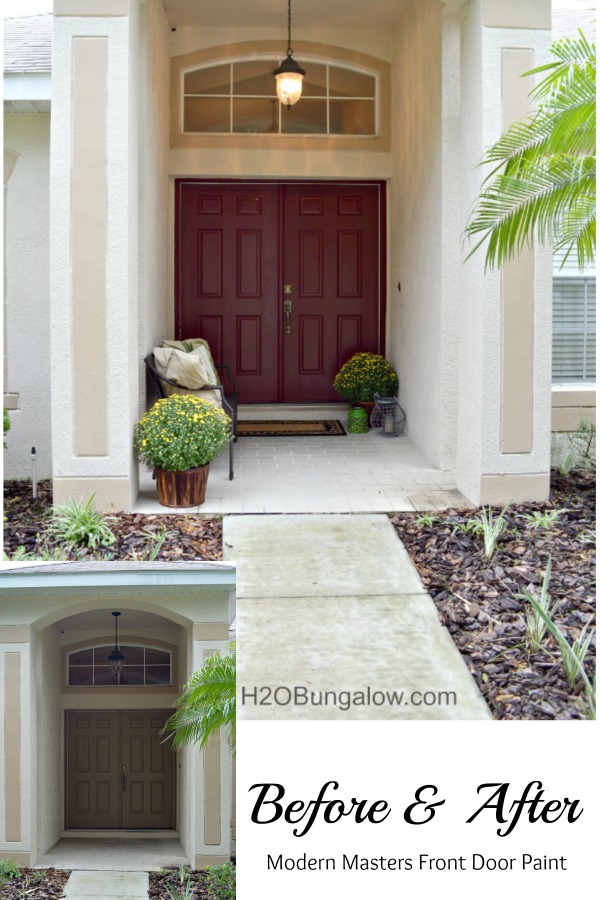 Painting a drab or faded front door is such an easy way to dramatically update an entryway.
Take a look at the lovely colors available from the  Front Door Paint line to find one that suits your home and personality.    In addition to being a superior quality paint, they are guaranteed not to fade!
Front Door Paint is available at selected Lowe's and Ace Hardware Stores as well as online via Amazon or the Modern Masters online shop.
If you loved this front door you'll love my other Modern Masters paint projects like my How To Faux Paint A Copper Front Door and my Mailbox Makeover with Metal Effects.
This is a sponsored post, I was provided product and or compensated for sharing this information.  All opinions, craftiness and projects are 100% my own.  I believe in sharing products that have value for my readers.  I feel that like a good tutorial, this information helps your home DIY project be the best it can be!

Don't miss a single creative idea I share!  Click here to get my posts sent to your mailbox or follow here on Bloglovin.  Either way, keep in touch!