What are the best woodworking tools for beginners? In other words, what tools do I really need to start learning woodworking if I'm on a budget?
Below you'll find my favorite starter and intermediate woodworking tools list and a few tips to help you get the most of your tool collection so they do more.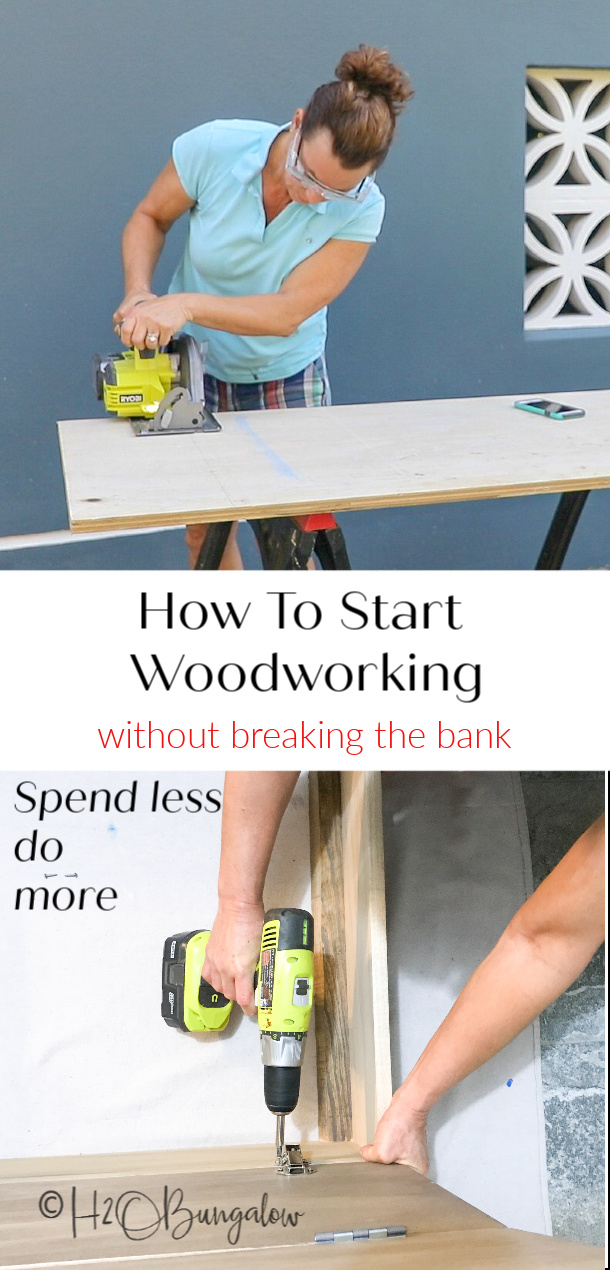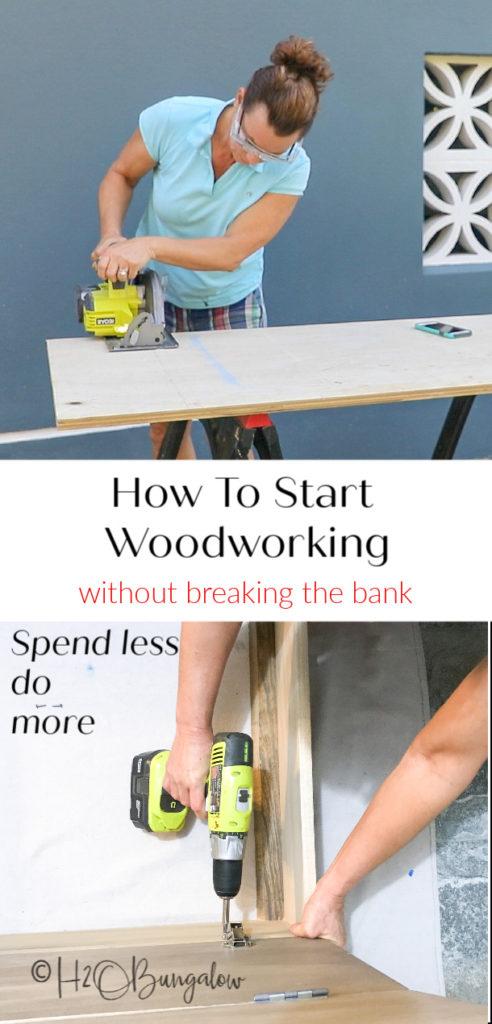 Best Woodworking Tools For Beginners
What tools do you need to start woodworking?
You don't need a lot of tools to start woodworking. All I had when I started with just a jig saw, cordless drill and a palm sander. That's it. The rest I've picked up here and there as my woodworking skills increased.
There are lots of projects you can make with just these three tools!
If you take a look at my Beginner Woodworking Projects you'll find many good woodworking projects you can make with just two or three power tools.
Reader favorites like:
You don't need to limit yourself to just home decor projects either. You can tackle practical projects like I did in my How To Add Extra Shelves To Kitchen Cabinets.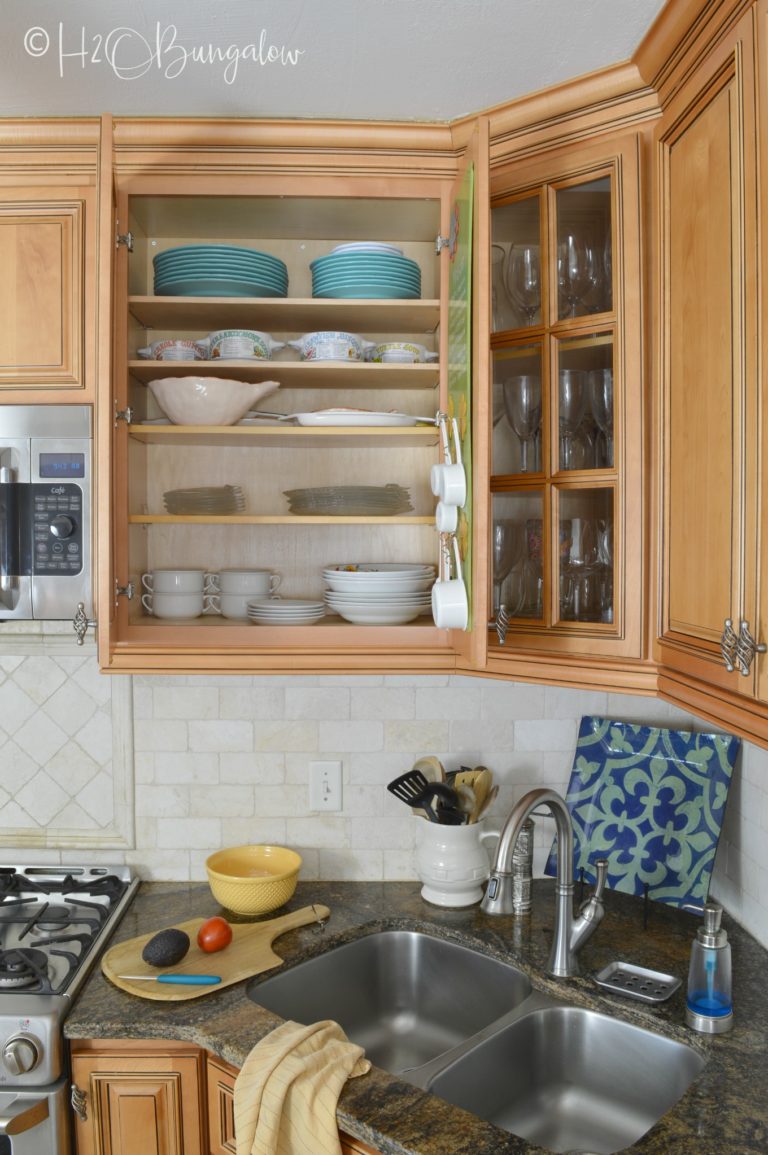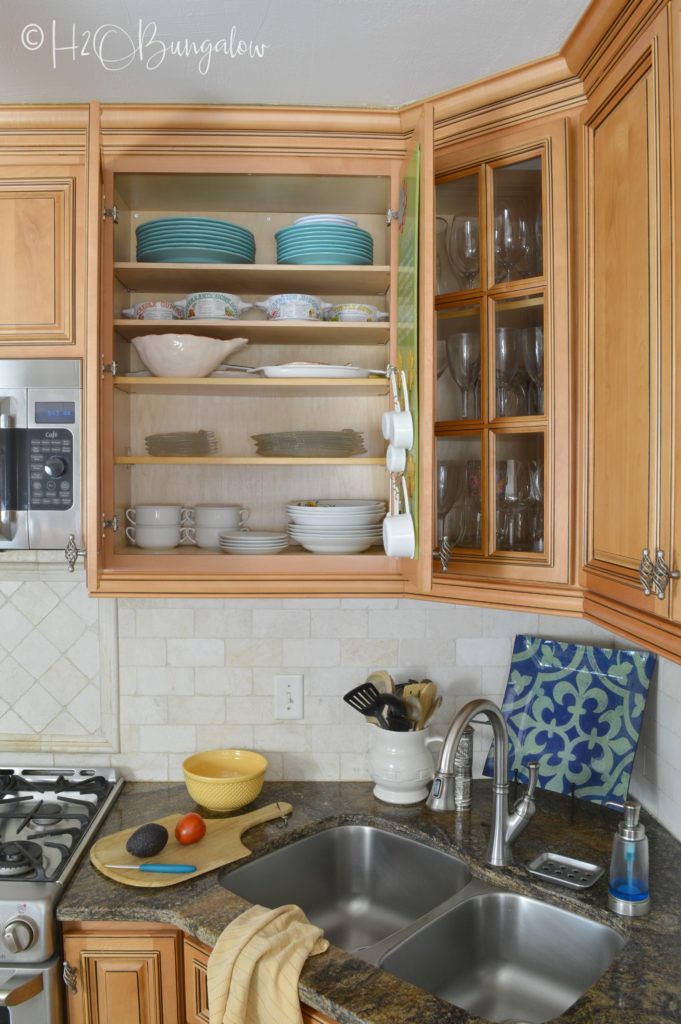 What is the best brand of power tool for the beginner woodworker?
One of the big debates about what the best woodworking tools for beginners are is what brand you should choose. I have and use many of the Ryobi 18V cordless power tools.
True, I've been sponsored by them in the past, but that was a long time ago. Personally I like the handheld Ryobi cordless tools because they are bit lighter weight which makes them easier to manage and they've lasted fine for me. I'd consider myself an above average user of my tools meaning they get used a lot.
I've been building now for about 6 years. What I don't think the Ryobi line is well suited for is heavy duty tools like table saws or specialty items like routers and scroll saws.
The best beginner woodworking tools for cutting
Cutting wood is where most beginner woodworkers get intimidated. It's not so hard. Use good judgement, follow safety guidelines and start small. You'll build your skills and confidence as you take on more projects. Here's my take on the best woodworking tools for beginners to cut wood.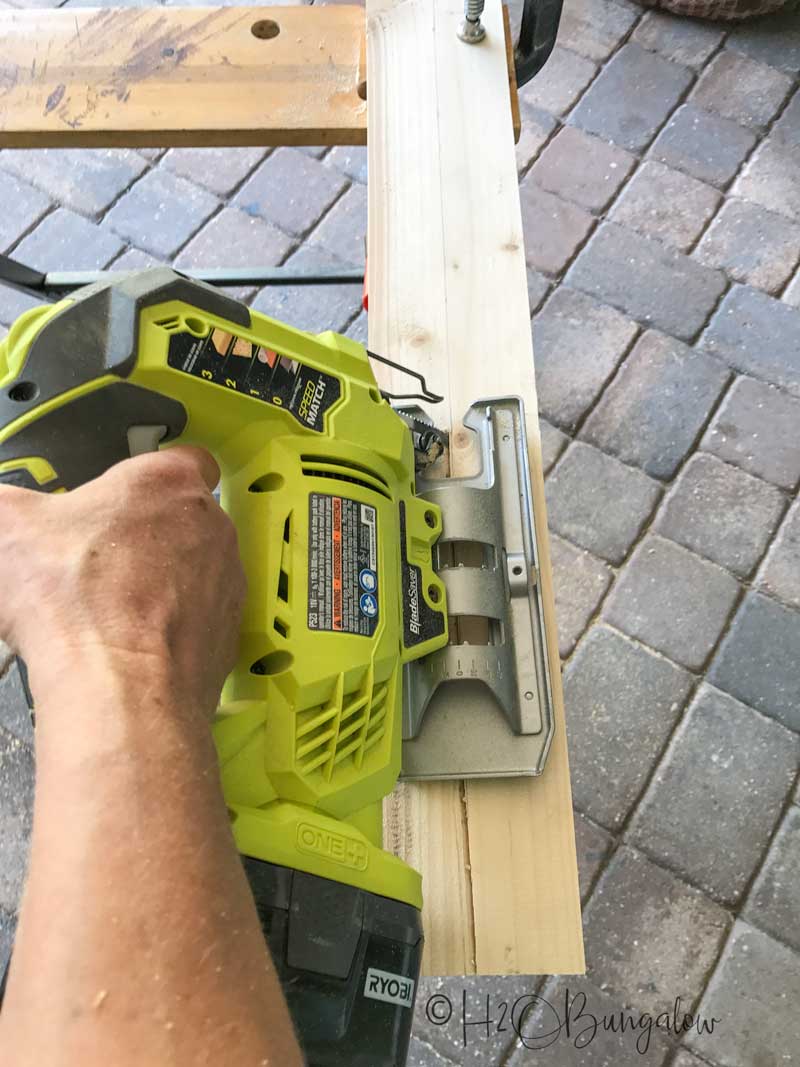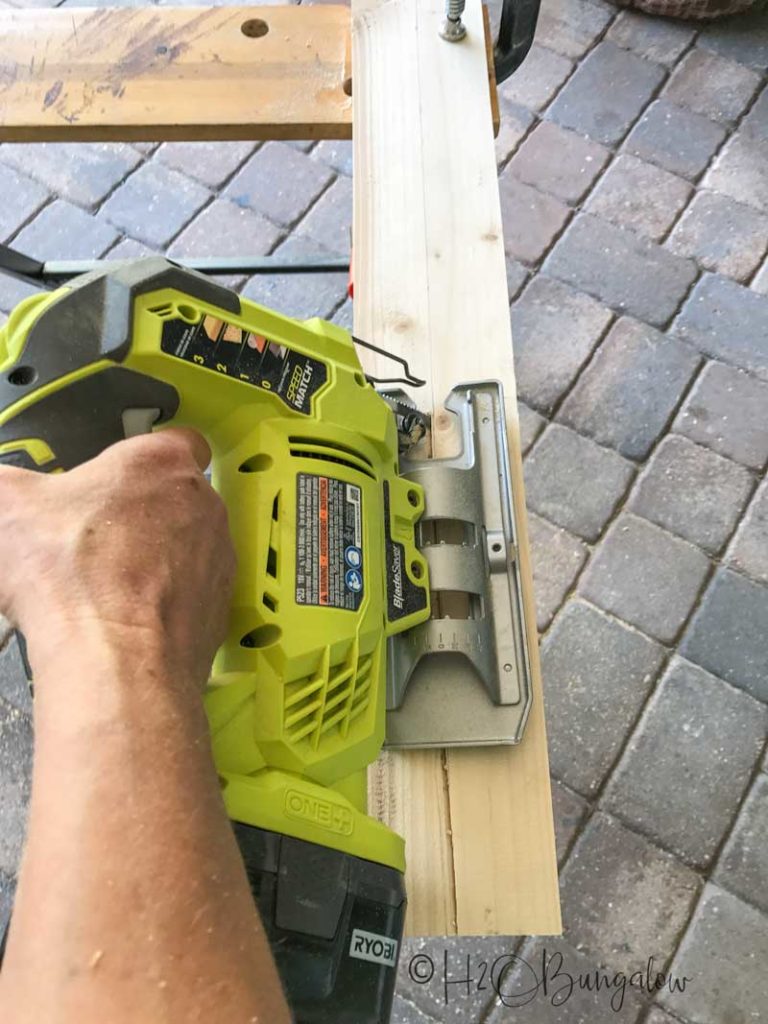 Best hand tools for making small and short cuts on wood
Drill – Everyone needs at least 1 good cordless drill. Two if you can swing it just because of the time savings in switching out drill bits or screw heads when working on a project. Look for these features in a drill:
Keyless, so you can hand tighten the chuck by hand quickly. Most are these days.
Two speeds. The second speed works similar to a hammer drill and is invaluable for drilling through dense wood or concrete.
Keep plenty of spare batteries on hand. The extended life or larger ones are worth the extra money and last a long time.
This drill and circular 18 volt Combination kit is a very good starter deal and it comes with two batteries.
Best beginner choice, cordless drill with two speeds.
Jig saw – A cordless jigsaw is a must. You can cut straight lines and curves as well as bevels with a jigsaw. Look for these features in a jigsaw:
Easy to change out blades with a T-shank.
Adjustable base that can cut bevels up to 45 degrees.
Cordless.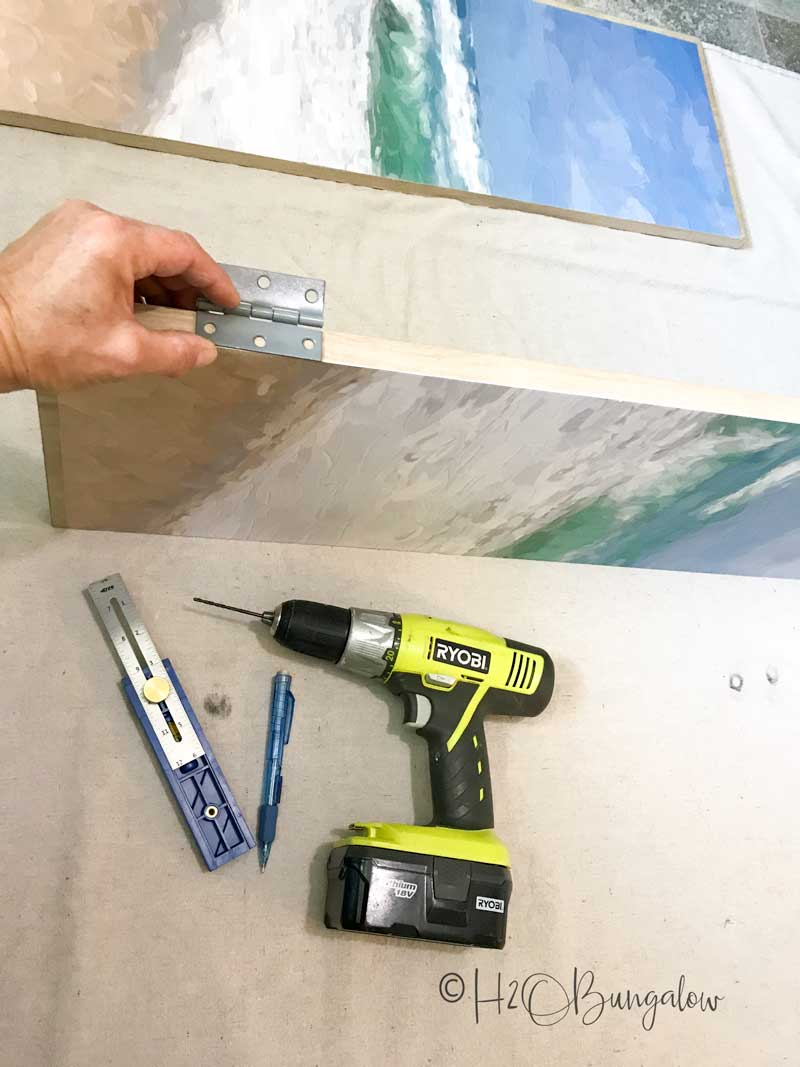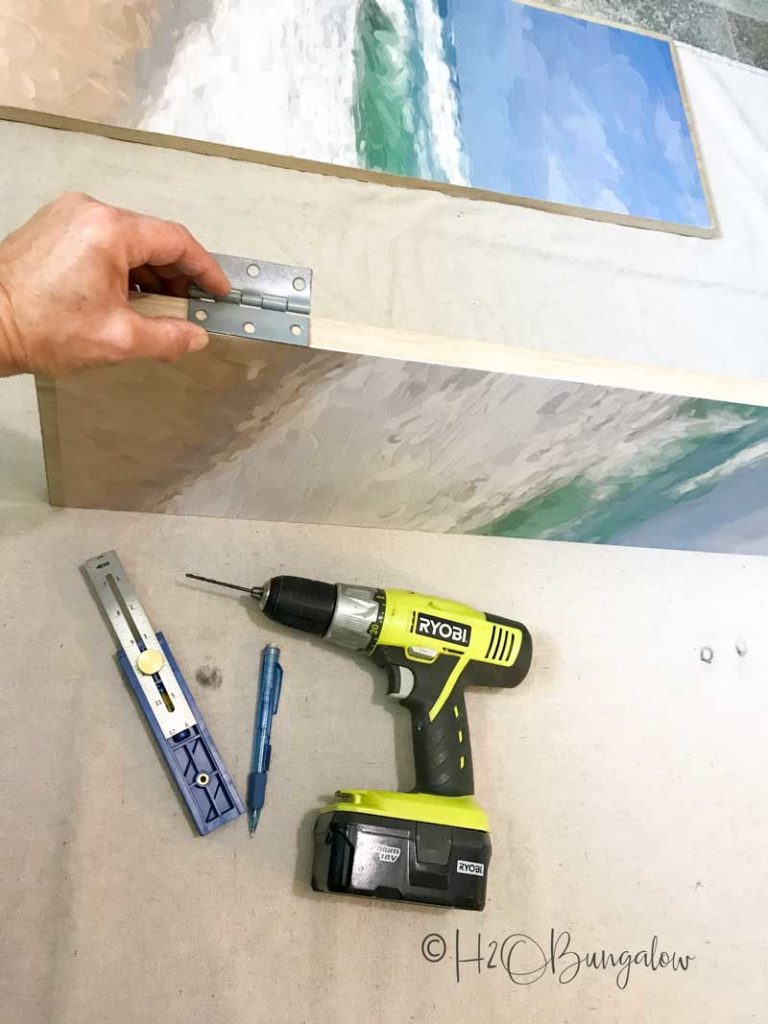 Miter Saw – A miter saw will cut up to 3.5″ thick wood and cut angles as well as give the best clean cuts on narrow boards up to about 10″ (depending on the size of your miter saw).
I have 2 – 10″ miter saws and often use a friends 12″. For me, an average hobby woodworker, the 10″ suits my needs fine and doesn't feel too big to be intimidating. It's also a good value for the price given how often I use mine and you can pick one up for about $140. (I found this one at Home Depot Buy now and pick up in store)
Features to look for in a miter saw:
Look for a sliding, compound miter saw.
Adjustable bevel to 45 degrees
Miters up to 47 degrees
Corded will be more useful in the long run (in my opinion, with no batteries to change out)
Best hand tools for making long cuts on wood
Circular saw I use my 5 1/2″ cordless circular saw the most. I have a larger one but have never needed the extra cutting depth or power and I really like the smaller size. Plus, it can cut up to 1 9/16 " depth. (I found this one at Home Depot Buy now and pick up in store) Look for these features in a circular saw:
Adjustable base that can cut bevels up to 45 degrees.
Cordless
One way to get a lot more out of your circular saw and cut long straight cuts in plywood is to use either of the two attachments below. When you're first starting out, you can also clamp a long board as a guide across what you're cutting and butt the side of the circular saw against it to get a straight line. This method works for jig saw cuts too.
ACCU- Cut XL – cut up to 100″ on a straight line using this guide.
Rip Cut– Cut a straight line using the outside edge of the board your cutting as a guide.
Table Saw I currently have a Ryobi table saw but would purchase another brand when I'm in the market for one again.
Look for an accurate fence that doesn't slide on its own.
Always use a GRR-RIPPER push block to keep your fingers away from the cutting area and help prevent kickbacks.
Most flexible beginner choice to cut wood, cordless jigsaw, circular saw.
Best tools to assemble DIY projects
Learning how to measure wood accurately, make straight cuts and use a drill is all great. Eventually you'll want to start building things and learning how to attach pieces of wood together.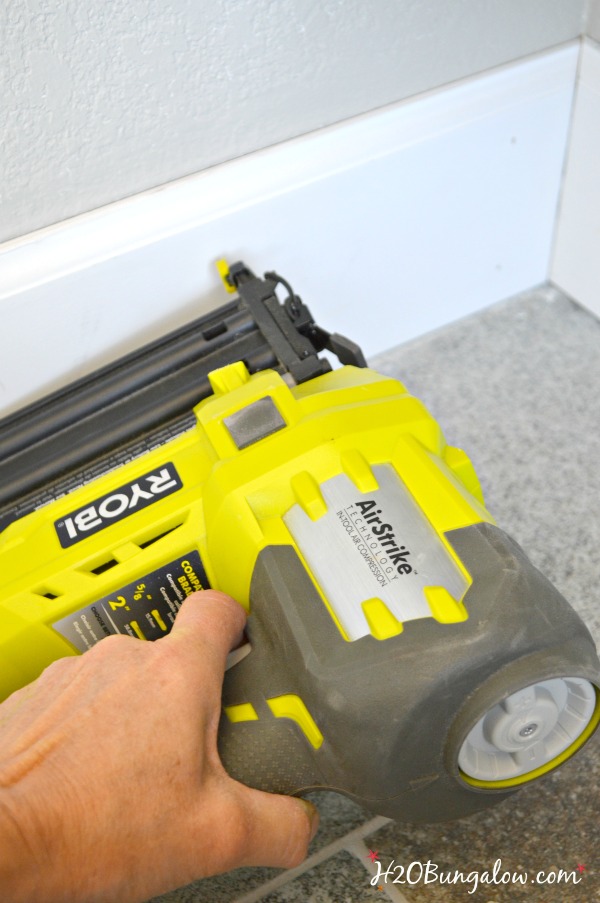 Brad Nailer
Brad Nailer – A good brad nailer is a huge timesaver! I use a cordless Ryobi 18V Airstrike.
This one has 18 gauge brad nails from 3/4″ up to 2″ long.
Best suited for indoor projects since the nails are not rust-proof.
In woodworking, power tools are not enough. Read on for more best wood working tools for beginners.
Pocket Holes and Screws
Kreg Jig – Assembling wood and projects with pocket holes is a game changer. Pocket holes are easy to make and the joints made with pocket holes and the proper screws are very strong. Great for indoor and outside projects.
I use Kreg Products. I have several models of Kreg Jigs. While I love my K4, a good budget place to start is with the new 320 Jig I listed below. I've used and really like the features of the 320 and how versatile it is for different types of projects.
320 Kreg Jig – The newest and best budget Kreg Jig for pocket holes. Portable and works on wood from 1/2″ to 1 1/2″ with twist apart drill guides and removable spacers. Note: It works best with this Kreg Clamp.
This is a great deal on a Kreg 320 and clamp bundle!
K4 Jig – Easiest to use for larger projects that require a lot of holes. Work on up to 2″ thick material. Almost everything I've built over the past 6 years has been with my K4.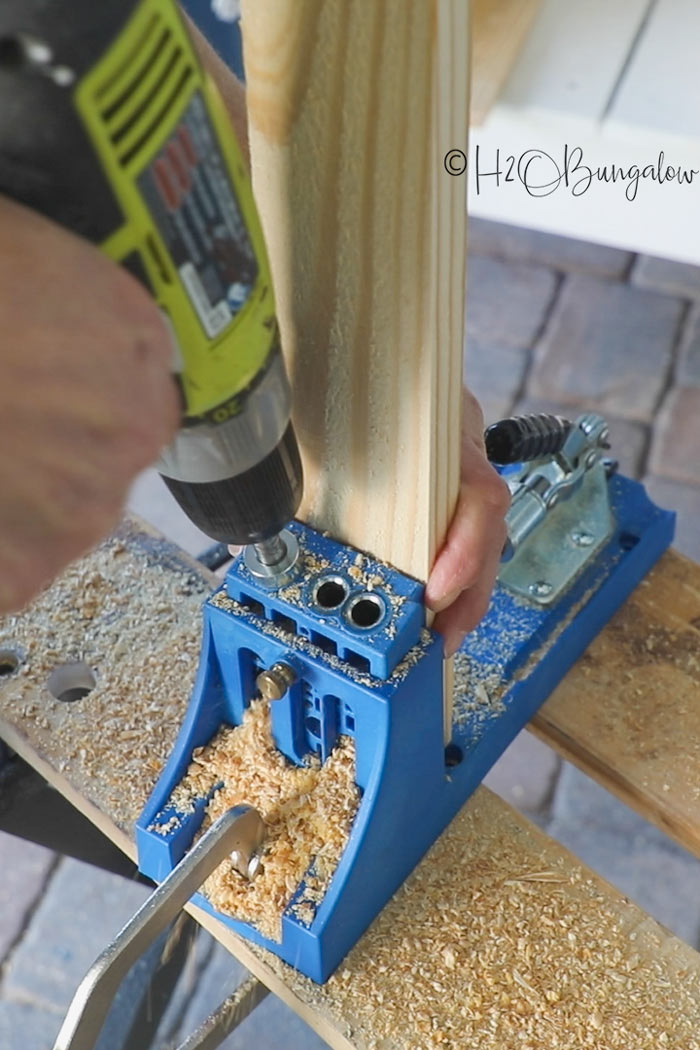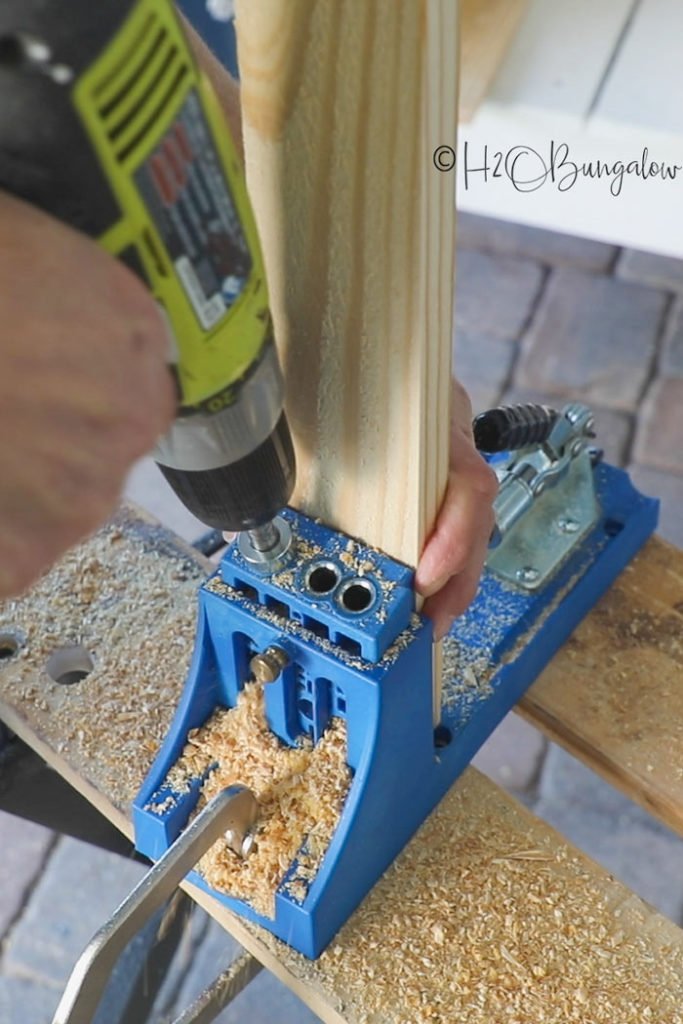 Pocket Screws– This link is a good starter deal. Always be sure to use the right size pocket screws. They come in a variety of sizes for indoor, weather resistant and a few different lengths for using on hardwoods. You'll find a guide on the side of each box of Kreg pocket screws that shares what size screw to use with different wood thicknesses.
If you're not familiar with pocket hole jigs, this is a useful article on How To Set Up And Use A Kreg Pocket Hole Jig.
Best beginner budget buy, Kreg 320 and Kreg Face Clamp.
Clamps for Woodworking
Clamps are invaluable for holding your project together, holding wood in place as you cut as well as holding your Kreg K4 in place. A few good clamps are all you need to start.
I have this set of trigger clamps and love them. They are great for holding wood to the workbench and small projects.
Long bar clamps – Once you start working on larger projects a set of bar clamps is invaluable. You don't need these initially.
There are a few useful Kreg clamps that work with Kreg products:

Face Clamp – Good for lots of uses, mainly holds the K-4 onto a workbench or table while drilling pocket holes.
Corner Camp – Holds corner pieces in place for you to add pocket screws. Very useful when you're a one person woodworker!
Right Angle Clamp – Clamp locks into pocket holes to hold pieces together for assembling. Same as above, great for one person building alone.
Best beginner choice, Kreg face clamp and set of trigger clamps.
Other Basic Tools Every Woodworker Needs
Woodworking is not just about having power tools, it's about accuracy. Beginner woodworking projects like I listed above are great to help you learn how to use a power tool, get the feel for it and become proficient. The next step of woodworking, building things like a box, drawer, cabinet or even a simple stool all require accuracy in cutting and measuring.
Learn how to accurately measure, mark and cut wood. These same skills apply for a jigsaw, miter saw or table saw cut.

Measuring tools you'll need for woodworking
Tape measure – A good tape measure is everything. This is the one I use the most.
When choosing a tape measure for woodworking:
Make sure it's easy to read
Self retracting

Has 1/32″ graduations
The self centering type is my favorite. It's all of the above and shows the midpoint of any measurement. It's a huge timesaver when lining things up.Combination Square – Great for squaring ends, quickly marking 45 degree angles for cuts and its adjustable.
Kreg Multi Mark tool – Saves a ton of time on repetitive measure and mark steps. I would be without one and have several. You guys see them in lots of my projects including the photo above.
Speed Square – Great for quick marking straight lines and 45 degree angles. Builders use these a lot. I probably use this less than the others listed above.
Best beginner choices- tape measure, combination square and Kreg Multi-Mark tool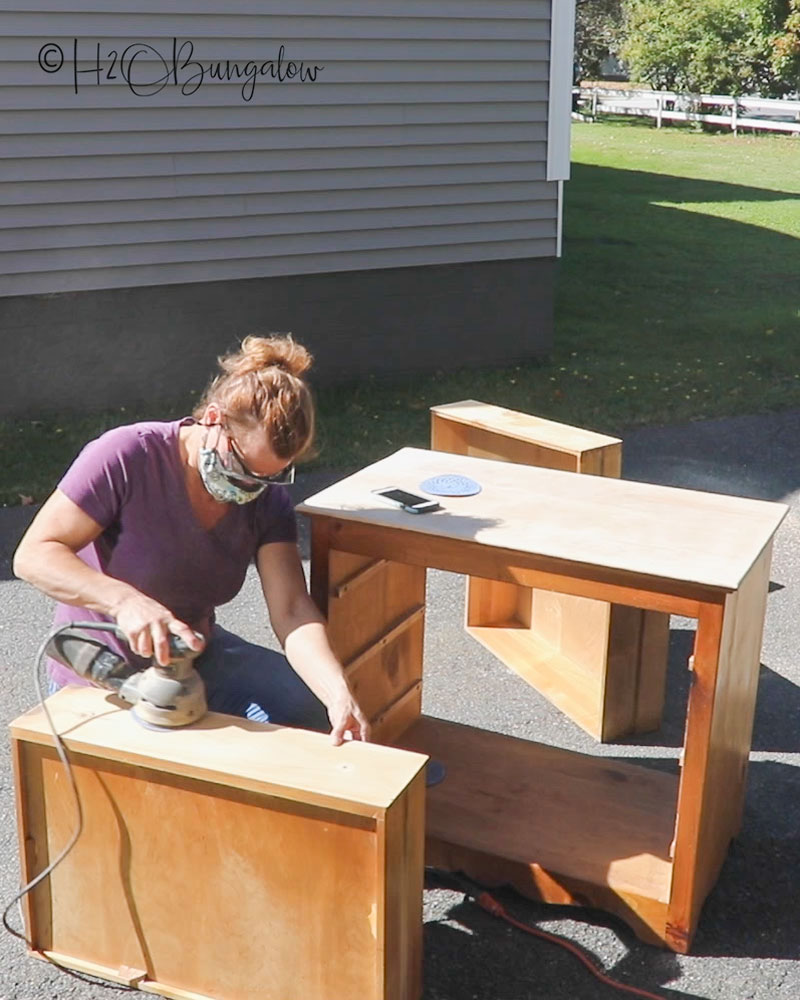 Safety tools every woodworker needs
UV Protection Safety Glasses – These fit over prescription glasses! These are the best fitting well made glasses I've found. My only complaint is they fog up at times with a face mask. But so do all that I've tried.
Respirator – I use both a the budget style of N95 mask that can be tossed when you're done using it and a cloth one that's washable and re-useable. I'll add links in the ones I use after the pandemic is over. You may be able to find some locally.
Hearing Protection – If you're just beginning or an intermediate tool user, these will work just fine and they fit around your neck so they are easy to take off and on.
Best beginner choices: all three. Your health and safety come first!
Pin my Best Woodworking Tools For Beginners and share with your budding woodworker friends on Facebook!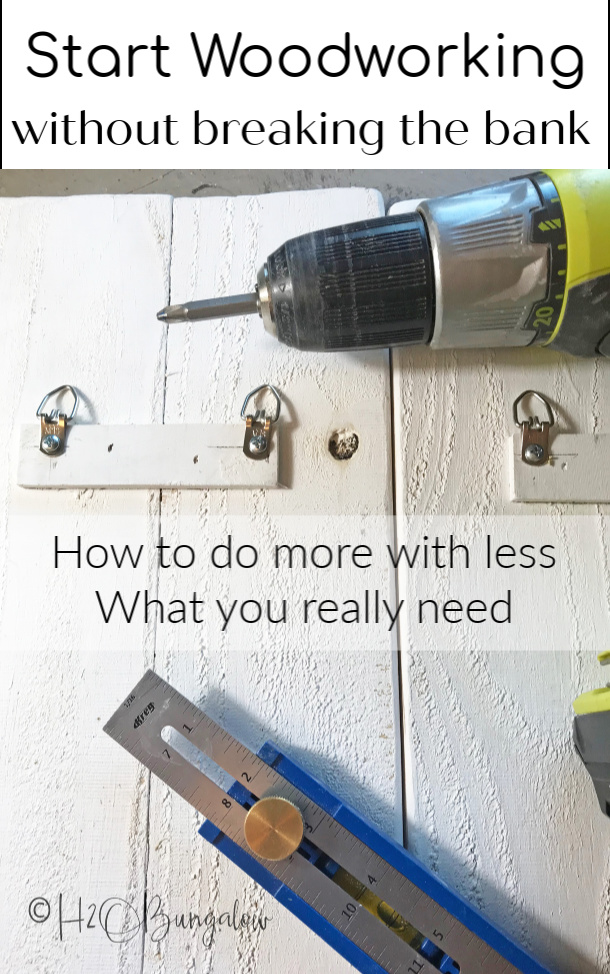 Bottom line, woodworking can be a lot of fun. Yes, tools can be expensive but by buying a few well thought out tools, you'll be able to do a lot more with less.
What's the next tool or skill on your woodworking list?