Whether your kitchen is large or small, keeping it organized can be a challenge. These 15 DIY kitchen organizing ideas will help you organize your kitchen and keep it that way!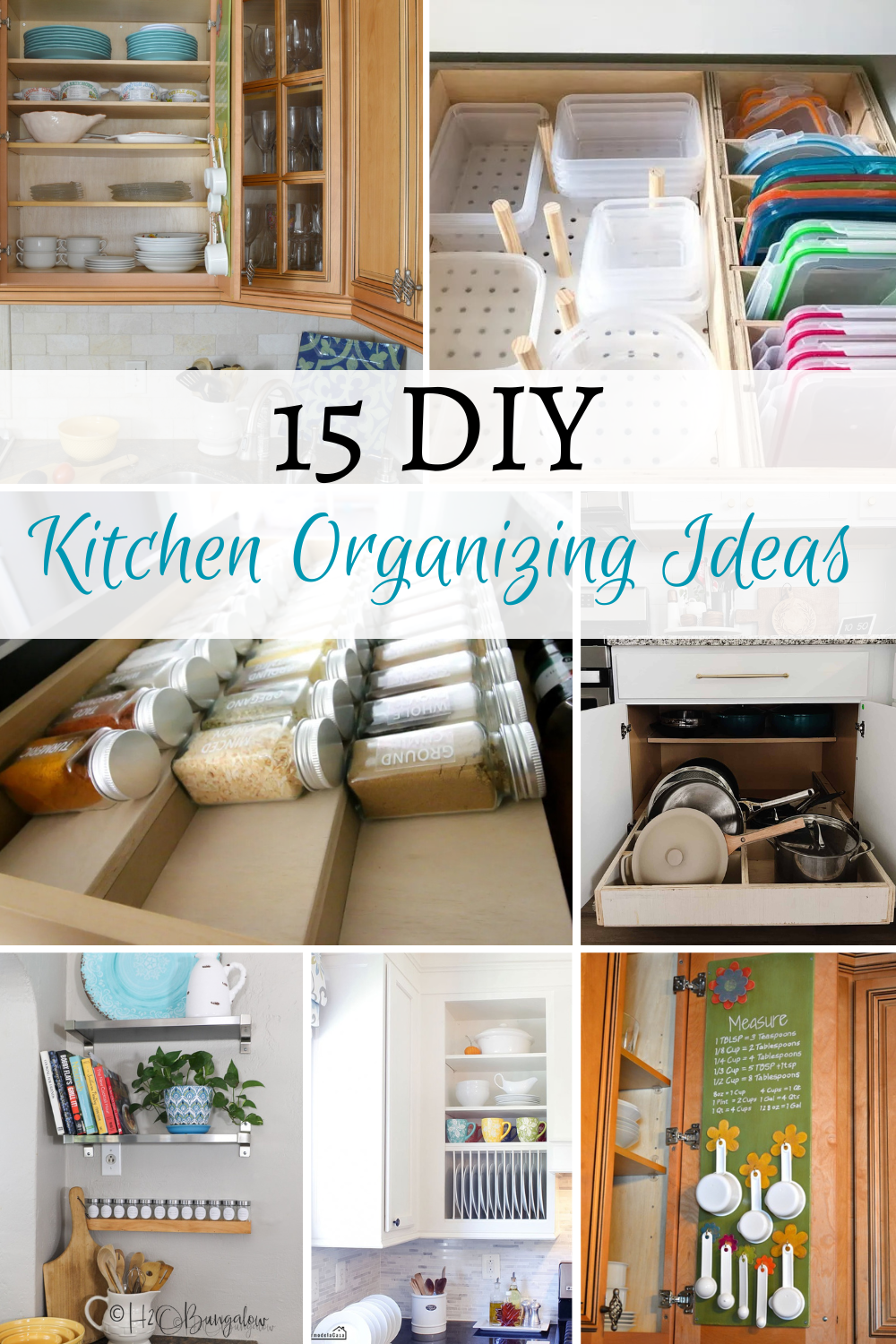 When we moved into our current home we downsized a lot. I had to get creative with organizing solutions everywhere in our new home.
The kitchen was the hardest room in the house to get organized. I had to get creative to use every inch of space to come up with storage solutions that would work.
No matter if you have a large kitchen, those have their challenges too, or a small kitchen like I do, you can get it organized and keep it that way.
Here are 15 creative ways to DIY your own kitchen organizing. I know you'll be able to put a few if not all of these to use in your kitchen.
DIY Organizing Ideas for Your Kitchen
---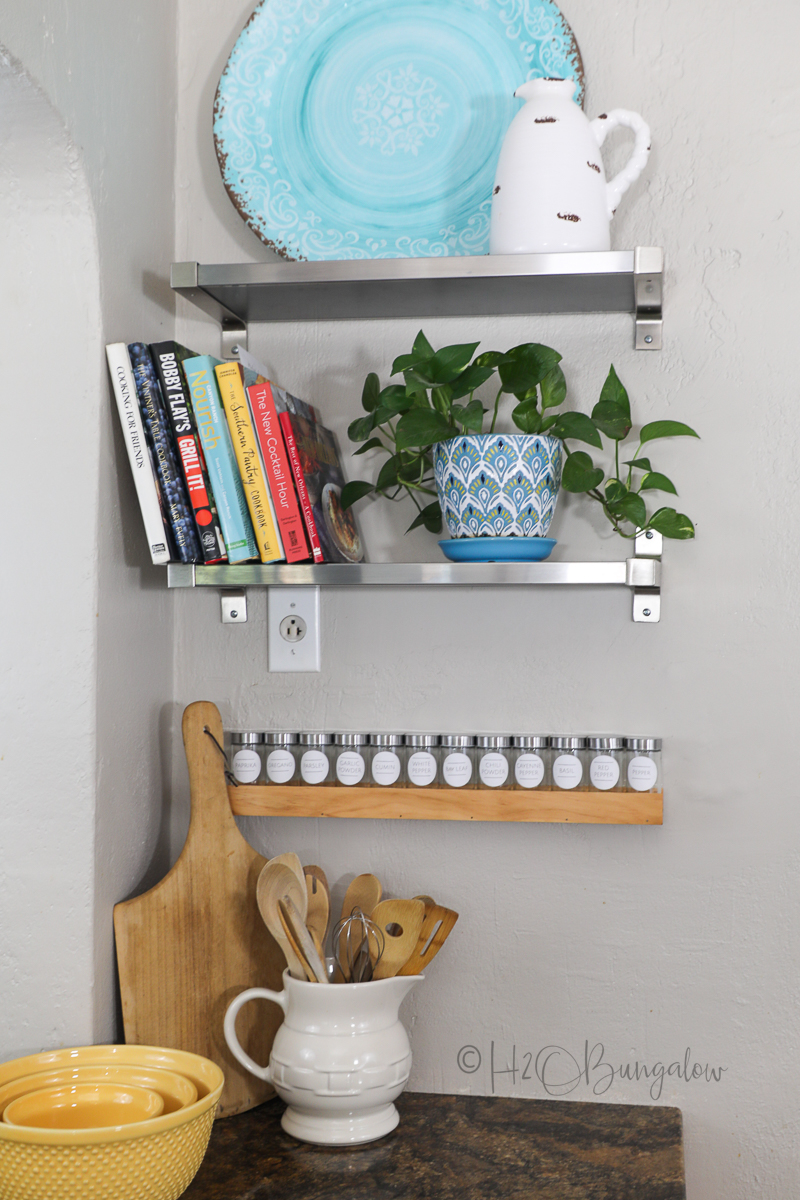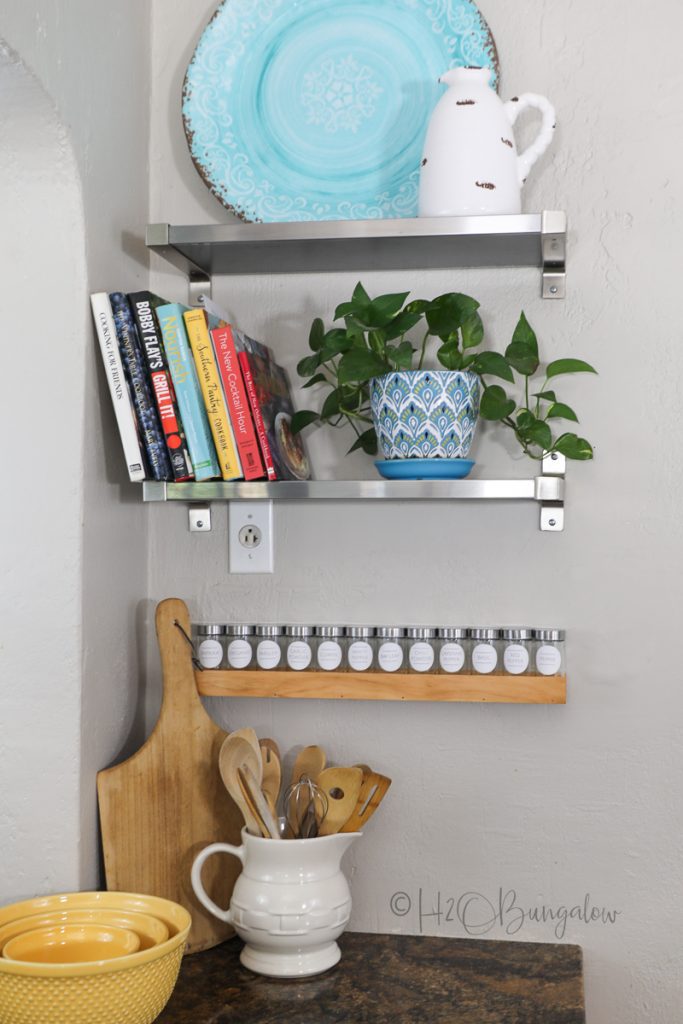 Make this easy modern DIY wood spice rack to fit any size wall space. Hang one long handmade spice rack or make several to hang in a group. It's a beginner-friendly DIY project anyone can do to organize spices in the kitchen.
---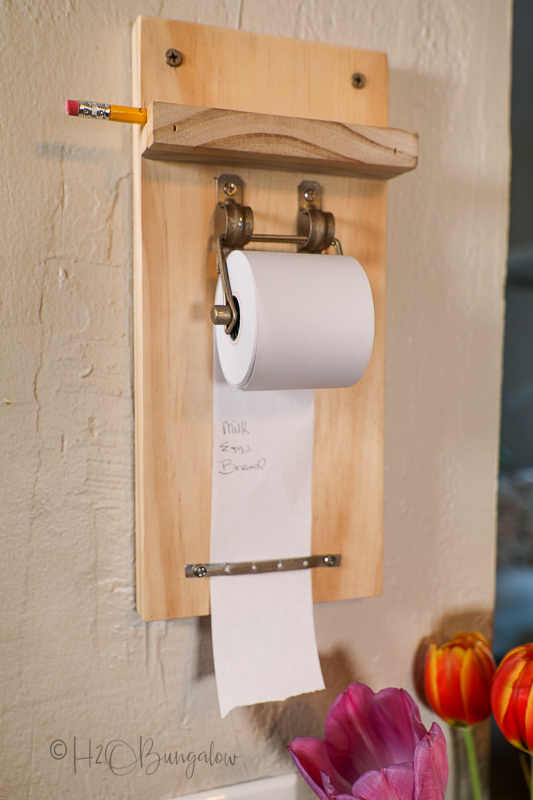 Keep track of shopping lists, appointments, messages, and more with this DIY wall-mounted note holder. It was such a fun project to make! Now when I think of something I need, I just write it down on the noteholder paper so I don't forget.
---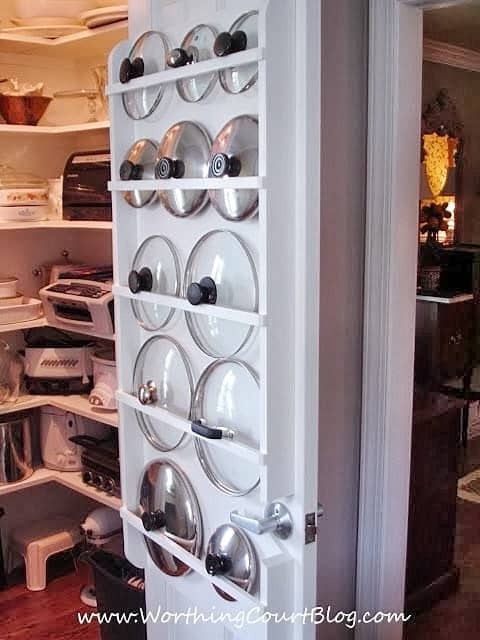 Tired of the jumble of pot lids in your cabinet? I love this idea of a pot lid rack on the inside door of the pantry. They are so easy to get to and keep organized!
---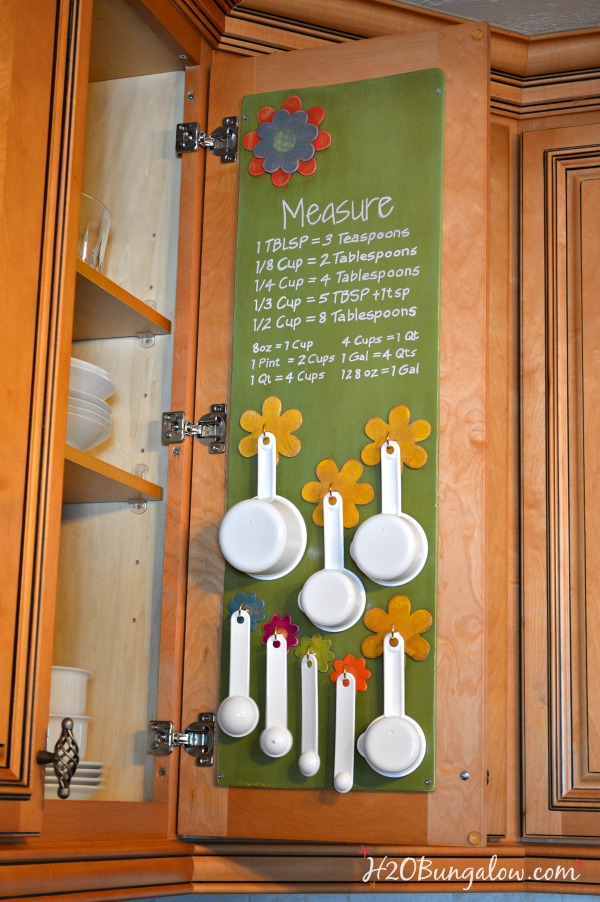 I hated always digging in a drawer for my measuring spoons and cups. I made this hanging organizer that attaches right to the inside of the cabinet door. Now they don't get lost and I don't have to waste precious time trying to find the one I need!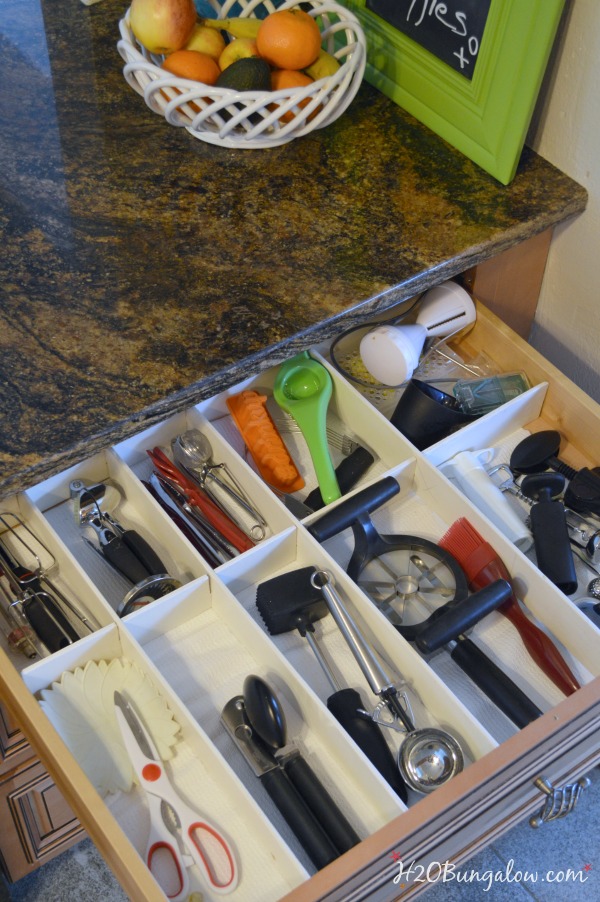 It's hard to keep drawers organized in the kitchen. Make your own drawer dividers from wood. You can make your own using plywood. I painted mine for a nice neat look.
---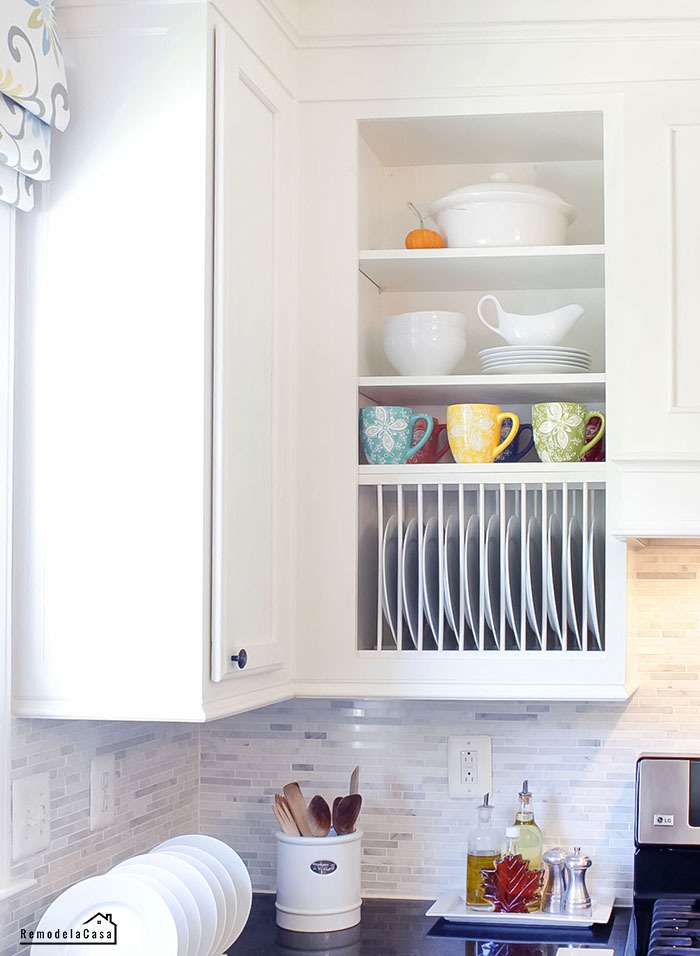 You can make your cabinet plate rack using square dowels and round dowels. It's an organizing project any beginner DIYer can do. This cabinet, now without the door, is nice and organized and you'll have to keep it that way since everyone will see what's on the shelves.
---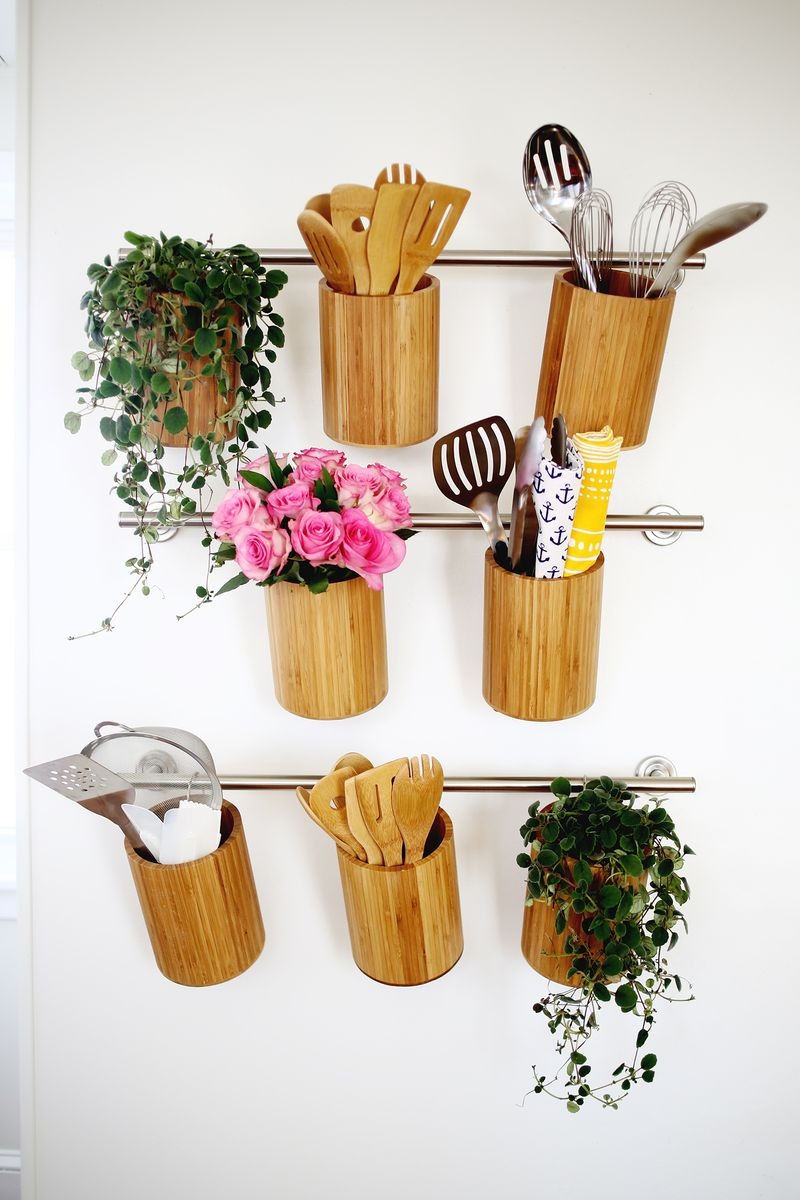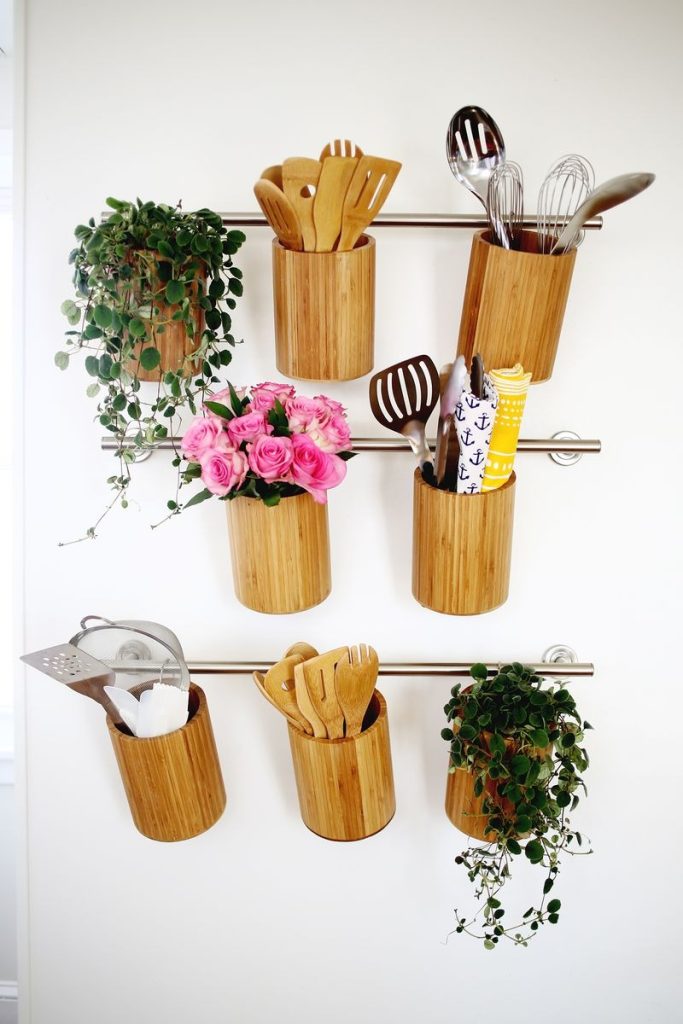 This easy DIY kitchen organizing idea makes use of vertical space in a small kitchen. How great would it be to have all your utensils organized in on place instead of a jumbled mess in a drawer? It even doubles as pretty wall decor.
---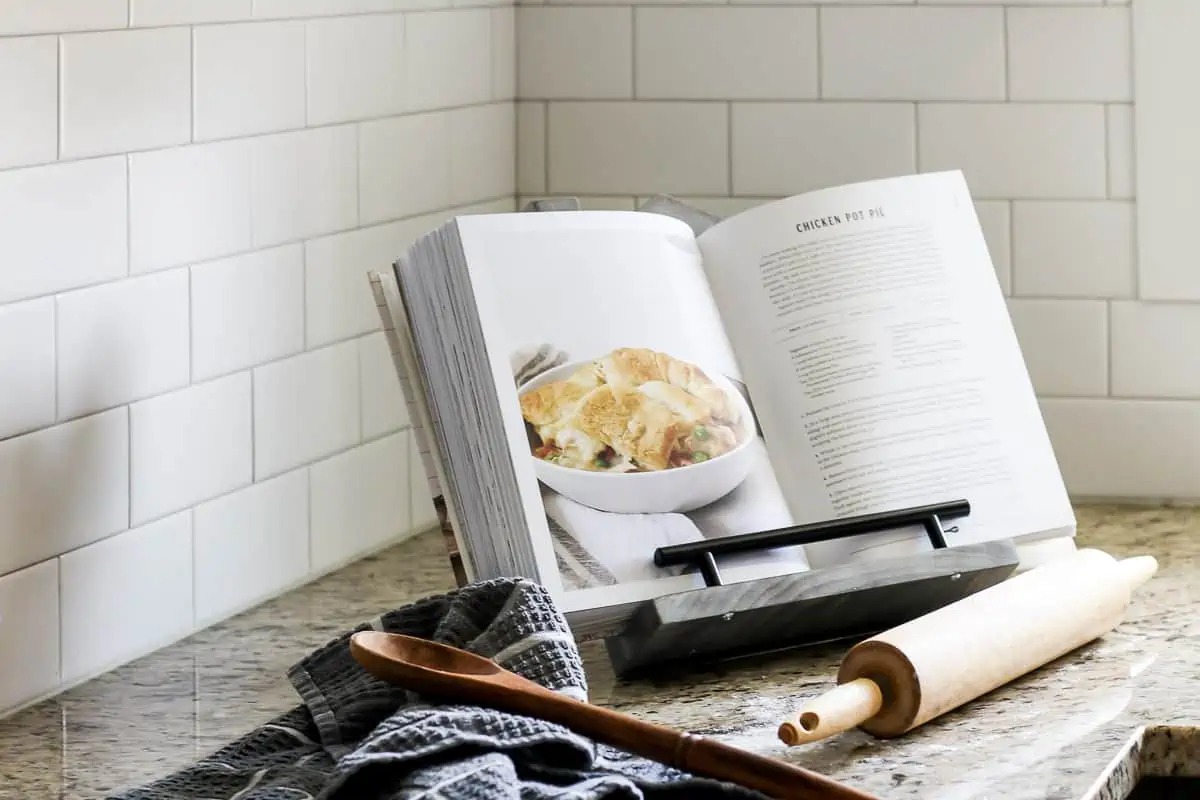 This is a great way to keep your favorite cookbook easily accessible. This DIY cookbook stand is so cute in the shape of a house and it's an easy DIY project you can do in a day.
---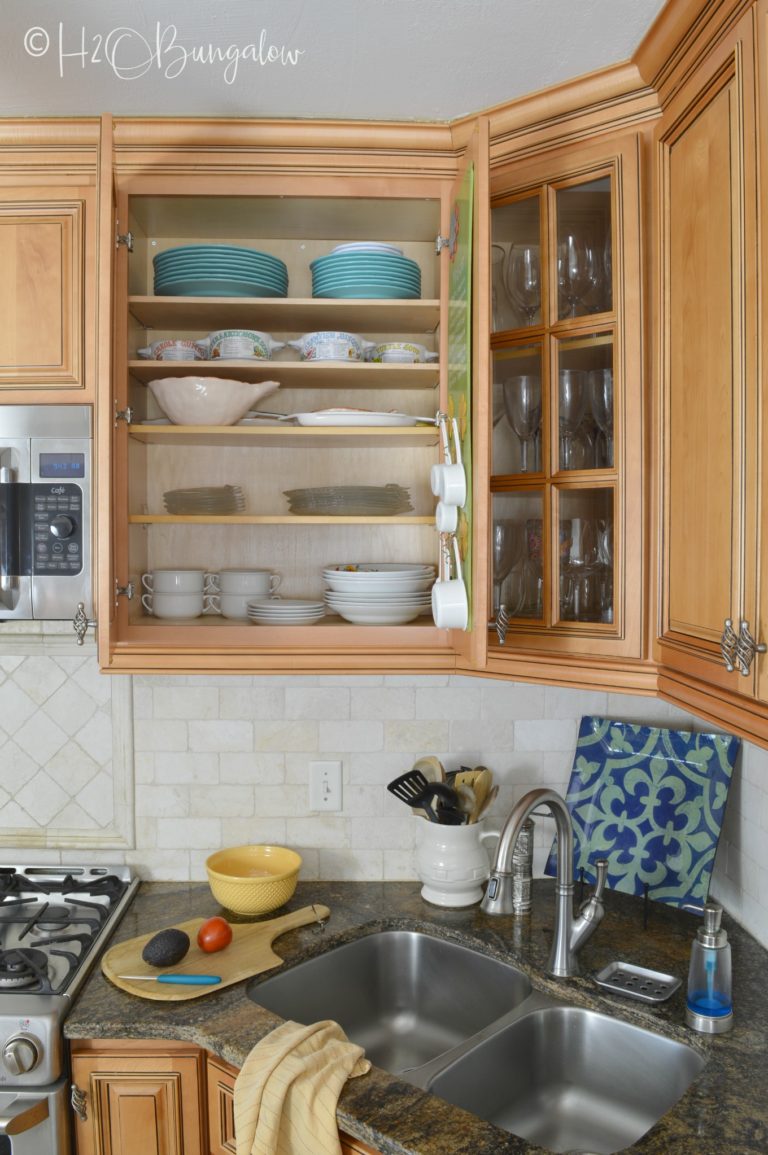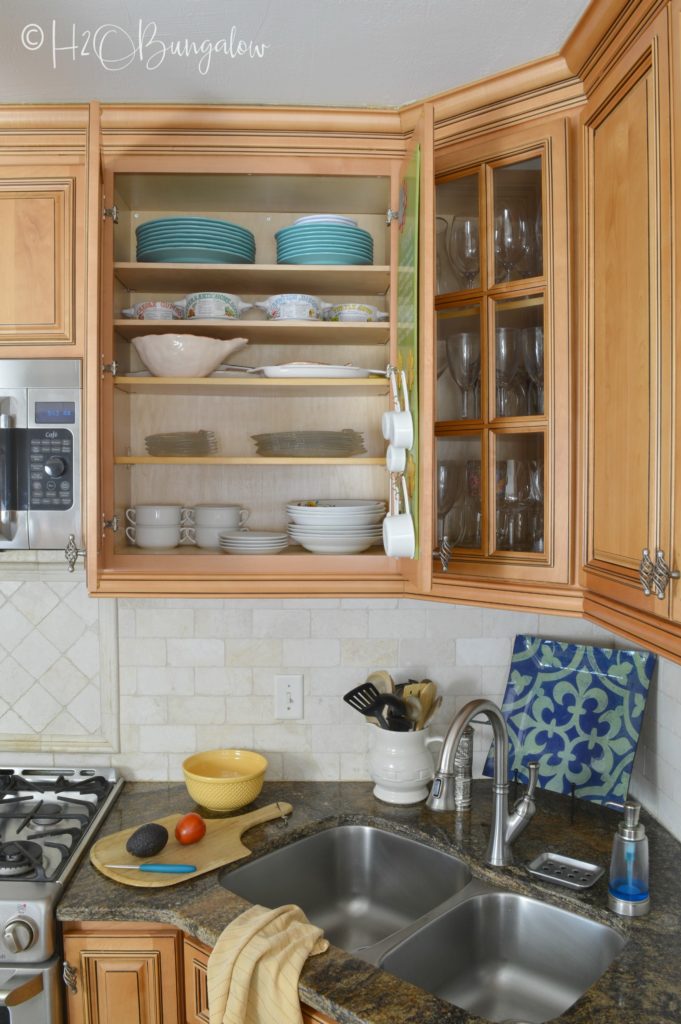 Add more space to your kitchen cabinets to make organizing your dishes easier. There is so much dead space in a kitchen cabinet and this DIY kitchen organizing idea will fix that!
---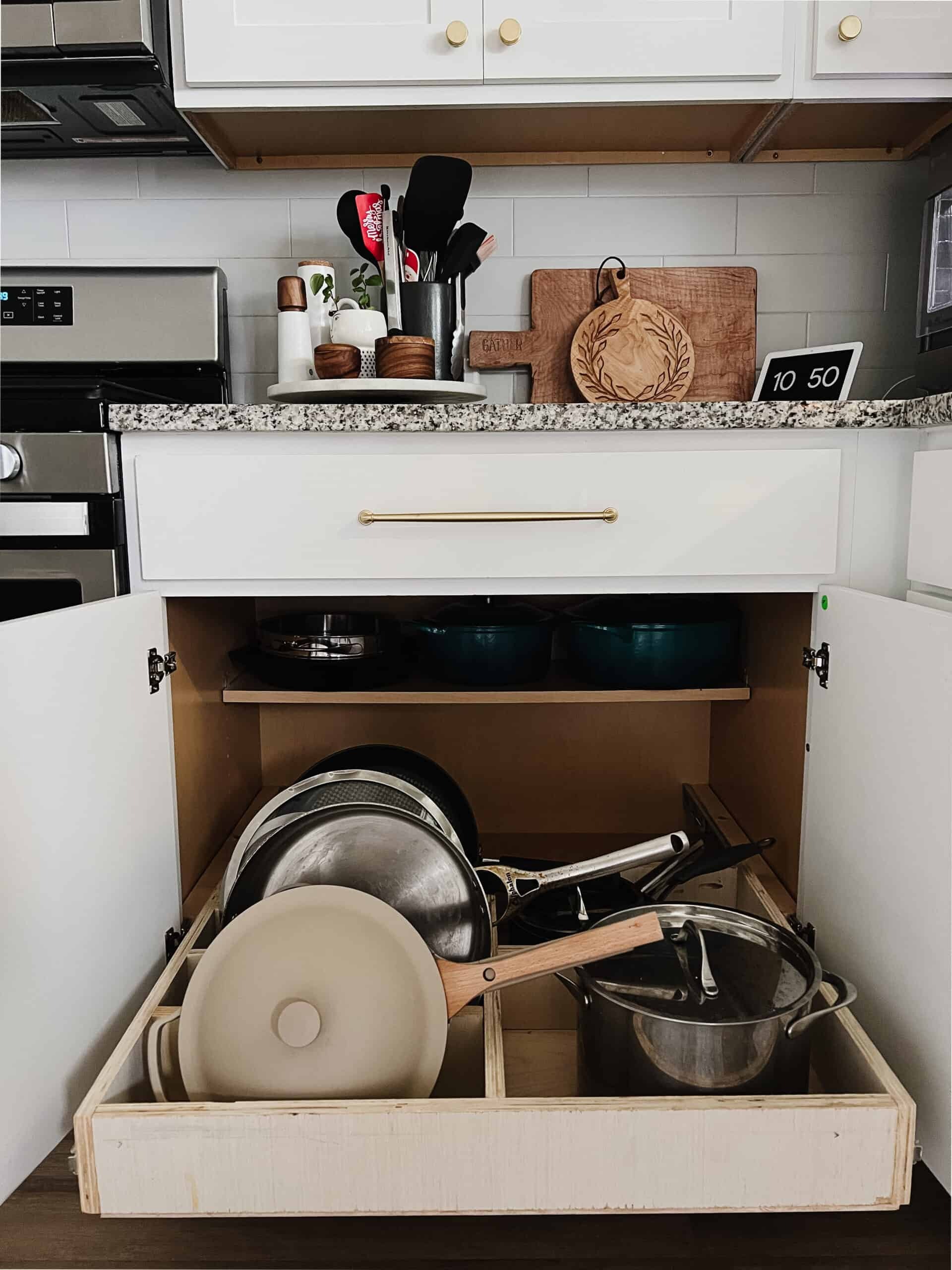 No more digging into the back of the cabinet for the pan you need! DIY your own pot and pan organizer in a pullout drawer. It's easy on your back and makes life so much better. All you need is a plywood sheet and a few basic tools to make your own.
---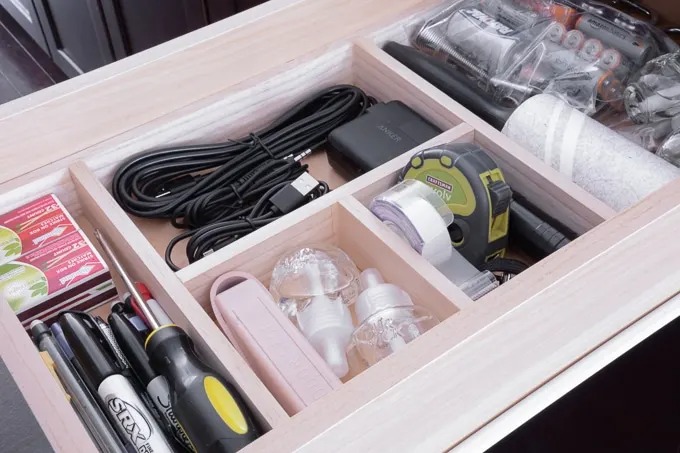 We all have them and if you don't, kudos to you! Junk drawers in the kitchen are the bane of our existence. Get yours organized with this easy DIY drawer organizer you can make for just $5!
---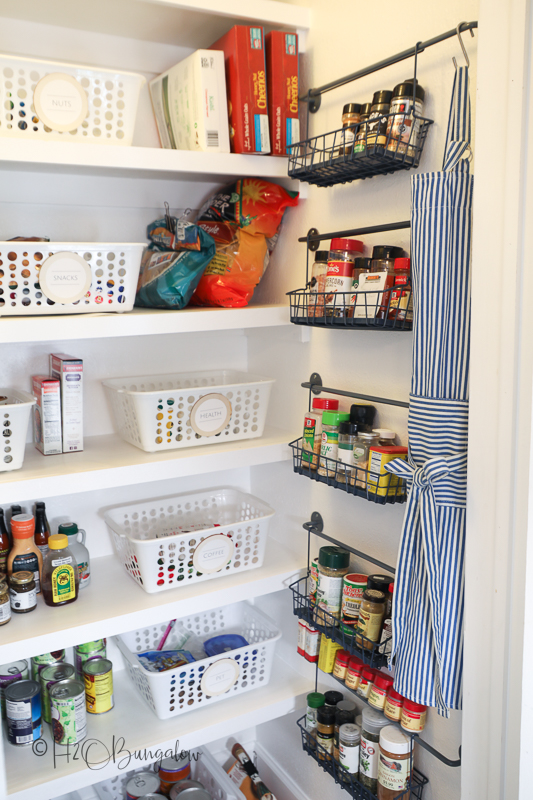 A pantry to get out of control quickly. I still have to take time a few times a year to reorganize mine. These tips and ideas will have your pantry organized in now time!
---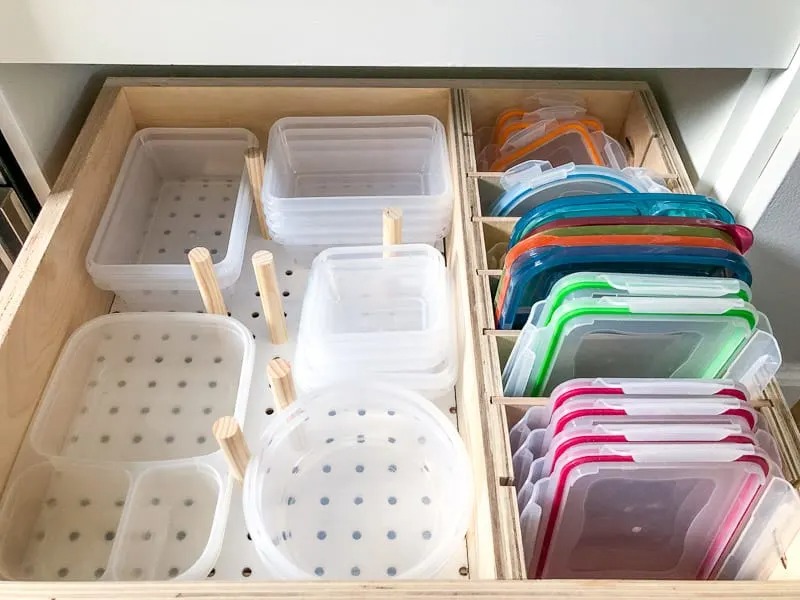 Never lose another Tupperware lid when you have this amazing drawer organizer! Peg board, dowels, and plywood are all you need to make your own.
---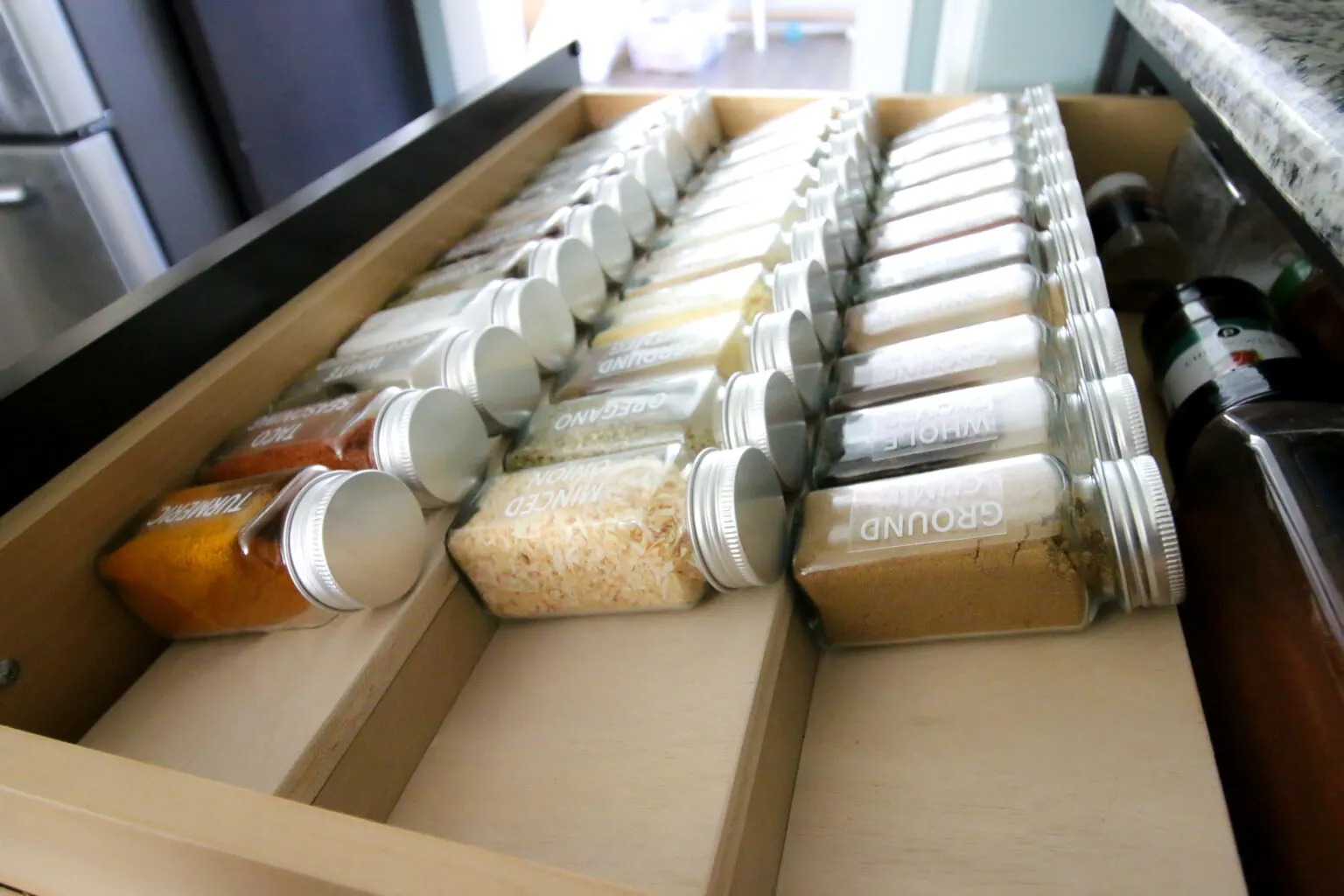 Clear off your counter or clean out a cabinet and get those spices organized with this easy to make DIY spice drawer organizer. You can make your own with plywood and just a few tools.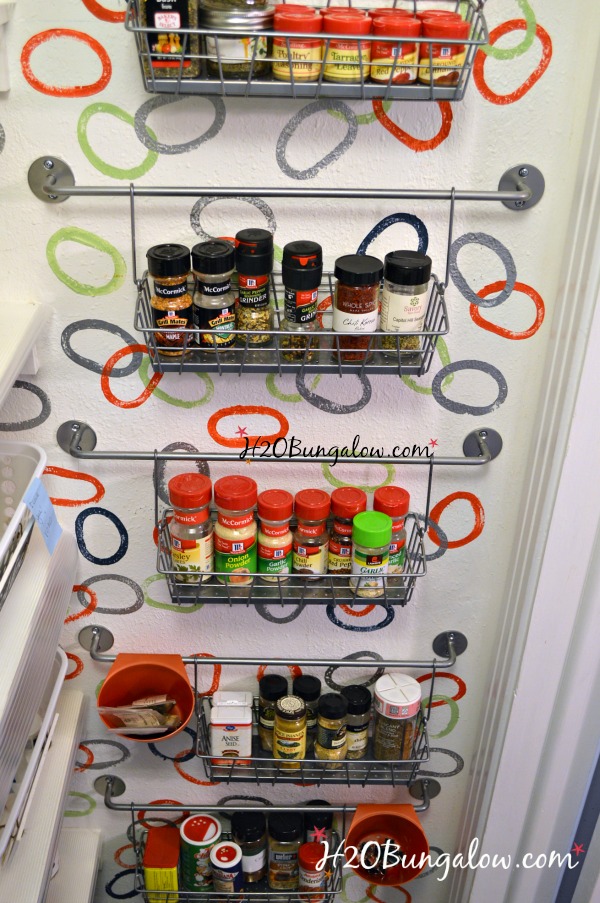 Small kitchens don't have a lot of cabinets or drawers. Storage and organizing space is hard to come by and you may need an alternative to storing spices in a cabinet or drawer. Hanging wire baskets in the pantry are the perfect way to solve your spice storage needs.
---
Are you ready to get your kitchen organized? These DIY kitchen organizing ideas are great for large or small kitchens. Which one will you DIY for your kitchen? Tell us in the comments!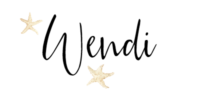 Don't forget to pin it for later!