Welcome back friends! Today, I'll take you on the North House Lodge #54 home tour. Our Vermont Guest House, or vacation rental / blogger project house. Like I mentioned in last week's Home Tour of the North House #52 side, our 1835 guest house was originally built as a shop on Main Street and converted into a duplex in 1894 when it was moved to Pleasant Street a block away. My vision for the North House Lodge is to create an atmosphere that feels warm and inviting for guests. A place that becomes part of the experience of staying in New England instead of just a hotel or plain vacation rental. We've also added a new Vermont rental, just down the street, The Mill Place is coming together beautifully!
Both sides of the North House Lodge have the same layout. I tackled most of the remodeling on this side during one long trip last year, arriving in August and not leaving until mid December. Hubby and I traveled back and forth, we weathered a hurricane and a few other crazy events over those months. Without a doubt, this was harder to do but the results were spectacular.
I love how it's come together. I still have work to do though. Like the #52 side home tour, this place is packed with DIY projects. Most, I haven't written about yet and will this fall. I'll add links to the ones I have shared and point out the ones I will share soon. I'll update this post with links to the projects as I share them as well.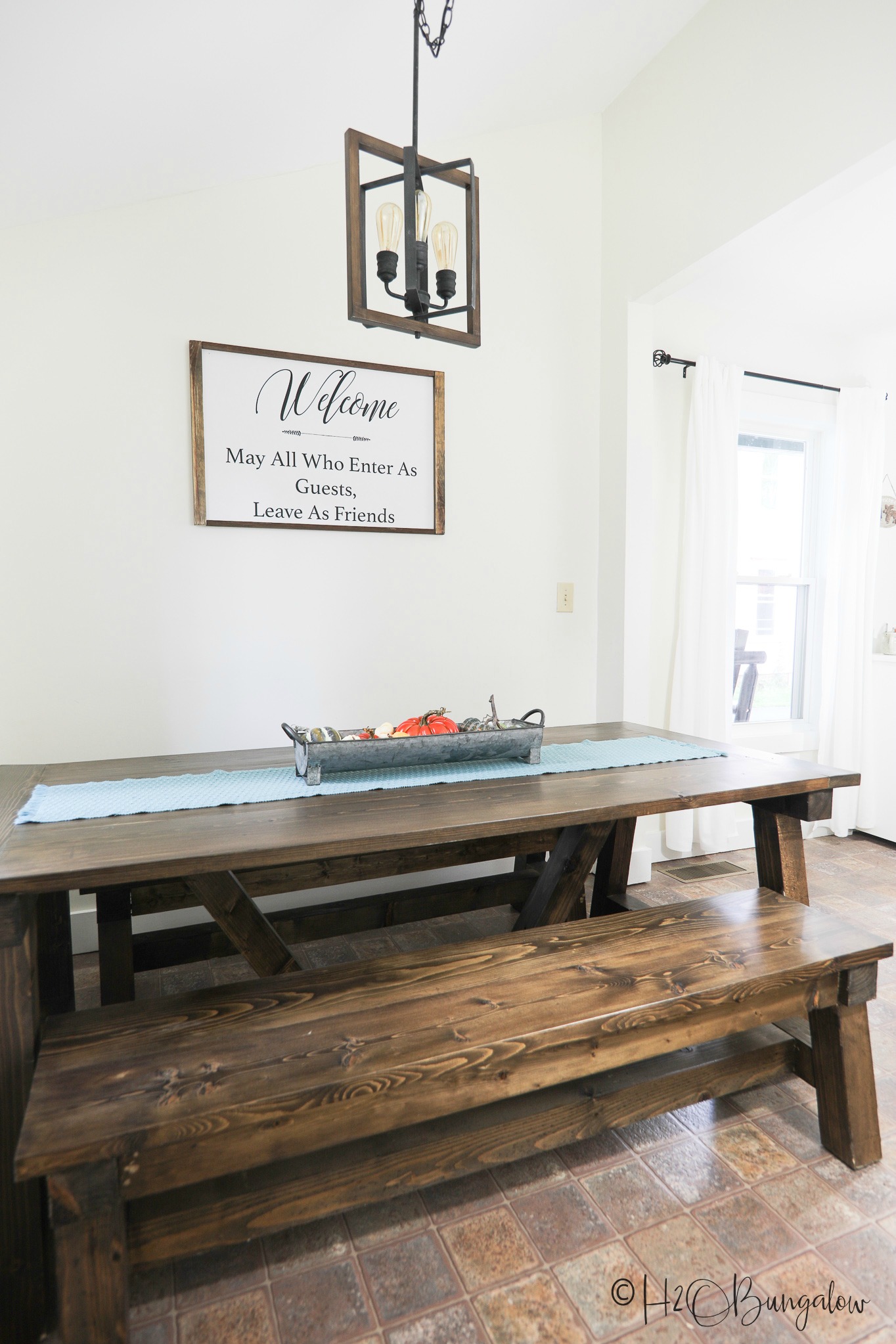 DIY Engineer Print Large Welcome Sign
Because it was already a vacation rental, both sides of the North House came furnished. I donated about 80% of what was here. The house was over-stuffed with dated and mismatched furniture. I shopped the one thrift store our town has often, built some things and did a lot of Internet ordering to furnish it.
I changed out the light over the table and yes, built this table 🙂 You'll see a tutorial soon! Both places got all new appliances and wine refrigerators. I was lucky and caught a good sale. Yep, that's a six-burner stove. Had to have it for both sides!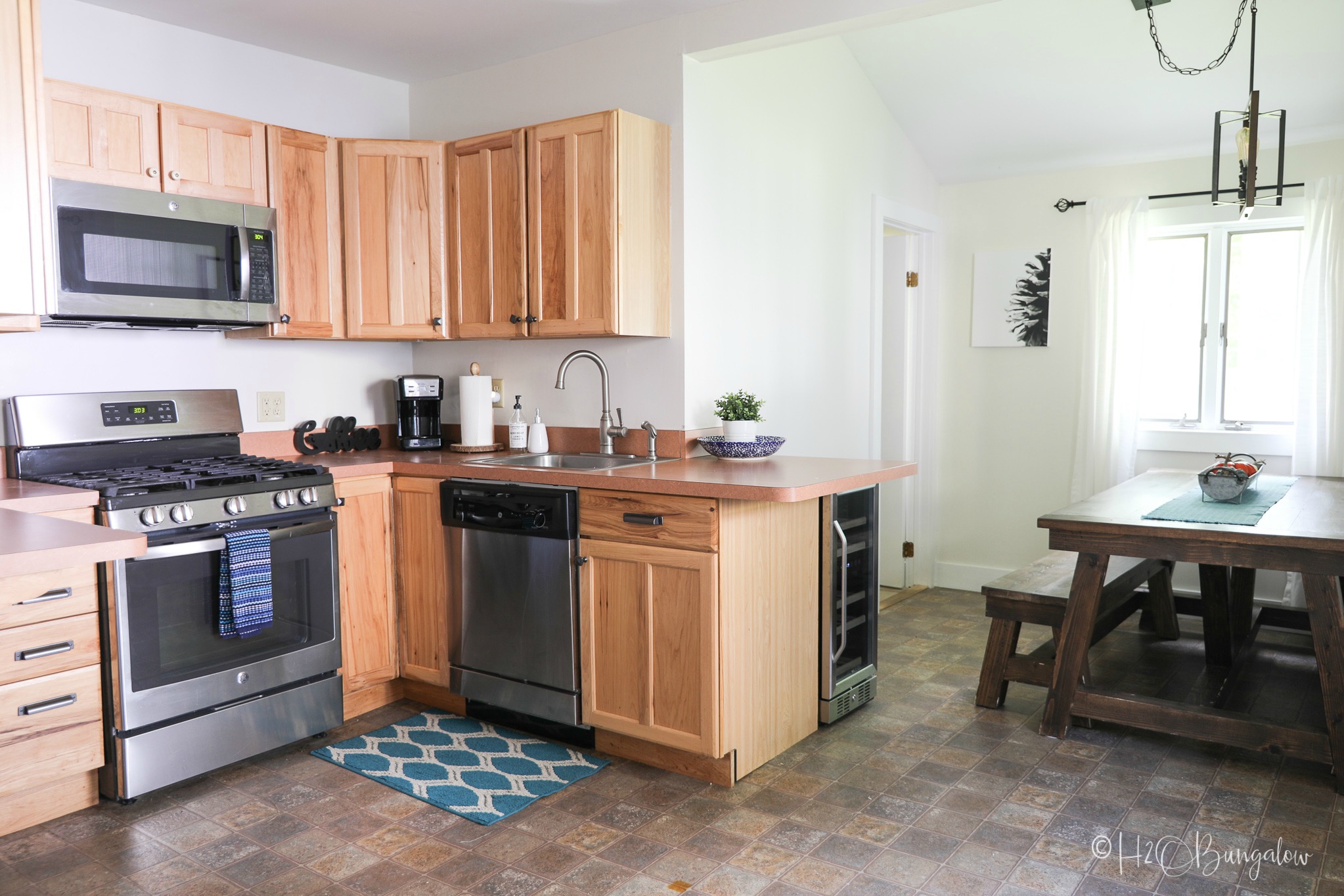 There's a full bath off of the kitchen on both sides. This one used to have red rose wallpaper. Trimming out the walls in wood tiles that I built using pallet wood, was a much better fit. I designed the vanity as well. Isn't it gorgeous?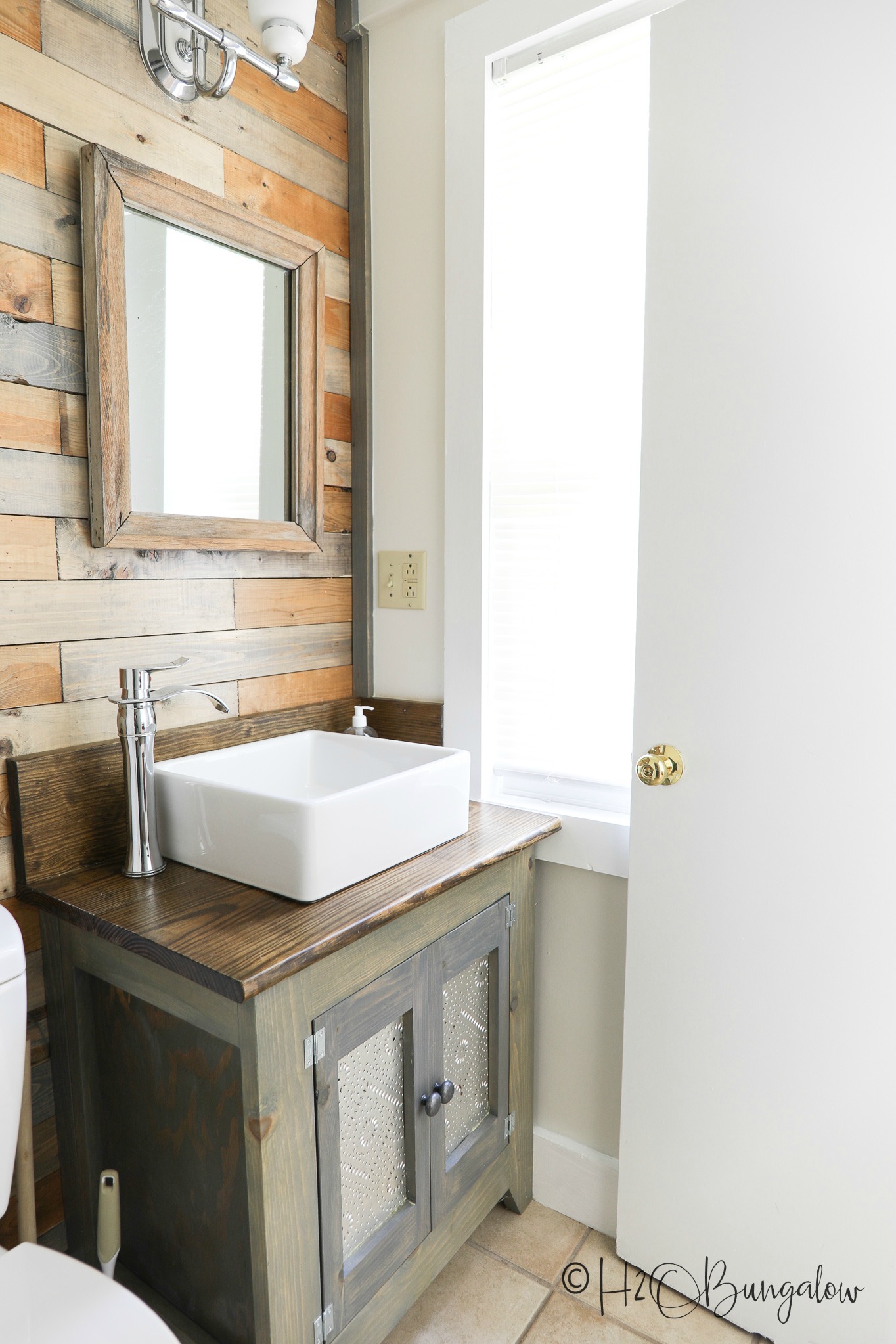 How to Make a Pallet Wood Wall
I can't wait to share these tutorials with you guys!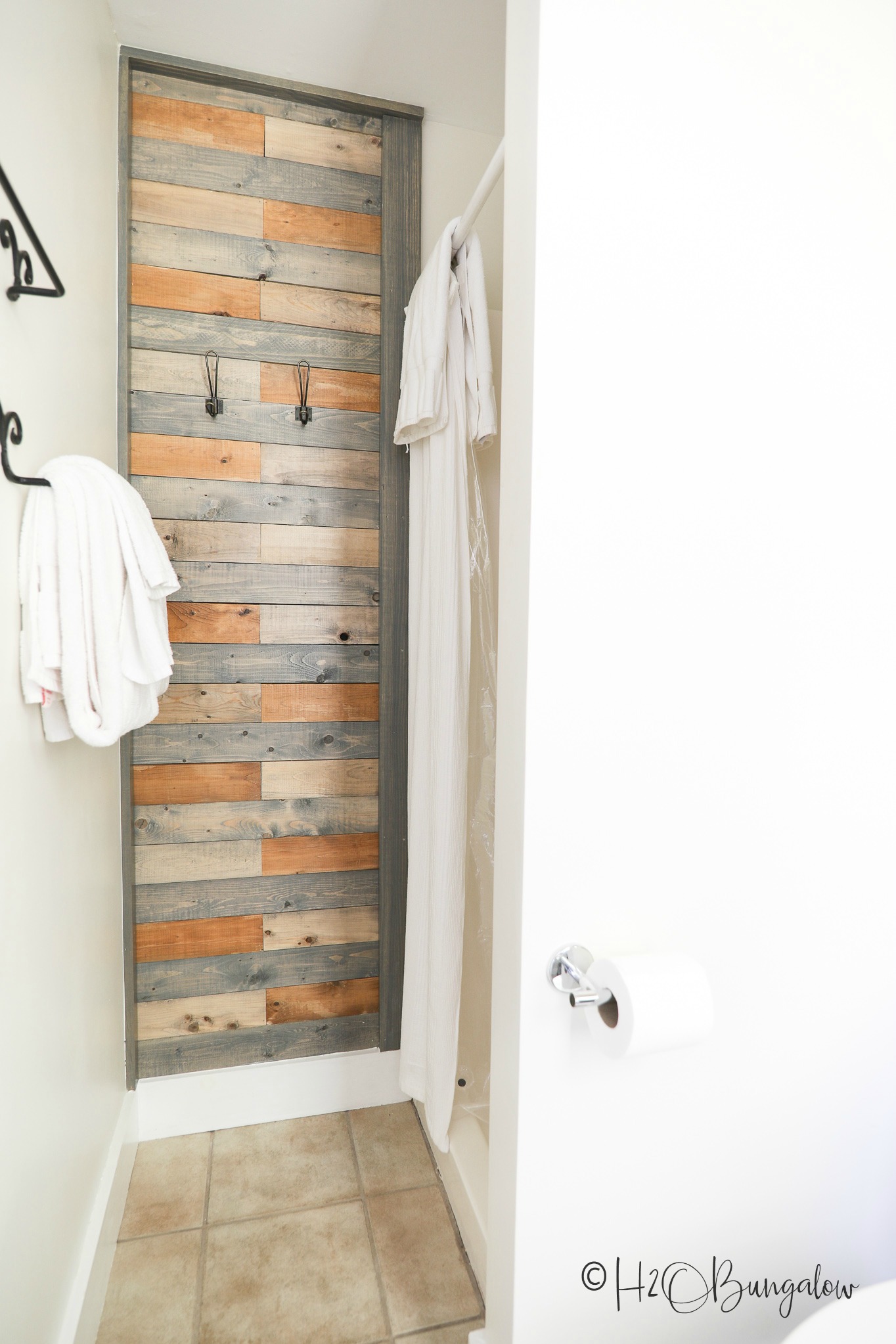 The driveway is just outside the kitchen door. Just like the other side, it's the door people use the most to enter the house.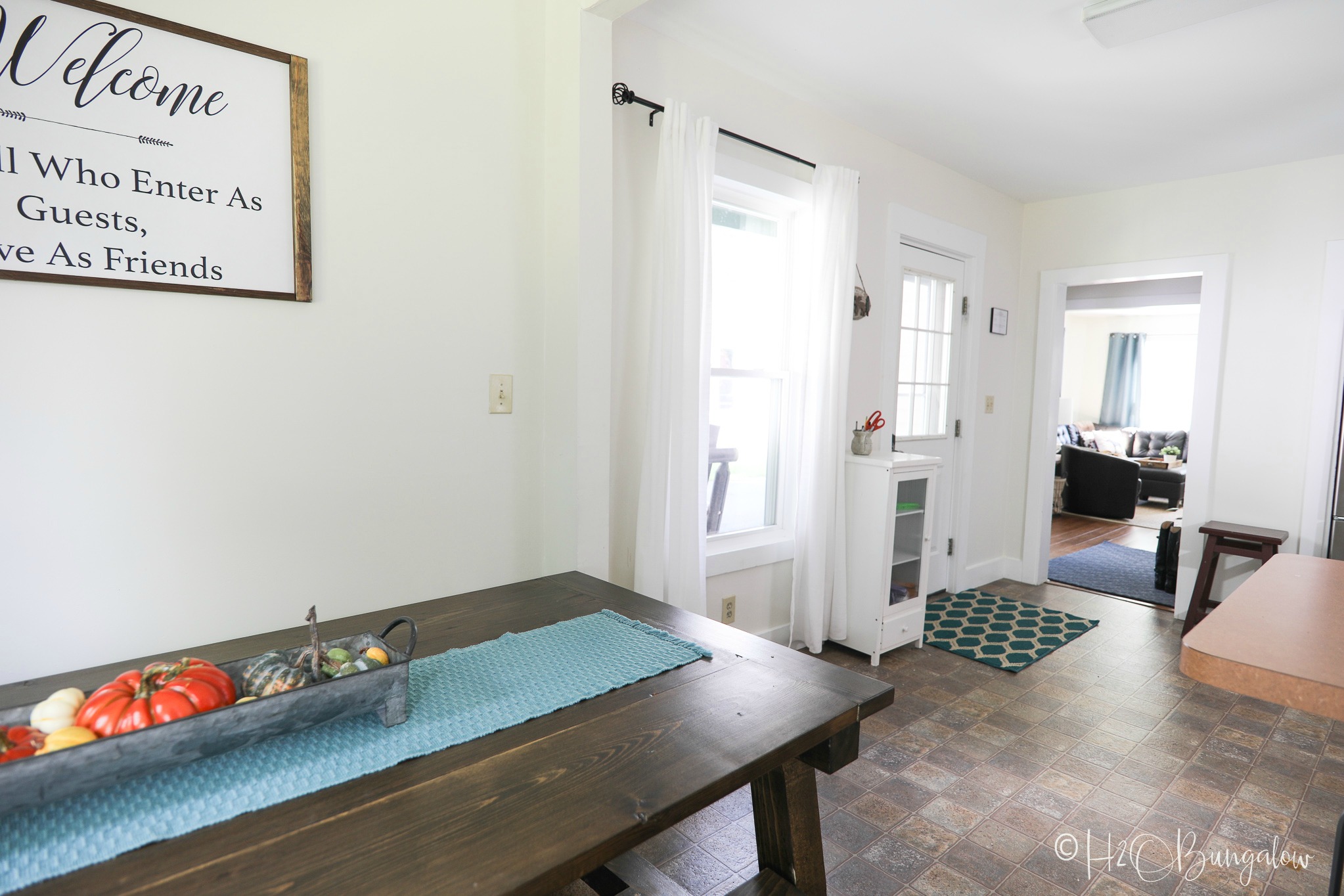 Every Vermont home needs a coatrack. A place to hang your coat, sit and take off your boots. Ours is nestled in the entryway and cozy by the fireplace.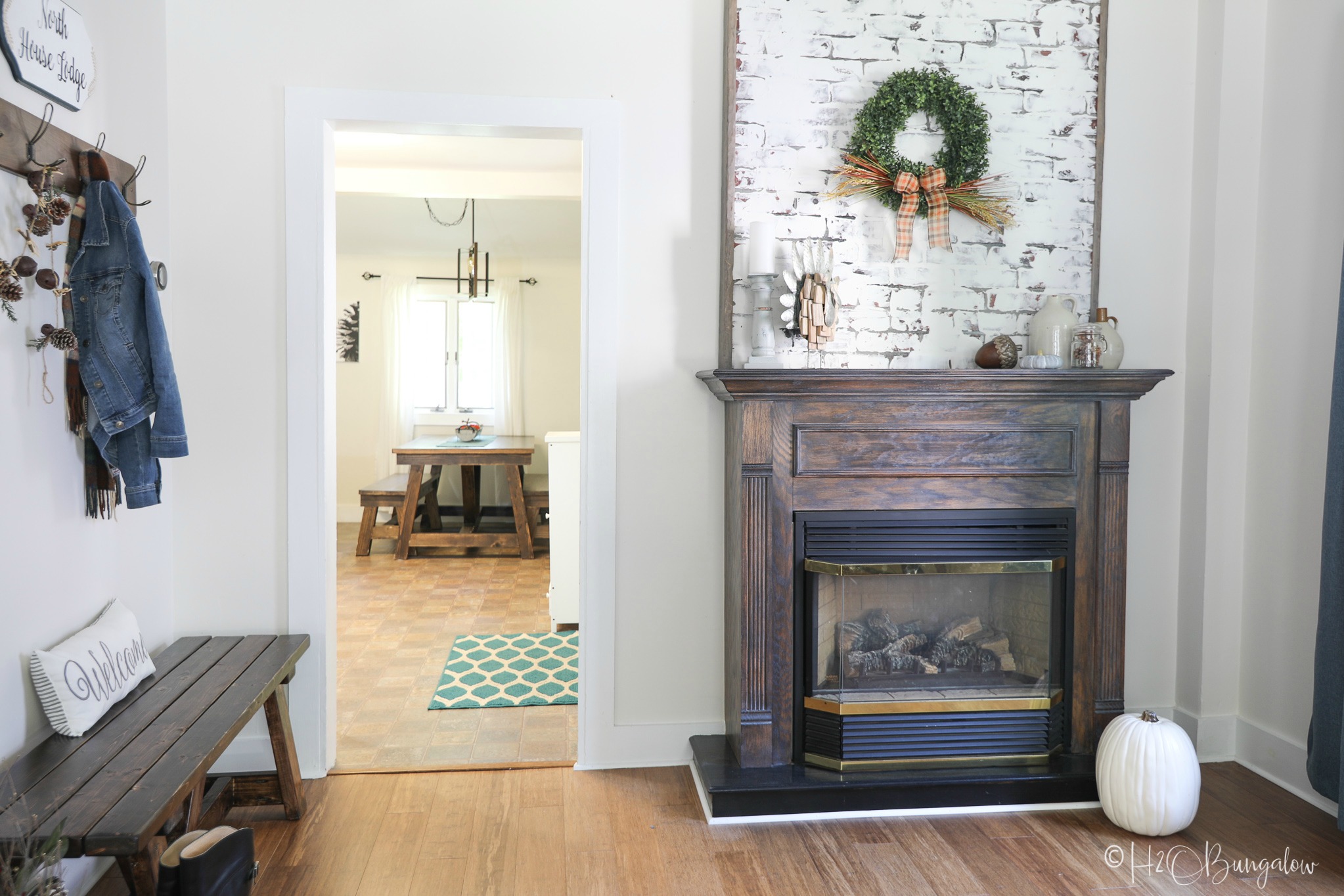 Modern Rustic DIY Vintage Hook Coatrack
My goal has always been to stage the houses for each season. I want guests to arrive to a warm, comfortable and well designed retreat. Right now, everything is decked out in fall decor. It's lovely.
I gave this fireplace a complete makeover. The German Smear/Schmear on the top is a heavier application than what I shared on the third floor loft. I love how it turned out on the fireplace!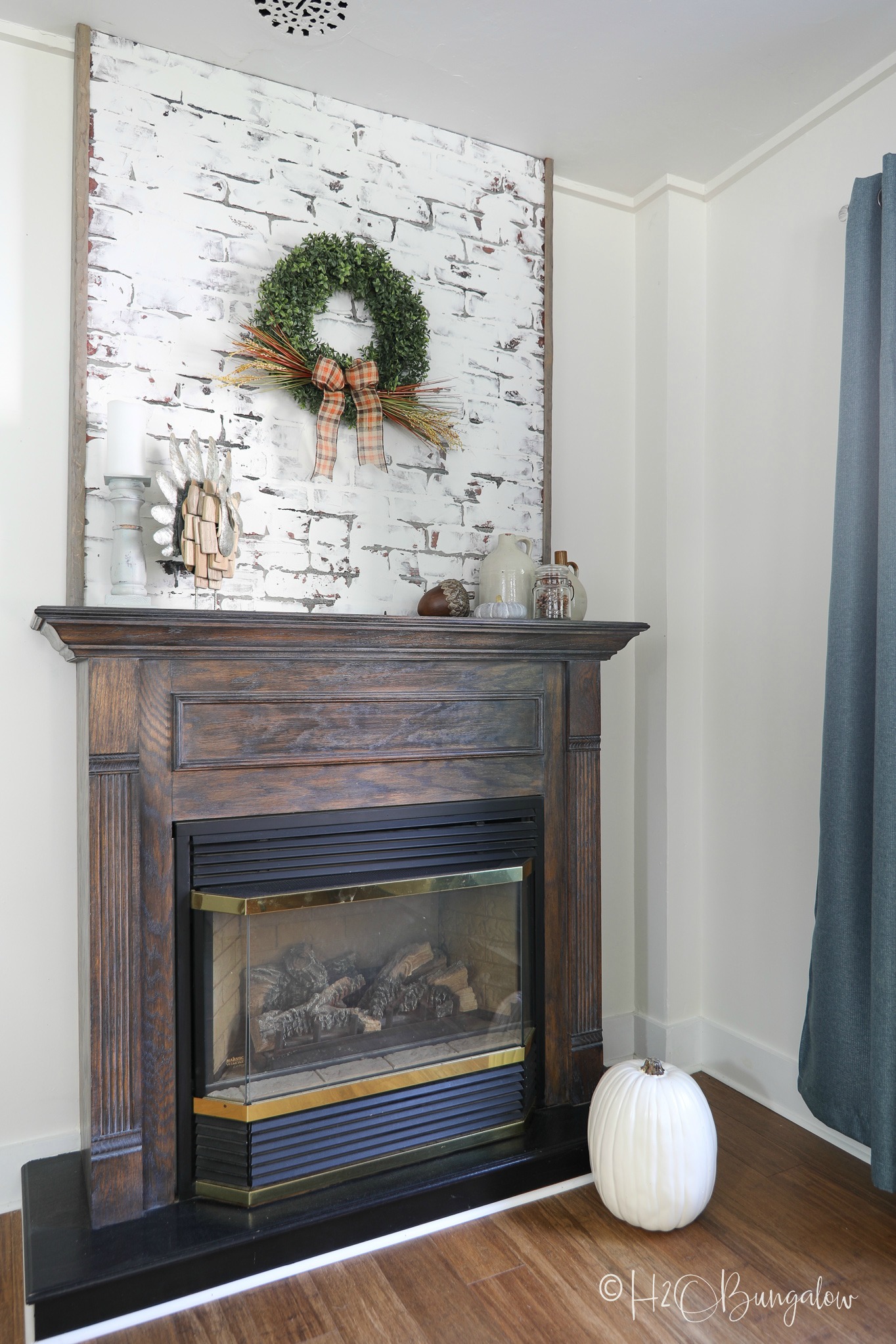 This three-legged desk was a family piece. When my sister brought it to me I had no idea where I'd put it. It's perfectly paired with the Cowhide Chair Makeover project I tackled. My DIY Repurposed Picture Frame Wall Shelves were a huge hit on the blog last year.
Another popular project that's only partially in view, is my Repurposed Metal and Wood Side Table. It's the little table that holds the lamp in between the sofa and the arm chair on the left.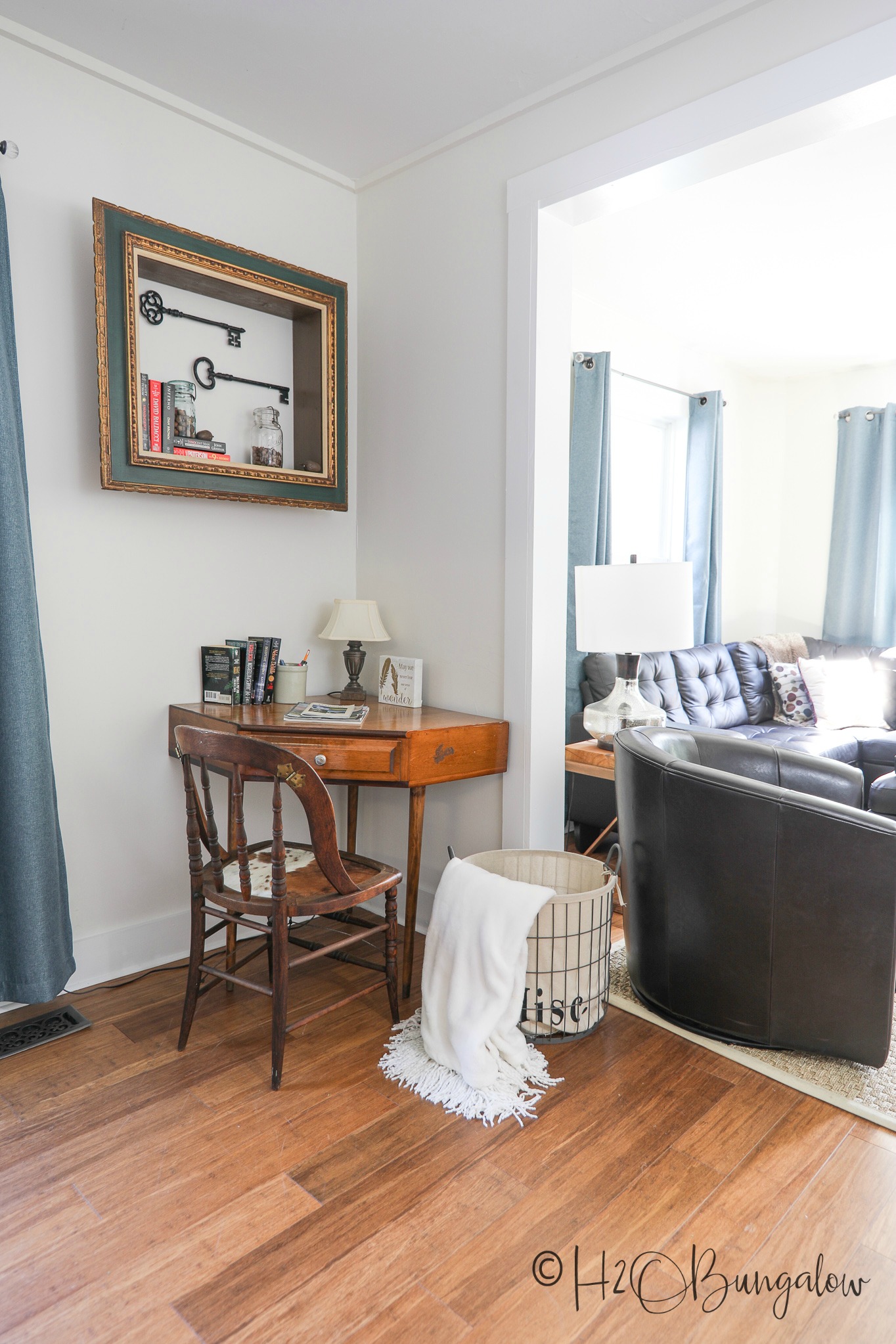 This living area is the same layout as next door, but smaller.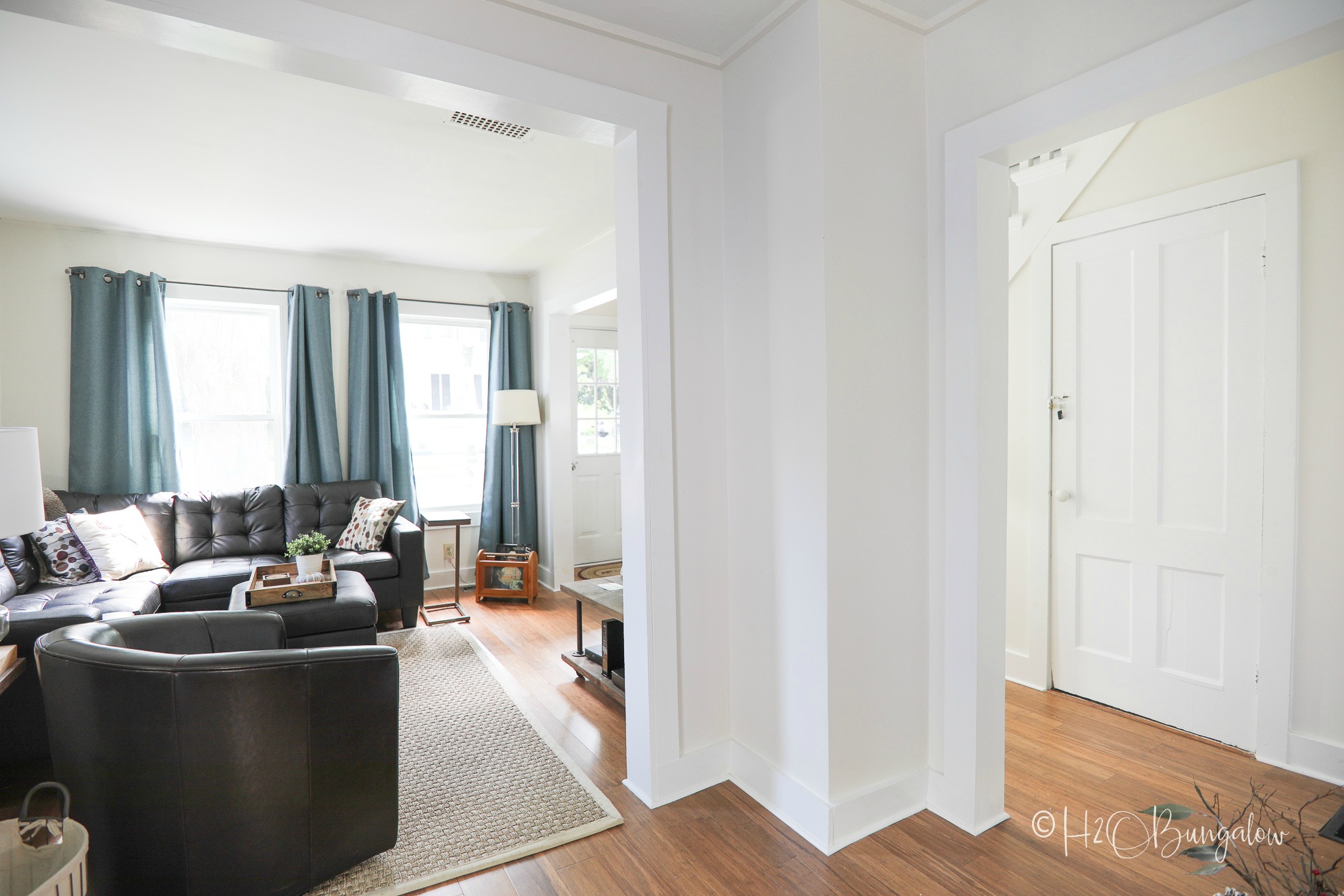 The steps and staircase have been completely redone.
Yep, this side also had maroon and dark pink carpet…everywhere! All three floors. We replaced a lot of the wood floors in both sides. Unfortunately, the original wood planks were too damaged to use except in a few areas. I added an awesome carpet runner on the stairs and I love how it turned out.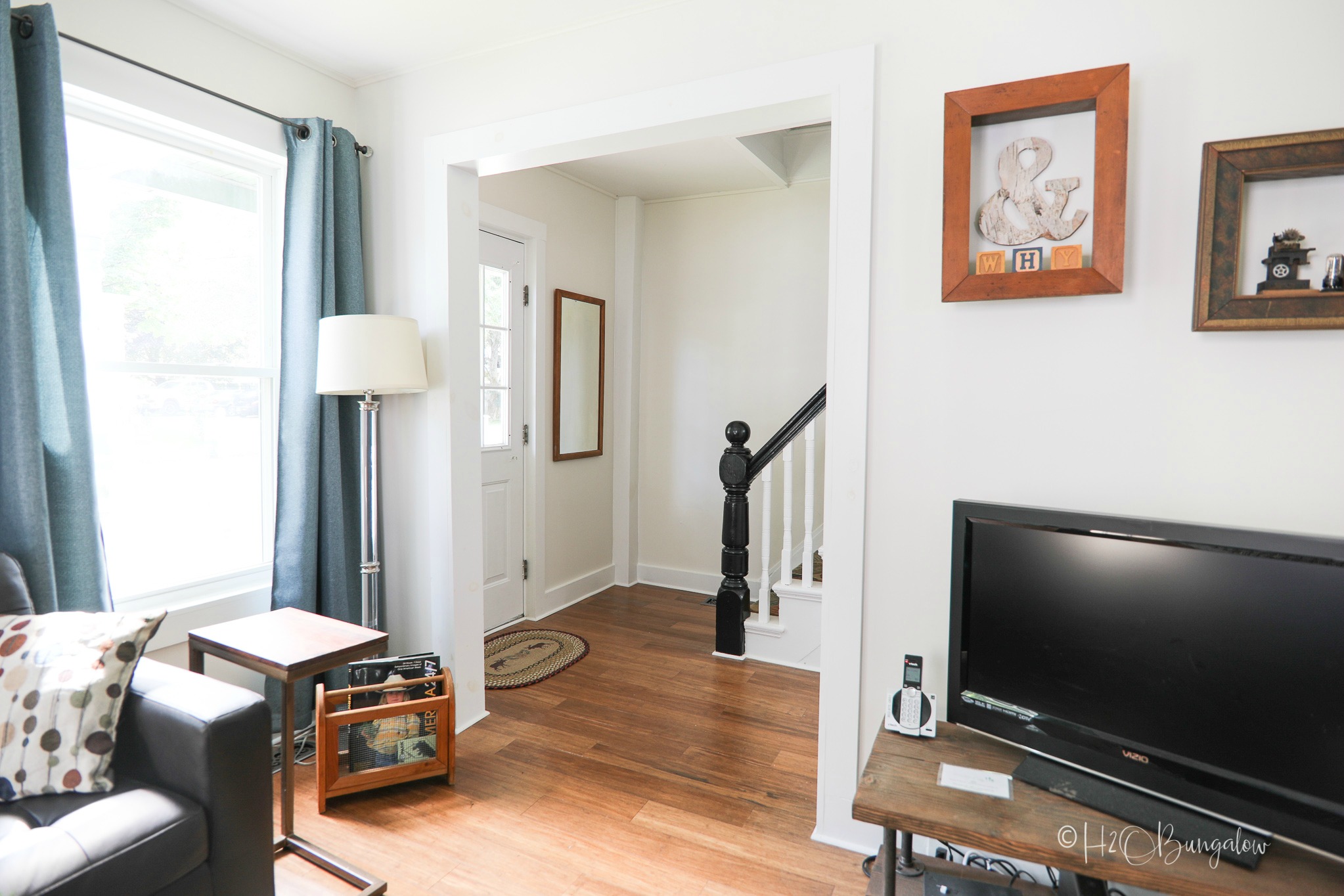 DIY Industrial Style TV Media Stand with Wheels
Just up the stairs is another bath. This one is large. I love that the washer and dryer fit on the second floor, it's a lot more convenient. I haven't done any work in here yet, other than a fresh coat of paint. But, I'm sure that will change over time 🙂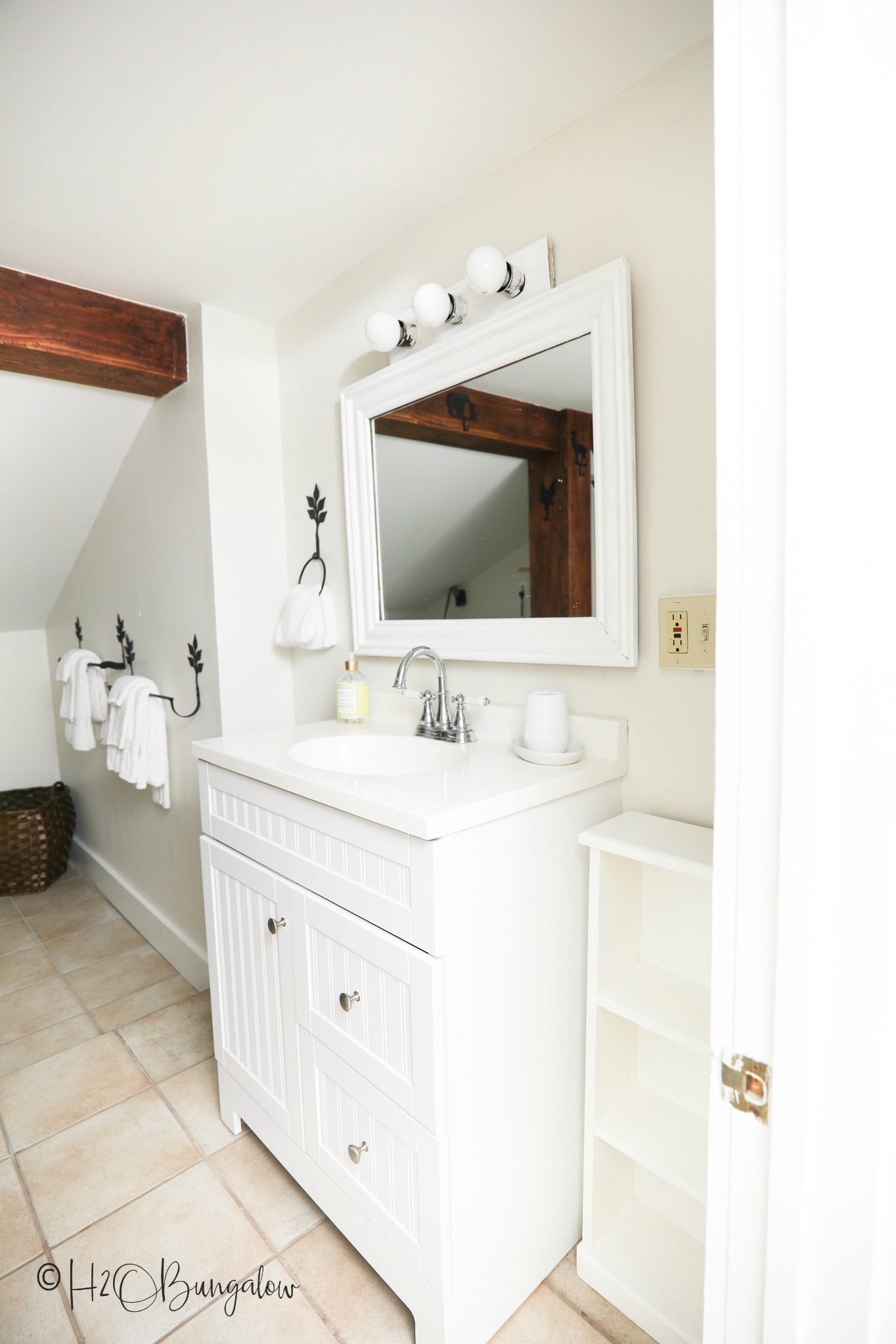 Just like in the #52 side, I added quality bedding. Fluffy pillows, layers of comforters duvets and down were all must haves.
All of the bedrooms are named and themed in The North House Lodge, this is the Farm Room.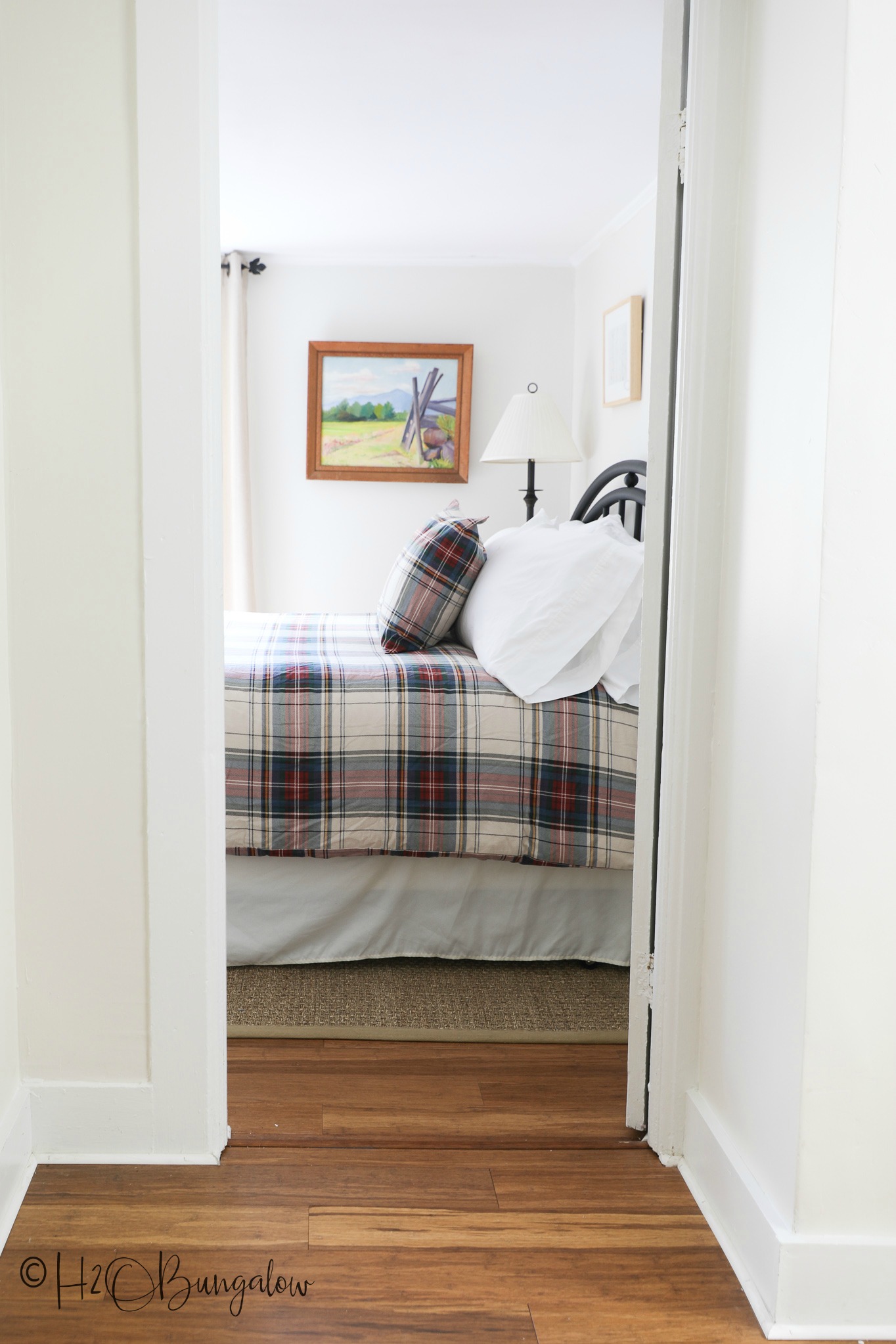 You may remember when I shared this Blue Painted Dresser Makeover last year. It was originally sunshine yellow and in another room. It fit's perfect in here, don't you think so?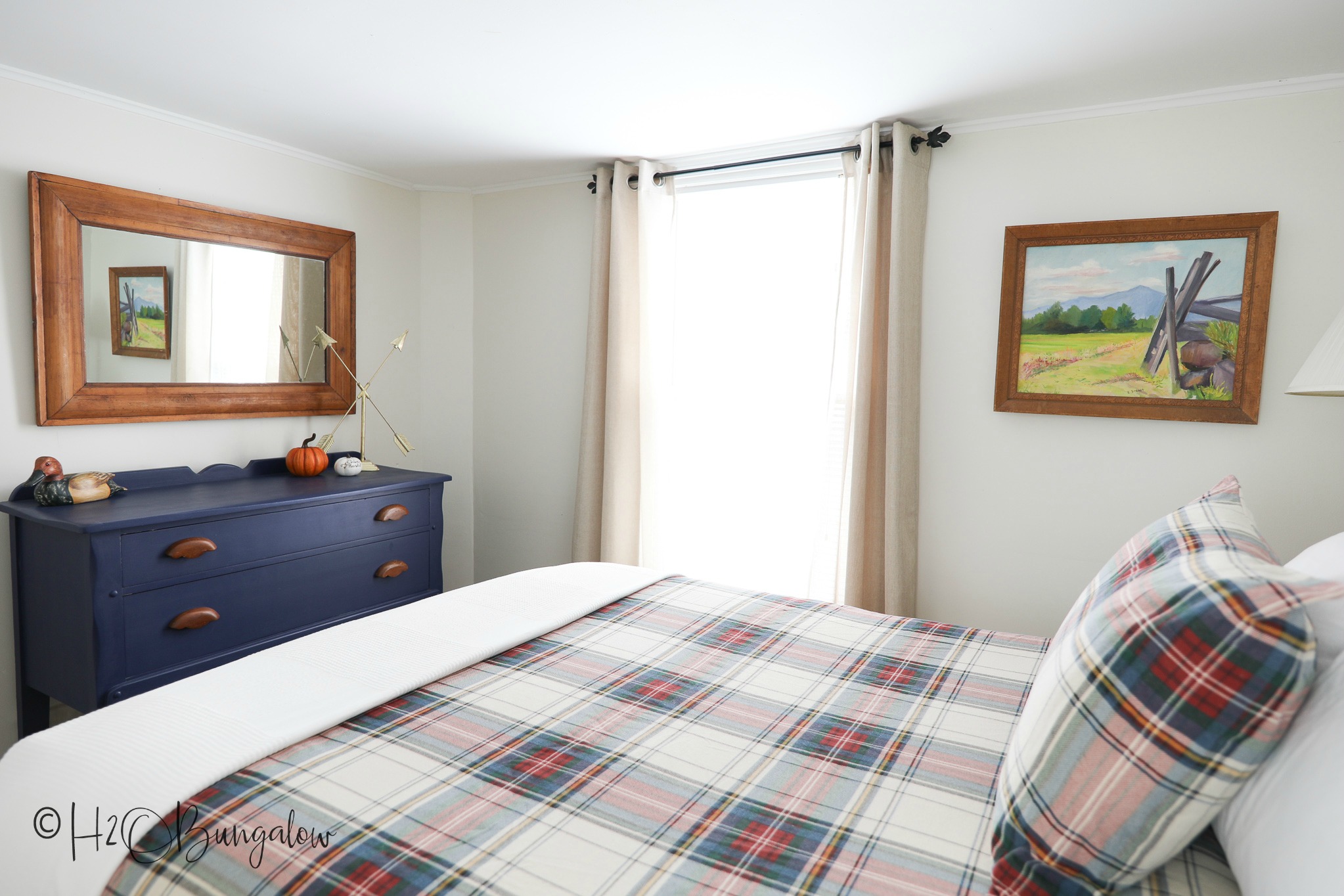 Another favorite feature in this room that I don't have a picture of is the big, deep walk-in closet. I was able to keep the original floors and they are painted a gorgeous colonial blue.
I mixed the artwork in this room. With a few favorite modern pieces and a classic VT country scene in oil that I found at a local antique store in a nearby town.
We have a fabulous New England small town with great antique shopping and prices nearby!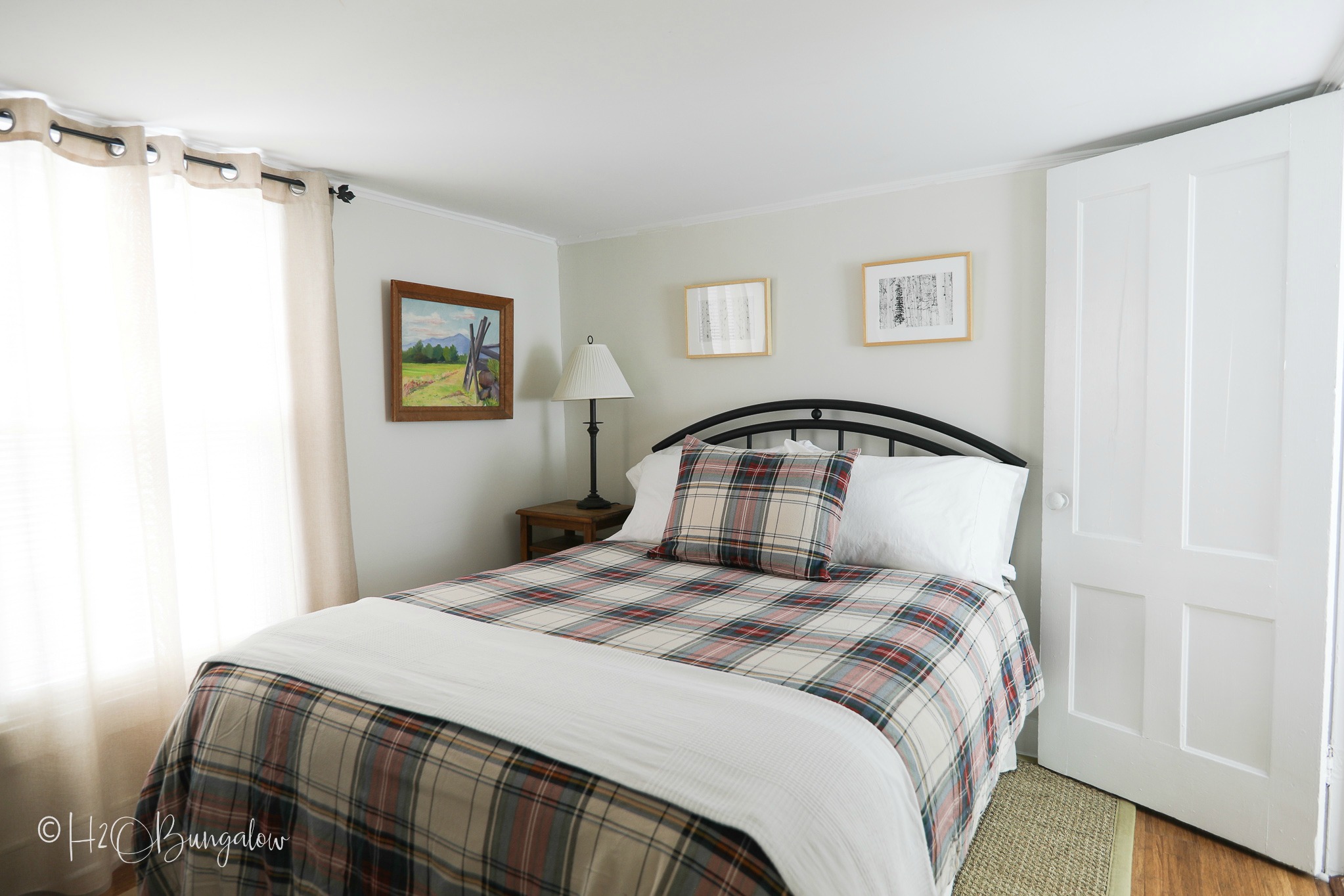 Just around the corner is the Cabin Room. This room was completely remodeled. It was originally one large room and the door to the third floor was in the bedroom. How awkward is that?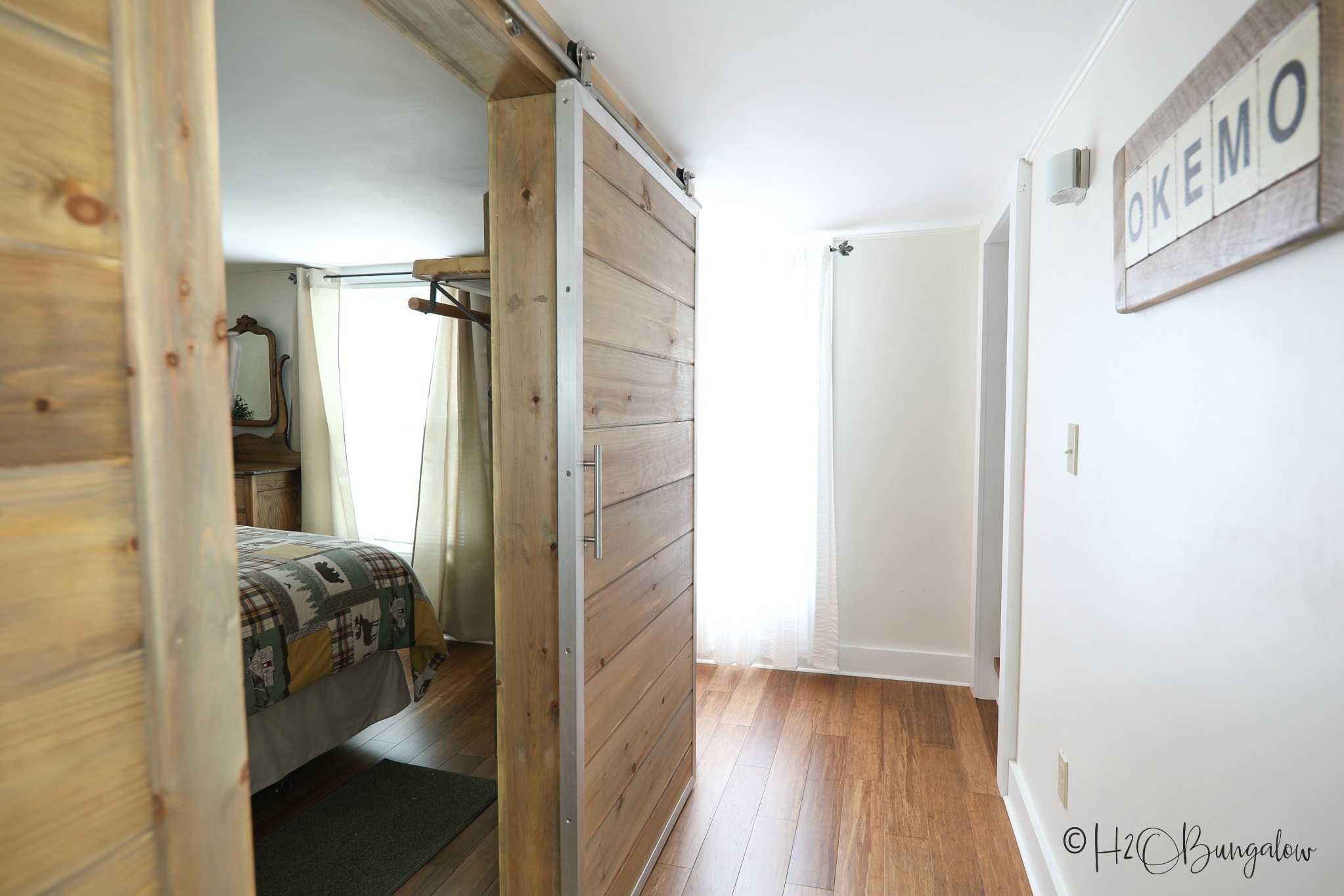 I love this hallway and wall, I designed it and the door. You'll hear more about that later too.
This room is the Cabin Room. It's lodgey like the #52 side.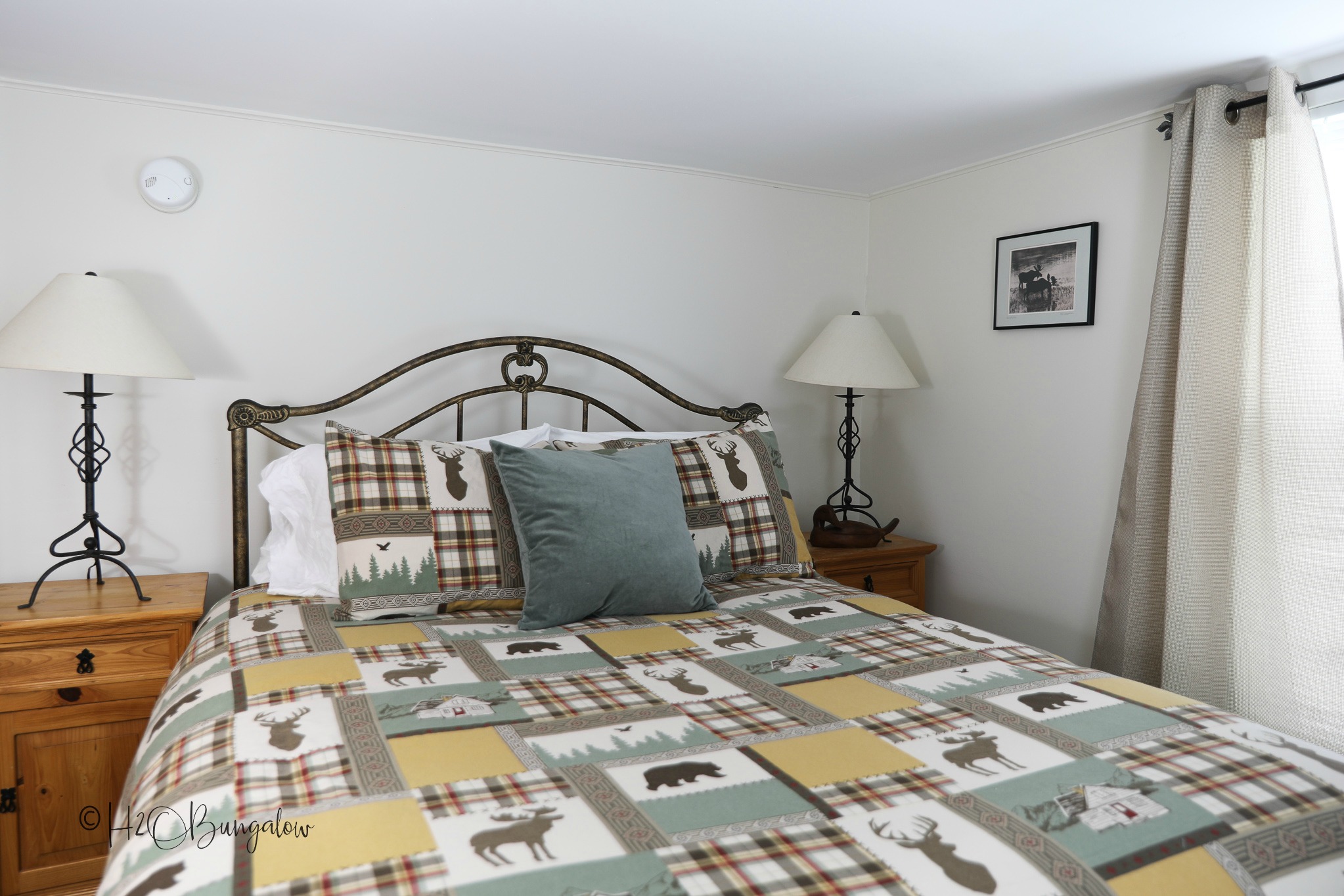 But it still has its own personality.
The shelf and hanging clothes bar were made using a live edge slab of wood.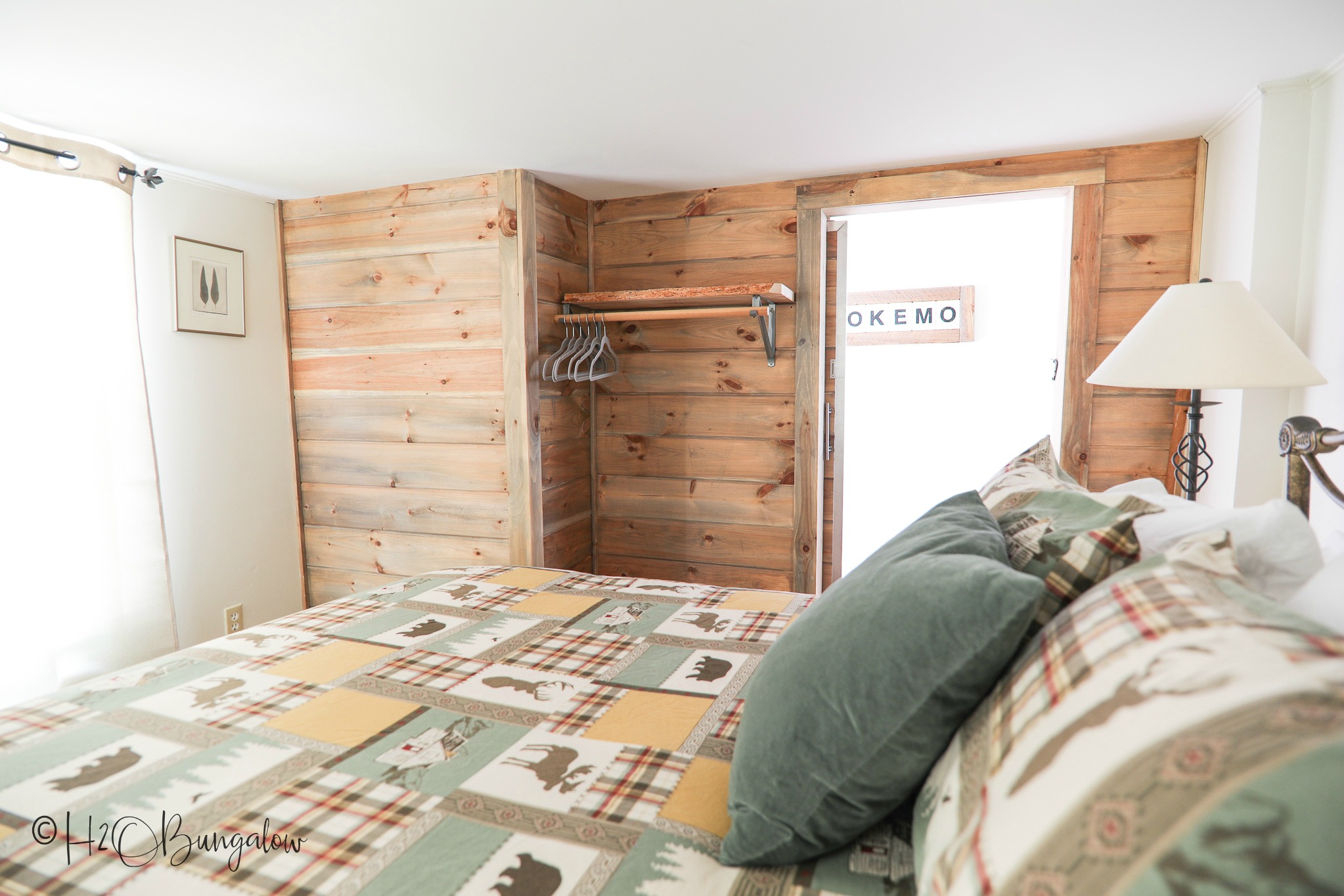 On to the third floor, the Loft. There are three twin beds up here.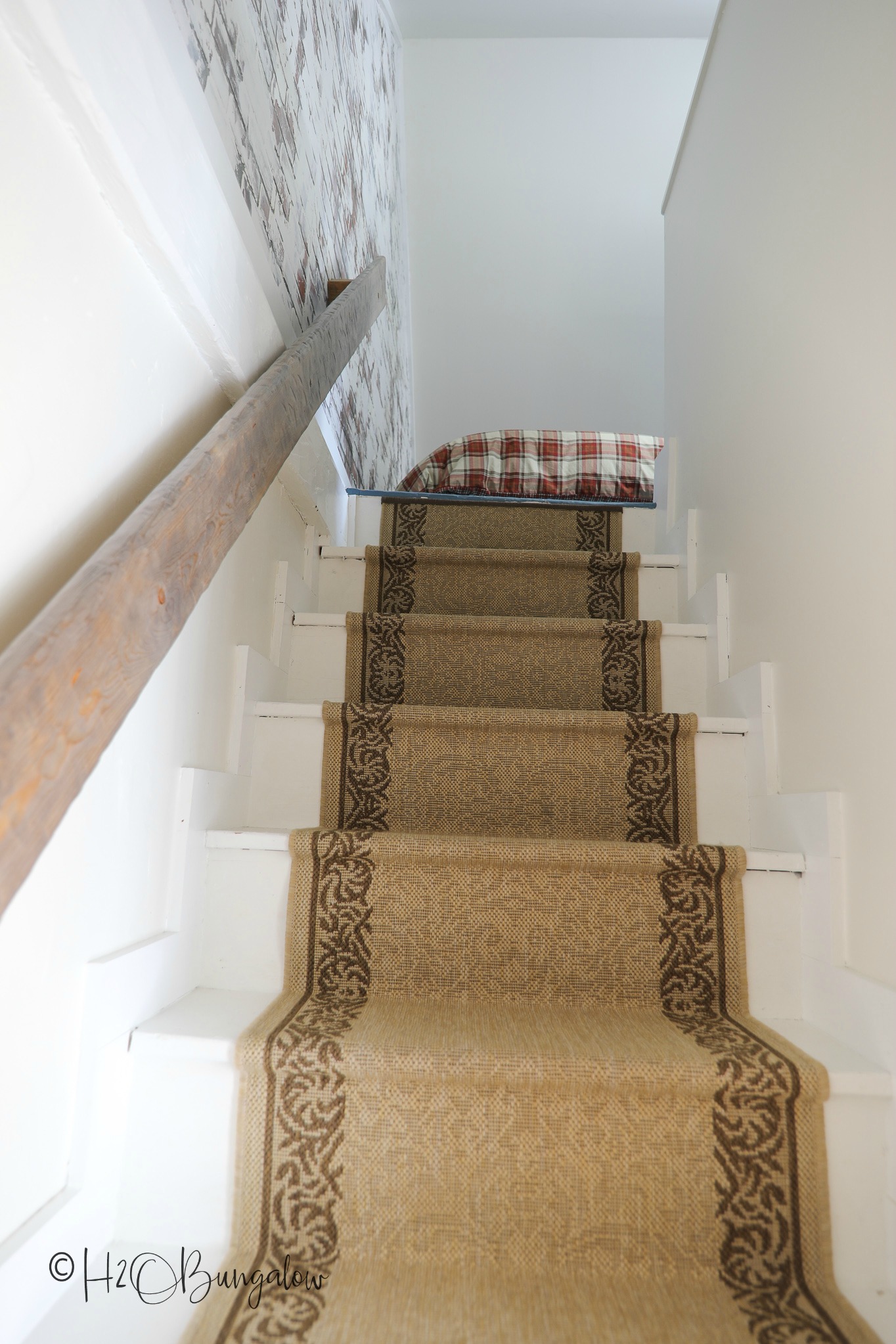 I designed and finished the third floor banisters in both houses. Added the stair runners myself too.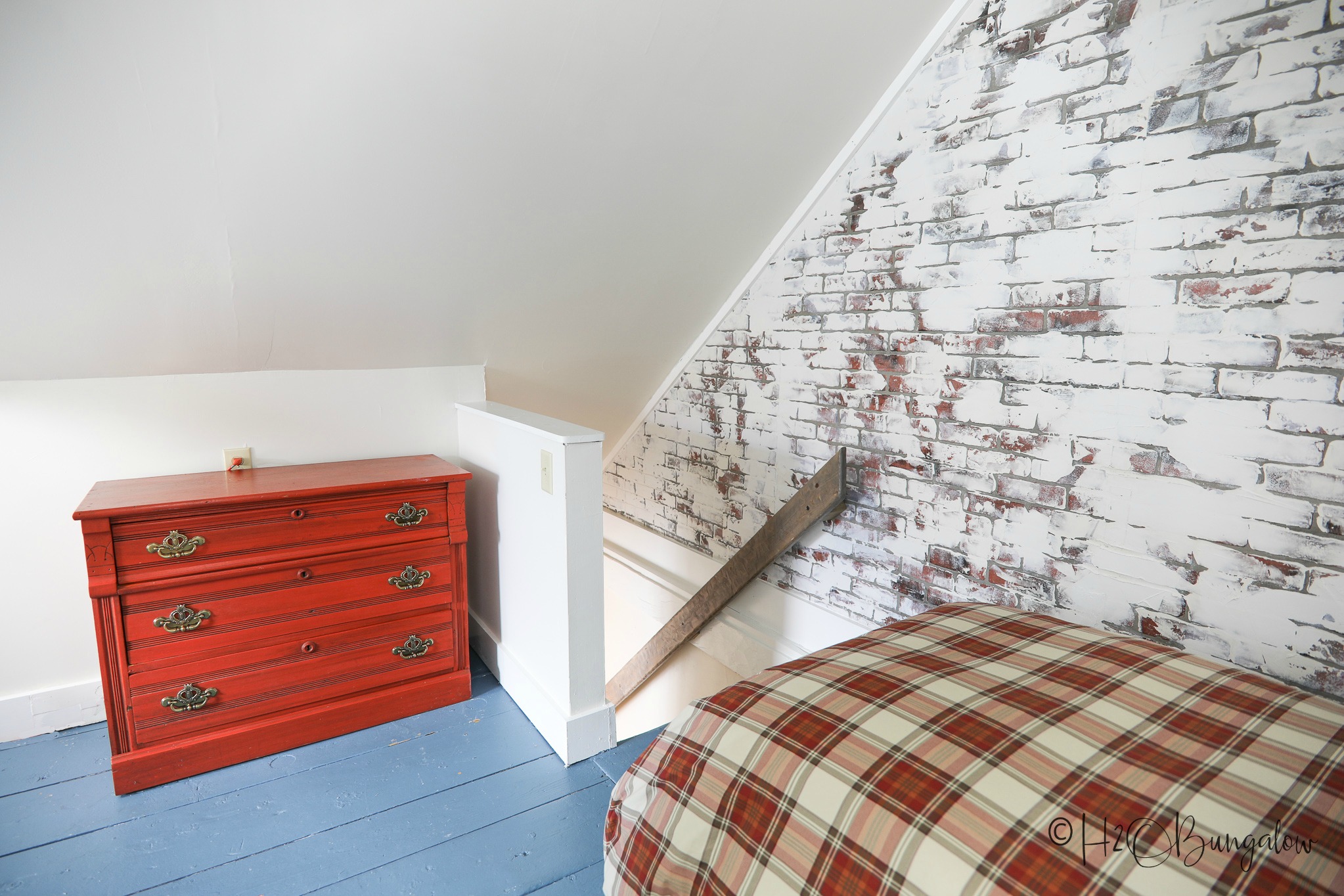 The brick chimney is original. I added the faux brick wall and have a detailed tutorial and video on how to do a DIY German Smear/ Schmear Technique. I made two blanket ladders for the North House, one hangs on the chimney in this room.
These floors are also original. I shared a good tutorial on How to Paint Wood Floors and have lots of original photos of this room before in it (think faded pink carpet).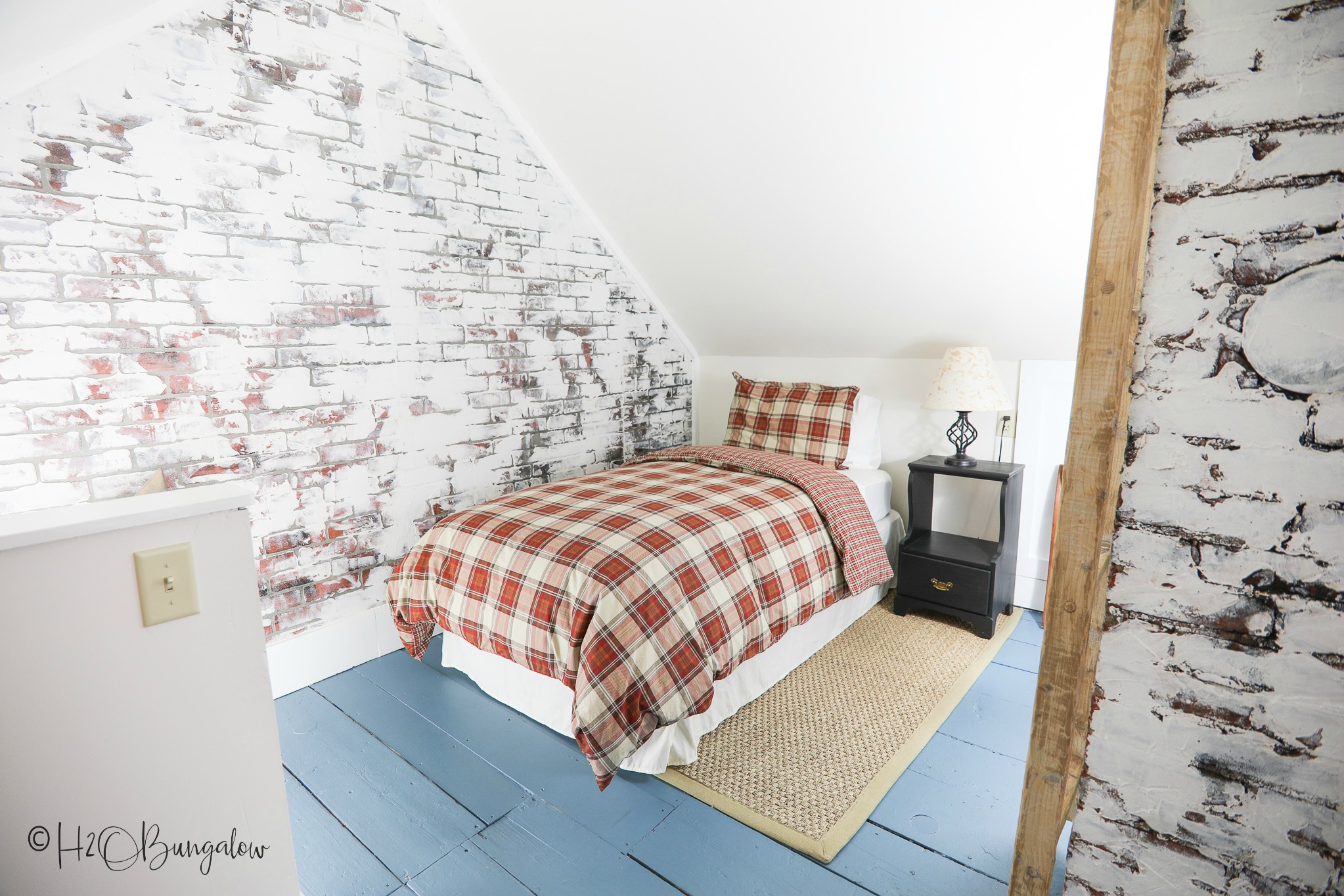 I used as much of the furniture that came with the house as I could. Resources are scare out here, even Walmart is a 70 mile round trip drive.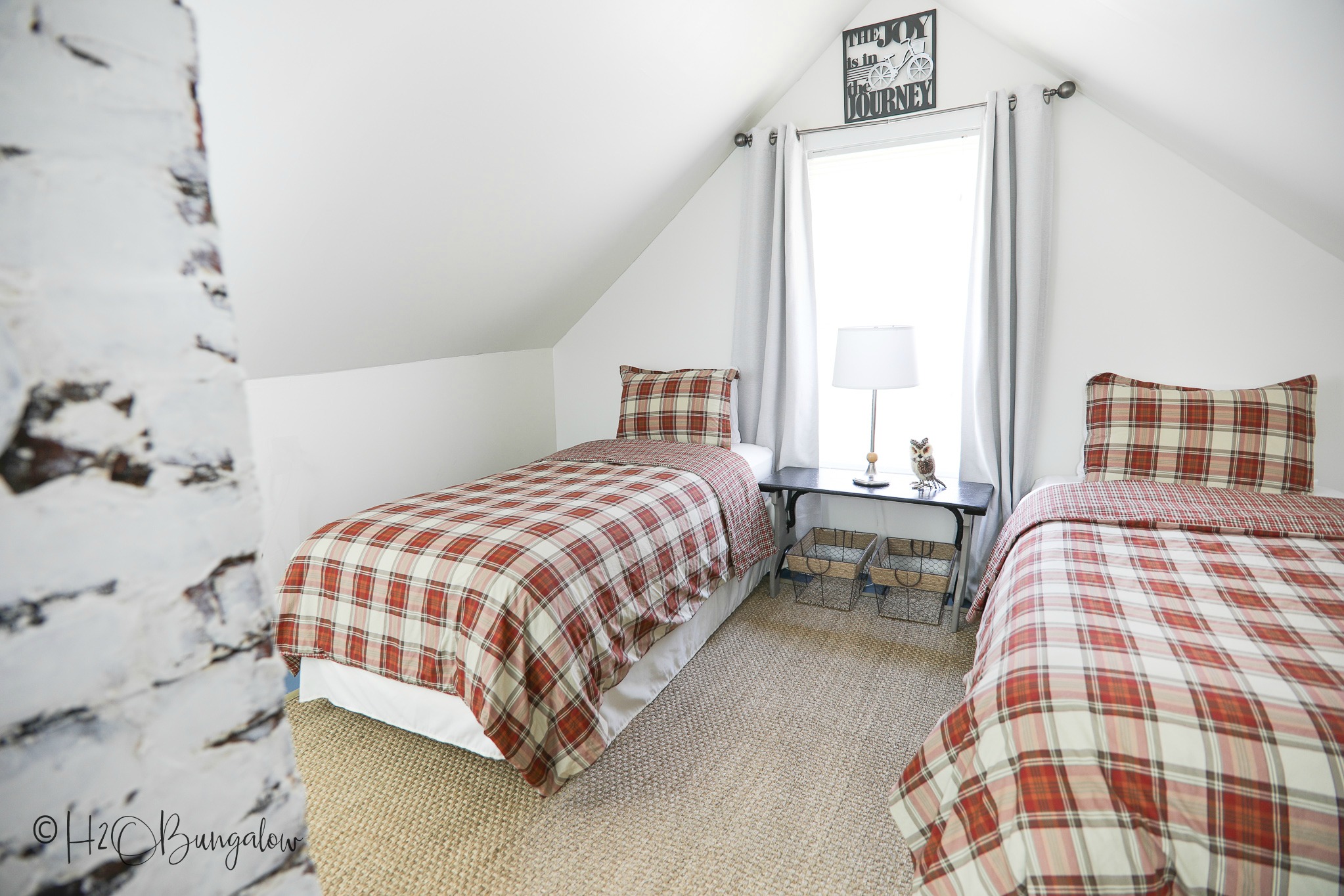 This vintage folding bench got a makeover and fits perfectly as a nightstand between the twin beds.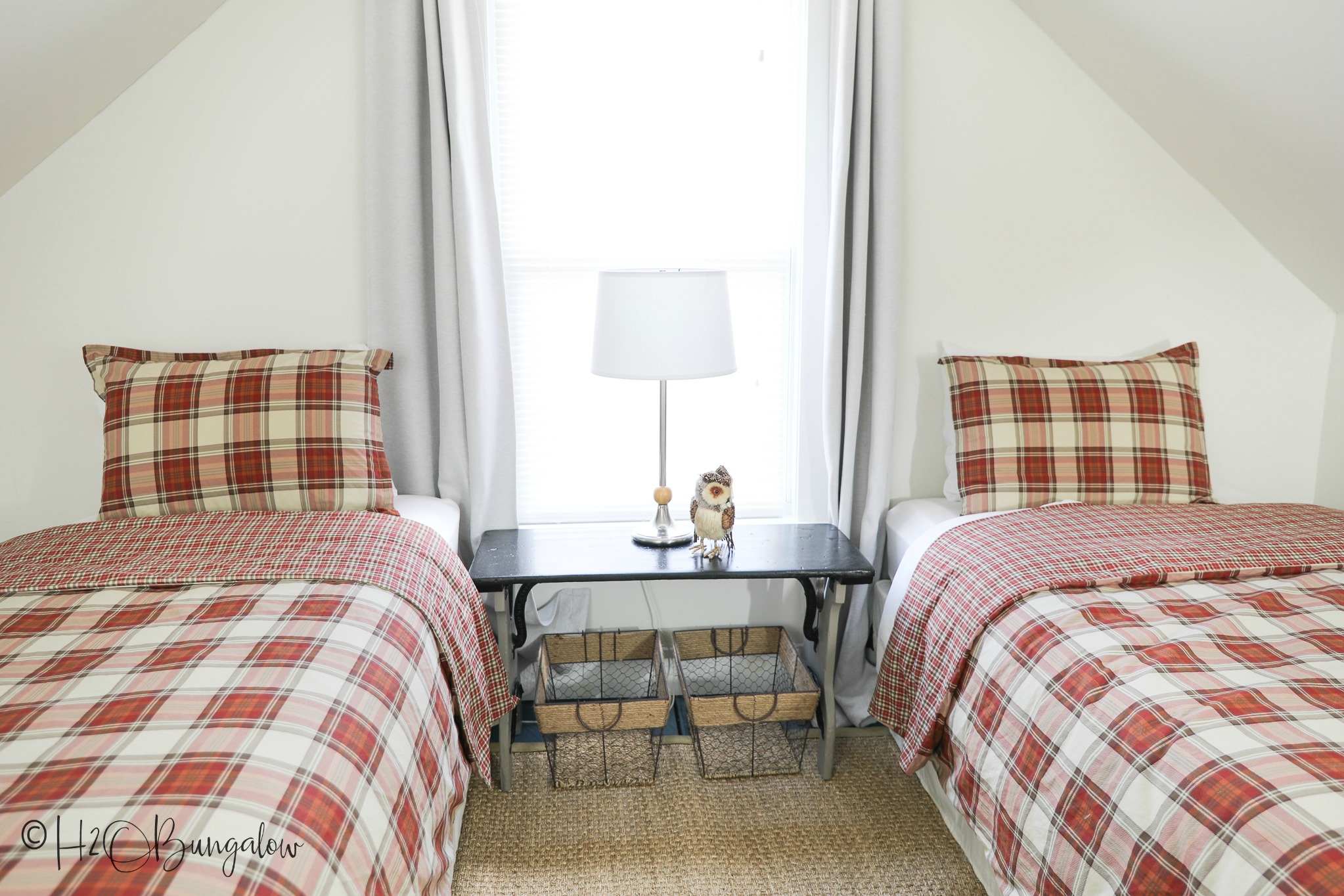 Our place is located in the town of Ludlow, just a mile from Okemo ski mountain. We have everything from couples stay here to two families where one rents one side and the other rents the other. This side sleeps seven, next door, eight.
It's listed on VRBO if you'd like more information.
Do you love it? Pin my home tour of the North House Lodge #54 and share it on Facebook!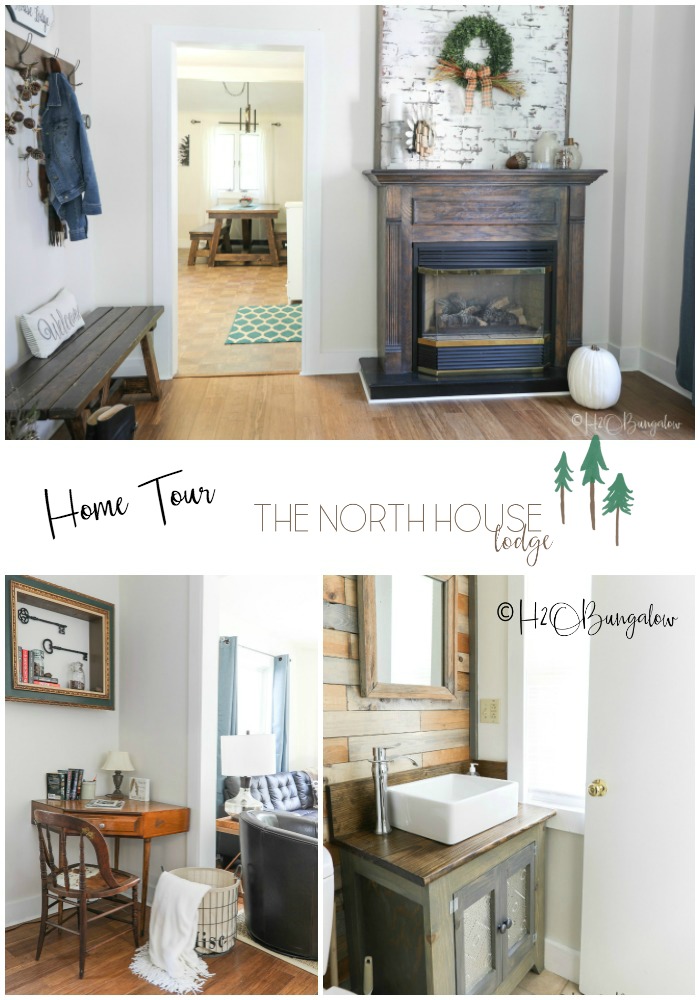 So friends, what do you think? Do you like my North House Lodge tour #54? Just like next door, I look at these pictures and think back on all the projects, hours and preparation that have gone into transforming them into a place I can be proud to have people come visit and stay at.
Leave me a note in the comment section!