Even the most novice painter can get a fabulous DIY kitchen cabinet makeover with a perfect finish and no brush strokes. Follow this step-by-step beginner's guide on how to paint kitchen cabinets tutorial and instructional video.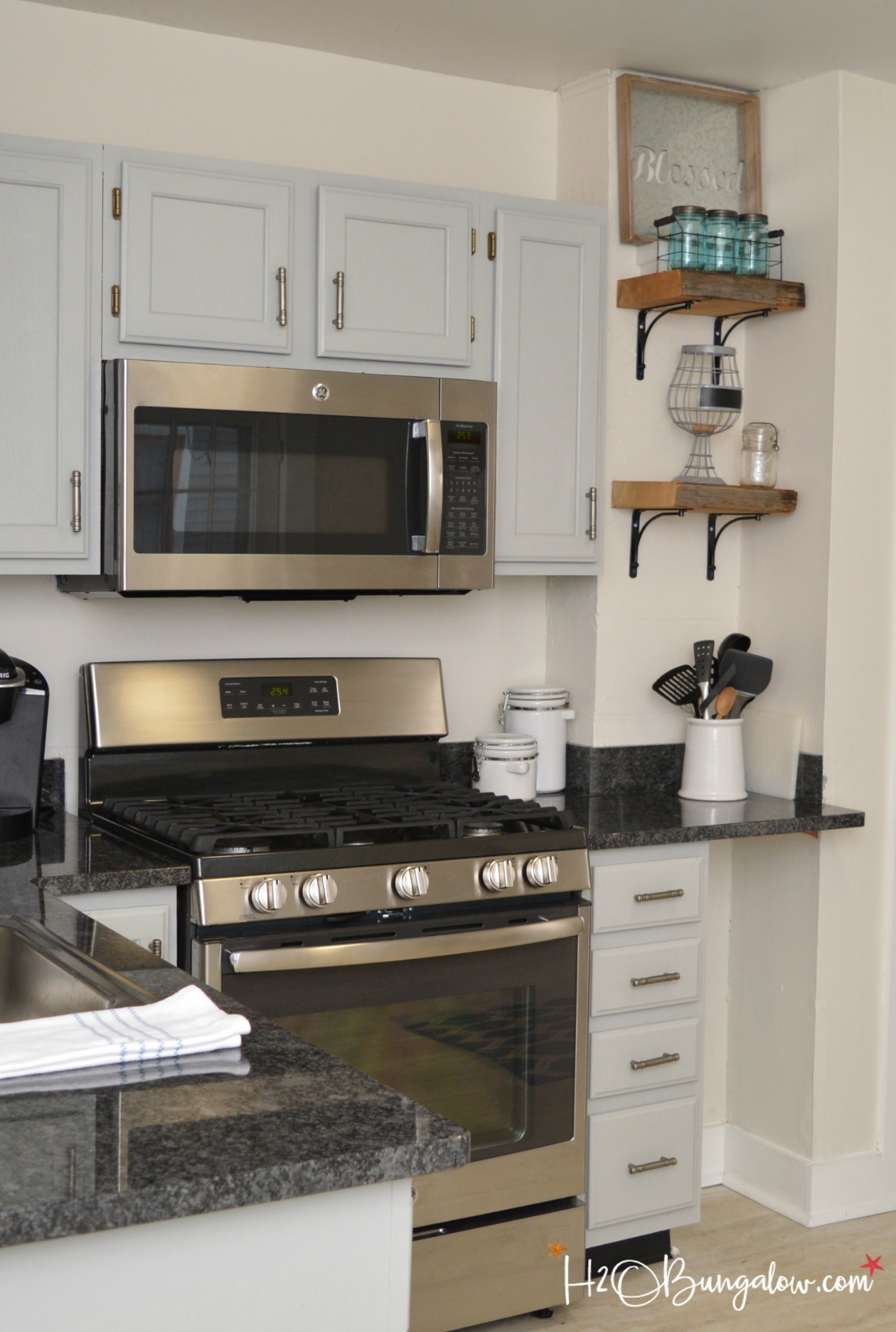 Of all the DIY projects I've done, I think painting kitchen cabinets was initially the scariest. What if I don't like them? Will the paint job look good enough? What if I don't use the right paint or color?
Self doubts like this are the reason I think some people don't just pull out a paintbrush and tackle the job. Instead, they live with kitchen cabinets they are less than happy with.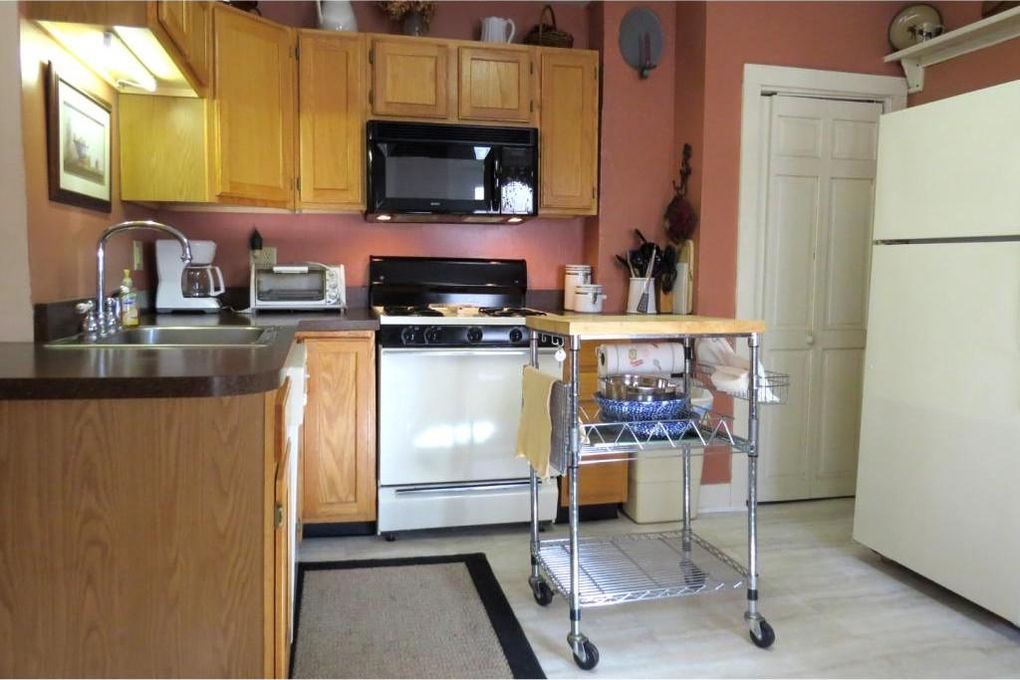 Here is the kitchen before. Not my style at all and I just felt that the entire space looked dated. Don't worry, I also painted the walls.
I loved that this entire kitchen cabinet paint makeover was done by hand, without the need for any special equipment to buy, and I did it all myself in just two days. Win!
Be sure to check out How To Makeover A Kitchen Island on a Budget.
Step by step guide on how to paint kitchen cabinets with a video tutorial
Supplies needed to paint kitchen cabinets. I use affiliate links to help you find the products I used and earn a small commission if you make a purchase at no cost to you.
I share a lot of painting tips to successfully paint kitchen cabinets in this video. Pay attention to how I work the roller and brush to get a super smooth painted finish.
I've also shared a bunch of helpful tips during the process of painting the cabinets. I wanted to be sure you had enough information to confidently tackle this DIY kitchen makeover project yourself 🙂
Step One: Remove doors and drawers from the cabinet bases
Remove the doors from the cabinet bases. Next, you'll remove the hardware from the doors and place it in a container so it will be easy to reassemble the cabinets when your project is done. Remove the drawers next.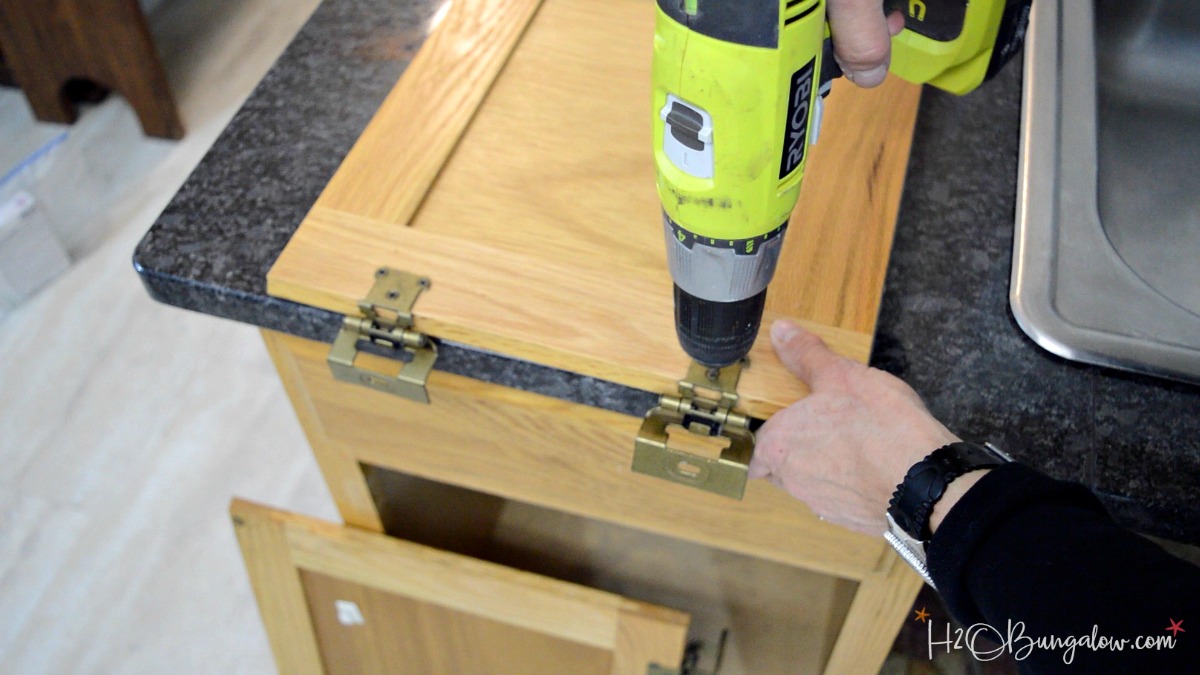 Step Two: Clean the surfaces with a degreaser
Thoroughly wipe all the surfaces down with a degreaser. Beyond Paint recommends either Simple Green or Mineral Spirits.
Clean the front and back of doors and cabinet bases. Basically, you're cleaning any surface area that will be painted. An old toothbrush is a great tool to get into old cracks and crevices.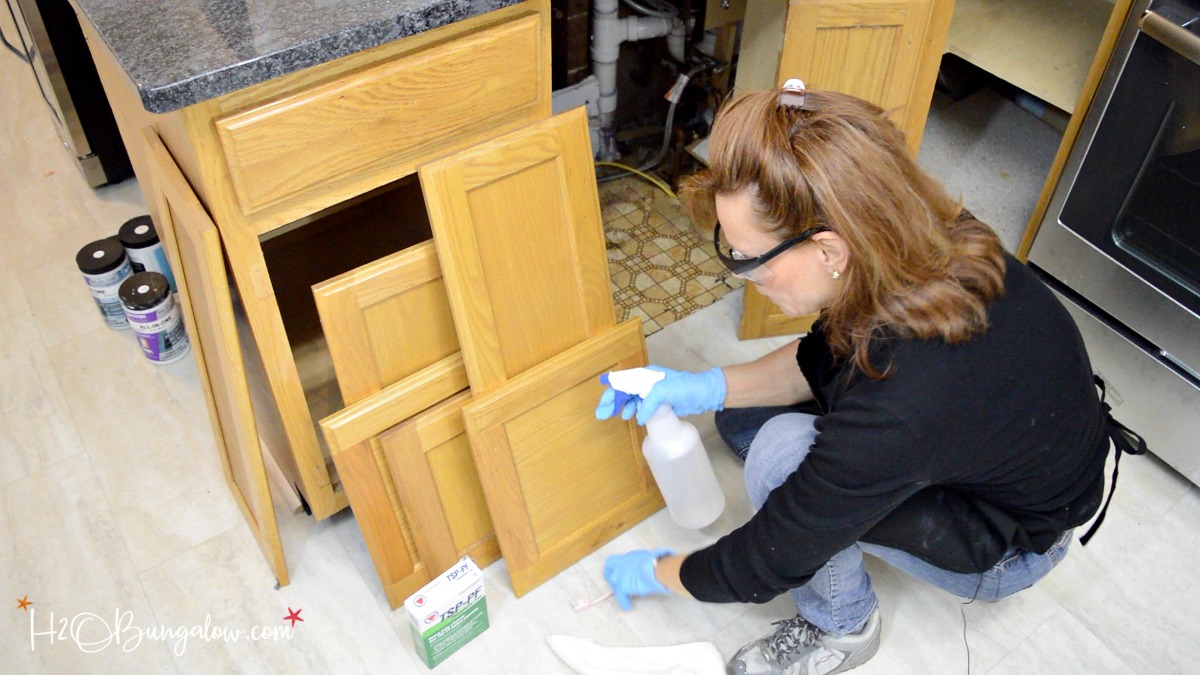 Step Three: Tape off and protect your surfaces
Use painter's tape for delicate surfaces and tape off areas that need to be protected. Lay drop cloths to protect any area you don't want to get paint on as well.
Step Four: Paint the doors and drawers
Use the chip brush for crevices and apply a thin coat of paint. Next, apply a thin coat of Beyond Paint with the roller that comes with the kit to all surfaces.
Watch the video for step-by-step details on how I painted the doors and drawers. Let the paint dry for 2-4 hours and apply a second coat.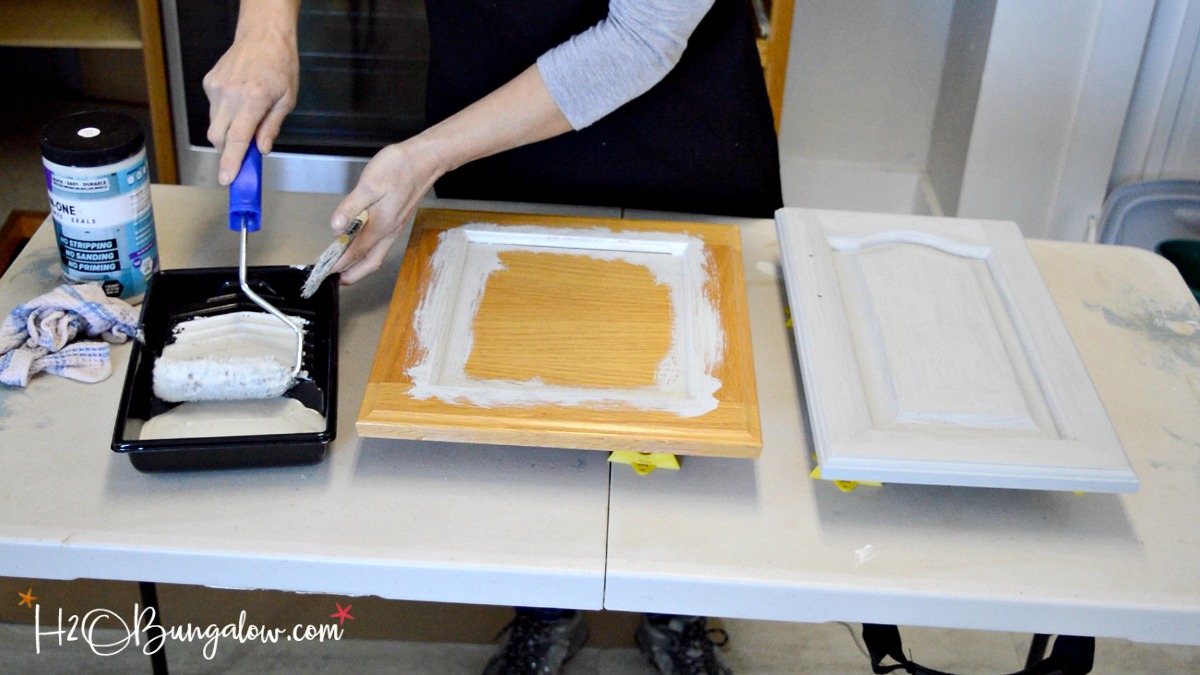 Step Five: Paint the kitchen cabinet bases
Use the chip brush to apply paint to all the corners of the cabinet bases and frames. Use the roller to apply the paint to the cabinet faces.
Again, you'll want to apply a thin coat. Let the paint dry for 2-4 hours and apply a second coat.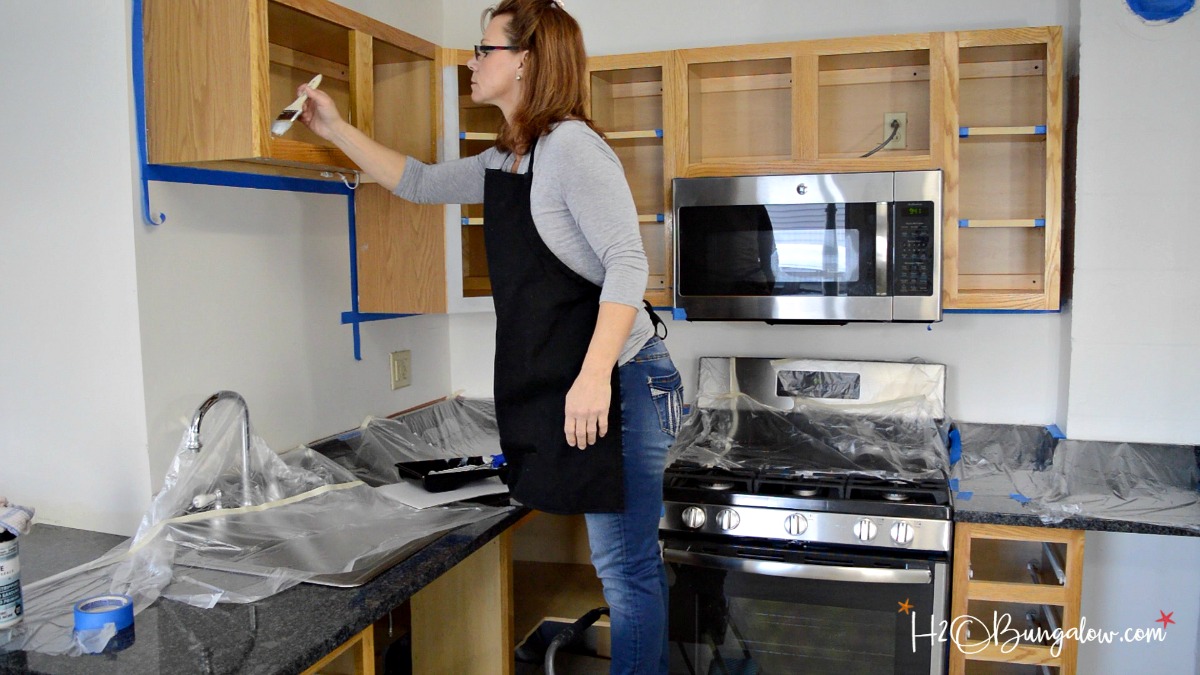 It's best to remove the painter's tape while the paint is drying but before it has hardened.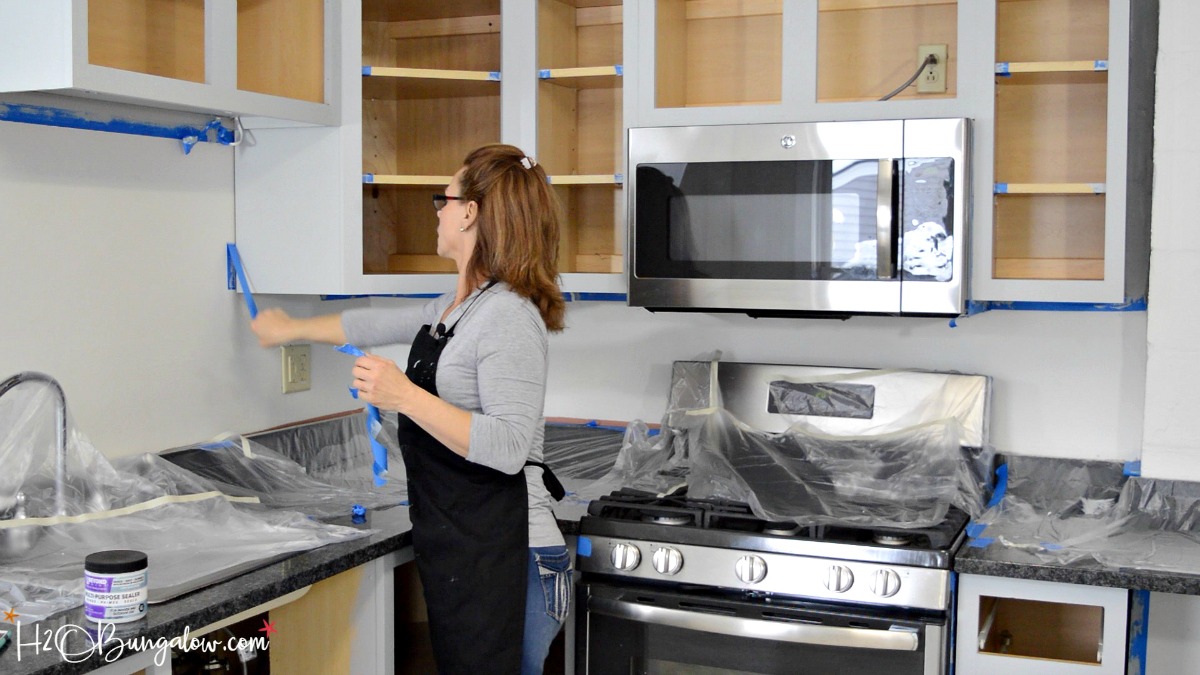 Step Six: Apply a sealer (optional)
Beyond Paint doesn't require a sealer but if you choose to use theirs like I did you'll wait 24 hours, and apply one very thin coat of the sealer in the same way that the paint was applied.
Don't forget to apply a new layer of painter's tape where needed to protect your surfaces and walls! Allow the sealer to dry thoroughly before putting the cabinet hardware back on.
Step Seven: Reassemble kitchen cabinet doors and put back drawers
Reassembling the kitchen cabinets after they've been painted is easiest if you reattach the door hardware onto the doors first and then attach the doors to the cabinet frames.
Your drawers should just slide back into place. Reattach the cabinet handles and drawer pulls last. I have a fantastic tutorial on How To Install Knobs and Pulls On Cabinets which will save you a ton of time.
Now for the fun part. Let's do a little before and after comparison!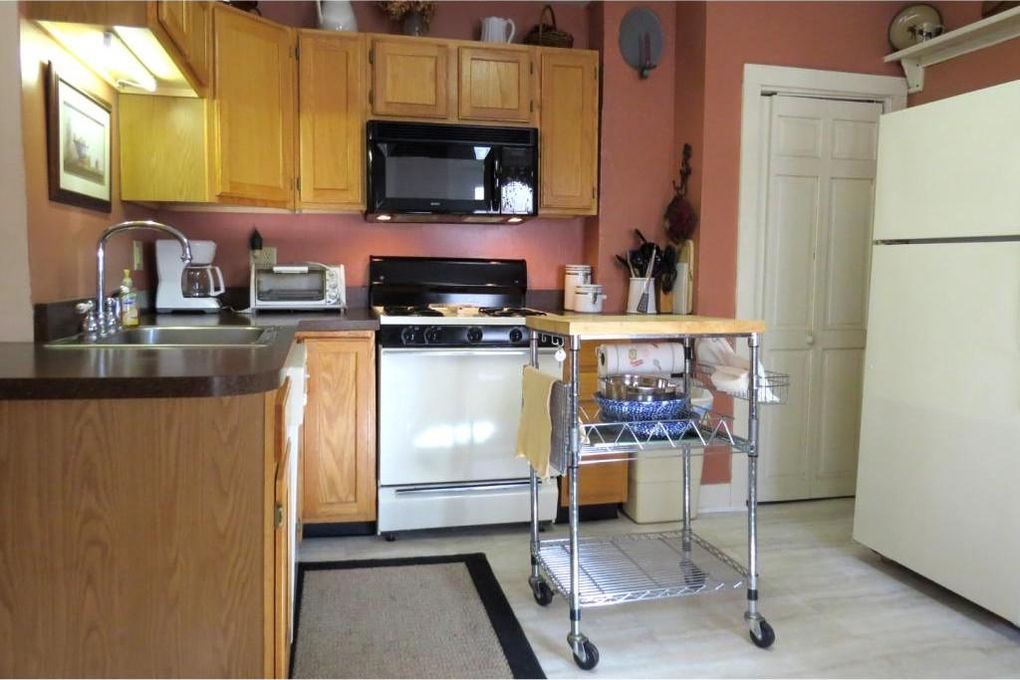 What a difference the paint makes! I love how this turned out. This room has come a long way. See the DIY Shiplap Wall in the background?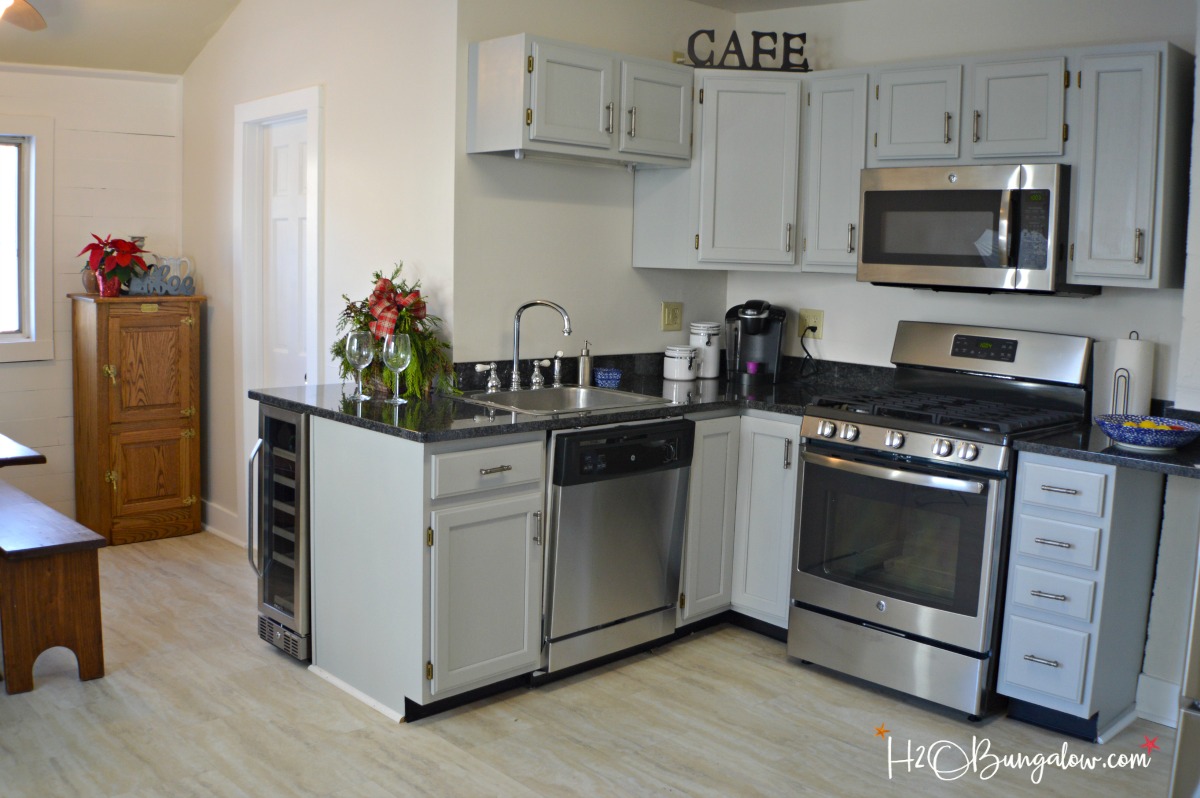 Beyond Paint's Soft Grey was the perfect shade of light grey to work with the new granite counters, stainless appliances and the DIY built in wine cooler I just finished.
The cabinet pulls for this project were supplied by DLawless Hardware. Here's a link to the post I did on how to install knobs and pulls on cabinets and furniture.
You'll find more information in the article on the fabulous hardware I used too. If your cabinets need more shelf space, you'll want to check out how to add extra shelves to your kitchen cabinets.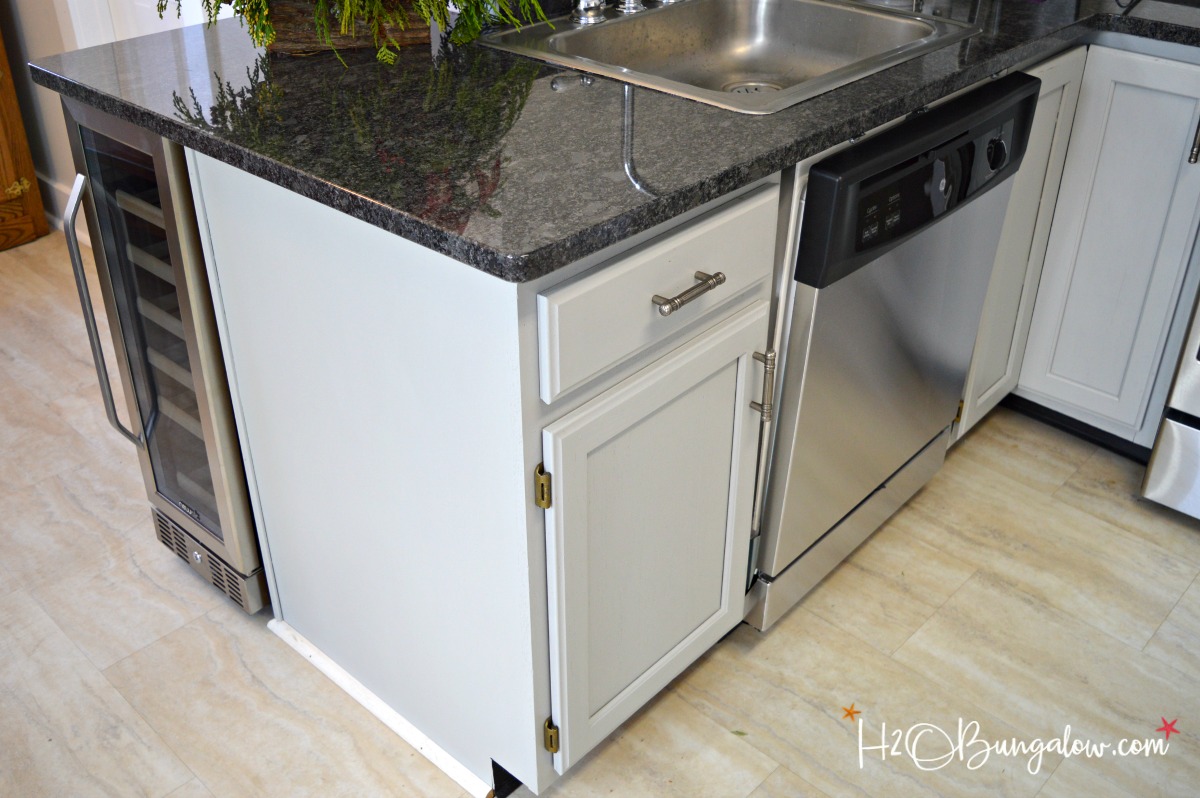 The cabinets look fabulous! They look so great with the Peel and Stick Tile Backsplash I installed.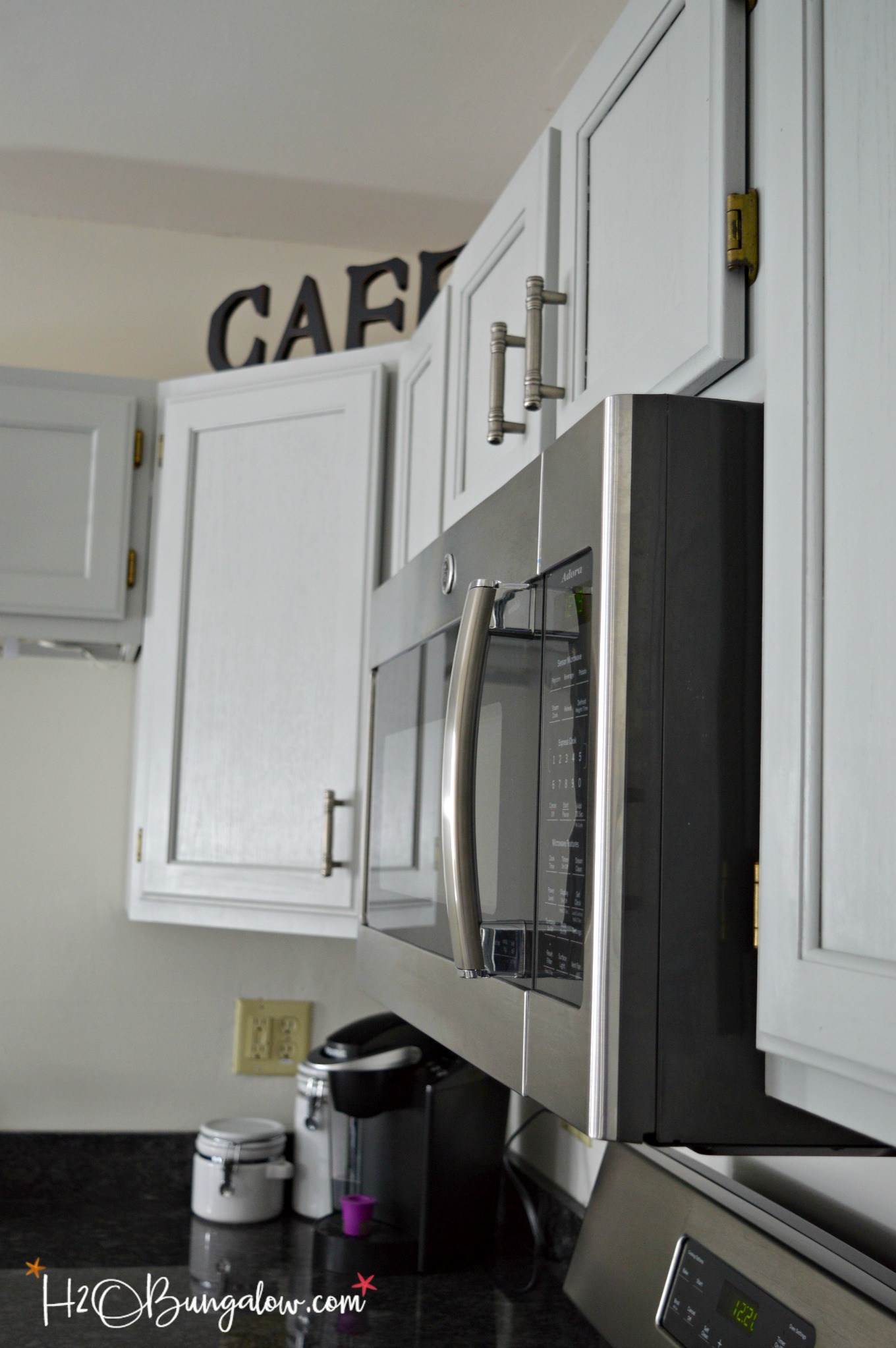 Not a brush stroke or roller mark anywhere. In fact, the cabinets look like the paint was applied with a paint sprayer.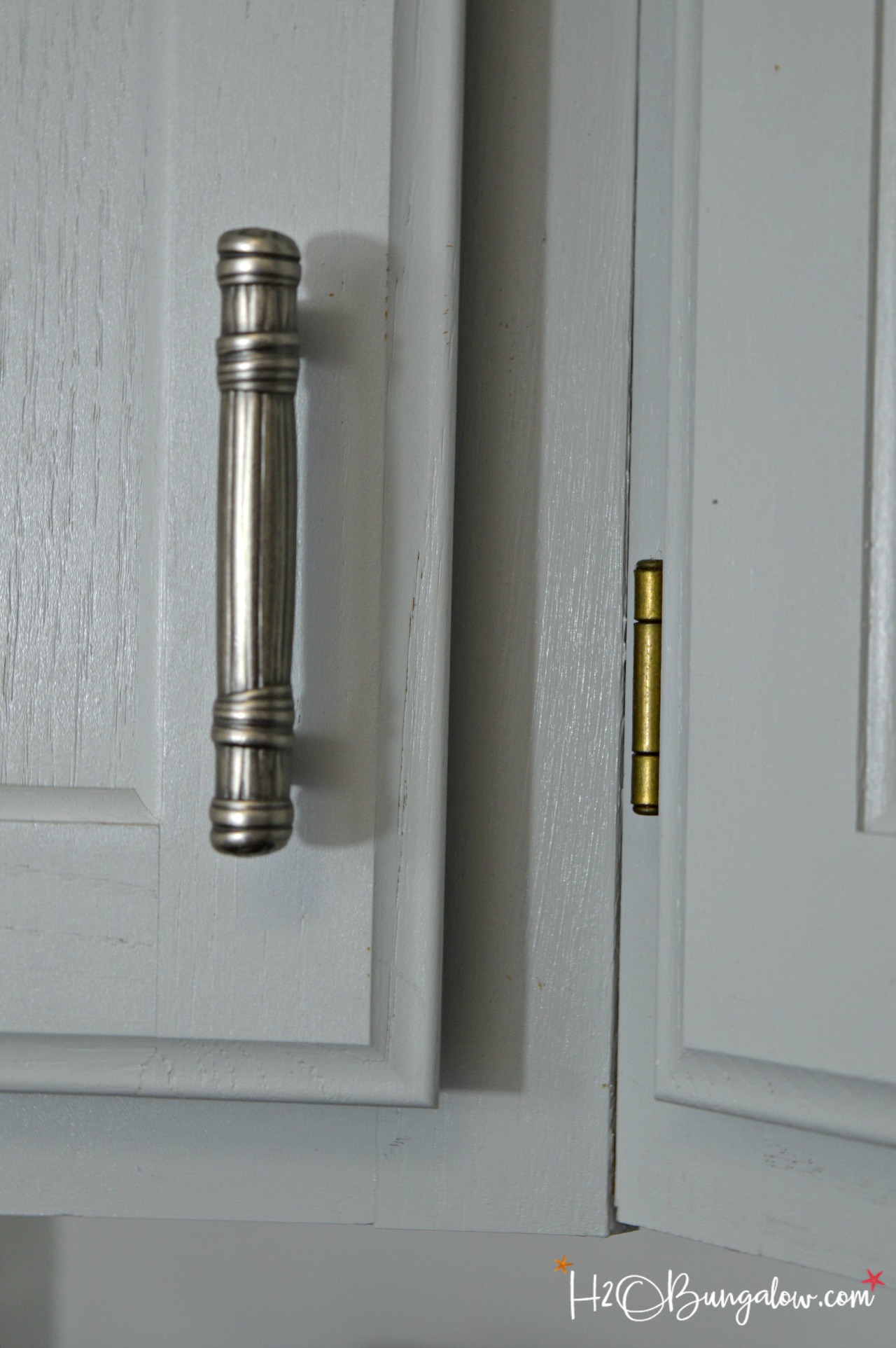 What do you think? Are you ready to tackle this type of DIY project and paint your own kitchen cabinets too? You can do it!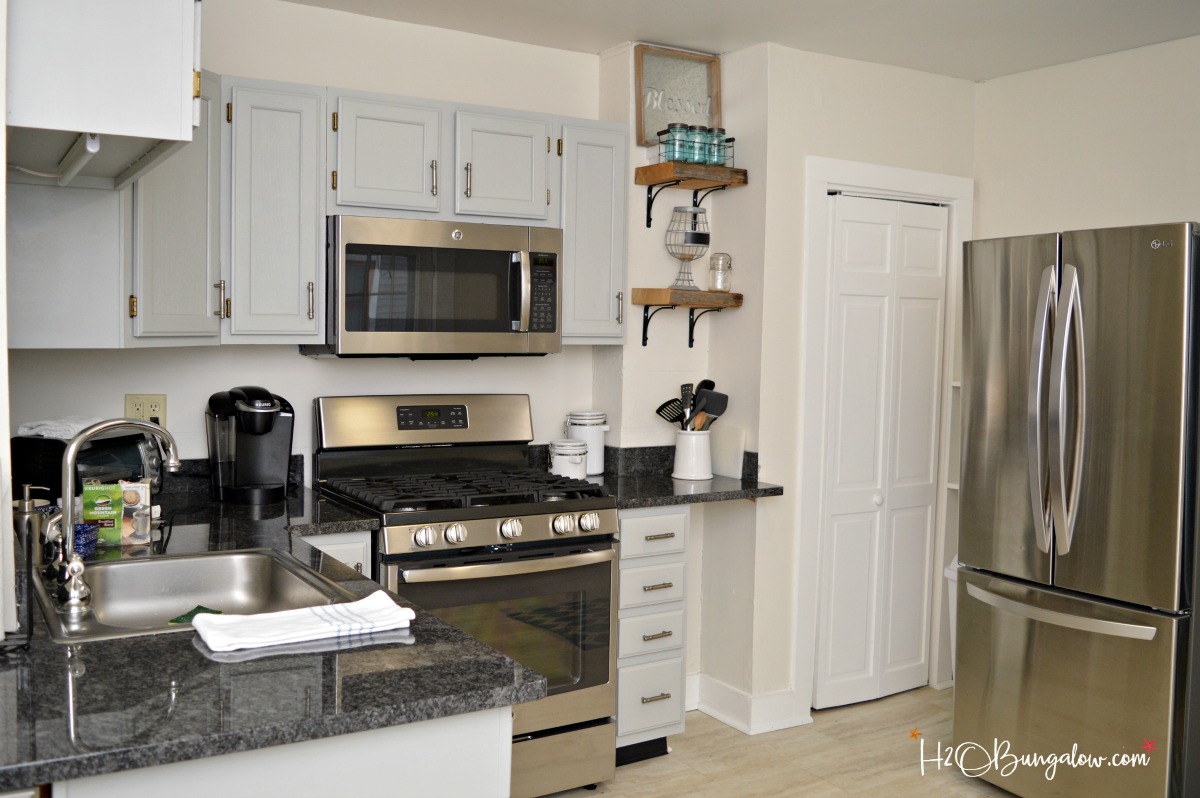 Pin this tutorial for later!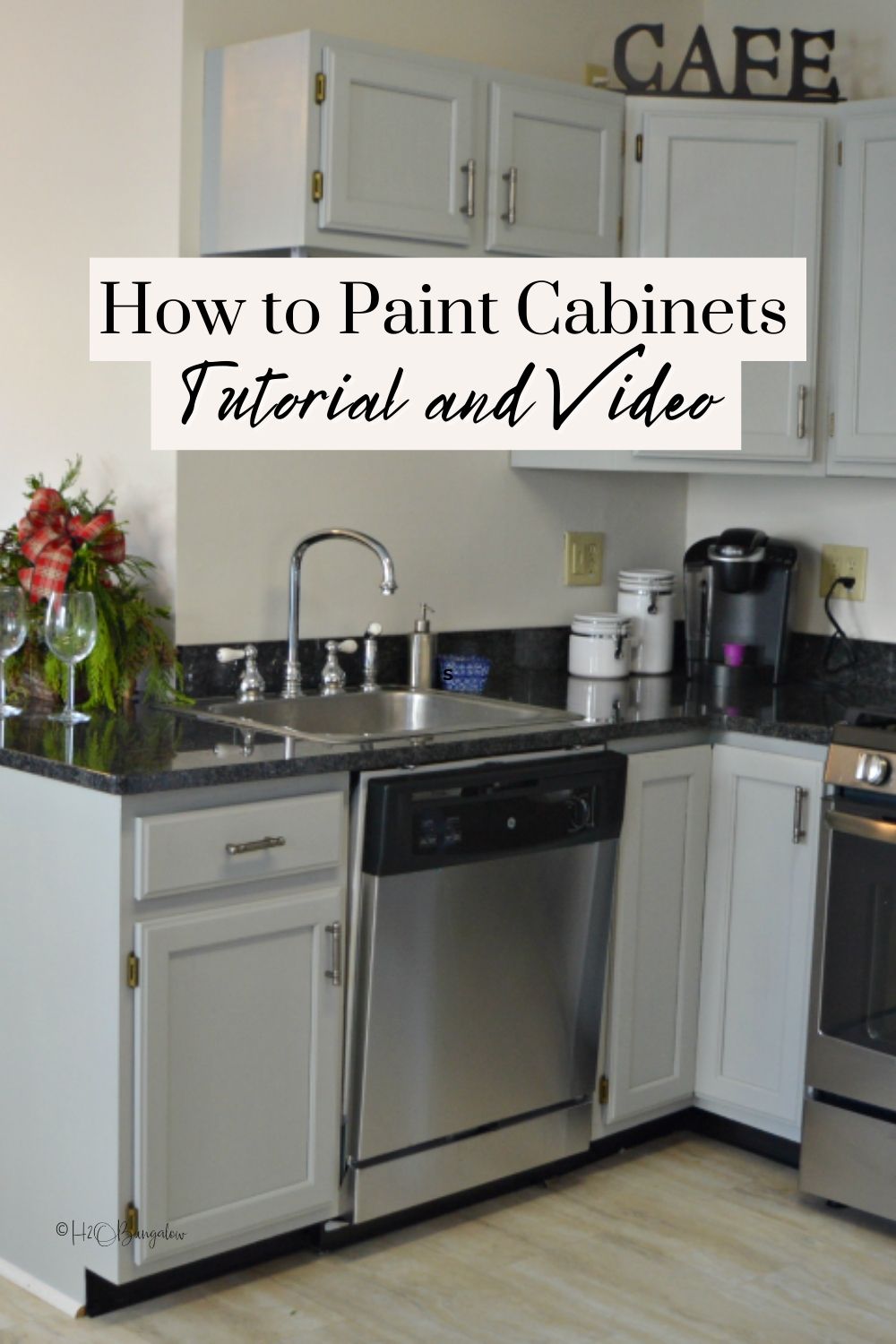 Now that I've shared how to paint kitchen cabinets are ready to try this DIY yourself?