I made a simple DIY book pumpkin this year. It's been on my "want to try list" for the longest time. It was easy and cost nothing because I had everything I needed to make it already. You probably do too. Most importantly I finished the entire paper pumpkin project, I mean cutting to placing on a pretty tray & painted in about 2 hours. Easy, while your watching a Sunday movie or waiting on clothes to dry.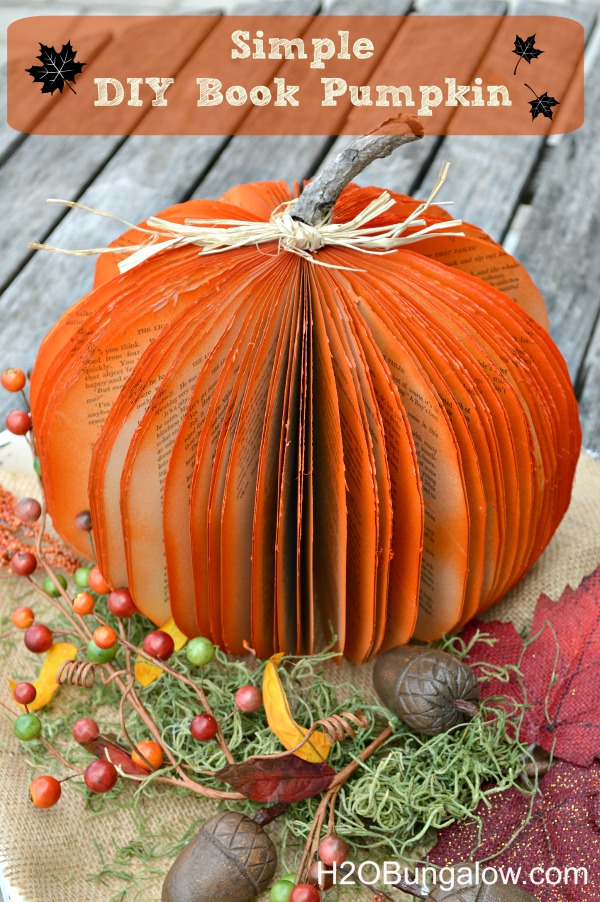 You can't beat that!
I have a thing for paper crafts…
…and this is about the easiest paper craft I've tried yet. I'd love to have a wine & pumpkin night with my girlfriends. I can see jazzing these up with all kinds of glittery, flashy, colorful, feathery funky, junky and fun items!
As much as I've wanted to try one of these I've been torn… pun intended 🙂 on cutting up a book. I mean, they are books right? In our family books are sacred for goodness sakes!
We are readers. Book readers, Kindle readers, you name it readers…
So, for a few years I only thought about making a crafty DIY book pumpkin. I just couldn't get over the guilt.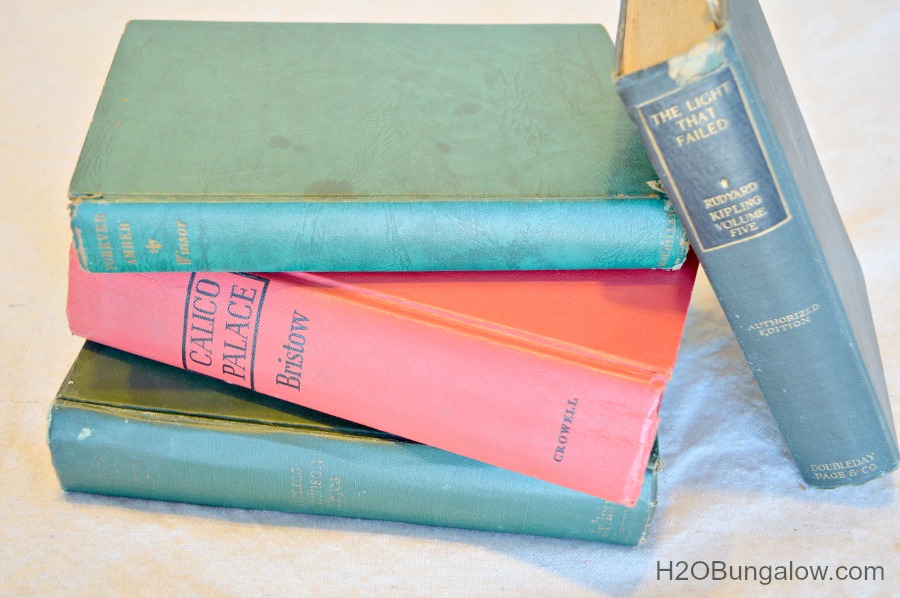 I got over my guilt of cutting up a book when I discovered one of them falling apart with chunks of pages missing! At that moment, I dropped everything else I was doing and went for my scissors and hot glue gun!
Seriously, I'd waited forever to do this, right?
In a few easy steps you can make a DIY book pumpkin too. First you'll remove the cover. Start with a small section of pages and cut along the top and bottom like the center picture below. When all the pages are cut, fold the spine in half and hot glue it the ends together.
Your book pumpkin will stand up now. Trim any pages that don't have enough of a "pumpkinish" shape:)
The most time-consuming part is putting a dab of glue in between each page to help keep the pages separated. It's worth the time!

Next you'll spray paint your book pumpkin. A little hot glue and a twig from the yard make a terrific stem. I thought my DIY book pumpkin was still a little plain and added a few pieces of raffia.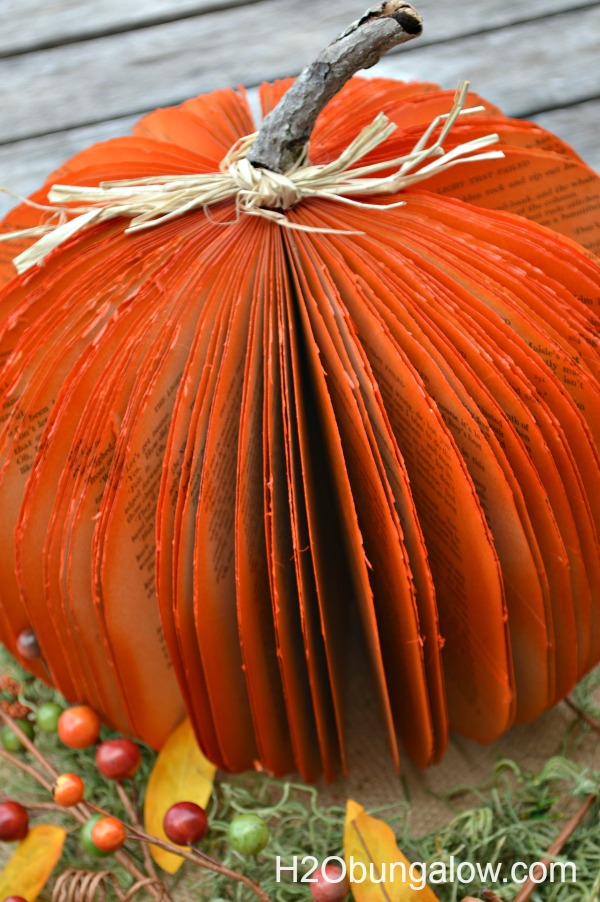 I displayed my little paper pumpkin creation on a chalk painted tray and added some burlap and a few colorful seasonal fillers.
The bright orange and fall colors really perk up my little entry table by our front door.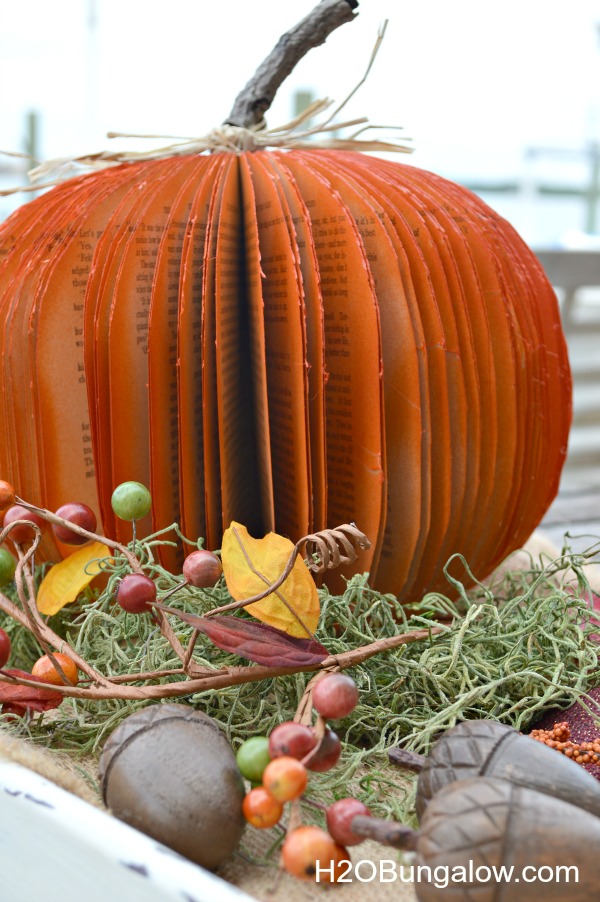 Where would you display your DIY book pumpkin?
That's it. So simple, so quick and guilt free! Would you, could you..make a craft with a book? Would you feel more comfortable if it were falling apart before cutting it?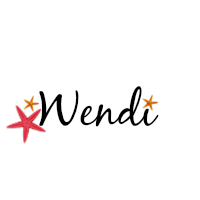 Love a good dose of DIY home decor, home improvement, the challenge of woodworking and creative ways to make your home look fabulous?
Me too!
I'd love to share mine with you. Click here to sign up for my post emails and I'll send a quick note when I have a new project to share.
Social media fan? Don't be shy say hello! I love when you guys do that! I'm interactive on Facebook and I share lots of other projects and, useful inspiration for the home and content I don't share anywhere else. Follow H2OBungalow on Facebook here
Oh heck, just follow me on all social medias. We'll have some fun…promise:) Follow H2OBungalow on Instagram , Follow H2OBungalow on Twitter , Follow H2OBungalow on Pinterest,
I use affiliate links in my posts. If you should make a purchase I will receive an itty bitty commission at no cost to you. Thank you in advance for supporting my blog…my two cats and our boxer dog