Today, I'm going to show you how to paint a faux metal finish with just a few paint colors and a simple technique. My tutorial below, will work on just about anything.  I just happened to be painting a letter today.I found this fun paper mache letter at Michael's crafts, it's just over 2 feet tall. I gave it a cool faux metal look in about 30 minutes.
The ginormous letter, by the way, is for my nephew's bedroom, he recently turned 11 and is now officially a "tween".  His gift from my family was a total bedroom redo which you'll be seeing more of very soon. Here's the finished look. It really looks like metal.  Pretty cool huh?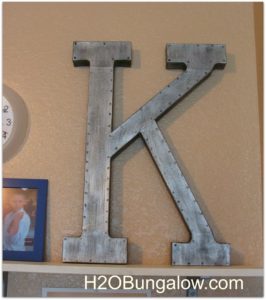 This is what it looked like before painting.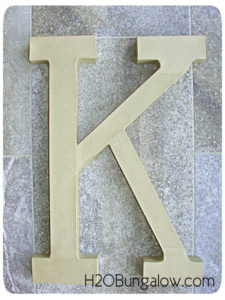 It's super easy to make and this faux metal finish looks good on lots of things.  Ready?  Awesome.. so here's how to paint a faux metal finish on practically anything!
Here's a list of what you need to get started. 
Spray Primer
Metallic silver paint
Black craft paint
Spray clear coat for sealer
Start by priming with 2 coats of a spray primer. I liked the spray for this because it doesn't get the paper mache too wet. If it gets too wet it may start coming apart, so spray several light coats and let it dry in between. You're just looking to seal the surface. When it's dry, give it a good coat of a metallic paint. I have an awesome silver paint from Glidden but its expensive, about $30 a qt.  The craft stores have good silver metallic paints that will work just fine.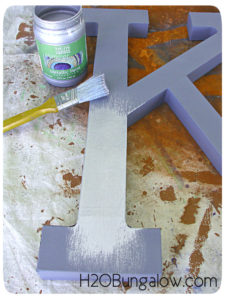 Here's the fun part..Put multiple layers of a mixture of the metallic paint mixed with black paint in varying amounts using a dry brush technique. Have fun with this, you cannot ruin it.  The trick to this is simply layers..just have lots of layers with some blended together more than others. The dry brush technique is simply dabbing the tip of the paint brush into the paint and then dabbing it onto a towel until most of the paint is off.  Your brush will seem almost dry and only a small amount of paint will show up on the surface you are painting.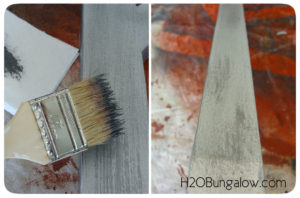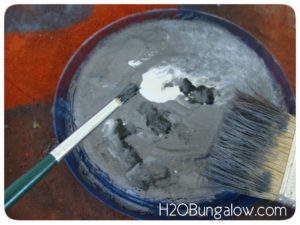 Next you're going to add black detail on the sides emphasizing the corners and nooks where you'd like the shadows to be enhanced.  You'll still be using the dry brush technique, just with more paint on the brush.  Grab a paper towel to help with the blending if you need to.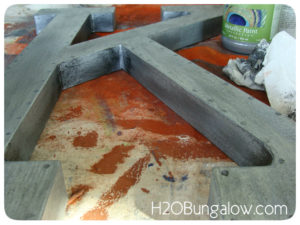 Make rivets by spinning circles with a small brush around the edges, add another layer of detail by adding a small amount of black edge to each rivet. Last if you want to add just a little more depth or tone down the metallic look make a wash with the black paint and add it in some areas, wipe off gently with a soft cloth or paper towel.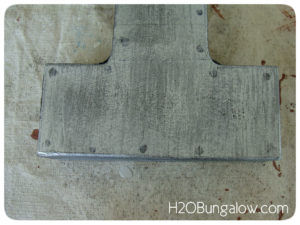 When dry give it a nice coat with thin layers of a clear sealer..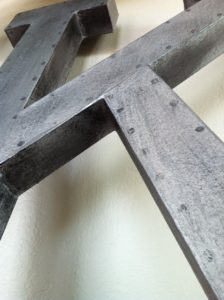 You'll have a pretty nice piece you can use yourself or give as a gift.  These look good almost anywhere you use them and they're really inexpensive (about $6 or $7) if you catch them on sale or use a  Michael's coupon 🙂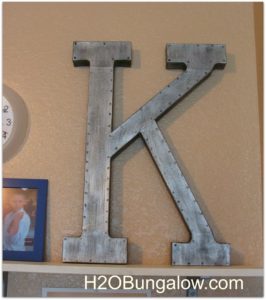 Are you ready to paint a faux metal finish of your own now?  Who do you know that could use a big letter? How about one for yourself?
Like what your reading?  Sign up for my email and get all of my posts conveniently delivered right to your inbox!