I made this tween furniture for my nephew, who recently turned 11. He's pretty excited about this "new" stage too. We wanted to give him something special for his birthday and which kind of acknowledges his new-found sense of growing up. His present from our family was a total redo for his bedroom. I had the best time redoing his room!!!!
I started with this tween furniture makeover. I recycled a plain wood dresser and used an unfinished Ikea nightstand for my transformation. My goal was to give him a cool look that will last through his late teens. I'm super happy with the outcome, heck I'd use these.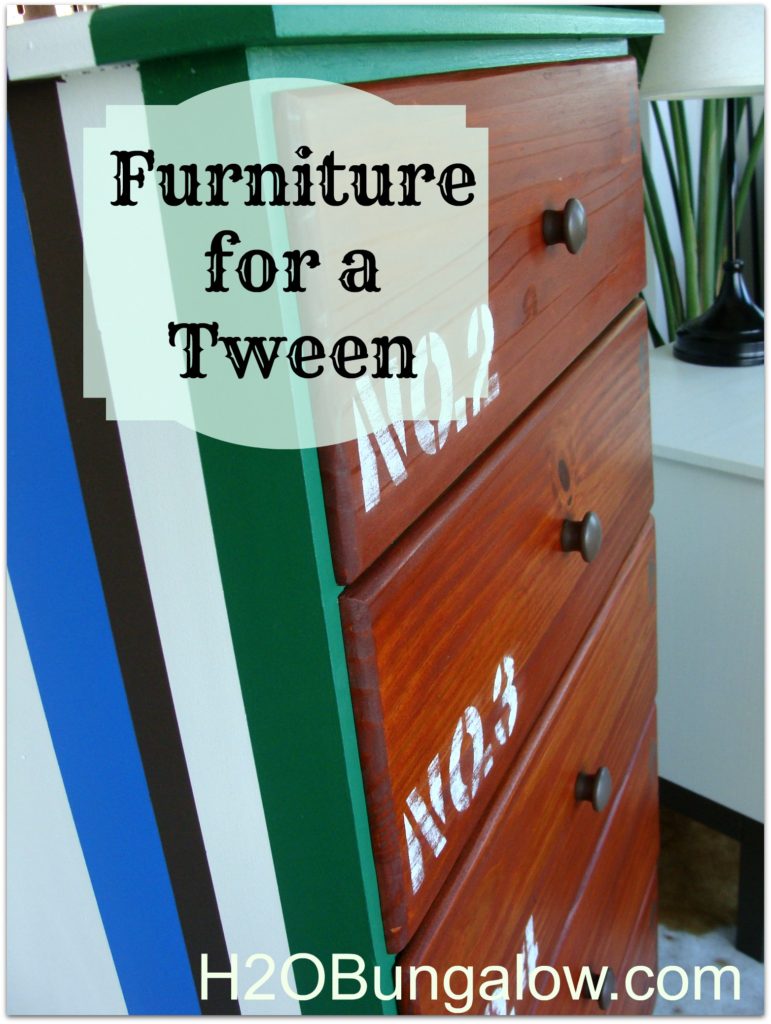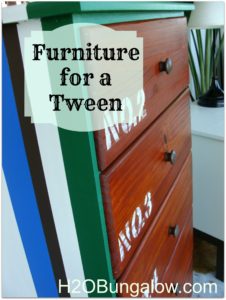 My reference & starting point for the room makeover was a little blue and green Hotwheels car he gave me that was in his favorite shades of blue and green. I left our mini meeting/consultation with little car in hand & some good ideas.
I did some research on tween furniture and didn't find much, especially for boys. I've seen a few fun dressers with stripes and was waiting for the perfect furniture project to try my hand at stripes. Need more ideas? Check out my Pinterest Furniture Board here. When we decided to do this room makeover I knew this project was the one. I was like, silly excited to do this too & sorry family if I made you crazy by sharing it..over & over 🙂
You'll notice the nightstand and dresser don't match exactly. I didn't want a matchy ~ matchy look and went with a complimentary look instead. I think the stained wood drawers add some maturity to the fun colors and balance them well.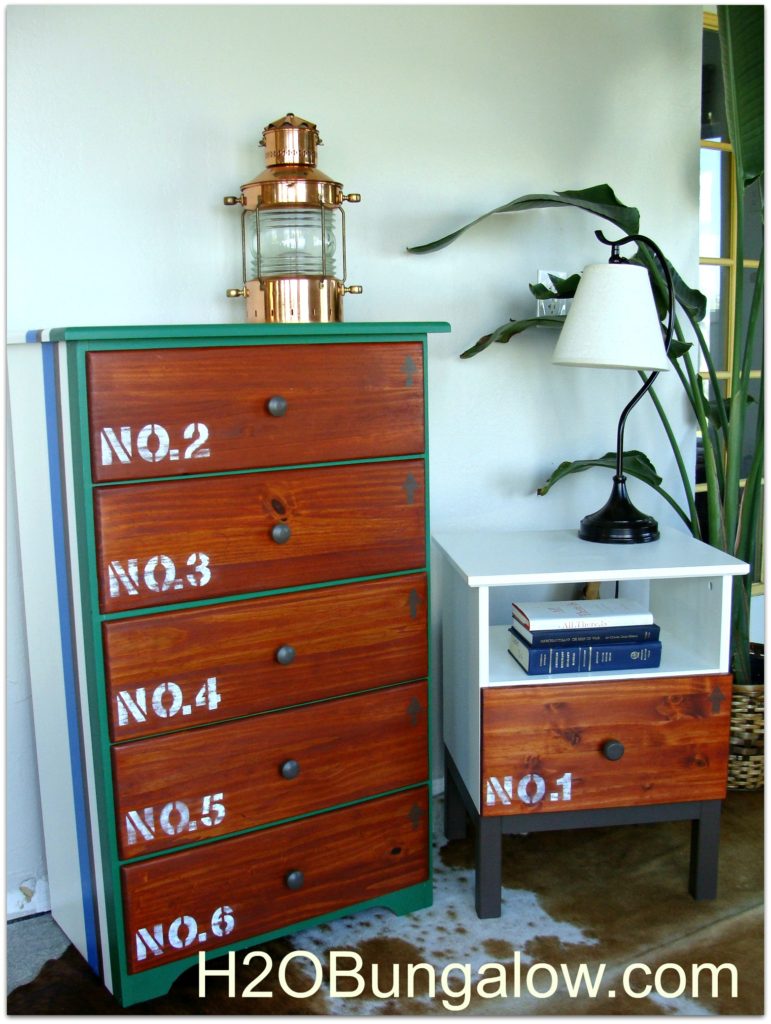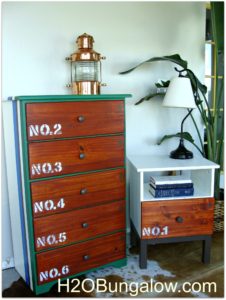 Ok, so let's get started with your tween furniture makeover.
Be sure to read How to Paint a Dresser in 7 Steps if you're new to furniture painting, it's a great beginner's guide 🙂
I started with the drawers. My biggest concern with these two pine pieces was that the starting colors were very different. To get the look I wanted, I needed the stain to look the same on each one. This meant they had to be about the same color when I stained them. So I started sanding…and did some more sanding..and oh, just a bit more sanding……..until finally the wood on the old dresser lightened up a bit. It wasn't a perfect match but close enough.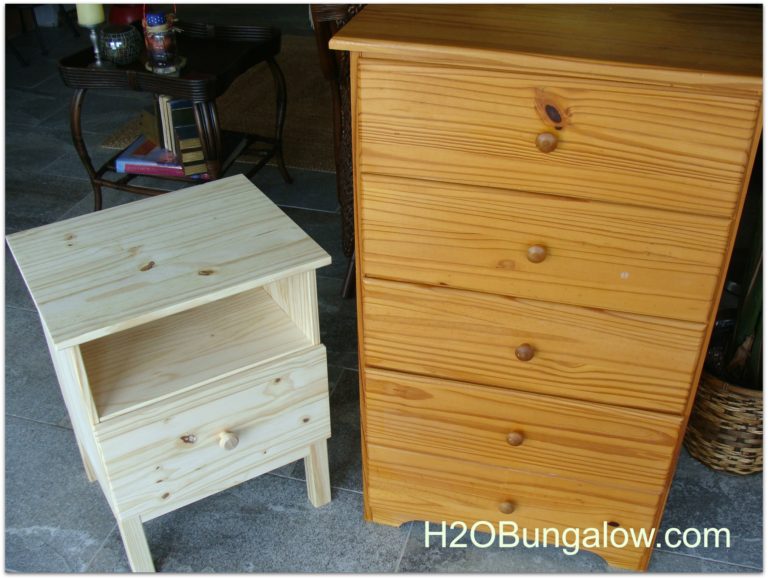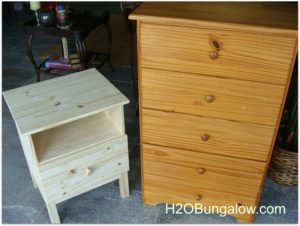 I used Minwax pre-stain conditioner as an extra measure to be sure I'd get the consistent color I wanted on all of the drawers. I used Minwax's gunmetal stain for the color, just two coats did the trick. I sealed them with Minwax Wipe On Poly in clear satin (not in the photo). The drawers came out beautiful with just the right concentration of color I wanted! I highly recommend using the pre-stain treatment if you need an even stain covering. If your layering, like I did on my desk project it isn't necessary.

Now onto the dresser & nightstand bases. The colors I used were: Dogwood Petal (soft white, almost antique white), Skydive Blue, Later Gator (green) and Leather Chair (brown), all from Valspar in satin finish. I gave each a piece a good coating of primer before putting on the base color. My favorite primer is Stixx and I get it at Benjamin Moore Paints.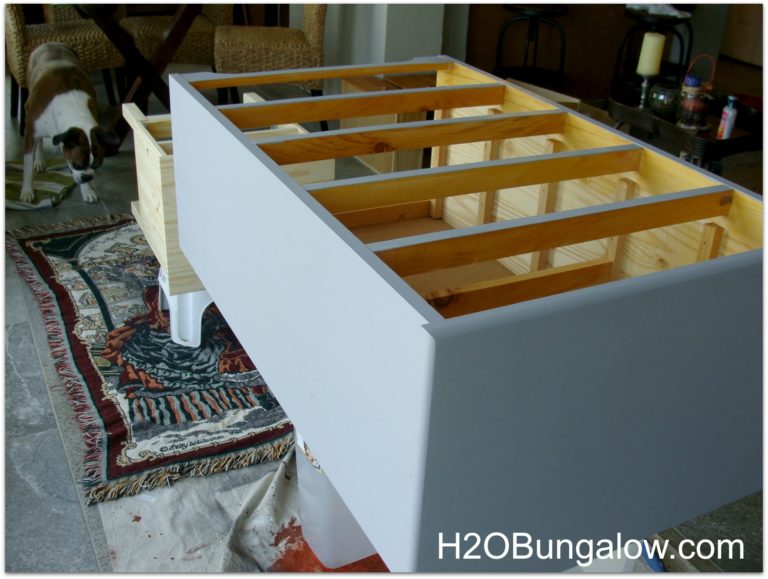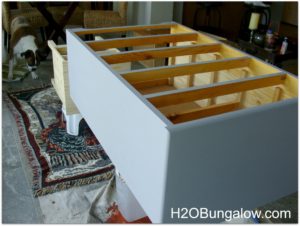 I modeled the nightstand after a really fun piece I saw at West Elm, so the brown legs and base kind of mimic a metal stand. The rest of the piece is white.
…And yes, I'm painting inside. It's still too hot in garage! My assistants, Cinnamon the dog (top pic) and Dexter (below) keep a good eye to be sure I don't make too much of a mess while painting.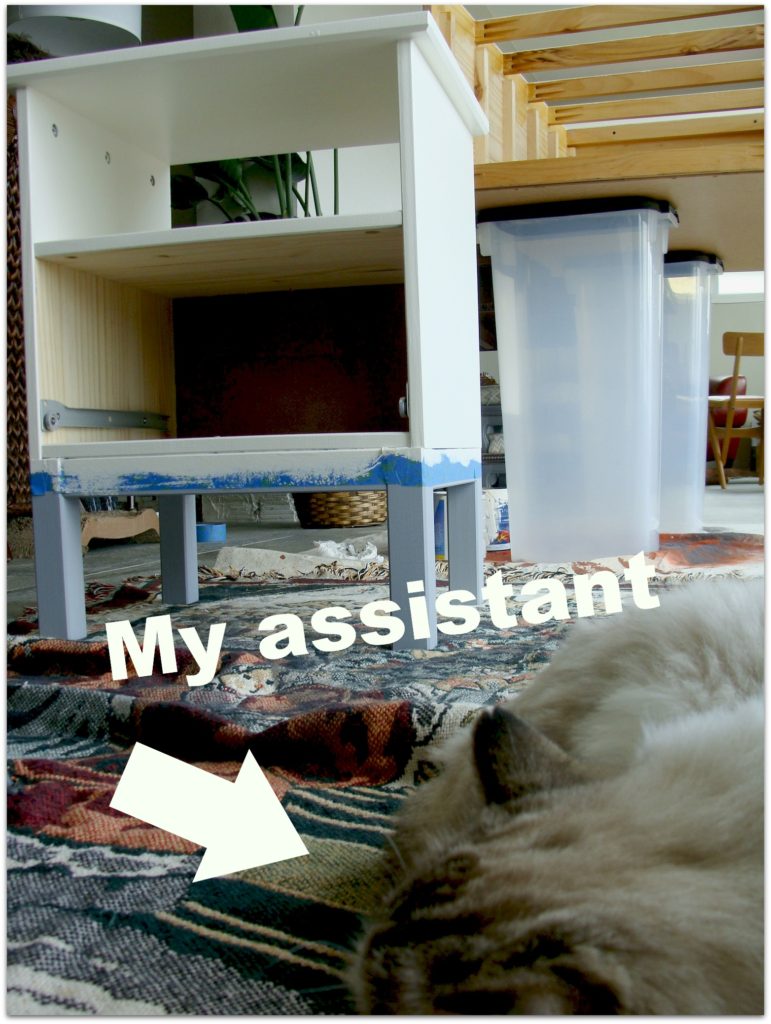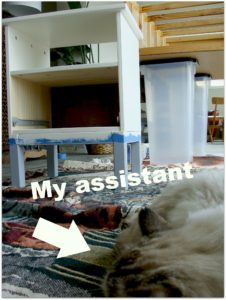 Before I started measuring for stripes I made several stripe sample patterns. By painting a few sample patterns on paper and then standing back to see which I liked the best I was confident I had the best mix of colors and stripe combination. I used a T ruler to make the lines straight. Don't use a yard stick, they aren't as straight as you think. When you have several stripes together it's really, really important that they be even with straight lines and no paint bleeds. I used frog tape on these.
Since I'd already blown the budget (don't tell the hubby) on this project I had to use the existing knobs. I painted them in the brown. Tip ~ paint knobs on a skewer for an even finish all over.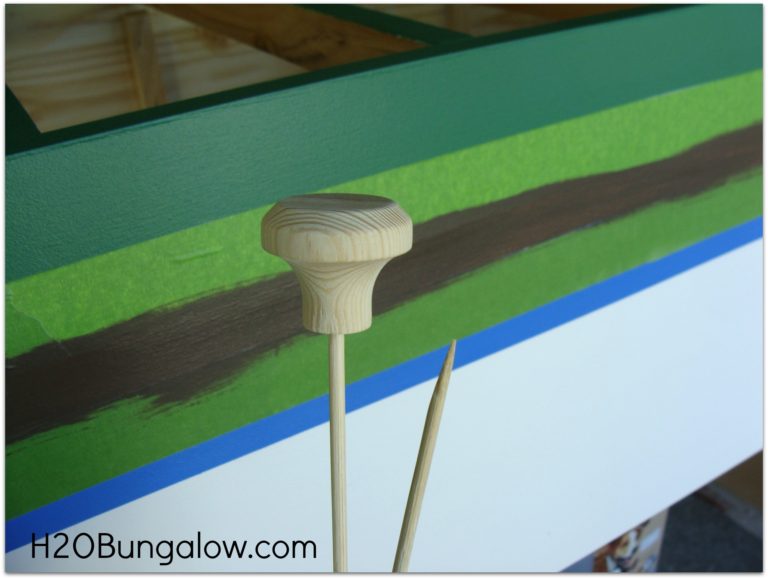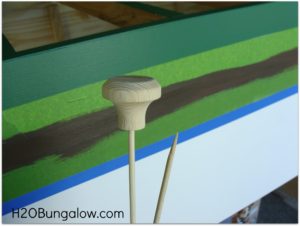 I added the stenciled letters and numbers in the white paint and used a 200 grit sandpaper to dull them a bit. I also added little brown arrows going up on the right side of each drawer They don't show up well in the photos. I used Annie Sloan's clear wax finish on the tops of both pieces to seal them.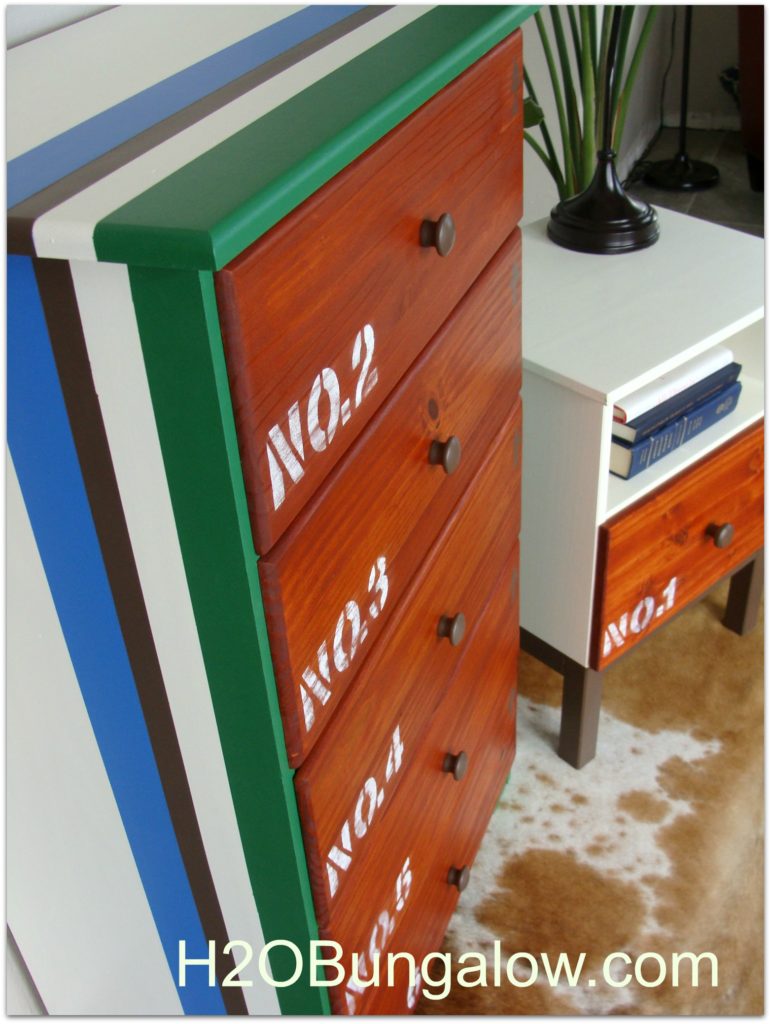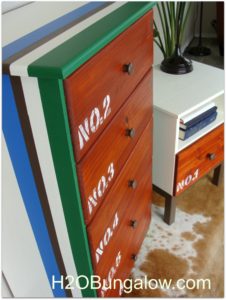 That's it. It was a little time-consuming doing the stripes but I love how these turned out!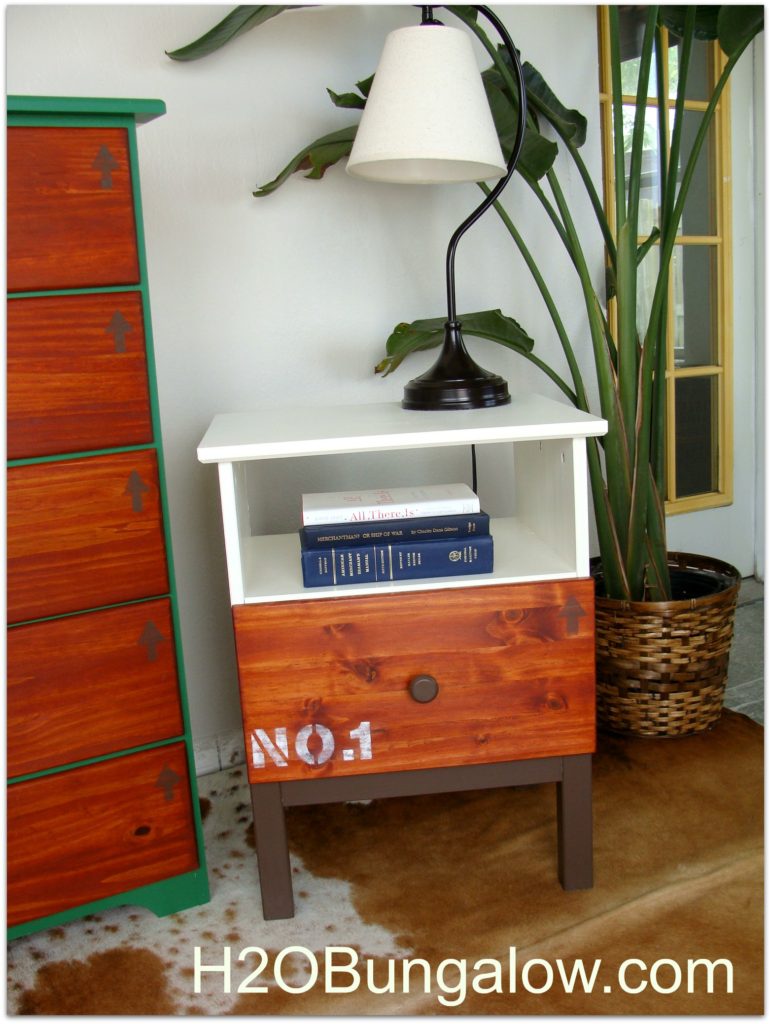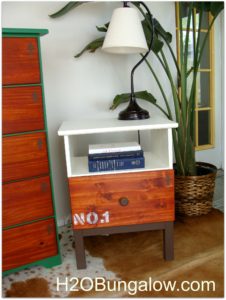 I love the nightstand and there's plenty of storage space for boy things and books.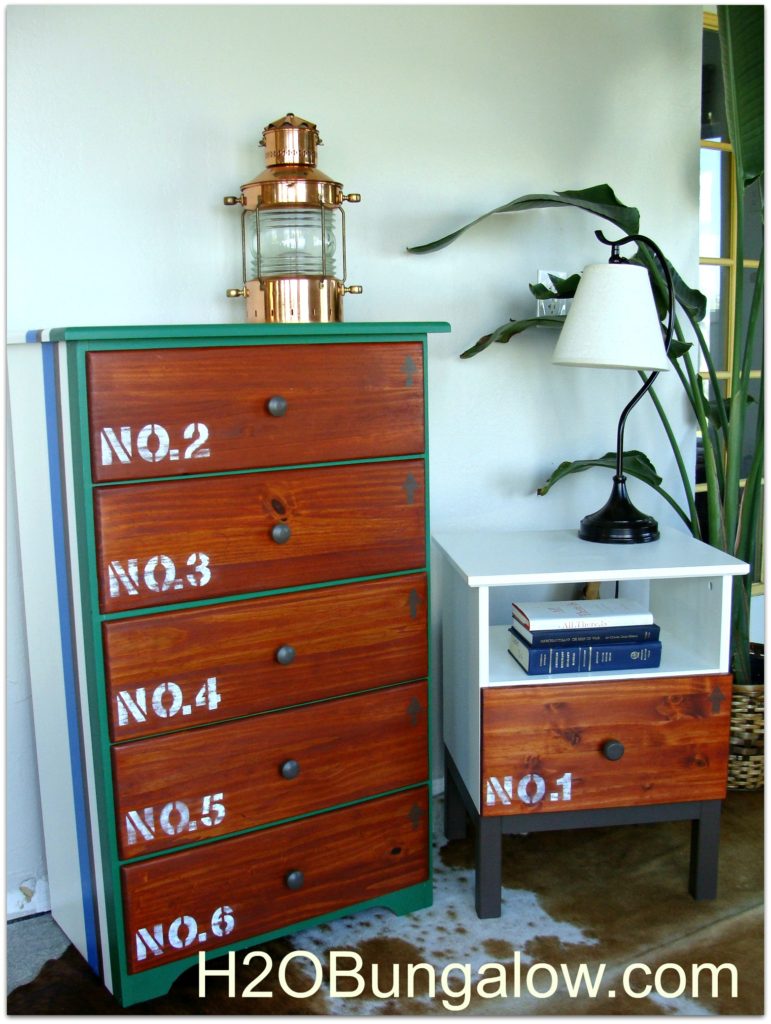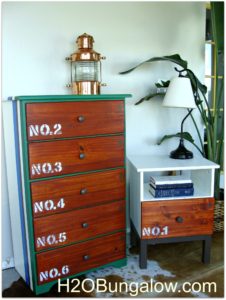 These two are just right for a tween, the perfect mix of cool and fun. So.. do you have a tween in mind that could use a tween furniture makeover?