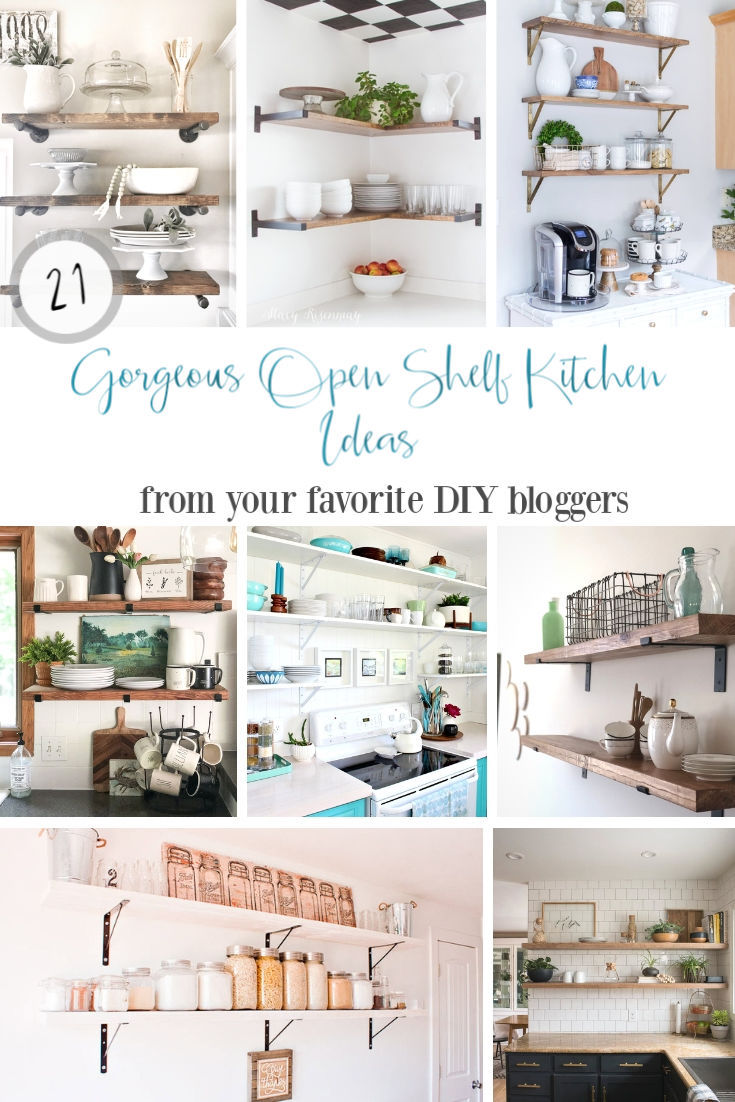 Today I'm sharing several gorgeous DIY open shelving kitchen ideas. Open shelves in a kitchen have been popular for some time. The thought that came to mind while looking all these different styles of open shelving in kitchens is how versatile open shelves in a kitchen are. I've collected 21 different styles of open shelf ideas that you can make without breaking the bank. It will just look like it! On a whim, I've added sources for all the different types of brackets used on these gorgeous shelves too!
The best part about starting a new project house and planning a kitchen remodel is the inspiration shopping I get to do. I'm working on the new kitchen design for The Mill Place, our latest property in the North House Lodge group.
We start the demo in about 2 weeks and I need to get cracking on some new kitchen ideas!
Gorgeous Kitchen Open Shelving Ideas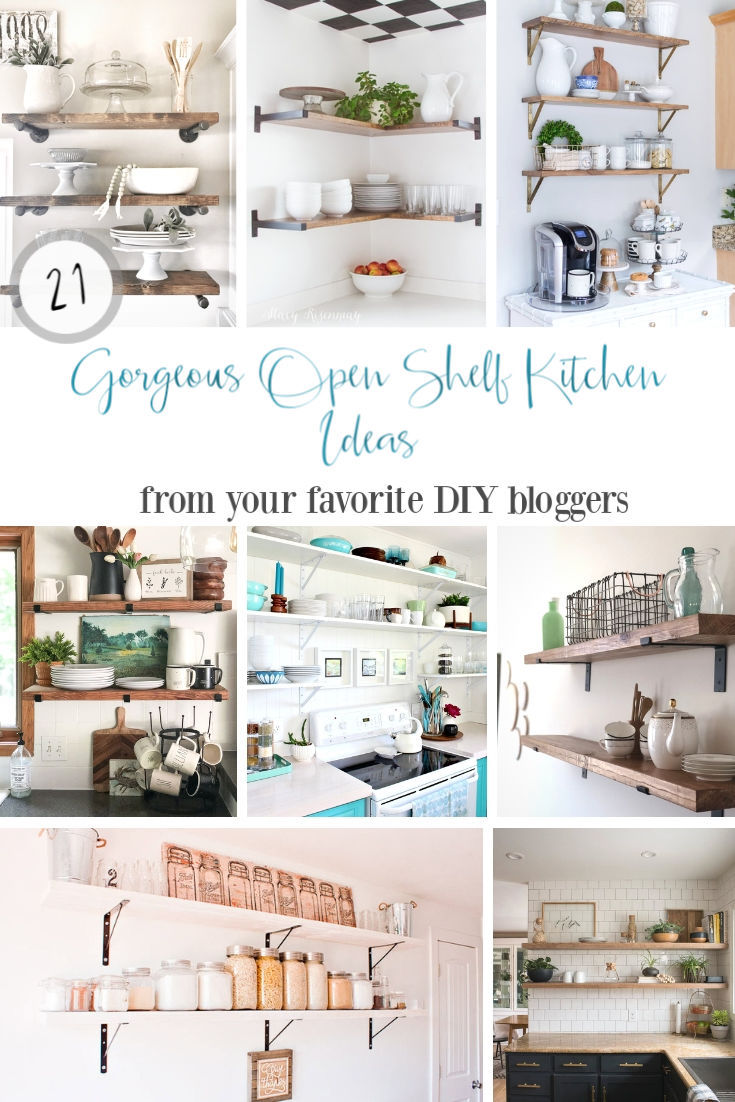 There are so many different choices and styles of open shelves. The shelf material can be rough cut or reclaimed wood, wood planks, glass or a modern and sleek surface. Shelves can rest on a wall bracket, or be floating shelves. Some people just take the door off their kitchen cabinets and stage that as open shelves. It all works!
I've dabbled with open kitchen shelving a little and added two reclaimed wood open shelves in one of the NHL kitchens to fill an awkward open space.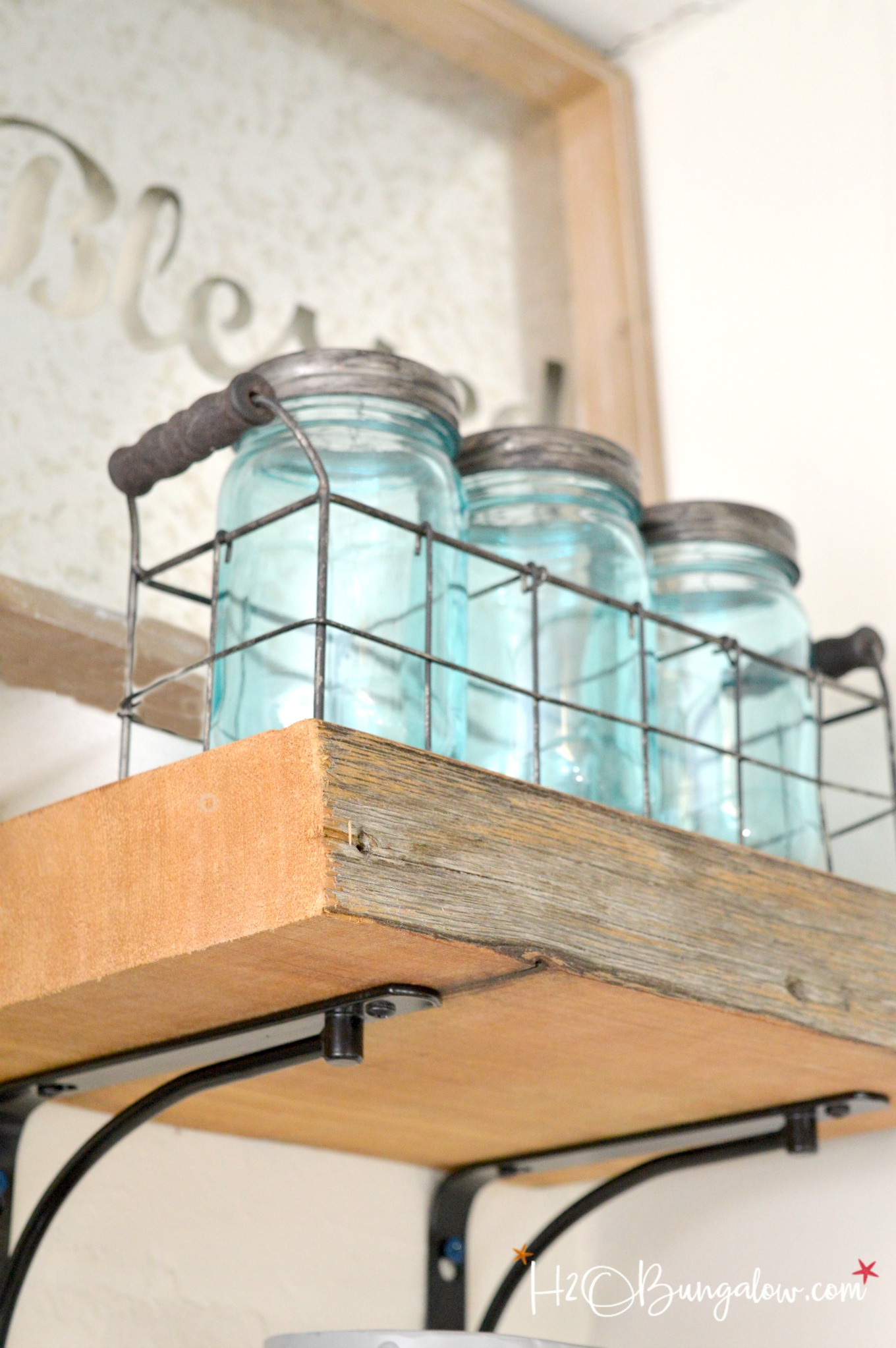 I use affiliate links to help you find the products I used. If you make a purchase I get a small commission at no cost to you. The affiliate money I earn helps cover the overhead costs of H2OBungalow. Thank you for your support!
I added an open shelf to hold drinking glasses in one of the North House Lodge kitchens. This kitchen doesn't have enough cabinets space. I freed up and entire cabinet by adding this shelf.
Get the shelf brackets I used.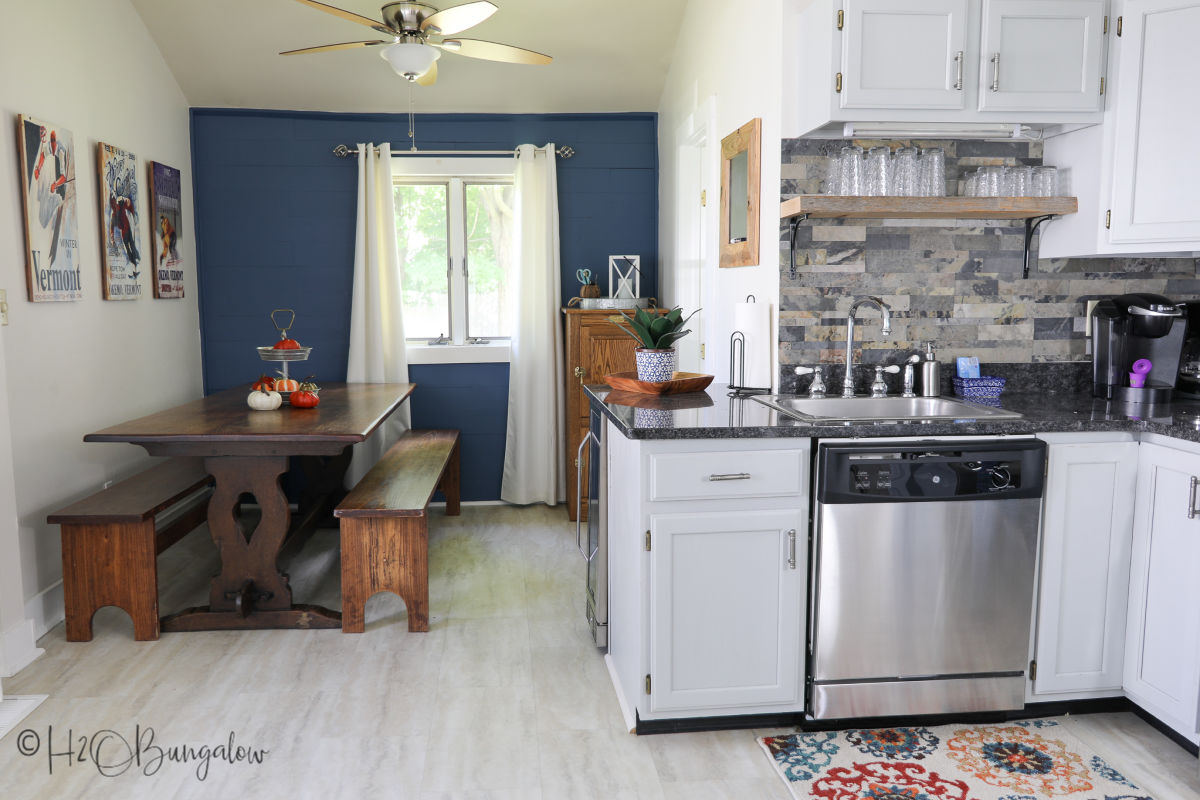 Anyhoo, so that's why I'm looking for inspiration and ideas to add open shelves in my newest kitchen project. I thought I'd share these gorgeous kitchen open shelf ideas with you!
What are the benefits of using open shelves in the kitchen?
Open shelves in the kitchen make a space seem less cluttered.
Open shelves in a kitchen make a big visual impact.
Changing out open shelves for cabinets can solve decorating issues. You'll see this with our kitchen at The Mill Place.
Using a few open shelves instead of cabinets is budget friendly.
Open kitchen shelves are an easy DIY project.
Adding open shelves to an awkward space in a kitchen can add storage space.
And if that isn't reason enough, how about all of the amazing choices of shelf brackets?
Friends, please either pin just my collage below or go to the original post and pin their photos while you're on their page!
Open Shelves In The Kitchen from notjustahousewife.net.
I love how she filled her corner space with shelves!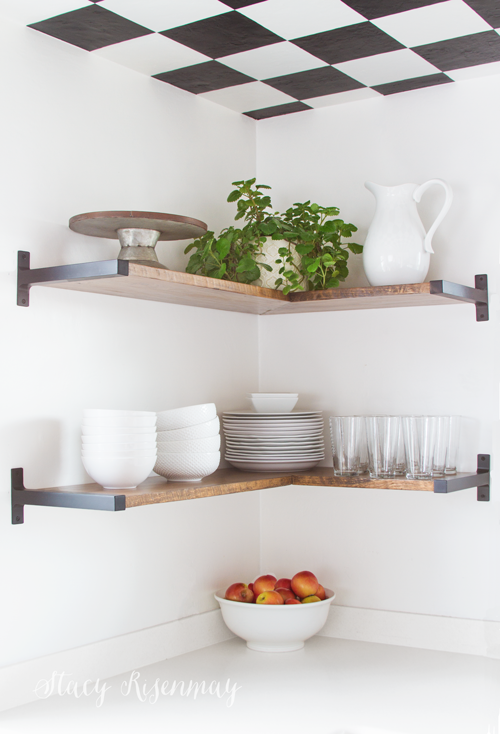 Kitchen Reveal With Dark Cabinets And Open Shelving from biggerthanthethreeofus.com
The long wood open shelves balance the heavy dark cabinets. I love this look!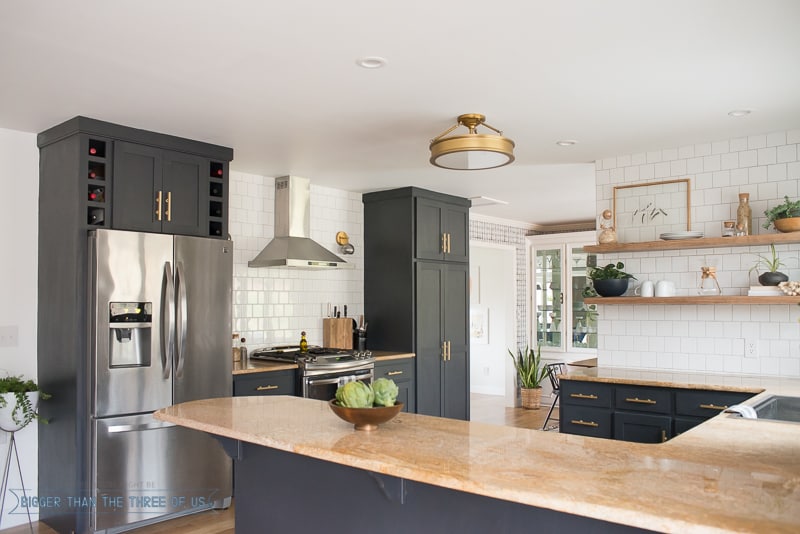 Styling Open Shelves In The Kitchen from†thehomeicreate.com
This is a budget friendly open shelf idea! Note how she used a blank wall for her shelves. Great idea, it added storage space!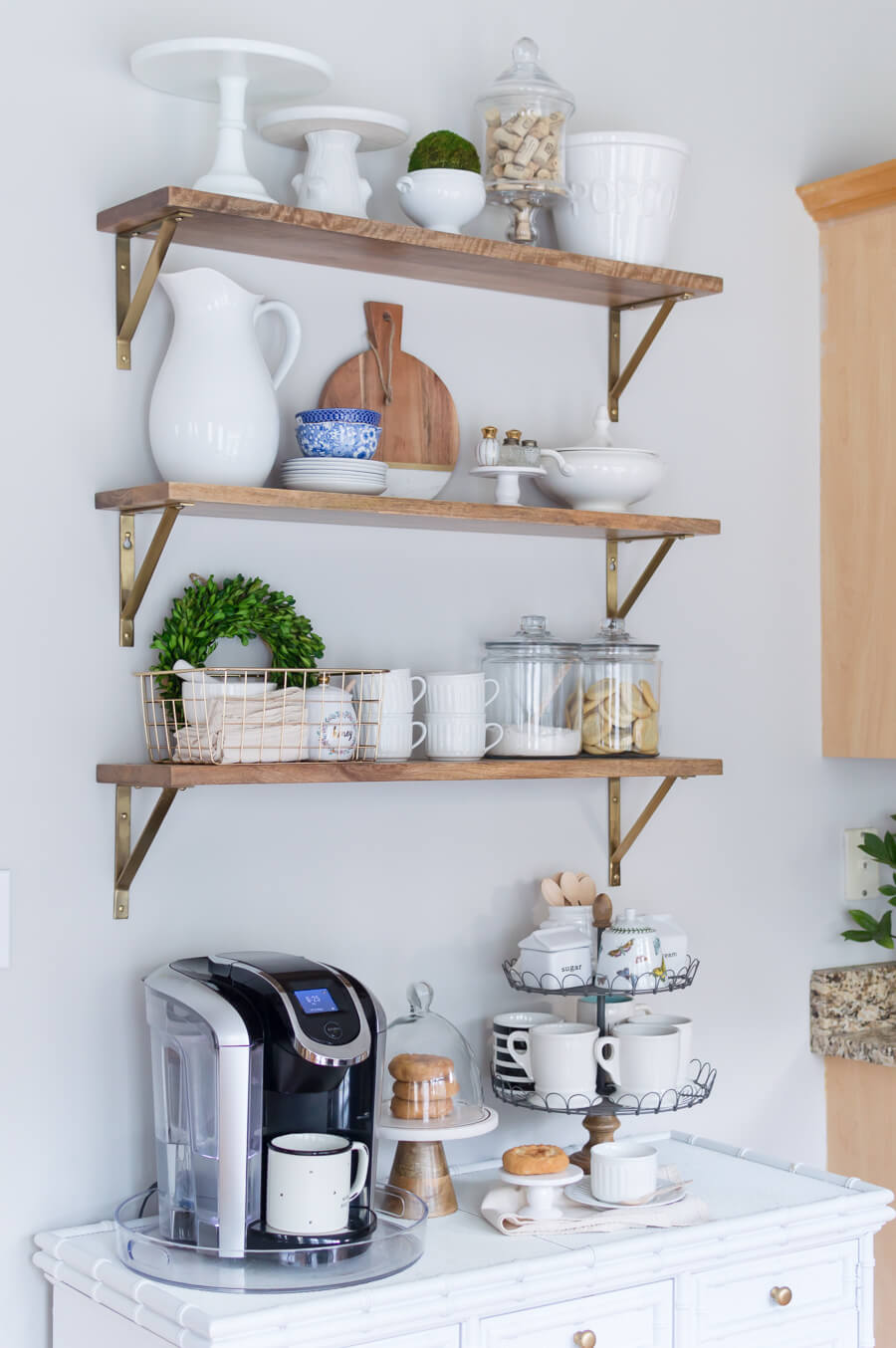 Summer Open Kitchen Shelves†from tatertotsandjello.com
Loving the contrast with the darker back wall of the these kitchen shelves.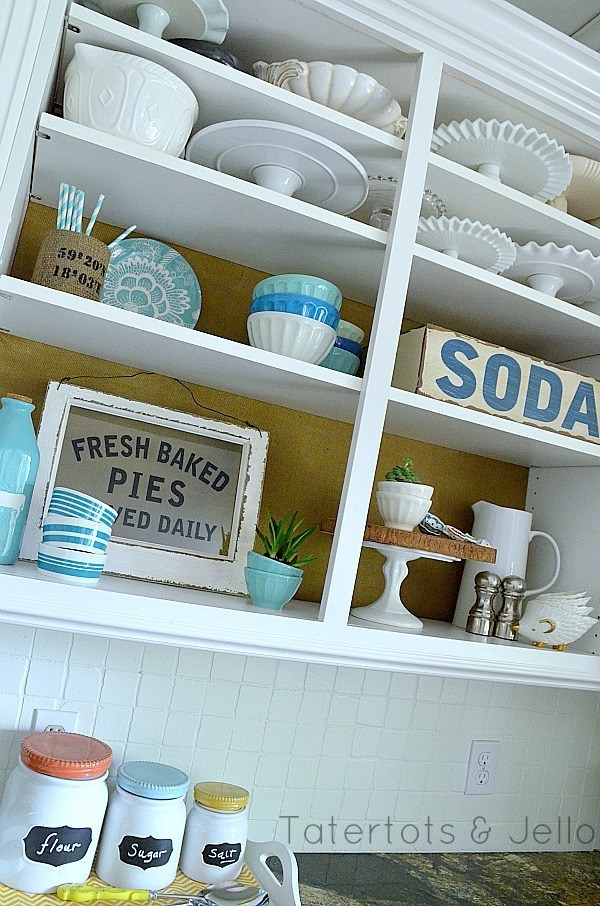 DIY Reclaimed Wood Shelves from twelveonmain.com
Rustic reclaimed wood open kitchen kitchen shelves make my heart go pitter patter!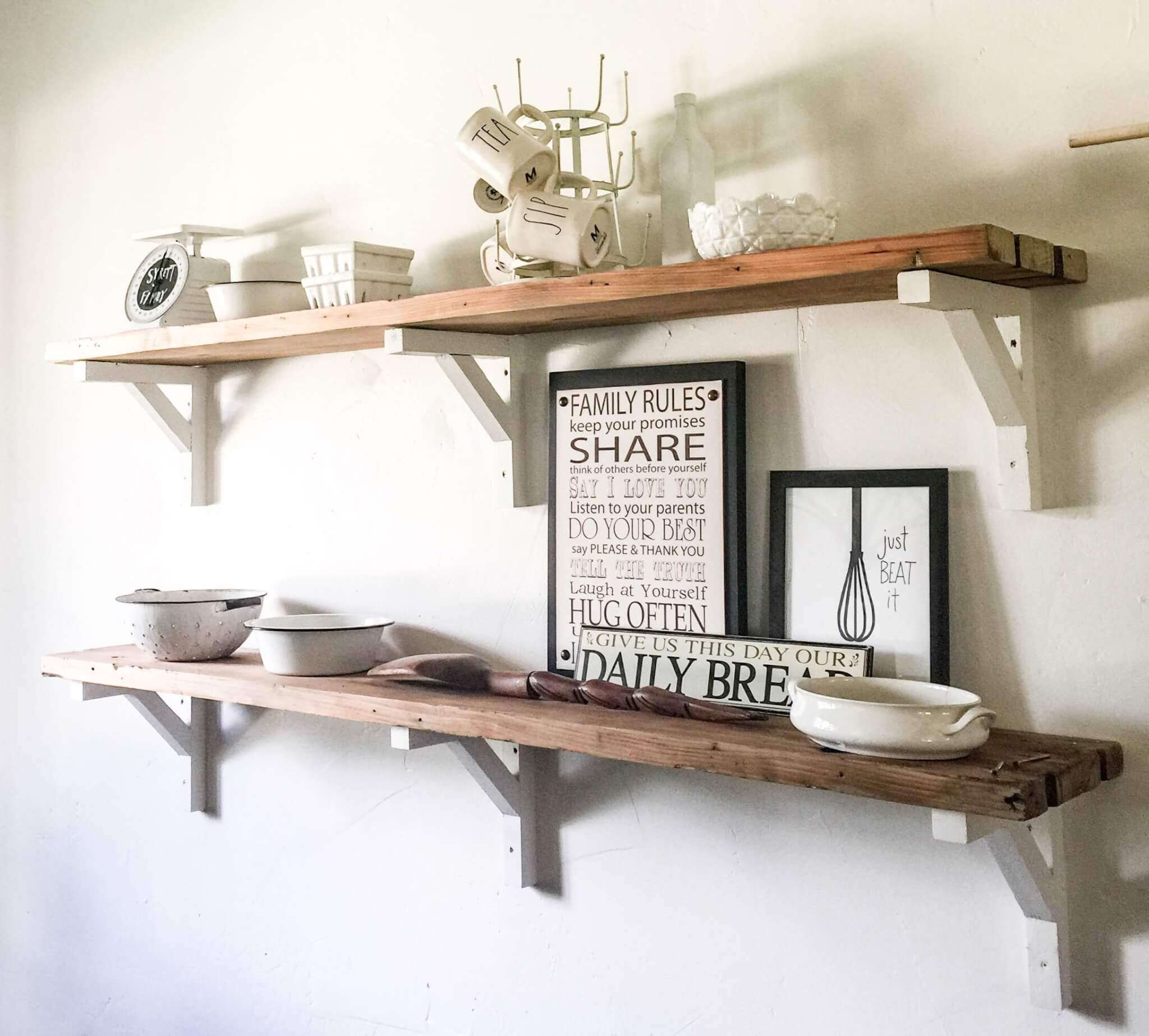 DIY Floating Rustic Shelves from blog.jennasuedesign.com
This kitchen makes me want to start tiling! You guys know I'm all about the modern rustic look. Especially at the North House Lodge properties!
Oh! Notice the beam too? It's handmade. Easy peasy from 1 x 6s!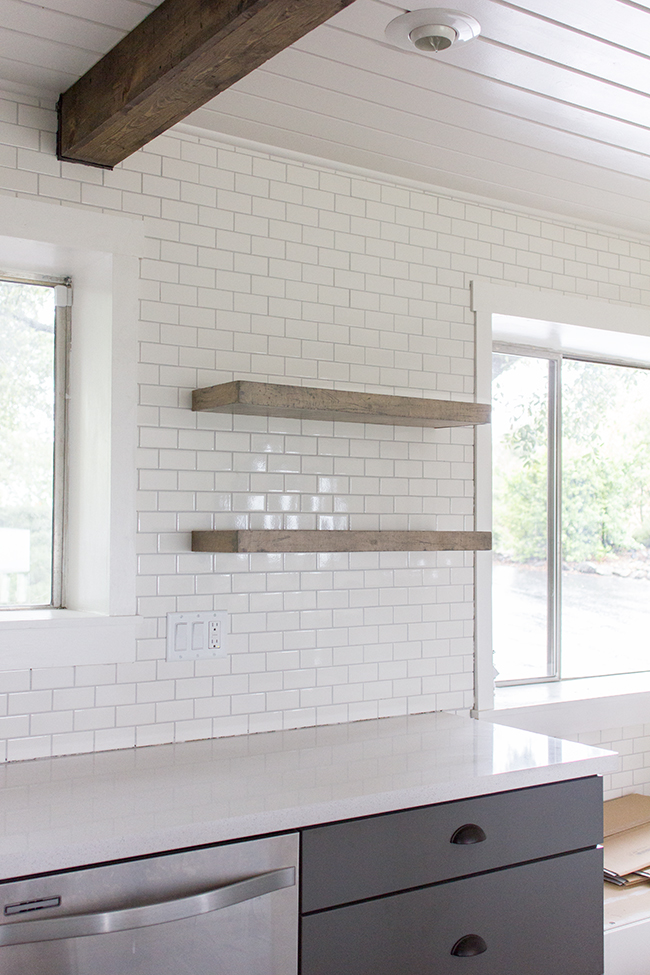 Open Shelves With Corbels from prettyhandygirl.com
This is a beautiful way to add open shelves in a kitchen if you're a lover of old things with character like these corbels.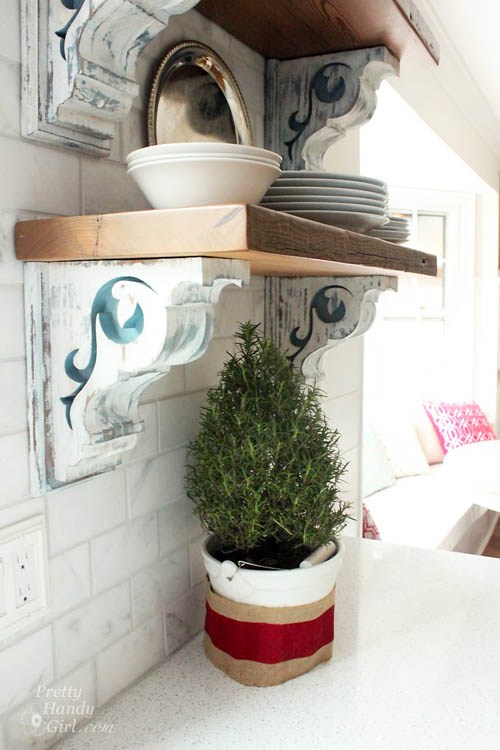 Early Summer Rustic Farmhouse Open Shelf Decor from worthingcourtblog.com
Sheer perfection. Rustic meets country with the pipe brackets and open wood shelves.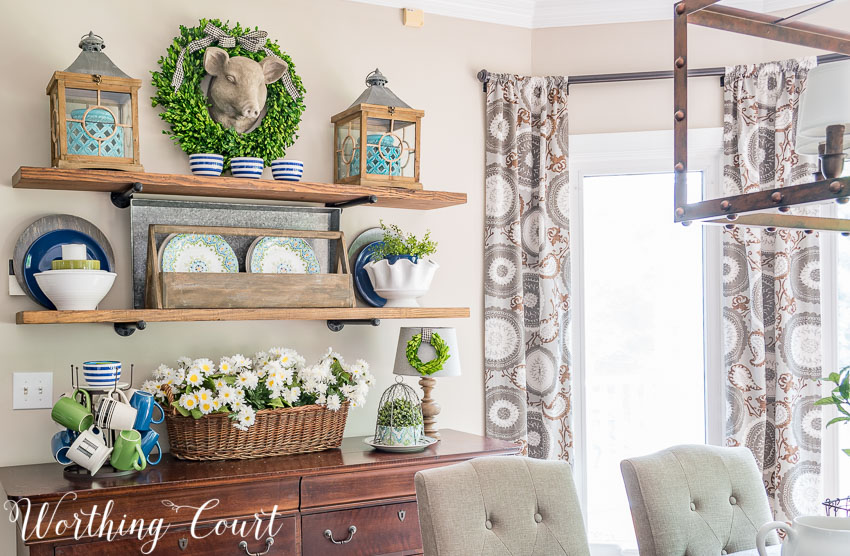 DIY Wood Shelving Wall from abeautifulmess.com
Think out of the box. Open kitchen shelves can be anything you desire. I love this wall and even more that the open shelves are built around the door!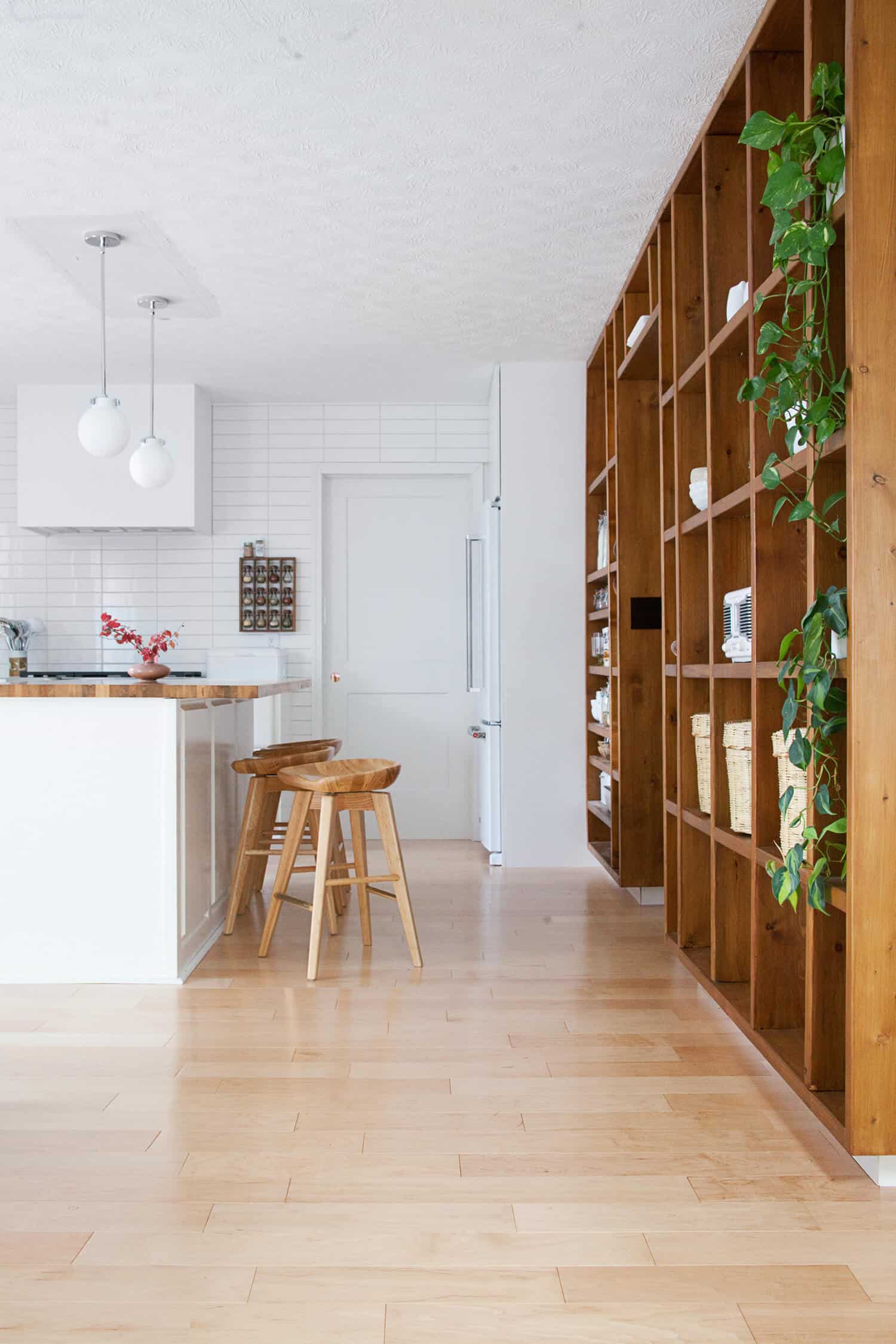 Create Clutter Free, Stunning DIY Open Shelving from makingtheworldcuter.com
Great idea to tie in the open base cabinets below with a few simple shelves on the wall.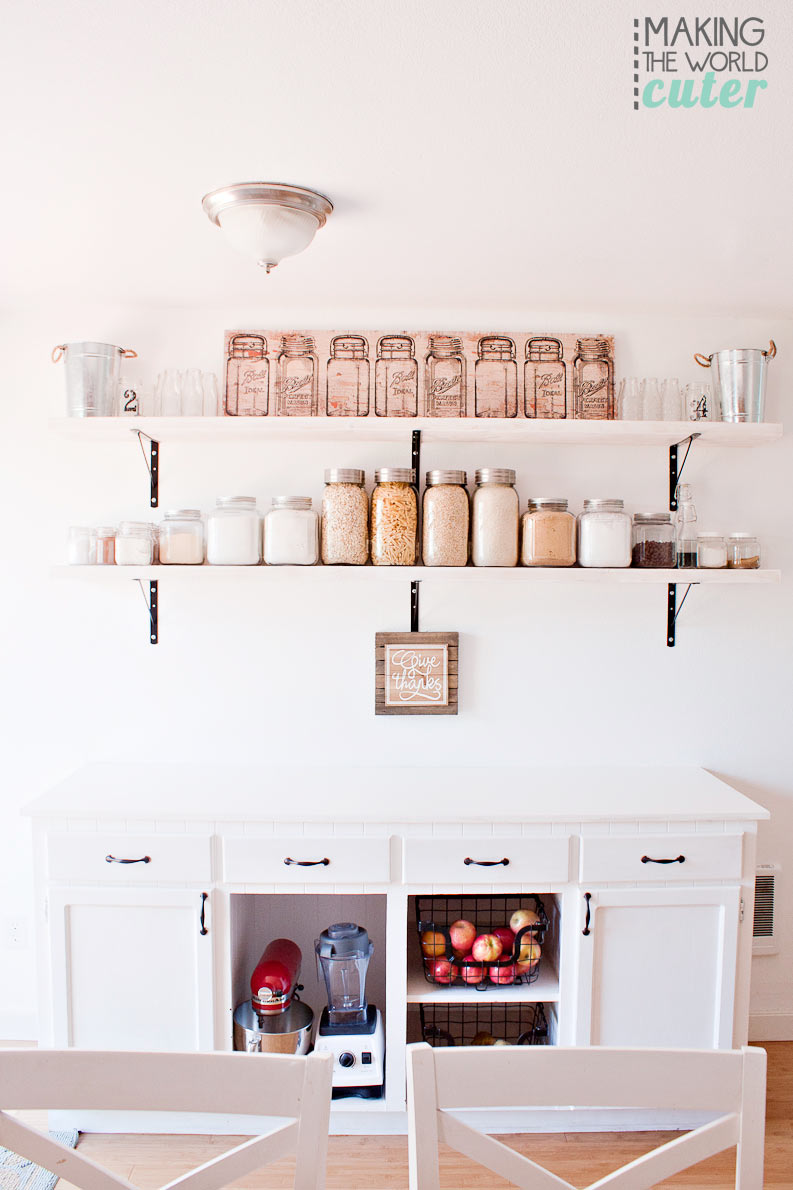 White Open Shelves from stonegableblog.com
Show off a favorite collection. I've always been a sucker for stoneware!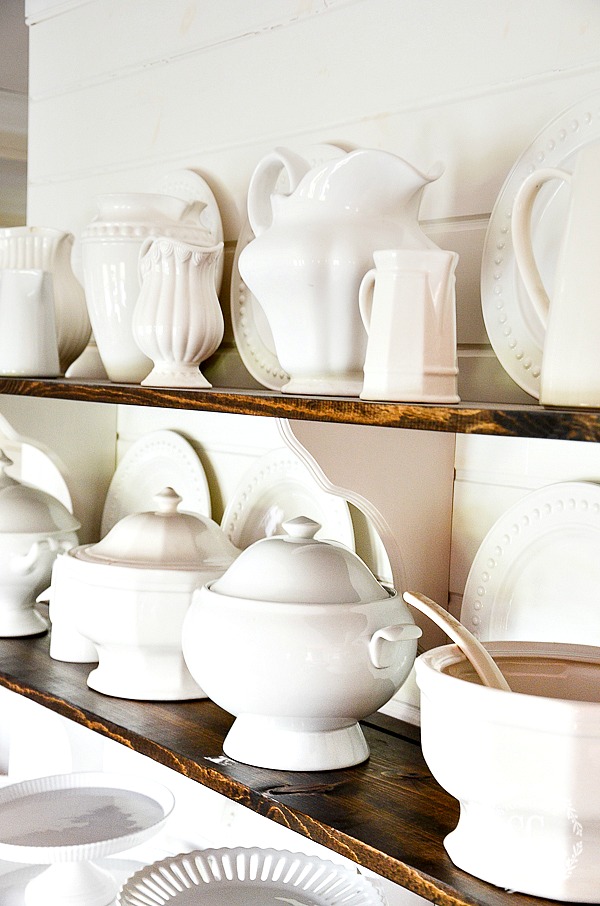 Modern Farmhouse Kitchen With Open Shelves from maisondepax.com
I am loving, just loving the bold mix of colors and wood in this kitchen! She was smart and kept the upper open kitchen shelves white so the room wasn't too much on the eyes.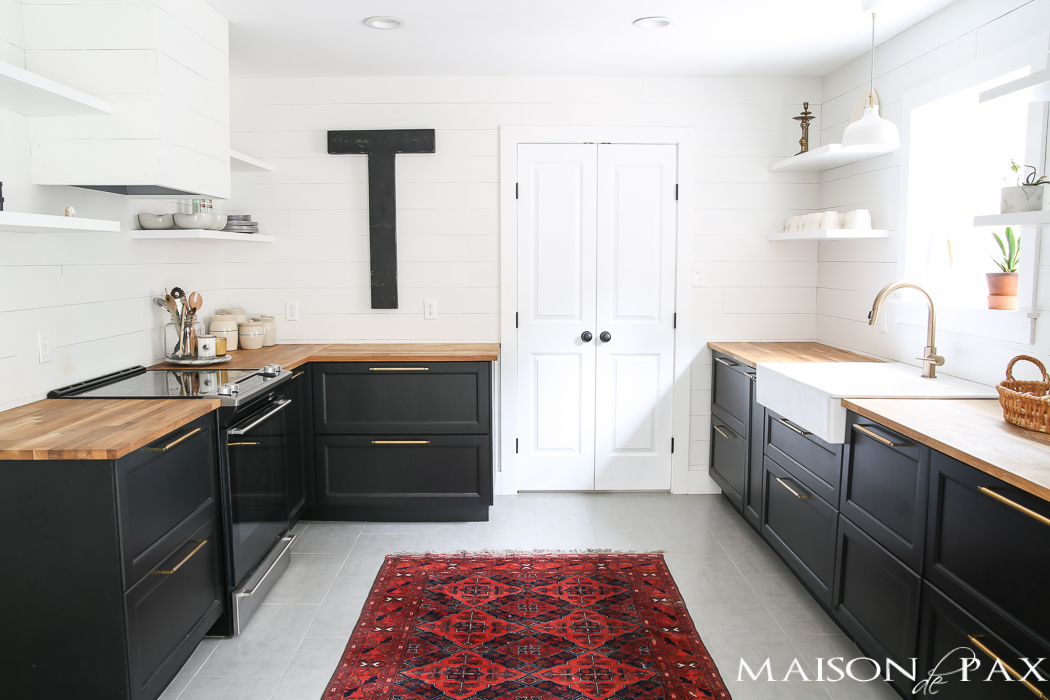 Kitchen Open Shelving Fresh Look from danslelakehouse.com
Fresh, simple and cozy. This would be perfect in a coastal kitchen!
Get white metal shelf brackets.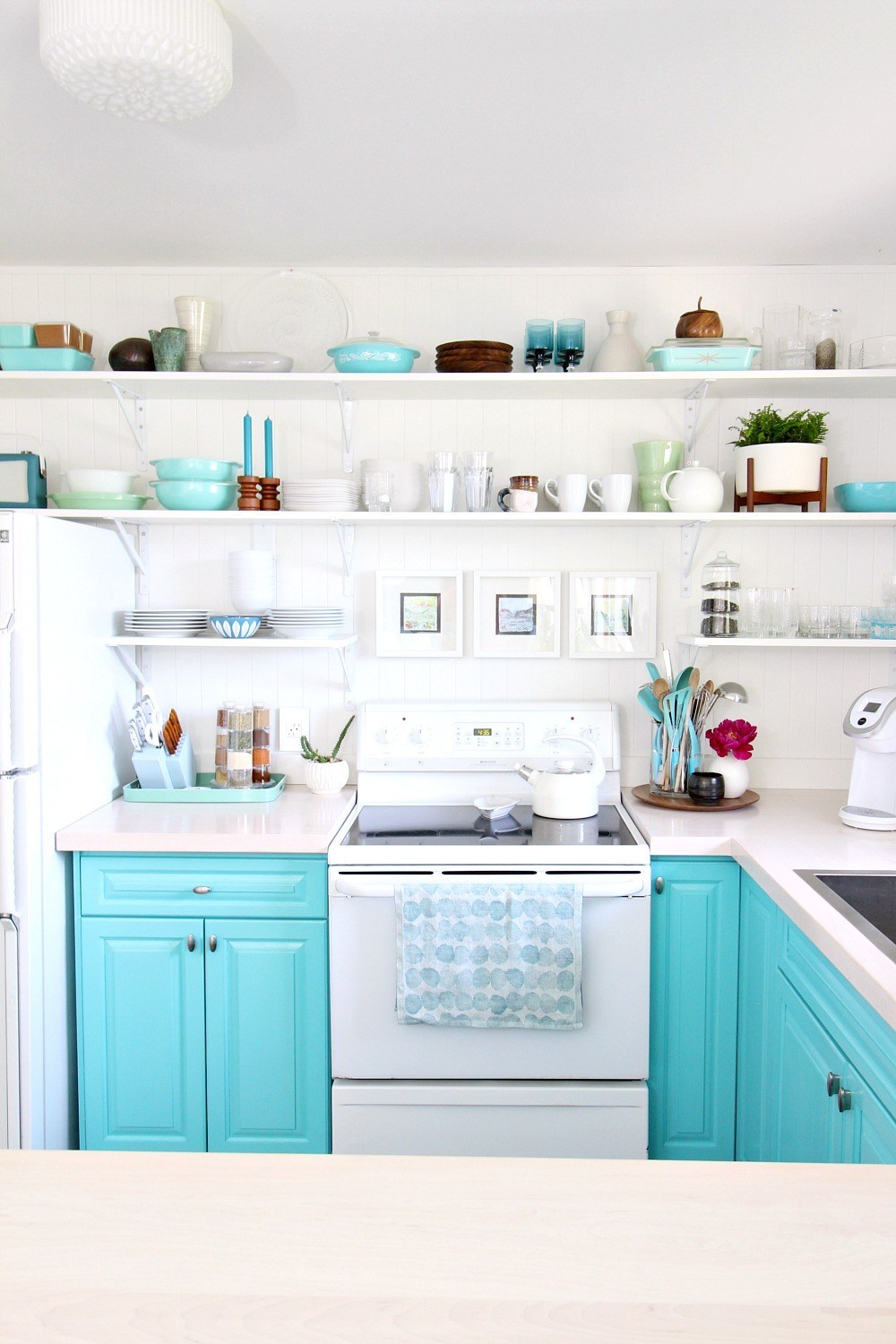 DIY Open Shelving from sincerelysarad.com
I'm loving the use of gold on these open shelves. Nice touch with the lighting too.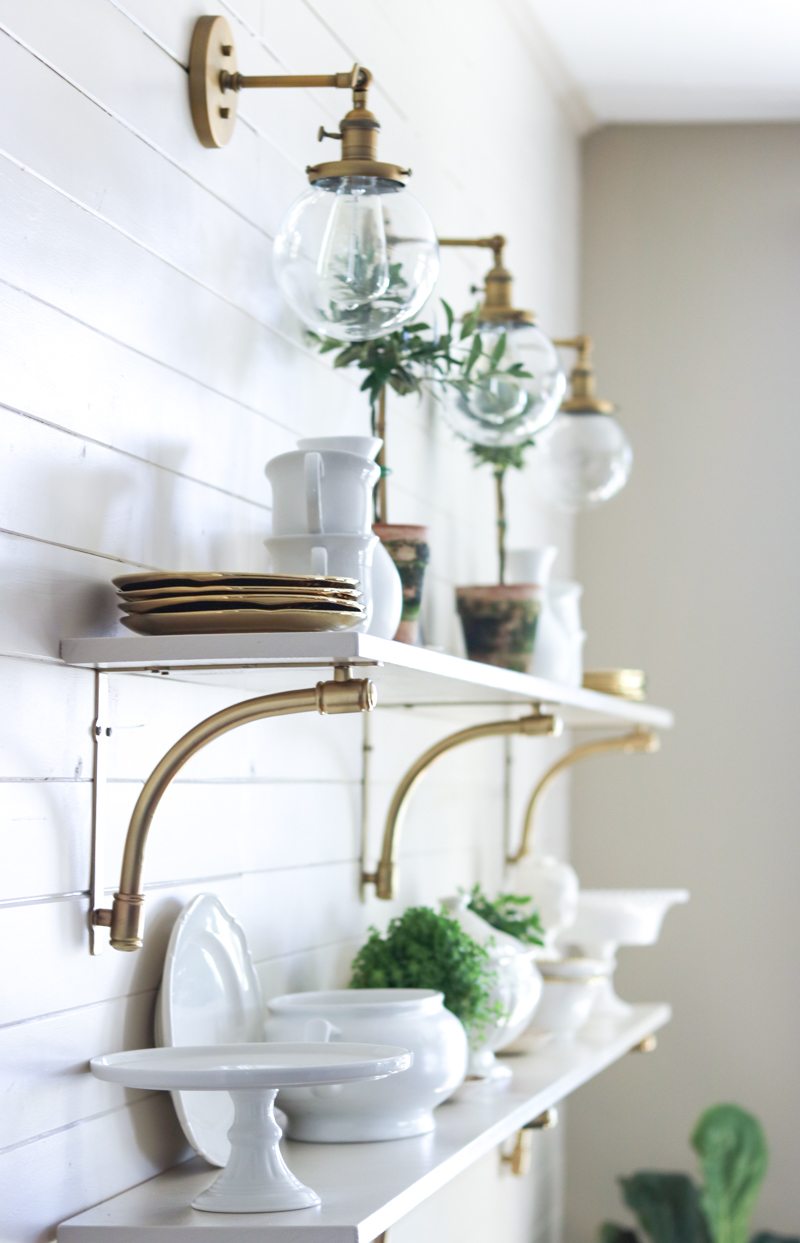 Open Shelving In Our Farmhouse Kitchen from town-n-country-living.com
How much instant charm did this open shelf add to a simple kitchen? A lot!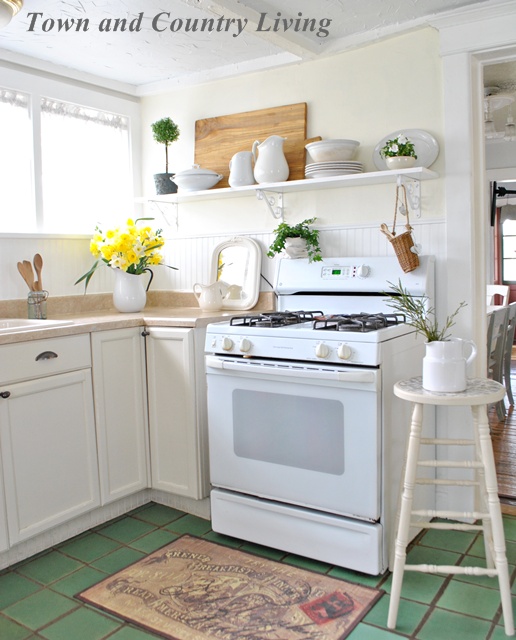 DIY Open Shelving In The Kitchen For Under $100 from gingersnapcrafts.com
Open shelves are always an opportunity to show off your personal style.
Get rustic black shelf brackets here.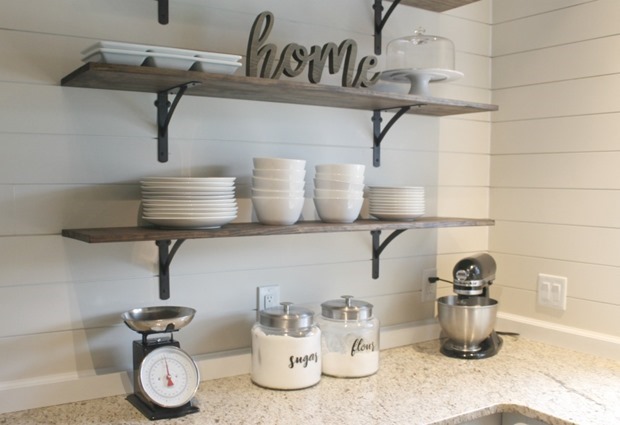 DIY Plumber's Pipe Shelf†from citygirlmeetsfarmboy.com
I've been eyeing this look for the longest time! It's another example of adding more space by placing shelves on an unused wall.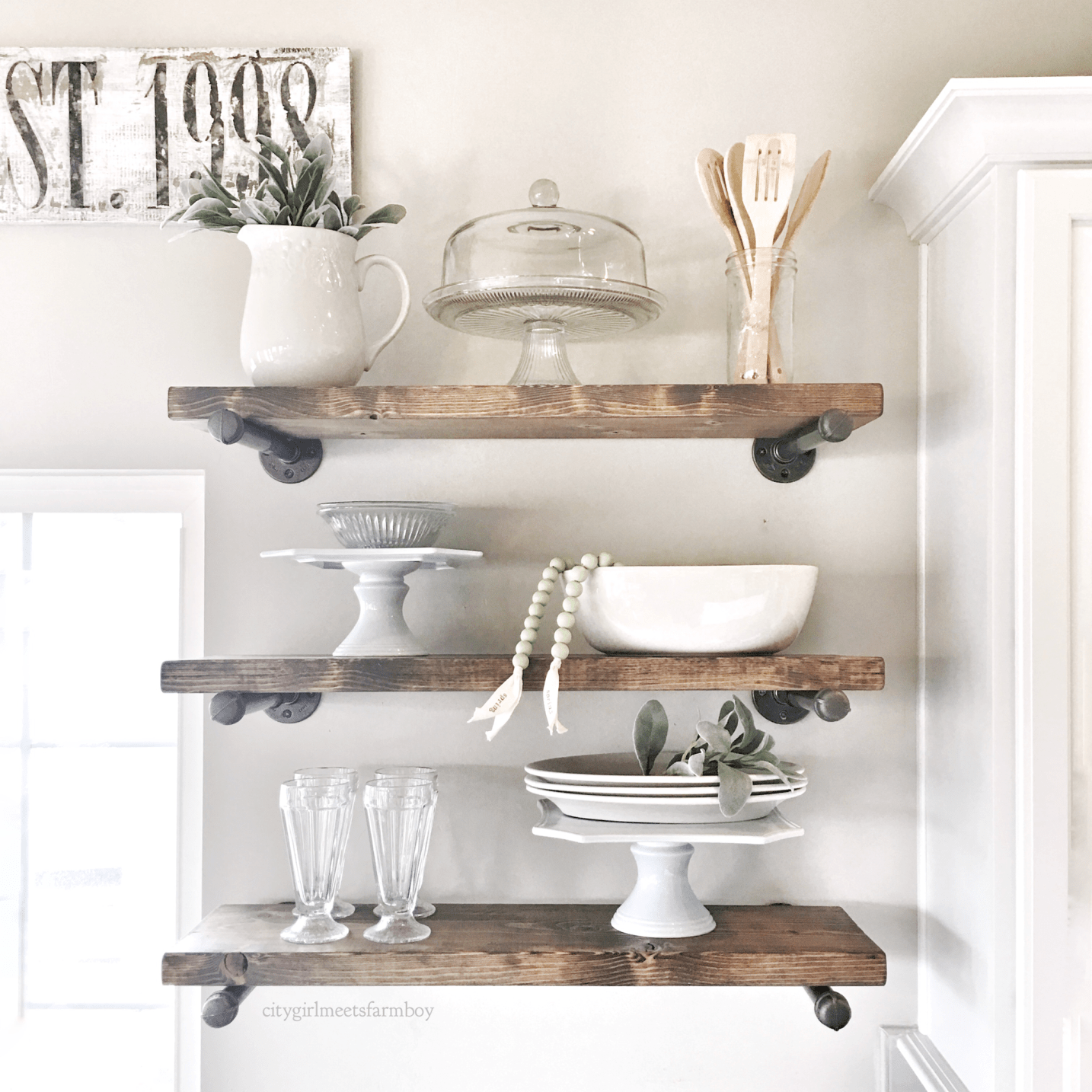 DIY Open Shelving from providenthomedesign.com
I've used this style of bracket in several of my own open shelf projects. This is where I get mine!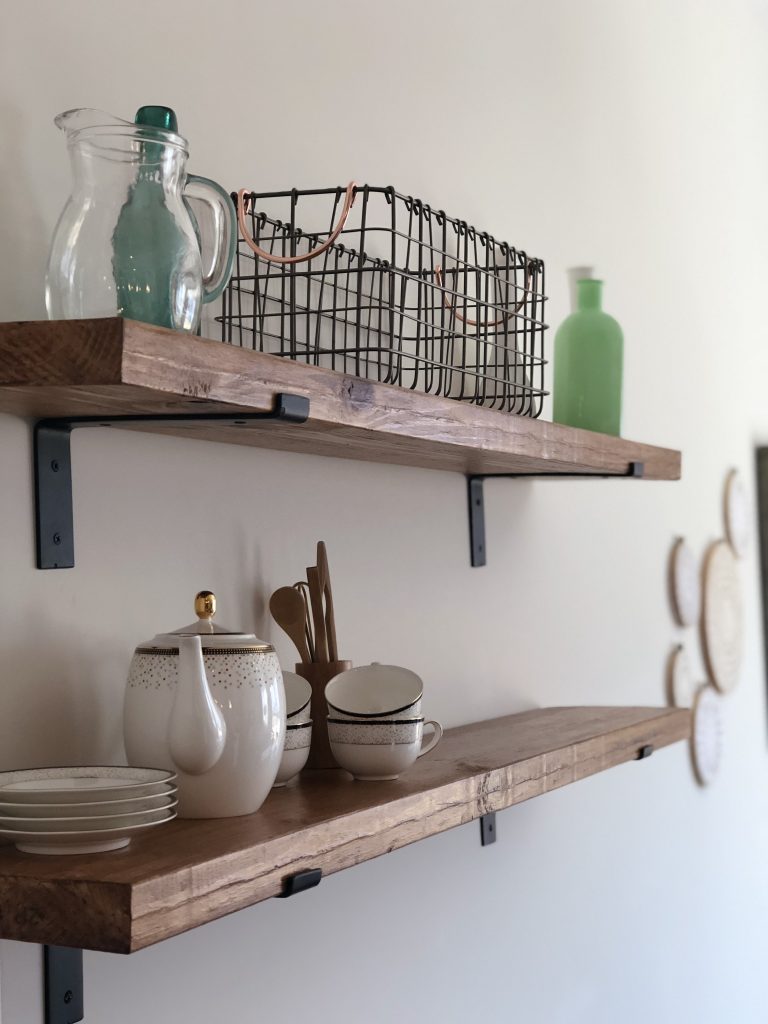 DIY Glass Window Shelves from prettyhandygirl.com
Don't limit yourself to just wood in your kitchen open shelves! Glass is a great idea. Especially near a window.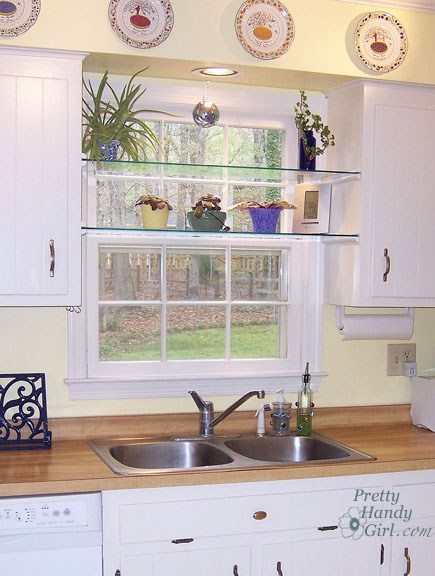 DIY Open Shelving Tutorial from graceinmyspace.com
This is exactly the way I plan on using my open shelves in the Mill Place remodel. I'll substitute cabinet area for shelves. It opens up the space by the bar and creates an inviting space.
Oh, I'm loving her barstools!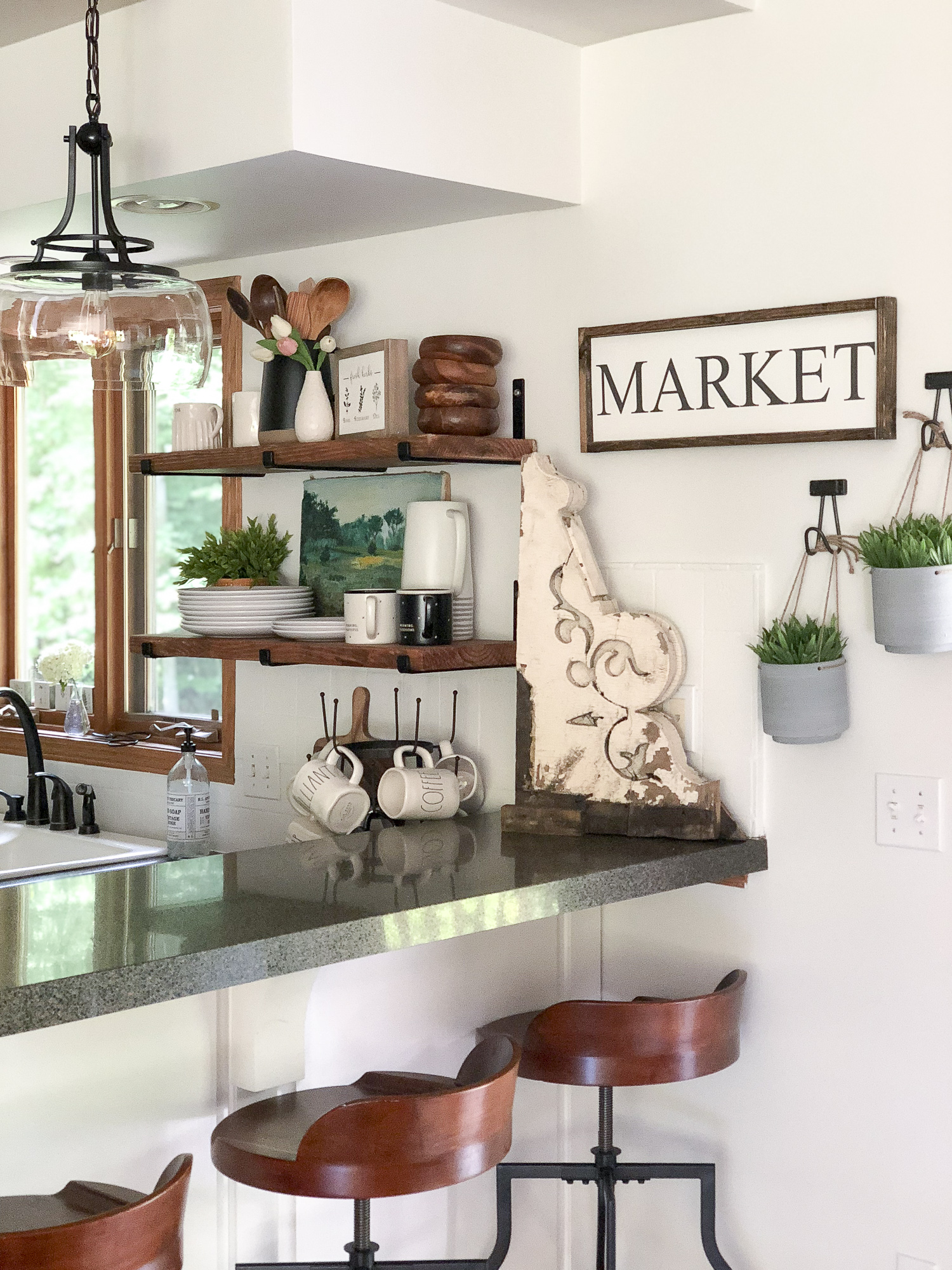 Pin and share on Facebook my collection of gorgeous open shelf kitchen ideas for future inspiration!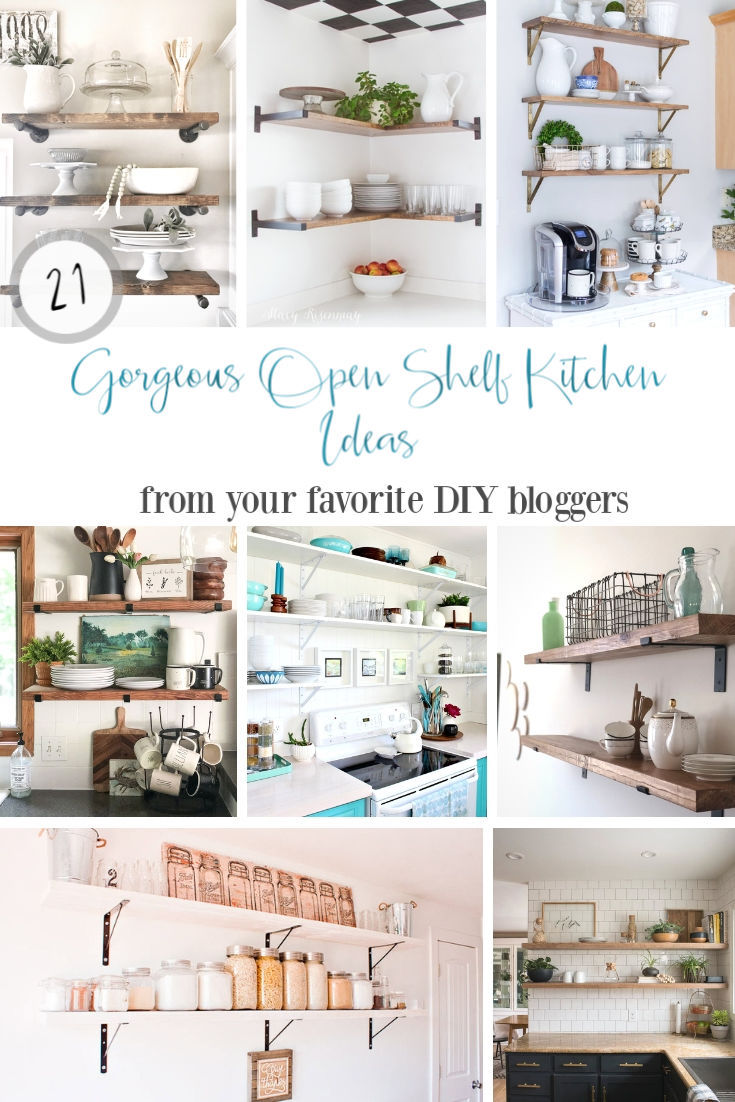 Some of my other favorite DIY kitchen ideas
How to Add Extra Shelves to Kitchen Cabinets
Creative DIY Shelving Ideas For Organization and Style
Open shelves aren't just for the kitchen friends! I love my Modern Picture Ledge which is an adaptation of the open shelf idea.
Have you enjoyed this collection of ideas as much as I've putting it together? I'm inspired and excited to start designing the new kitchen.
I love chatting with you guys! Share a comment below and let me know if you have open kitchen shelves now, do you love them? Not love them? What's your take my friends?