Today I have a DIY rolling work bench project video tutorial to share with you. Mind you, this isn't any DIY rolling work bench, this is a very easy rolling work table I made from a plain old table I picked up on the side of the road! Yes, I repurposed a cast off table to make this rolling work cart with shelves and added a drop leaf to make the workspace larger for bigger projects! It's one of the many Creative DIY Shelving Ideas for Organzing and Styling your Home that I've shared on the blog.
Why make a rolling work table?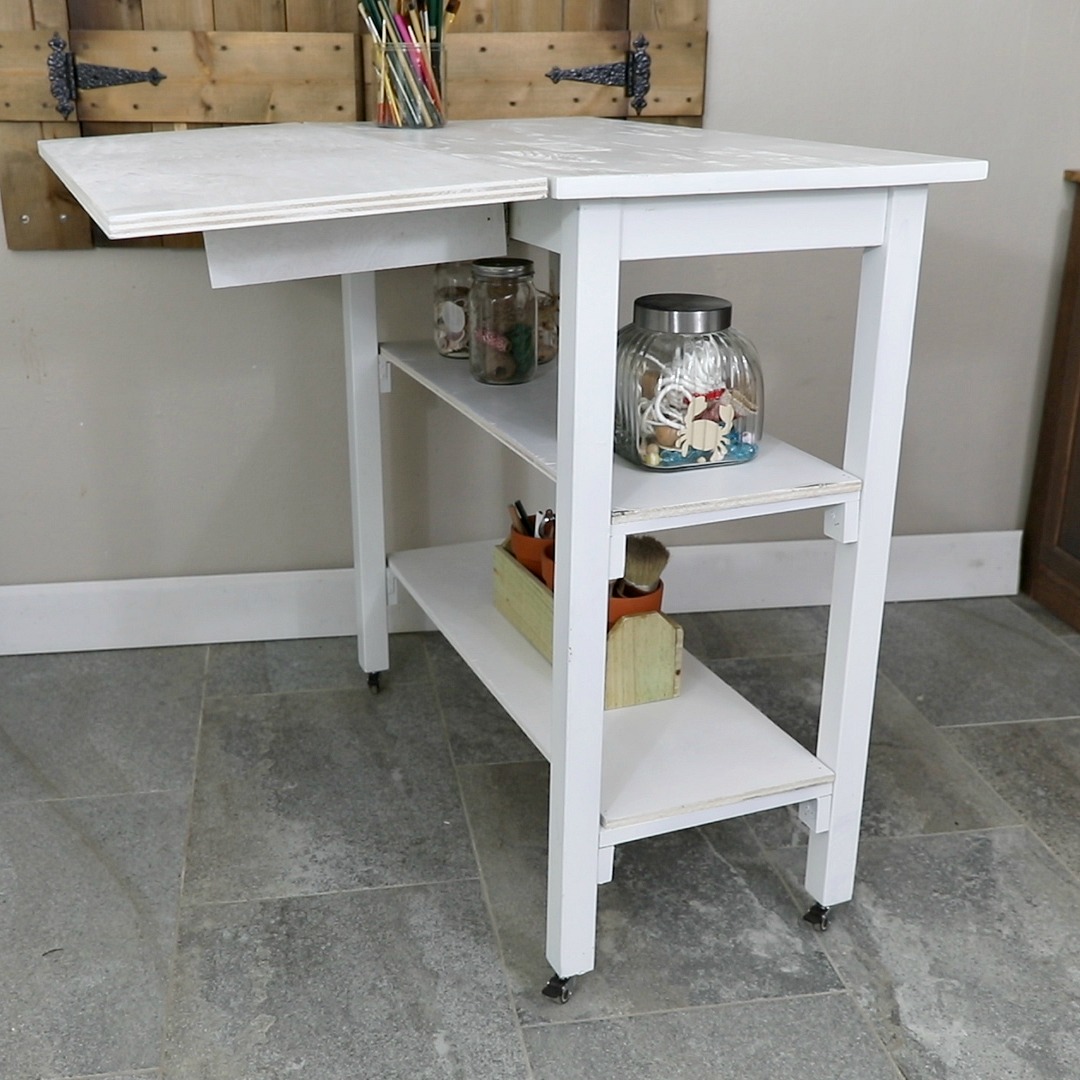 I've been using this table in my office studio for several months. It was a great height to work on but the top was small and it was really heavy to move around! I'm still recovering from shoulder surgery and knew I'd need a way to easily move my work around and keep it at a good height once I started working again. I'm almost ready t start work (limited), and couldn't wait to share how easy it was to upcycle this old table into a rolling work table. I can now easily move it around my office studio, put the drop leaf up when I need more space and then tuck it all away when I'm done.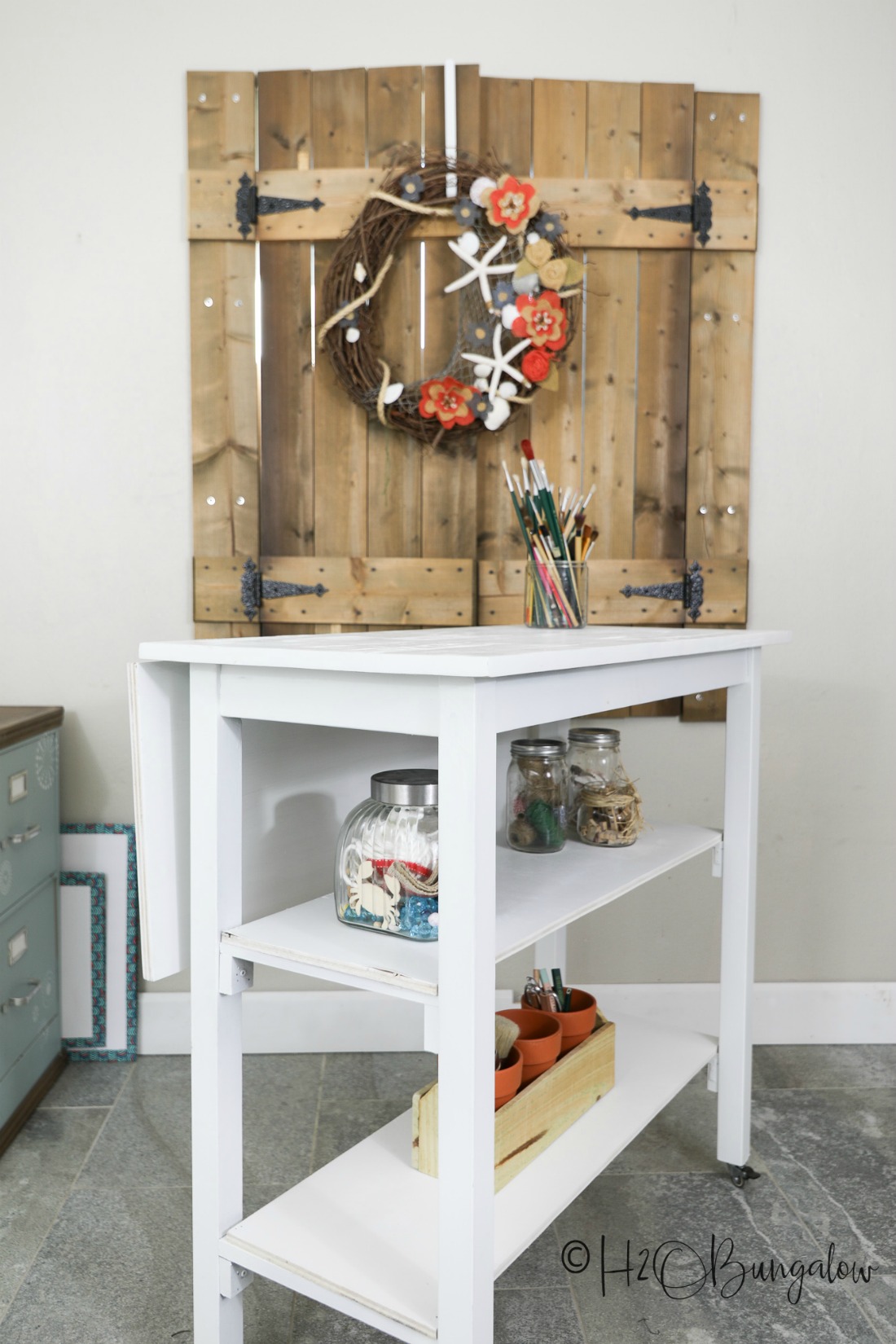 Today is also the kick-off of the Power Tool Challenge's annual Reader Challenge where we invite our readers to share an upcycled project they made using at least 1 power tool. You'll see what my team mates made and find the details on how to enter your repurposed project for a chance to win a fabulous prize below my DIY rolling work bench video tutorial!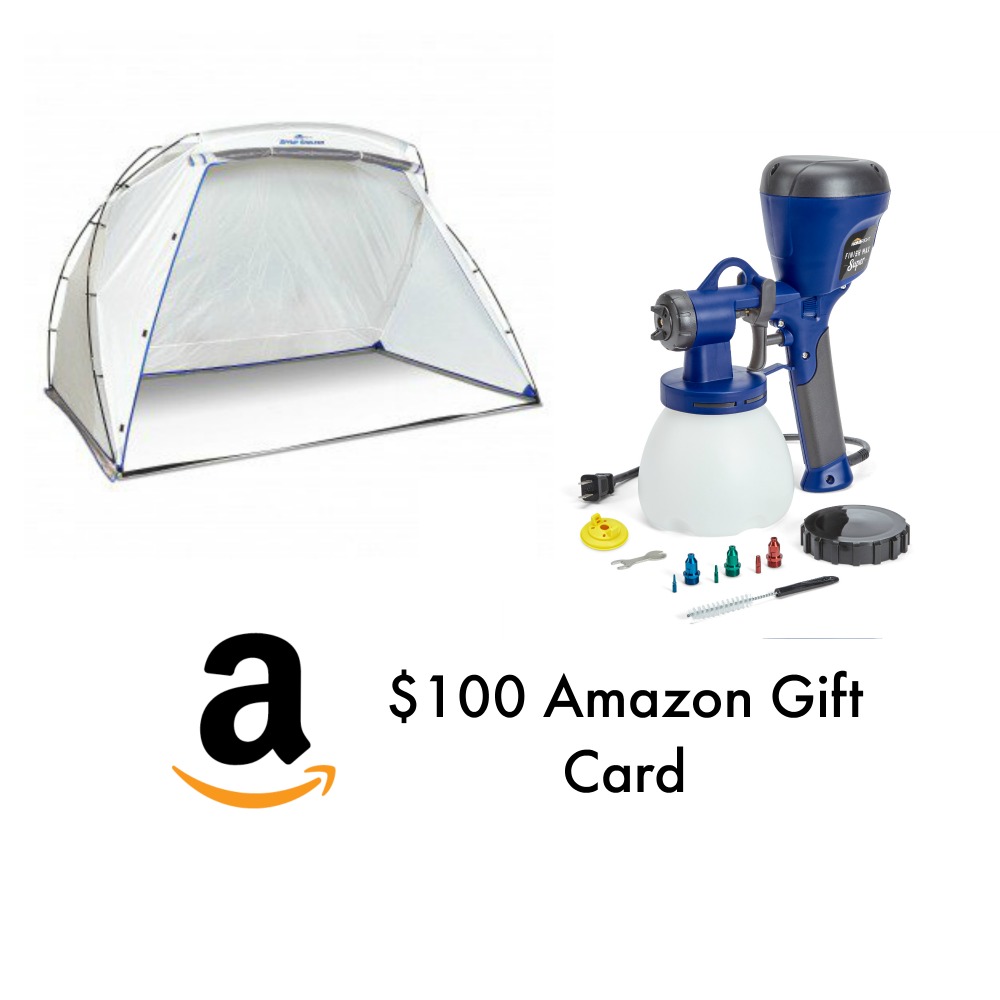 I use affiliate links to help you find the supplies I used. You can read my full disclosure policy here.
How to Make a DIY Rolling Work Bench From a Table
Supplies I used to turn a table into a rolling work table.
Table
Plywood the same thickness at the table top, mine was 3/4″
Plywood for the shelves, I used 1/2″ plywood
Two plywood pieces for the drop leaf support
Paint
Random orbital sander with 60 and 120 grit sandpaper
Drill
Circular saw, jigsaw or table saw to cut the wood
Brad nailer
Screws
Measuring tape
Turning a table into a rolling work bench isn't hard to do. I can't give you exact measurements since each table will require different sizes of items. What I can do is share tips on how to turn a table int a rolling work work table or cart with a work surface. Take a look at my video tutorial to see how I made my rolling work bench.
Don't forget to pin this project for later!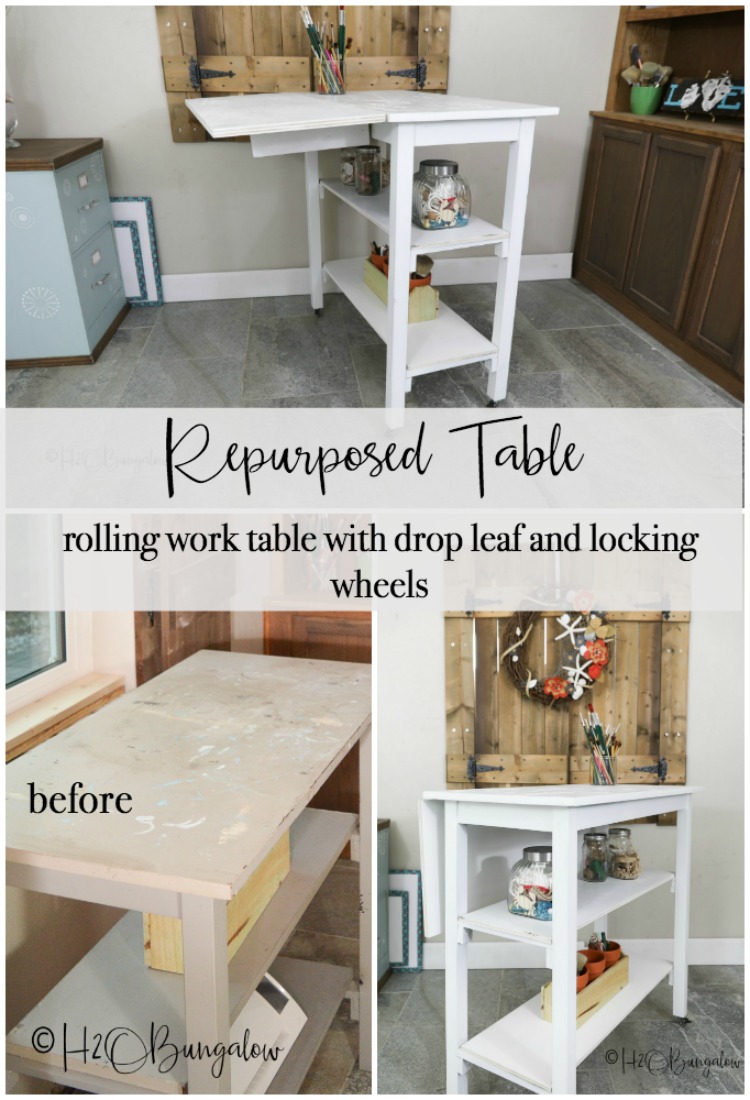 Don't forget to scroll down to see what my friends made and how to enter a creative repurpose project you've made!
Anika's DIY Life DIY Bar Cart
Virginia Sweet Pea Tennis Racket Basket
H2OBungalow DIY Rolling Bench From A Work Table – That's me!
My Repurposed Life Twin Bed Bench
Just The Woods DIY Rustic Wood Coffee Table Refinish
Designed Decor Repurposed Bed Frame Shelf
Domestically Speaking Repurposed Chalkboard Sign For Fall
Now it's your turn dear friends, we want to see what you've repurposed!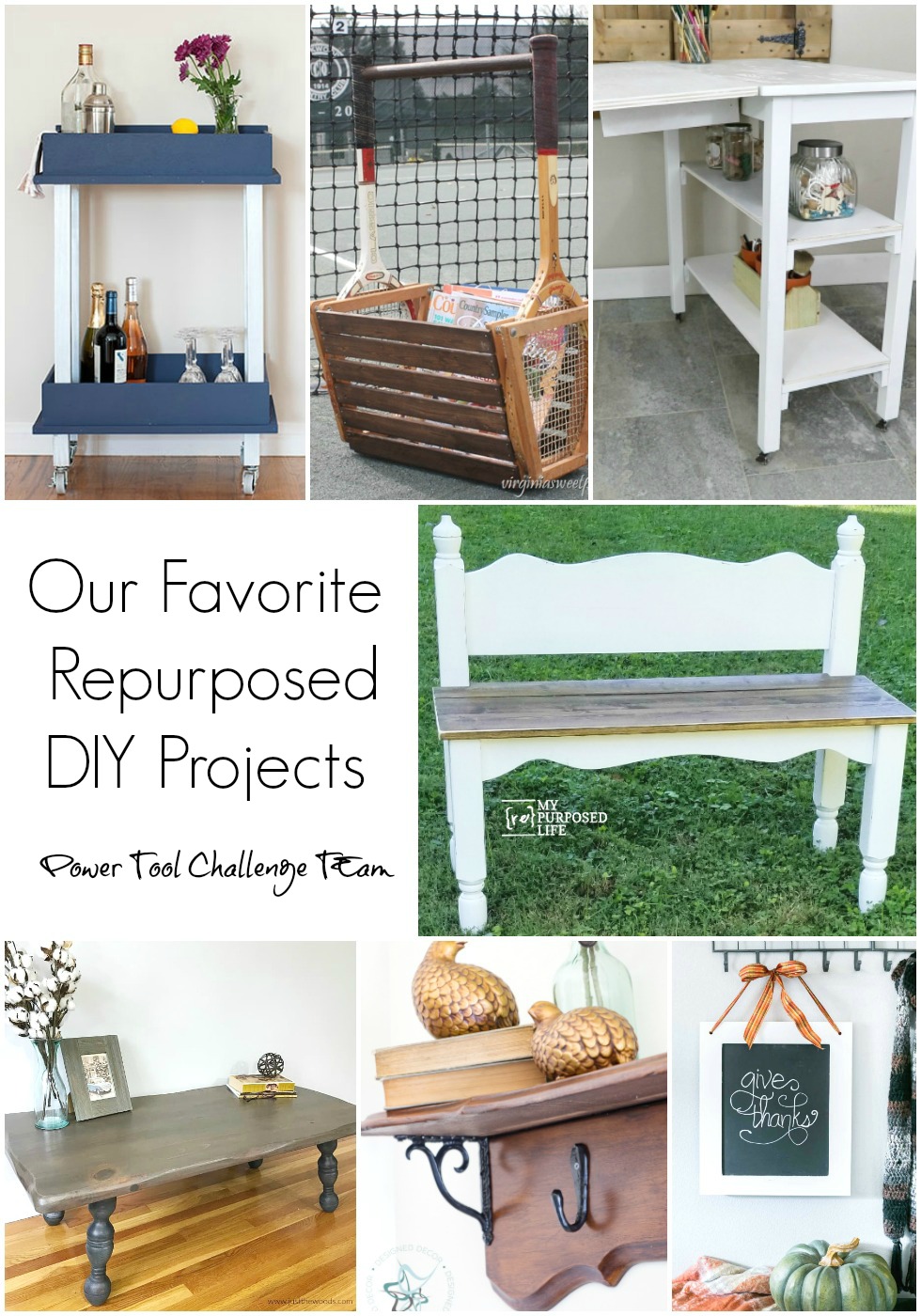 Contest details
Your project must be repurposed or upcycled from something. You must use at least 1 power tool in making it. We'll accept project submissions until midnight on Nov 1. You must be 18 years or older to enter. This contest is open to residents of the US and Canada only. Each person can add to 3 entries. All entries will be voted by the Power Tool Challenge Team and HomeRight. There will be two winners, Best over All Repurpose and one Randomly Selected Winner.
How to enter
Add your links here in the InLinkz Link-up below or feel free to share a picture of your repurposed projects on my Facebook post here and I will add them for you. You must name your project so I know what to call it! If you'd rather just send me your photo, go ahead and send it to [email protected] and we'll upload it for you.
Good luck!
What do you think? Have we motivated you to upcycle or repurpose something discarded into something useful? I cannot wait to start using my DIY rolling work bench!