Is it spring where you are yet? It is here. I'm thankful we live in warm & mostly sunny Fl, especially as I'm watching the news and see huge snowstorms happening in the north today. Even if it doesn't feel like spring where you are, you can add spring colors with a simple DIY like today's project. My easy stenciled flower pots are a simple way to add spring color inside or outdoors.
Planting spring flower or vegetables in pots has become kind of an annual tradition for me.
Not because I'm so good at planting…but at least I can make pretty planters;)
These easy stenciled flower post are so simple to make, you can probably see how I made them just from looking at the photos.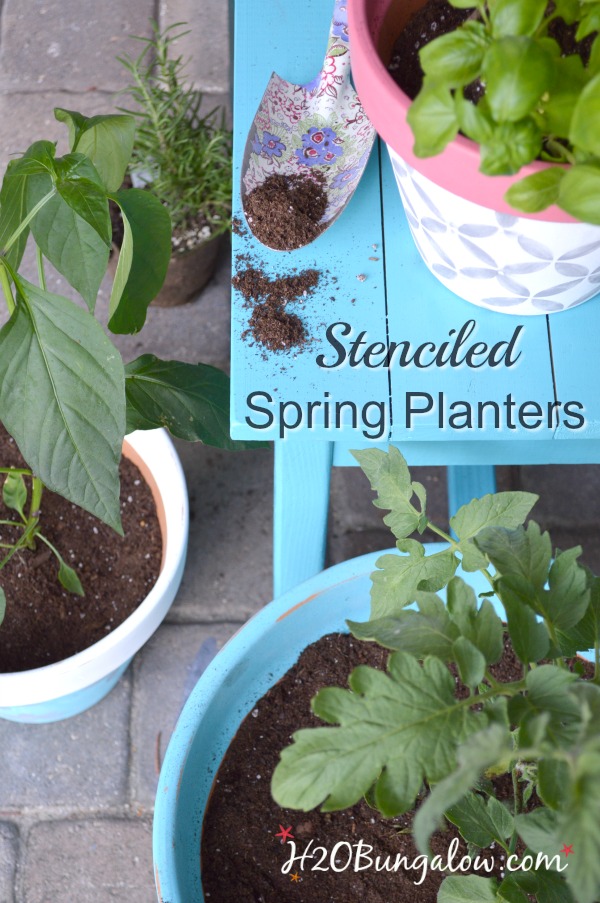 Almost every year I try to plant a few edibles, usually in pots since we don't have an official garden spot yet.
Like I mentioned earlier, it's kind of a tradition.
Except for my butterfly garden I'm not very good at gardening.
…But, a tradition is a tradition.
Each year not long after spring arrives, I take my time picking out my vegetable plants. Taking great care to choose the healthiest ones can find. Certain that year will be the year I succeed in growing potted veggies that we can eat. It doesn't take long for most of them to keel over and quit.
Last year the one plant that just wouldn't die was a jalapeno plant. That was one tough little plant 🙂
Even if I can't grow veggies so well I figure I can have pretty pots.
Make easy stenciled flower pots
Supplies for easy stenciled terra cotta flower pots. My list has affiliate links so you can find the products I used.
Terra cotta pots
outdoor paint I used Patio Paints which hold up well for outdoor.
Clear Sealer I like Dura Clear or Ultra Matte Varnish, both are linked
250 grit sandpaper
Paint the rims of the planter with a vibrant color and the bases another color. I like to paint the top of the inside rim of the terra cotta pots too.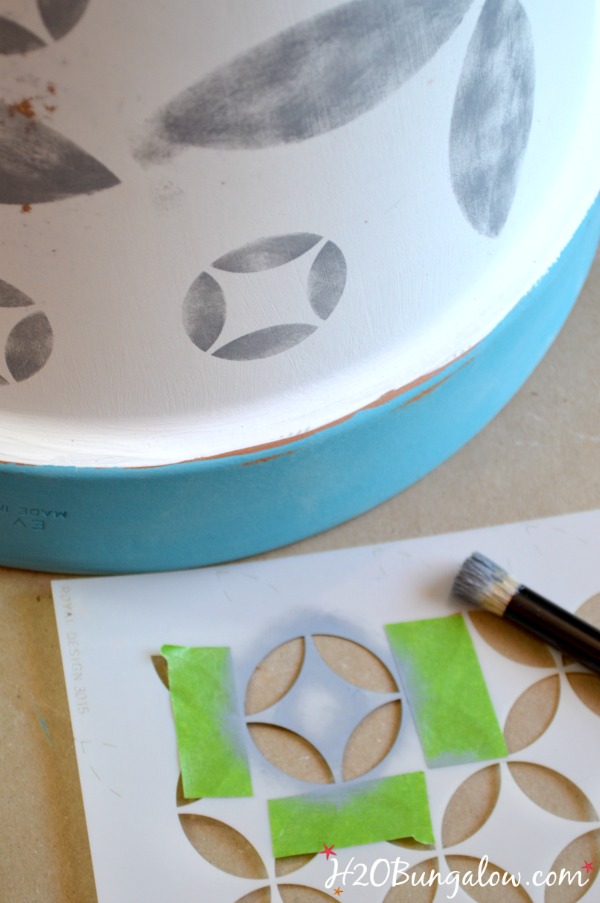 Stencil geometric patterns or use parts of a stencil to make complimentary shapes on the three terra cotta pot bases. Here's a neat trick for stenciling, if you want to use just one area of a stencil, tape off the area around it to prevent paint going into areas you don't want them to go.
You'll find good tips for stenciling on another spring project I love, my Large Blooming Tryptic.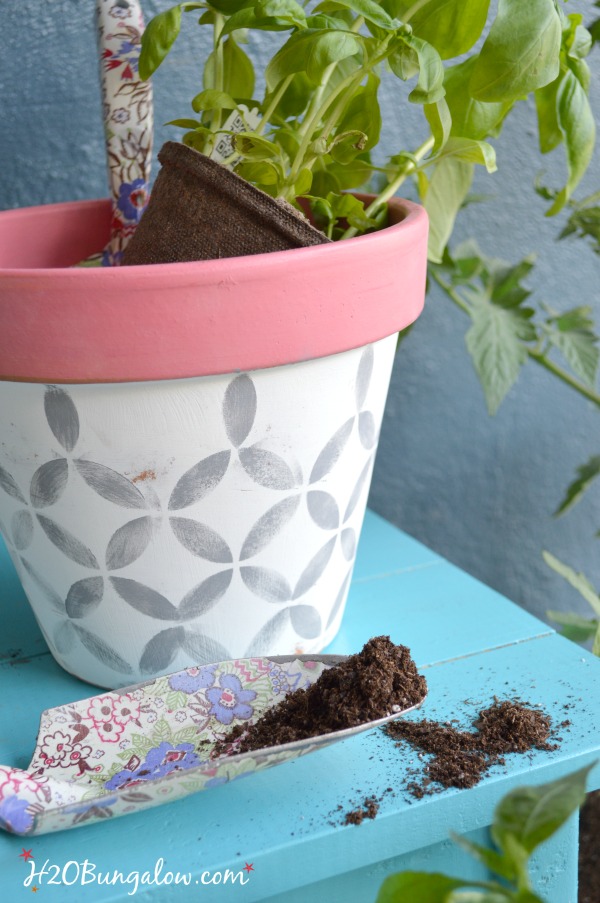 Next, you'll distress a little with sandpaper and seal the paint when it dries with a clear sealer.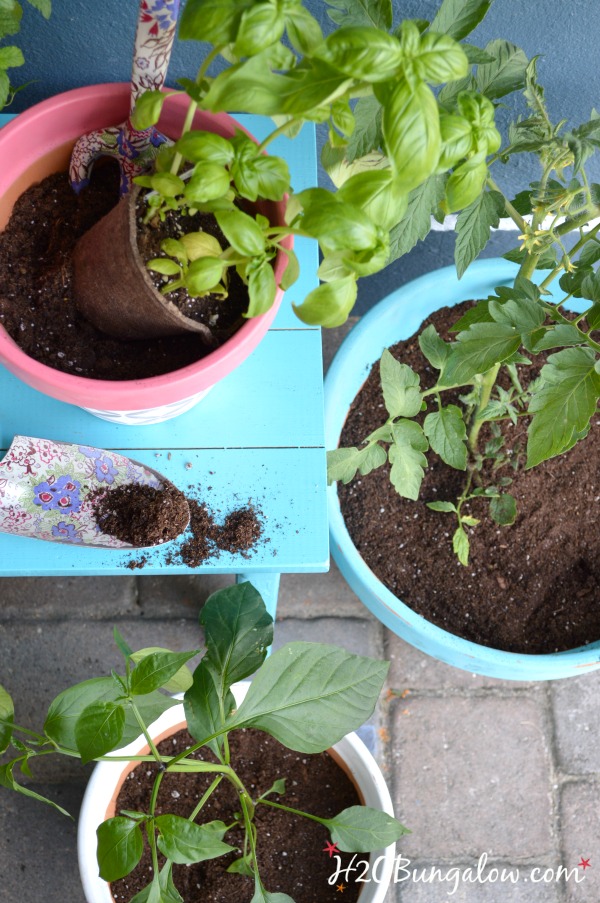 Let your new painted pots for your container garden sit for a day or so to let the paint cure, then fill with your favorite flowers, herbs or or veggies.
Place in a bright spot or arrange on a tables like my colorful turquoise DIY Patio tables.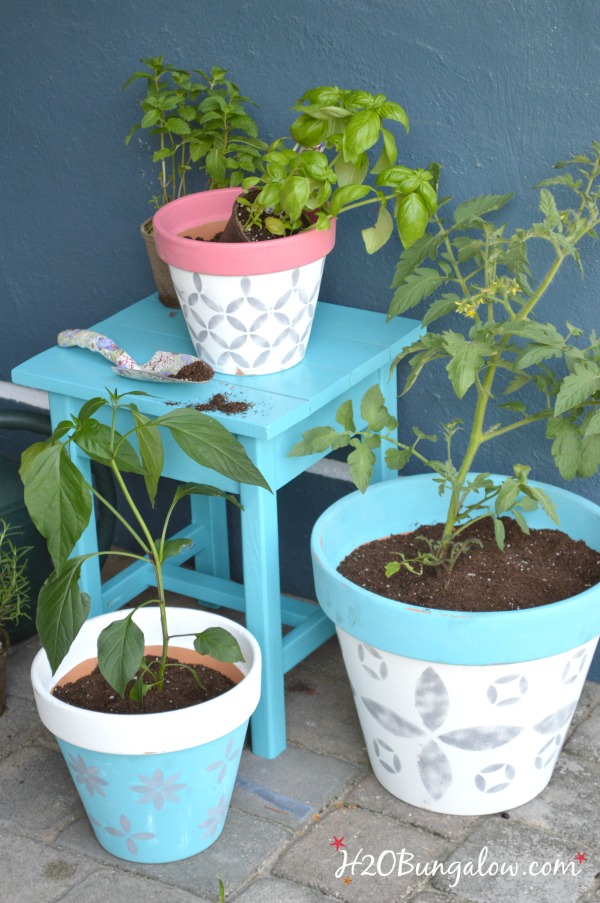 Your painted stenciled flower pots will look fabulous, especially if you happen to be good at container gardening or growing flowers or vegetables in pots.
Fess up. Are you and ace at container gardening or is your thumb a shade of black like mine? Let's talk about it in the comments below!