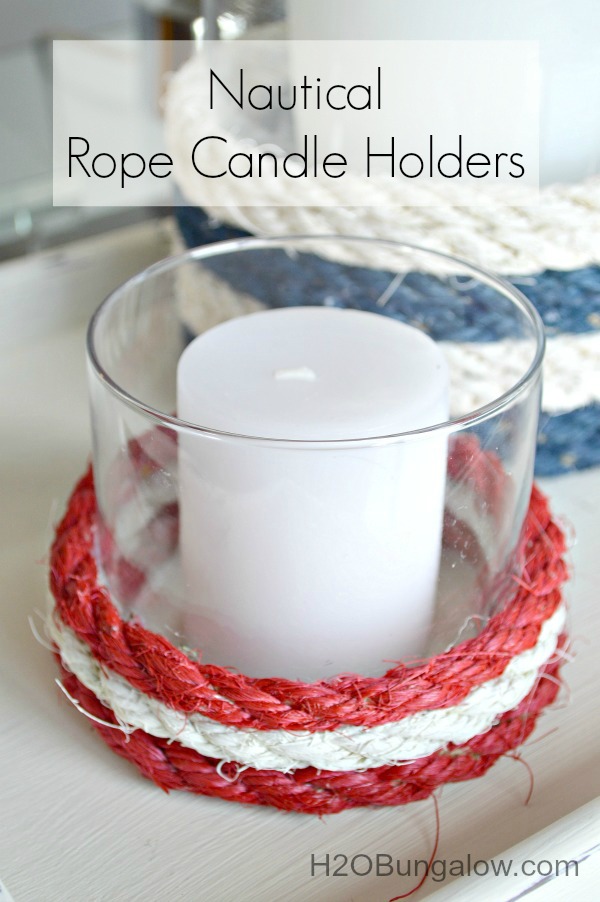 I whipped up a few super simple nautical rope candle holders earlier this week to post while I was away at the awesome Haven Bloggers Conference.
I have a growing collection of glass containers that had too much potential to simply cast aside in the recycle bin!
My little stash is full of containers from used candles and dollar store leftovers. I've also been holding on to a larger cylinder shape one left over from a plant I killed. I knew a worthy project would materialize.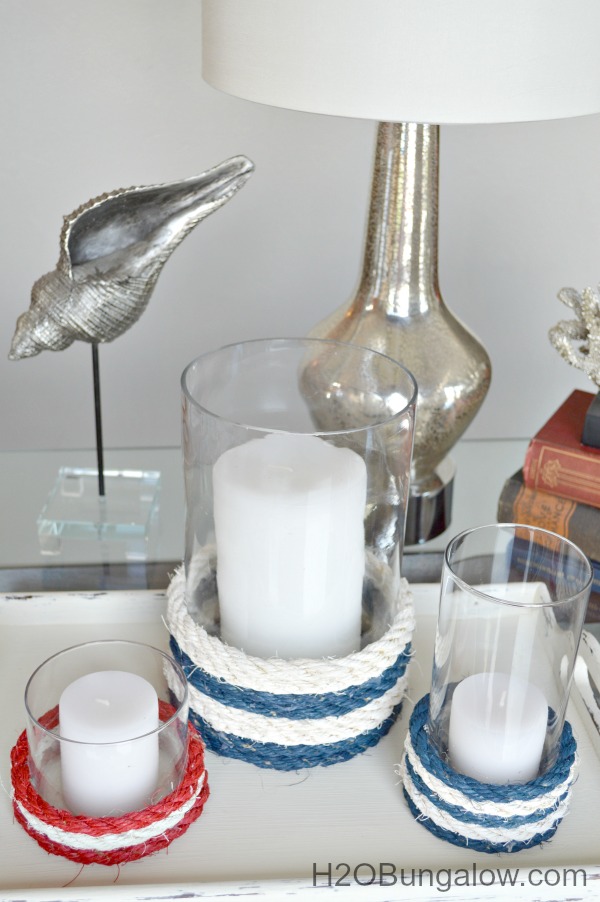 This is a quickie project. I'll bet you have the supplies on hand already. Below you'll find my nautical rope candle holders craft supply list.
Glass containers
Jute rope
Paint
Hot glue gun
Scissors
Start with clean glass containers. The candle container was the hardest to get clean. The candle residue would not wash out. I tried everything. Let me save you some time. Goo Gone. I put a little on a paper towel and the waxy candle residue cleaned right up!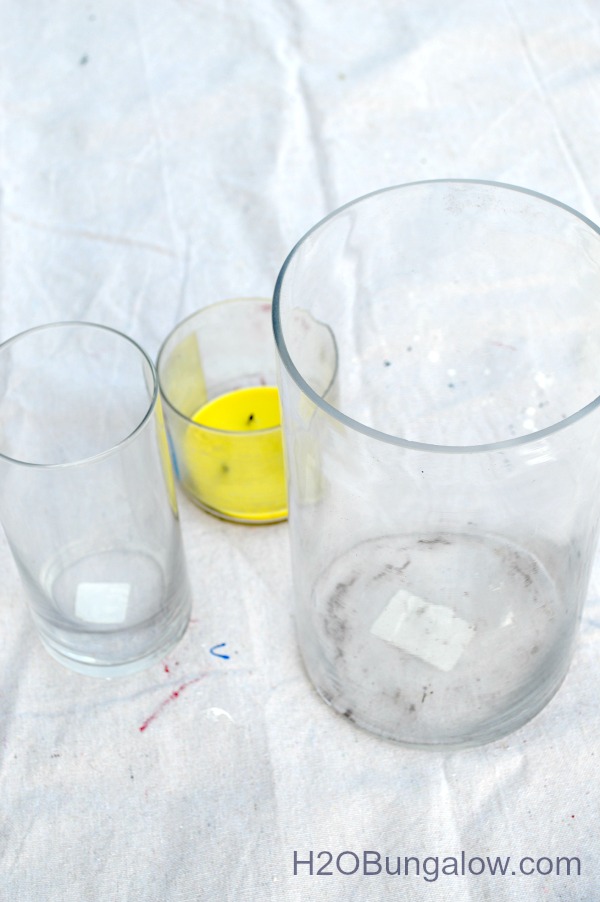 Next, you'll cut each piece of rope to circle your candle holder one time. Leave just a little bit extra at the end so you can trim it to line up with the other end when it's glued onto the glass.
You want the paint to color the rope but not cover it. I added a little water to my paint until I had a consistency that gave me the right amount of coverage. Let your rope dry thoroughly before moving on to the next step.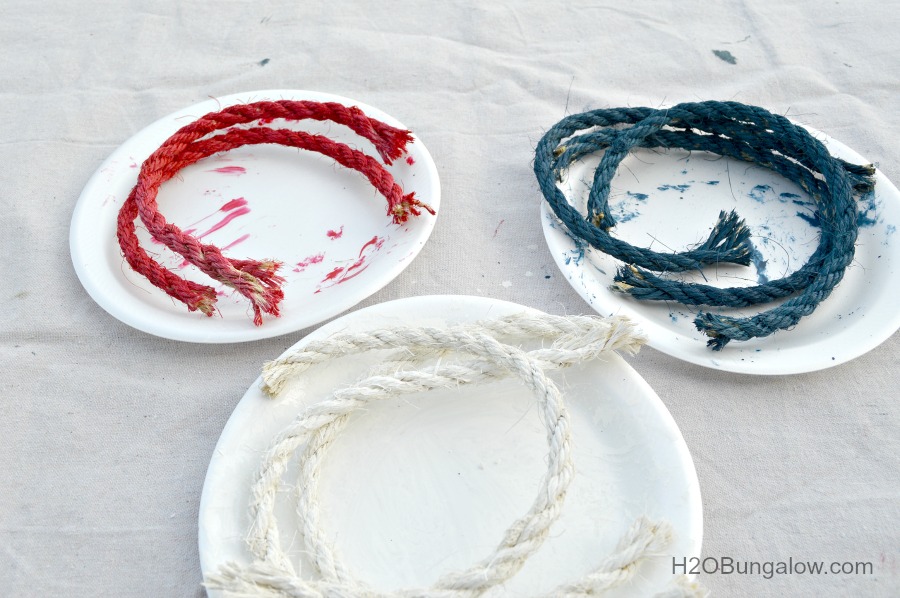 Before gluing the rope onto the glass, trim the rope ends. I show how to make them line up seamlessly in my Rope Trimmed Mirror project. When you're ready begin glueing the colored rope to the glass.
So simple!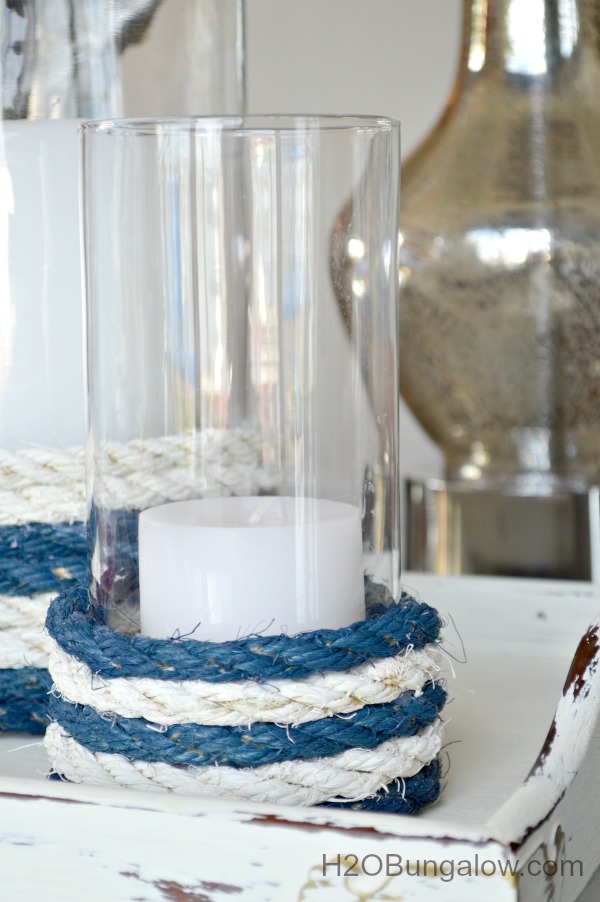 It's a good thing that nautical is big this season because I've been on a crazy nautical obsession lately. A few simple rope nautical candle holders like these would make a great hostess gift, be pretty on an outside table at sunset or in the house as part of a themed vignette.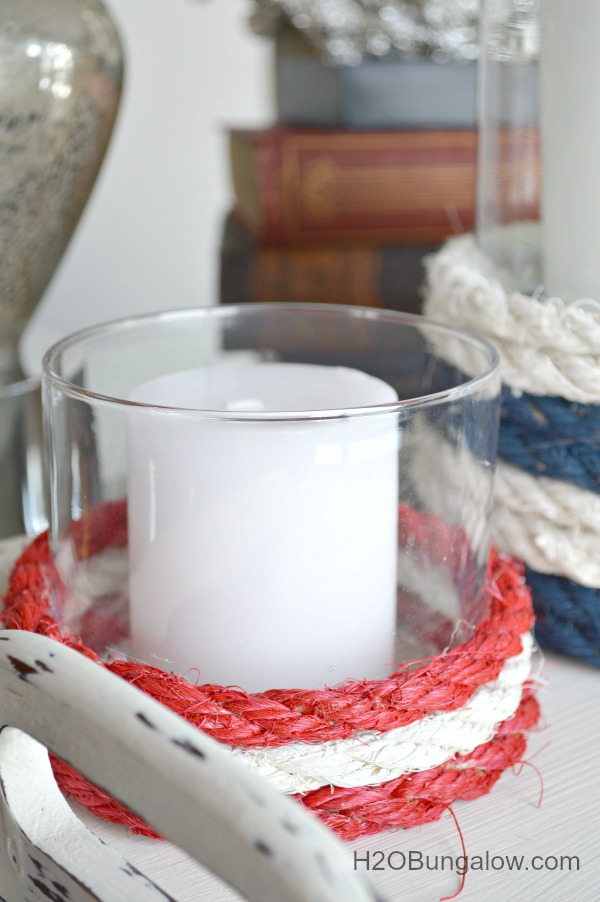 I see lots of places I could use these in my house. I'm tempted to completely redo my living area colors and have some fun with a nautical theme for a while.
But I won't start a new project today. I leave tomorrow and of course have a million things yet to finish….
I'll be back in a few days and can't wait to share my experience of attending my first Haven Conference!
I used traditional nautical colors. Would you make a nautical rope candle holder like mine or in another color?

I know you don't want to miss a single creative idea I share! Sign up for my email here or follow me on Bloglovin here.