I'm finally sharing an update on our progress in the new Mill Place in Ludlow, Vermont! We've come a long way over the past seven months. From new floors, to new doors and a new kitchen and more this place is beginning to looking pretty good. I made a video of the tour so you can see how the place is starting to take shape! To keep it real, I'm also sharing my biggest renovation wins and gotchas of this remodeling process so far.
Time is ticking and I've got a deadline to make on this condo. Will I make it? Read on and see.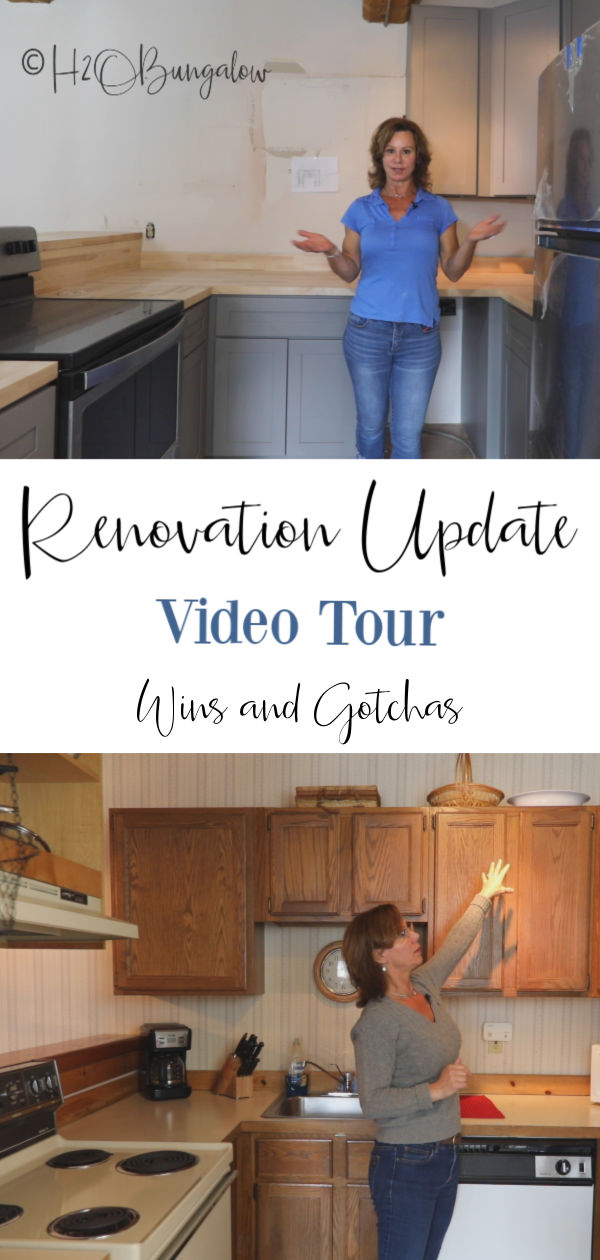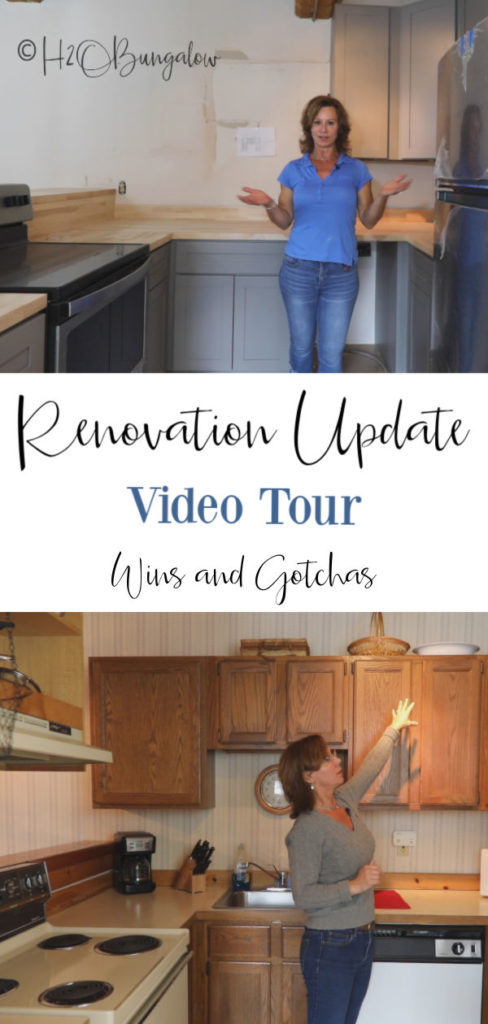 If you didn't see my post The Mill Place: Another DIY Adventure you need to see it first to appreciate how far we've come before looking at today's renovation tour. Take a peek at the video that I took the night before we started gutting the place.
Keep in mind photos always look better than reality, which was the case with this place. The wood floors were split and coming apart, some of the bottoms of the kitchen cabinets had rotted out and we are pretty sure most of the carpet was original from when this 1857 building converted to condos sometime in the 80's. Each of the three closets were all knee deep in stuff prior guests had left behind…
I don't need to go on, you get the picture!
It was a mess.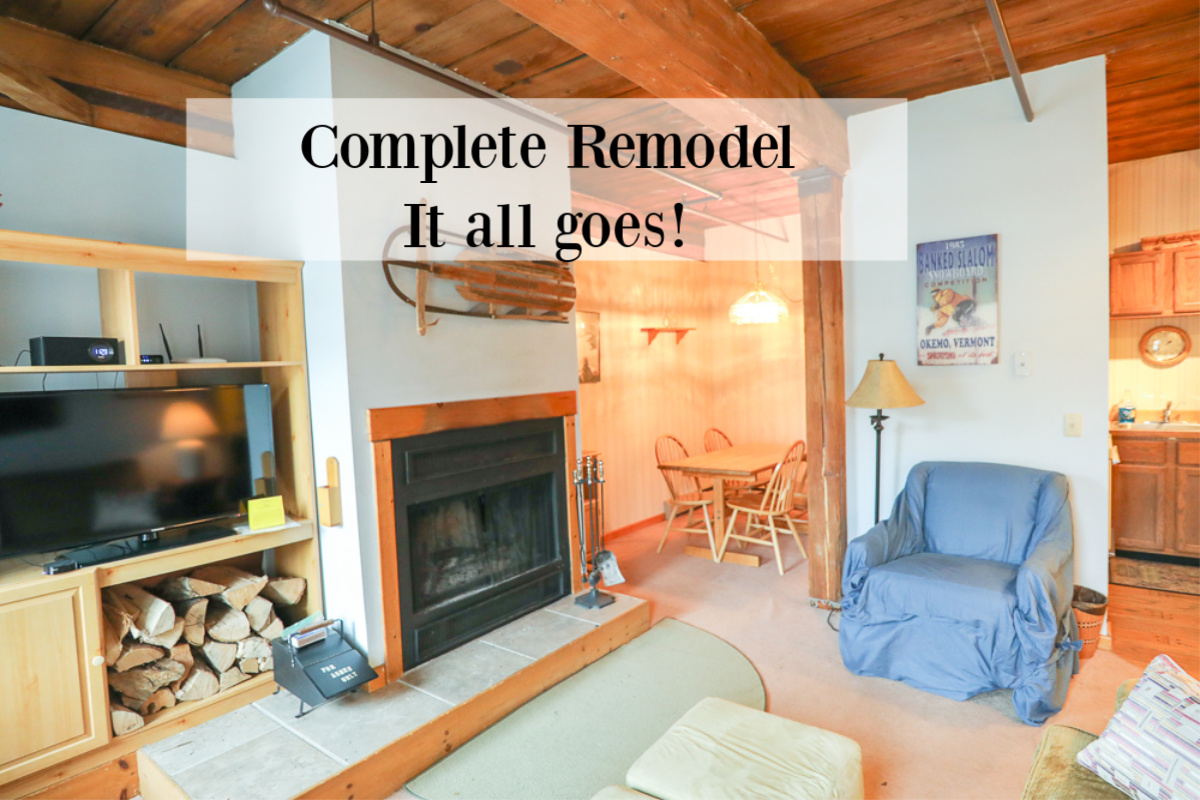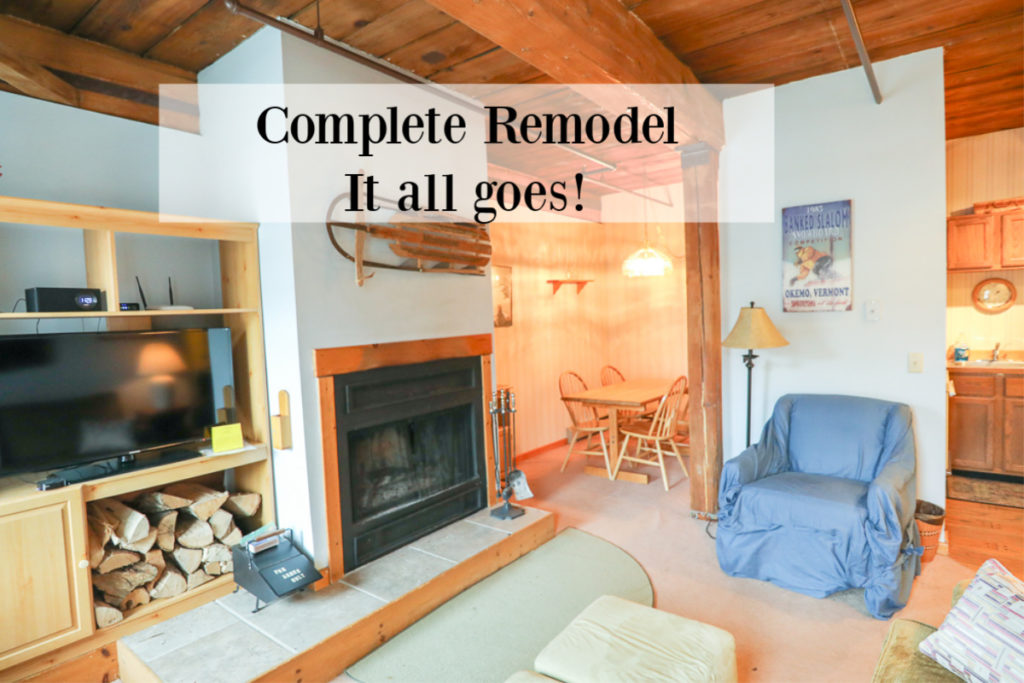 Fast forward seven months and I see the light at the end of the tunnel….and no, it's not a freight train.
I've been traveling to VT to work on the Mill a few weeks at a time. Truth be told, that part's been a lot tougher than I thought it would be. It's not the hard work, or even the DIY projects, it's the time involved in traveling so much that it's tough to keep a normal schedule. That and of course missing my wonderful husband, a lot, who fully supports my crazy idea turned new business venture.
Old House Renovation Update: The Mill Place
So take a peek at my latest video of our renovation progress below. I unfortunately accidentally erased the prior video I took right after we gutted the place and before construction began. Oops!
Renovation wins and gotchas
My biggest wins with this renovation so far:
I got a great deal on quality kitchen cabinets.
I got a great deal on my hardwood cypress flooring.
I'm very happy with overall design and specialty items (like the stone fireplace) we're adding.
The biggest gotchas:
I underestimated the time it would take to get everything done.
All the interior doors had to be replaced which was a blow to the budget.
Project creep happened a lot (I up-sell myself often when making choices), which will also be a big budget hit.
I didn't know all of the electric that power the condo ran through the one wall I chose to remove. Where the arrow is in the below picture. Again, oops!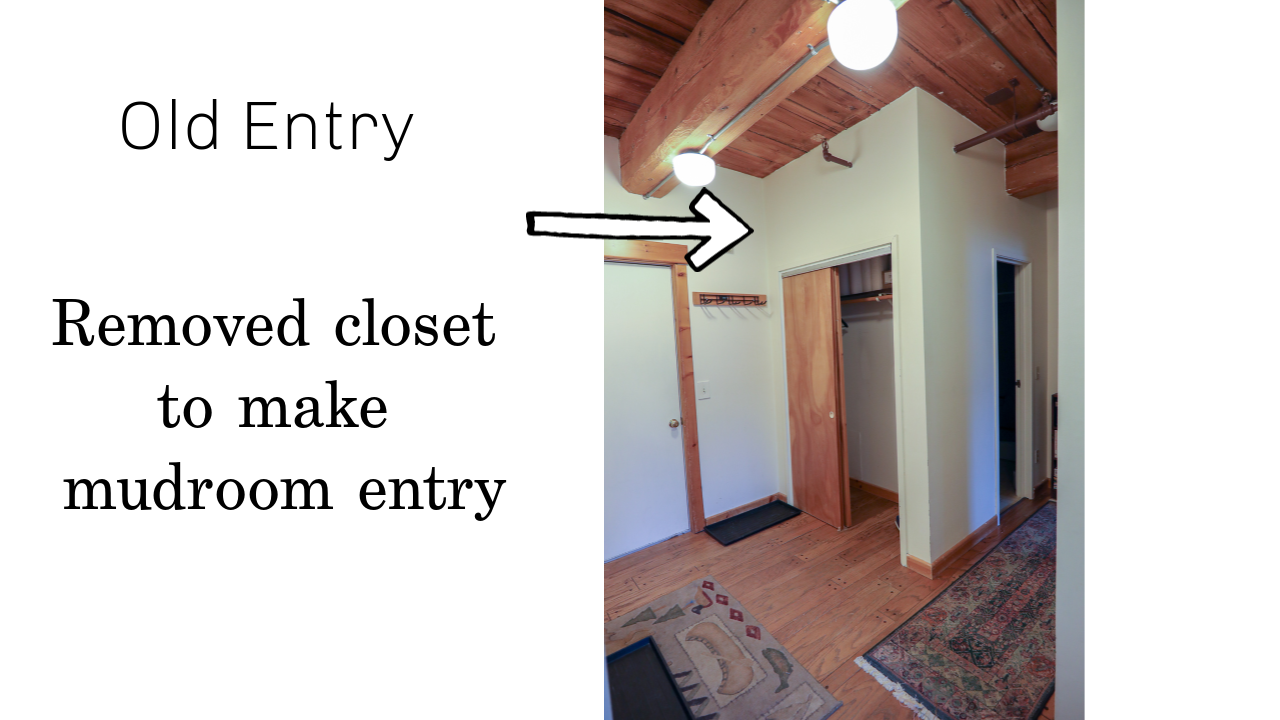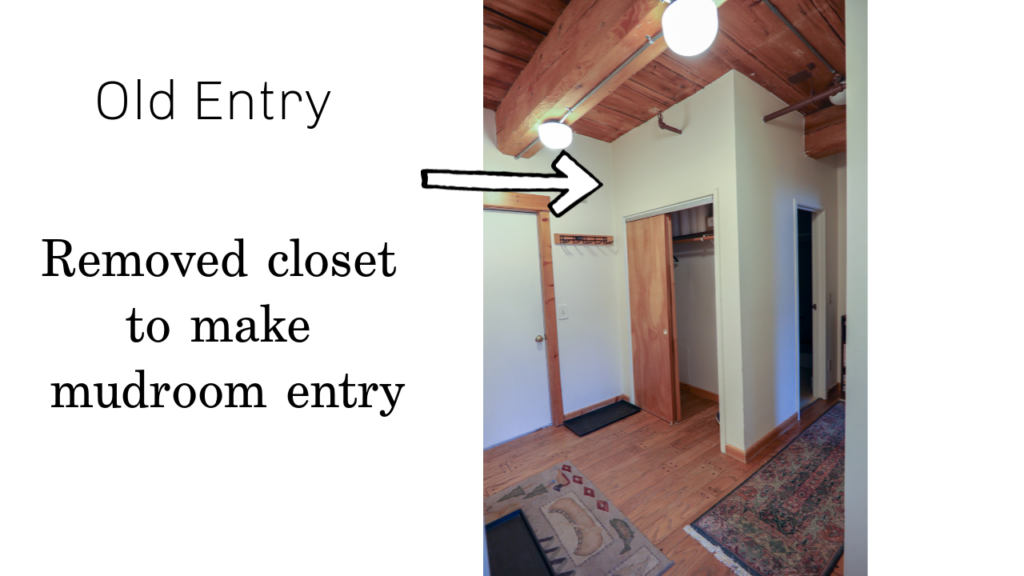 It takes a team to renovate and remodel.
For the record, I do not do all of this by myself. Oh, heck no! It takes a team to tackle any major remodeling job.
You need a paper pusher and task organizer.
You guys don't hear much about my husband on the blog. He's a quiet guy who isn't in to social media, doesn't have a Facebook page and would rather look at a color coded spreadsheet than pick up a power tool. Aside from being my best friend and biggest supporter. He's also the guy who handles all of the licensing, paperwork, keeps the records and makes sure everyone gets paid. In other words, he's the practical one.
You need skilled help on your team
You need someone who can get things done. I help with whatever grunt work I can that saves us money like helping to demo the place and rip out floors. But I know my limits both physically and skill wise. In other words, I don't run the show.
I've got a super talented local guy I've worked with on all of my renovation projects in VT. He's a master carpenter and could easily build an entire house from the ground up by himself. In short, he's very good at working with wonky old houses and finds ways to make anything work.
I'm very fortunate that he has always been patient and open minded when I have "an idea", teaches me a lot and lets me borrow his tools when I don't have what I need up there. Once in a while I actually share a useful tool or way I do a task that he finds useful too.
You need a dreamer
That's me. I do all of the design work and have the vision. I'm the one who comes up with the "I have an idea" that makes both my husband and sometimes my VT guy cringe. I tackle DIY projects that the average homeowner/DIY'er can do to make their own home pretty and stand out.
All in all, the three of us make a pretty good team. We made these amazing Shaker cabinet doors for the storage closet. We've weathered renovating and remodeling three places in Ludlow so far and everyone still likes each other. I'd say that's a pretty big accomplishment! Yes, I mean both, the renovating and the fact that we all get along well 🙂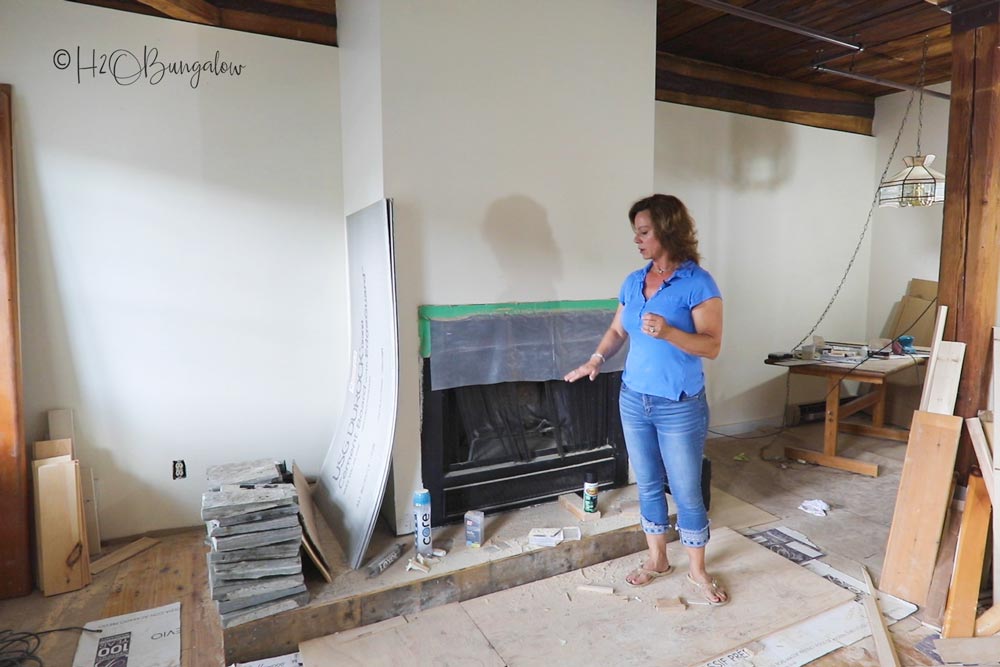 Next steps to complete the remodel
We still have a lot left to accomplish before I start accepting guests. My original goal was to have it done by fall foliage.
Yep, that's not gonna happen!
But I will have it done before ski season starts in late December!
What I'm hoping to finish in a few weeks when I go back:
Build the new vanity with a concrete top and vessel sink.
Complete the bedroom barn doors for the closets
Finish the kitchen wood butcher block countertop
Makeover and paint the dining room table
Build a mudroom entry ( you'll love this design/project!)
Add shelves by the fireplace and hang the TV
Design open shelves for the kitchen
There's a long list of decor items, future projects and furnishings left to buy before the place is 100% guest ready!
Time is ticking. I'll be honest, I'm a bit nervous about the list of what has to be done. Ultimately, it will get done and I'm sure one day I'll look back on this renovation project and laugh about the stressed days and gotchas that I didn't plan for. I can say this with certainty because I've been here before, at this stage of renovating many, many times! *grin*