Hi friends! I'm on my way back from Vermont and couldn't wait any longer to share my big news. Yes, I have another project house that when done, will also be part of the North House Lodge vacation rental group!
If you haven't figured out already, I have a huge soft spot for old buildings, not just old like our 1950's home in Florida, but really old, like our Pleasant Street place in Ludlow that was built in 1835. It's no big surprise that I fell in love with the Mill. It has a rich history that dates back to about 1857 when it was built and used a woolen mill.
The Mill is located in the center of town where we have several amazing farm to table restaurants, and any amenity you need is a block in one direction or the other. Yes, That's Okemo Mountain in the background which mean fantastic skiing is less than a mile away too! The Okemo ski shuttle stops right in front of the building too. It doesn't get more convenient than that!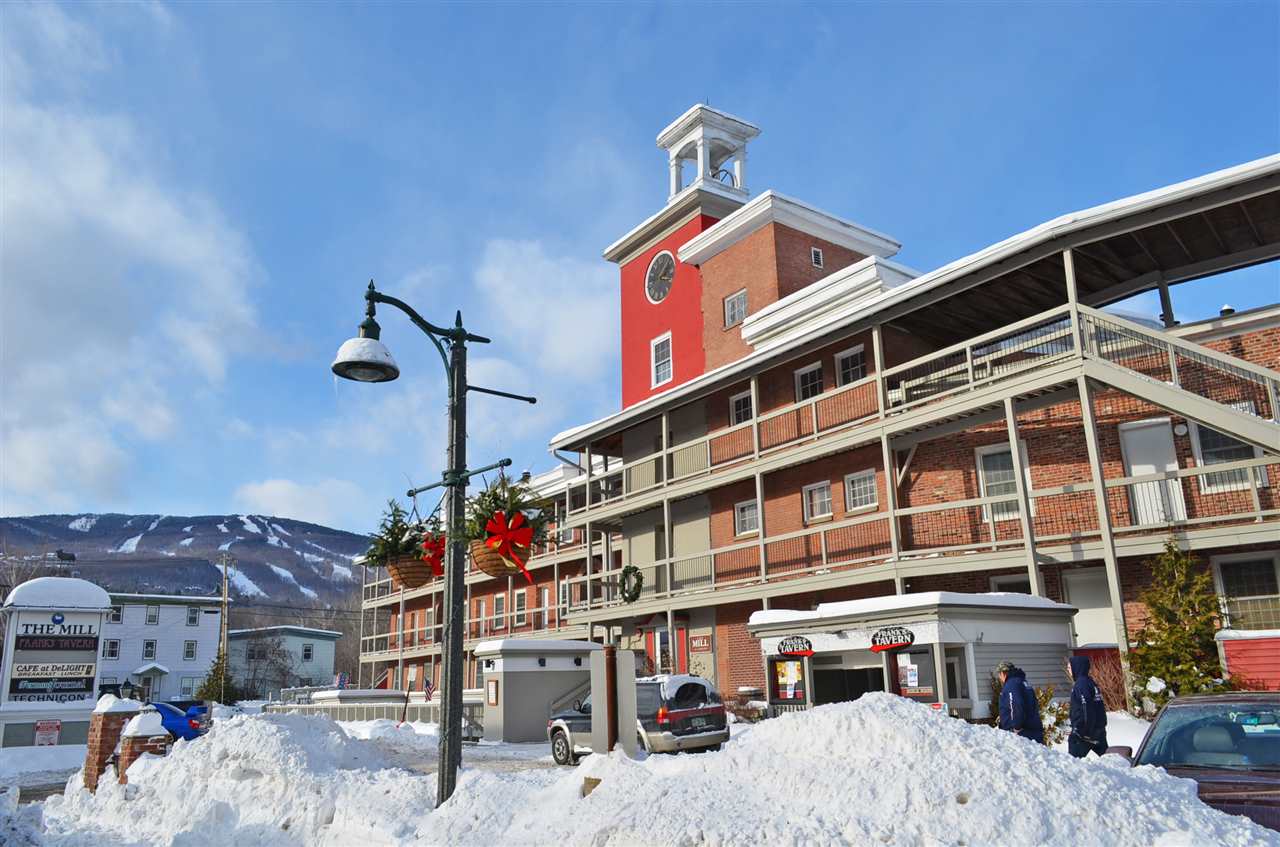 Most of the time, when you buy a vacation rental, it comes fully furnished, furniture, linens, and kitchen items are all included. That's what you'll see in today's tour, what the house looks like now. Almost everything will be donated before we start the renovations.
We have a lovely entry and it's wide, almost the size of a small room at 6′ x 8′. I'm planning to take out the front of the closet wall and build a nook so this whole space becomes a mudroom where people can put on and take off boots, hang coats and ski's. At the end of that hall, I built a closet with Shaker Cabinet Doors.
Have you noticed the gorgeous ceilings yet? Yes! They run throughout the house!
If you follow me on Instagram (follow me here) I've been sharing pictures of this place all week. This is my first indoor wood burning fireplace!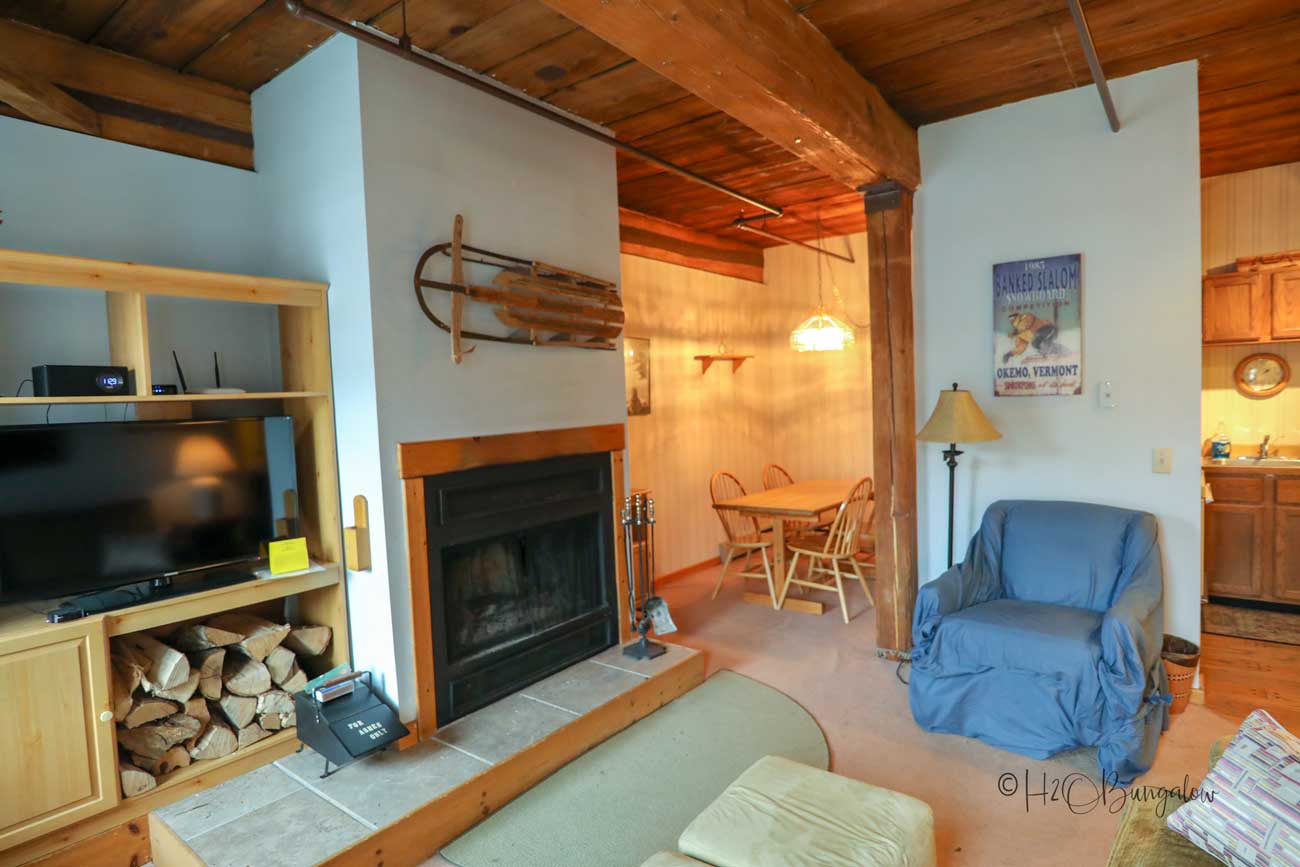 Pictures never capture the true extent of wear and tear. The flooring is old, many of the wood planks are splitting and the carpet is worn. I'm researching a few pretty cool wood flooring options that would be beautiful in here.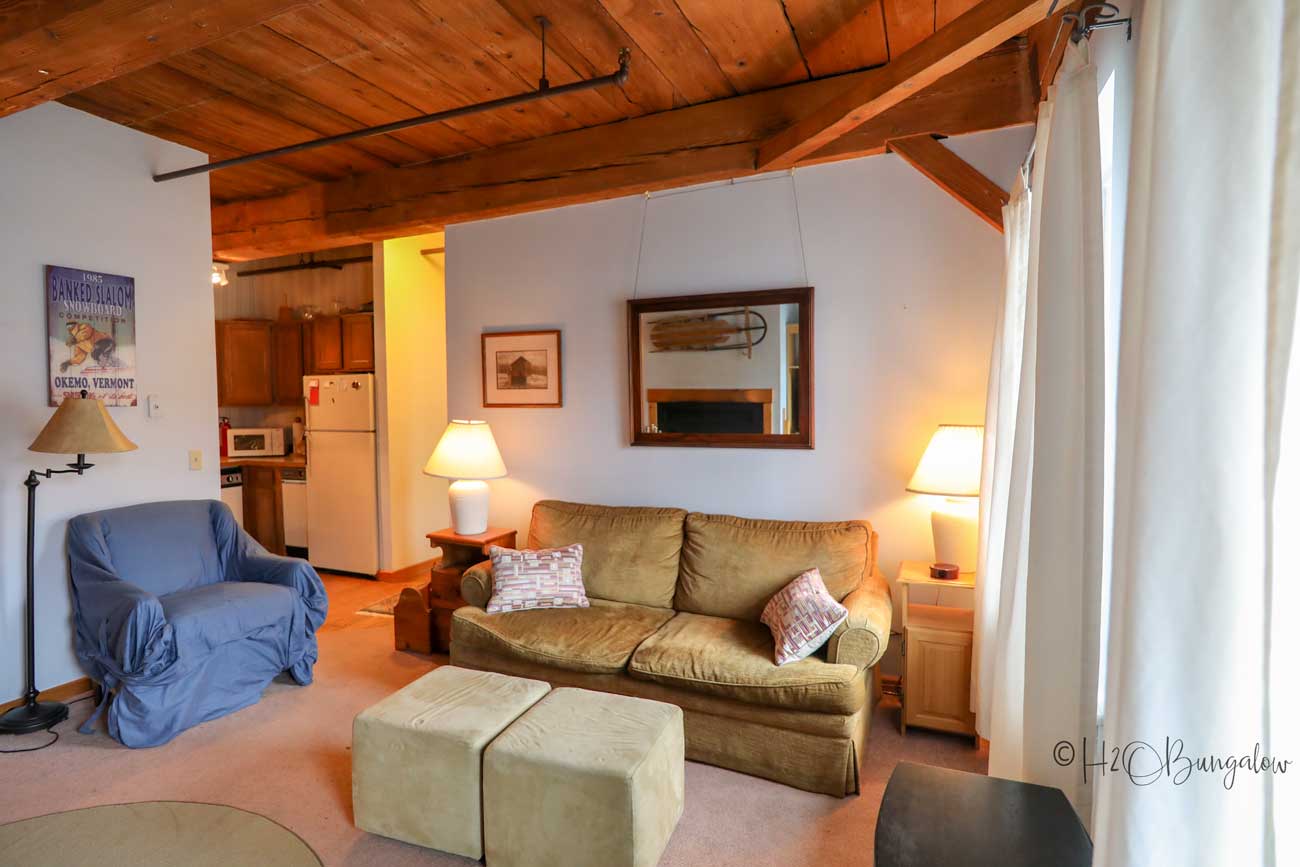 The kitchen will go as well. We'll give this space a whole new look. I'm thinking cabinets on the bottom, and a combination of cabinets and open shelves along the back wall. A vacation rental doesn't need too much kitchen storage so taking out a few upper cabinets won't be an issue.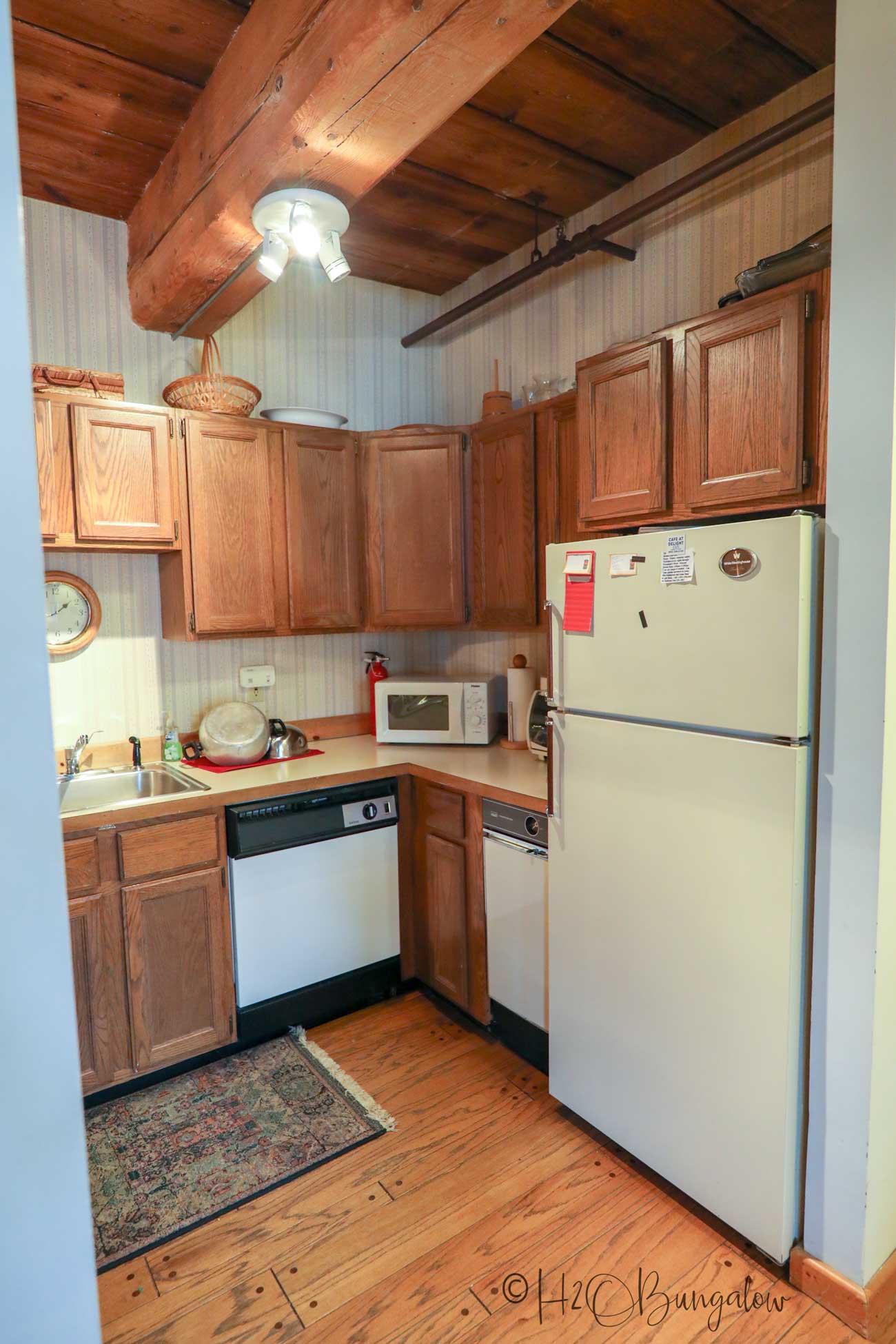 I'm toying with opening up this whole space, taking out the pony wall to the kitchen, and the wall that the blue chair is against too. If I do that, I'd build the kitchen across the back wall. I think it would open the space up well, but I'm not sure it will give me enough room for a dining table.
Either way, the kitchen and dining area will be a tile floor and the new mud room will be too.
Just down the hall are two bedrooms and the bath.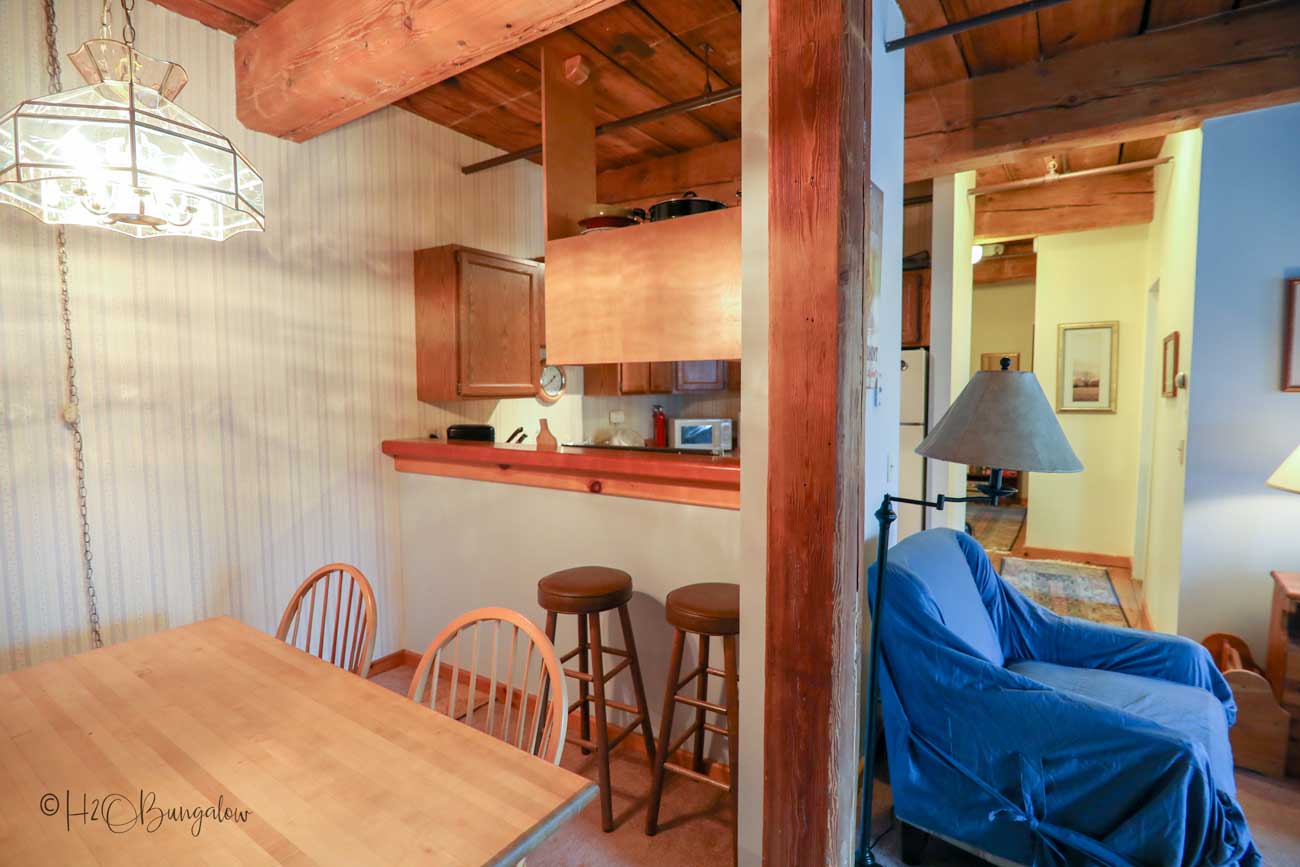 This is the first bedroom. Can't you visualize a big rustic headboard, wood floors and and a nice area rug in here?
One of the other things I love about this place is the windows! They are tall, deeply recessed and let loads of natural light in.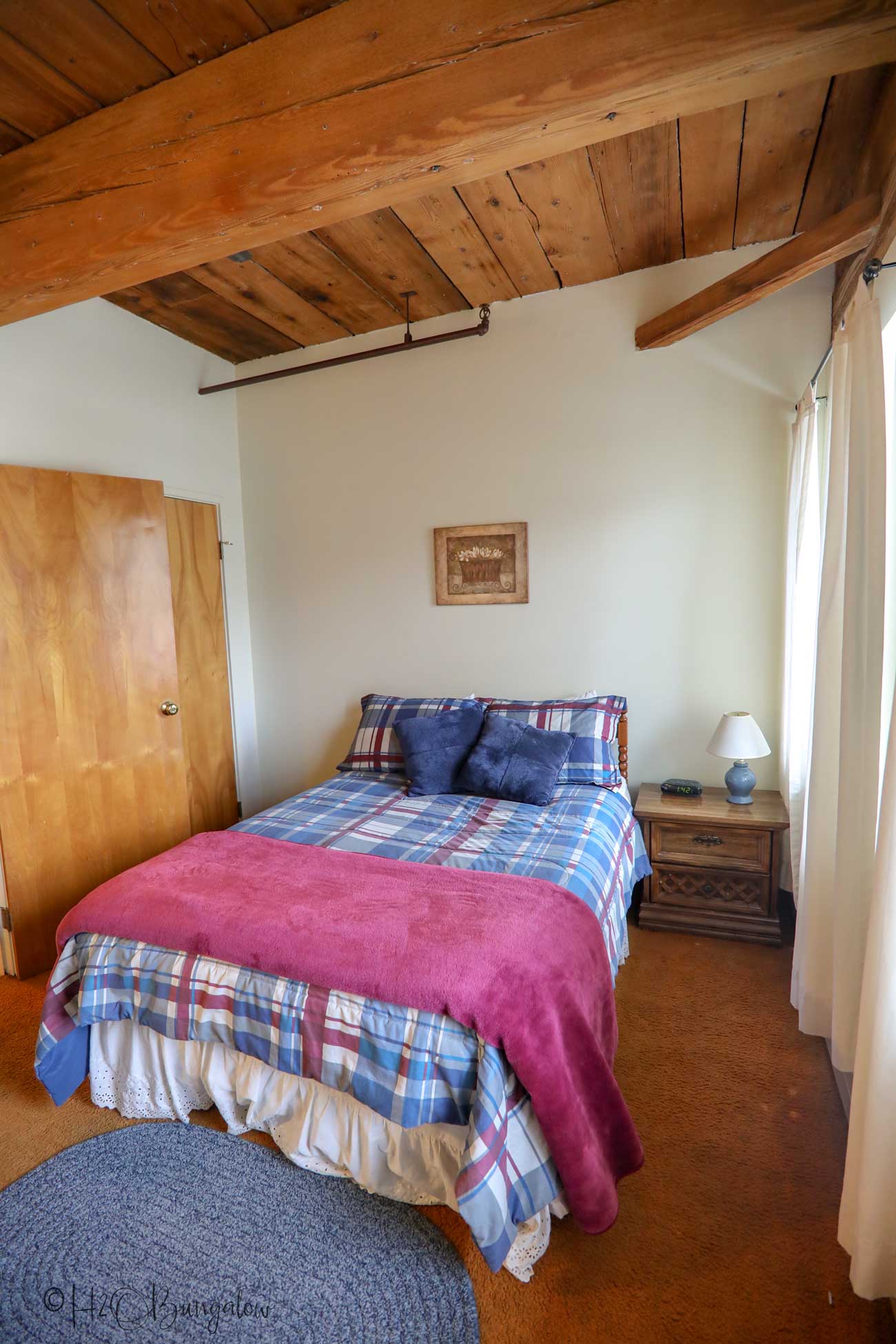 The second bedroom is a little tight, it's an odd size for a bedroom. What I will do to free up space is swap out this queen size bed for a double bed. We have one in the Farm Room at the #54 side on Pleasant Street and it's a great solution in a small room.
Everything goes in this room too. Oh darn, I'll have to go shopping 🙂
We have some great antique shops in Chester, a nearby town that has good prices on solid wood dressers. I'll need to make a day trip to with a pick-up truck to find a few new dressers and maybe nightstands. I look for solid wood well-built dressers that I can refinish or leave as is. My go-to style is well built, kind of farmhouse but could also fit well in an updated eclectic style room.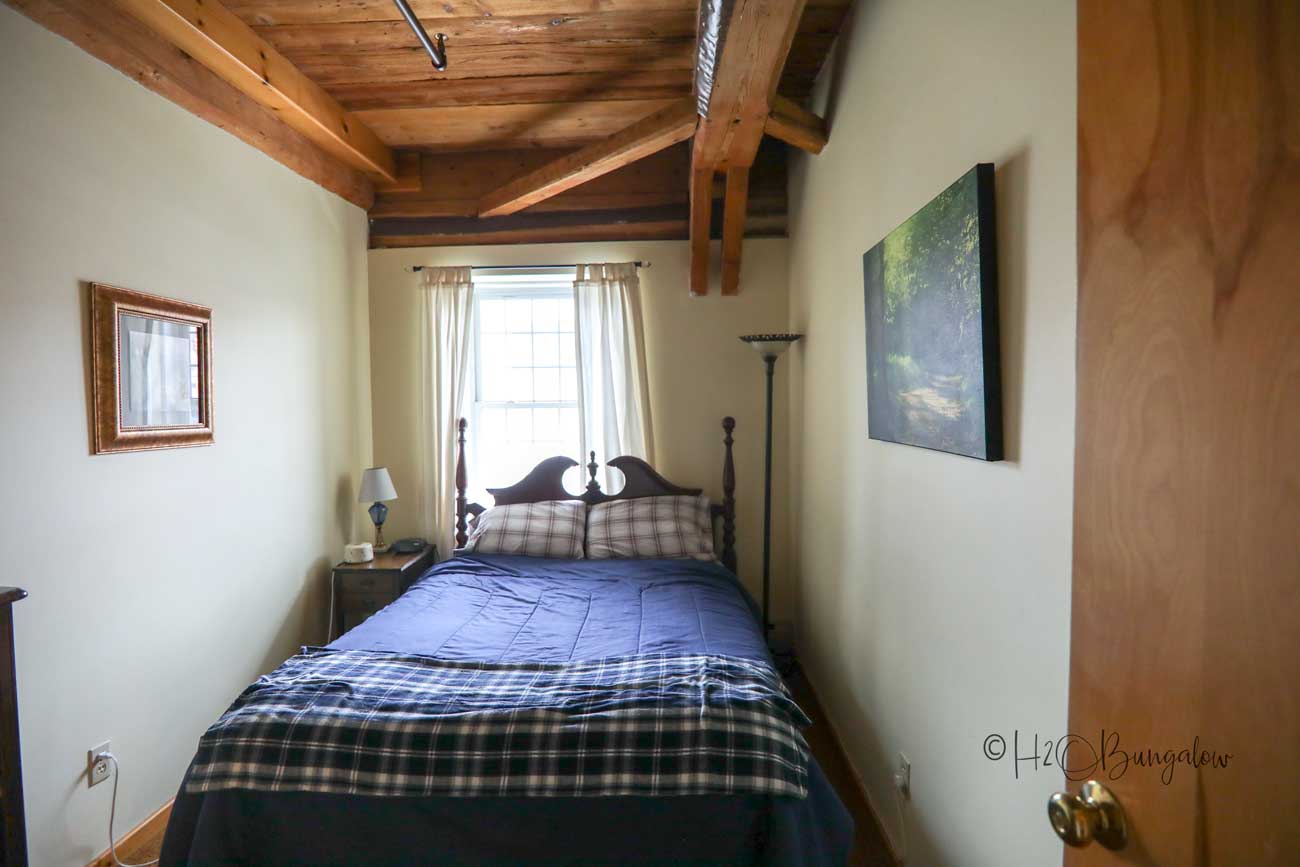 The bath is the last room on our tour today. It's getting an overhaul too. I'm thankful that tub and commode are in good condition. All I'll have to do is put in a new tile floor and come up with a new vanity design. Since the bath is small, I'll need to use a few creative storage ideas for guest towels in here too.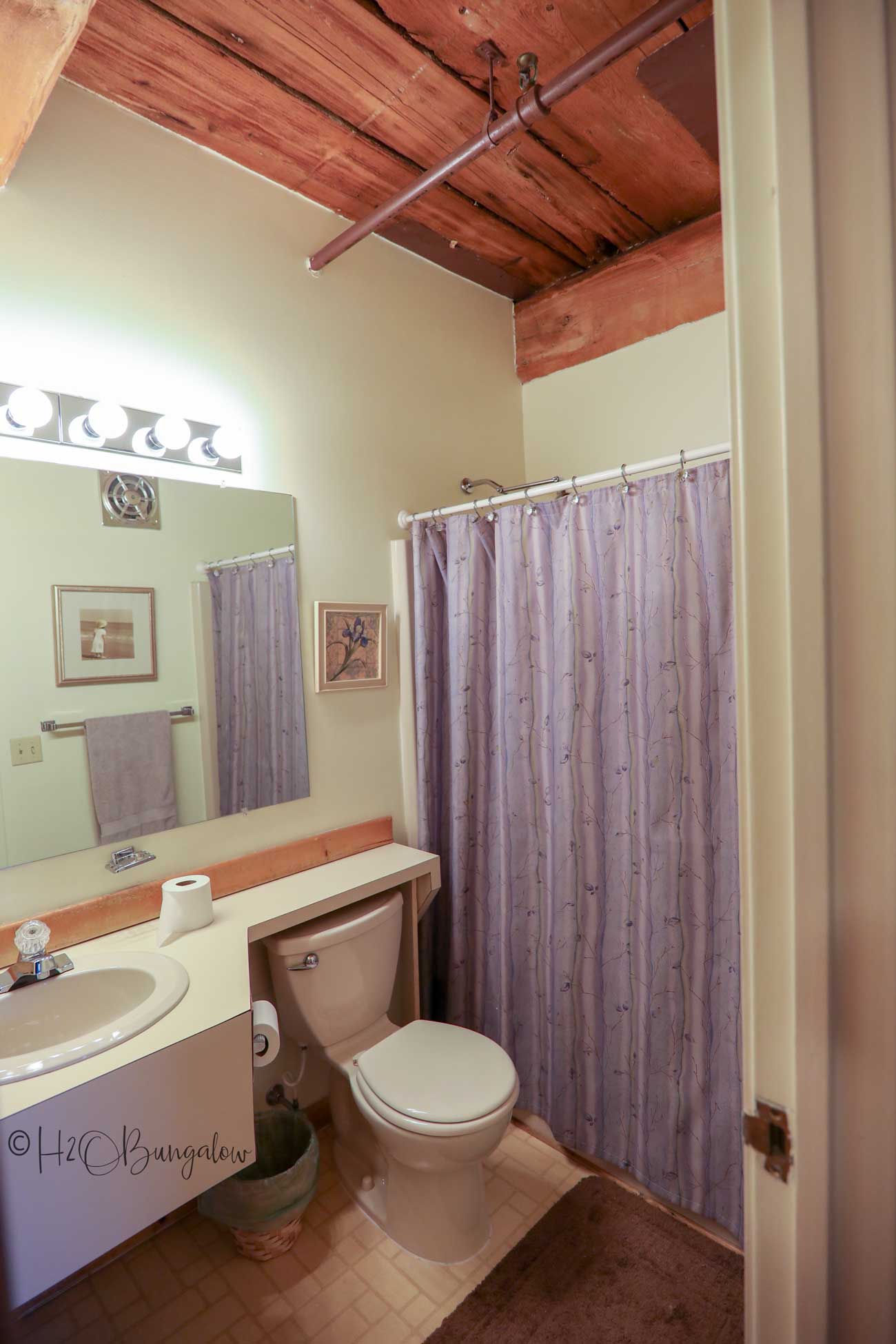 This is my kind of place! Old, great bones and it needs just about everything! My goal is to get this renovation done before fall foliage season starts. Sure, that sounds like it's a long way off but renovating in a remote area like this can bring all sorts of challenges and time delays. Keep in mind the nearest Home Depot is about a 70 mile round trip!
I'm excited to share this new project and DIY journey with you guys! I hope it inspires you with new home decor ideas and motivates you to try something new in your own homes!
Come check out the progress of this DIY adventure, it's come a long way!