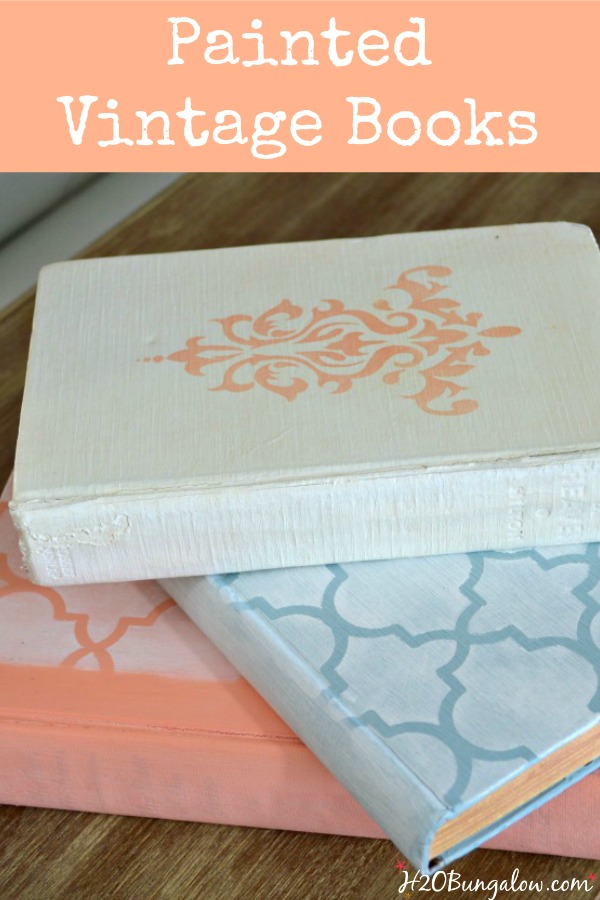 Today I'm sharing a simple project that gave me a way to relove some old books I no longer needed. I made these colorful painted vintage books with a little chalk type paint, a few stencils and some creative waxing as a unique way to update a vignette on my sofa table for spring.
This project wasn't even planned, I just happened to walk by a stack of dark beat up old books and thought..hmmnn. So, I whipped out some paint and got busy. I gave them each a coat of paint and let it dry. Be sure to paint the edges and just inside the book cover too:)
Next, I embellished the covers on my painted vintage books with a few stencils I had in my growing stencil stash. The damask stencil on top is the same one I used on my White and Gold Distressed Damask Dresser I just finished.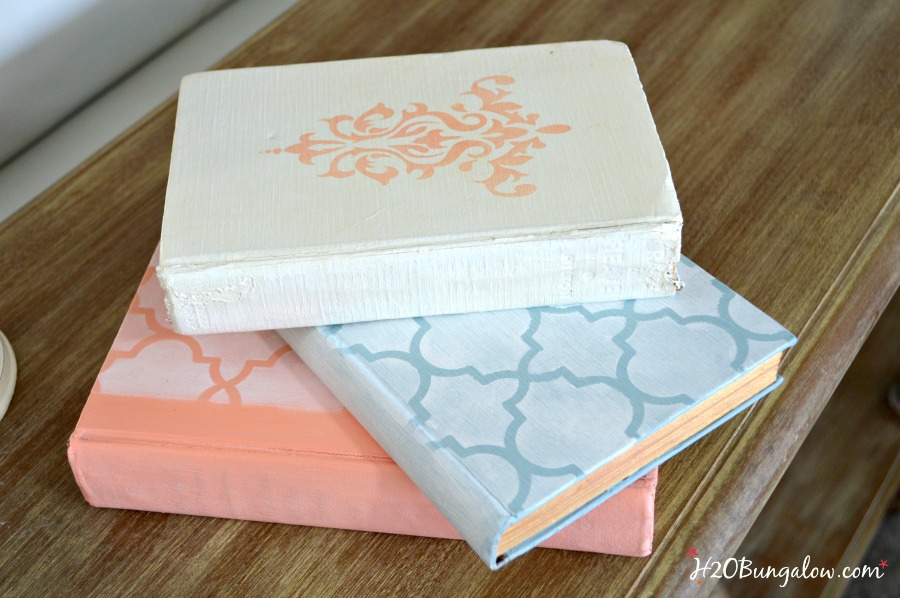 The pages were kind of ratty so I took some Bright Gold Royal Designs Stencil Creme and gave the pages a nice thin coat of pretty gold. Which looks great against the new spring colors.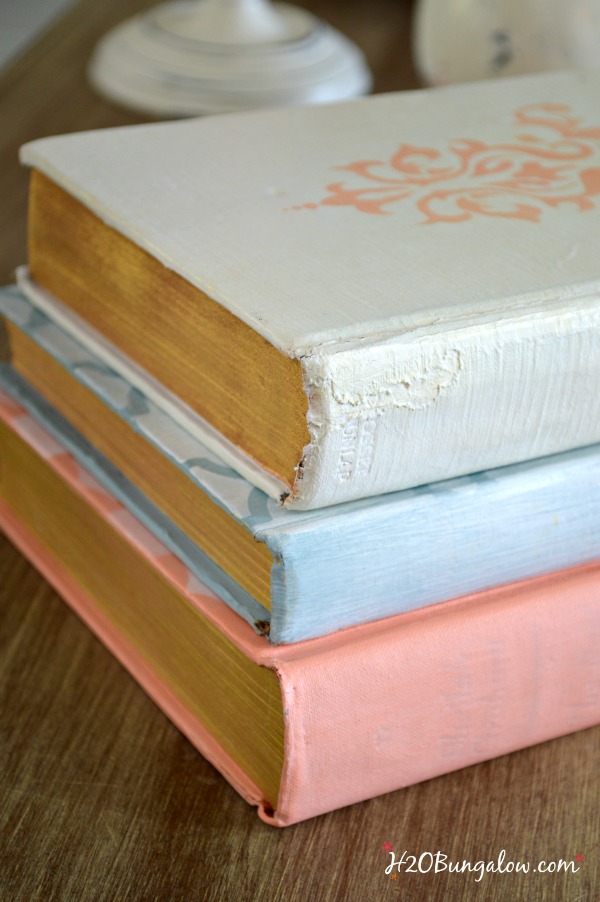 I had fun with the wax and got creative. On the white painted book I added gold mica to clear wax. It aged the wax a little and buffing brought out the slightest gold shimmer.
Pretty!
Next, I mixed white paint into the rest of the wax for the other two books and worked it into crevices in the covers.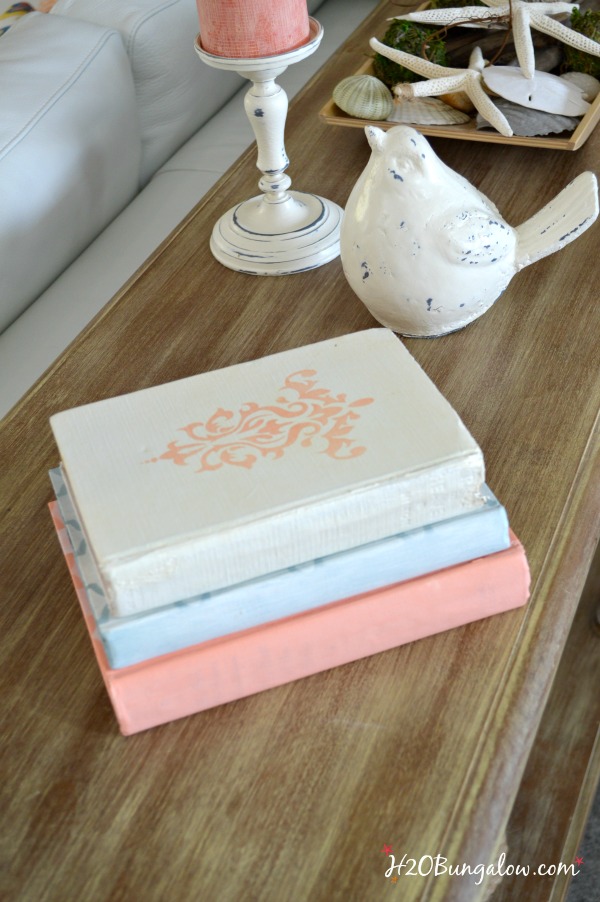 Of course now I have to figure out to stack or not to stack? I love the spring colors and the stenciled designs so much I kind of hate to hide them by stacking them!
What do you think?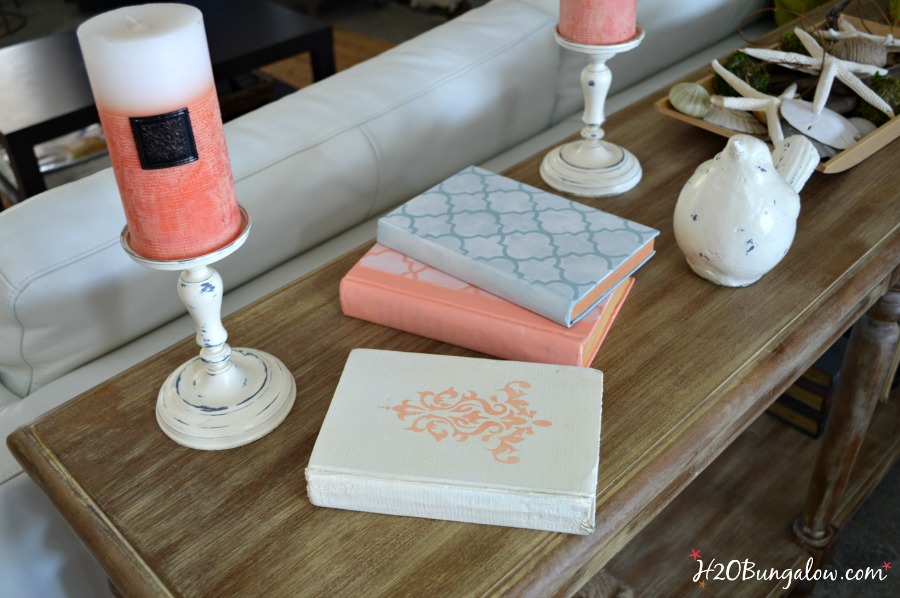 This is a fun project on any book, it doesn't need to be a vintage one. I can see painting the cover of a favorite journal book to personalize it, or even a notebook to update colors for spring using any one of the ideas I used above. I used to feel it wasn't OK to paint vintage books. I have so many old books, and these were not valuable or in good condition, so I don't feel bad. Painting them was a way to relove them and breathe fresh life into a few of my old tattered books.
What are your thoughts on painted vintage books?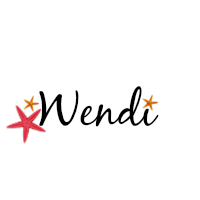 Don't miss a single creative idea I share!
Love my posts? Click here to get my posts sent to your mailbox or follow me here on Bloglovin.
Following H2OBungalow on Facebook? It's one of my favorite places and I share lots of extra projects, inspiration for the home and content I don't share anywhere else.
Love Instagram? Me Too! Follow H2OBungalow on Instagram and see my projects in process and lots more.
Linking up to these fun Parties: Snazzy Little Things, Confessions of a Serial Do-It-Yourselfer