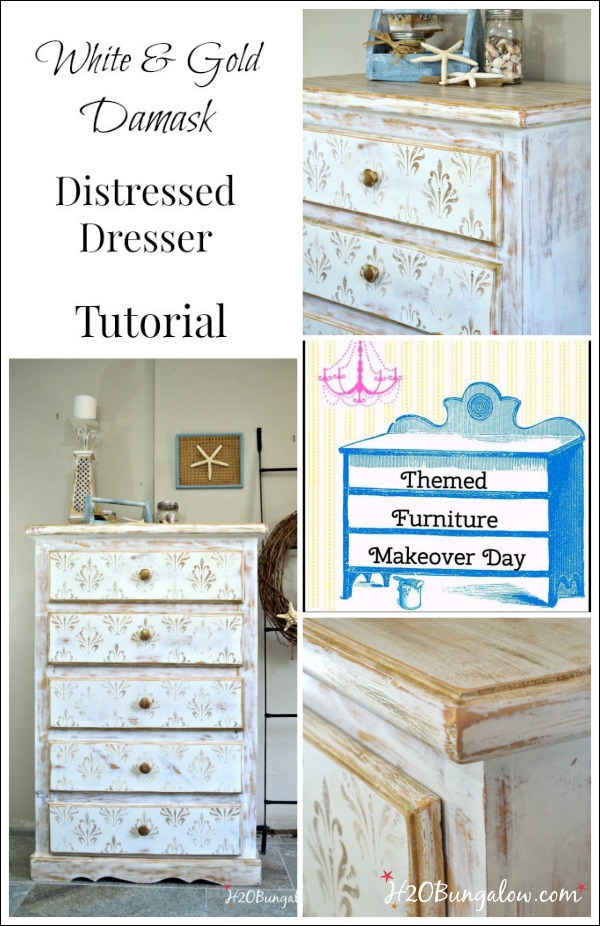 It's Themed Makeover Day! Whoohoo! One of the best perks of belonging to this crazy talented group of furniture refinishing bloggers is the creative licence I get to take every month when I churn out a new themed makeover. Today's theme? Distressed. Holy cow was this one fun! I made this white and gold distressed damask dresser and love how my plain dresser took on a vintage washed out look.
Last year I saw a piece of furniture that was distressed to the hilt. It was one of those pieces that stays in your head until the right moment comes along and the idea/want resurfaces. This plain dresser has followed me for over 20 years. I had a bedroom set made for my daughters when they were little. Two dressers, a shelf and bunk beds. My daughter has the mate to my dresser and we redid that a few years ago in a glam style for her in one of my really early posts. The bunk beds and little shelf have moved on, and I still have one of the dressers and it was a perfect candidate for my distressed damask stencil dresser project.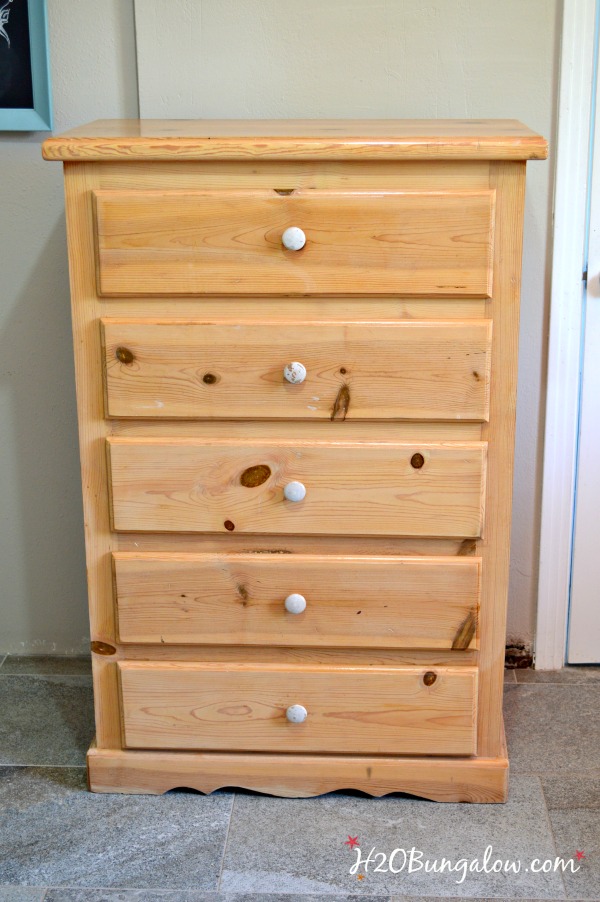 I've used it since we moved here and downsized. Mostly in an attempt to justify keeping it. This makeover fits item #2 of my 5 Creative Ways To Deal With Sentimental Clutter post I shared few weeks ago. Now that there's no guilt in keeping this old dresser, let me share with you how I made this distressed damask dresser.
It was easy. After giving the entire dresser a few coats of an antique white chalky paint, I used my Royal Design Studio Antique Gold Stencil Creme and a flat top stencil brush to sparingly apply my gold around the drawer edges.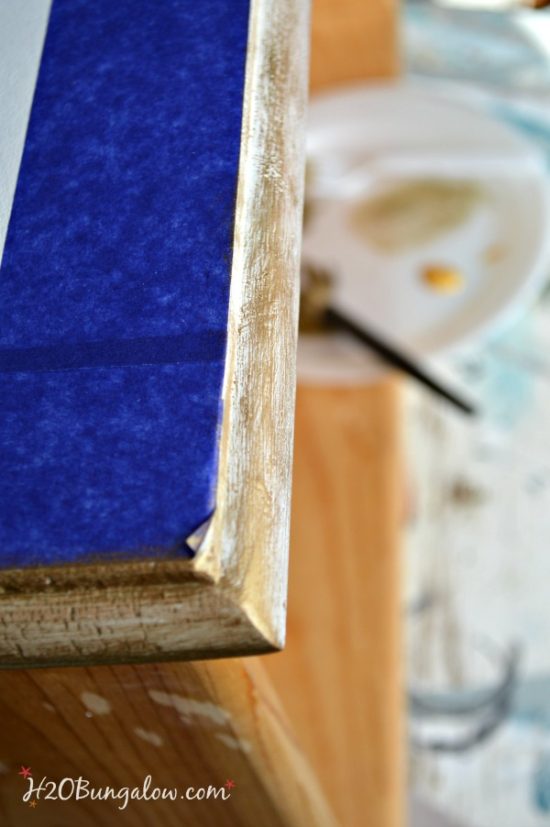 Without a plan in mind, I added the brushed gold to the dresser top and base trim of the dresser. My biggest challenge was keeping straight lines across to keep the effect I wanted. Get this effect with a mostly dry brush, just like when you stencil, and work it back and forth in straight lines across your surface. It's a good finish to help hide nicks and dings in wood.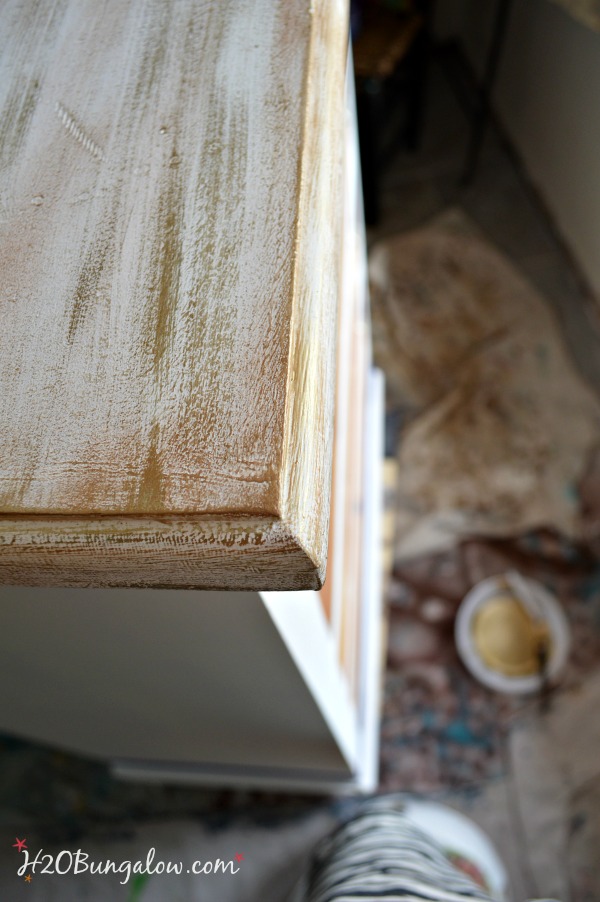 Using the same gold stencil creme, I used a damask stencil and stenciled just the drawer fronts. I started in the middle of the dresser and used a ruler to help place the stencil pattern evenly on the rest of the drawer. Stencil with an almost dry brush for a crisp edge on your pattern. I used the gold stencil creme on the dresser knobs too.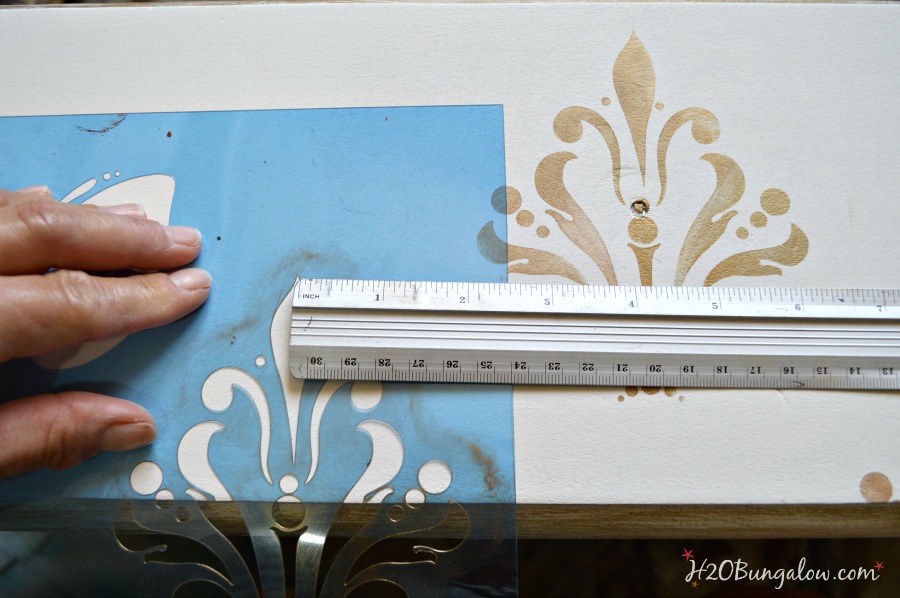 Then I started distressing the heck out of this baby. I used a wet rag and a lot of elbow grease to wet sand the daylights out of the body. The gold in the stencil will bleed into the surrounding paint if you try to wet sand over the stencil creme. The drawers were hand sanded with 220 and 320 grit sandpaper.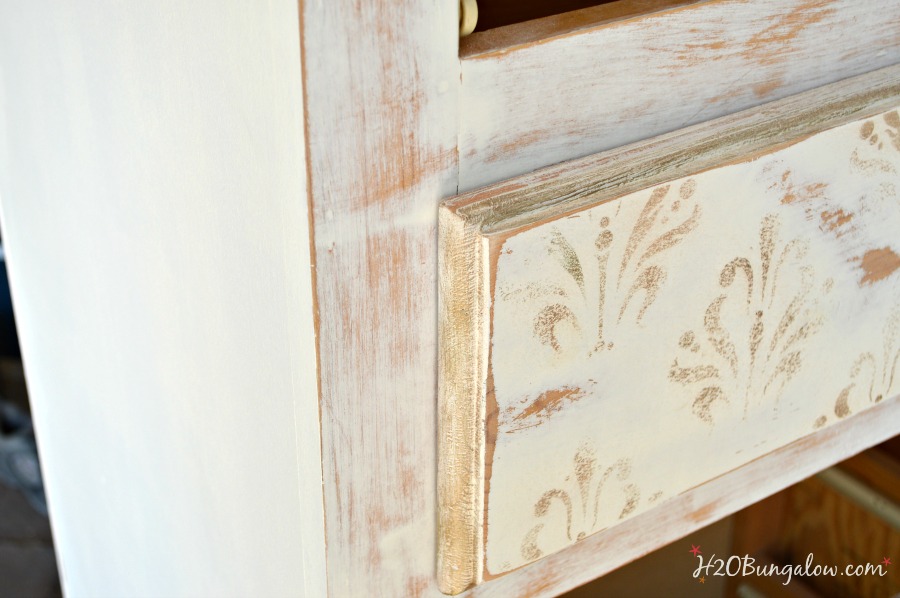 I put a few coats of clear wax on to seal my newly created gold and white distressed damask dresser.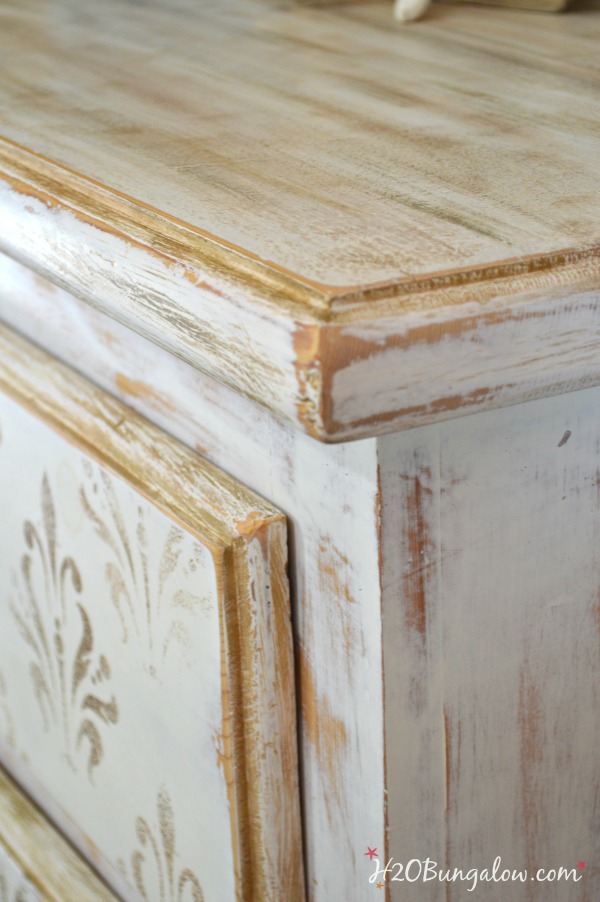 It wasn't hard to make this finish, just a little labor intensive. Do pay attention to how much distressing each drawer and each side of the dresser you do, so they are similar. Not matchy, matchy, just naturally similar. I decided to keep the knobs simple and made them the same gold as the trim on the drawers and body of my distressed damask piece.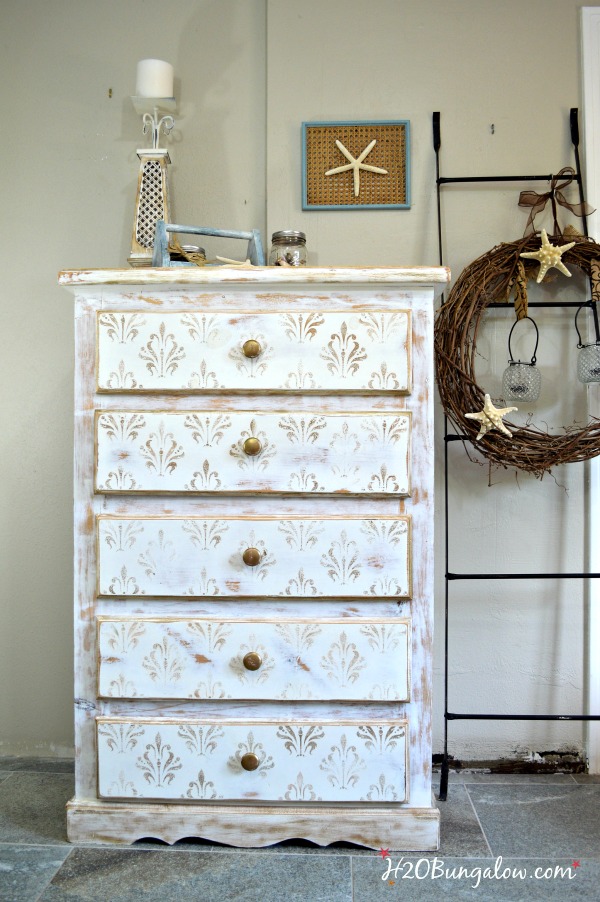 This is perfect for my room where my husband already has a painted dresser. I didn't want to use a bold patterned or painted dresser that would stick out or make my room too crafty looking. Since I haven't begun to tackle decorating that room yet, keeping the dresser as neutral as possible was a good strategy.
Can't go wrong with white and gold right?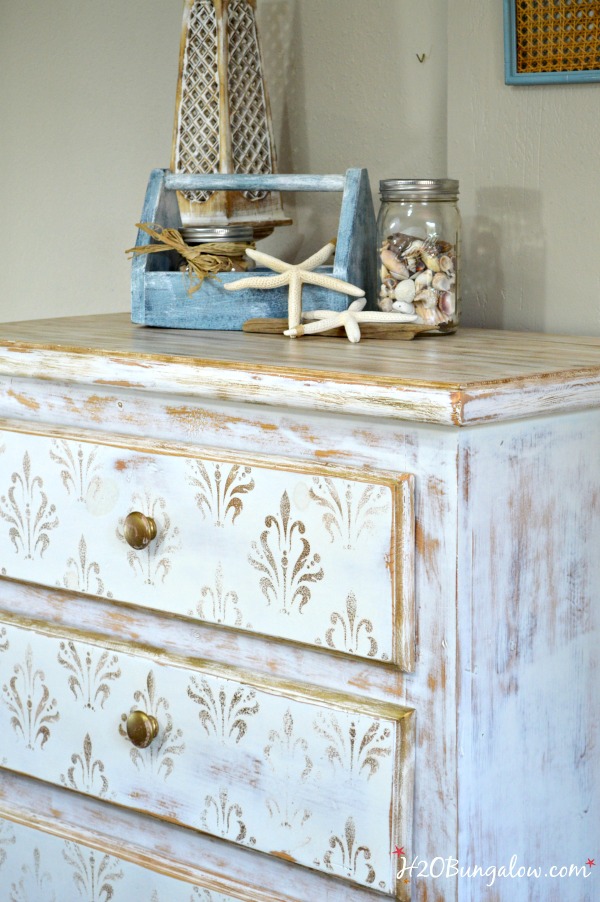 It's unique and I found a good way to use a sentimental piece I've been holding onto for years.
Pin this for later!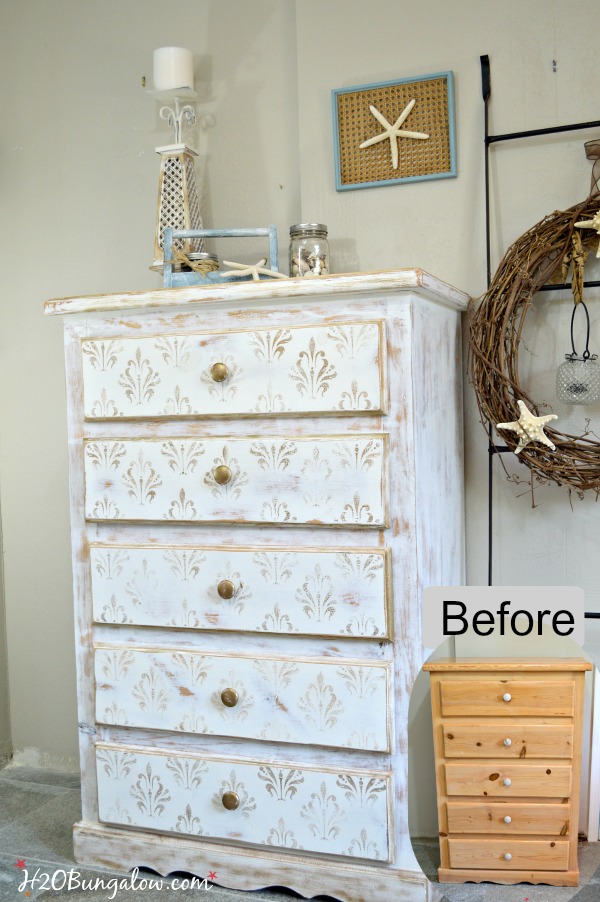 Love a good furniture makeover? I have over 100 furniture makeovers in my Furniture Makeover category! You can also search by furniture type like table or seating 🙂 and if you're new to furniture painting, check out How to Paint a Dresser in 7 Steps, it's a great beginner's guide!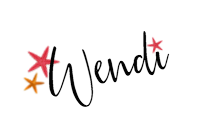 Oh, but of course on Themed Furniture Day I have more goodness and inspiration for you!
Take a look below at the rest of our groups "Distressed" furniture projects. We have some of the most talented and best known furniture bloggers in the Blogosphere right here in this group, and it's always a treat to see what everyone creates:)