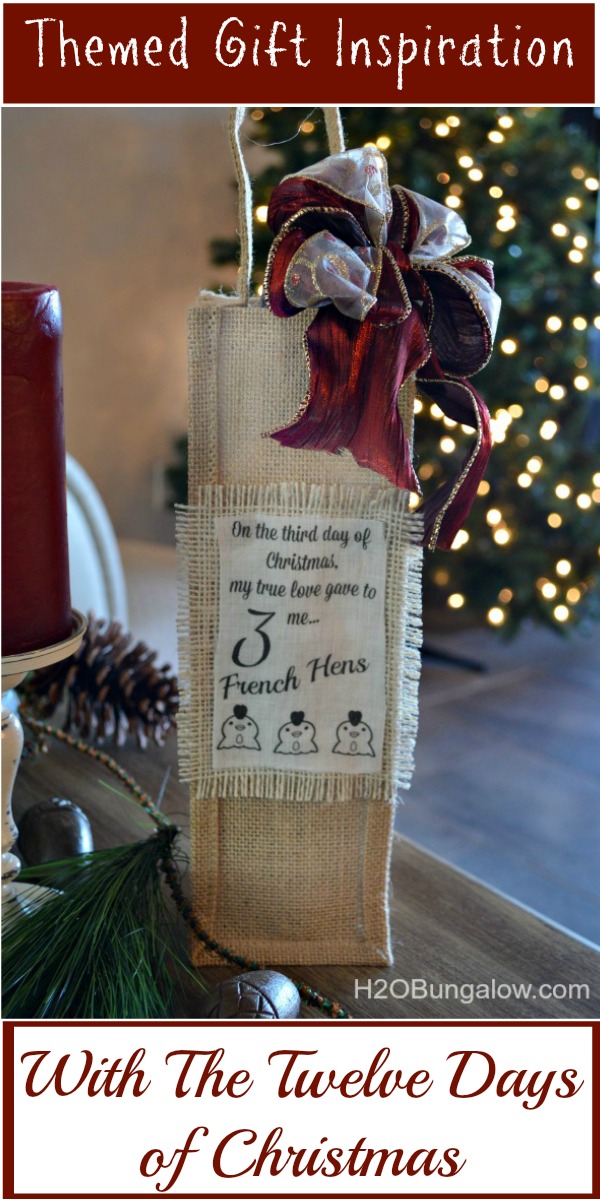 The nicest gifts aren't necessarily the biggest or best, they're the ones that make us feel the best. Adding a little personal touch to a gift is a wonderful way to make someone feel special. Using the popular Twelve Days of Christmas, Christmas carol as inspiration, I'm sharing how to make a Twelve Days of Christmas personalized gift bag.
It's easy to do and I'm not only going to show you how to make one…
…I'm going to start the creative process for you by listing a few creative ways you can use this popular Christmas carol to personalize your own gift bag too.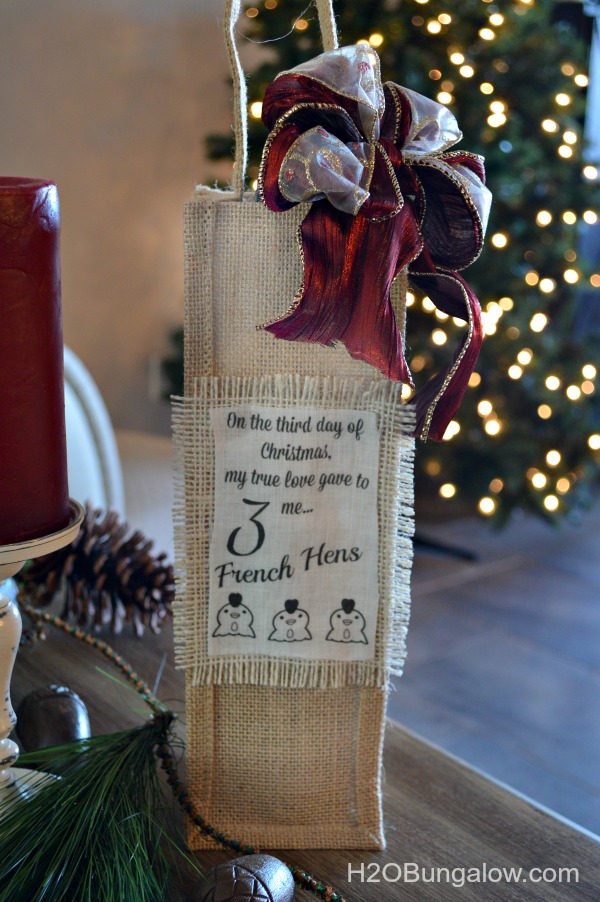 So let's get started. Here's a list of what you'll need to make a Twelve Days of Christmas personalized gift Bag.
Any plain gift bag, a plain kraft paper bag would look great, I used a burlap wine bag
A graphic to represent your theme that will be printed onto the fabric or paper.
Plain thin fabric like cotton or linen
Cardstock or heavy paper to print on
Burlap or more cardstock as a frame, I used a white burlap
Tools
Cardstock
Printer
Tape, I used painters tape
glue gun
scissors
Start with printing your image. See how here. Love my image and want to just use what I created? Click the image below to download it. A new tab will open with the image. Simply save it to your computer.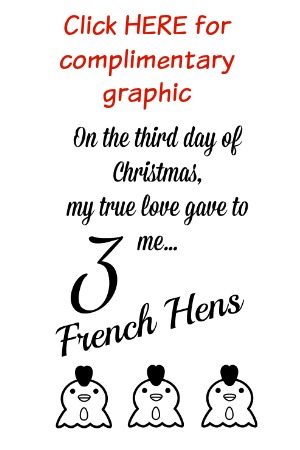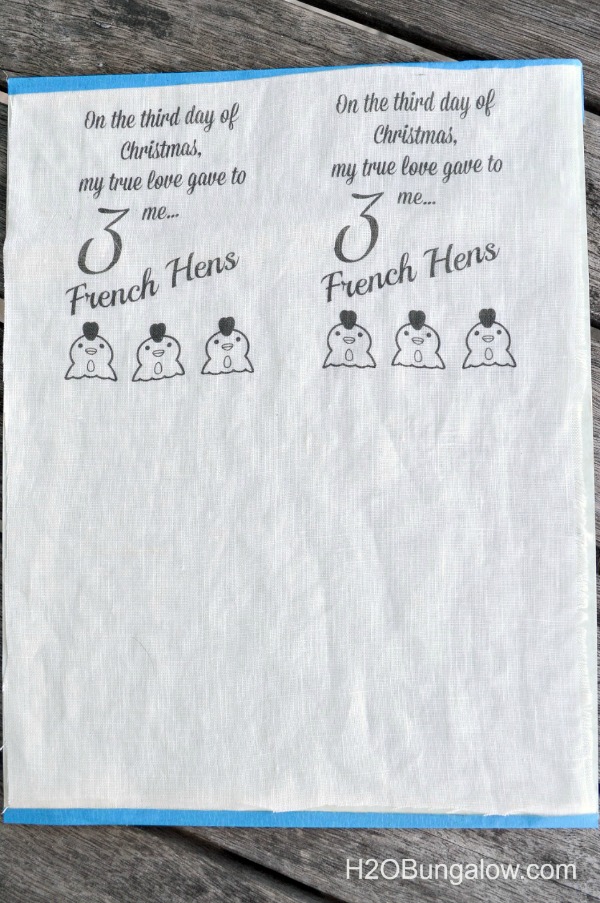 Trim your image to fit your gift bag area. I added a second layer of burlap just a little bit larger than my printed Twelve days of Christmas personalized gift bag label. Attach your fabric to the gift bag with a hot glue gun. Use your glue sparingly, especially on the fabric label.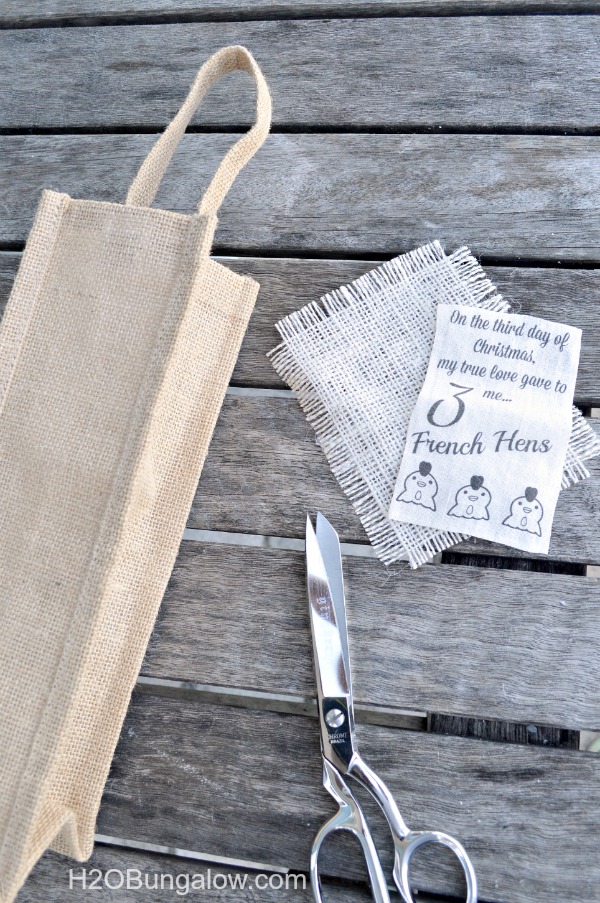 Add a beautiful bow and your done!
Simple, easy and most importantly, your gift shows that you put some thought into it.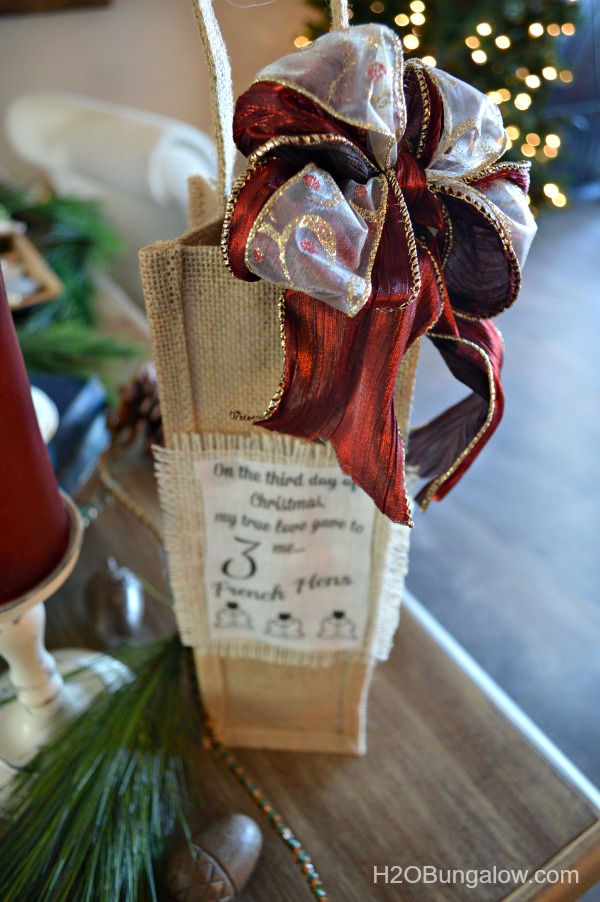 I did promise to share a few more ideas for the Twelve Days of Christmas Theme didn't I? 🙂
Have some fun, connect the person with something that reminds you of them. You can be serious, fun, witty, whatever you'd like.
Think of hobbies, like bird lovers, nature lovers, Foodies might love the French Hens, gardeners the Partridge In A Pear Tree. Someone who loves jewelry and blingy baubles for the Five Golden Rings. You get the idea. Try another fun Christmas Carol or a favorite song if this one doesn't work for you.
The goal is to have some fun and share in the holiday spirit.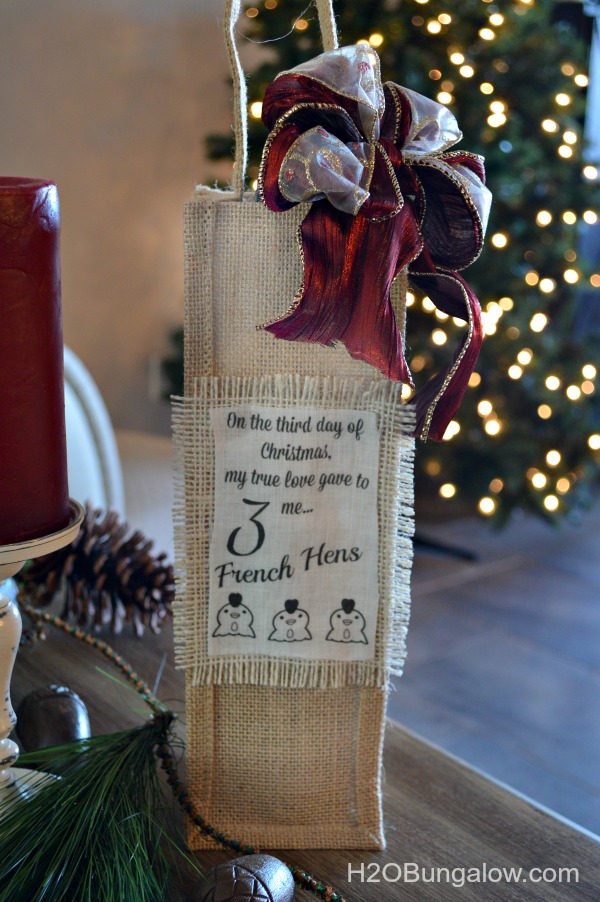 Along with downsizing our home, we've simplified our holiday gift giving. It's been fun to watch our family members put more thought and time into the gifts they give.
Personalizing a gift bag is fun, witty and makes the simplest of gifts memorable.
What's your favorite holiday carol and who does it remind you of?

Love my posts? Click here to get my posts sent to your mailbox or follow me here on Bloglovin.
Following H2OBungalow on Facebook? It's one of my favorite places and I share lots of extra projects, inspiration for the home and content I don't share anywhere else.
Love Instagram? Me Too! Follow H2OBungalow on Instagram and see my projects in process and lots more.