Today, I'm sharing my best organization tips for busy people. These are my go-to ways to stay organized when working from home and while traveling. Being a solopreneur, working efficiently and being productive, whether in my home office or on the go, are skills I've had to learn and use every day.
Let's face it, everyone is busier these days. It doesn't matter if you're a mom managing an active life and busy household, a working gal, or a business owner. We all need to get more done in less time while juggling multiple demands. The million dollar question is how to get more done in less time?
Sound familiar?
This post has been sponsored by SLATE COLLECTION. Thank you for supporting brands that work with H2OBungalow! You can read my full disclosure policies here.
Most of you usually see me with a power tool in my hands working on home improvement or decor projects. What you don't see is all of the other stuff that goes on behind the scenes managing the blog and our growing guest house business, the North House Lodge in Vermont.
To keep my productivity high and stress low, I rely on my favorite and best organization tips I'm sharing with you today. I hope you find them as useful as I do!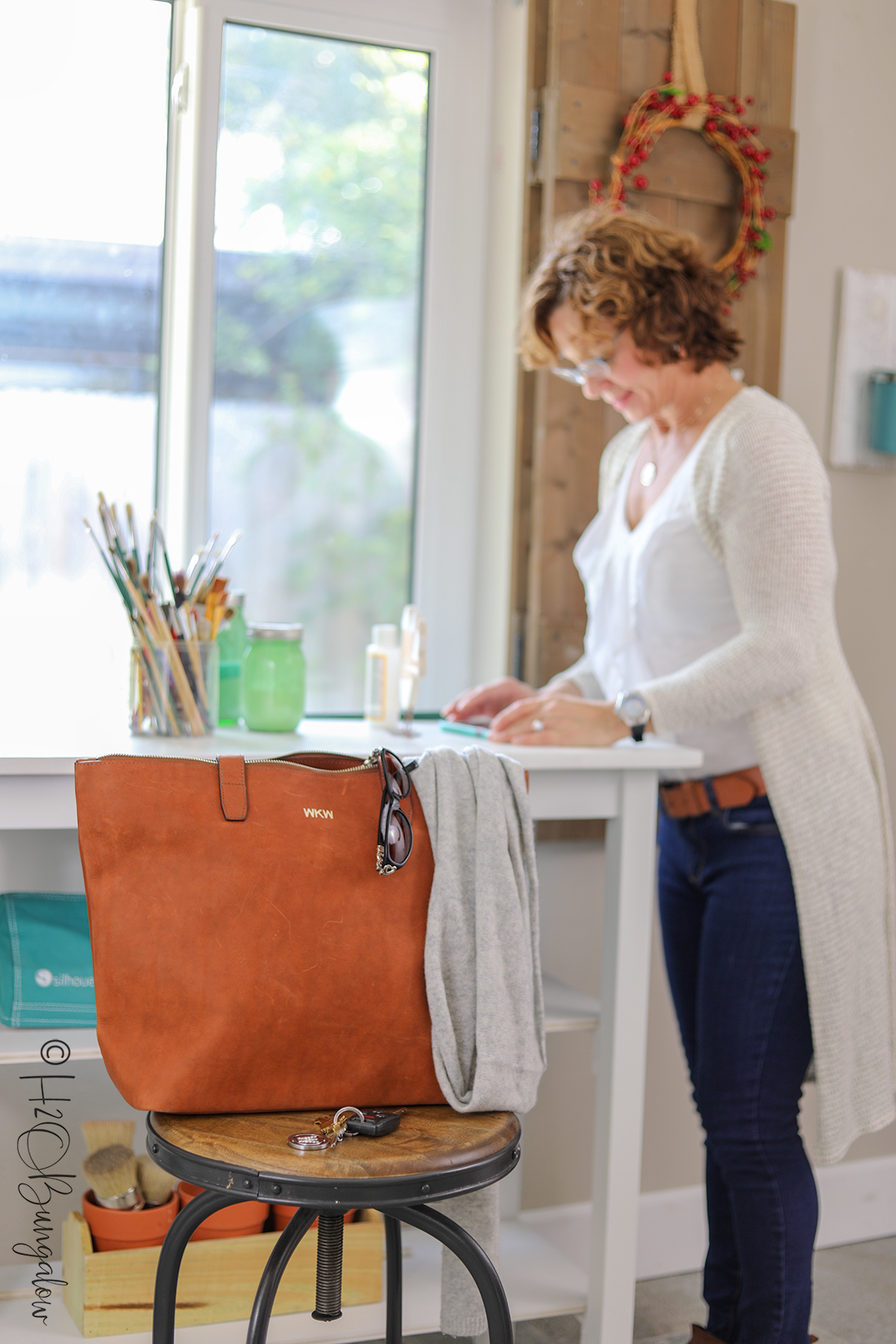 Best Organization Tips for Busy People
It's not uncommon for me to be finishing a project in the morning in Florida and be in Vermont later that day working on something else. On average, I probably spent almost half of last year in VT over multiple trips. Learning to stay organized and productive while being busy has become mandatory.
How to Stay Organized and Work From Anywhere
My secret? I keep a grab and go mobile office bag to hold everything I need. My organized mobile office bag doubles as my everything bag. It's heavy duty enough to hold what I need and stylish enough that I get compliments everywhere I go with it. That's a win-win!
I choose the best quality I could find because I need my organized office on the go to work as hard as I do. As I get older (did I really say that?) I need less stuff, so I choose multi-purpose items like my new SLATE COLLECTION Ballard Tote to help me manage my mobile office. It's built with the working gal in mind because it has a wide flat bottom to stand on its own, the right size shoulder straps to comfortably rest on my shoulders, a heavy duty zippered top and of course, it's gorgeous.
Take a peek at the entire line of leather products in the SLATE COLLECTION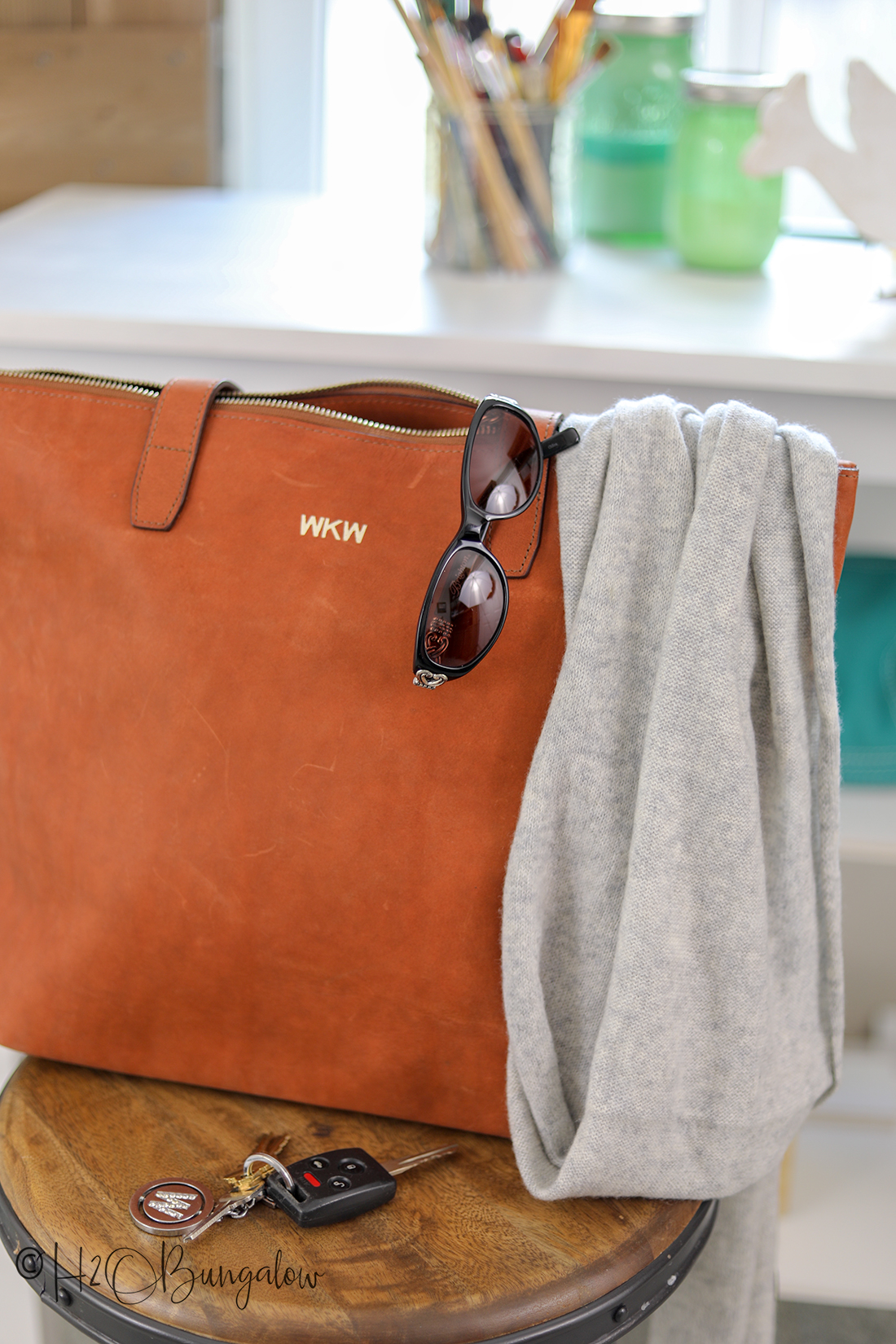 I love the SLATE COLLECTION company; they are American home grown and support local businesses. Supporting local craftsman and small businesses is always my first choice. I've been using my Ballard Tote for everything lately. It keeps me organized on day trips, plane trips and work on the go. It's constructed from heavy duty leather that will take on a beautiful patina with age. This bag will last for years!
How to pack a mobile office in a bag
Here are my tips on how to pack a home office in one efficient organized bag that will hold everything you need:
Use smaller bags to organize items like makeup, pens and electronic cords in one larger Ballard Tote.

Always pack a rapid battery charger so you'll never run out of power. Mine charges my cell seven times on a single charge.

Keep a small notebook to write notes. I'm always needing a piece of paper for project notes, building notes and research. I work from disposable notebooks and tear out the pages as I'm done.

Keep a scarf or sweater handy for comfort.

Free up your hands by using a small purse that can fit in your bag. Grab just your purse from the bag to run into a store.

Carry a copy of important passwords when traveling.

Stay hydrated, keep a water bottle in your organized office bag.
I've got my eye on several more of the SLATE COLLECTION items for my mobile office bag. I'm in love with their matching Leather Pouches, the Wristlet and the Zip Around Pouch. They all come in several colors and monogramming is available just like on my Ballard Tote.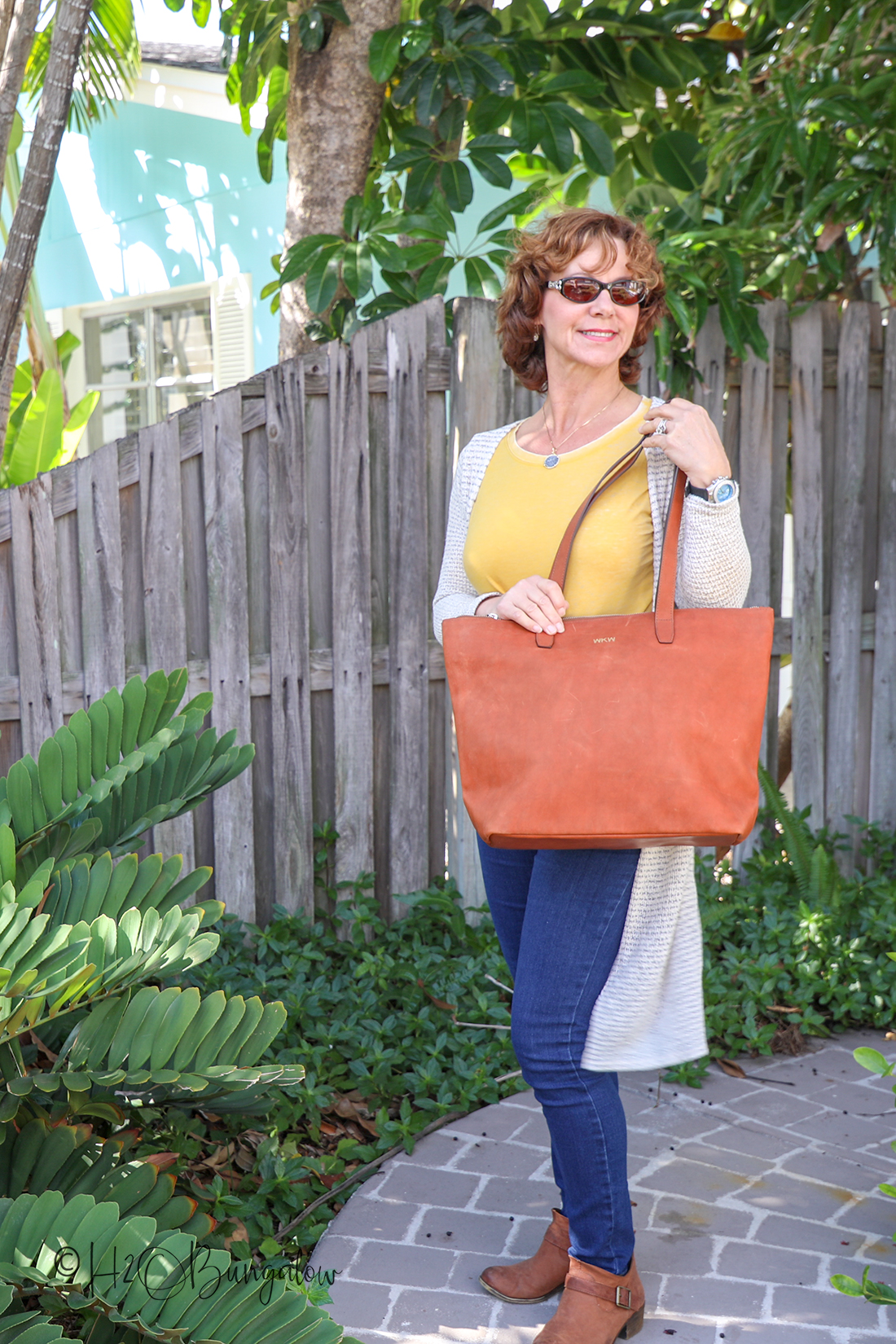 More of my best organization tips for busy people that keep my day on track.
Best apps for organizing a busy life
Mile-IQ tracks your business trips driven and sends a monthly report to you via email.

Use an app with your bookkeeping that attaches invoice copies to the transaction.

Trello boards and lists work on a laptop and phone both on and off-line. Useful for team planning and keeping organized lists.

Use Google Drive on a laptop and phone to work on and offline.

Go paperless and use airline apps to check in and get updated flight info.

Use an online shared calendar with family to stay on top of family schedules.

Share grocery lists and other lists with family members with the Cozi app.

More best organization tips for busy people
Always plan each day. I write out each day's schedule the night before in my planner.
Prioritize tasks. List them as 1,2 3 or A, B, C tasks and tackle them in that order.
Break work into chunks of time. I plan writing time, social media time, personal errand time and research time.
Save easy tasks for later in the day when you're not as productive.
Set an alarm and be committed to start your work day early. My work days usually start about 5am.
Take breaks and give yourself down time. I plan a time to exercise into my day also.
Don't get distracted. Don't allow your phone, social media or other tasks like email, distract you while working on other items.
Use time wisely. If I'm waiting in a Dr's office, I'll tackle social media for 20 minutes or reply to emails or catch up on important reading.
Pin my favorite organization tips for busy people and share on Facebook with your friends!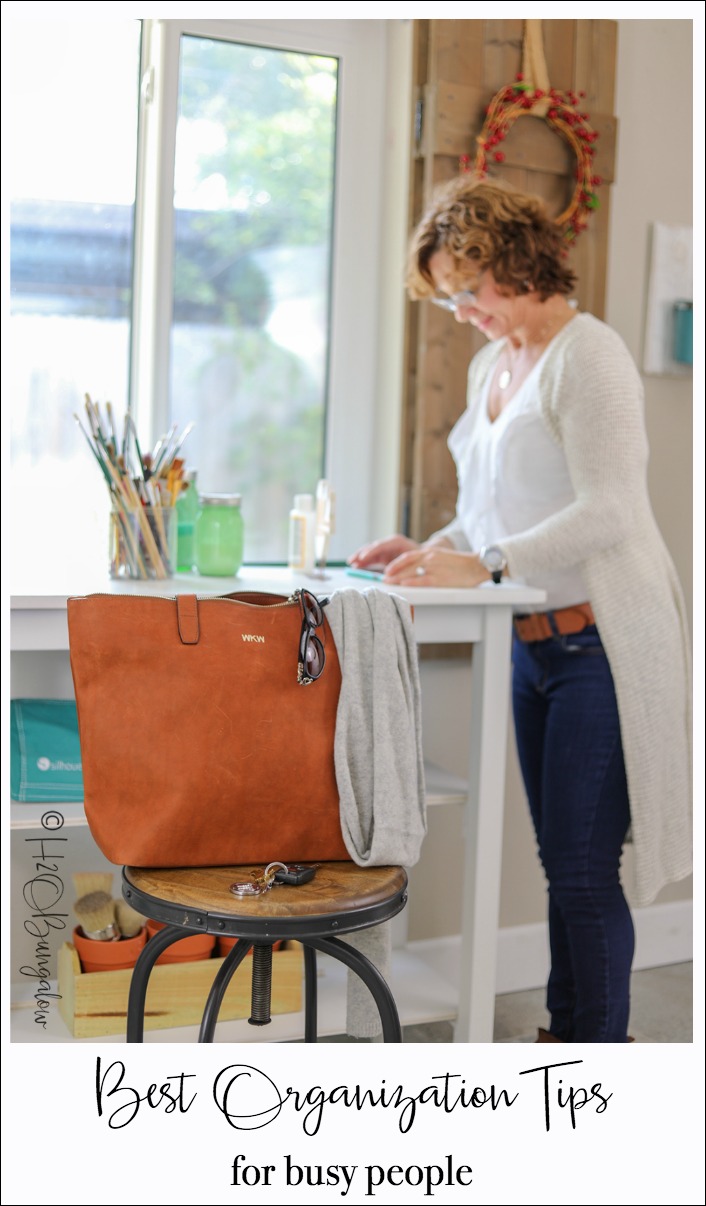 Learning how to be organized when working from home and on the go has been a lifesaver. It helps me grow my business while still finding time to enjoy life and family.
Do you have favorite organizing tips for work and home that you can't live without? Share in the comments below! I love it when our community of readers share with each other.