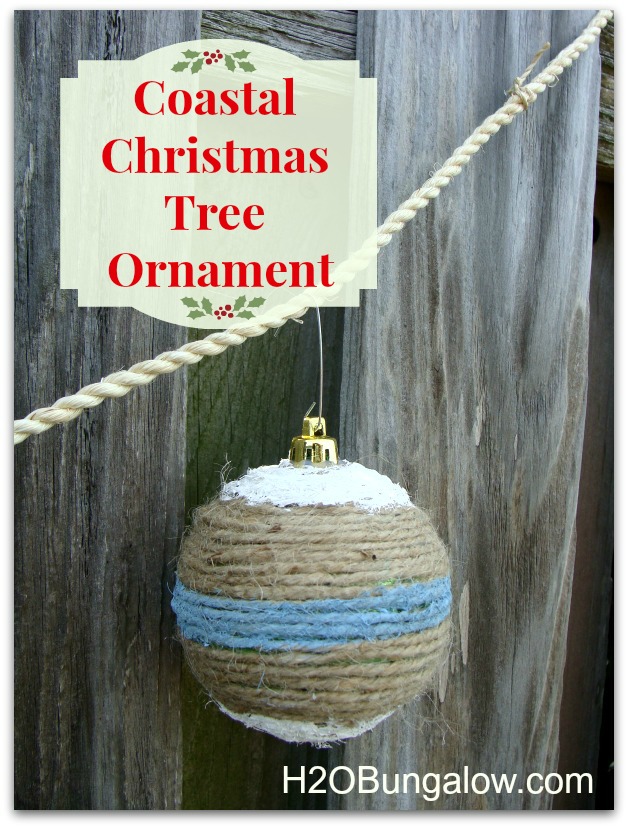 This little coastal Christmas tree ornament started out as a green shiny Christmas ball.
The holiday season brings out the creative spirit down here at the beach. We don't have snowmen, there are few fireplaces and our boughs don't get decked with holly. But…we have plenty of holiday cheer and still love to decorate.
Styrofoam crab trap floats are a popular item in our area during the holidays. I've seen them strung around mailboxes, painted Christmas colors and even intricately painted with coastal scenes. They are physically large though.. probably bigger then my largest Christmas tree ornament. I think they're fun and really wanted to find a way to use them in our new look this year. Today I'm sharing my version of a coastal Christmas tree ornament.
To make a coastal Christmas tree ornament you'll only need a few supplies:
Jute twine
Glue gun and plenty of glue sticks

Craft paint

Small paint brush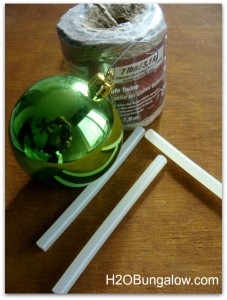 first you'll take the hangar bracket off of the top of the ornament. Starting at the stem glue the string around the ornament until you reach the bottom. Use the glue sparingly and only glue an area that you can wrap quickly before the glue hardens. Have plenty of glue sticks available, you'll use about two per ornament. Continue until the entire ornament is covered. Try to keep the jute string layers tight so the ornament color doesn't show through.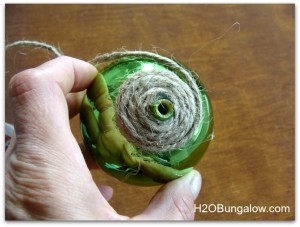 You can paint it as soon as your done gluing. I used acrylic craft paint to paint stripes. A smaller brush will help keep the lines even. After the paint is dry, re-attach the top bracket with hot glue and press firmly but gently to get a good fit.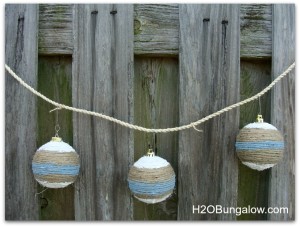 That's it friends, super quick and easy. You can make your own coastal Christmas tree ornament in about 15 minutes.
Do you have any unusual Christmas decorations that are unique to your area?

What's next? I'm sharing more up-cycled ornaments over the next few days and how I updated my Christmas look for pennies. What tricks the pro's use for decorating Christmas trees and garlands and how you can use them too as well as a few other fun holiday projects!
Don't miss a post, sign up for my email here or follow me on Bloglovin here.
You may see me linked up to some fabulous link ups which you can see here.