I'm just silly from excitement over Christmas decorating this year. I've recycled or upcycled what we already have as much as possible and I'm changing everything about our holiday decorating style! It's been a mad house with stuff in various stages of assembly with glue, glitter and paint everywhere. I'm reasonably certain all of my readers have heard about it by now, my family certainly has, many times and how excited I am to try my hand at coastal holiday decorating. I'm finally ready to start sharing what I've been up to and share my Coastal Christmas wreath.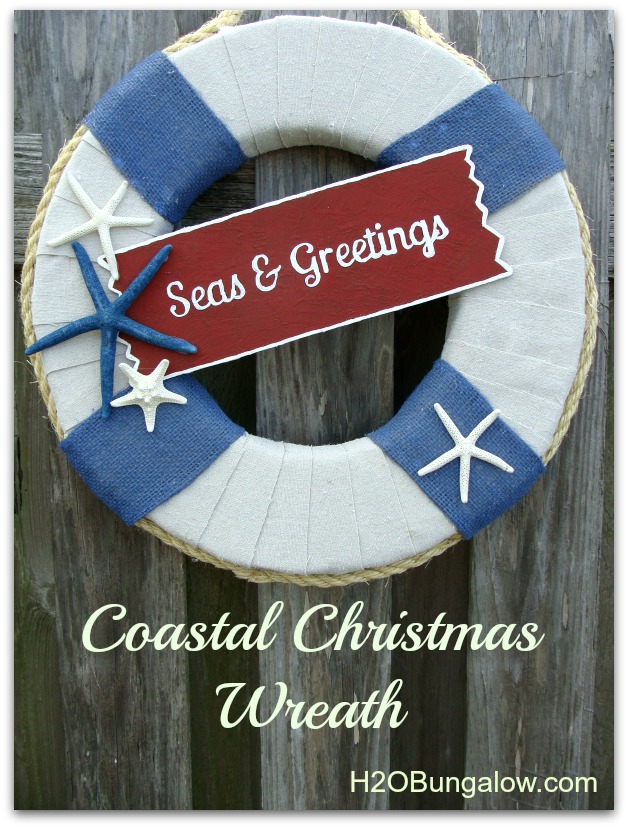 Last week I'd just finished the basic parts of the front door garland. My husband and I were admiring the "new holiday look". At the same time, we both said the door needed something. The empty space was too…well, empty. That's when the idea struck to make a coastal Christmas wreath out of a life ring.
That night we took a walk on the beach and ended up near our local boardwalk which has loads of beachy touristy shops. Hey I thought, I might find a life ring that I could use here. I popped into a fun tackle and gift store (yes, it's both! ) to see if they had a life ring that might work. I asked my husband to help me look. A moment later and very proudly he came back and announced, I found one. It's over there in the back. Awesome I said, and headed in that direction.
As I'm walking towards the back of the store, he said…it has words on it.
No worries, I can probably cover it. I round the corner and see it. Ok, it's a little small but maybe it will work. And then I get close enough to read it and it says "NO Peein' Off the Boat".
Ummm, no…Honey, I don't think so.
Why? Because I knew every time I looked at my coastal Christmas wreath, even if it was painted over, I would still see in my mind "No Peein' Off the Boat". But…after looking at it for a minute I realized I could make it so easily!
As soon as we got home I started pulling out my supplies. I wanted to had to make this right away! While the idea and details were fresh in my mind. Writing them down wasn't good enough. No kidding, it's like 9pm and I start a new project.
Sorry for the dark pictures.
They are all inside and at night. I snapped pics as I powered through assembling my new coastal Christmas wreath that I simply had to build that night. It's actually a simple project to do and you could adapt this basic wreath to many holidays, coastal or nautical Christmas wreath ideas.
Supplies needed and instructions to make a DIY coastal Christmas wreath. I use affiliate links to help you find the supplies I used for this project:)
Supplies:
Sheet of styrofoam or skip steps and get a pre-made ring
Canvas drop cloth or other material to cover your ring
Spray paint in white and blue
10 3/4″ precut blank wood sign
Paint and small brushes for your sign
Glue gun
Cut a wreath frame out of your styrofoam. We had sheets of foam that were protective packing material from a recent purchase out in the garage. After trying a few cutting tools, I found a regular kitchen knife to work the best.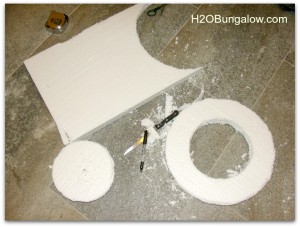 Cut several strips of drop cloth in the same width to cover your ring.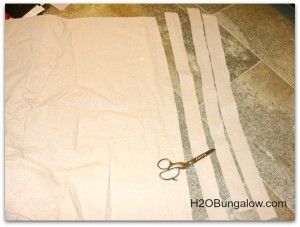 Wrap each strip onto the frame. Be sure to wrap snugly which helps the drop cloth edges lay flat. I glued as I wrapped. Make all of your glued edges begin and end on the back side of your ring. To lighten the color a bit I gave the ring a once-over with white spray paint. You'll see the difference in the next few photos.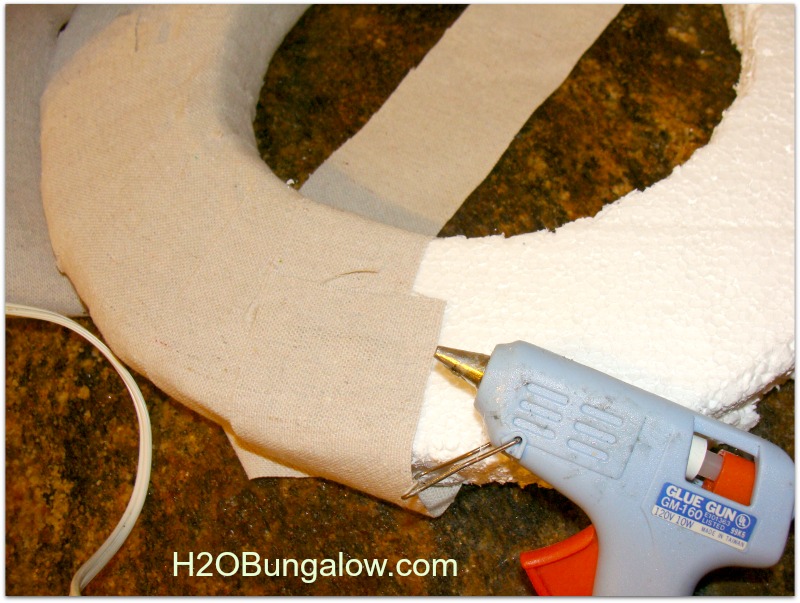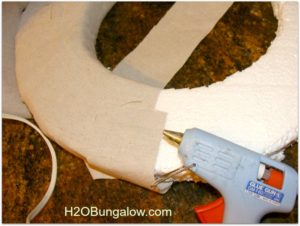 Measure and cut your rope so that it goes around your ring AND has an extra amount of rope to act as a hanger. I've noted on a picture further in this tutorial so you'll have a clear idea of how much extra rope to allow for. Don't glue your rope yet.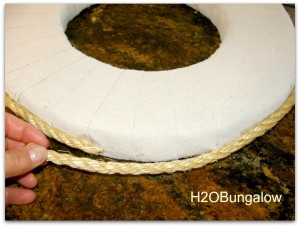 Next, you'll make four strips of burlap. I made even burlap strips by pulling a thread from a section and then cutting along the line it made. Make them long enough to go around your ring and meet in the back. I ran a bead of glue from the glue gun and folded over the outer edges of each section. I used blue spray paint and generously coated them to get an even blue.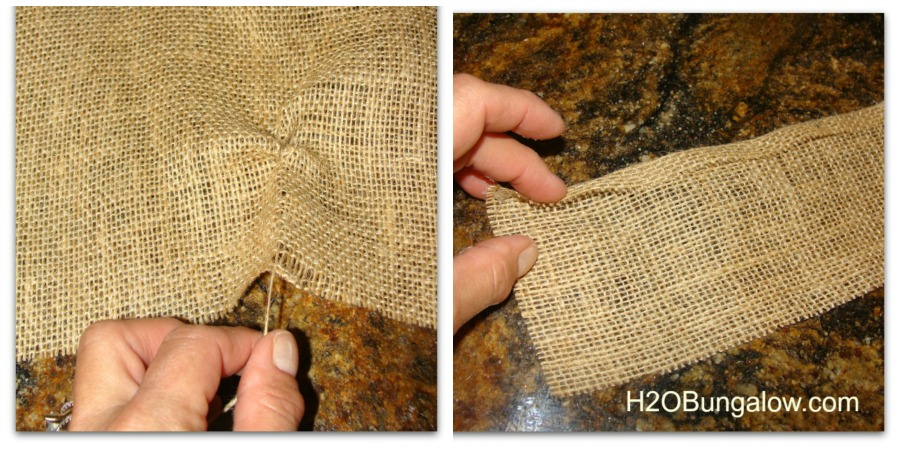 See below where you'll line everything up before assembling the pieces. You'll want the rope hangar at the top. Place your rope so the two ends meet under one of the blue burlap strips. The picture below should make this step clear.
Now you'll glue your rope all the way around the ring except the rope hanger area.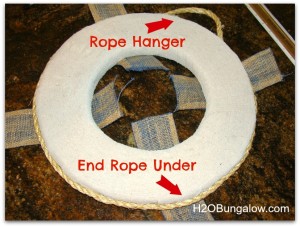 Glue your blue burlap bands in place. Only glue the outer edges where you made the folded edge of burlap. The glue won't seep through the pre-glued edges. Gently keep pressure on your blue bands as you attach them to the frame so you get a snug fit.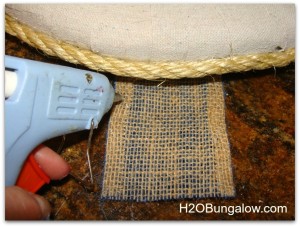 For the painted sign I used a precut plain wood sign from Michaels. I painted the background with APC (American Paint Company) Fireworks Red and used APC dark wax and American Grit to get the texture and color of the background. I love working with their products and will share that information soon in another tutorial. I used a sheet of graphite paper to trace the printed words onto my sign and white acrylic craft paint for the lettering. To get the cleanest and clearest letters, use a small pointed brush and only dip about 1/8 of an inch into the paint.
I've made a printable of my sign, it will fit the 10 x 3 1/2″ precut wood sign from Micheals. My readers always get access to my shared files. If you're not a subscriber yet, now is a good time to subscribe to get your free pdf. You'll be redirected to a page with the link to my file. Just download it and save it to your computer.
**If you download my file, it's for personal use only** If you're already a subscriber, no worries, you won't get 2 emails!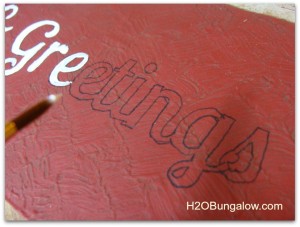 Place the sign and decorative shells or starfish and secure with a little hot glue.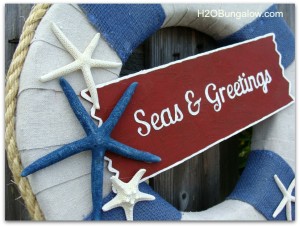 That's it. All done. I made a fabulous new coastal Christmas wreath that I love with items I had lying around.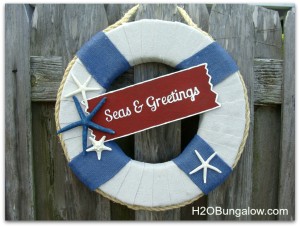 I love it on the front door which you'll see soon, but had fun moving it around for the pictures.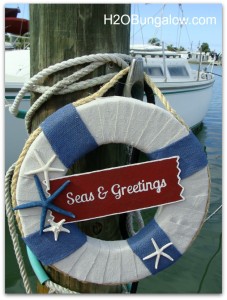 Who do you know that could use a coastal Christmas wreath this year?
More coastal holiday ideas? My coastal holiday tablescape is gorgeous, add images to candles for a high end boutique look and a super gift idea or go to my Holiday Gallery of projects to see them all!