We found a large concrete dog with a broken ear, two concrete lions, a bicycle pack, a mirror, lots of beer bottles, several large conch shells and an alligator with a broken tail. All of these were under and inside the massive bush that covered my front yard when we moved in. As pitiful as it was, I kept the alligator. I liked it. My little concrete alligator has been in our front yard for the last 3 years. In his original worn out state. This morning I turned him into a DIY faux bronze garden statue and now he looks like I paid big bucks for a bronze statue!
But…I didn't!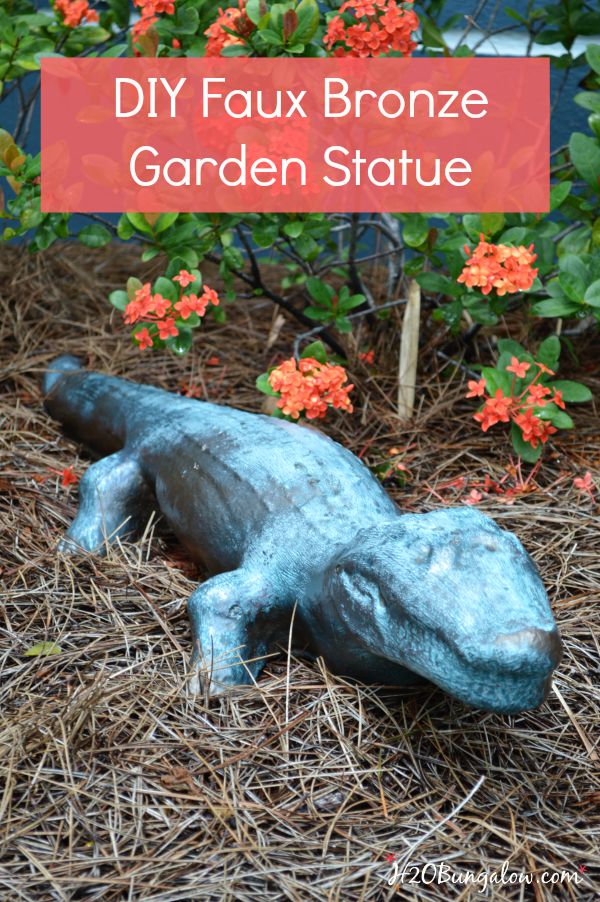 Floridians love their yard art. Seriously, I can take a ride down any one of our neighboring streets and see manatee mailboxes, boat hulls as gardens, pelican statues, light houses in the front yards and more. Any where else it might be too kitschy, but here on the island beach residents are anything but stoic when it comes to jazzing up the front yard. They take pride in their yard art.
Now that I finally have a dent in our curb appeal with my DIY Landscaping and Butterfly Garden project, I'm ready to add some yard art of my own.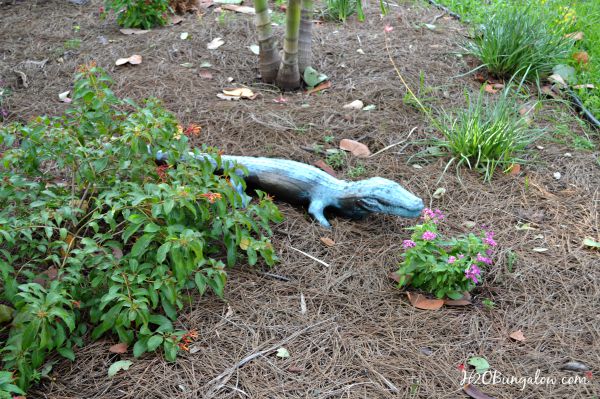 I shopped around at first. One little iron pelican was over $100, the concrete "Pelican Pete" that is so popular out here was over $60. Unpainted. 🙁 Then I remembered my little orphan alligator was out in the yard, under a bush. I had nothing to loose, he looked awful.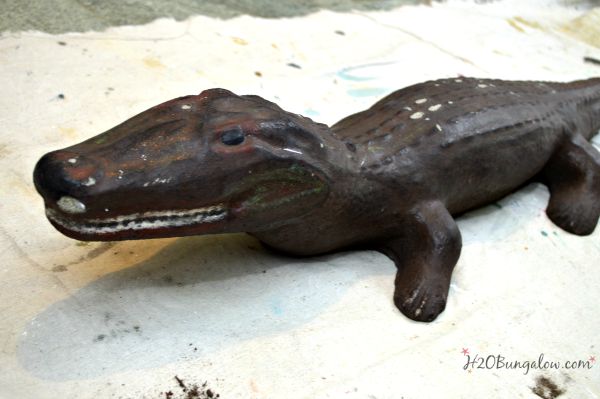 This is my supply list to make a DIY faux bronze garden statue (affiliate links). I love these products, but they can be hard to find so I've linked them to a source here.
Start with a clean and dry item. Apply two coats of primer, allowing them to dry in between coats. Let cure for 12 hours or overnight. Next paint two thin coats of the bronze metal effects paint.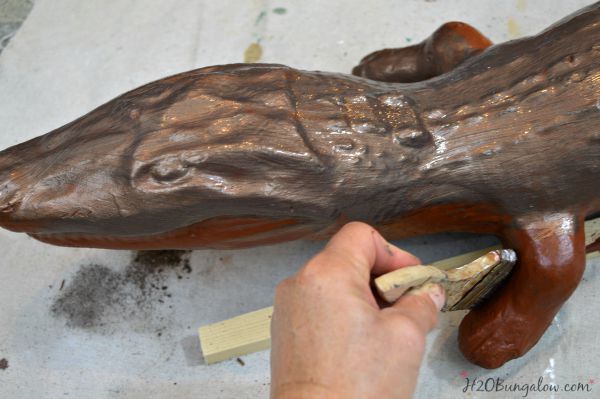 A little paint goes a long way. I painted two coats on my alligator and still had about a 3/4 jar of bronze paint left over.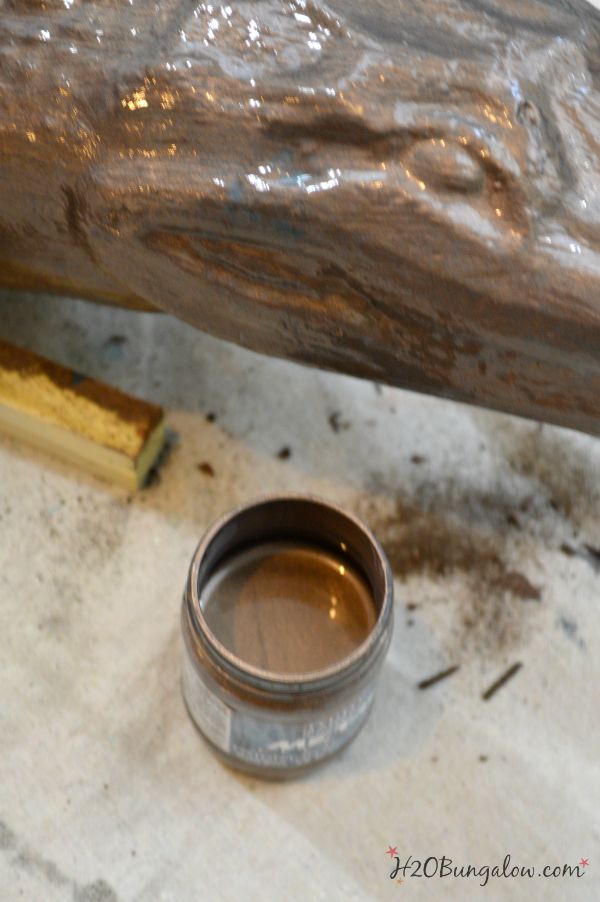 While the second coat of paint is still wet, mist all over with the spray top attached to the Patina Aging Solution. You could spray a lot lighter than I did. I wanted a heavily oxidized patina. No worries if you don't like it, you can always paint on another coat of the bronze and re-spray the aging solution.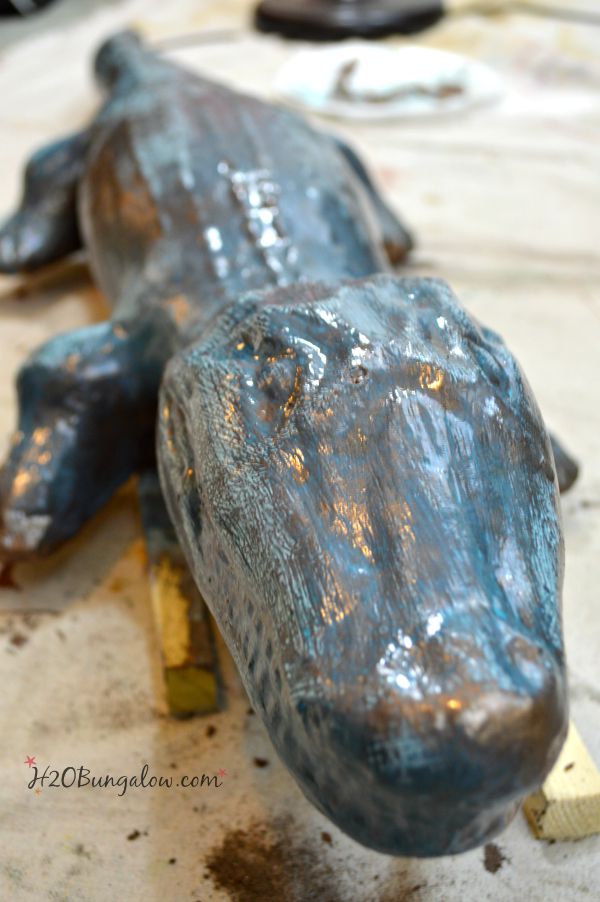 That's it.
Sit back and watch your masterpiece turn into a faux bronze garden statue. It will take a few hours to completely oxidize and show the rich time worn and weathered patina. But, ooh, you'll love how realistic this finish is!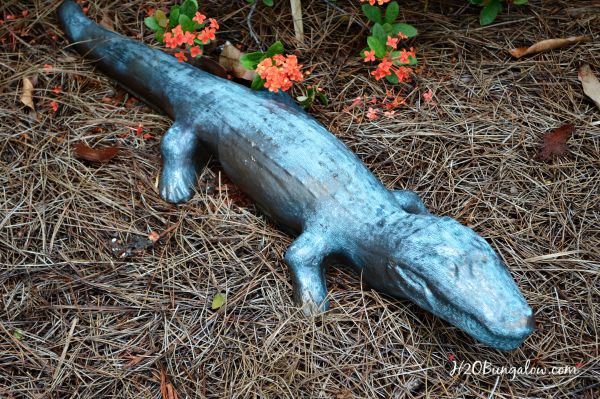 Leave it unsealed to continue to weather naturally in the elements or seal with the Extreme Sealer.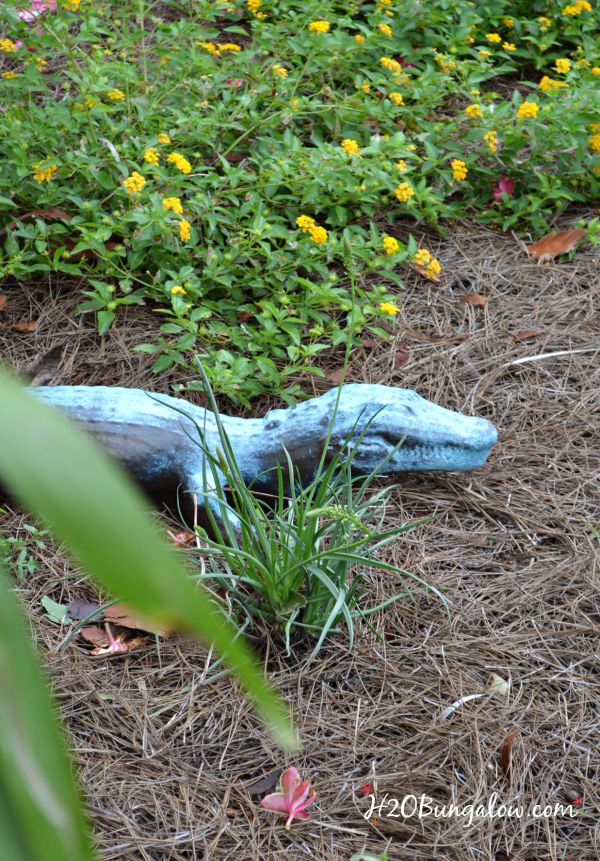 I had my son carry him all over the front yard for photos. He's heavy and solid concrete. I still don't know where I'll put him permanently. I think I like him by the front of my butterfly garden so he can be seen easily from the driveway, but I'll probably change my mind tomorrow;)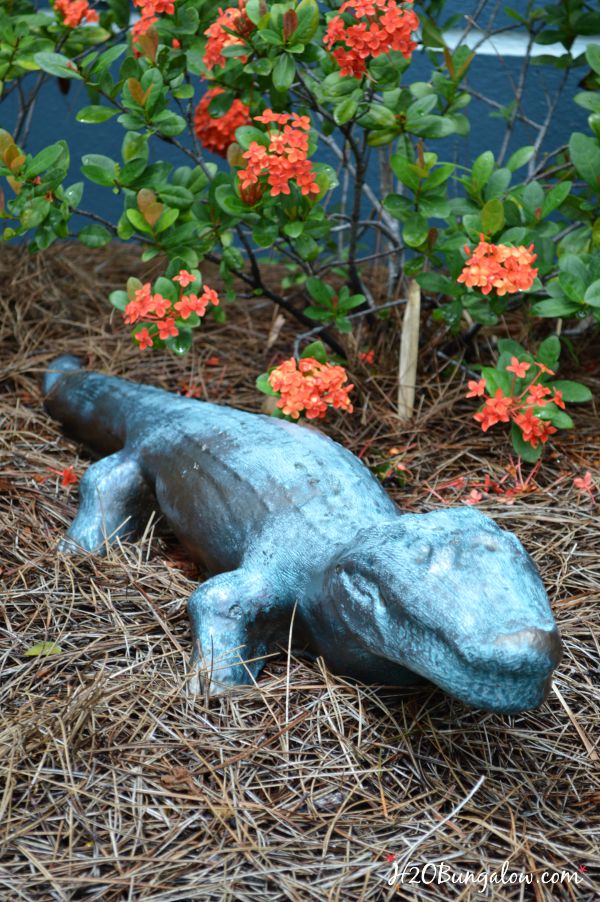 I love metal and the look of aged patina…I'll put it anywhere I can get away with it. Here are a few more of my favorite faux painted metal projects… my front door is Faux Painted Aged Copper (click here) and my mailbox is an aged copper patina (click here) using the same Modern Masters products but with the green aging solution instead of the blue. I share how to How To Faux Paint a Metal Finish here… I could go on, but you get the idea:)
What would you turn into a DIY faux bronze garden statue?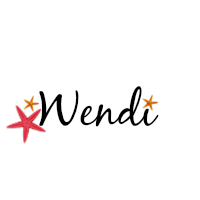 Love a good dose of DIY home decor, home improvement, the challenge of woodworking and creative ways to make your home look fabulous?
Me too! I'll share mine with you!
Click here to have my posts sent to your mailbox fresh off the press.
Social media fan? Don't be shy say hello! I love when you guys do that!
I'm very interactive with my readers on Facebook and I share lots of extra projects and, useful inspiration for the home and content I don't share anywhere else.
Follow H2OBungalow on Facebook
Oh heck, just follow me on all social medias. We'll have some fun…promise:)
Follow H2OBungalow on Instagram
Follow H2OBungalow on Pinterest
I'm on Periscope! @H2OBungalow