I'm sharing how to faux paint a copper door today. I love the new look of my front door. Like, really..love it! I've wanted some curb appeal since the day we moved in. For the past year and a half every time I pulled into the driveway, I saw ugly. All I'd see was the no appeal front of the house and thought ugh…I can't wait to paint this!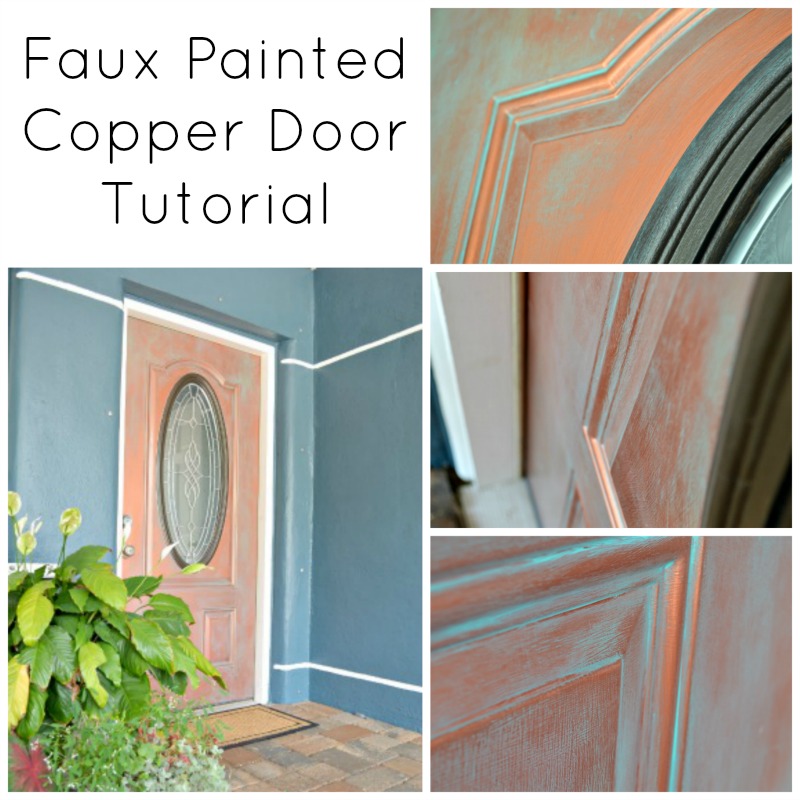 I recently finished painting the exterior of the house which was a huge improvement. Then the front door stood out even more and not in a nice way. It was a watered down pale peachy color.
Yawn….with the personality of a wet paper bag.
This peach wwasn't doing it for me. Not good. Not me! I wanted my front entryway to be unique, stunning and a make a bold statement. I wanted personality and lots of it!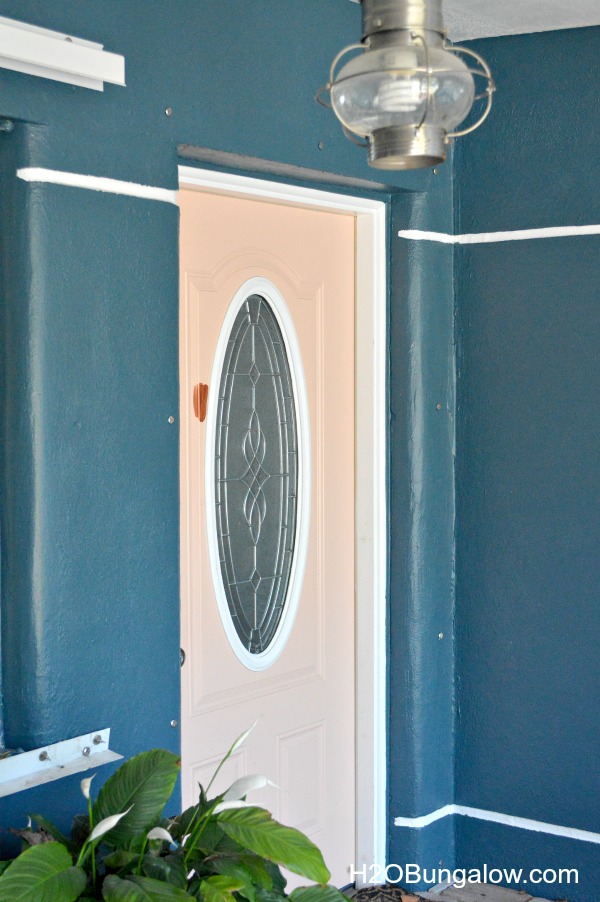 I decided a long time ago that I would faux paint a copper door. I wanted a cool nautical coastal vibe without being typical.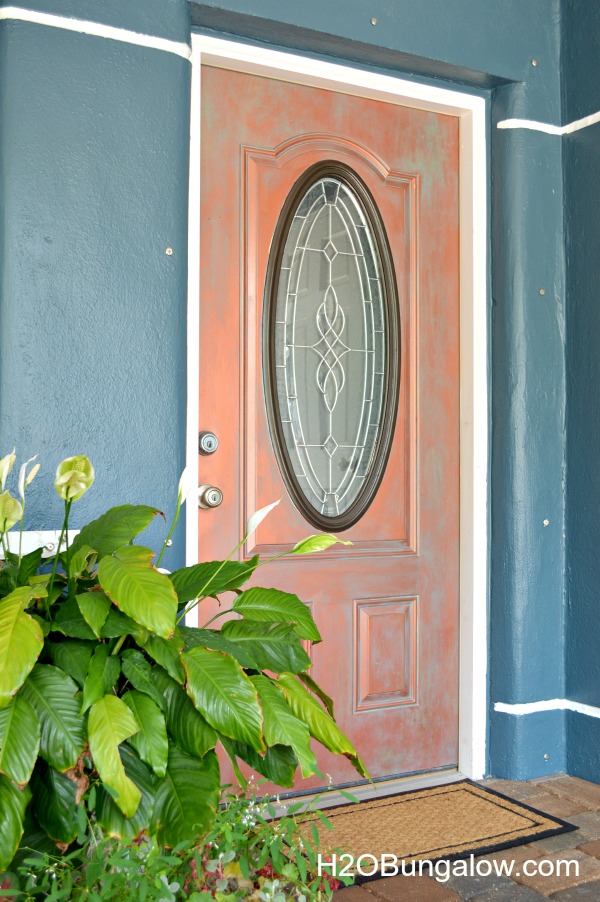 Do you want to know how to faux paint a copper door? It's easier than you think. Start with these supplies.
Begin by washing your front door. Use a deglosser if it's already painted. I like to use TSP. Tape off the edges and any windows with painters tape. It's best to take off the hardware like the doorknob. If your feeling lazy like I was, just tape it off too.
I used Modern Masters Copper paint. I loved it for this project.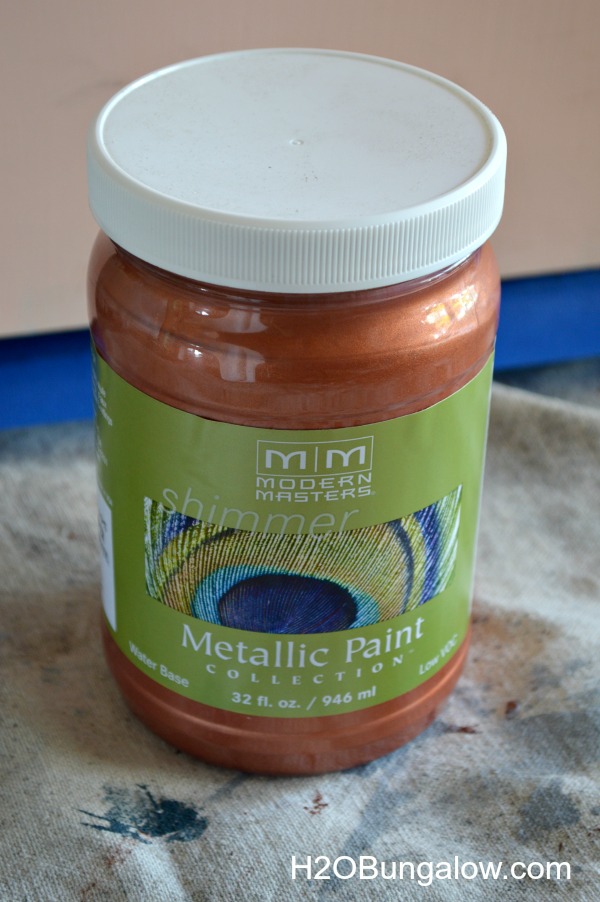 Start by painting several thin coats of the copper paint with the velour roller. I like the 4″ size the best and it will give a nice smooth finish.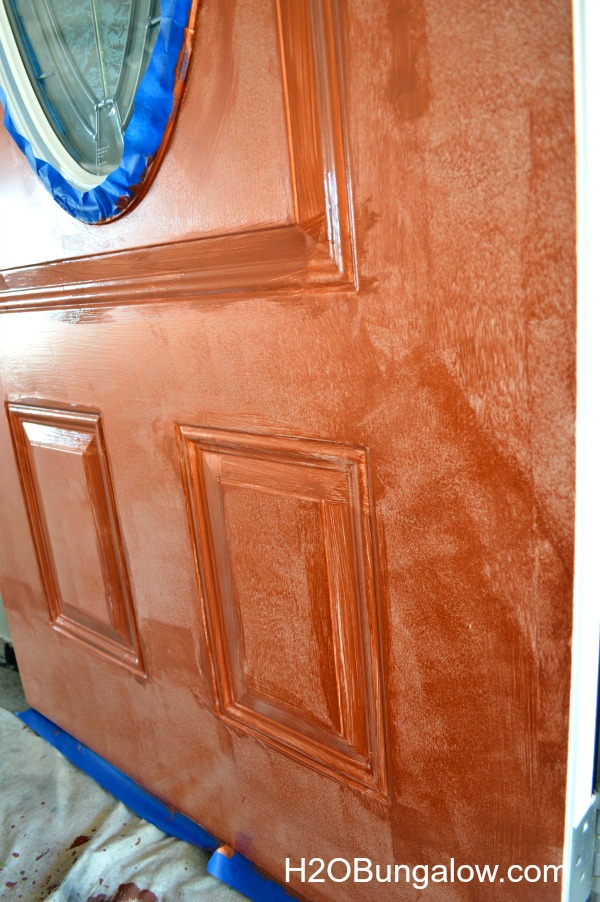 Initially I thought I was done. The door was bright like a new shiny copper penny.
I liked the bright copper…but, I didn't LOVE it. Every time I walked up to the front door I kept thinking…It's missing something. You know that nagging feeling that just kind of sticks with you?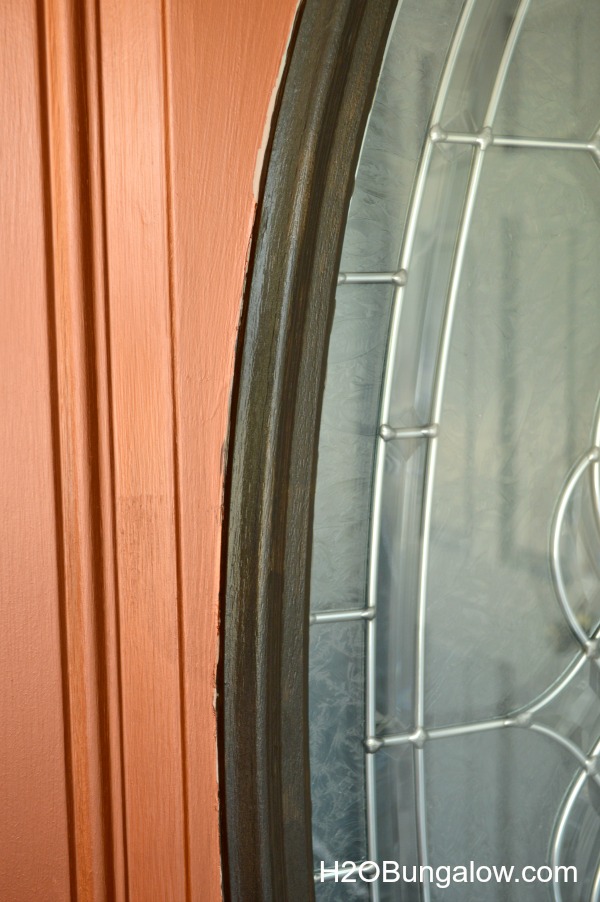 I know me well enough to know If was feeling like that already, it wouldn't change later. But, I was busy, so I put off dealing with it.
One morning I just started. It wasn't planned.
I just did it.
Over morning coffee I just started thinking about aging the copper and giving the door some depth. I thought I could make a few sample boards to see if I could replicate the aged copper patina from one of my books. I grabbed a handful of acrylic colors, and tore off a sheet of freezer paper to mix the paints on. Freezer paper works well because it doesn't absorb the paints.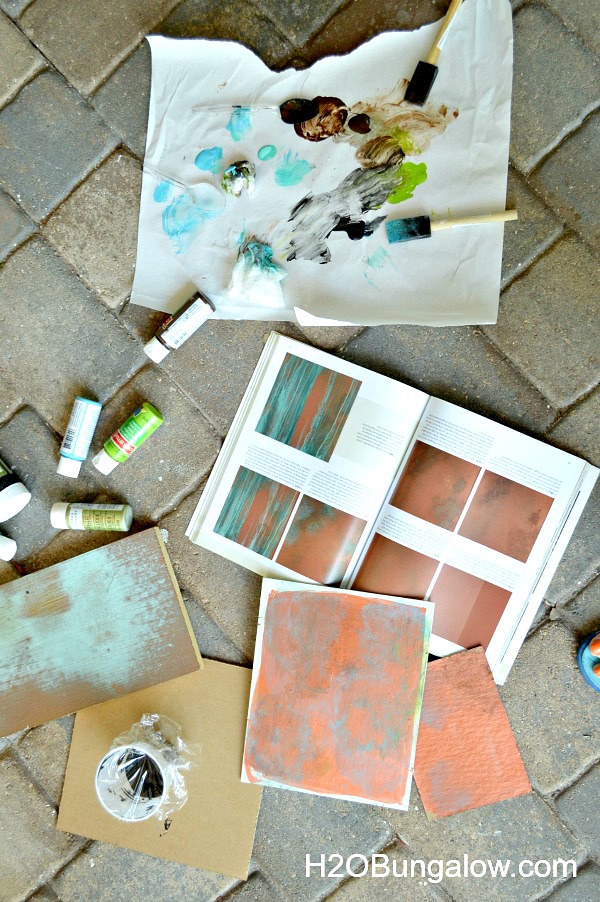 A few hours later..
I was all over that door. Our contractor, the postman, everyone who came by had to see what I was doing… What the crazy lady who lives in the construction house with a dumpster and porta potty in the front yard was doing. It was really pretty funny.
Here's a rundown on how to faux paint copper. I painted my front door, but you could easily paint something else with an aged faux copper patina.
Start with a white clean lint free cotton rag scrunched up. Squirt little dabs of paint about the size of quarters on a plate or freezer paper like I did. Have a small bowl of extender to dip your rag into nearby. Dip your rag in the extender and then the paint. I dipped my rag in the turquoise color first and the heaviest. Dab it on and then work it by rubbing it in until you like the finish. This is almost like the reverse of polishing metal, except your putting on color.
Next, while it was still wet and tacky I mixed and added the other colors to my wet rag and continued to work an area until I had variation in the color. Use the same spot on your rag. You want lots of color variations, tones and mixtures. Natural aging has other color hues in it. I sparingly added those colors in random places and blended them well. The key is blending and working your colors and edges.
It's a good idea to try your hand at a few sample boards like I did to get a feel for the colors and mixing them with the glaze. It's easier than it sounds and a few sample boards can be a big confidence builder.
Here's another tip, don't make hard lines on the edges of areas you are working and don't let an area dry too much before moving onto the next spot. I didn't like the hard edges and had to work to get rid of them.
The paint will get tacky as your working it. I liked that stage because it gave me the best consistency to rub it into cracks and rub off what I didn't want. Work in thin layers. Add more layers to make some areas heavier like you'd see in a natural aged patina. Put it heavy in cracks and crevices. Wipe the excess off which will be most of it.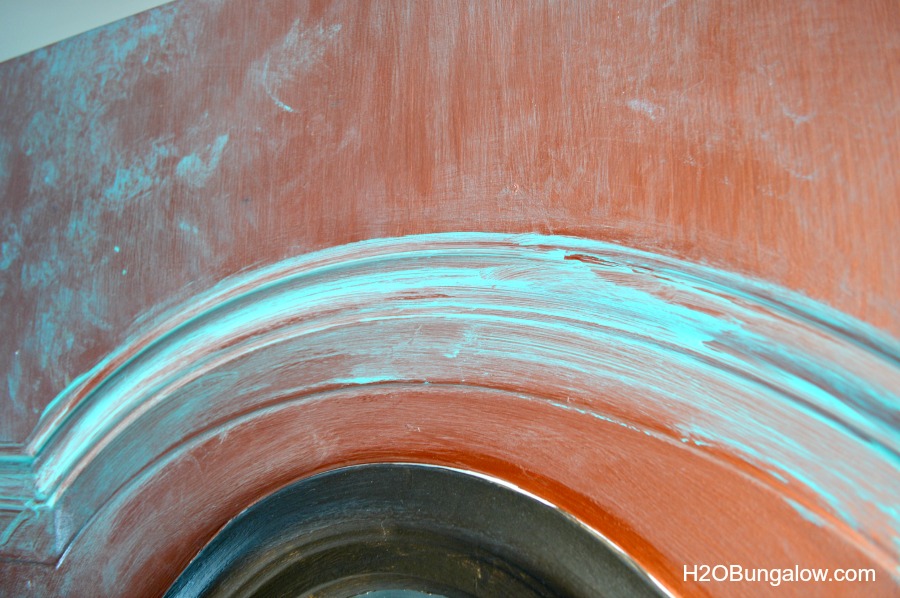 It will look like this after you've wiped off the excess.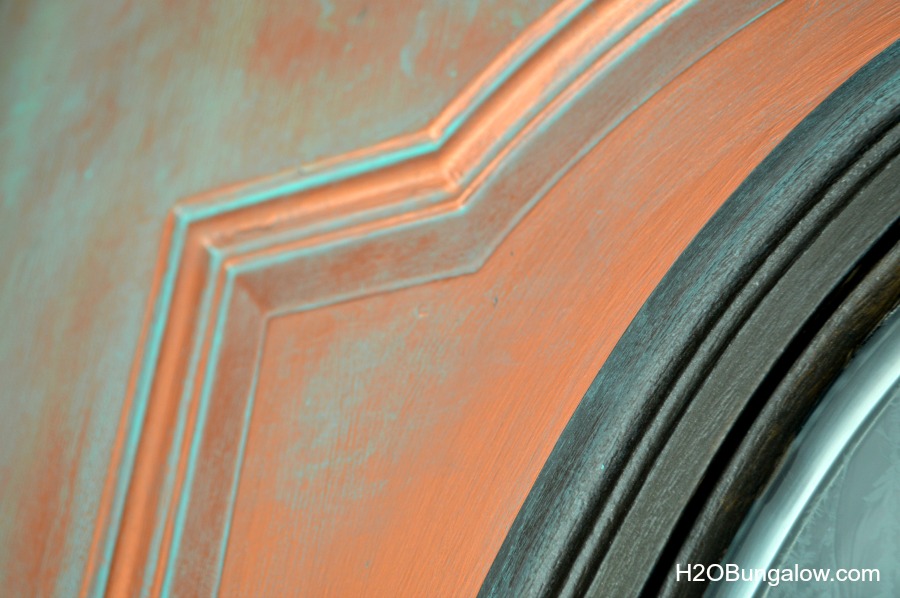 FYI, as you're working on the layers it will look worse before it looks better. Just keep rubbing it in and working the glaze. Remember to add more extender to your rag if needed and wipe it over an area to keep it tacky and workable before it dries.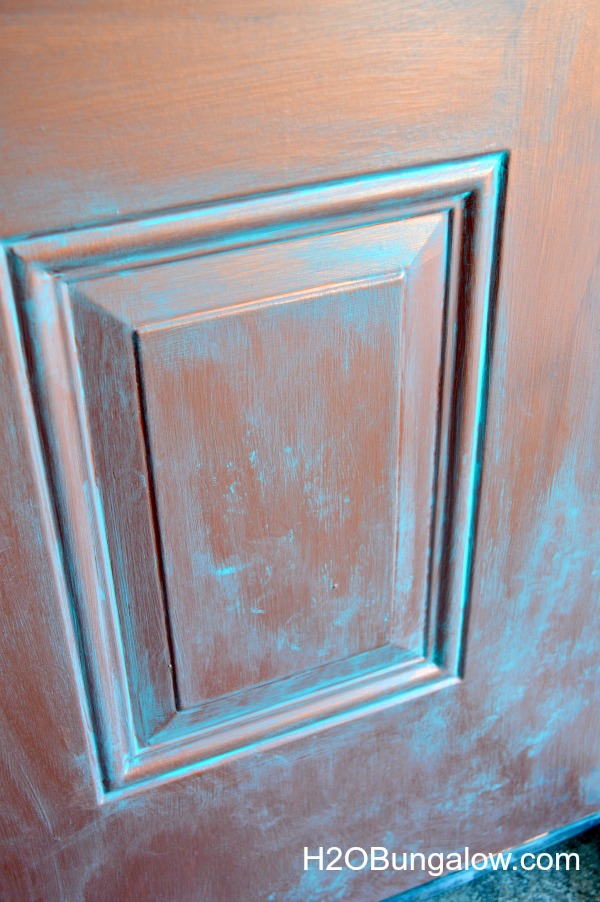 Keep working an area until your happy with the look. Be sure to step back and get a perspective from a distance. That's how everyone will see your door, from a distance. Spots that don't look so good close up look awesome from a few feet back.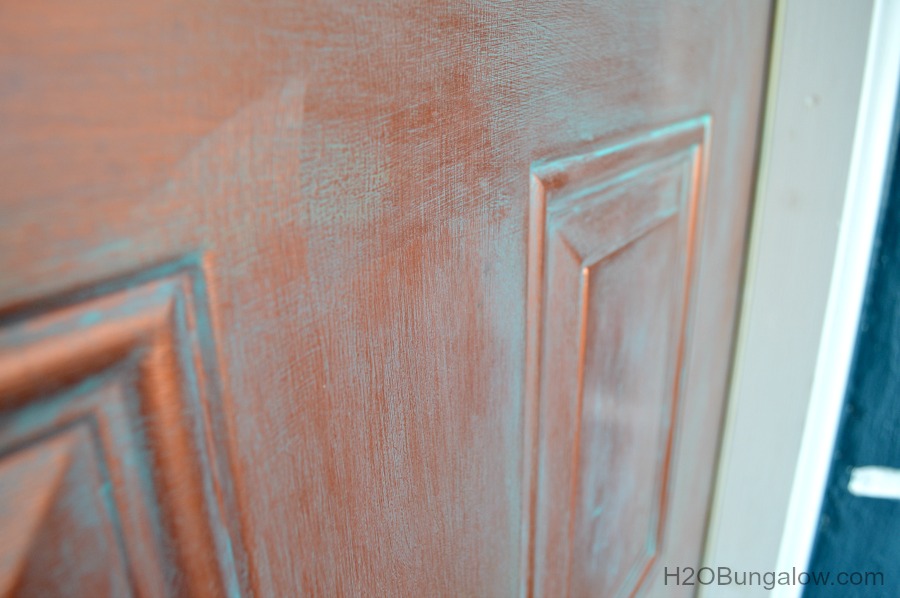 When your done, you'll have a super unique, custom front door. I love that my front door is different from the other beach houses in our neighborhood. I have a master plan for our house and this door is part of it.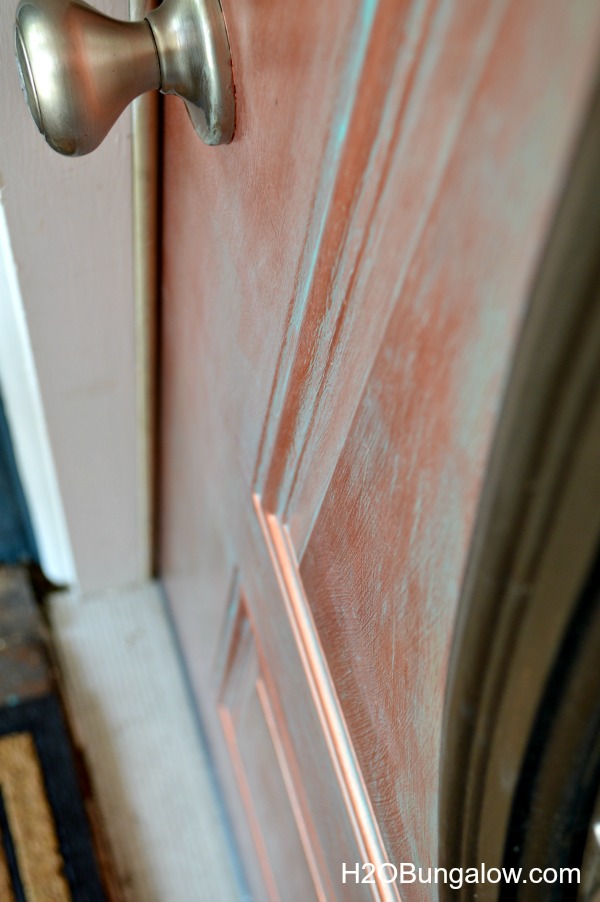 Now, every time I walk up to my front door I think about how much I LOVE it!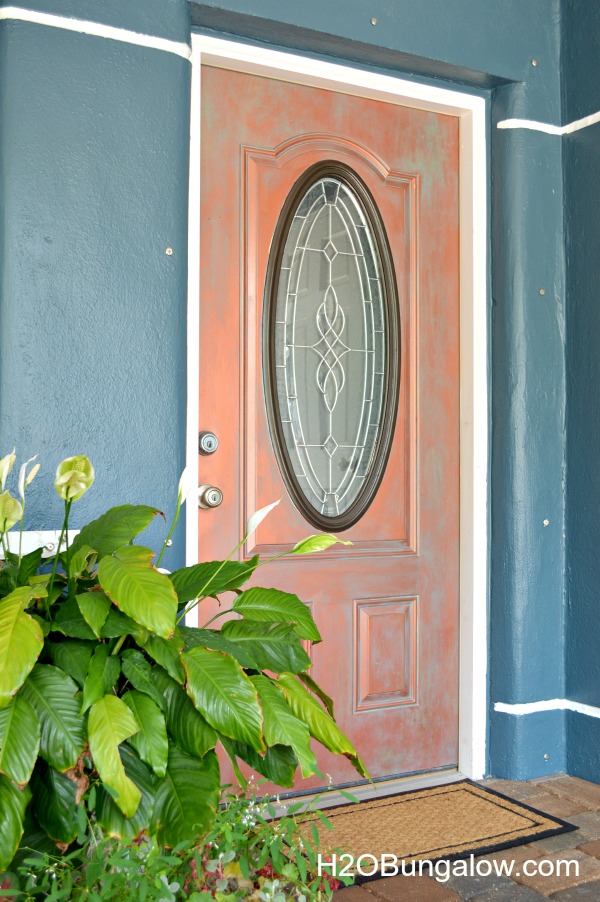 I had no idea I could faux paint a door to look like aged copper a few months ago. I wanted a copper door originally but that was not a budget friendly choice. Being a DIY'er has plenty of benefits, one big one is that we tend to find solutions to make what we want. In this case I did.
We are finally making headway and moving beyond the uglies in the project house. A little step here and a little project there are making a big difference. I'm not cringing as I drive into the driveway each day and for that big step I'm grateful 🙂
Would you faux paint a copper door or try another project?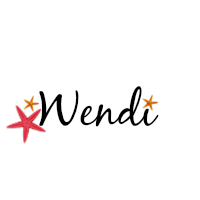 Love a good dose of DIY home decor, home improvement, the challenge of woodworking and creative ways to make your home look fabulous?
Me too!
I'd love to share mine with you. Click here to sign up for my post emails and I'll send a quick note when I have a new project to share.
Social media fan? Don't be shy say hello! I love when you guys do that! I'm interactive on Facebook and I share lots of other projects and, useful inspiration for the home and content I don't share anywhere else. Follow H2OBungalow on Facebook here
Oh heck, just follow me on all social medias. We'll have some fun…promise:) Follow H2OBungalow on Instagram , Follow H2OBungalow on Twitter , Follow H2OBungalow on Pinterest, I'm on Periscope! @H2OBungalow
I use affiliate links in my posts. If you should make a purchase I will receive an itty bitty commission at no cost to you. Thank you in advance for supporting my blog…my two cats and our boxer dog