This is the year friends. Maybe I should say this is the season. It's time to tackle the projects that will make my outdoor space a place I want to hang out in and relax. A place that makes me smile, and think how pretty when I look out the window. I'm sharing my DIY outdoor sofa table tutorial with you today in case it's your dream too.
To have  pretty outdoor space…on a DIY budget of course 😉
I also have a treat for you today. Eleven other fabulous ways to pretty up your porch and patio from the Power Tool Challenge Team. Don't let the words power tools intimidate you. There are awesome projects for every level of enthusiast:)  You'll see them all below.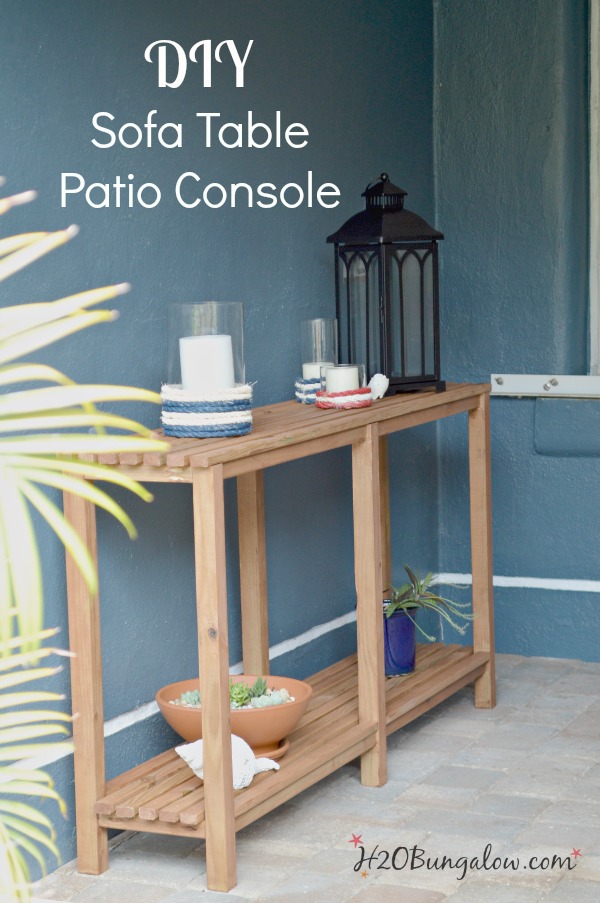 DIY Outdoor Sofa Table Tutorial 
Cut list for outdoor sofa table
Use treated wood for outdoor use.
6 legs, 1 1/2″  x  1 5/8″ @ 31 " I ripped 3 – 2″x 4″ boards in half to make the legs.
8 side pieces, 1″ x 2″ @ 27″
4 end pieces, 1″ x 2″ @ 9″
2 center supports, 1″ x 2″ @ 9″
12 long slats, 1″ x 2″ @ 60″
4 short slats, 1″ x 2″ @ 27″
Tool and supply list to make a DIY sofa table
I use affiliate links to help you find the products I used.
I ripped the legs from 2 x 4's because I wanted them to stand out and be a tad different from the slats. My DIY sofa table will go next to my teak outdoor sofa set and I figured that would help my little DIY project look upscale.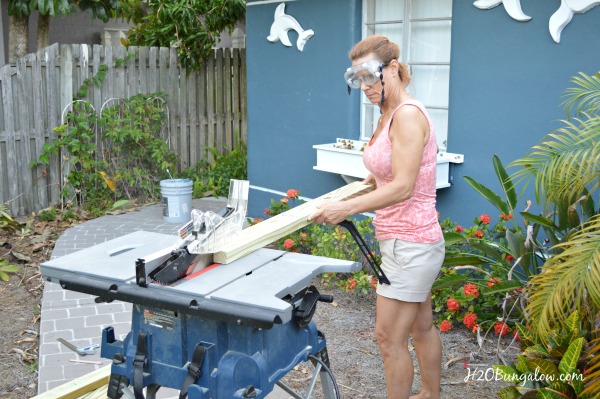 Make sure you square the ends on all your pieces of wood before measuring and cutting the length of your boards.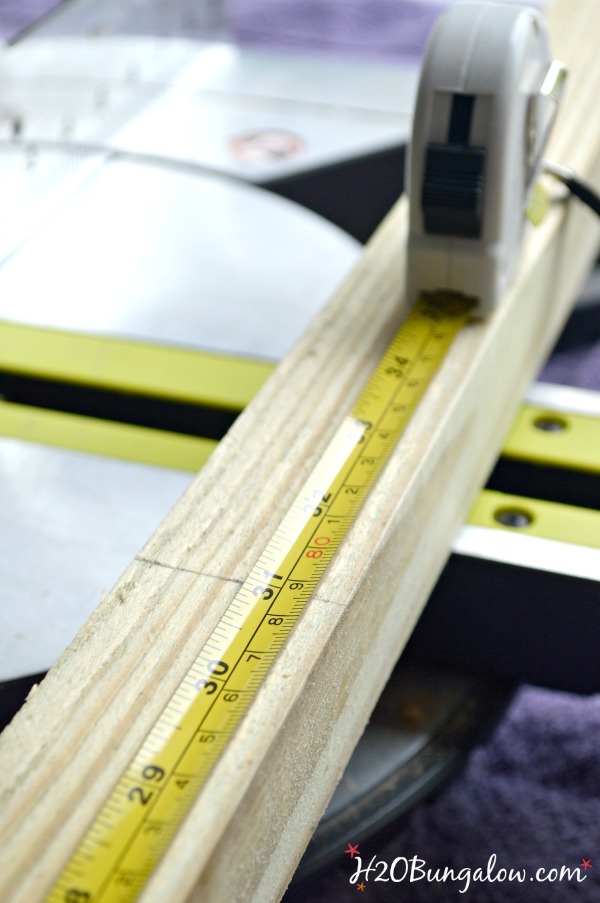 Set the Kreg Jig to a 3/4″ material setting and put two pocket holes at the end of the frame side supports, and the two center supports.
Assemble each side of the frame like I did below. The side support pocket holes will face inward when the table is assembled.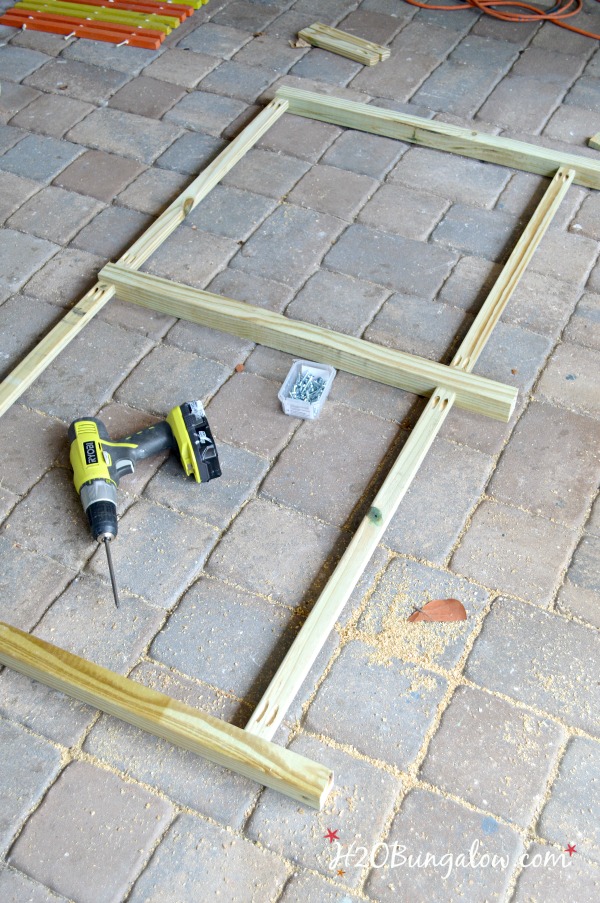 Save yourself a ton of time when measuring the bottom of each leg where the side support will attach. Set a combinations square at 5″,   Line it up like my picture below, draw your line. Attach the side support to just below the line with pocket screws.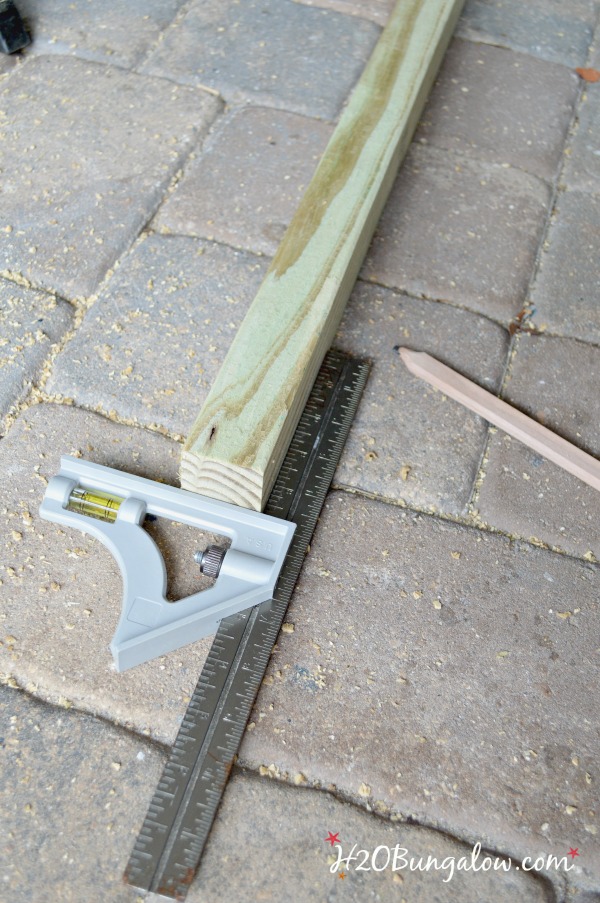 The top side supports are flush with the top of the legs.
I used a piece of wood as a shim to line up and offset the side supports. It made it easy to attach each one with the same measurements.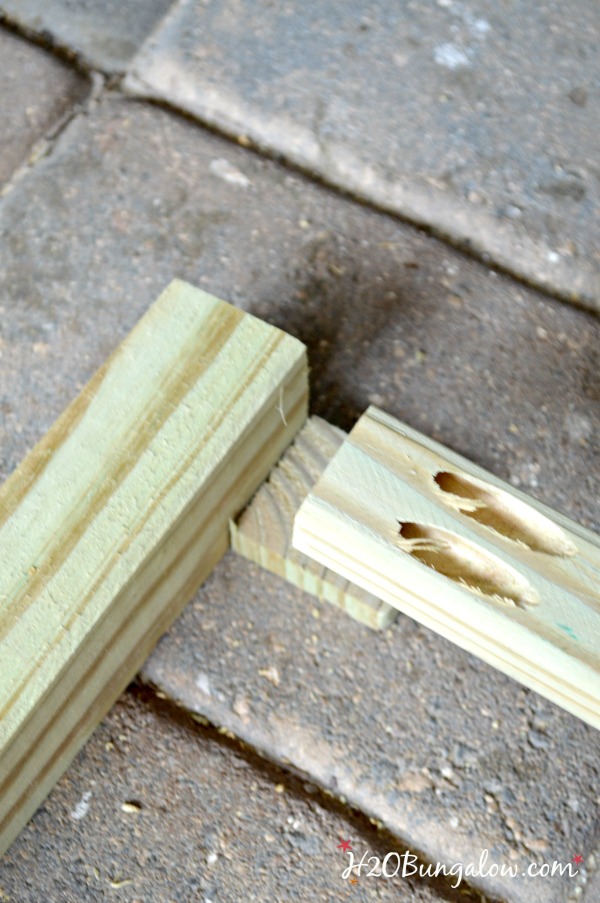 Attach the two sides of the frames together by adding the two end supports. Keep the pocket holes to the outside. Install the top center support with the pocket holes facing up and the lower support with the pocket holes facing down. I tried to install them facing inward and it was a bear to fit the drill with the long bit in the tight spot:(
Tsk…sometimes I spend more time getting myself out of a mess than I would have saved without my "shortcut idea"!
At this stage you should have your sofa table frame built, 12 long slats and 4 short slats cut. Just in case you're wondering, the four short slats will fit on top of the side supports:)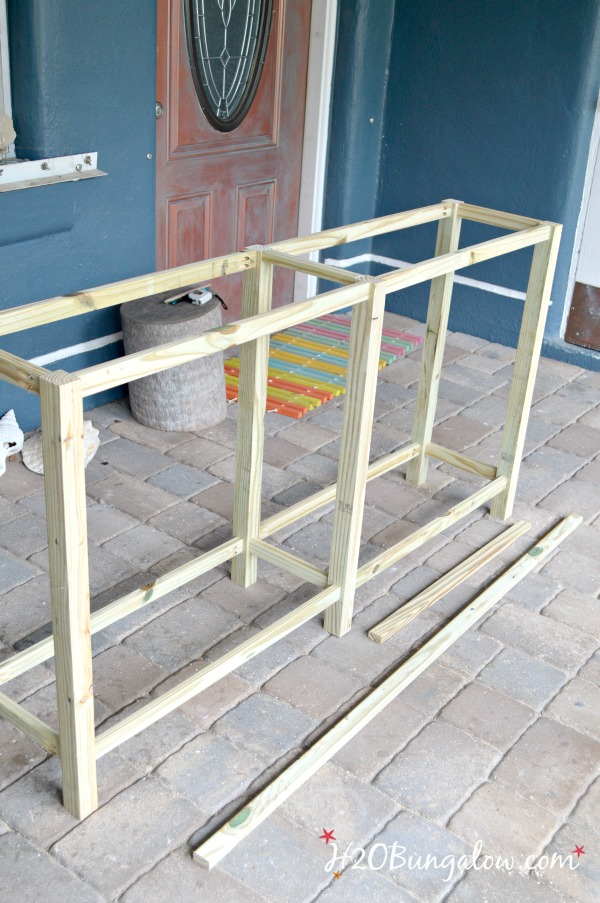 It will be a lot easier to stain or paint your sofa table project before attaching the slats.
Because our Florida sun and weather is crazy harsh on our outdoor furniture, I protected my DIY sofa table with Thompsons WaterSeal, semi-transarent in Autum Brown. It was easy to apply with a 4″ foam roller and a chip brush. I loved that it was soap and water clean-up!
Now that my outdoor sofa table is stained, it's starting to like a nice piece of outdoor furniture.
Don't you think so?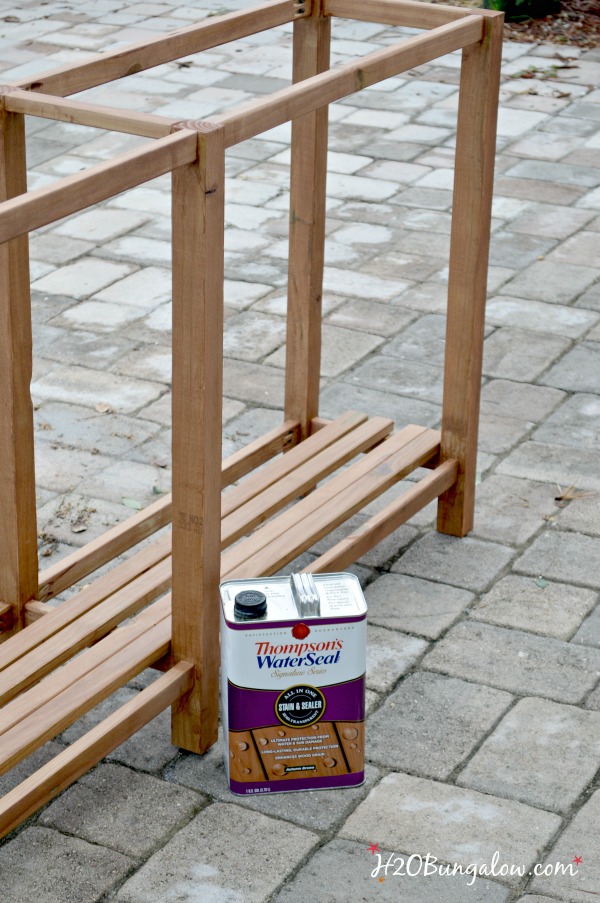 If you're using your outdoor sofa table in a protected area, you can easily attach the slats with a nailgun and call it a day. You could even use a quality glue to attach the slats.
But…
My table will be exposed to the weather all of the time, and I want it to last.
I secured the slats with my nailgun to hold them in place. With all our rain I ran out of time for this post. Later, probably today, I'll turn the sofa table over, and use screws to secure the slats from the underside. Drill pilot holes first and the screws will go in like butter and you won't need to worry about splitting your wood.
Since I was dodging rain while I was building this, I also had to photograph my DIY outdoor sofa table on my porch. It would look good here too, but I have big plans for it in the back yard!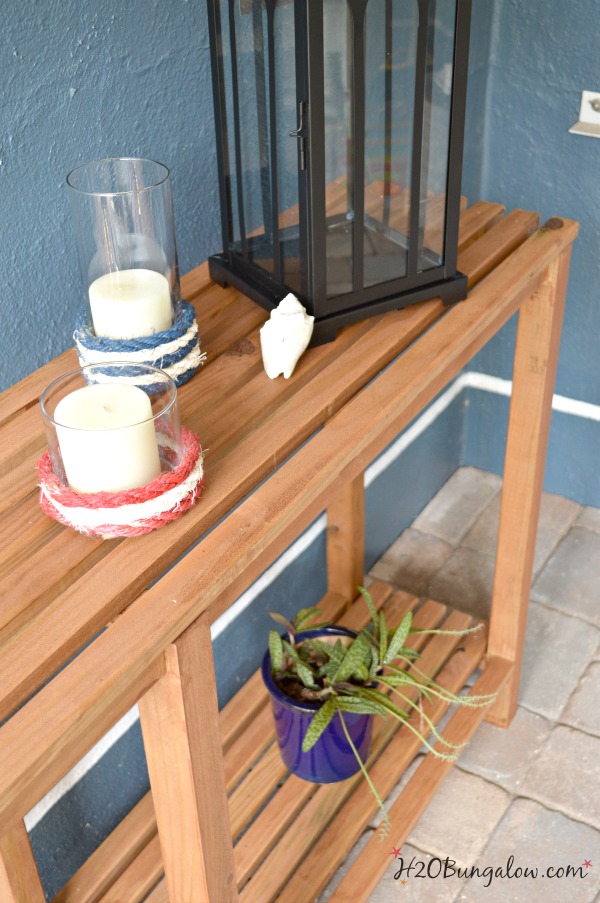 I like that the side supports are recessed just a tad from the legs. I copied that idea from the sofa table in my living room:)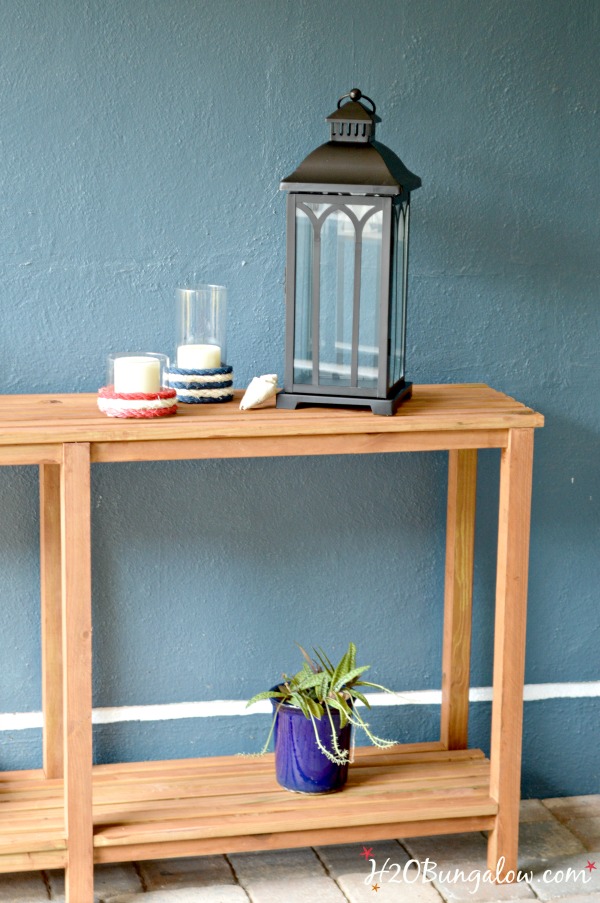 I have a special month long series staring in June. All month long I'll share DIY projects to pretty up outside.
  I have a plan, and a place for my cute outdoor sofa table already!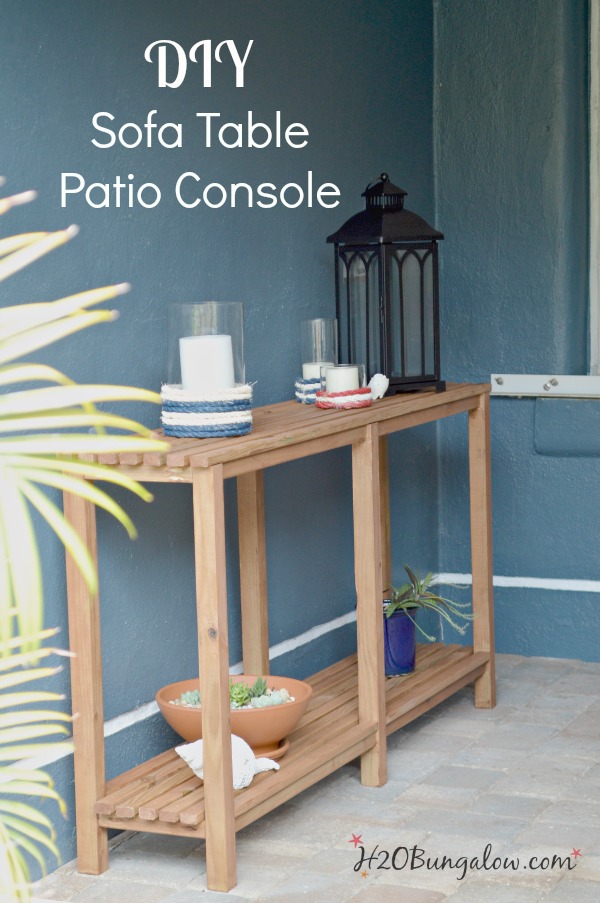 Now it's time to see what my friends created for thier patios and porches. I'm loving this month's projects with so many budget friendly DIY's to kickstart the outdoor season and pretty weather!
You'll see a link below to each project.
 ** Sharing my work is THE best compliment you can give! I really appreciate it when you guys pin my projects and share on your Facebook pages too! **

 1. Long Porch Planters by My Love To Create
2. DIY  Flower Pot Plant Stand by Her Tool Belt
3. DIY Easy Swinging Bed by Domestically Speaking
4. PVC Pipe Vertical Garden  by Kim Six
5. How to Build An Outdoor Serving Table by Create and Babble
6. Repurposed Window Garden Shelf  by Refresh Restyle
7. Trimming Out Porch Posts by My Repurposed Life
8. Stenciled Concrete Topped Table by Designs By Studio C
9. 2 X 4 DIY Bench by Virginia Sweet Pea
10. DIY Outdoor Sofa Table Tutorial  by H2OBungalow
11. Repurposed Electrical Spool Holder Table by Designed Decor
12. DIY Outside Standing Plant Hanger by Confessions of A Serial DIYer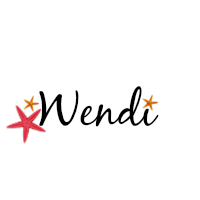 You'll find my project linked up to these fabulous parties!
Love a good dose of DIY home decor, home improvement, the challenge of woodworking and creative ways to make your home look fabulous?
Me too!
I'd love to share mine with you. Click here to sign up for my post emails and I'll send a quick note when I have a new project to share.
Disclosure: I may have been compensated, given product or tools that I used in this DIY post. All opinions that I share are always 100% my own. I use affiliate links in my posts. If you should make a purchase I will receive an itty bitty commission at no cost to you. Thank you in advance for supporting my blog and two fur-ball cats who believe they are privileged.